The meat version of stuffed grape leaves are tied up in little parcels and cooked in a delicious garlicky minty tomato sauce.
Yes it is a little fiddly to make but centuries of experience tells us it's worth it this way.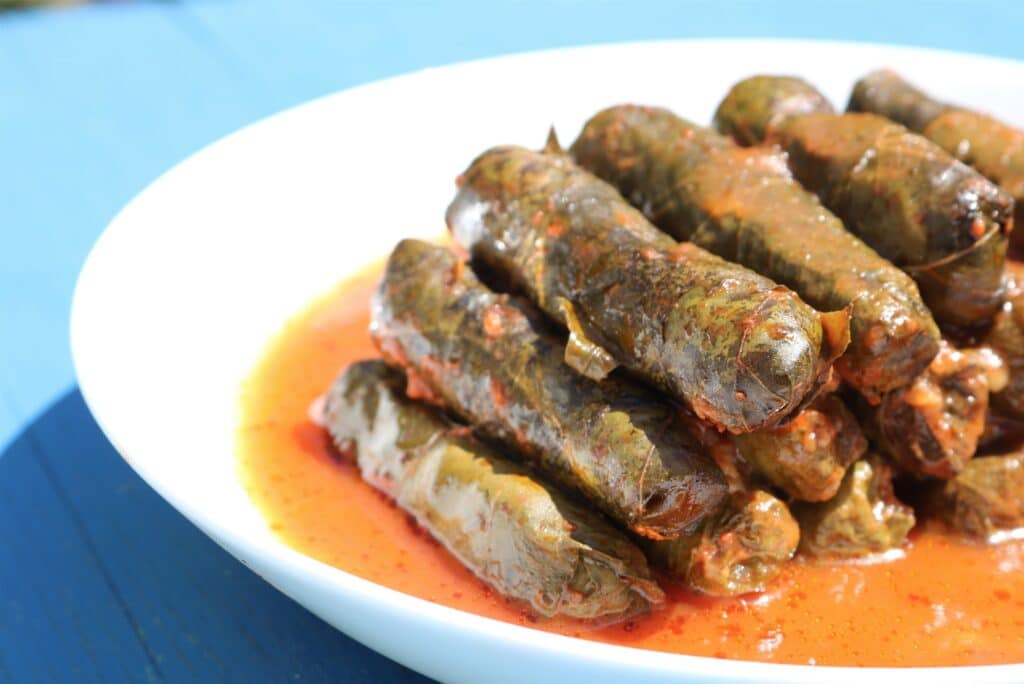 We've already written up the vegan version of stuffed grape leaves which involves stacking the warak enab in a pot and cooking them in a salty lemony brine.
The meat and vegetarian versions are almost two different dishes in their final flavour.
Yet preparing the grape leaves and rolling them up involves exactly the same technique.
The Grape Leaves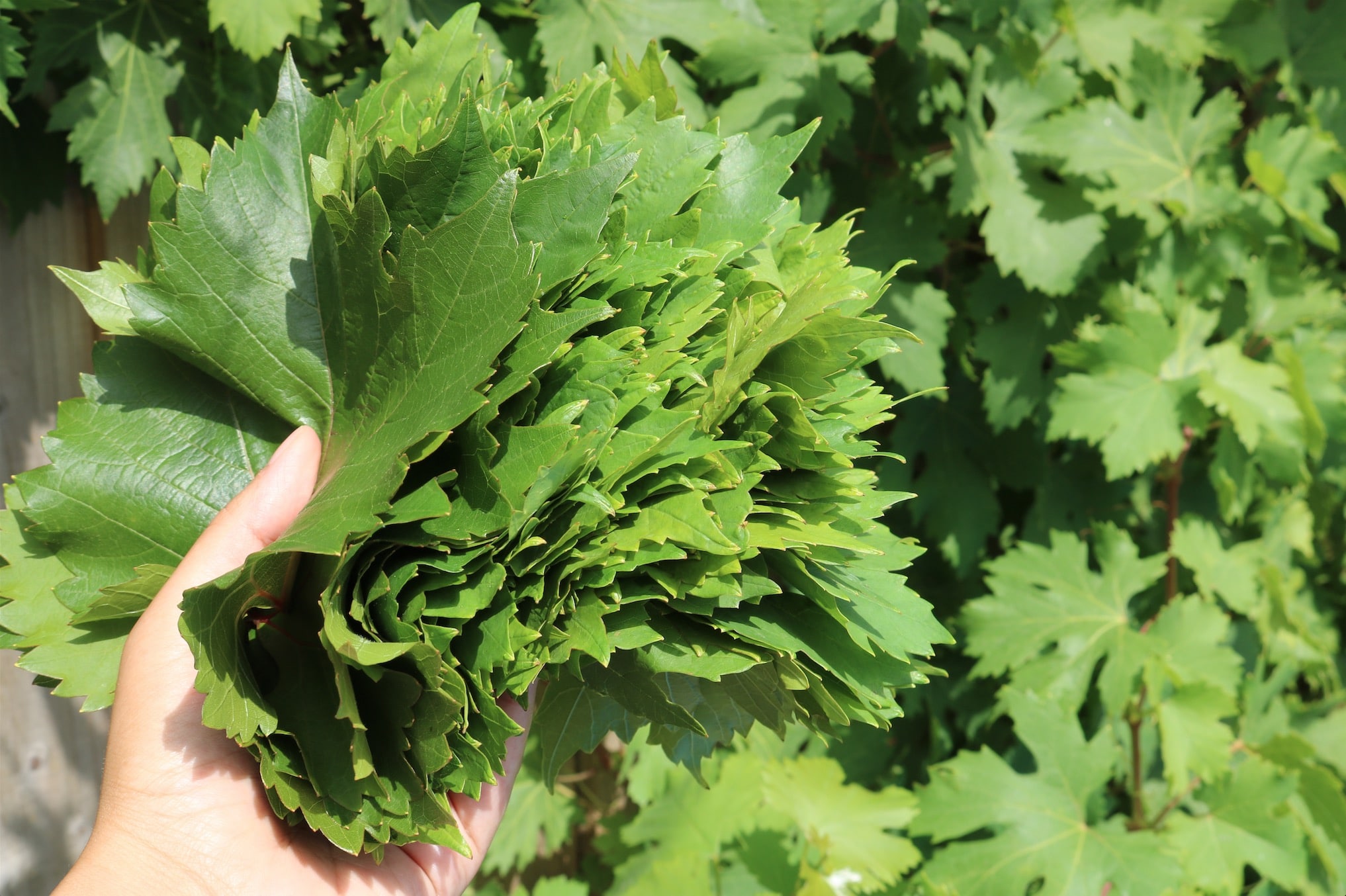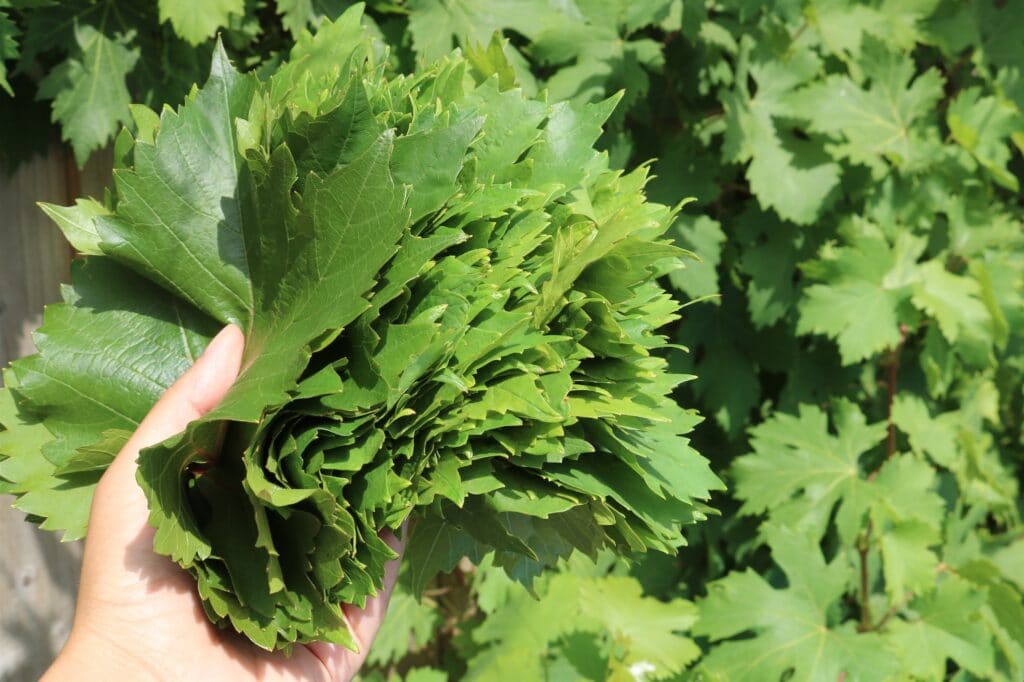 Grape leaves are also known as vine leaves in some parts of the world.
You can grow them in both mediterranean and temperate climates such as here in the UK.
I absolutely adore my grape leaf tree as it gives me shade in the summer and grapes in Autumn but most importantly, it gives me lots and lots of beautiful grape leaves in Spring time.
If you are using fresh leaves you will have to blanche them in hot water for about five minutes to make them easy to roll up.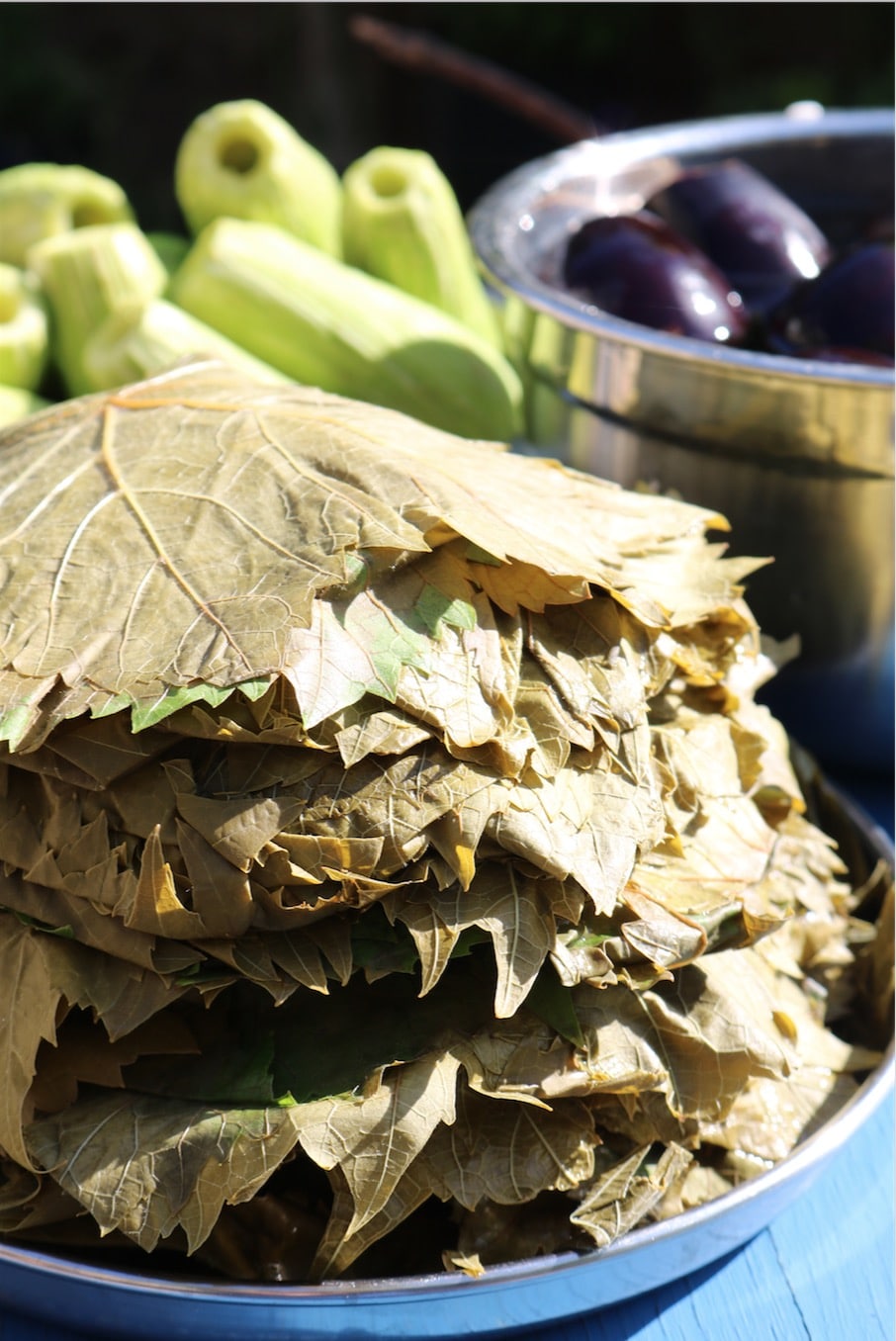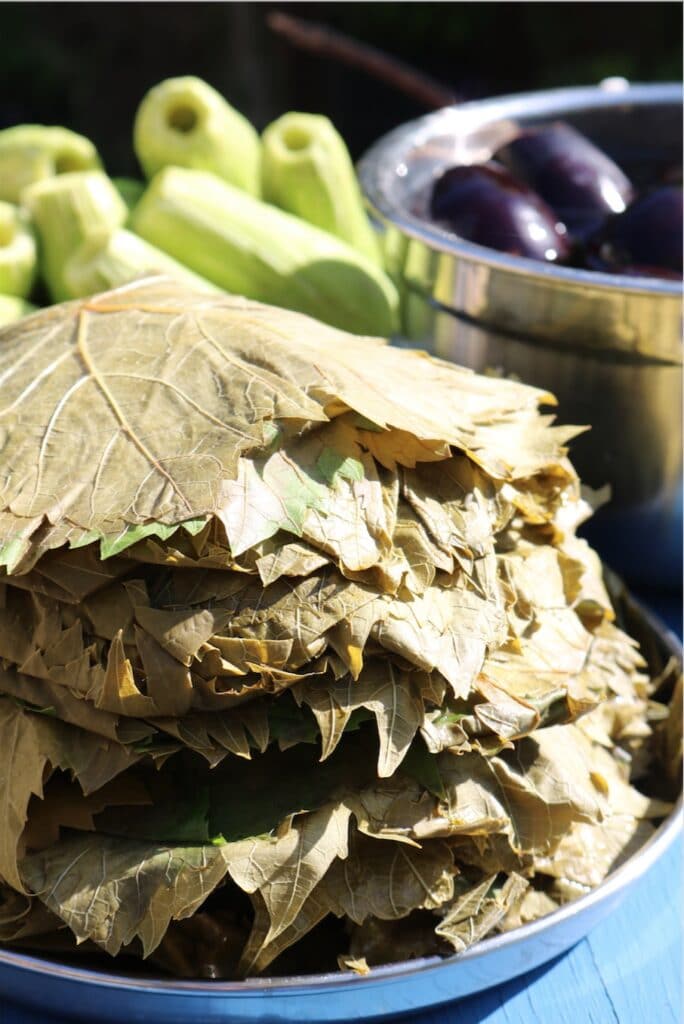 You can also buy grape leaves in most Middle Eastern grocery stores.
Try and find ones that are broad and in shape as the tiny ones get a little too fiddly and take too long to stuff.
You can preserve fresh grape leaves in an airtight jar with brine. Alternatively you can freeze them for use later in the year.
The stuffing
The meat and rice stuffing is quick and easy to prepare compared to the vegan version which takes up almost an hour to chop up.
Meat, rice and a little tomato form the base. You can also add a little parsley and fresh mint for extra flavour, and of course seven spice, the recipe for which I have on the blog.
I also add a hint of turmeric and black pepper for extra yum.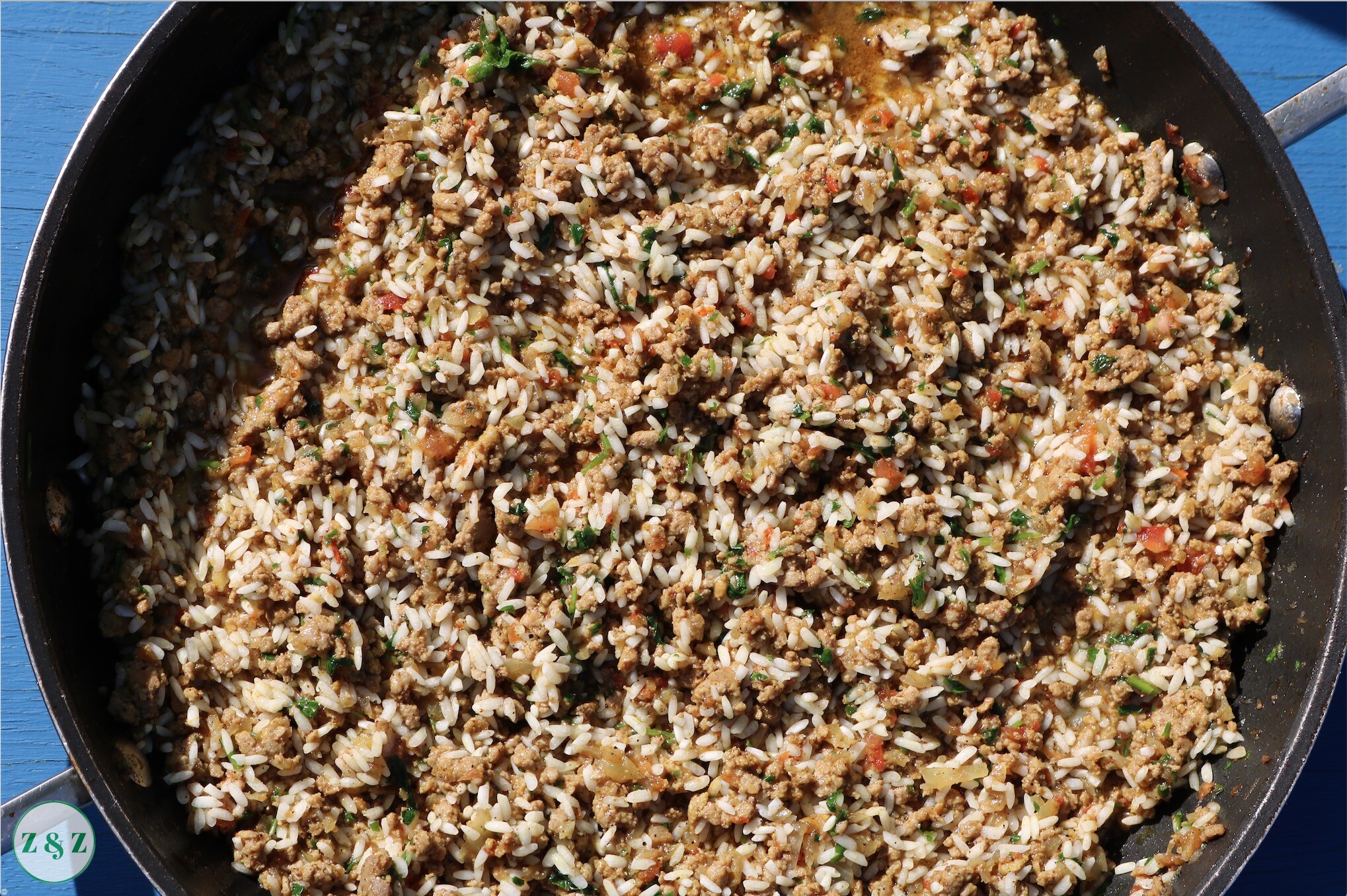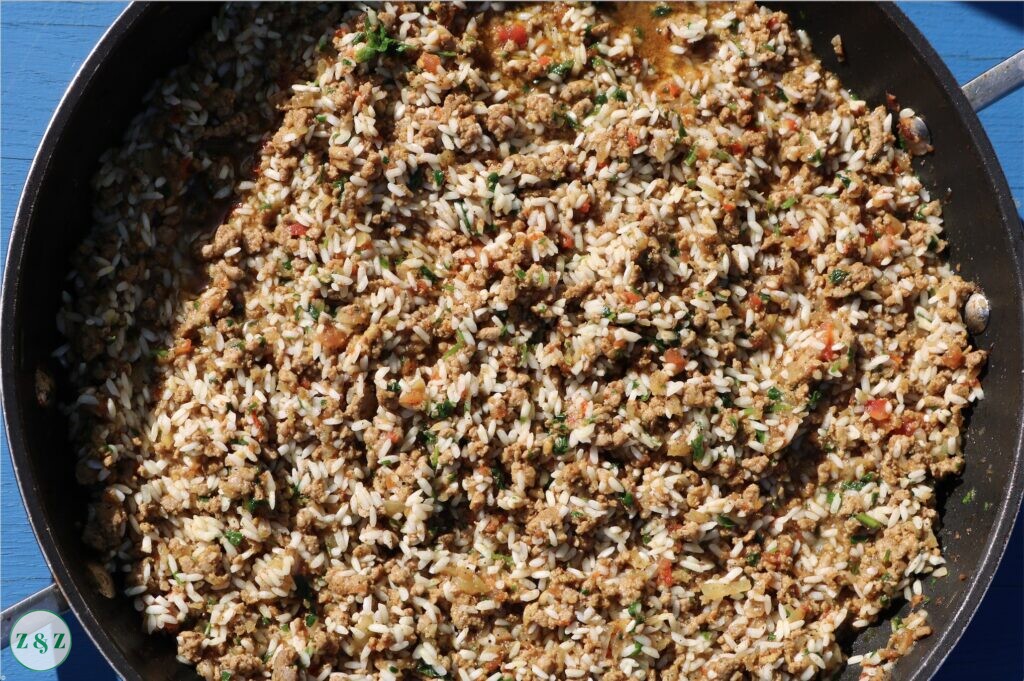 You can pre cook the meat if you prefer especially if you are using lamb. Many people like to make it with beef so it won't taste too fatty.
I like to use both lamb and beef as I get the flavour of both meats and divide the meat in a 50:50 ratio.
The rice should always be short grain as it absorbs the tomato sauce better and won't come out dry, which happens if you use something like basmati.
How to stuff the grape leaves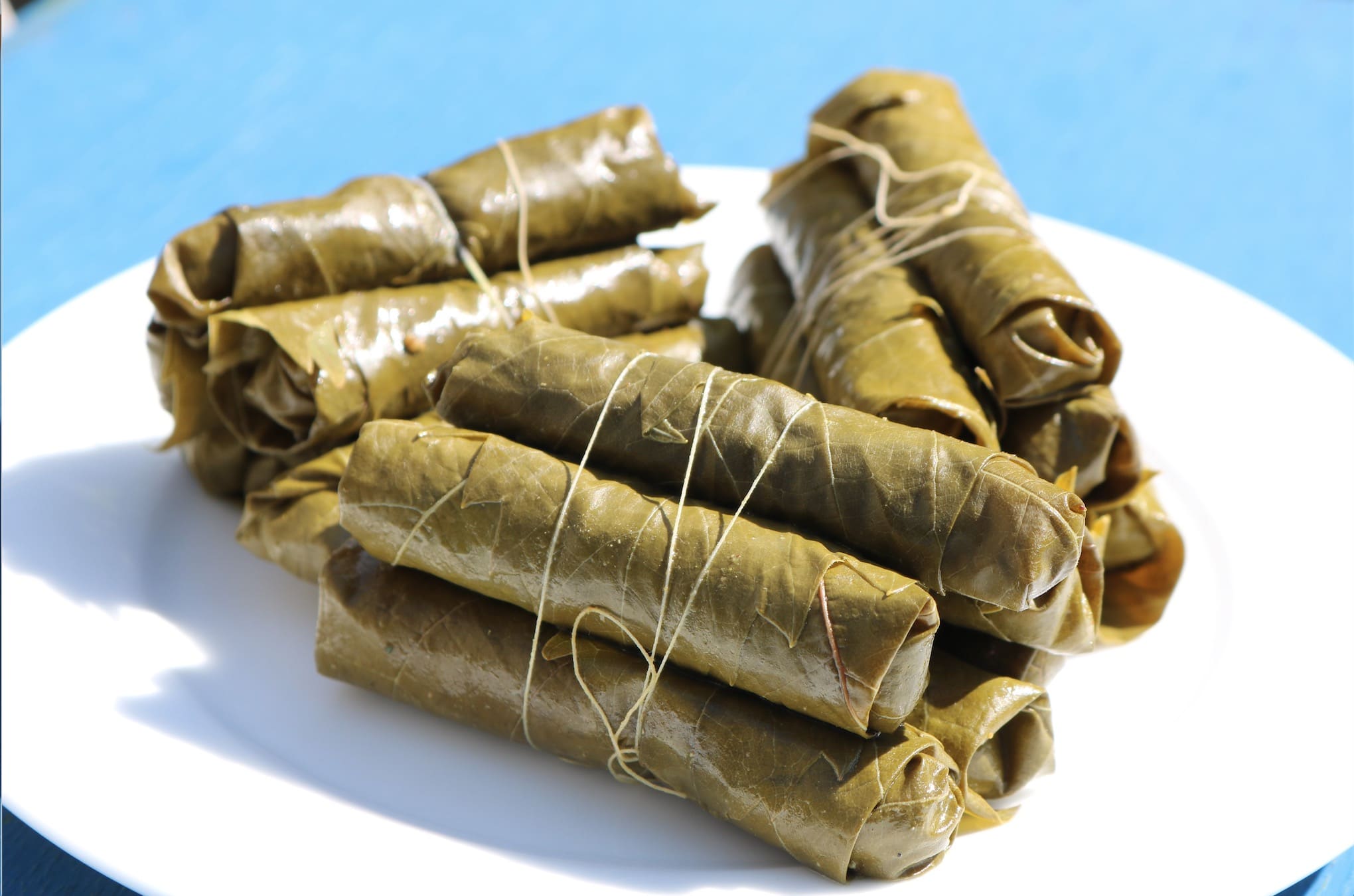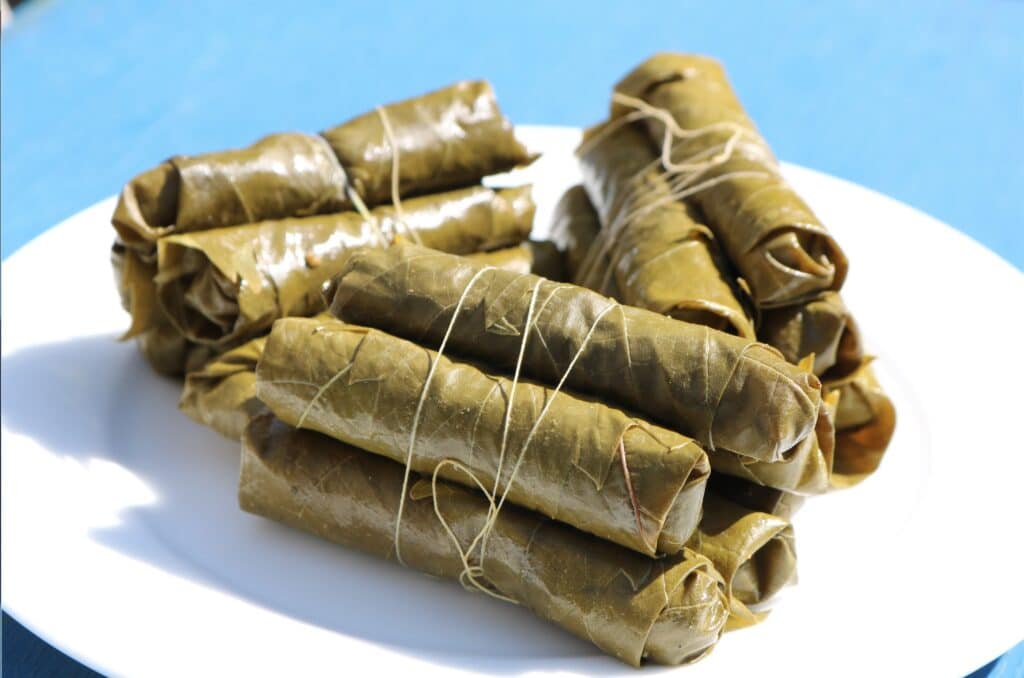 So again I've made a wobbly video for your viewing pleasure, showing you how to stuff, roll and tie up the grape leaves.
You will need some standard white string to tie up little parcels of the warak enab. About five or six will form a nice neat parcel.
Stack your little parcels in a large pot and cover them with a sturdy plate or heat proof lid one size smaller than your pot.
The tomato sauce
The tomato sauce is prepared in exactly the same way as kousa mahshi (stuffed zucchini).
There are many options to make the tomato sauce. The best obviously is to use fresh summer tomatoes blitzed up to make a rich sauce.
If you are not in prime tomato season, then by all means use canned chopped tomato or a carton of passata topped up with water.
You can also use tomato concentrate diluted in water.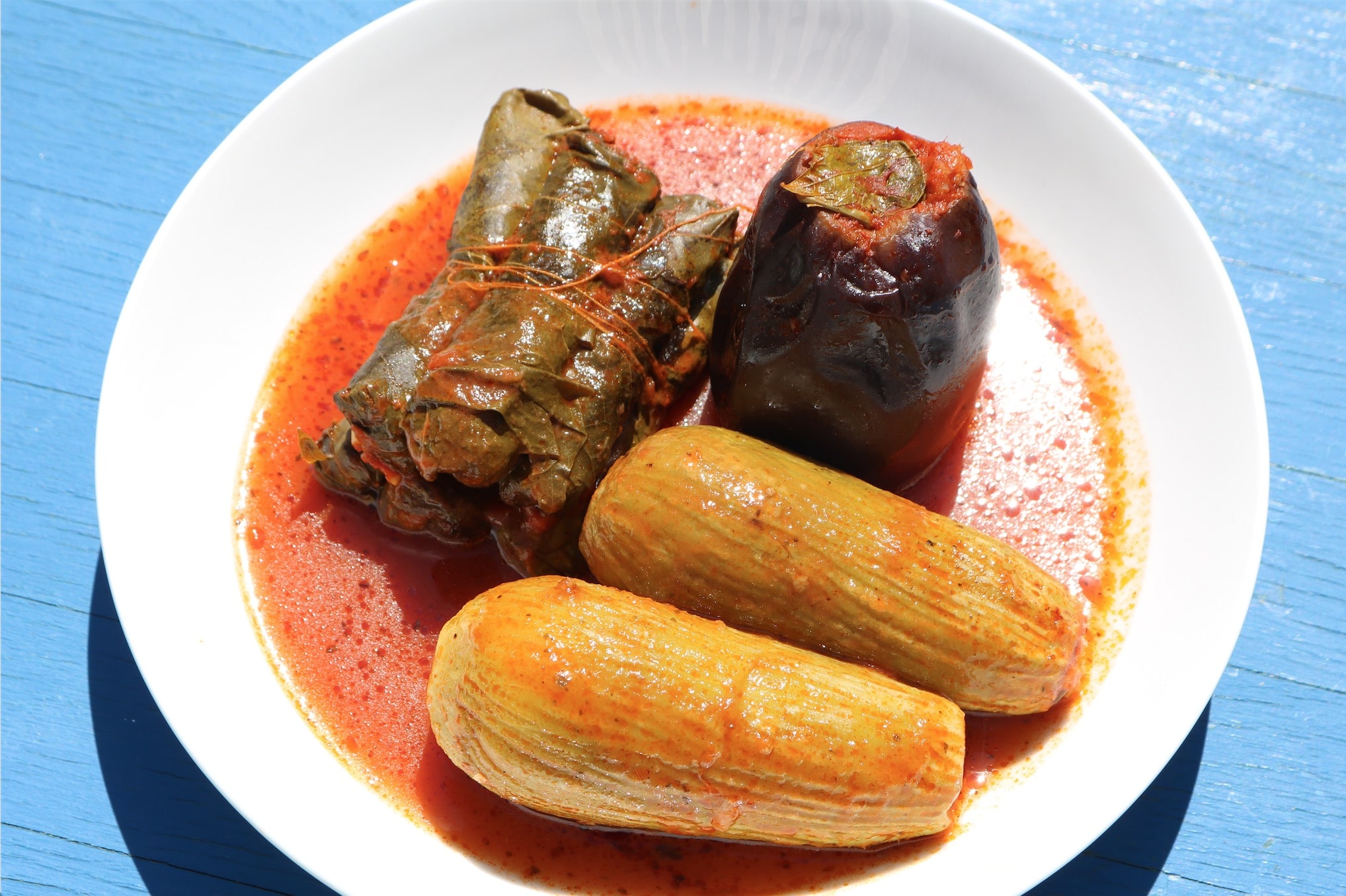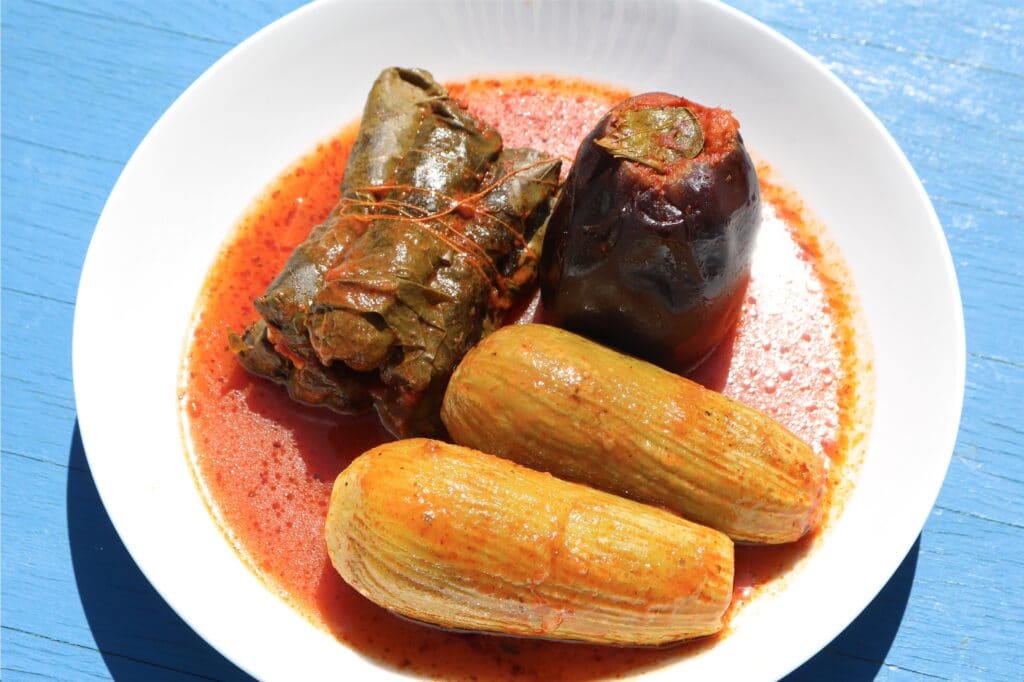 What matters more is the hint of dried mint and roughly chopped garlic that you add to the sauce when it comes to the boil.
You will also need some good lemons to go in the sauce and I always top up my plate with a squeeze of lemon just before I eat.
Tips for making the best warak enab with meat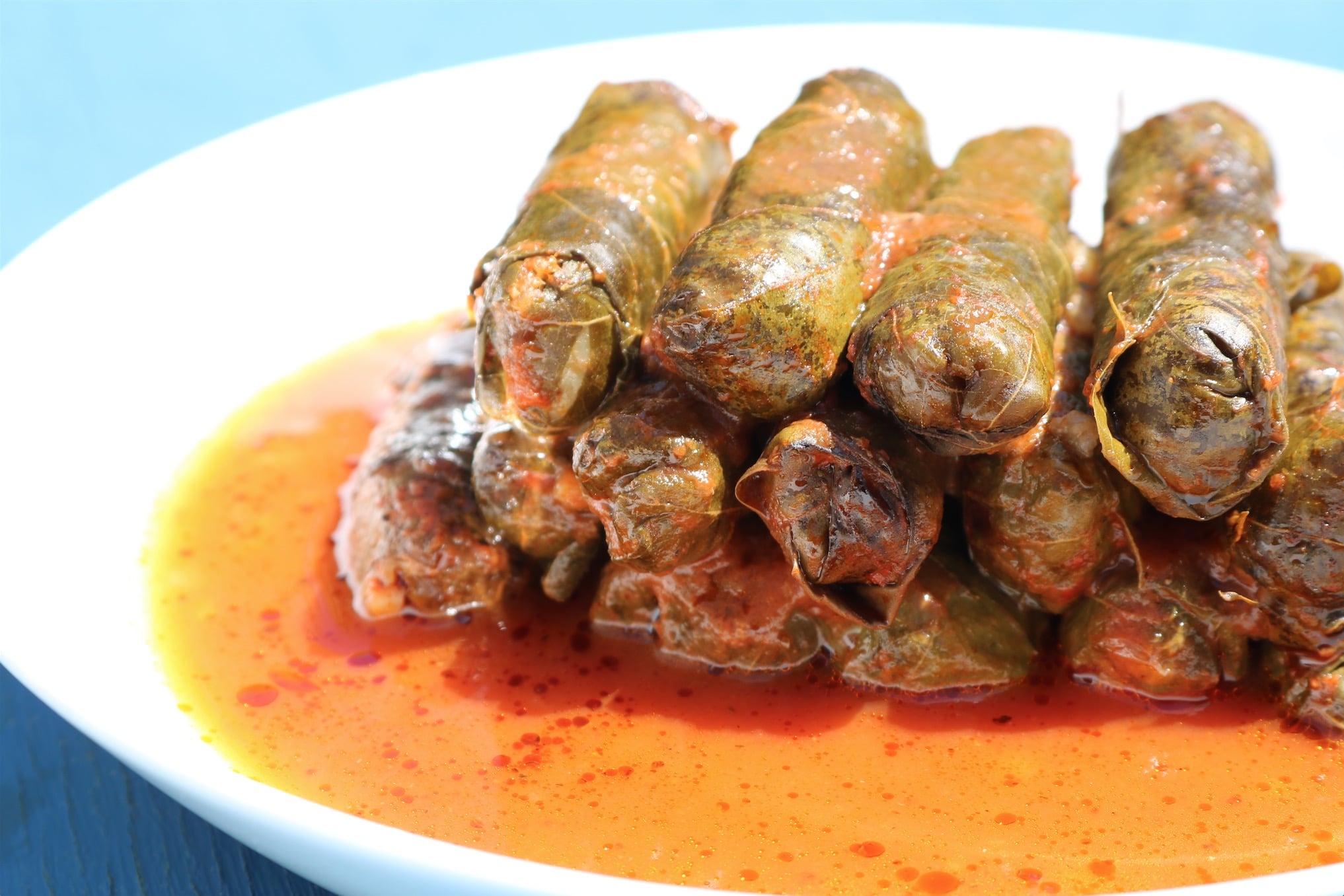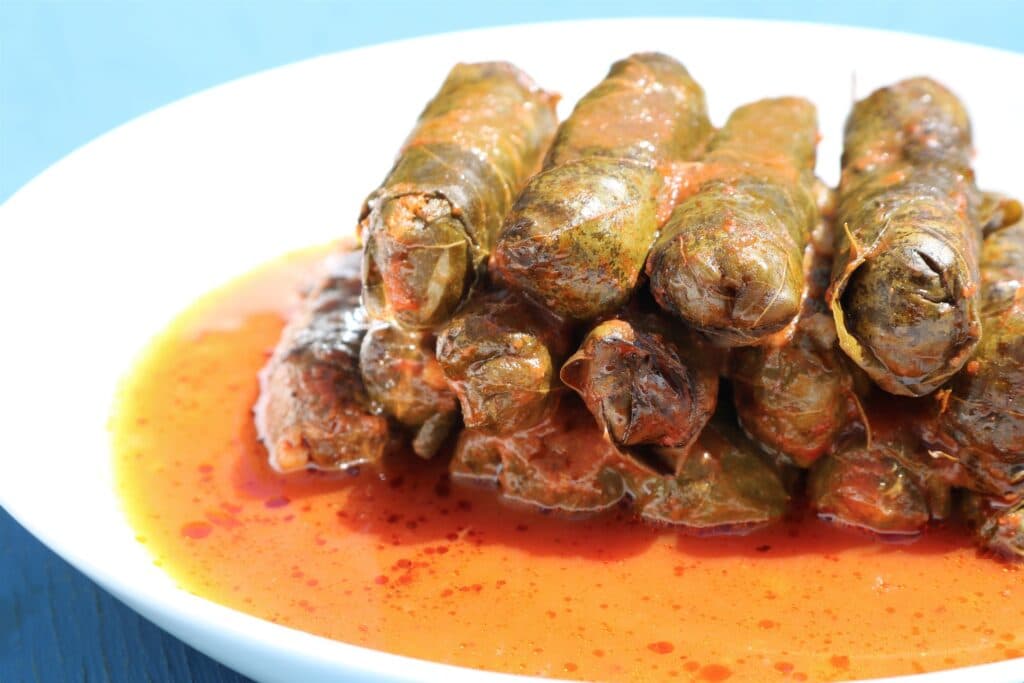 Years and years of experience mean that I can roll up half a kilo of grape leaves in just over half an hour.
If you are new to it try doing them with a friend or family member as it will be less stressful and make the time go by quicker.
You could also include some kousa mahshi (stuffed zucchini) or baby eggplants in the same pot, and use the same stuffing too.
Always taste the tomato sauce when it comes to the boil and just before you turn off the heat to see if you need to adjust the lemon or salt levels.
Serve the warak enab by cutting loose the string with some kitchen scissors and ladle a little tomato sauce in a shallow bowl.
Warak enab with meat is serious comfort food for weary souls so try your very best not to lick the bowl when you have finished 😋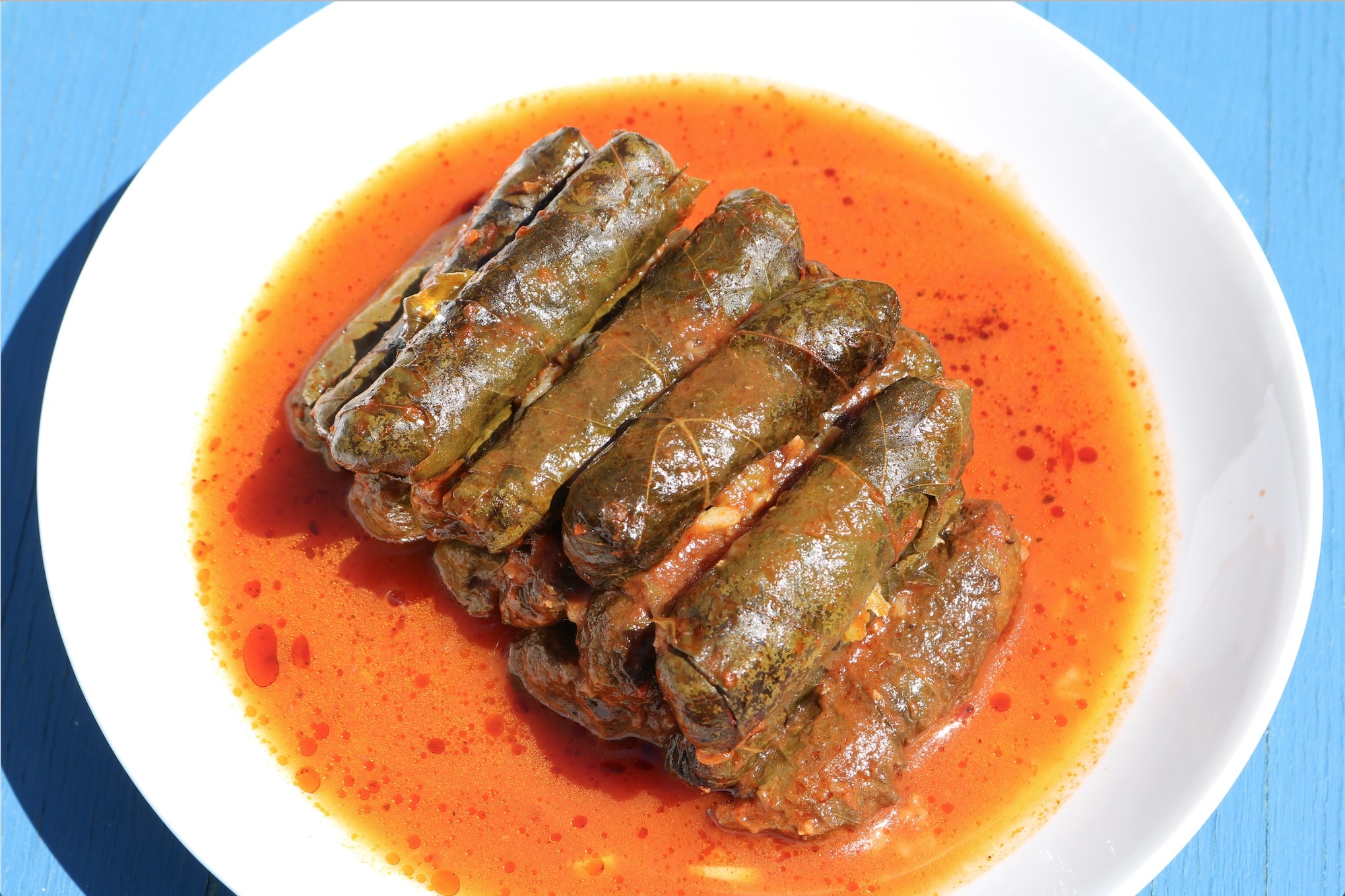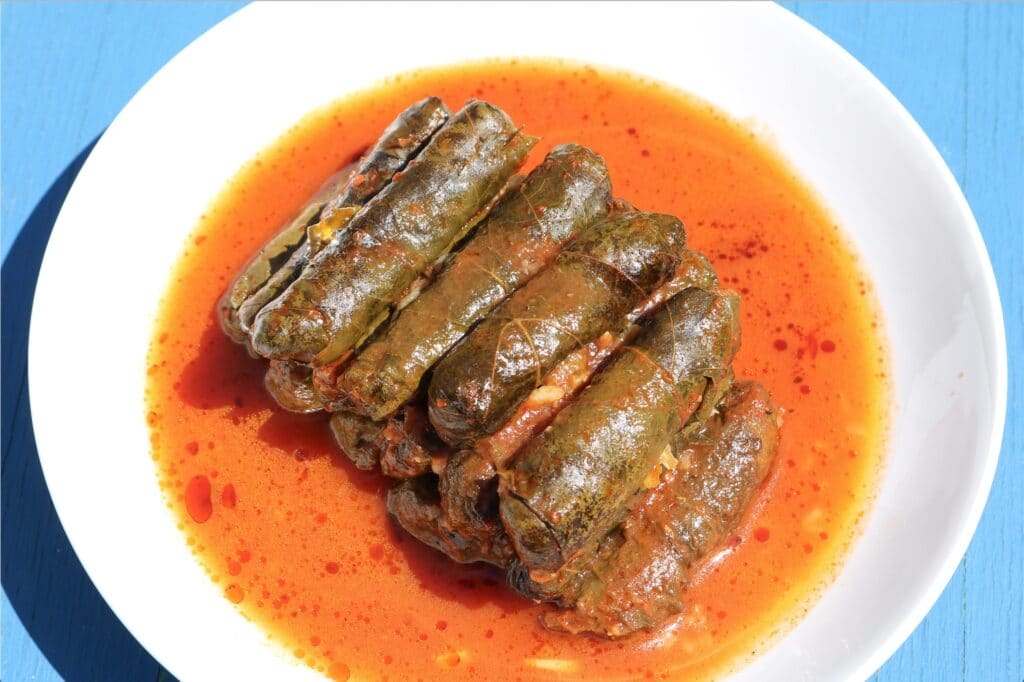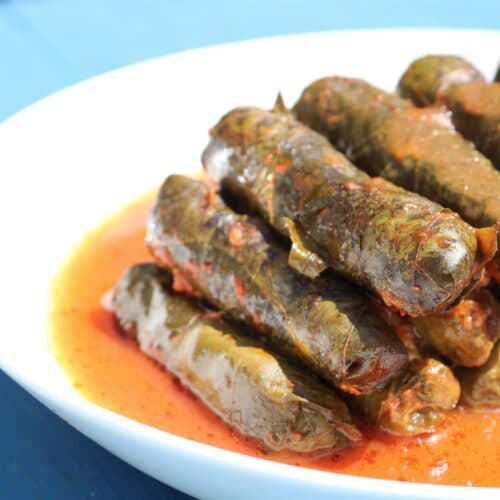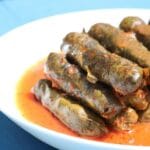 Lebanese Stuffed Grape Leaves (Warak enab bi lahme)
Grape leaves stuffed with meat and rice cooked in a rich tomato sauce
Cook Time
1
hour
20
minutes
Ingredients
500g of grape leaves

Boiling hot water for blanching
For the stuffing
250

g

of minced meat lamb or beef

1

small onion chopped finely

2 to

matoes chopped finely

¼

teaspoon

black pepper

¼

teaspoon

white pepper

⅛

teaspoon

turmeric

¾

teaspoon

seven spice

1

teaspoon

salt

Small handful of parsley chopped finely

10-15

mint leaves chopped finely

¼

cup

regular olive oil

11/2

cup

short grain rice
For the tomato sauce
1

carton of passata approx 500g

Extra water if necessary

2

lemons juiced

¾

tablespoon

salt

2

tablespoon

of regular olive oil

2-3

garlic cloves roughly chopped

1

teaspoon

dried mint
Instructions
To prepare the grape leaves
If you are using fresh leaves, trim the stalks and blanche them in boiling hot water for five minutes and drain. If you are using grape leaves from the jar, rinse them in cold water and drain
To prepare the stuffing
Wash the rice and soak in some water for around half an hour. Then drain the rice and add to a large mixing bowl

Add the mince meat, chopped tomatoes, parsley, mint, onion, seven spice, white and black pepper, salt and oil. Mix well and set aside
To make the warak enab
Prepare your work area with a large plate to roll the grape leaves on, the stuffing, a large tray, some white string and a large cooking pot

Lay out one grape leaf on the plate and add 1 tablespoon of stuffing in the middle of the grape leaf and tuck in the sides. Roll up firmly and gently into a cigar shape (See video)

Adjust the stuffing amount depending on the size of the leaf. Stack the rolled up grape leaves on the large tray

When you have rolled up a good batch, take five or six pieces and tie them with the white string roughly 30cm long. Stack these little parcels gently in the large cooking pot

When you have finished tying your grape leaf parcels, pour on the carton of passata, salt, regular olive oil, juice of 1 lemon and top up with water if necessary so all the parcels are covered

Bring to the boil then reduce the heat to a low simmer

After half an hour of cooking, add the garlic, dried mint and juice of another lemon. Cover the pot with a lid.

Simmer for another half an hour and taste the sauce to see if it needs any seasoning, salt or lemon adjustment

Taste one grape leaf to ensure it is done before turning off the heat. The total cooking time should be around one hour and 20 minutes

Serve in a shallow bowl with some of the remaining tomato sauce
Recipe Video
Recipe Notes
If you are in tomato season, instead of passata you can use enough fresh tomatoes that have been blitzed in a food processor to cover the warak enab parcels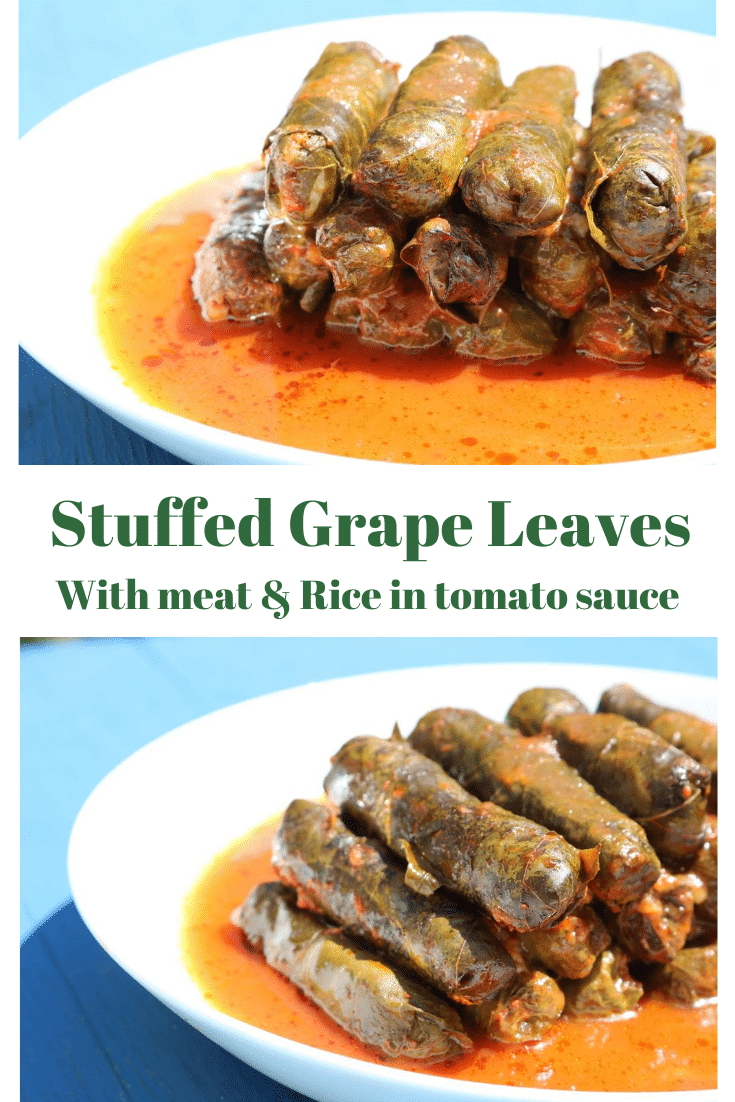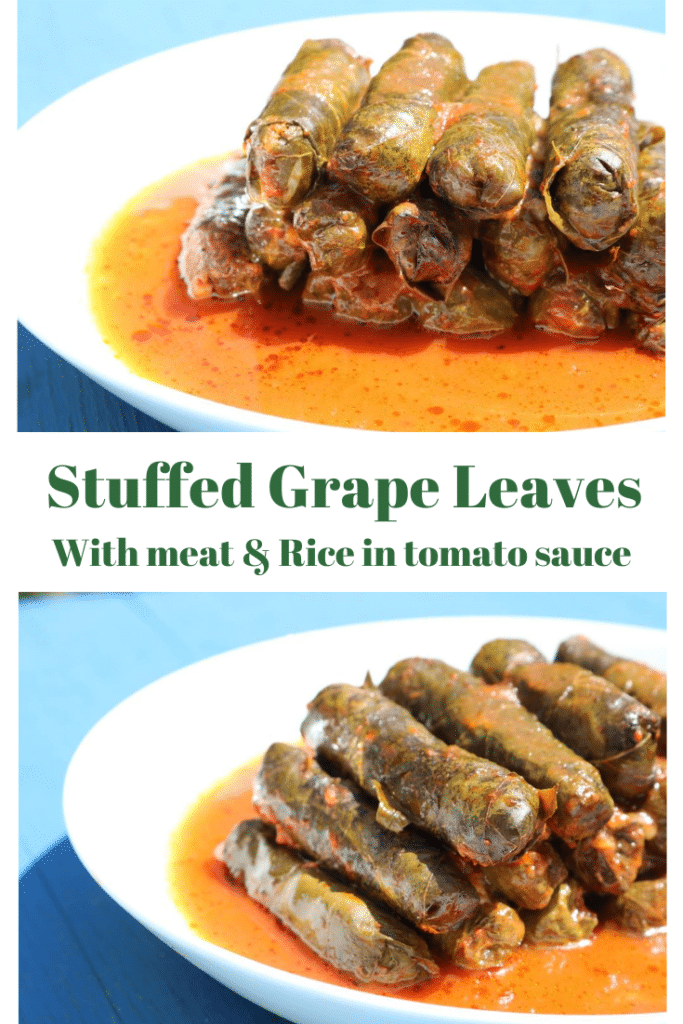 You might also like these recipes from the Zaatar and Zaytoun collection: