Creamy buttery white beans with a tangy tomato sauce provide the ultimate comfort food any time of the year.
You can find different versions of the humble white bean stew all over the Mediterranean.
This is the Lebanese version (fasolia bi lahme) with meat and the vegan version is practically the same except you simply leave out the meat and is just as good.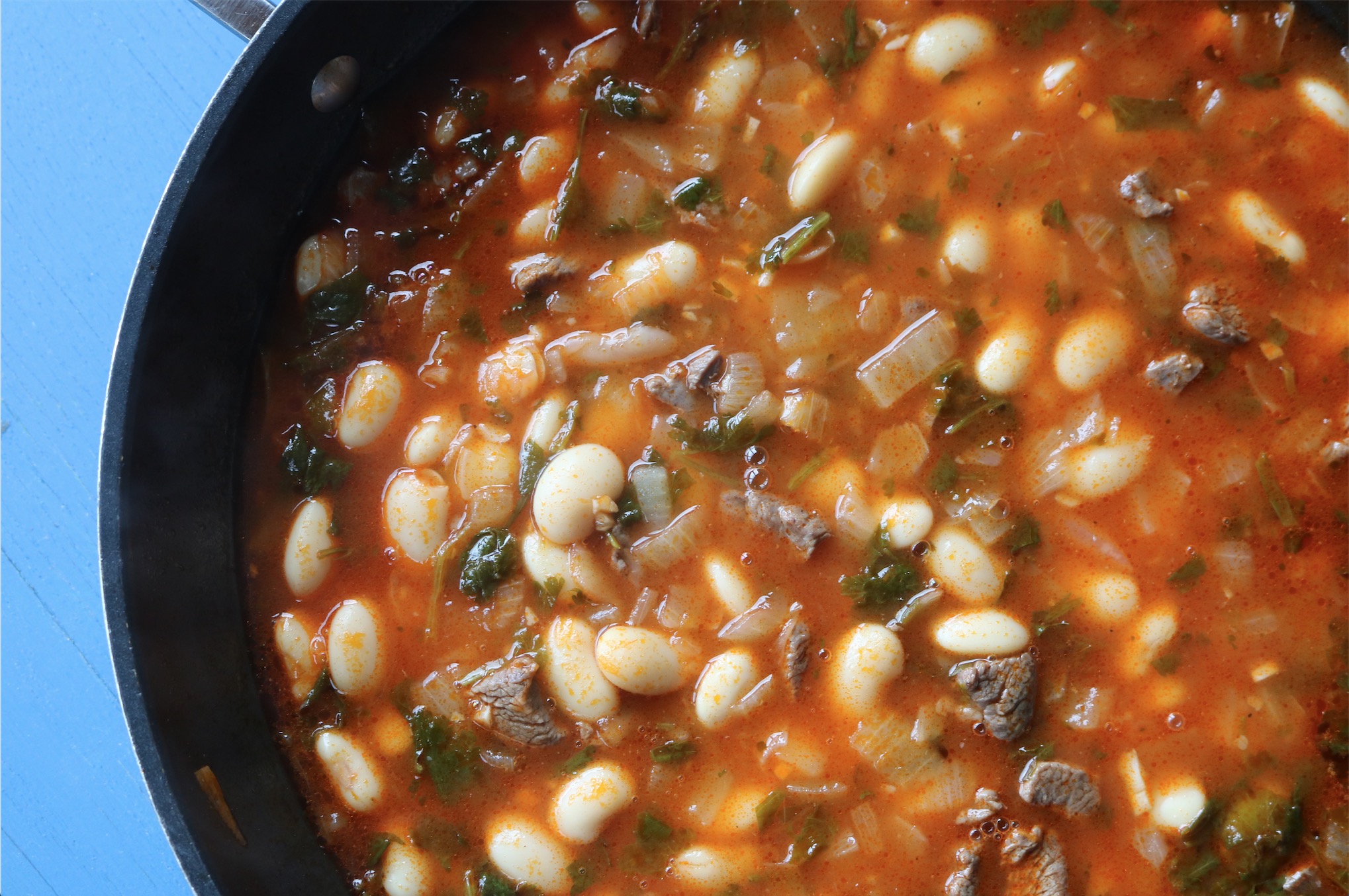 Jump to:
The meat
You can use any red meat you like though traditionally most stews are made with beef as it is less fattier than lamb. I like to buy fillet cuts and dice them up to bitesize chunks.
You don't actually need that much meat. A big stew like this only needs a small handful of meat to scatter the dish.
The meat is not the star of the show the white beans are. The meat is only complementing the overall flavour and providing an extra source of protein. That's the philosophy of the Mediterranean diet.
I always brown the meat off with the garlic and onions instead of dropping it in to the sauce raw, especially if I am using lamb, so it doesn't have that unpleasant boiled meat taste that i'm not a fan of.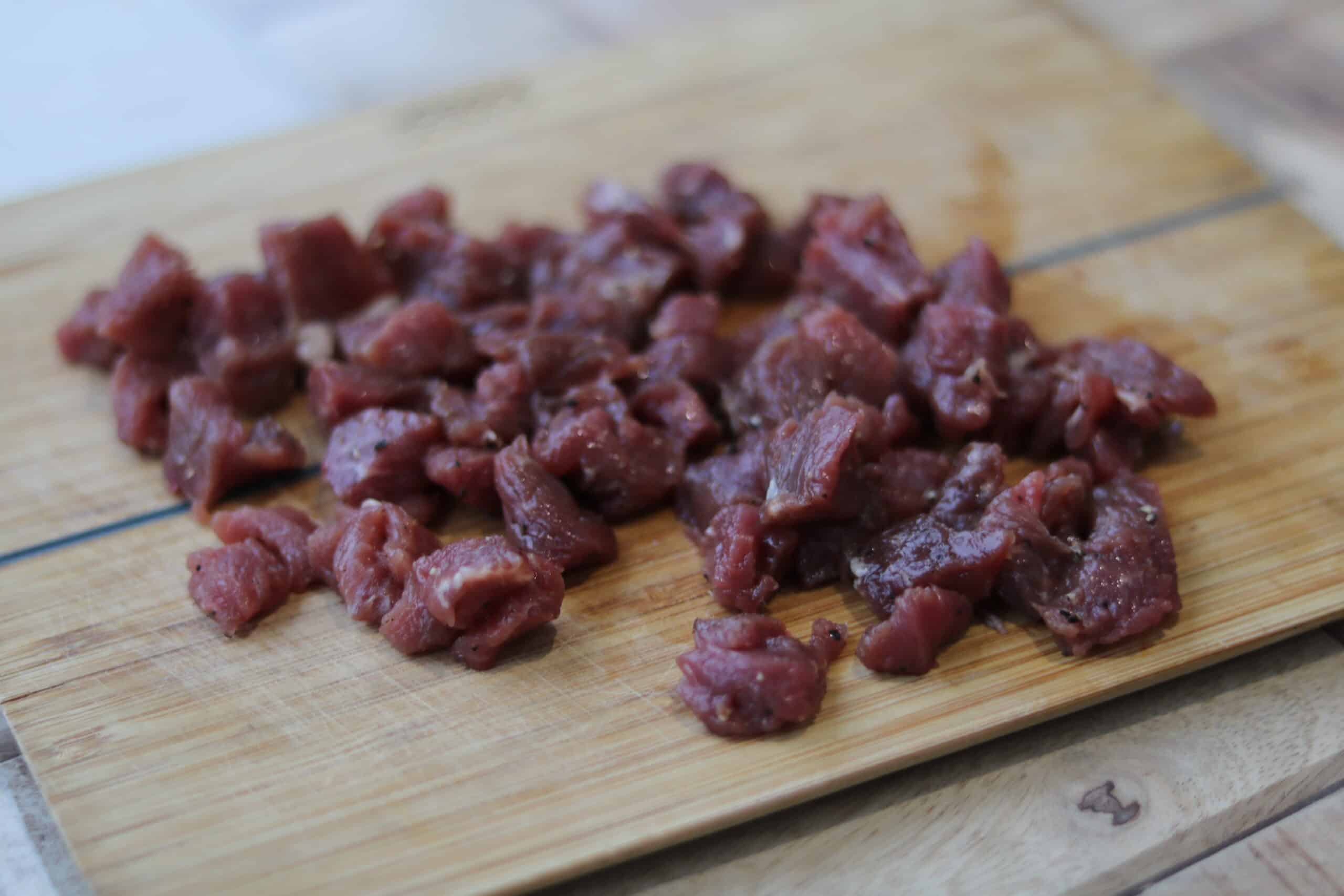 The base
It is common to make a base of onions, garlic and fresh cilantro (coriander) for many Lebanese dishes like this as it sets up the vegetables and protein well with a good flavour combination.
Cook the onions in a drizzle or two of regular cooking olive oil until golden on medium heat. When I add the garlic I always lower the heat so as not to burn them.
You can definitely use frozen cilantro which I make a habit of freezing as it tastes practically the same especially in stews. Of course if you have fresh cilantro then use that up first.
The white beans
So now for the never-ending debate of whether you should soak your own beans or use them ready made. I'm never one to oppose doing things from scratch but sometimes you want to eat and make something with what's at hand and don't have that option of soaking.
I have tested canned white butter beans or Cannellini, as well as ones in a carton or from a jar, and concluded that the ones in the jar are the best as they are not too soft like they can sometimes be from a carton or can, though of course if that's only what you have then don't hesitate to use it.
The other option is to get cooked frozen white beans and these are also very good and as fresh to made from scratch as possible. Of course if you soak and cook a big batch you can freeze the extra beans for later.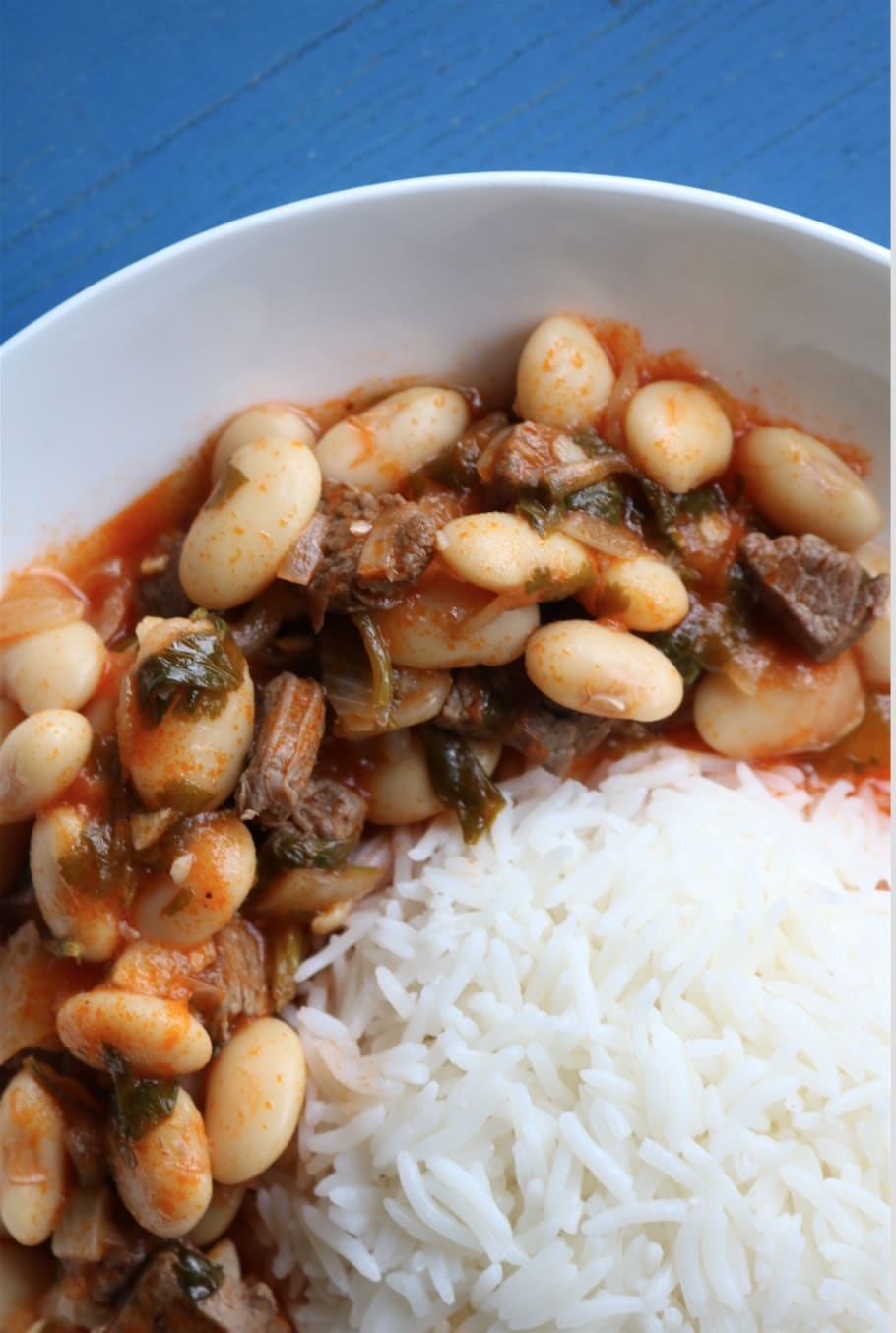 The tomato sauce
You can use passata or tomato concentrate with boiing water. I like the latter option as you can control how much you want and how 'tomatoey' you would like your sauce.
If you are in tomato season you can also blitz some tomatoes which will obviously be more delicious.
The rice
You can find my vermicelli rice recipe here which makes a nice side to go with this stew. Basically you need to sauté a bit of vermicelli in some vegetable oil until golden before you add the rice.
You should treat the vermicelli as rice when calculating how much water you need.
So if you are making 11/2 cups of rice and ½ cup of vermicelli that's equivalent to two cups of rice --> Therefore you will need three cups of water as the perfect water to rice ratio is 1.5.
Measure it out using some measuring cups it will make your life easier I promise.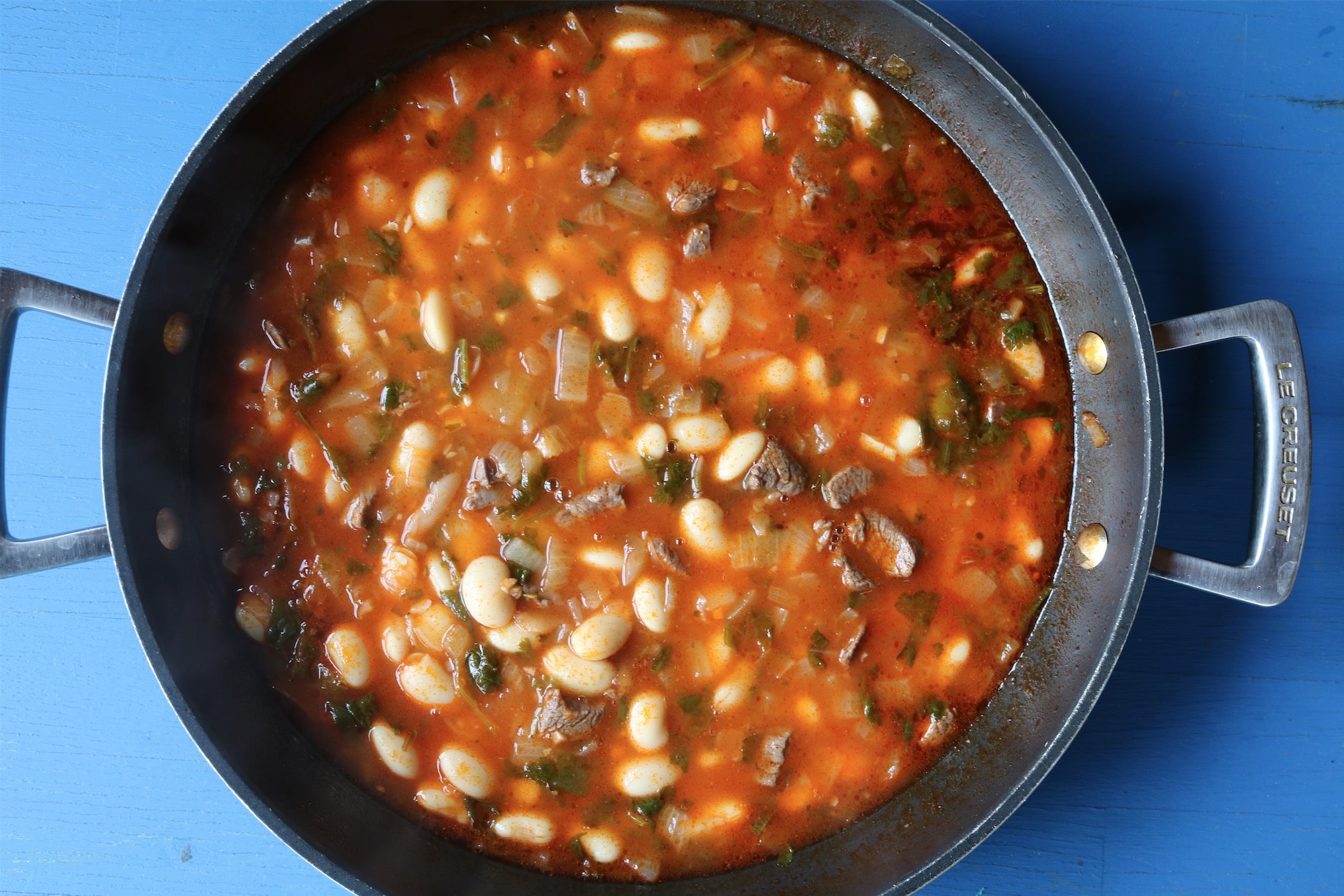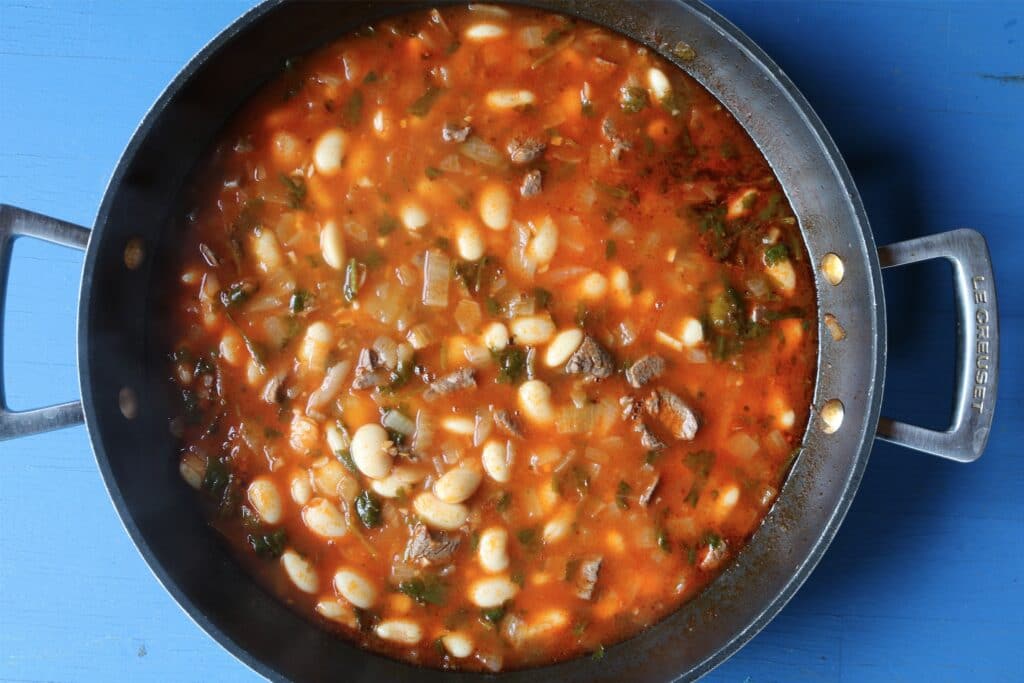 Finishing touches
As always, an extra squeeze of lemon and a last sprinkle of salt on your plate just before serving goes a long way and makes it extra delicious.
📖 Recipe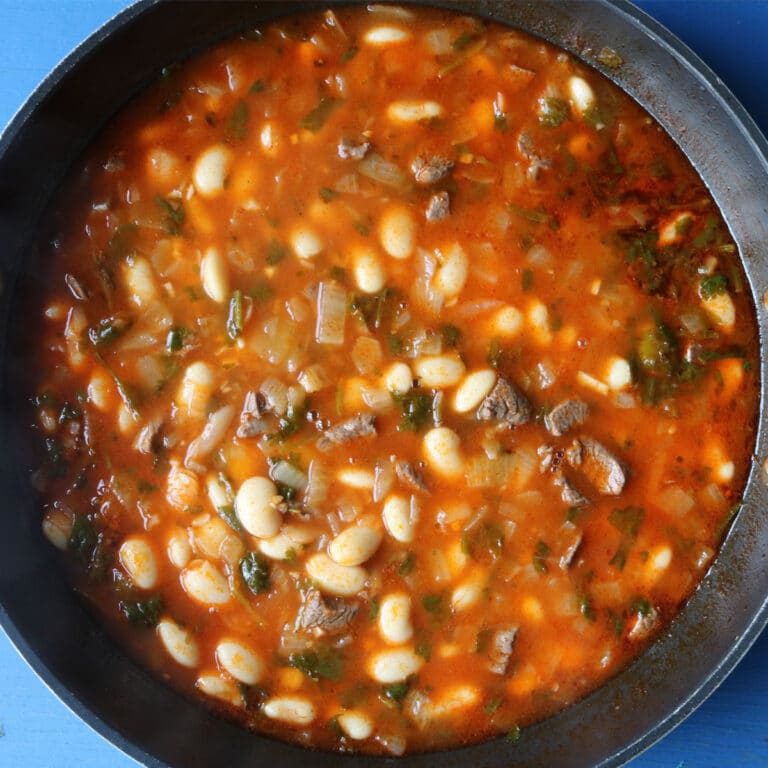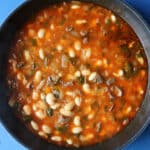 Lebanese White Bean Stew with Meat (Fasolia bi lahme)
White beans cooked in a garlicky tomato sauce
Ingredients
500

g

of drained white beans

Butter or Cannellini

200

g

of beef or lamb fillets

chopped into 2cm pieces

1

large onion

2-3

garlic cloves

chopped

1

handful cilantro

chopped

3

tablespoon

tomato concentrate

Boiling water to cover

approx 3 cups

¼

teaspoon

black pepper

Salt to taste approx 1 full tsp

Juice of 1 lemon

squeezed
Instructions
Wash and drain your white beans and set aside.

Take out the meat pieces to bring to room temperature at least half an hour before cooking. Chop them into 2cm sized pieces.

Sauté the onion until golden in a drizzle of regular cooking olive oil. Add the garlic and cilantro and cook for another few minutes.

Add the meat pieces to the onion mixture and fry off on medium high heat until they are sealed from the outside but still a little uncooked in the middle

Add the white beans to the pot along with the tomato concentrate, salt, black pepper and enough boiling water to cover. Bring to the boil then simmer for approximately half an hour until the meat is cooked

Adjust the salt if necessary by tasting the sauce. Add the lemon juice just before you turn off the heat and serve with rice
Recipe Video
Recipe Notes
You can use a carton of passata instead of tomato concentrate and water to achieve the same result
If you enjoyed making this recipe, leave us a star rating below.
We have a lively Facebook group where we post frequent recipes and discuss Lebanese cooking in general, as well as a handy Pinterest page where you can save all of your favourite Zaatar and Zaytoun recipes!
You might also like these recipe from the Zaatar and Zaytoun collection: