Every year I develop at least one new chicken marinade to my collection and this one is sour and savoury rather than sweet and savoury.
Somewhere in all the ingredients, some magic happens and you get the most delicious earthy zingy flavour.
I can't pretend to explain it, but it just works. Just try it and see.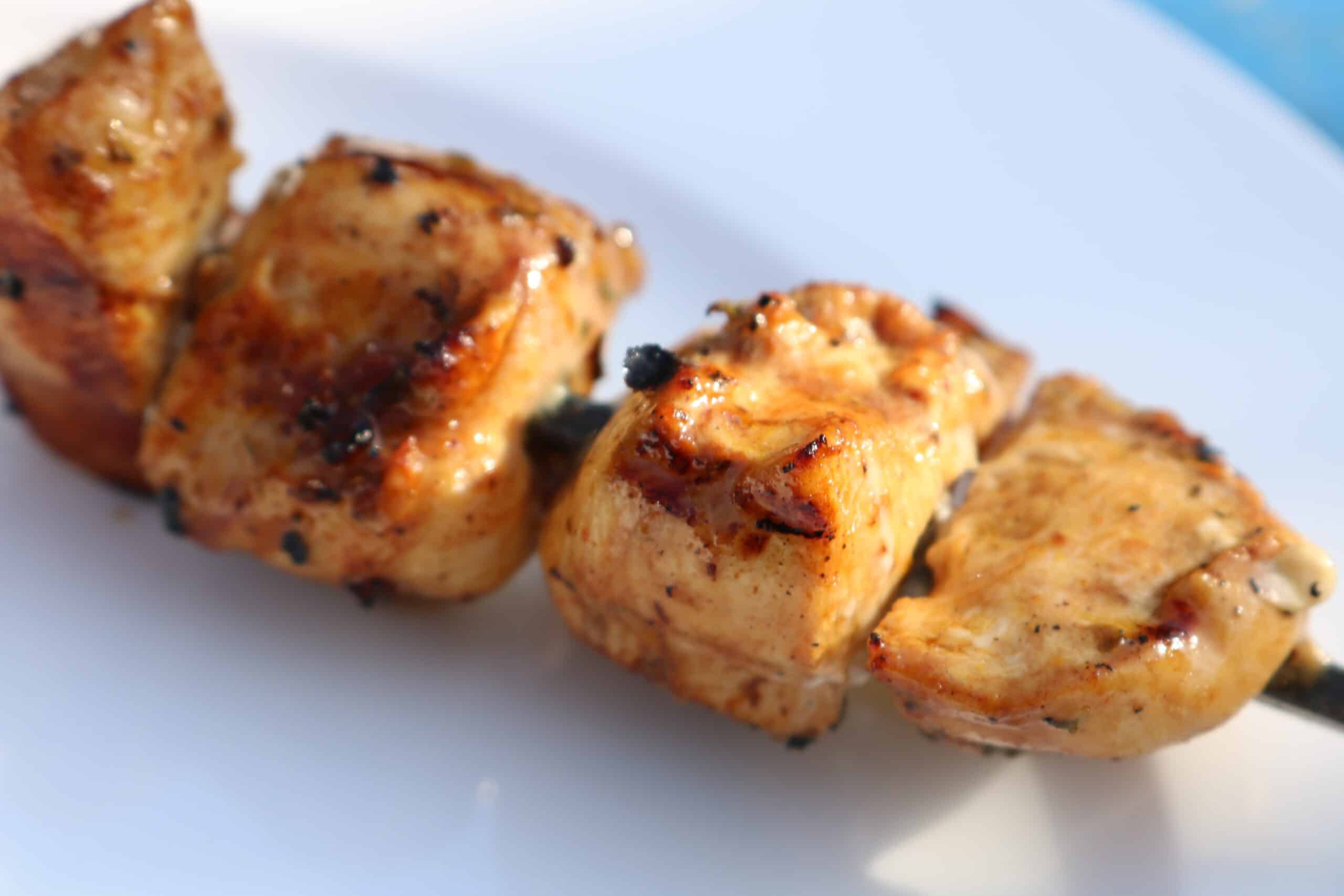 You may also have tried my very popular easy chicken marinade that consists of the minimal ingredients. This one is more maximalist in nature.
Of course there is the classic shish tawook too, most Lebanese bbqs don't stray too much from this but I love to experiment with chicken as it's so versatile.
Jump to:
Ingredients
I use a little pomegranate molasses for the sour bit and soy sauce for the savoury part.
I have all my main spices, you know; turmeric, paprika, black pepper and 7 spice (a ¼ teaspoon of each) but I also use a little jerk seasoning to add that vibrant touch.
Obviously you also have lemon and a pinch of mediterranean herbs, and a good pinch of salt.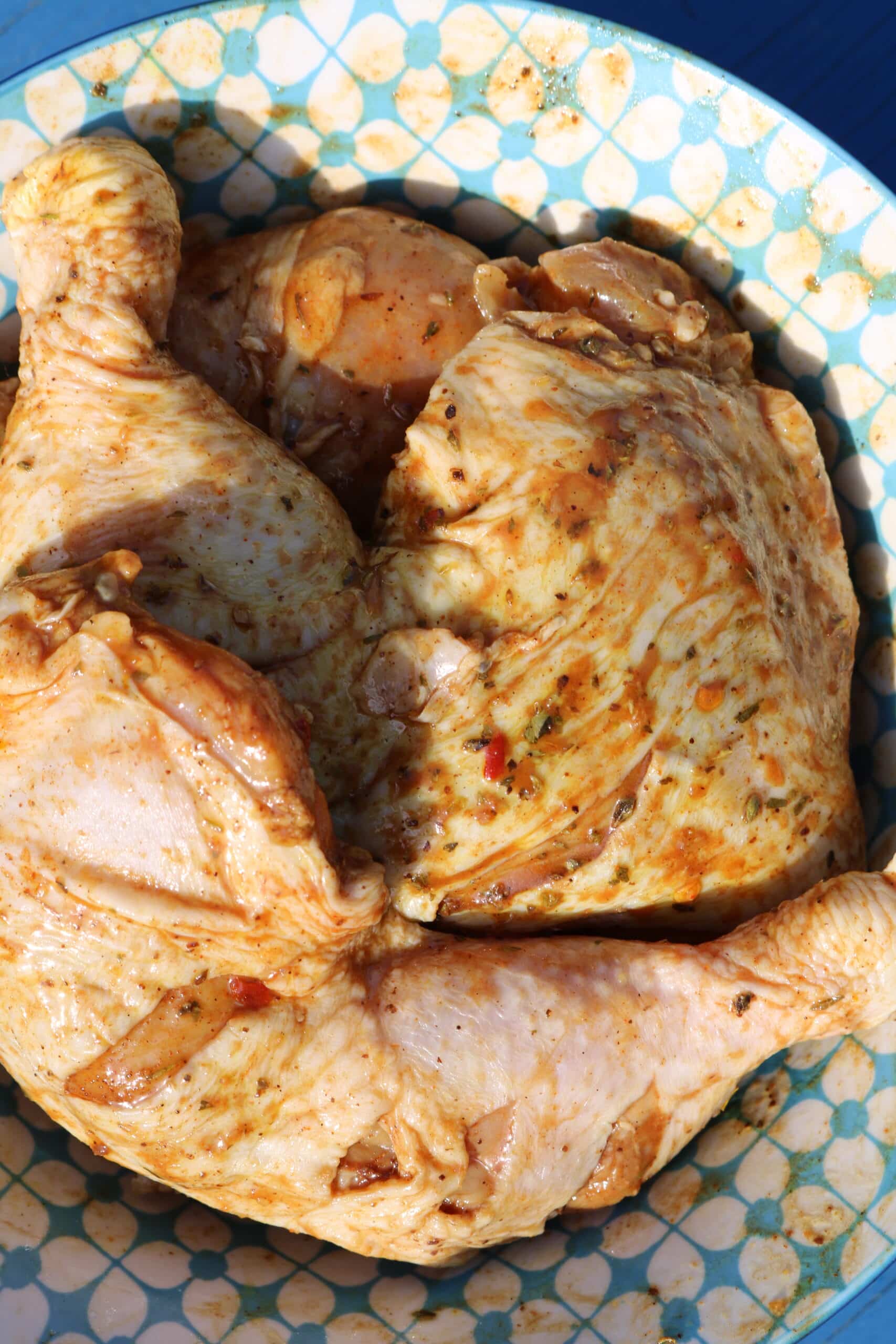 If you don't have all the spices that's ok, chicken marinades are flexible and you can substitute or even miss out some.
However I would say that the soy sauce, jerk seasoning, lemon and 7 spice do give this particular marinade it's character so try to source them.
Instructions
Marinade the chicken at least for a few hours beforehand, preferably overnight. It really does make a difference.
Take the chicken out around half an hour before you are ready to grill to bring it to room temperature.
You can use chicken thighs or breast. When you rub the marinade into the chicken thighs make sure you get under the skin and score the thighs with a knife for good measure.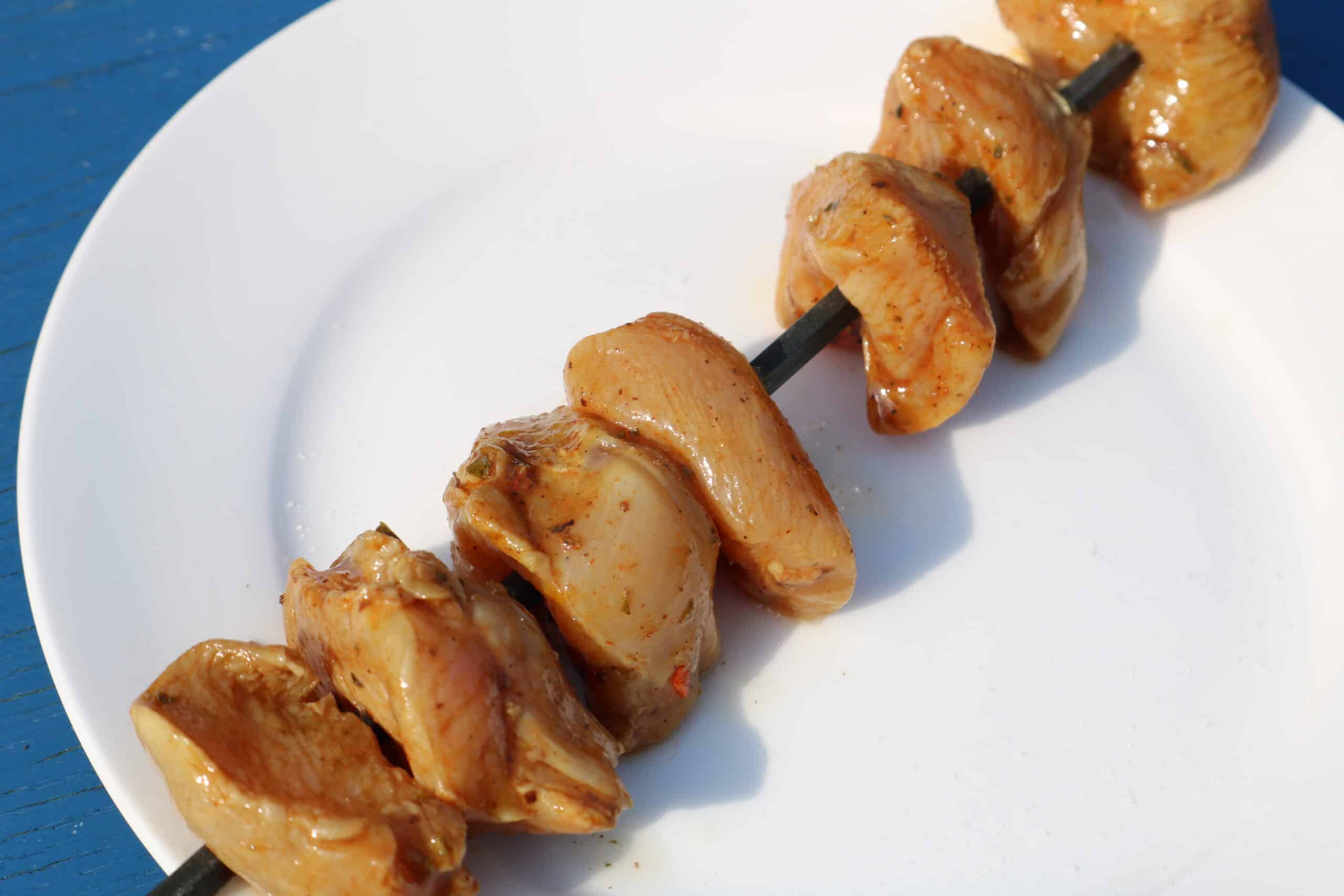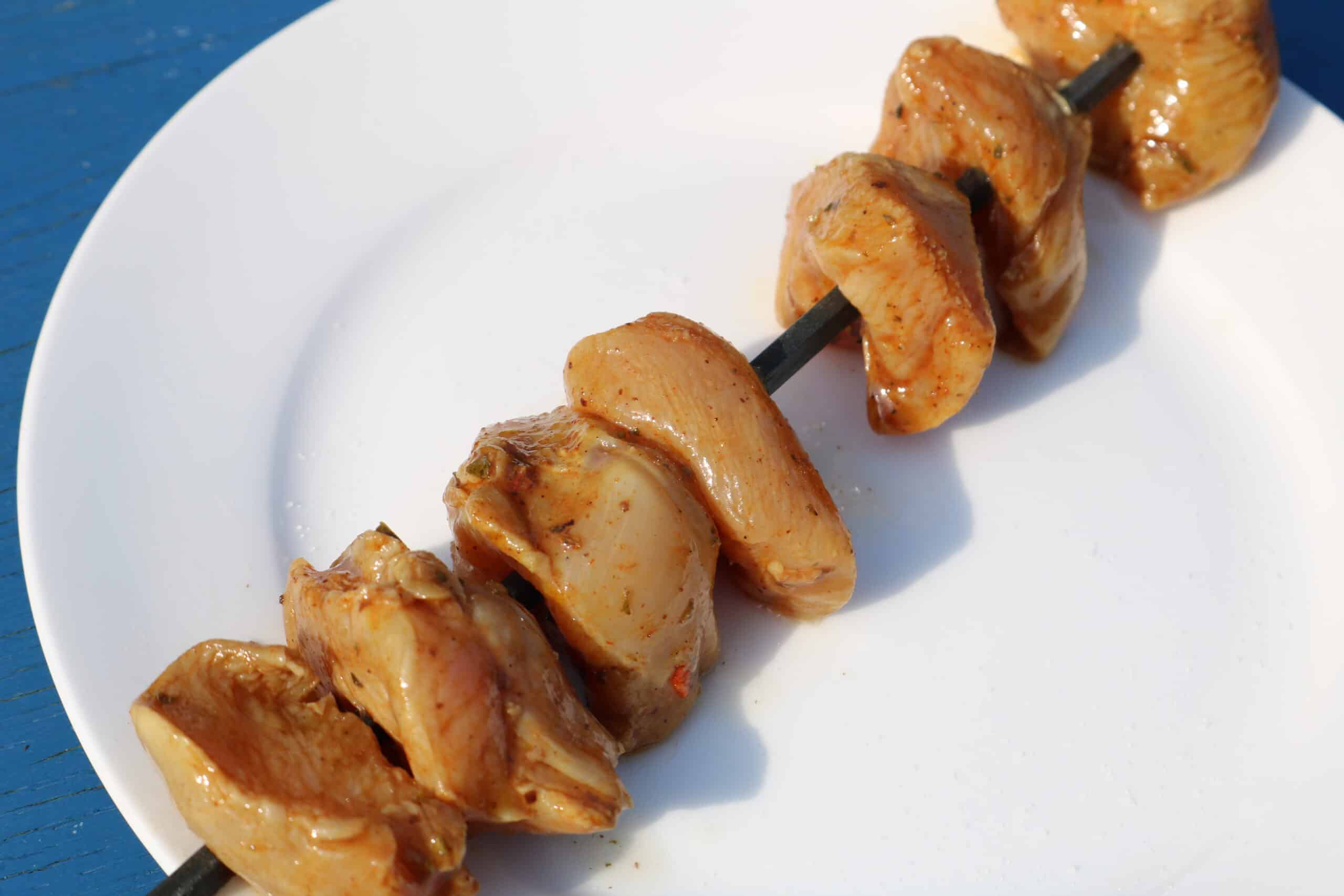 Variations
As I mentioned chicken marinades are flexible and with a considered adjustment you can make another version of it. Just don't go round throwing ingredients without justifying it.
Creamy - add a few tablespoons of yoghurt to make this marinade creamy
Spicy - add a fresh birds eye chilli, finely chopped to get that heat at the back of your throat
Garlicky - add some garlic sauce (toum) or garlic powder if you are a garlic lover
Add half or quarter teaspoon of any extra ingredients depending on the intensity.
Storage
The chicken can be stored in the fridge for up to three days from the day of purchase. It can also be frozen for around 6 months.
I always marinade the chicken before I freeze it so when it comes out it can defrost and is ready to go.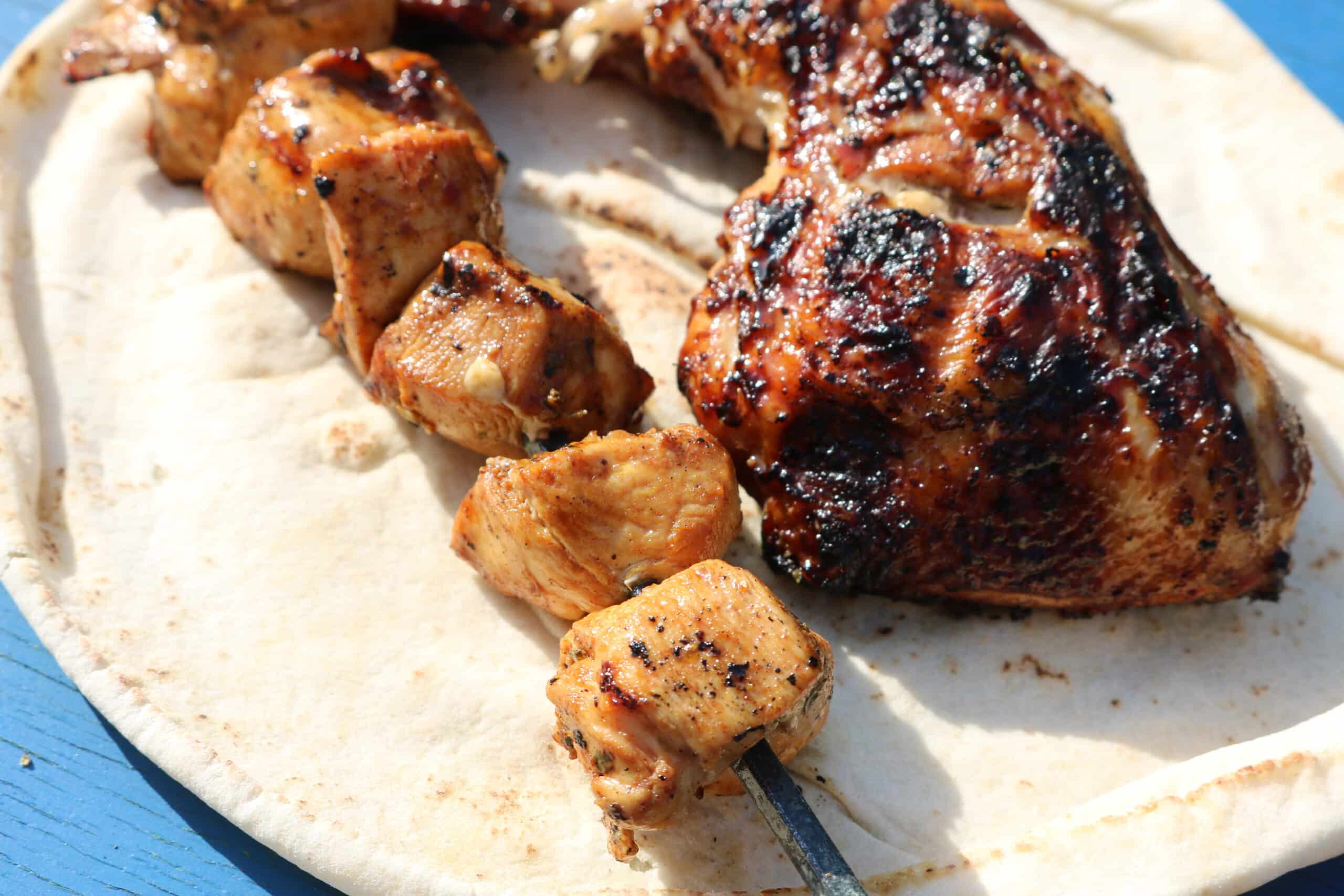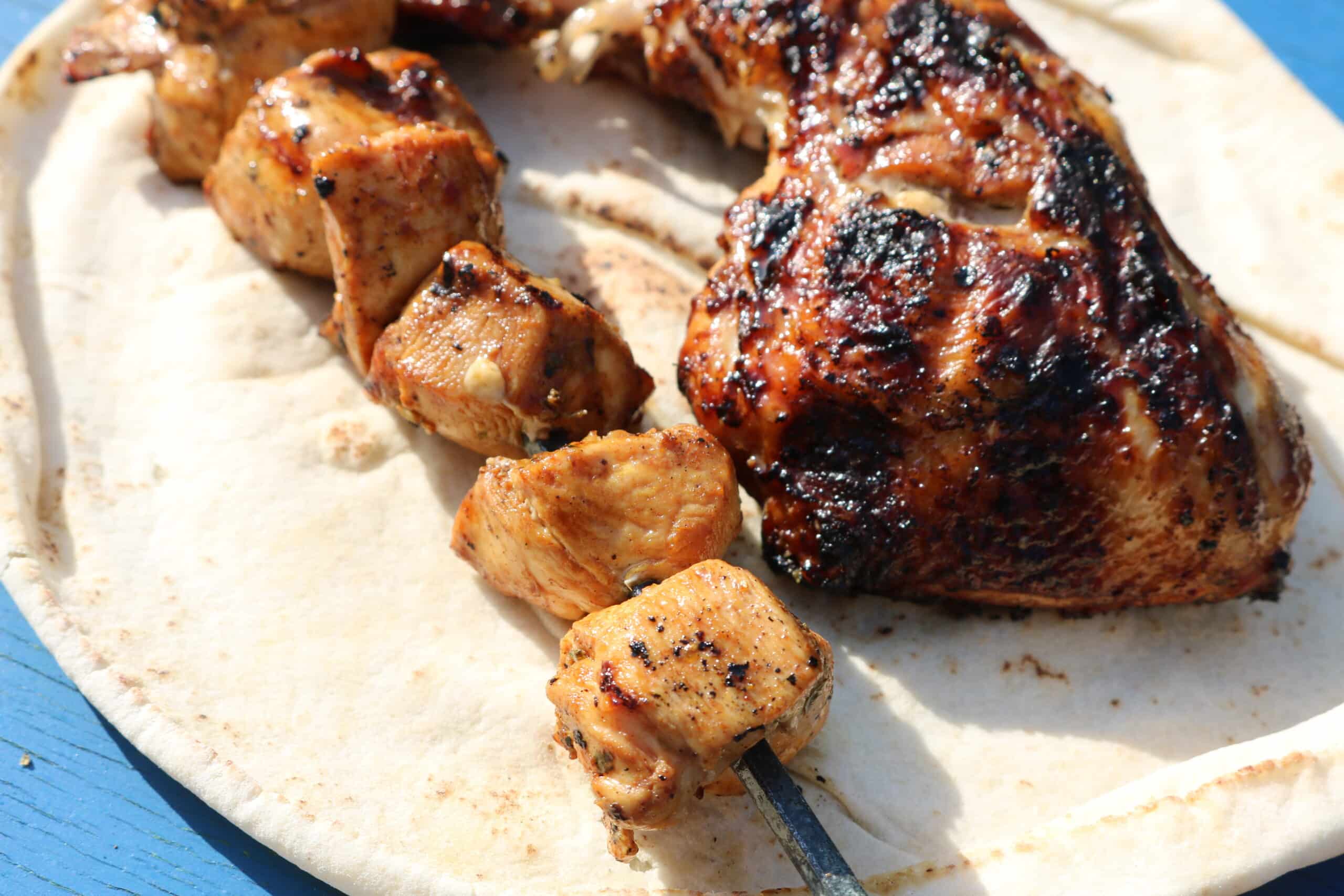 Top tips
You can use this marinade for oven frying, roasting or braising chicken. If you are grilling on the bbq get the coals going and add the chicken when the heat is low and steady.
Chicken breast will need less time than thighs to be done so add the skewers first.
Don't be too scared about cooking the chicken enough, you can easily check by cutting it to see if there is any pinkness. if so just re-add to the grill.
Serve this with a nice coleslaw and hand cut chips with lots of garlic sauce. Oh and don't forget the hot sauce!
📖 Recipe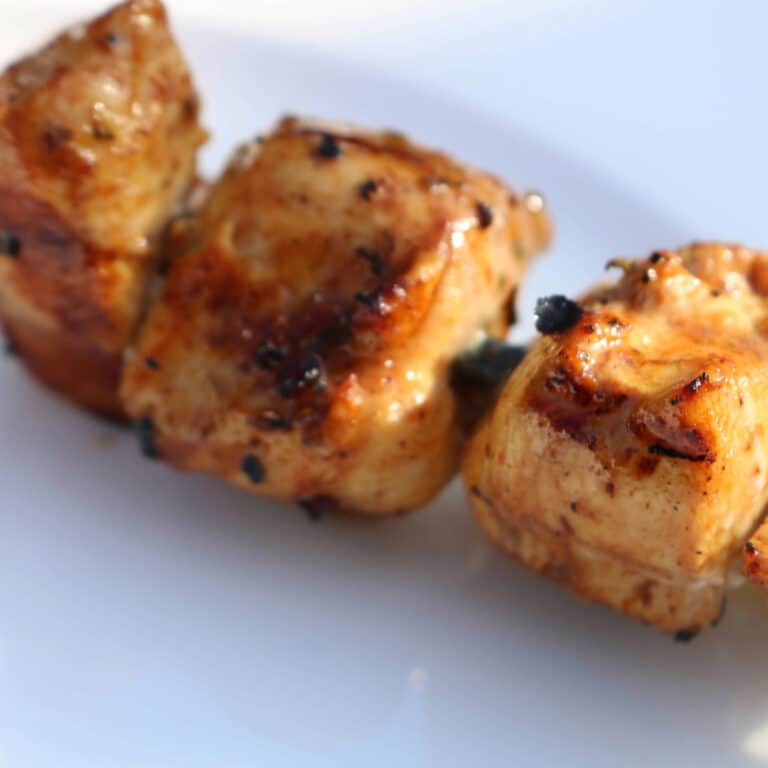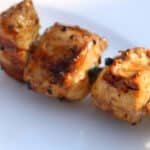 Grilled chicken (Djej Meshwi)
Sour and savoury chicken marinade perfect for grilling
Ingredients
1

kg

chicken

½

lemon

juiced

2

tablespoon

mild olive oil

(drizzle)

2

tablespoon

Soy sauce

1

tablespoon

Pomegranate molasses

¼

teaspoon

Sumac

¼

teaspoon

Mediterranean herbs
Spices
½

teaspoon

Jerk seasoning

¼

teaspoon

7 spice

¼

teaspoon

chilli flakes

¼

teaspoon

garlic powder

¼

teaspoon

turmeric

¼

teaspoon

paprika

¼

teaspoon

black pepper
Instructions
In a large mixing bowl add the lemon juice, salt, mild olive oil, spices, soy sauce, pomegranate molasses, dried meditterranean herbs and sumac. Stir to combine well

If you are using thighs, gash the chicken with a sharp knife. Add to the bowl and using your hands to rub the marinade under the skin

If you are using chicken breast, cut into bite sized chunks and mix well with the marinade

Seal the mixing bowl with cling film or transfer to an airtight bag and place in the fridge. Ideally you should let the chicken marinade overnight but a good few hours is the next best thing

Once the barbecue is ready, grill on a low heat on each side until well done, turning to cook evenly
If you make any of our recipes let us know how it went by giving us a star rating below.
Check out our Youtube page for full video tutorials, our Facebook group to discuss Lebanese cooking, as well as our tiktok page for quick tips.
You may also like these recipes from the collection: