Upgrade your average brown lentil soup with this recipe by adding swiss chard, lemon and potatoes in this traditional Lebanese soup.
Brown lentils make a good base for this soup as they don't mush very easily and can handle being cooked for longer amounts of time.
Green lentils could be substituted if that's what you have at hand just follow the packet instructions.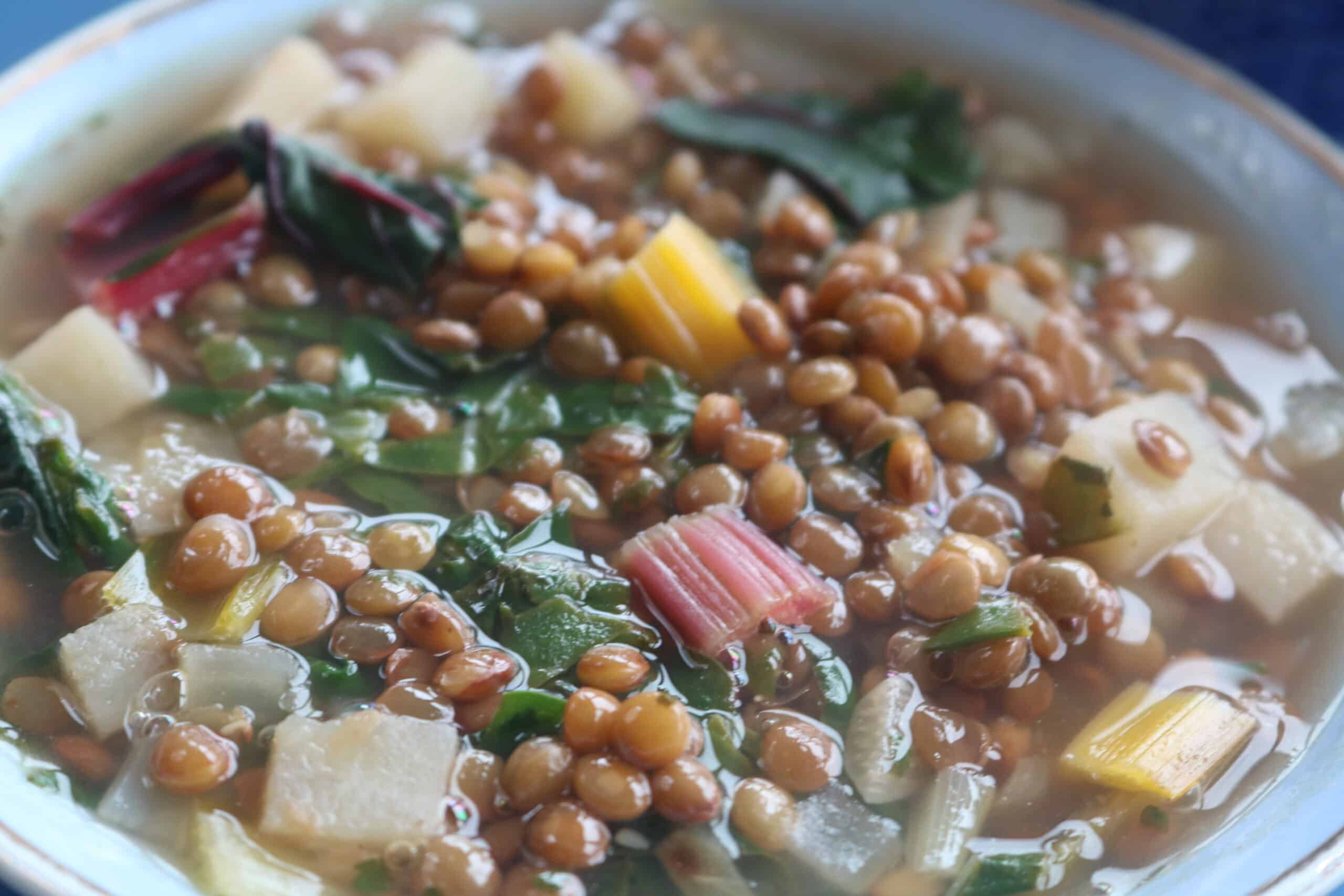 I wouldn't recommend using red split lentils as they don't hold their shape as well. I have another recipe that uses red split lentils in a soup here.
Lentils are a great source of protein and are rich in antioxidants, iron and magnesium. Plus they fill you up on the cheap and taste delicious when you know how to flavour them well.
Swiss chard
Swiss chard, known in Lebanon as 'sele2' has such a lovely subtle flavour that hugs all the other ingredients without taking over. If you used for example spinach, it would dominate the dish.
Swiss chard is definitely underrated in cooking and you might feel like a big bunch of chard is too much for one cup of lentils but it wilts down a lot and is good for you so don't hold back.
There are several varieties of swiss chard, I have used rainbow chard which looks beautiful with its yellow and pink stalks. You can use regular swiss chard there is no difference in the flavour.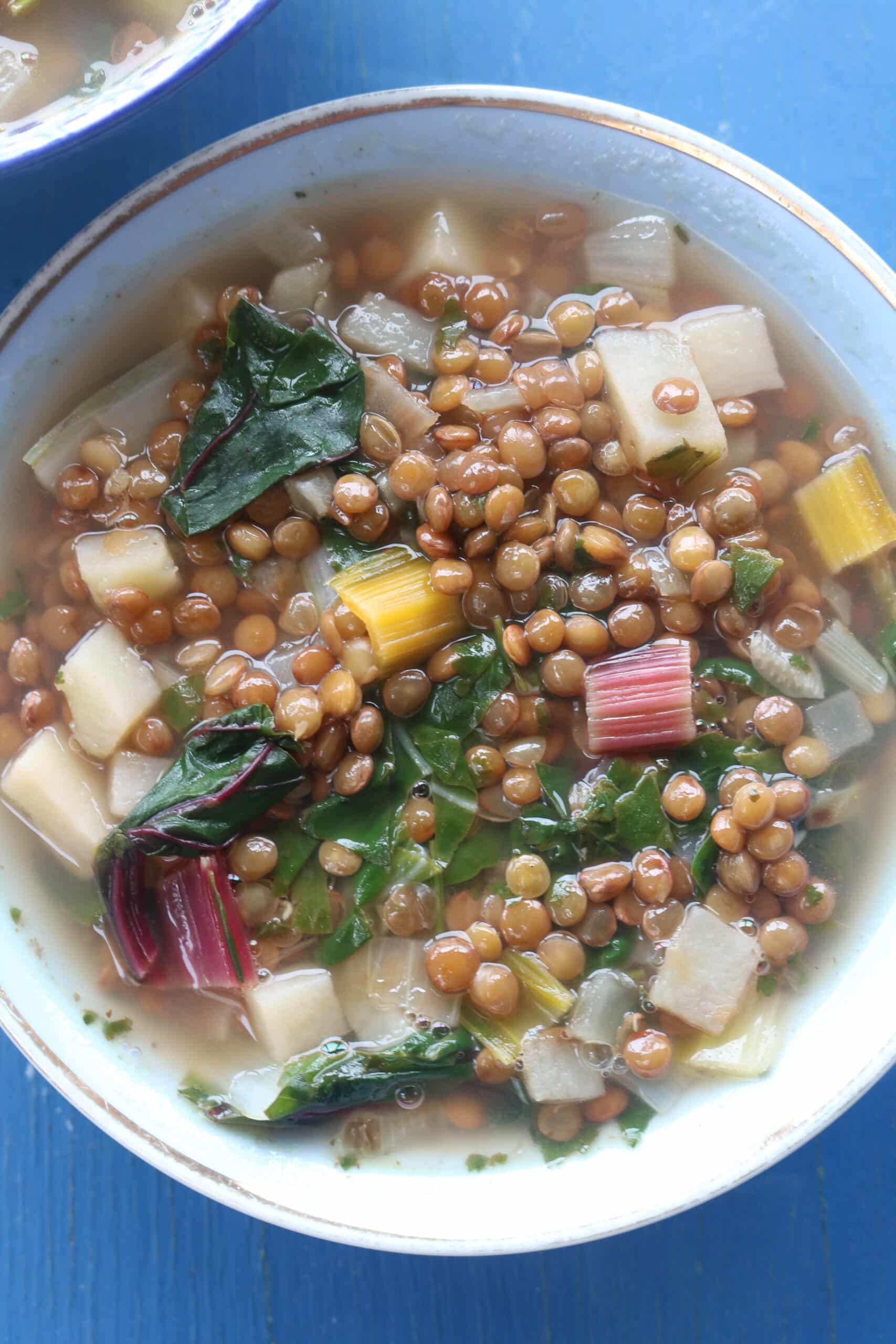 Potatoes
Not everyone adds potatoes but I love the extra texture it brings but you don't want it to be a potato soup so two medium potatoes will do.
I use Maris piper potatoes that hold their shape in soups and won't mush into oblivion, you can use any good waxy potato that can handle being immersed in water unlike the floury types.
Soup consistency
I quite like this soup to be on the watery side and usually top up with boiling water once the potatoes are done.
If you like your soups thick and more substantial just hold back on the extra water. You can also add more potatoes to make it more of a meal.
You can also freeze this soup if you want so just top up the water when you reheat.
Lemons
The fact that this soup is known in Lebanon as 'Adas bil hamod' or 'lentils in lemon' gives you a clue as to how much lemon you need to put in.
You want the lemony flavour to zing and bring out all the other flavours so don't be shy. I put lemon in the soup as well as an extra squeeze in the bowl just before serving.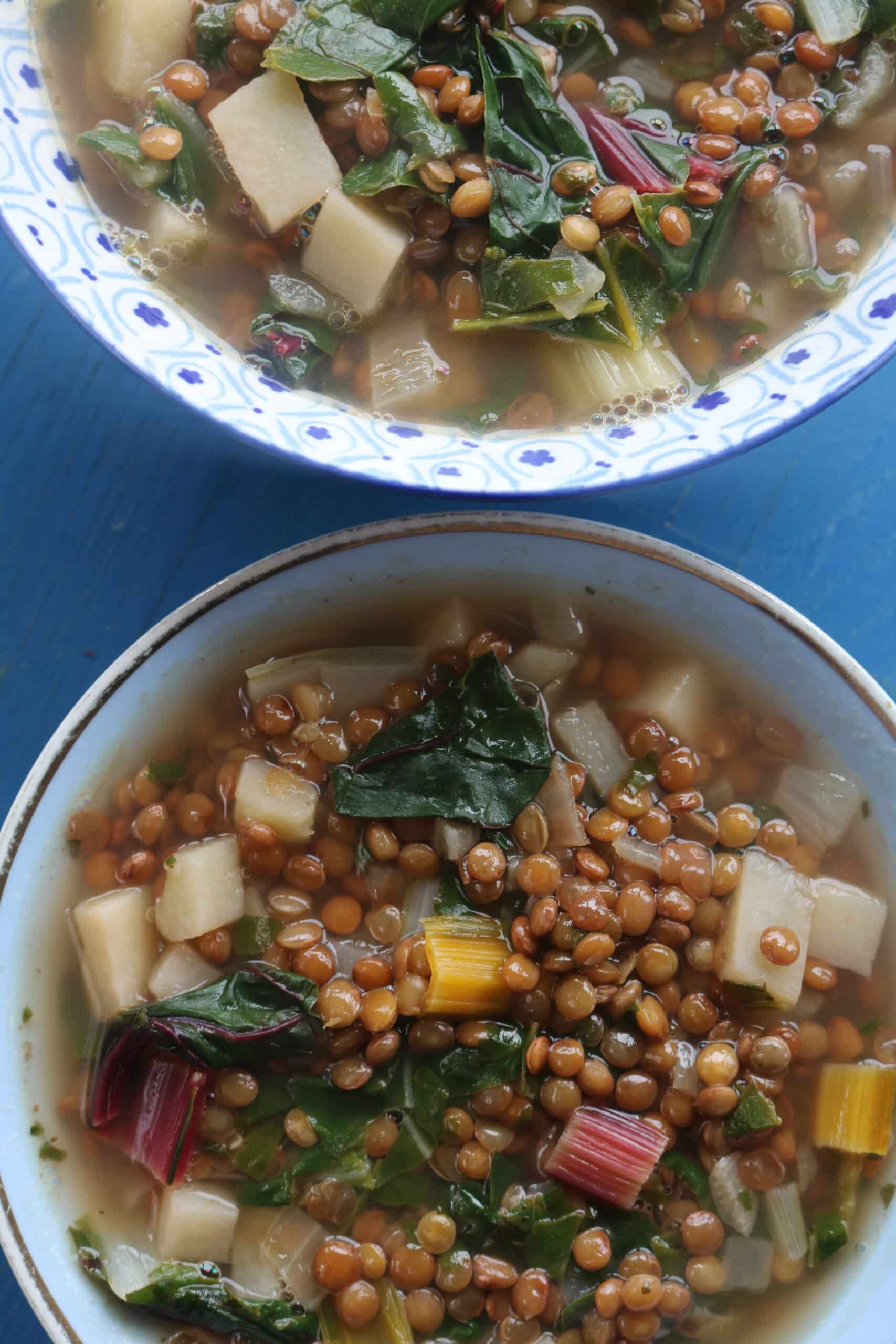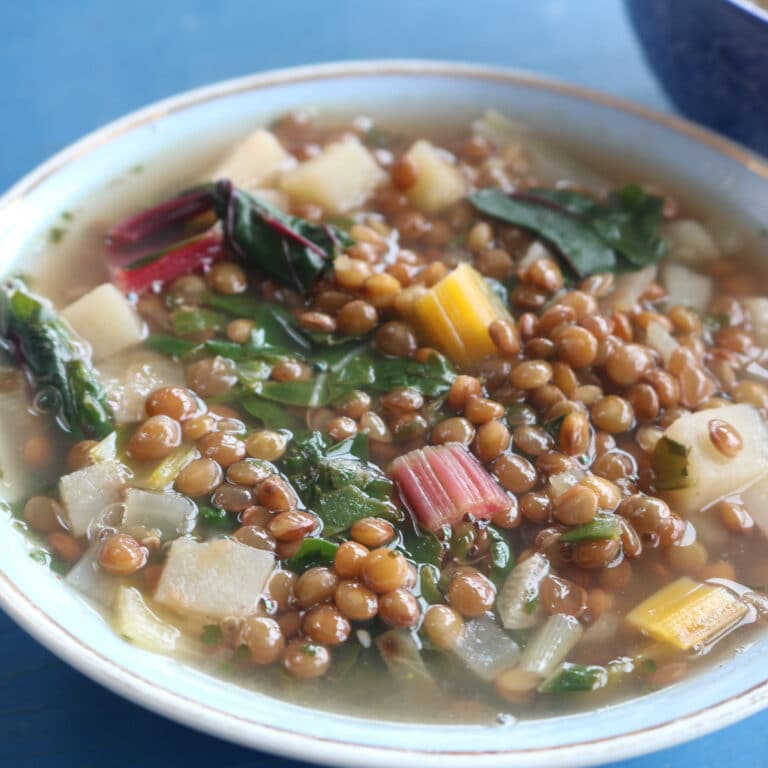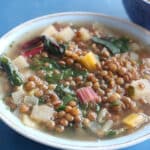 Lebanese Lentil Soup (Adas Bi Hamod)
Lebanese Lentil Soup with Lemon, Potatoes and Chard
Ingredients
1

cup

lentils

8

cups

of cold water

approx 2 litres

300

g

swiss chard

big bunch, roughly chopped

½

teaspoon

7 spice

½

teaspoon

sumac

Approx 1 tablespoon of salt

2

medium potatoes

peeled and diced

1

large onion

chopped

2

garlic cloves

chopped

1

cup

coriander (cilantro)

chopped

1

lemon

juiced
Instructions
Cook the lentils in cold water for about 15 minutes on medium heat

Roughly chop the swiss chard and add to the pot with the diced potatoes

Add the 7 spice, sumac, salt and simmer for another 15 minutes until the potatoes are well done

Meanwhile in a pan, sauté the onions in some cooking olive oil until golden, Then add the garlic and coriander and sauté for another few minutes. Then add this to the lentils and stir

When you turn off the heat, add the lemon and adjust the seasoning and water levels with some boiling water if necessary

Add a little squeeze of lemon and drizzle a little extra virgin olive oil just before serving
If you make any of our recipes let us know how it went by giving us a star rating below.
We have a lively Facebook group where we post frequent recipes and discuss Lebanese cooking in general, as well as a handy Pinterest page where you can save all of your favourite Zaatar and Zaytoun recipes!
Why not try these other recipes from the Zaatar and Zaytoun collection: