Moghrabieh is a warming comfort food that will give you all the good feelings of home.
The classic Lebanese way to cook these tiny pea sized balls is in chicken broth, with chickpeas and a few whole shallots, topped with roughly shredded chicken.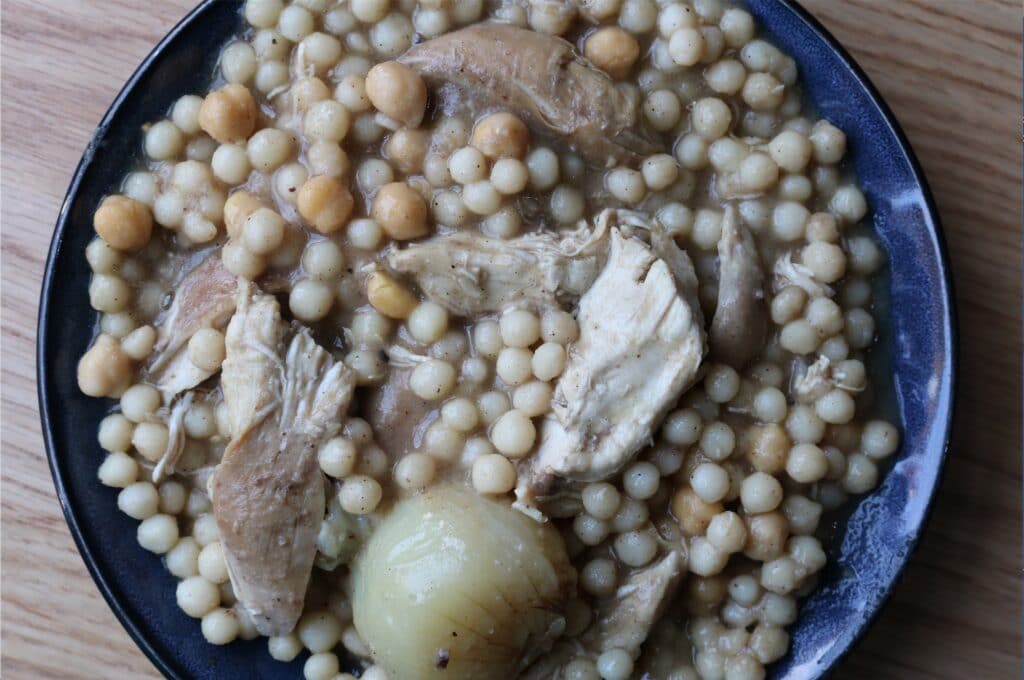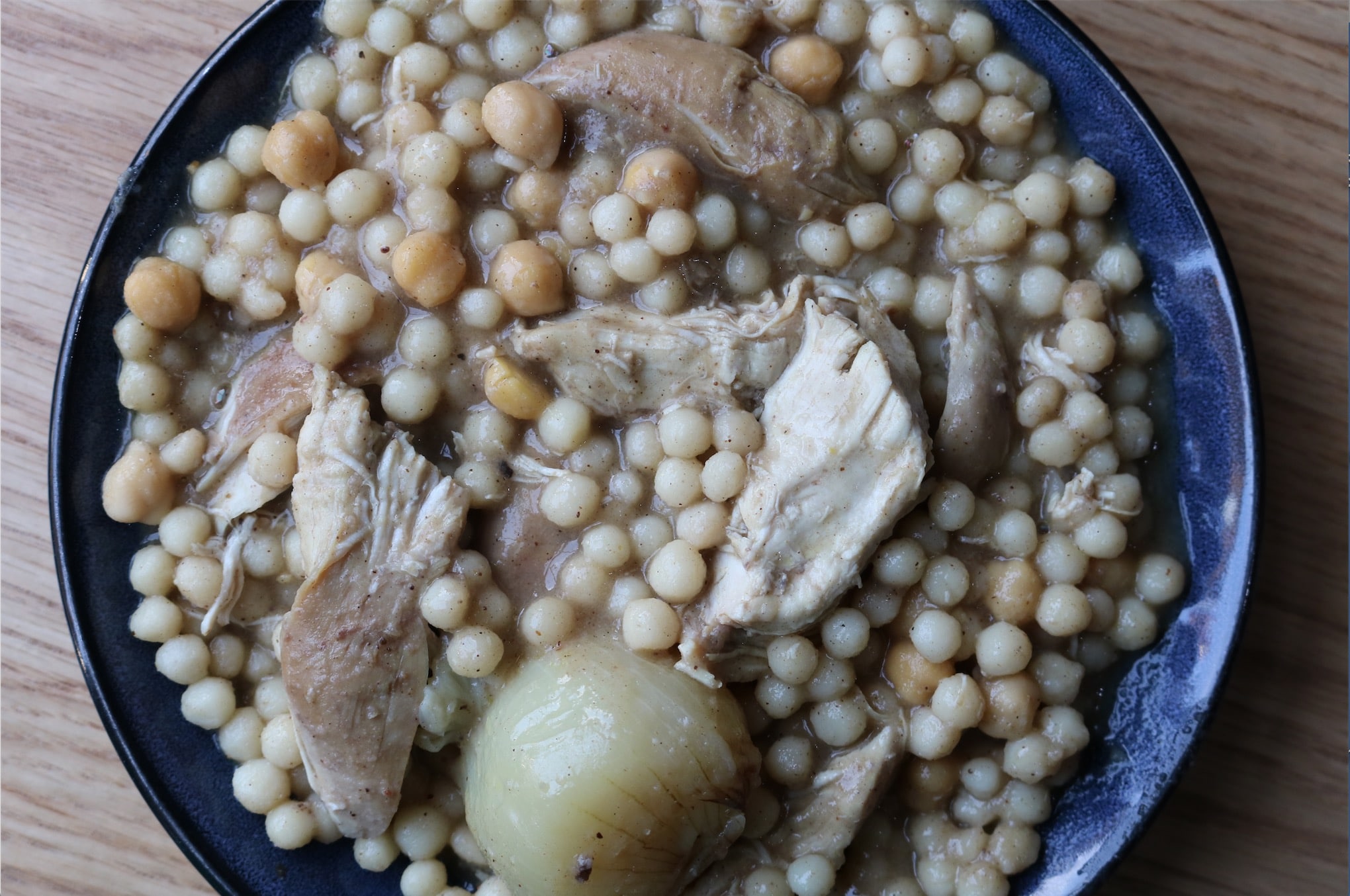 What is moghrabieh?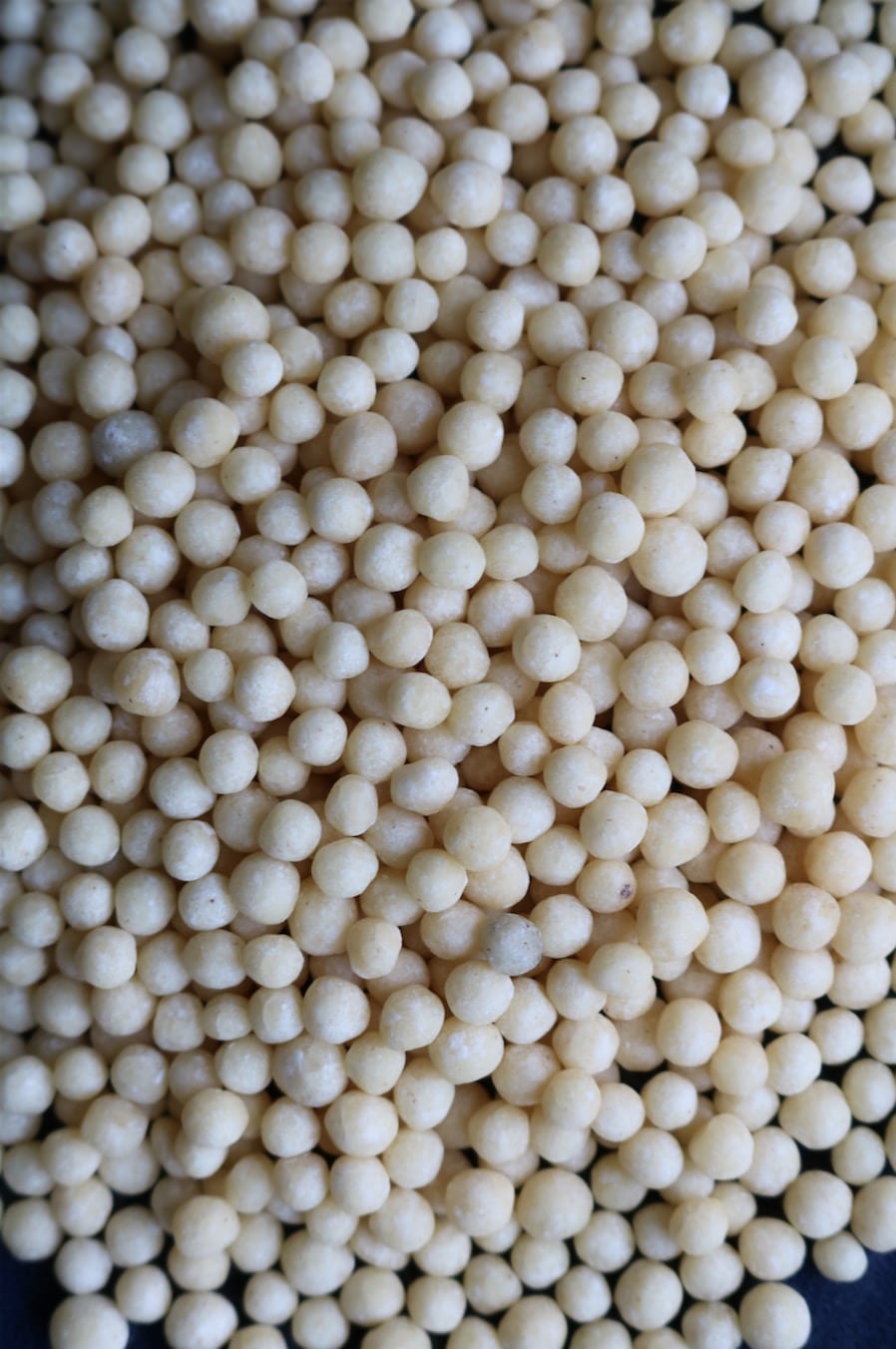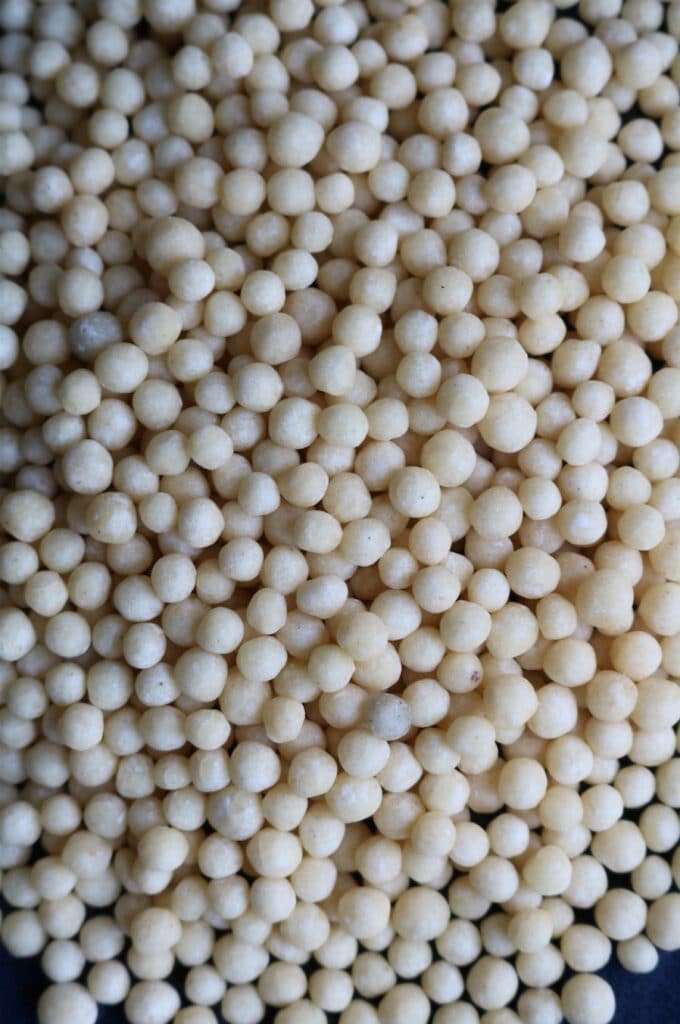 Moghrabieh is a large pearl couscous and is an easy way to add texture to any meal.
Traditionally made from wheat semolina, moghrabieh has a similar texture to pasta but is often referred to as a coarse couscous.
They are boiled either within the stew or separately and added to salads and soups.
You can find moghrabieh pearls at most Middle Eastern grocery stores or even online these days.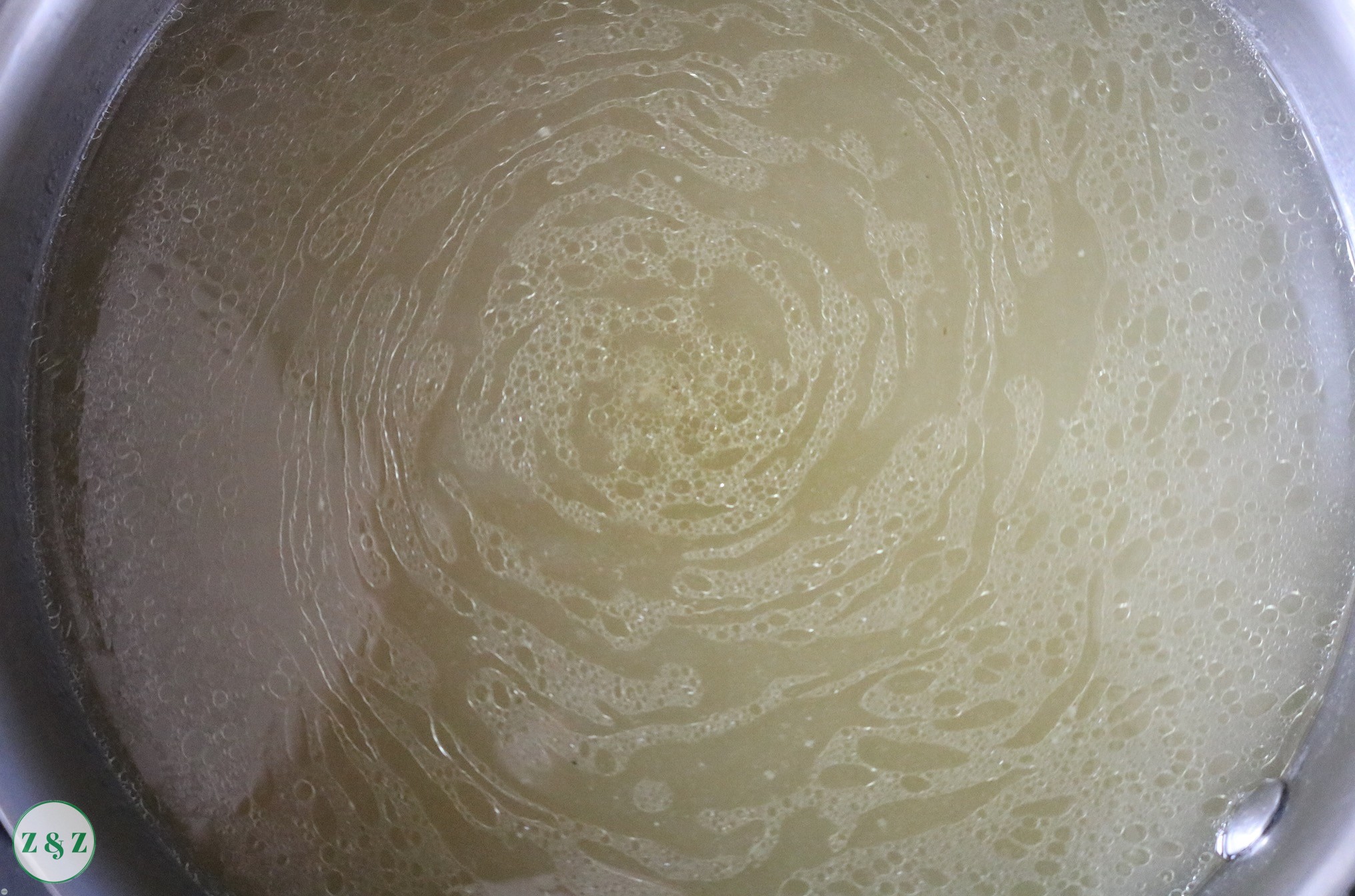 Do I have to make my own broth?
It's always a good idea to make your own chicken broth as you can always freeze the extra liquid. Just heat it up before you add to the moghrabieh pearls.
If you are rushed for time you can use ready made stock but you need to be careful with the salt levels as they vary.
This broth is a quick version of my homemade chicken broth so simmer for around 45 minutes, this will allow enough flavour to come through the liquid.
Just drain the broth from the whole spices and keep it nice and warm before you add to the moghrabieh.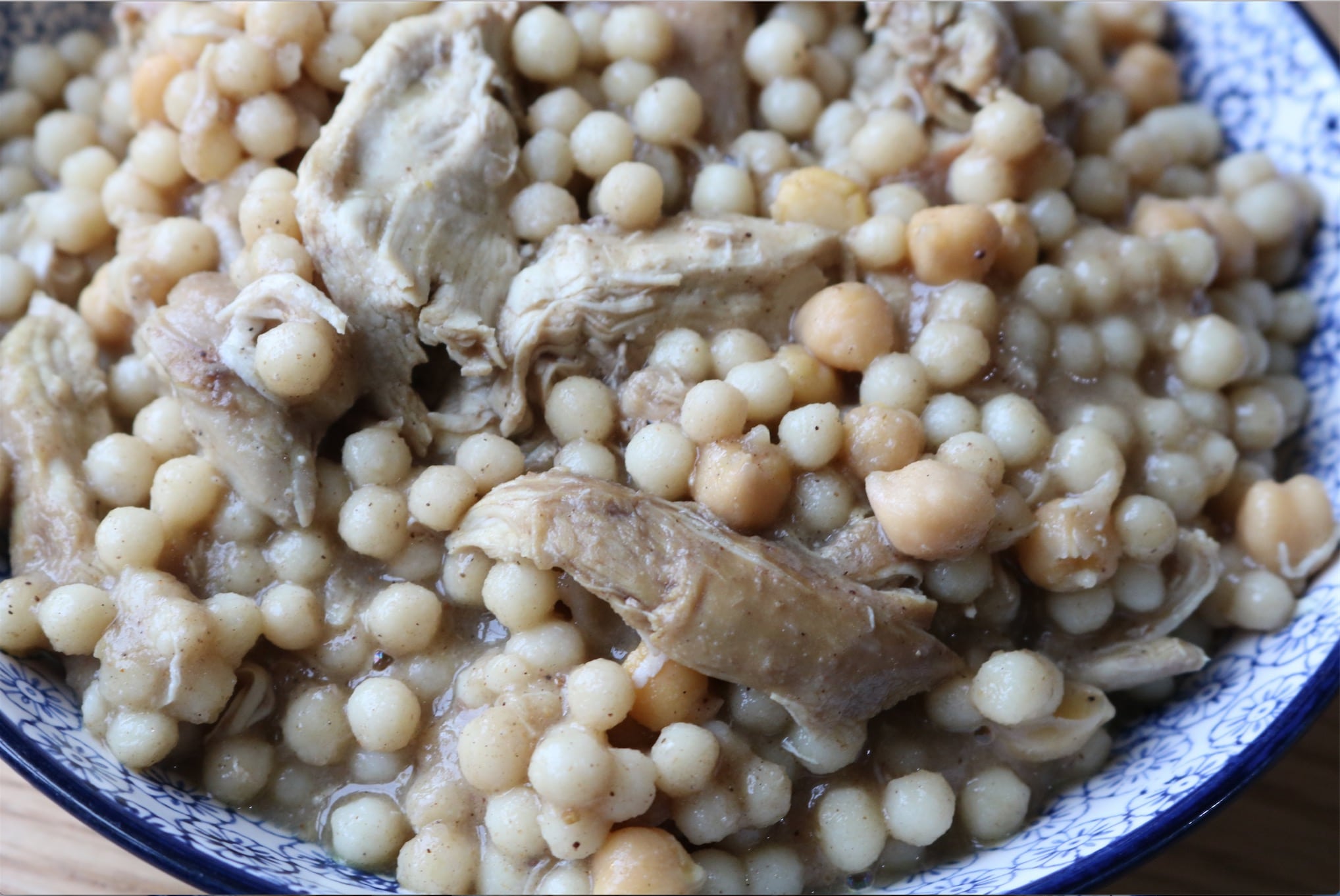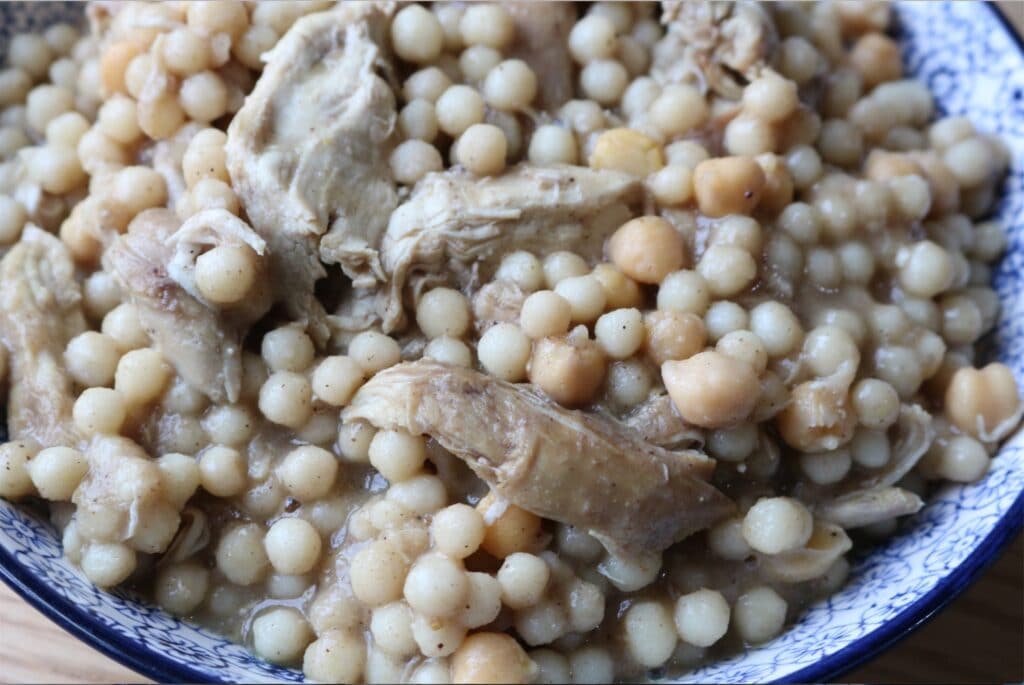 The spices
The main spices used in moghrabieh is caraway and cinnamon. As usual with Lebanese cooking they are used sparingly.
Black pepper and Lebanese seven spice supplement these two earthy spices.
The other flavours come from the chicken broth which also has cardamom, black peppercorns, bay leaves. You could also add star anise and cloves if you want.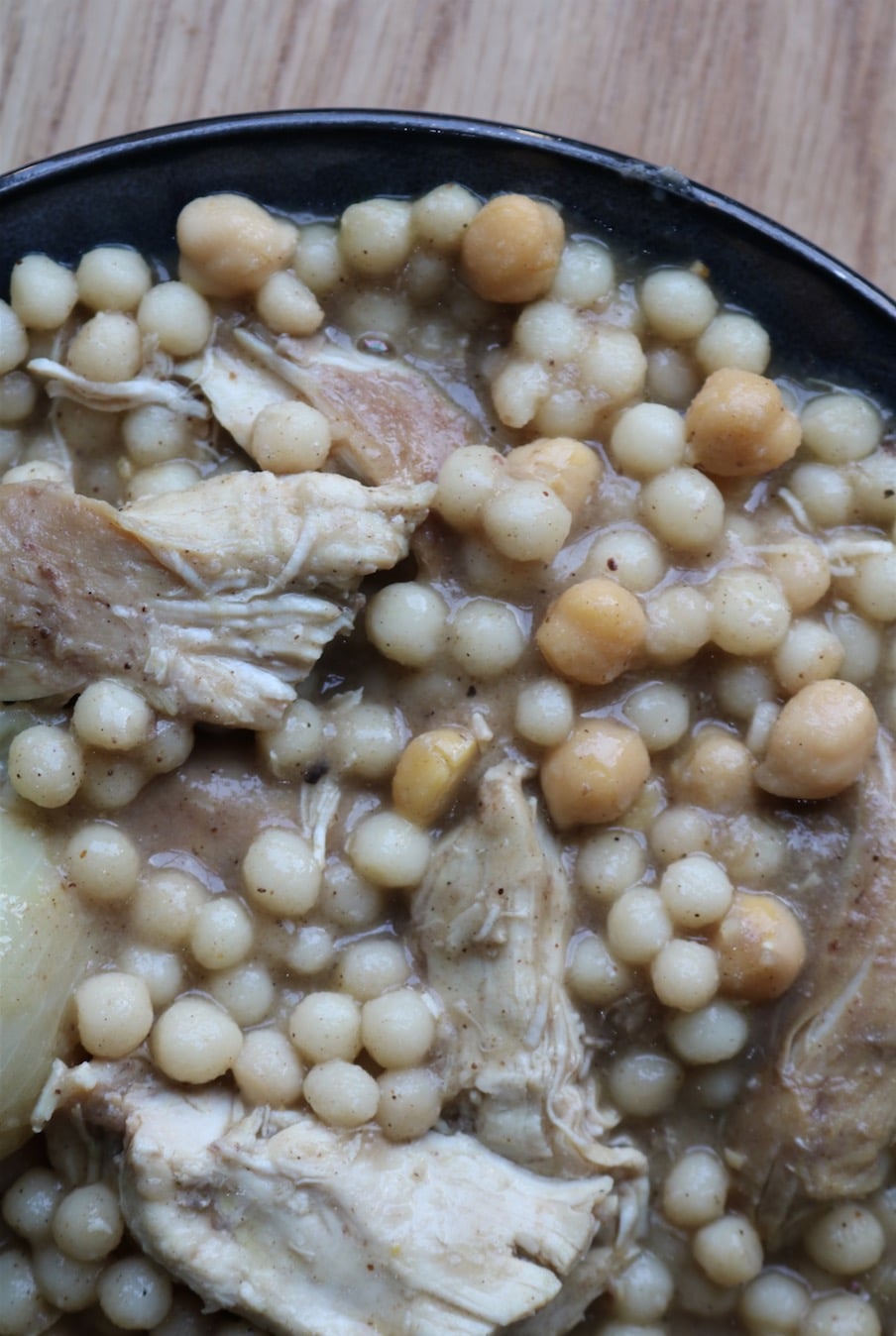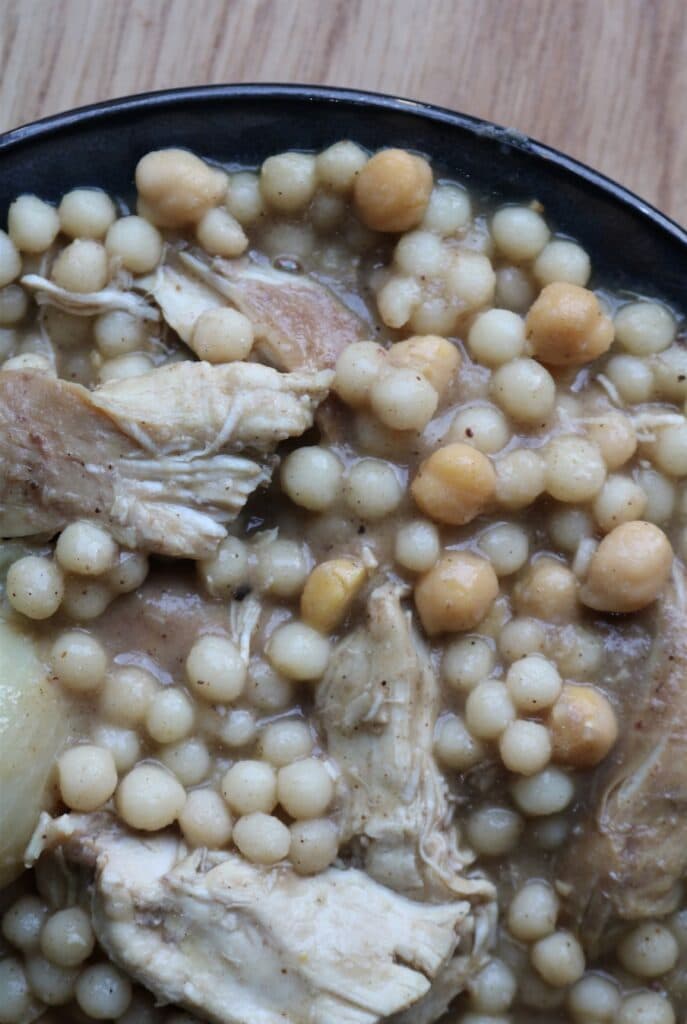 Tips for making the best moghrabieh
Moghrabieh is technically a stew so make sure it has lots of sauce and isn't too dry.
You might find that the moghrabieh pearls keep absorbing the liquid so it's a good idea to make extra broth to keep topping up if necessary, as you would with a risotto.
If you run out of chicken broth just add boiling water, and adjust the salt levels if necessary.
Add the shredded chicken at the end with a few of the shallot onions to decorate.
Shallot onions sometimes go by the name of pickling onions. If you can't find shallot onions you can also use a regular small onions though they don't look as pretty.
I always like to add a spoon of butter at the end just before I turn off the heat to make it extra silky and delicious.
Moghrabieh is the perfect dish to get you through these cold dark times and always a crowd pleasing dish to make for when we are allowed to have gatherings again.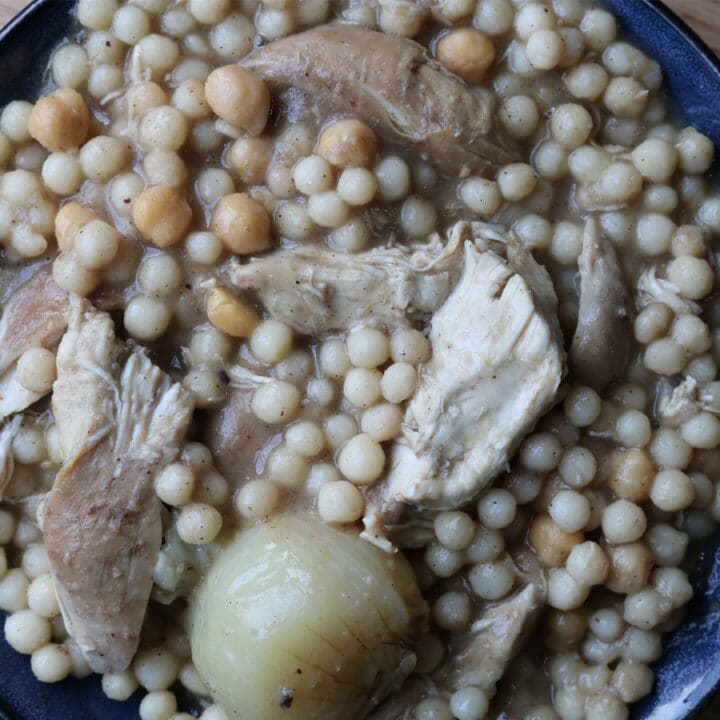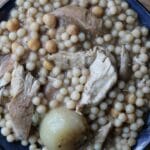 Moghrabieh with chicken
Lebanese Moghrabieh pearl couscous with chicken and whole shallots
Cook Time
1
hour
30
minutes
Ingredients
For the chicken broth
1

quartered baby chicken or 2-3 chicken breasts

1

large

onion peeled

halved

1

carrot peeled

2-3

cardamom pods

5-7

black peppercorns

2-3

bay leaves

1

small cinnamon stick

1

litre of boiling water

4 cups

1

teaspoon

of salt
For the moghrabieh
500

g

moghrabieh pearls

500

g

of shallot onions

peeled whole

½

cup

regular olive oil

1

teaspoon

ground caraway

1

teaspoon

ground cinnamon

½

teaspoon

seven spice

½

teaspoon

black pepper

1

can chickpeas

drained

2

teaspoon

salt approx

3

tablespoon

butter
Instructions
To make the chicken broth
In a non stick pan, sauté the shallot onions in the regular olive oil until slightly golden for a few minutes on medium high heat. Drain and set aside

In the same pan you fried the onions, flash fry the quartered chicken for a few minutes until the outside colours a little

Transfer the chicken to a stock pot and add the large onion, carrots, cardamom, peppercorns, bay leaves, cinnamon stick and 1 teaspoon of salt

Add around 1 litre (4 cups) of boiling water to the stock. Bring to the boil then simmer for around 45 minutes

Once the broth has finished simmering, take out the chicken pieces and roughly shred. Cover and set aside

Drain the remaining broth through a fine sieve and set aside with a lid on to keep it warm
To make the moghrabieh
In a new deep pan, sauté the moghrabieh pearls in 2 tablespoon of butter for a few minutes

Add the ground caraway, cinnamon, 7 spice and black pepper to the moghrabieh pearls and sauté for another few minutes

Add the peeled whole shallot onions and slowly pour on the chicken broth to cover

Bring to the boil, then add approximately 2 tsps of salt along with the drained chickpeas and more broth or boiling water if necessary

Reduce the heat to a simmer and cook for at least half an hour. If the moghrabieh becomes too dry add more broth or water and taste to adjust the salt levels.

Add 1 more tablespoon of butter just before you turn off the heat.

Serve with the shredded chicken on top, and a few of the whole shallot onions.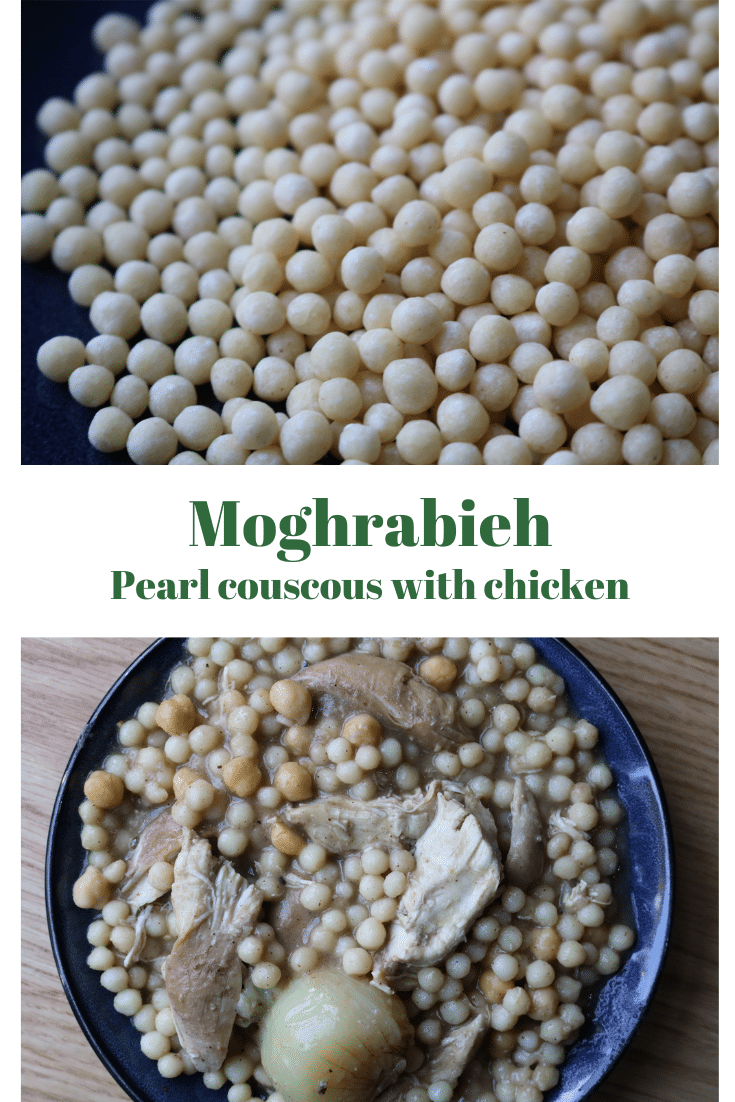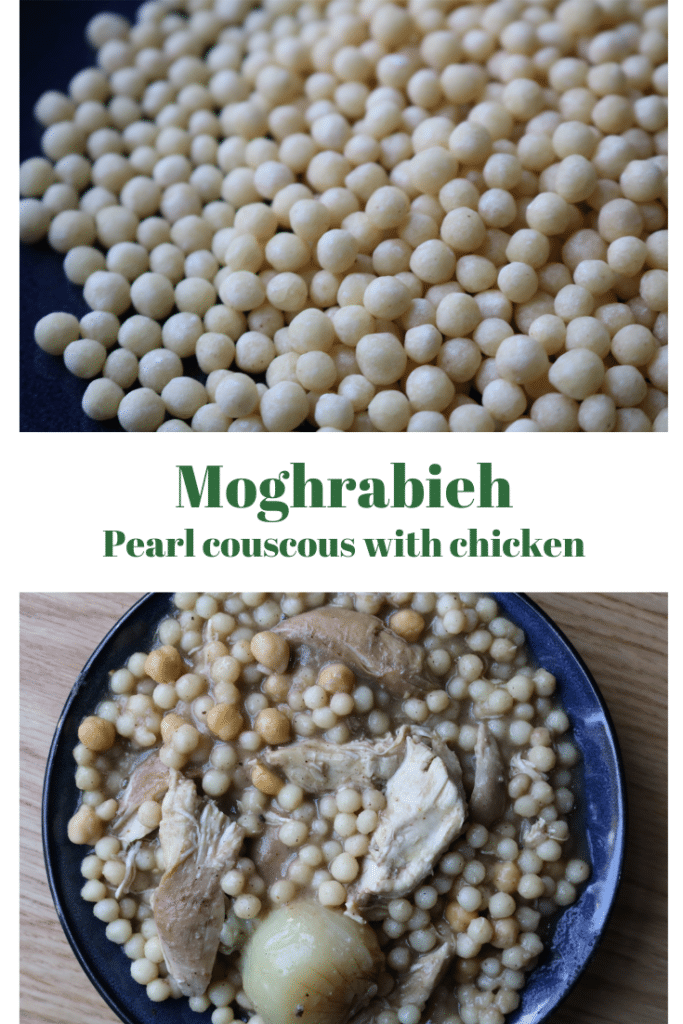 If you make any of our recipes let us know how it went by giving us a star rating below.
We have a lively Facebook group where we post frequent recipes and discuss Lebanese cooking in general, as well as a handy Pinterest page where you can save all of your favourite Zaatar and Zaytoun recipes.
You might also like these recipes from the Zaatar and Zaytoun collection: