Here's another easy breakfast slash brunch recipe for those lazy mornings where you need something substantial but also easy to make.
Musabaha is the lesser known cousin of hummus (the dip) but is just as delicious and easier to make too.
It is often accompanied with our other very popular recipe, foul mudamas, where fava beans are mixed with lemon, garlic and a hint of spice.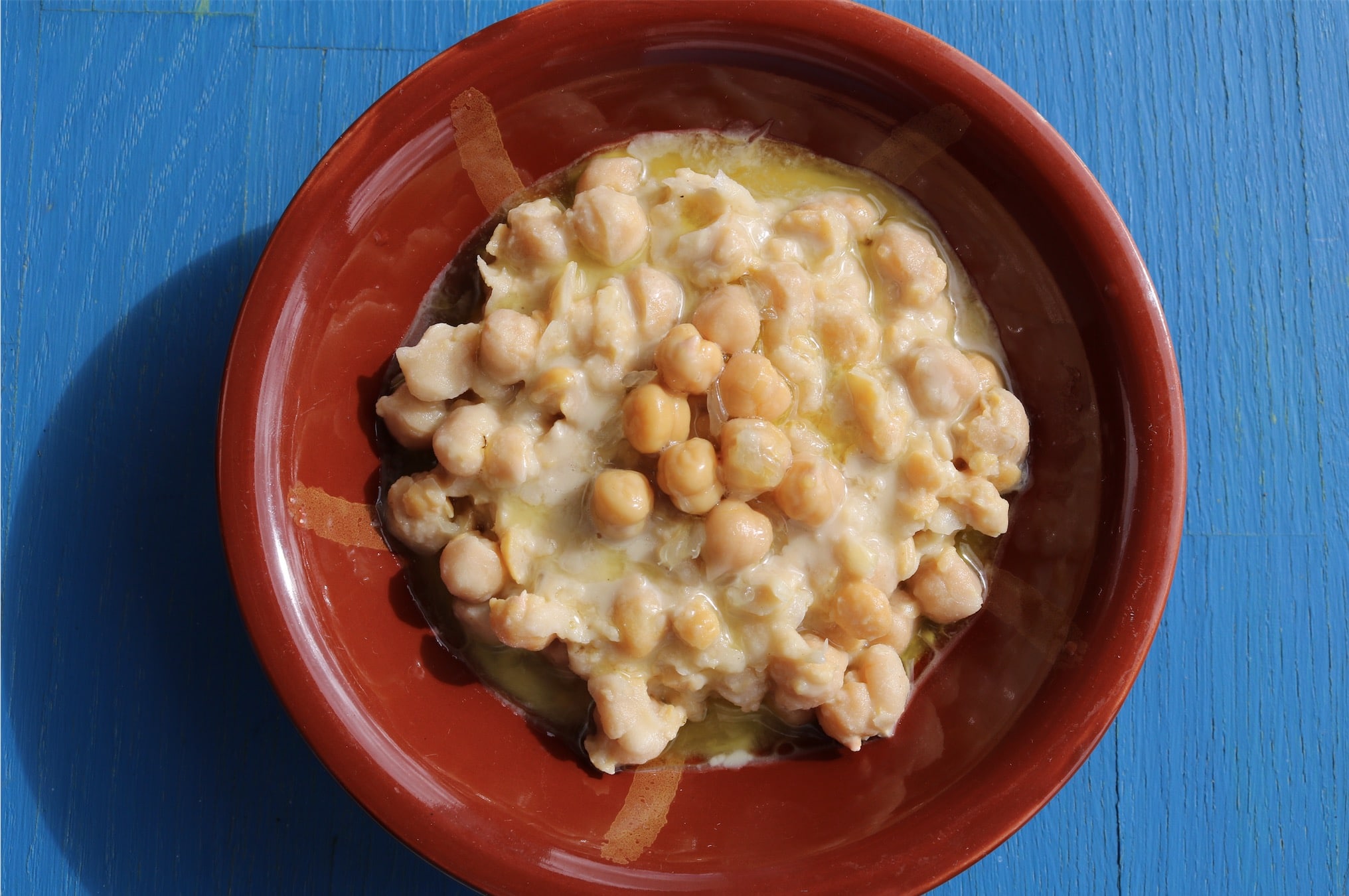 Jump to:
Ingredients
Heat up a can of chickpeas (yes I said can), and keep a little of that water to loosen the musabaha.
I think it's only worth cooking the chickpeas from scratch if you are making a very big batch, for a very big brunch.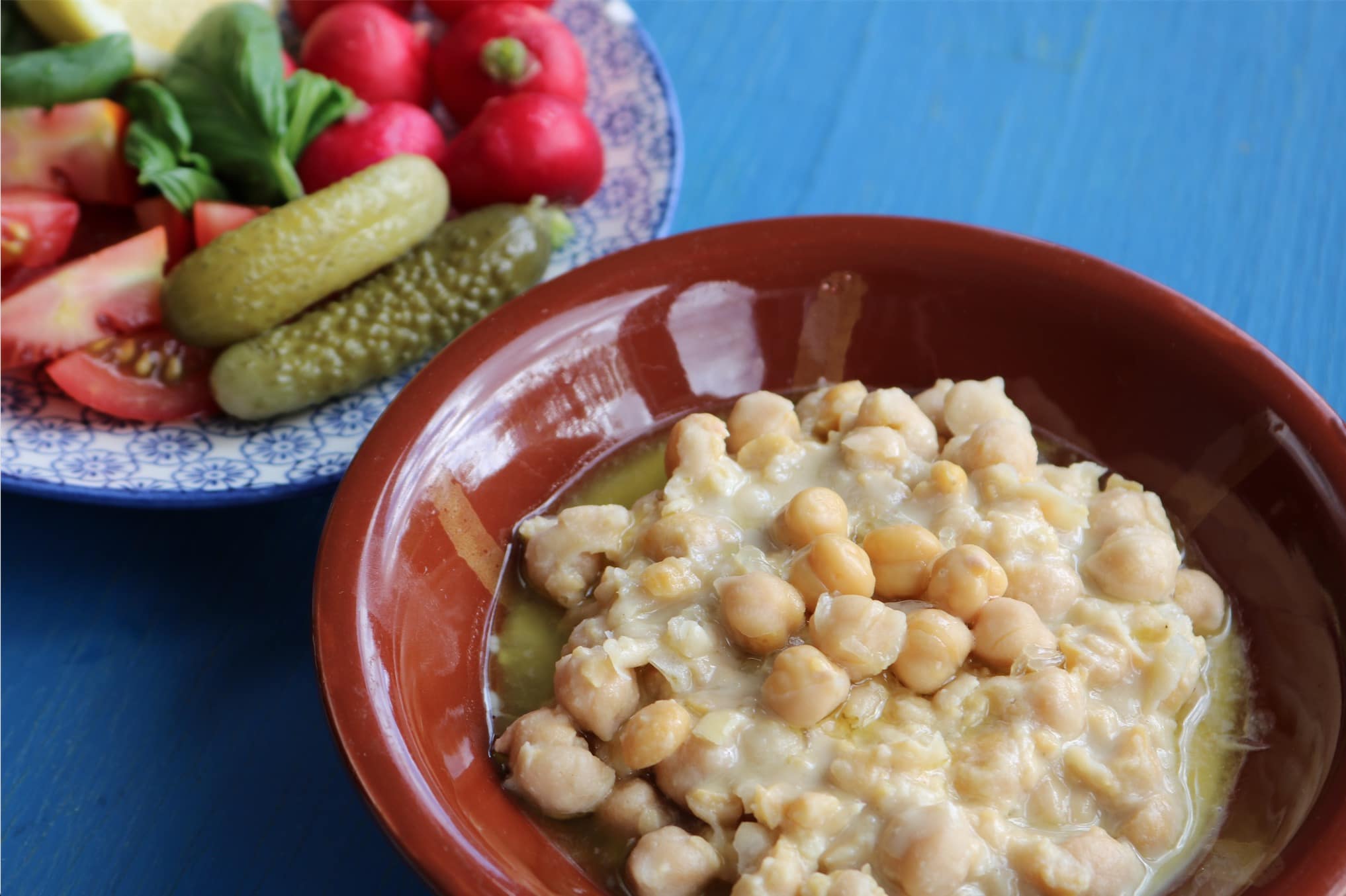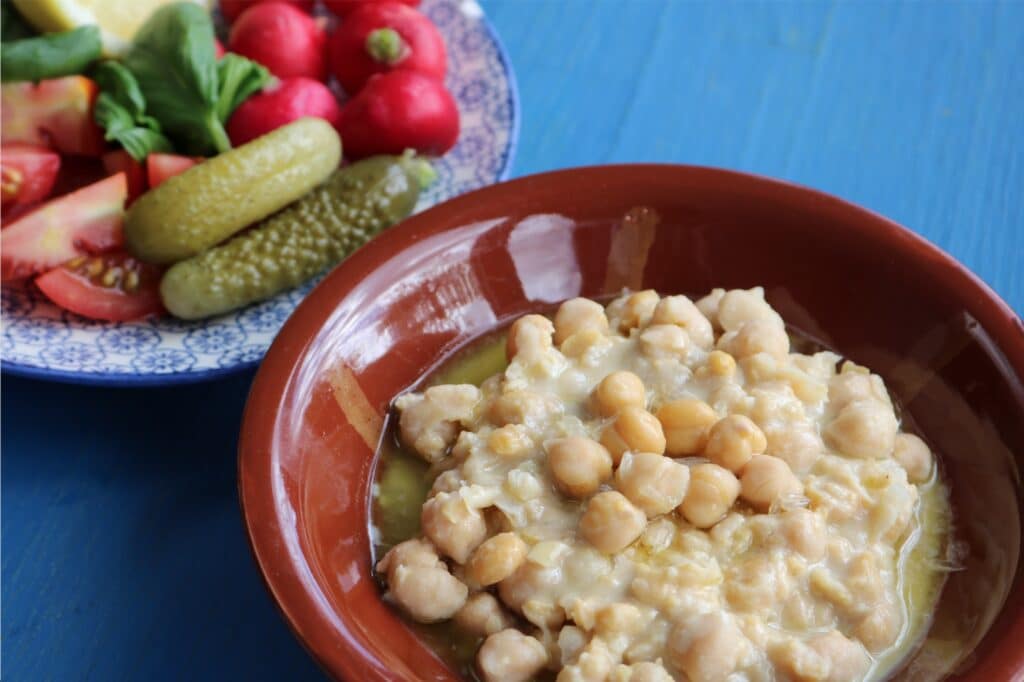 You will also need very good quality:
Garlic
Tahini
Lemon juice
Extra virgin olive oil
You can also add a pinch of kamouneh spices or if you don't have any, some ground cumin will do too.
See recipe card for quantities.
Instructions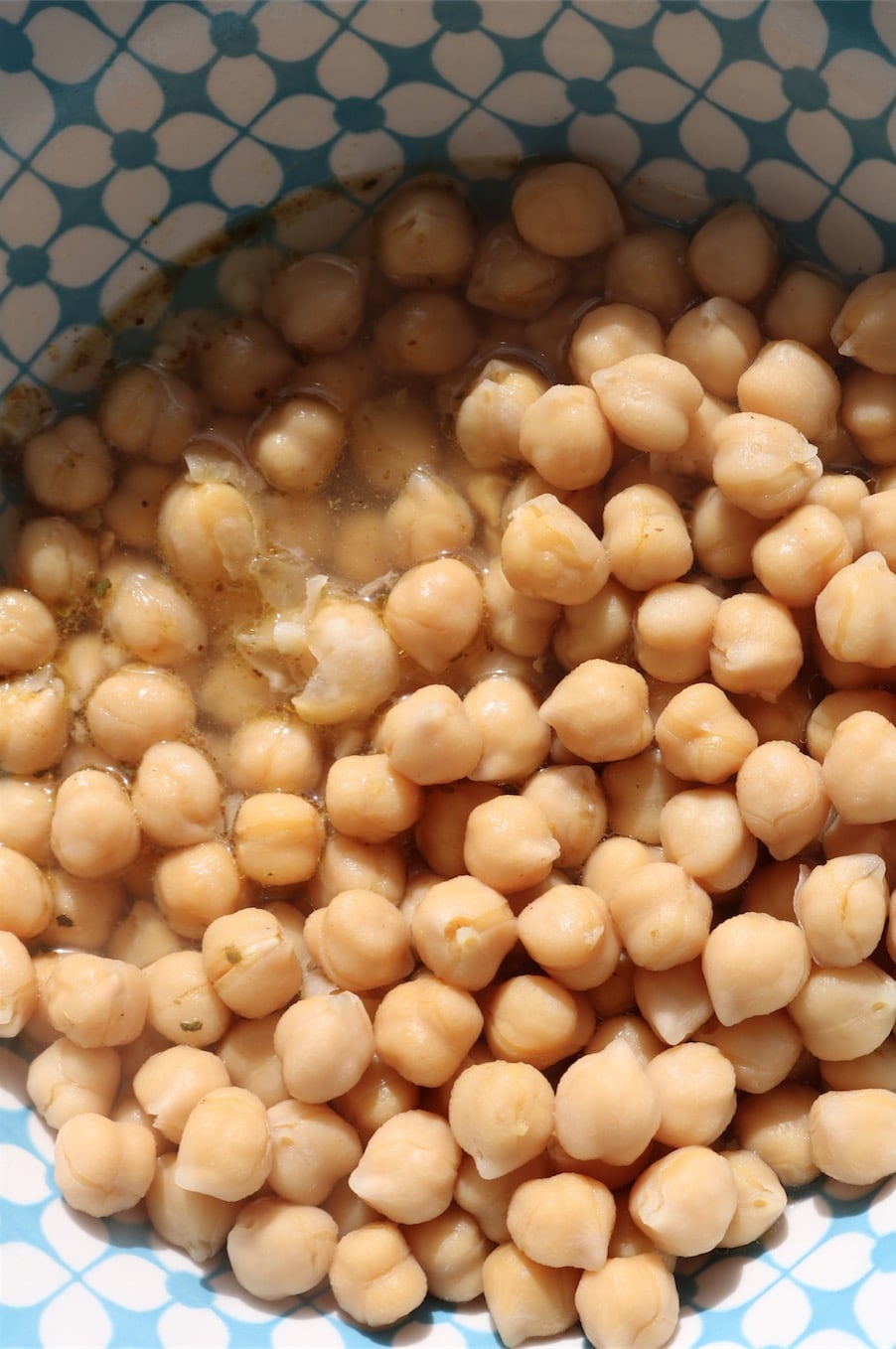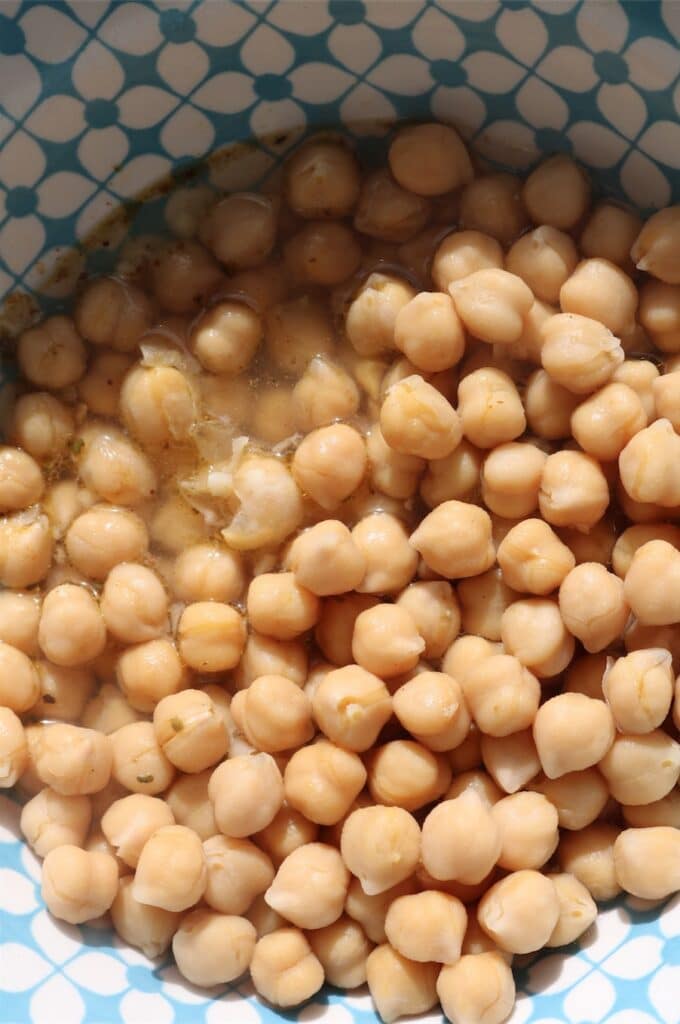 Start by mincing the clove of garlic in a bowl. I don't even use a garlic crusher I chop it finely with a knife then squish it with a fork for good measure (less washing up).
I always find adding the salt to the garlic means it's easier to mash. Then add some of the olive oil, the tahini and lemon juice.
Gently mash around half of the chickpeas with the back of the fork (don't pulverise them) just enough to break them up.
Then plate up and drizzle on the rest of the extra virgin olive oil.
Variations
If you want to embellish your musabaha or do several versions on the same table then you can also make it:
Spicy - If you are a spice fan add a little red chilli powder or shatta (fresh chilli paste)
Meaty - as with hummus (the dip) you can top with a little mince meat or finely chopped fillet of meat.
Having a plate of foul mudamas on the side won't hurt either.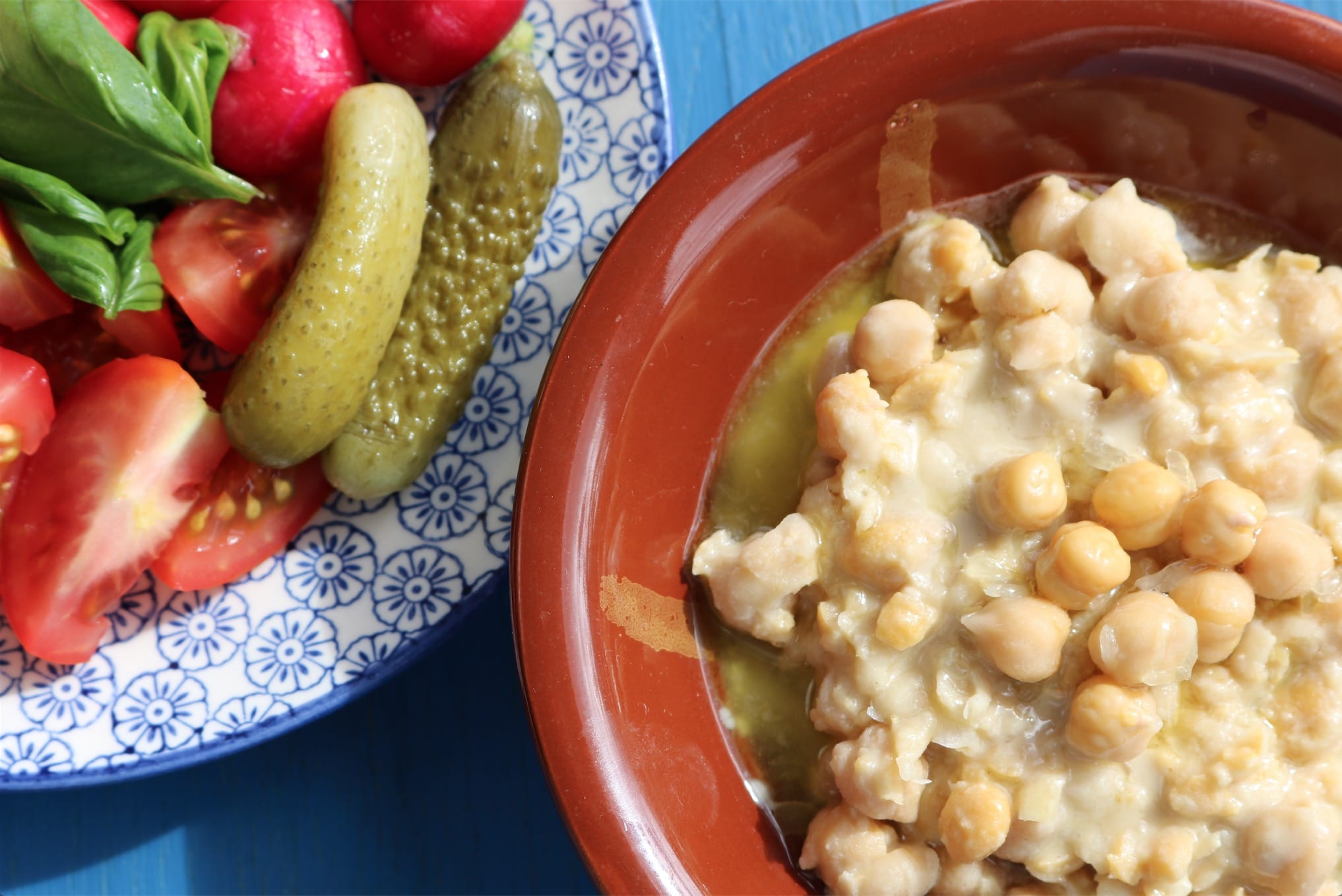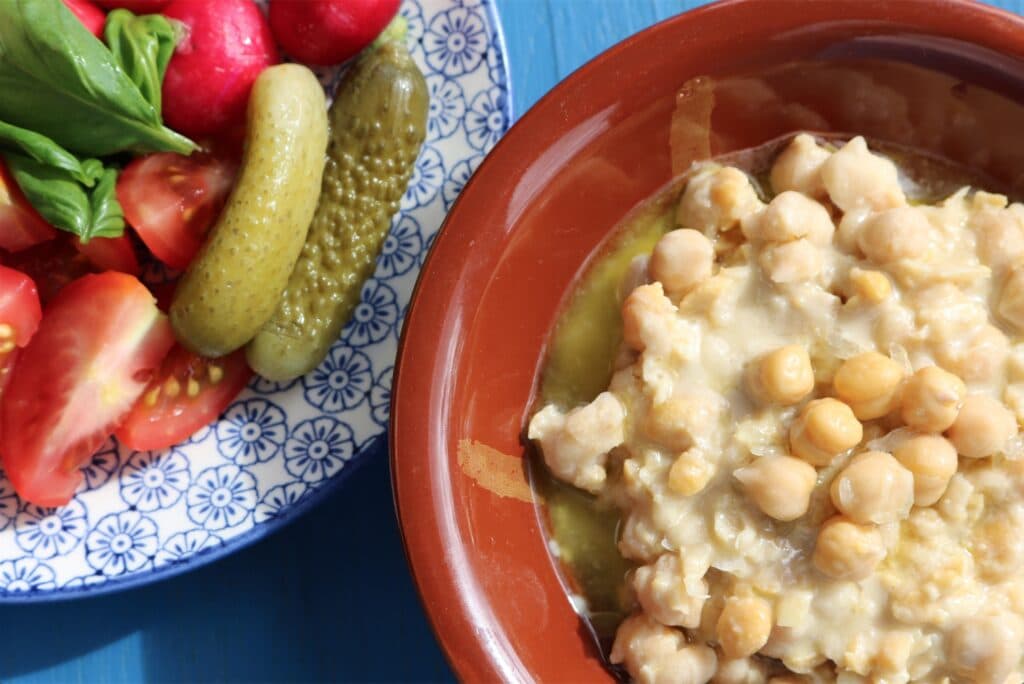 Equipment
I don't know why musabaha and foul taste better in little terracotta bowls you find in specialist Middle Eastern shops.
Perhaps it's because they allow you to scoop out the chickpeas perfectly.
Serving
Serve with flat breads (essential!) and a plate of fresh pickles, radishes, tomatoes and herbs (also kind of essential).
You could always freeze any extra for later.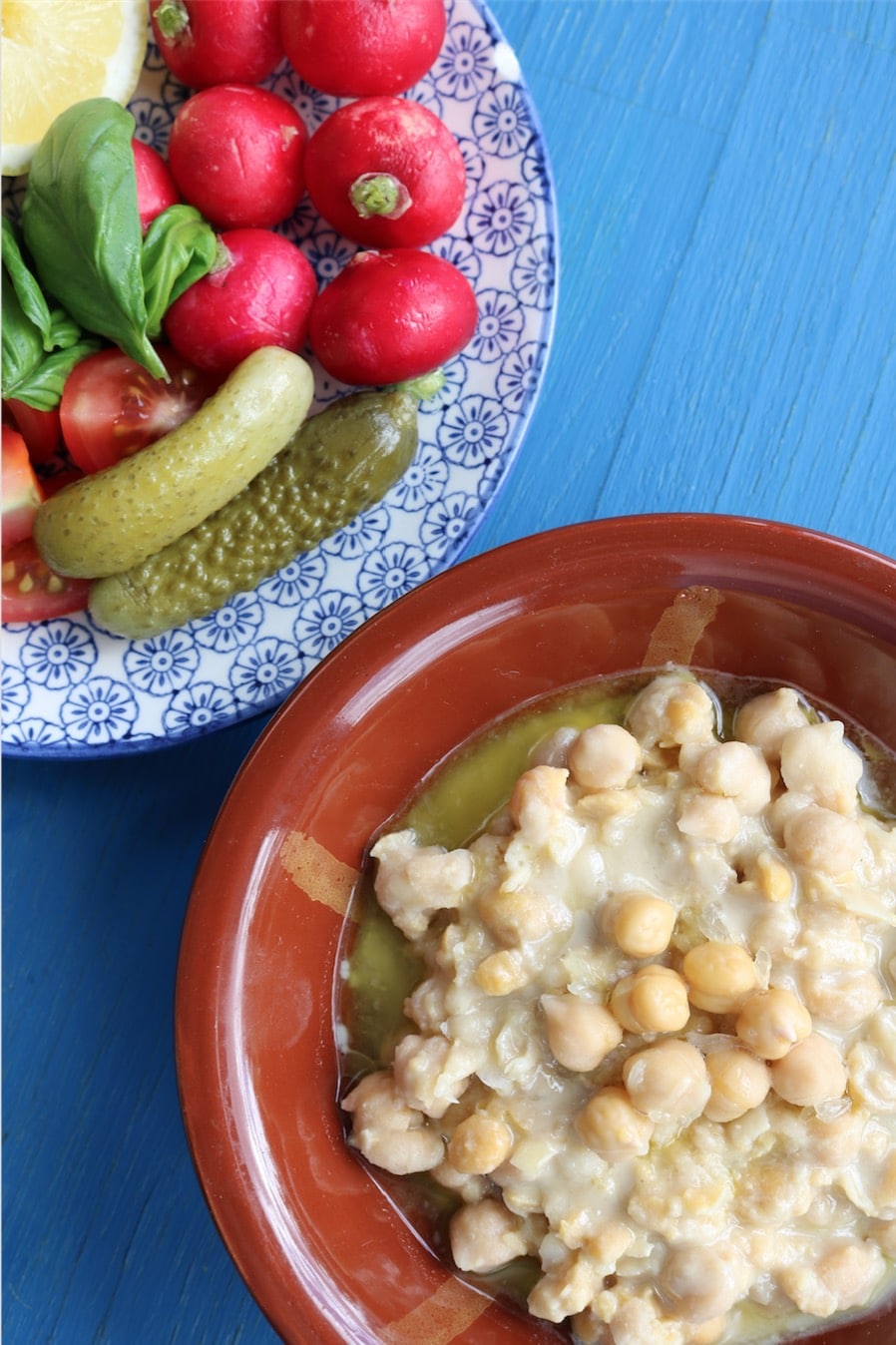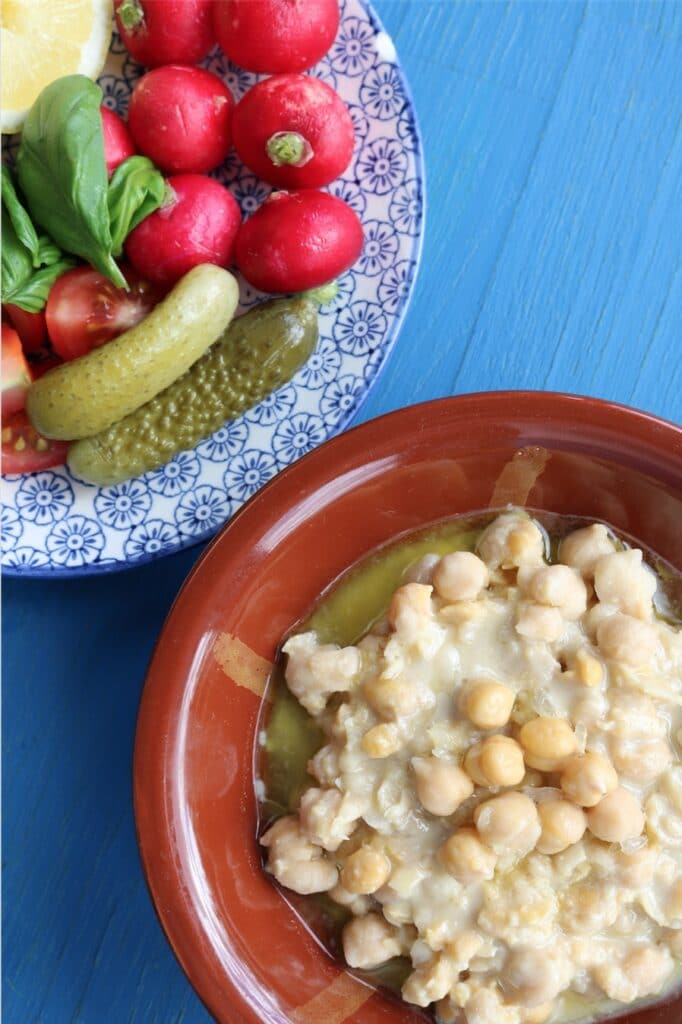 Top tips
The secret to making good musabaha is getting the texture right. It shouldn't be too mushy or it will stick in your throat or too coarse either. Trust your instinct.
If you have no tahini to hand you could sneak in a little shop bought hummus to give that tahini flavour.
Always taste to see if you need a little more salt or lemon. Transfer to a shallow bowl and add the remaining olive oil.
📖 Recipe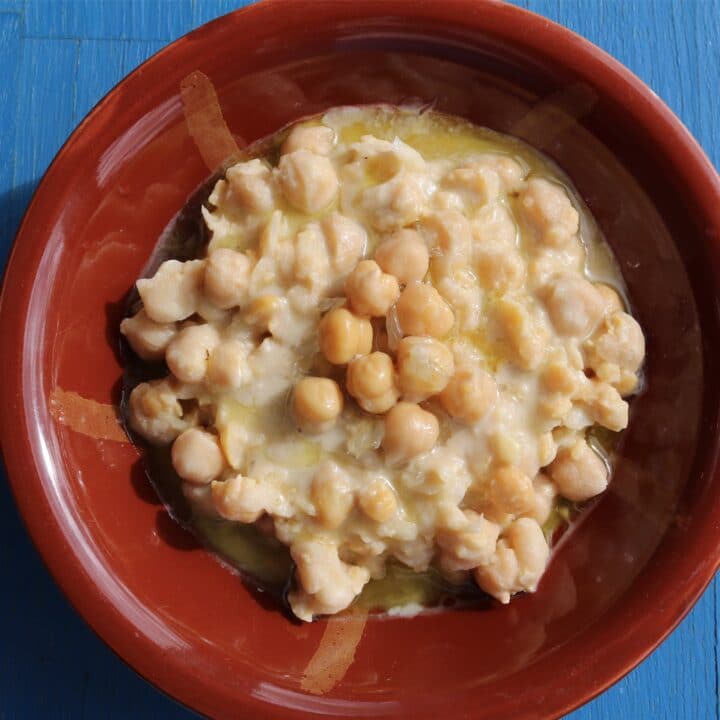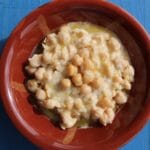 Musabaha
Chickpeas in oil, lemon and tahini
Ingredients
1

can

chickpeas

1

clove

garlic

Juice of half a lemon

2-3

tablespoon

tahini

¼

teaspoon

kamouneh spices or cumin

3

tablespoon

extra virgin olive oil
Instructions
In a small pot, heat the can of chickpeas in it's water for around 5 minutes

In a bowl, crush the garlic clove, add the lemon, tahini, kamouneh spices and salt

Add half the extra virgin olive oil and the chickpeas with a little (approx 2 tbsp) of the water

With a fork, gently press down on half of the chickpeas, take away any loose skins

Stir to combine and taste to make any necessary salt/lemon adjustments

Transfer to a shallow bowl, drizzling over the remaining olive oil

Serve with flatbreads and fresh vegtables and herbs
If you make any of our recipes let us know how it went by giving us a star rating below.
We have a lively Facebook group where we post frequent recipes and discuss Lebanese cooking in general, as well as a handy Pinterest page where you can save all of your favourite Zaatar and Zaytoun recipes.
You might also like these other recipes from the Zaatar and Zaytoun collection: