You can't get much fancier than sheikh el mahshi for a dinner party and yet it is deceptively easy to make.
This was one of those dishes I had avoided for a long time as it seemed too complicated but I managed to crack it first time and have been making it without blinking twice since.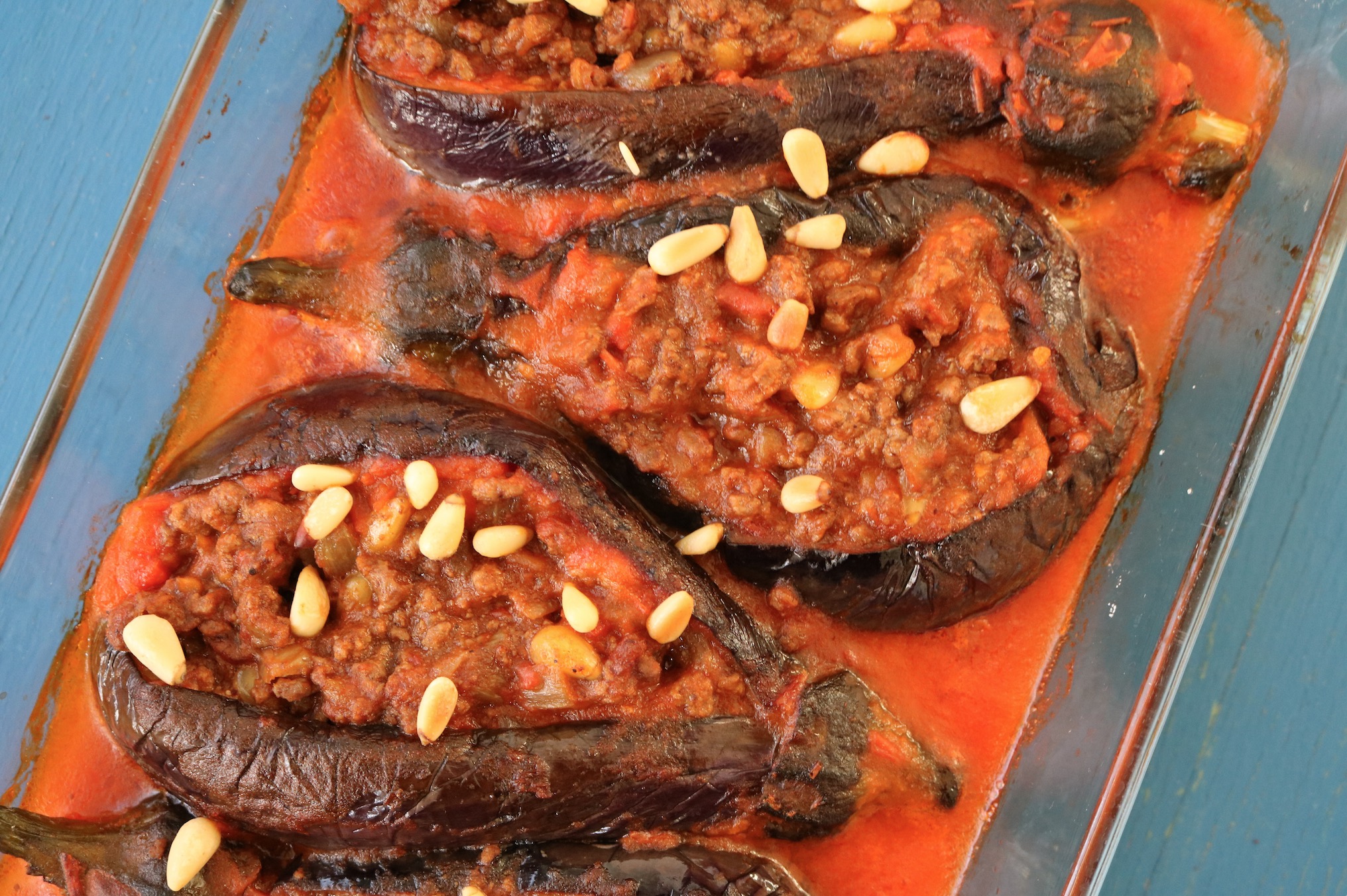 Preparing the eggplants
Even though the cooking process has three stages (make the mince and tomato sauce - fry the eggplants- stuff and bake them) they are all simple things in themselves and don't require a chef's certificate. Perhaps the most difficult bit for a newbie is frying the eggplant.
When I first asked my mum how to make it and she said fry them I was like 'Are you sure mum, aren't you supposed to roast them?' since she always takes the healthier route where possible.
But she was adamant that frying them was the traditional way and actually once you drain the eggplants, you don't really add much oil anywhere else.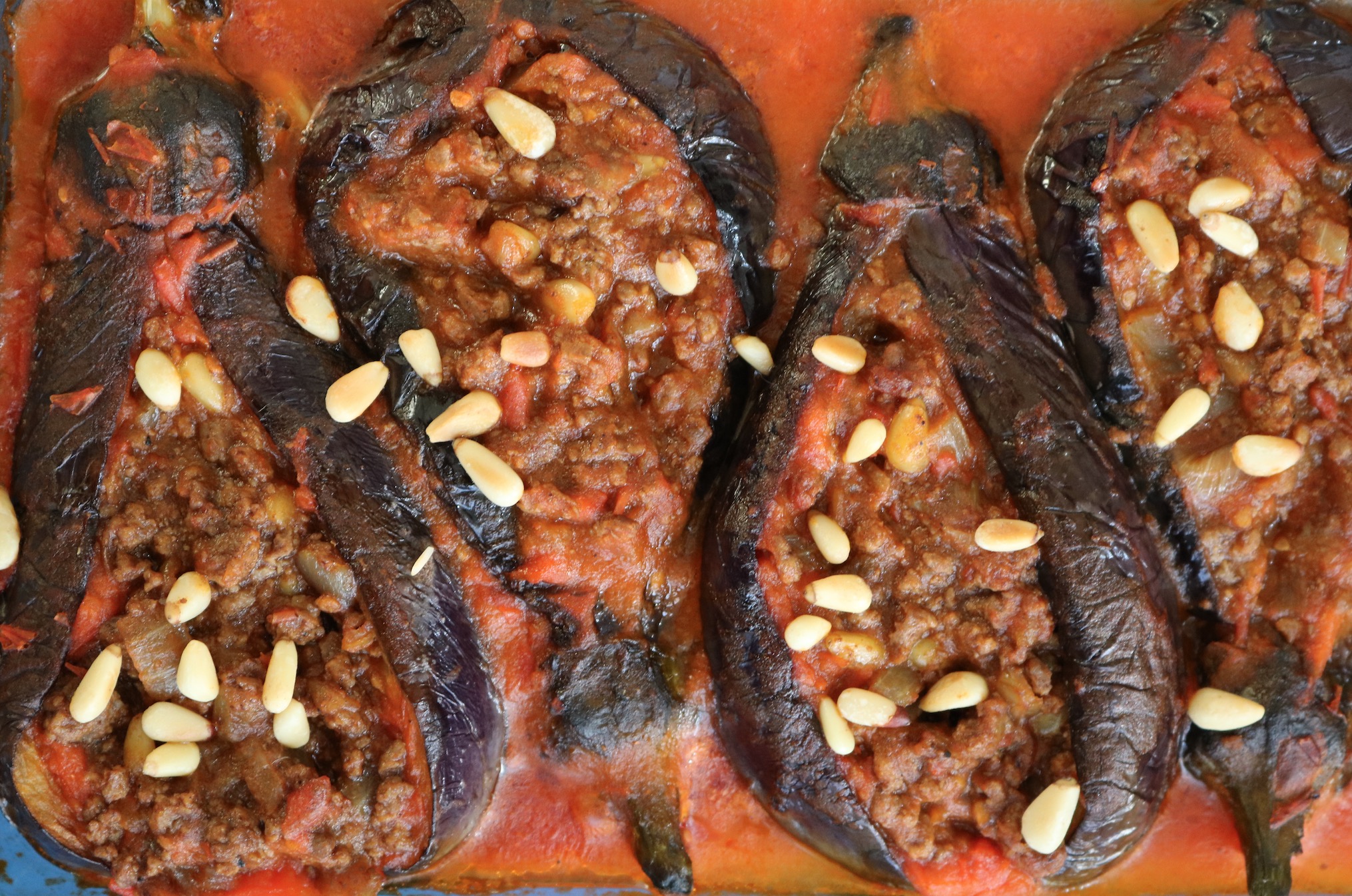 Try and find small-ish eggplants where possible not those large ones the size of a small baby. Nor do you want to use very small ones that will make stuffing difficult and can be bitter.
When frying you want to get them half done so the colour turns but not scorched as if you were making baba ganoush. You want to make sure they are in tact so you can stuff them easily.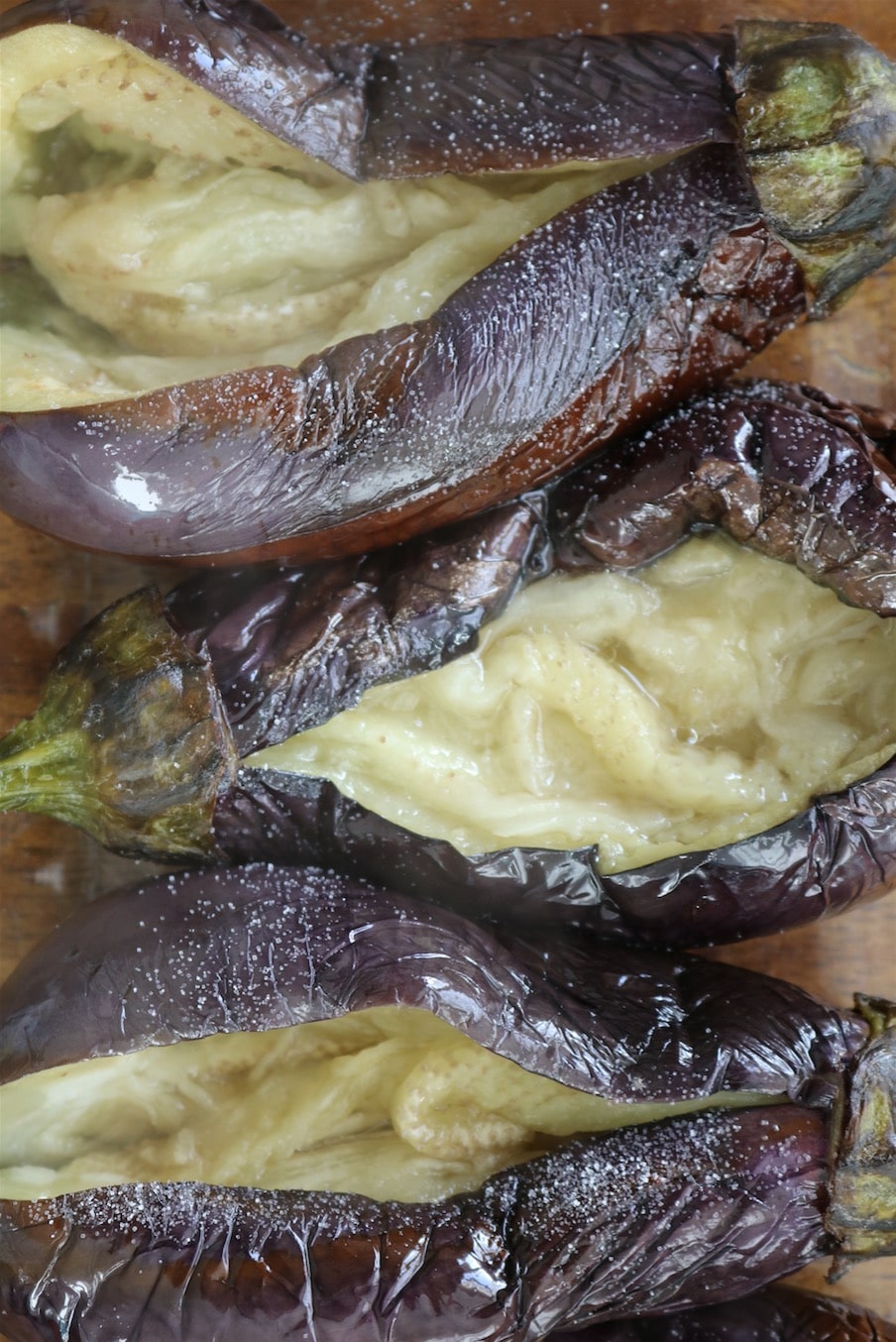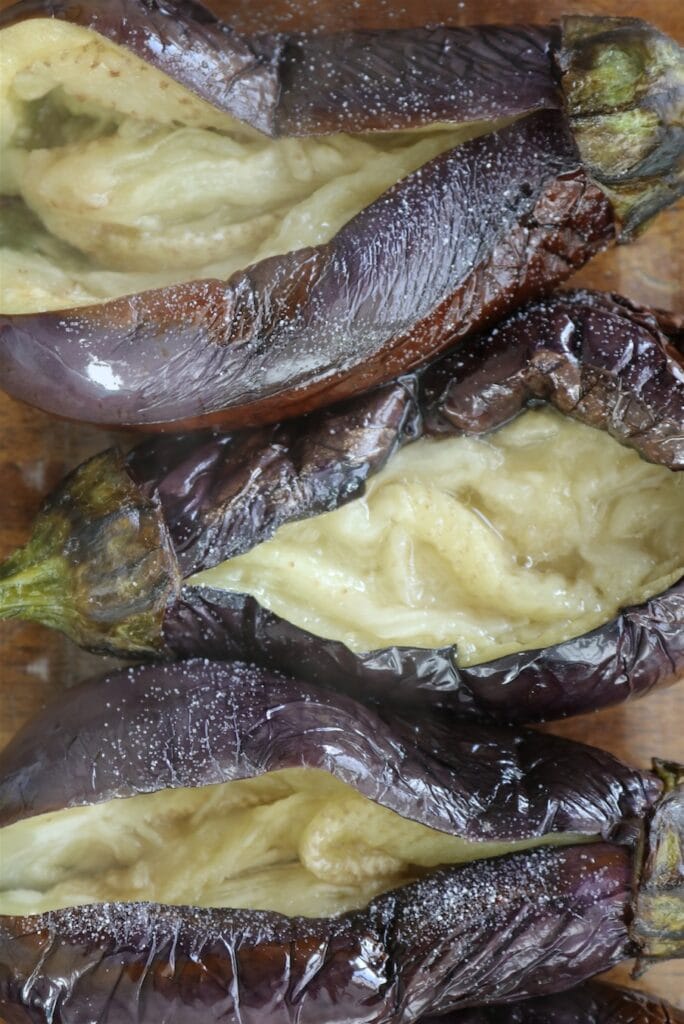 Tips for stuffing the 'sheikhs'
Just before stuffing with the tomato meat sauce, get a fork and scrape around the inside the eggplant so it will blend easier with the stuffing.
Some people take out the insides to mix well with the stuffing before returning to the shells but I don't think thats super necessary as they will cook together in the oven anyway.
You can even make the mince meat and tomato sauce the day before so you are ahead of the game, especially if you have a dinner party and want to save time.
Get ready for a wow moment when you whip out your sheikh el mahshi from the oven and casually sprinkle some pine nuts on top.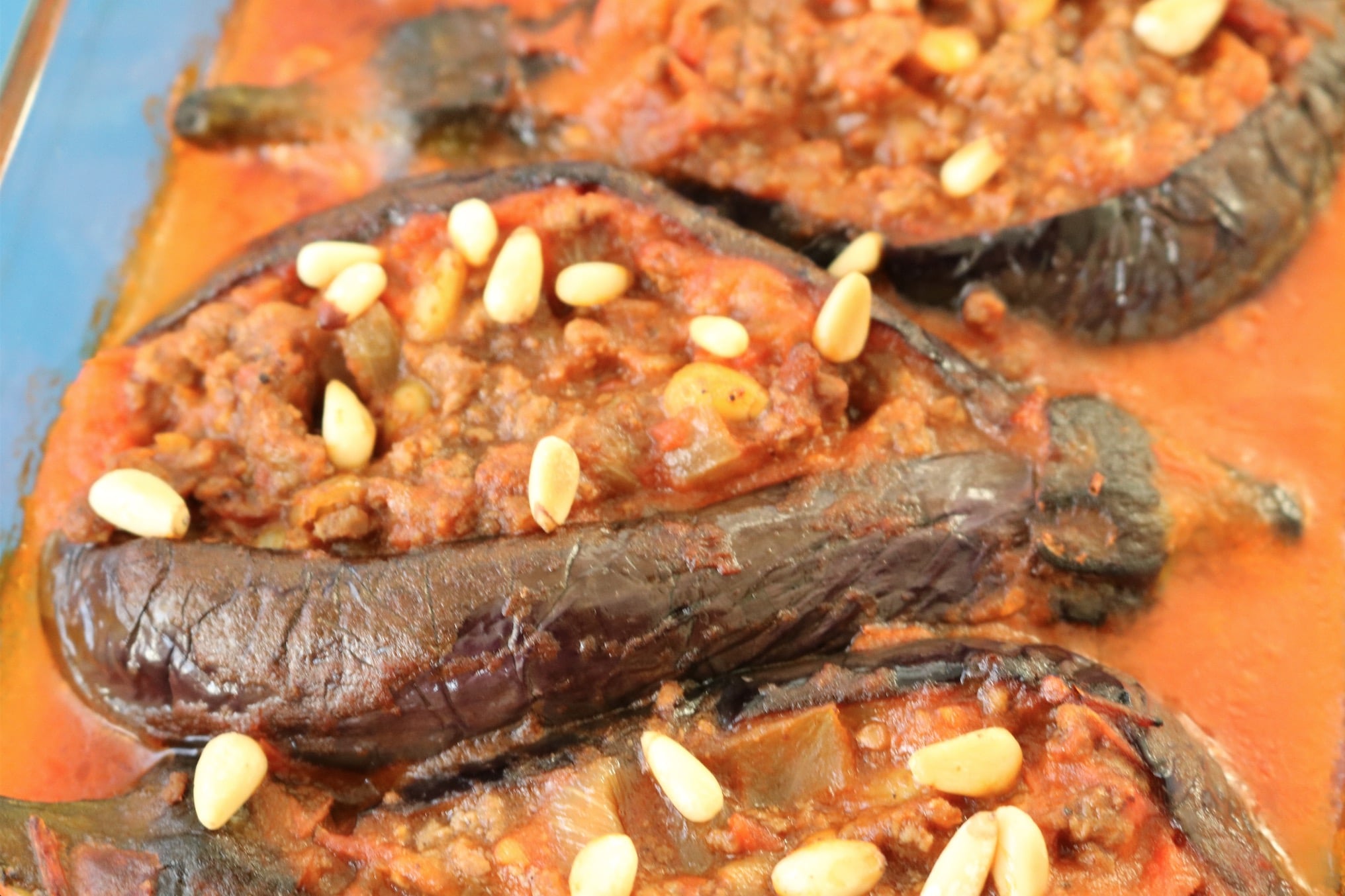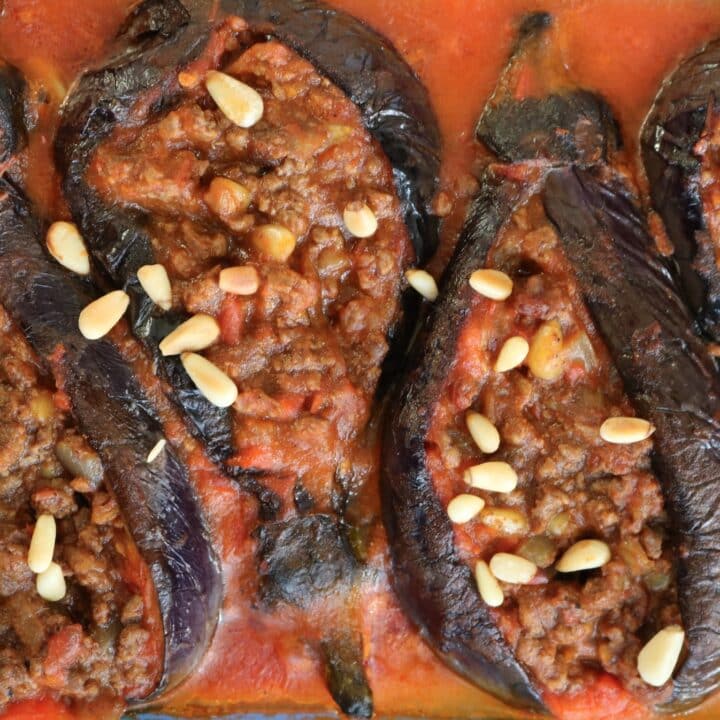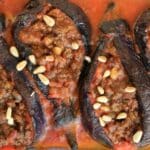 Sheikh el Mahshi
Eggplants stuffed with mince meat baked in a tomato sauce
Cook Time
1
hour
15
minutes
Ingredients
4

small eggplants

200

g

lamb beef mince 50:50 ratio

1

large onion

chopped

1

teaspoon

7 spice

¼

teaspoon

turmeric

½

teaspoon

paprika

1

teaspoon

dried coriander

½

teaspoon

salt approx

¼

cup

pine nuts

4

tomatoes

chopped

1

tablespoon

tomato concentrate

1

cup

boiling water

Vegetable oil for deep frying
Instructions
To make the mince meat
In a wide pan, sauté the onion in some cooking olive oil until golden

Add the lamb beef mince and the spices (turmeric, paprika, 7 spice and dried coriander) and salt. Sauté for 10-15 minutes until the mince meat is well done

Toast the pine nuts in a small non stick pan and add half to the mince meat
To make the tomato sauce
Add the chopped tomatoes, tomato concentrate and water to a pot and bring to the boil. Simmer for 20 minutes then blitz with a hand blender until smooth and add salt to taste.
To prepare the Sheikh el Mahshi
Wash the eggplants and slit with a sharp knife on one side ¾ of the way through. Do not cut all the way through. Dab dry with a kitchen towel

Heat up vegetable oil in a deep pan for frying. Add the eggplants and fry for 10-15 minutes, turning half way through until they start to change colour and are half done. Transfer to plate lined with kitchen towels to drain

Line the eggplants in a baking pan. Using a fork, scrape around the insides of the eggplant so they pull apart and loosen. Season with a good sprinkling of salt

Add half the tomato sauce to the mince meat, stir well and stuff the eggplants generously, mixing well with the eggplant mixture inside

Heat the oven to 180C (350 F)

Ladel on the rest of the tomato sauce so the eggplants are ¾ submerged in sauce. Bake in the oven for half an hour until the eggplants are well done

Sprinkle on the rest of the toasted pine nuts just before serving with rice.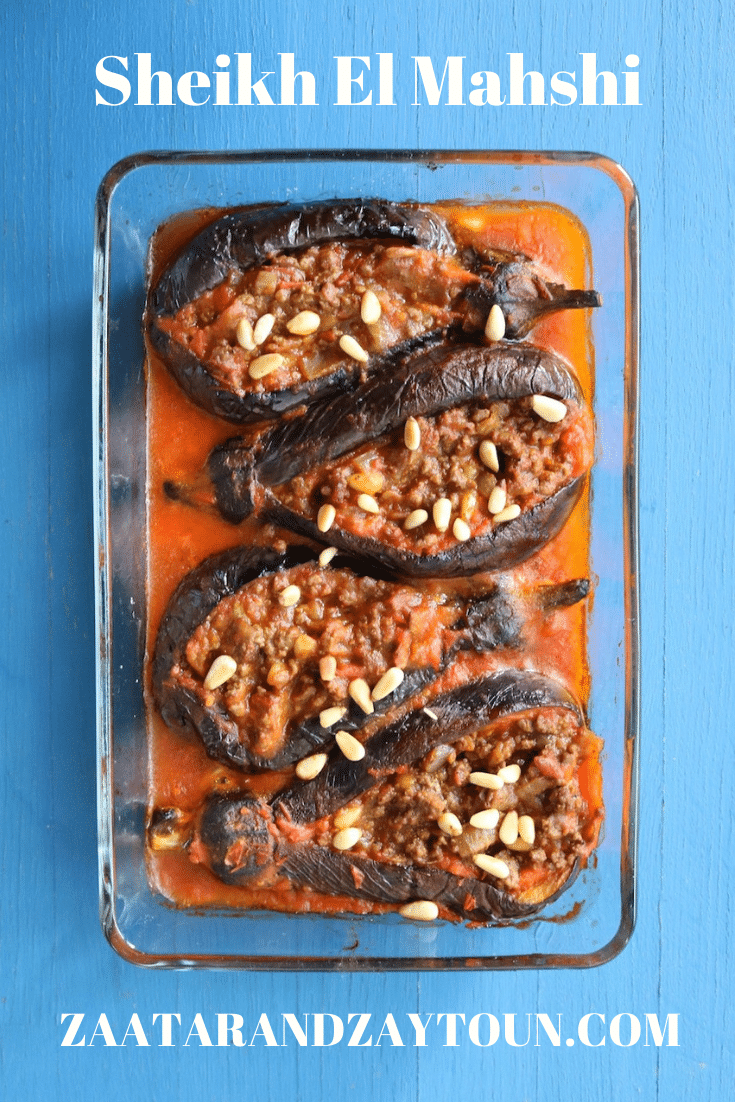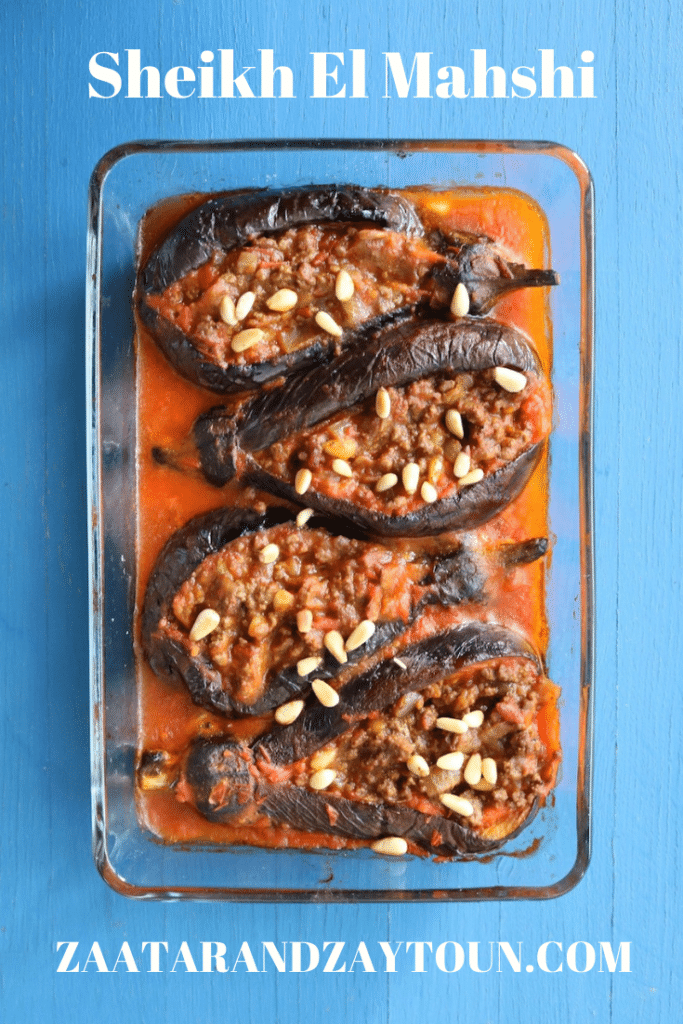 If you make any of our recipes let us know how it went by giving us a star rating below.
We have a lively Facebook group where we post frequent recipes and discuss Lebanese cooking in general, as well as a handy Pinterest page where you can save all of your favourite Zaatar and Zaytoun recipes!
You might also like these other recipe from the Zaatar and Zaytoun collection: