Kousa bil laban is zucchini stuffed with rice and meat cooked in a warm garlicky yoghurt sauce.
It's a big recipe your grandmother probably made, and can be daunting for many beginner cooks.
The trickiest part is coring the zucchini (courgette) and once you do that successfully, the rest is pretty straightforward.
Oh actually you have to make sure you don't burn the yoghurt sauce but that just needs a little patience.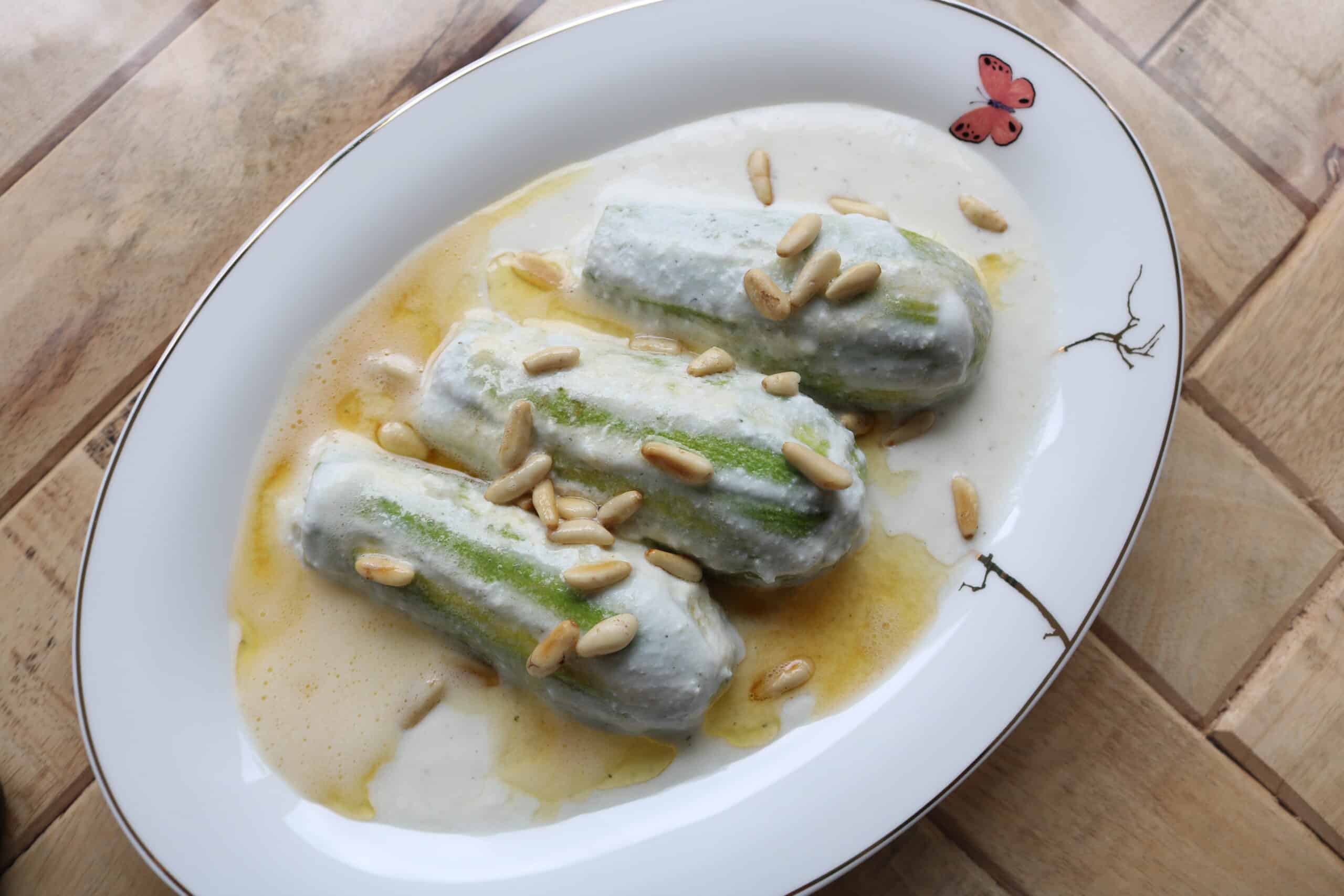 You can also check out my other popular recipe for stuffed zucchini; kousa mahshi, which is cooked in a tomato sauce but follows a similar process.
In fact here on Zaatar and Zaytoun, we have a whole section on stuffed vegetables (mahashi) which you can go to for more inspiration including swiss chard, grape leaves and eggplant.
Jump to:
Ingredients
Zucchini is a summer fruit and they are at their best around August. Try and find the light green variety which are rounder and better for stuffing.
My mum couldn't always find them in London and used to smuggle a batch in her suitcase for the love of making us some delicious kousa mahshi 😂
I also like to lightly score the outsides of the kousa with a serrated knife so they can pick up more sauce.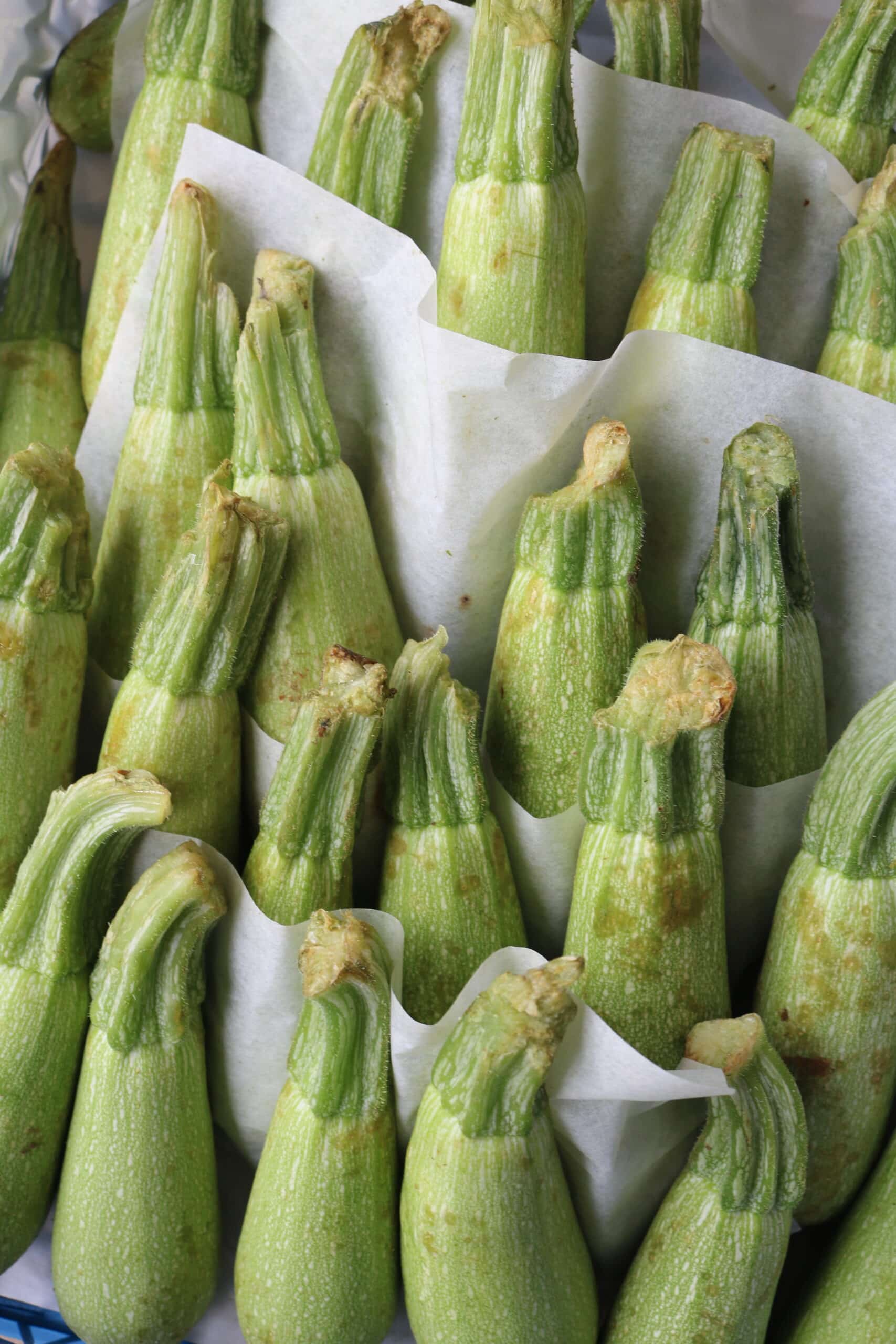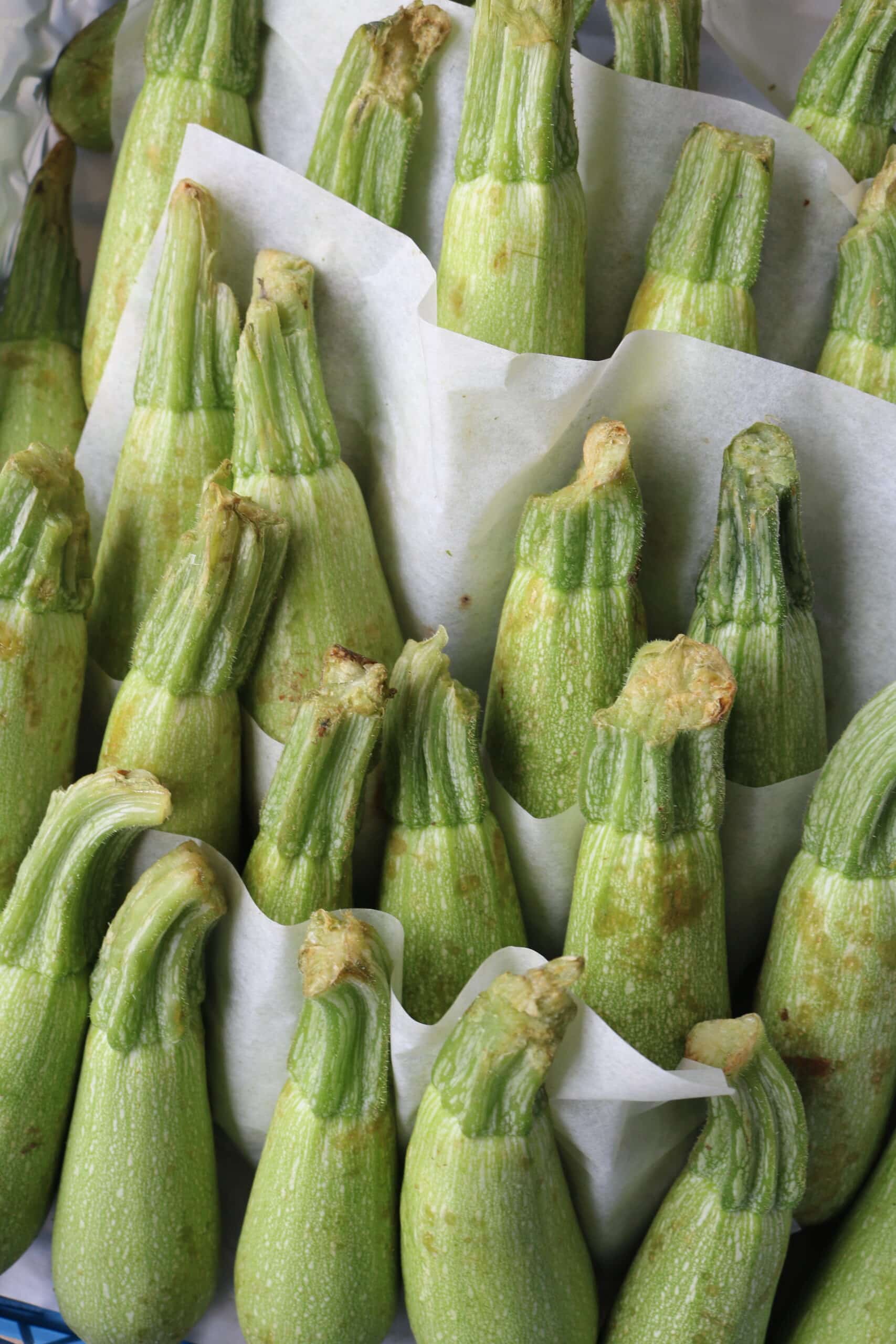 You can either use ground lamb or beef, or even a mixture of both. I combine them on a 50:50 ratio as it won't be too fatty or dry.
The stuffing isn't too heavily spiced as it will overpower the delicate yoghurt sauce.
I always use short grain rice (Egyptian rice as we call it in Lebanon) instead of long grains like basmati, as this means the stuffing won't become dry.
I used greek style yoghurt which has been strained a few times making it thicker. If you use plain yoghurt, it will have a looser texture.
The yoghurt sauce is sprinkled with dried mint. I don't like using to much as I find it to overpowering if you put too much, so I only add half a teaspoon.
You can also fry a little cilantro (fresh coriander) with the garlic and add to the yoghurt sauce.
Instructions
To make this dish you will need to prepare a few things in advance, it's not really one you can make last minute.
The stuffed zucchini is pre-cooked in brine so you don't have to cook it too long in the yoghurt sauce.
Here are the rough steps: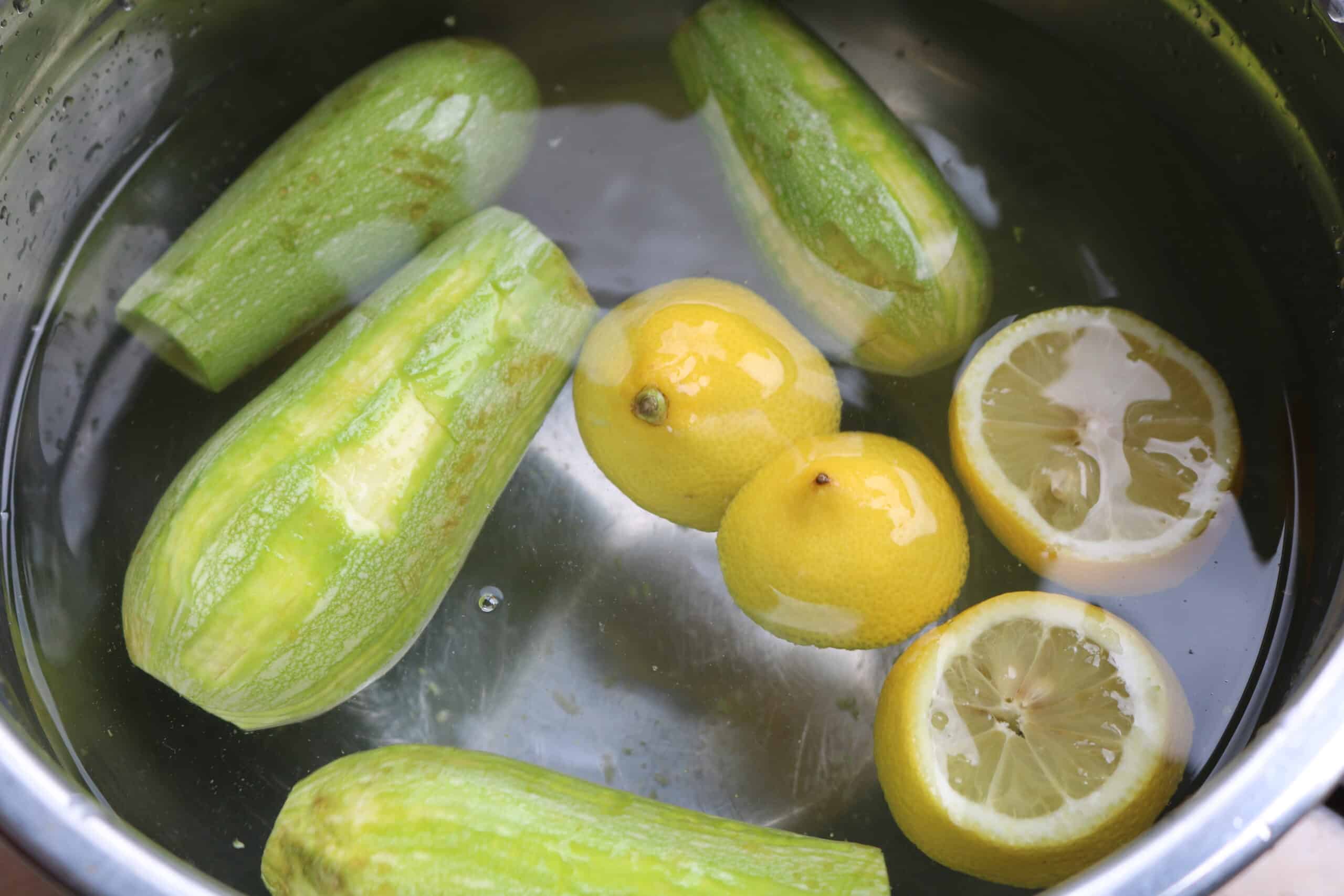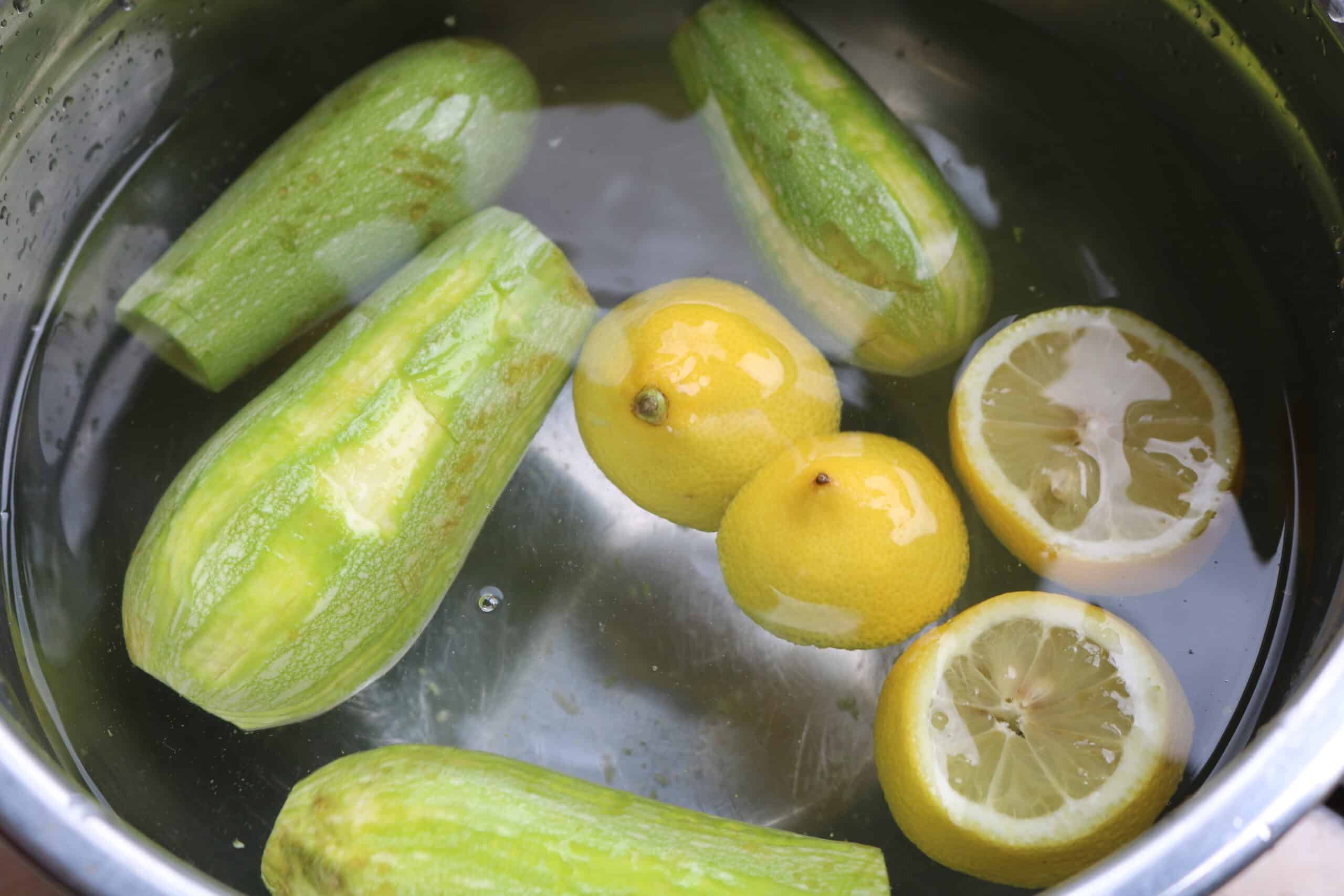 Using a corer, take out the insides of the zucchini and place inside bowl of water with lemons.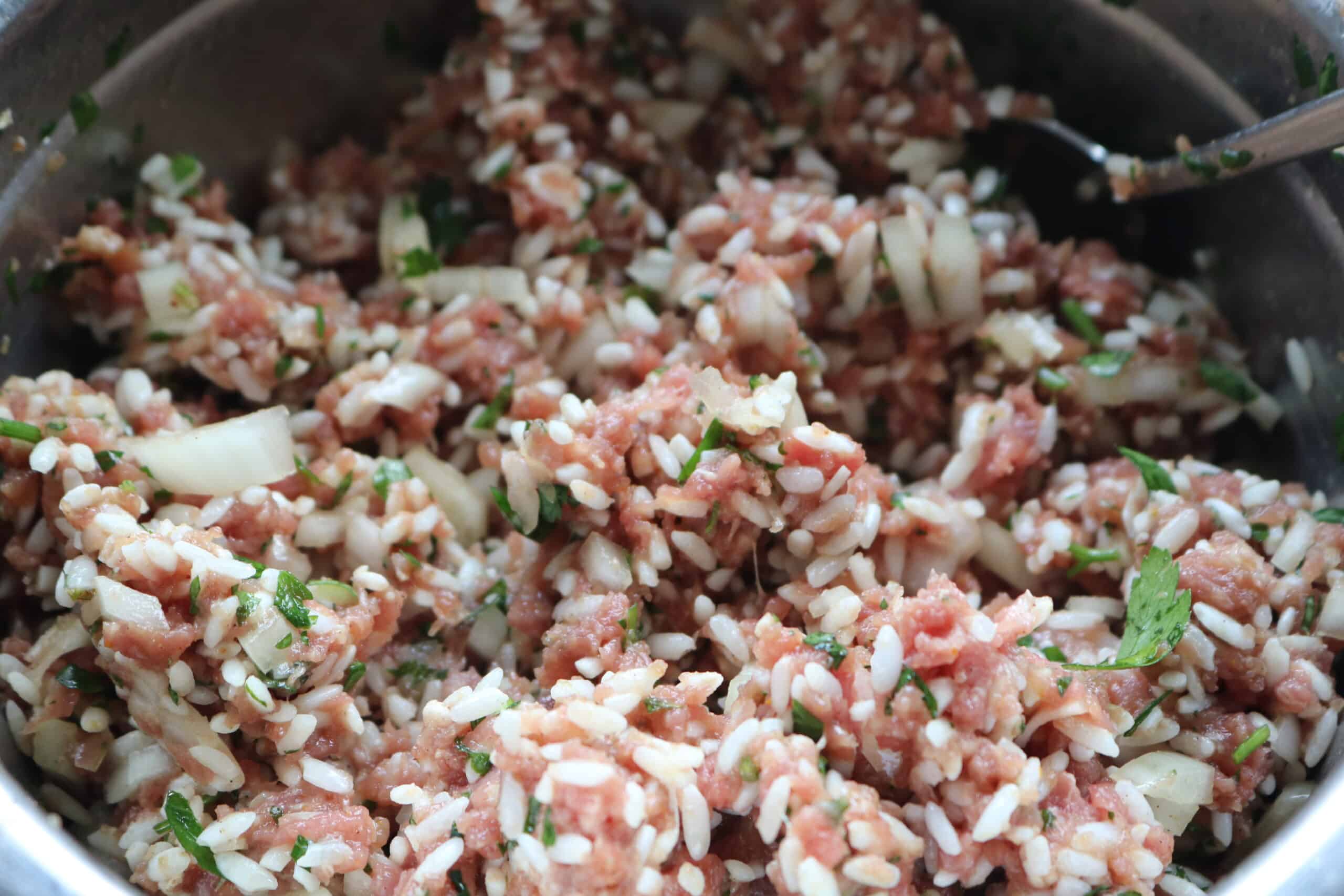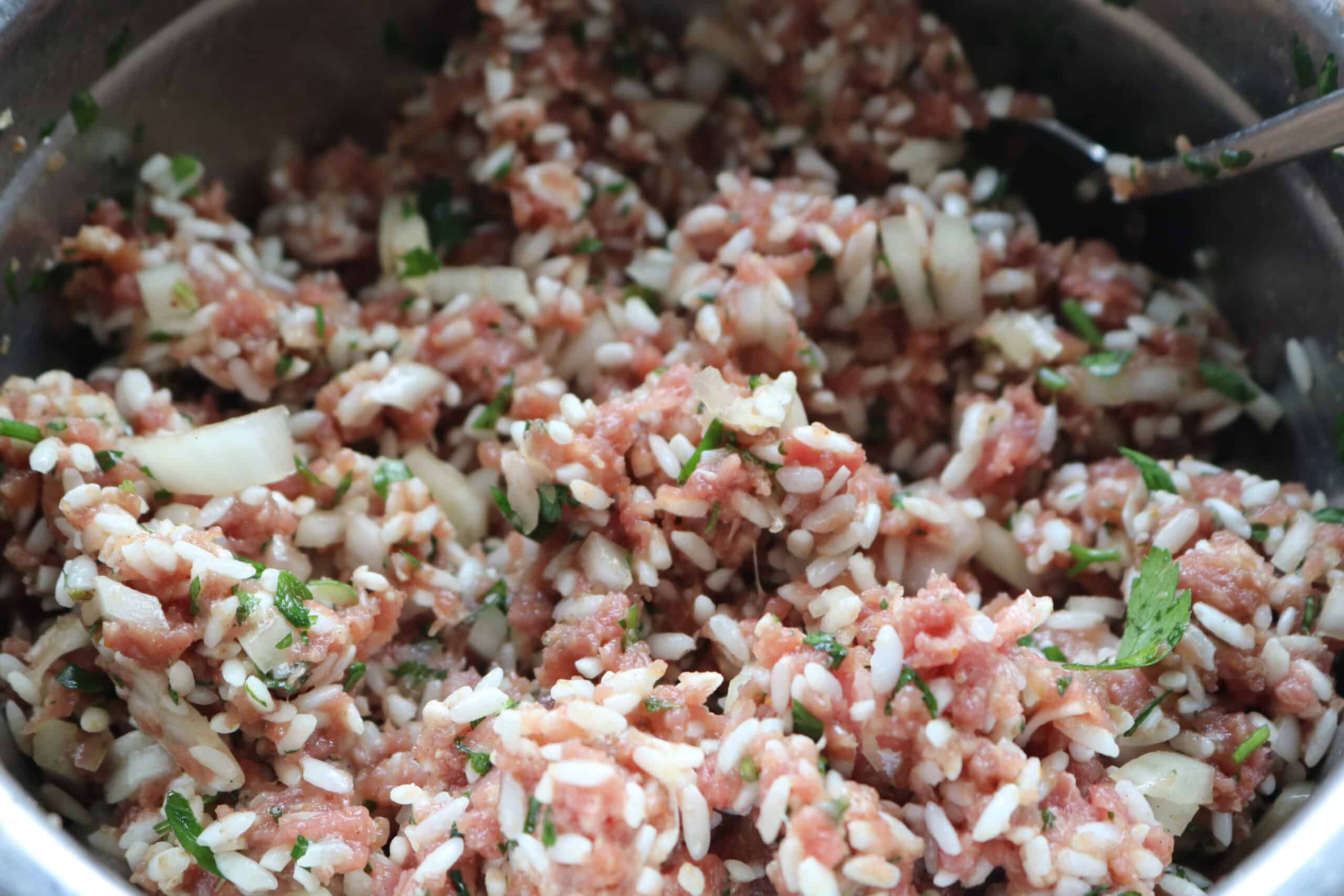 Make the stuffing using short grain rice, parsley, ground meat and onion.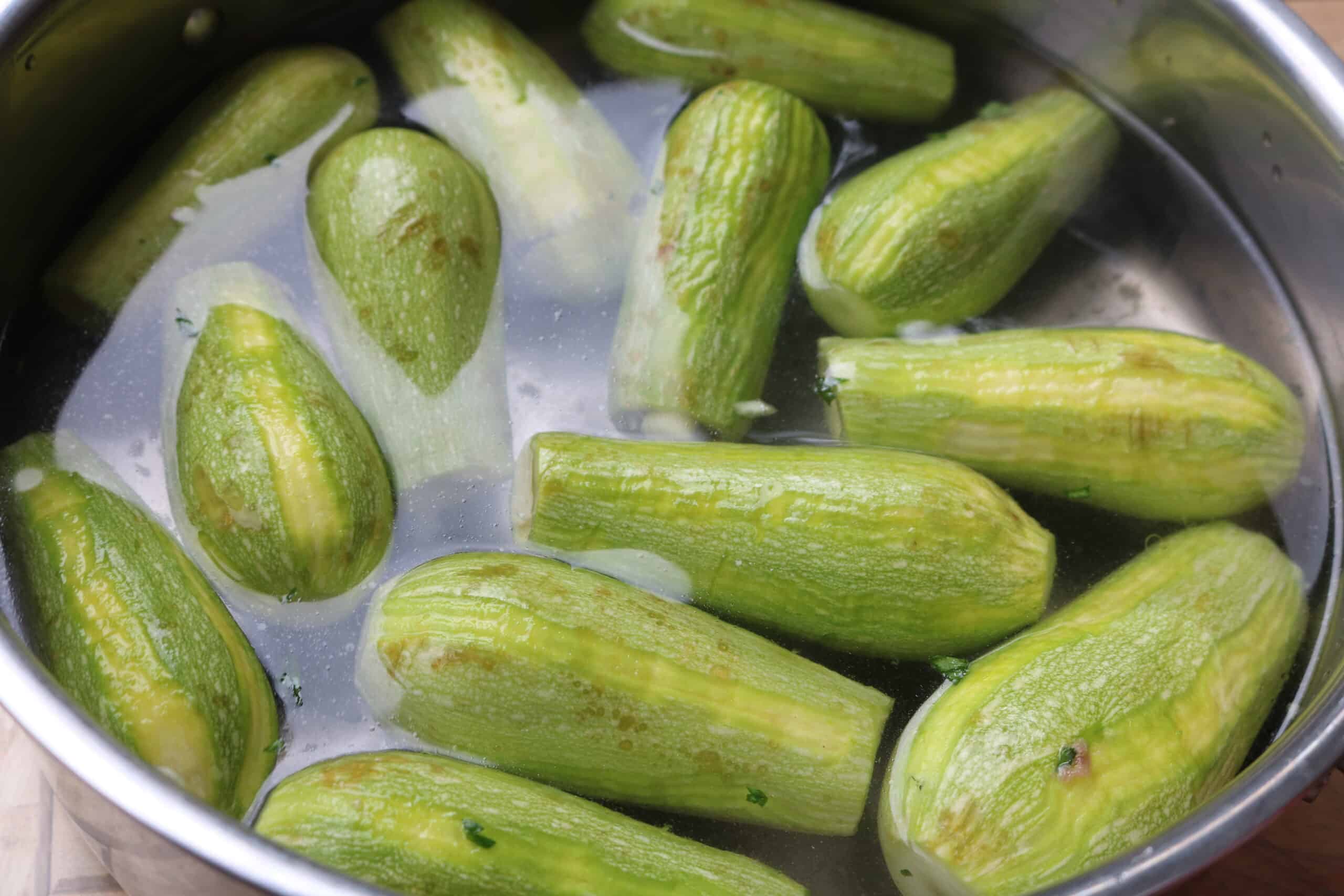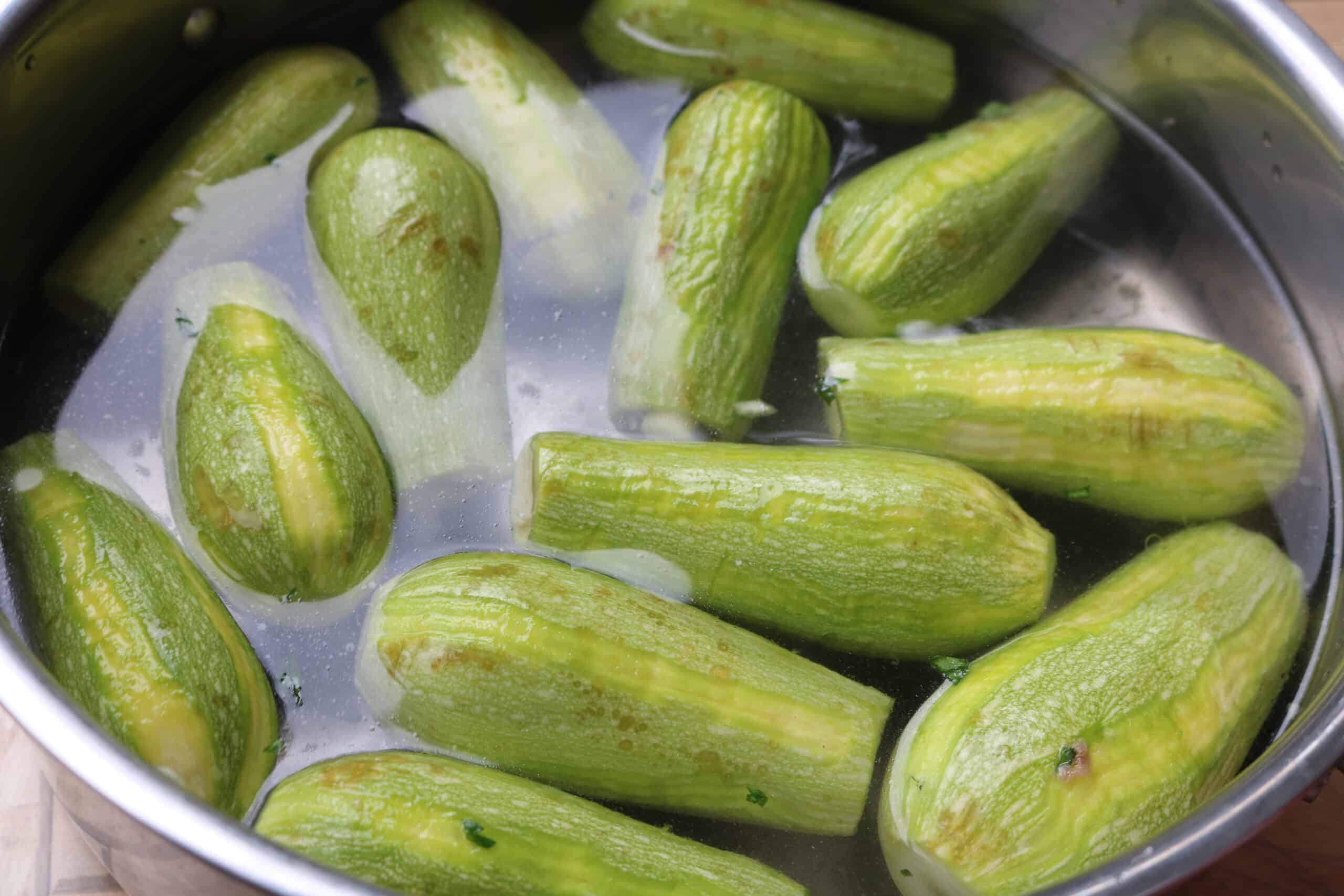 Cook the stuffed zucchini in salt water (brine) for 20 mins.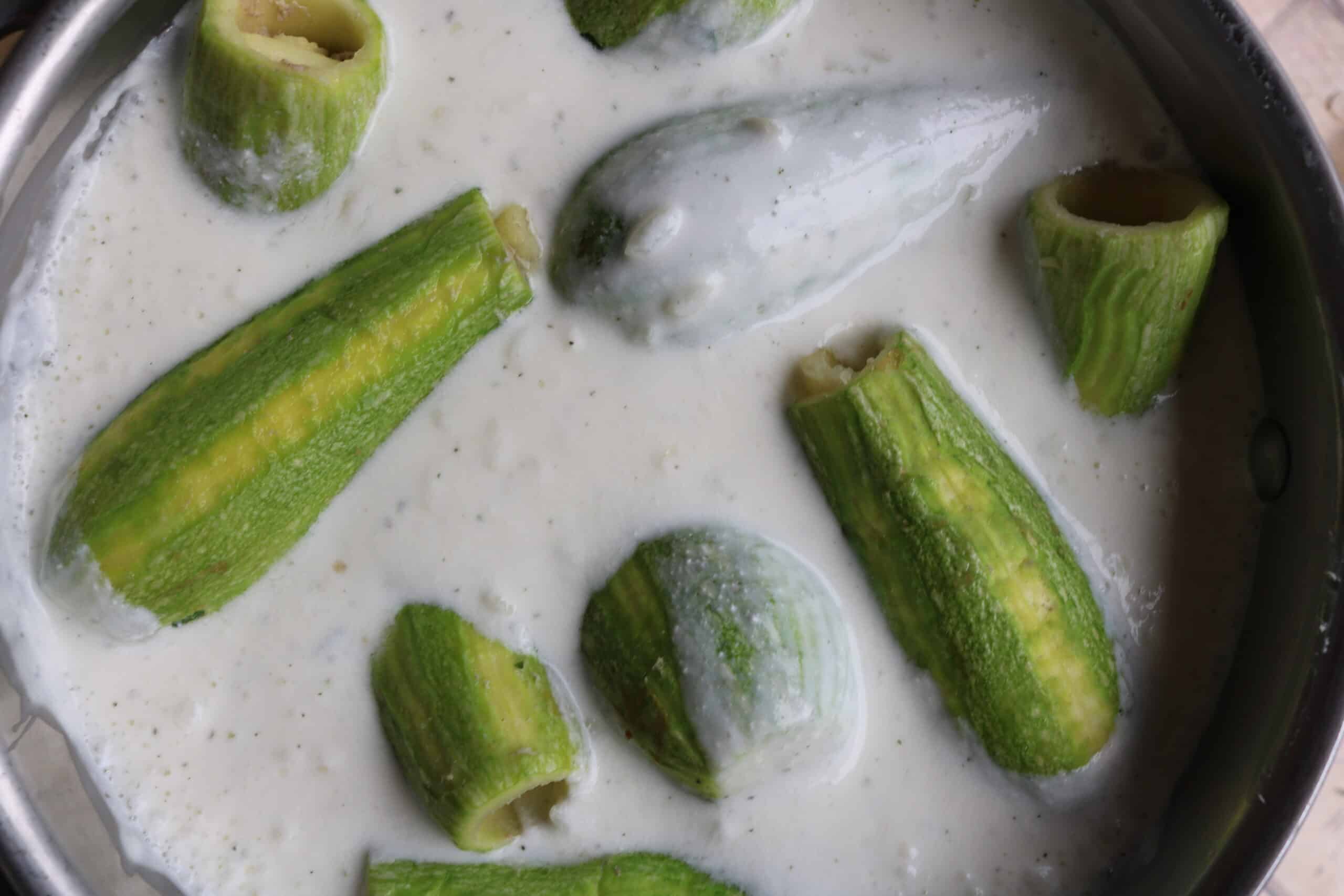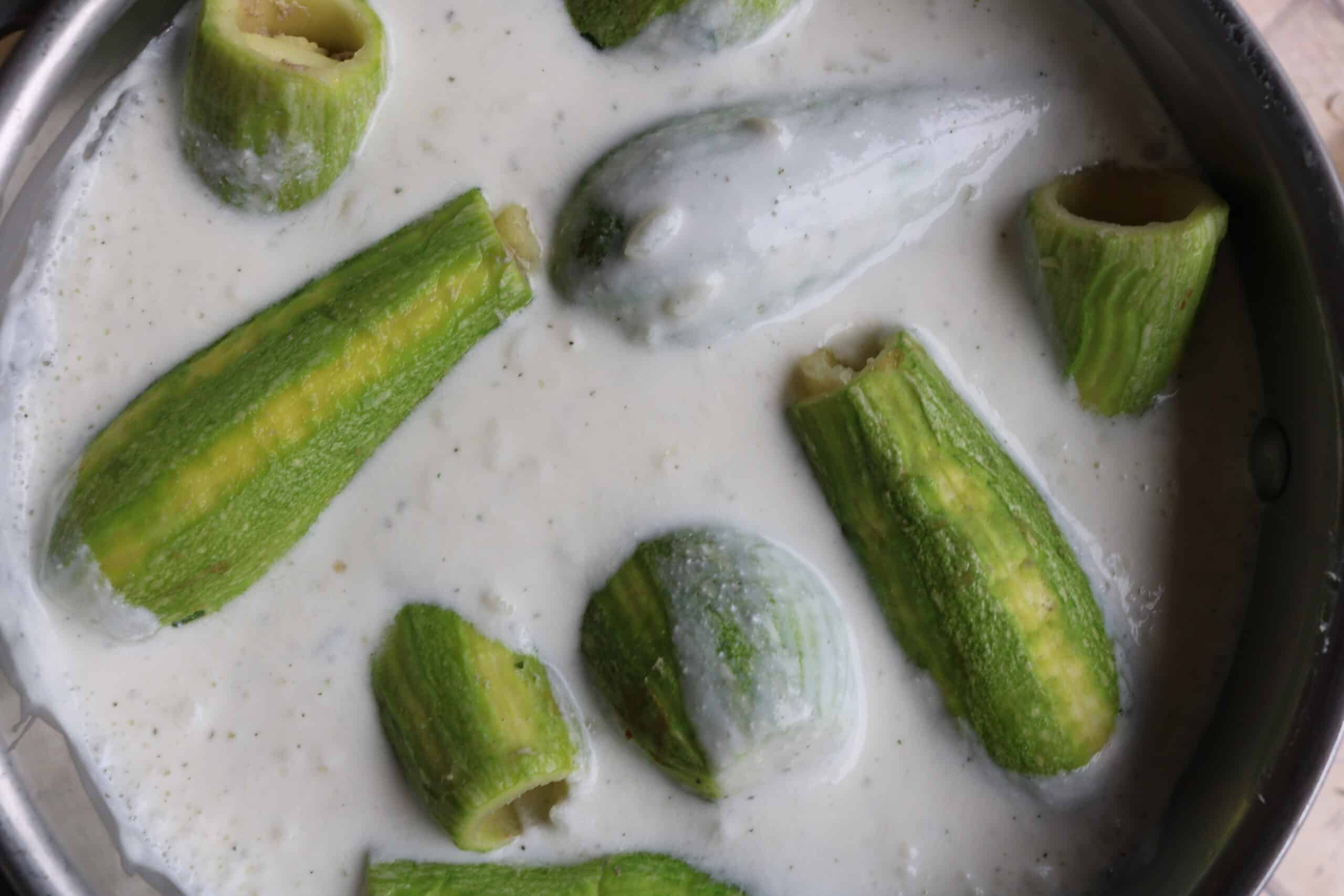 Then transfer to the warm yoghurt sauce, and simmer for another 40 minutes.
Equipment
You will need a corer for the zucchini, which can be found in Middle Eastern grocery shops or online.
You will need a deep pan to pre-cook the zucchini in the brine, and another casserole dish for the yoghurt sauce.
Finally, you will need a fine sieve to pass the yoghurt sauce through.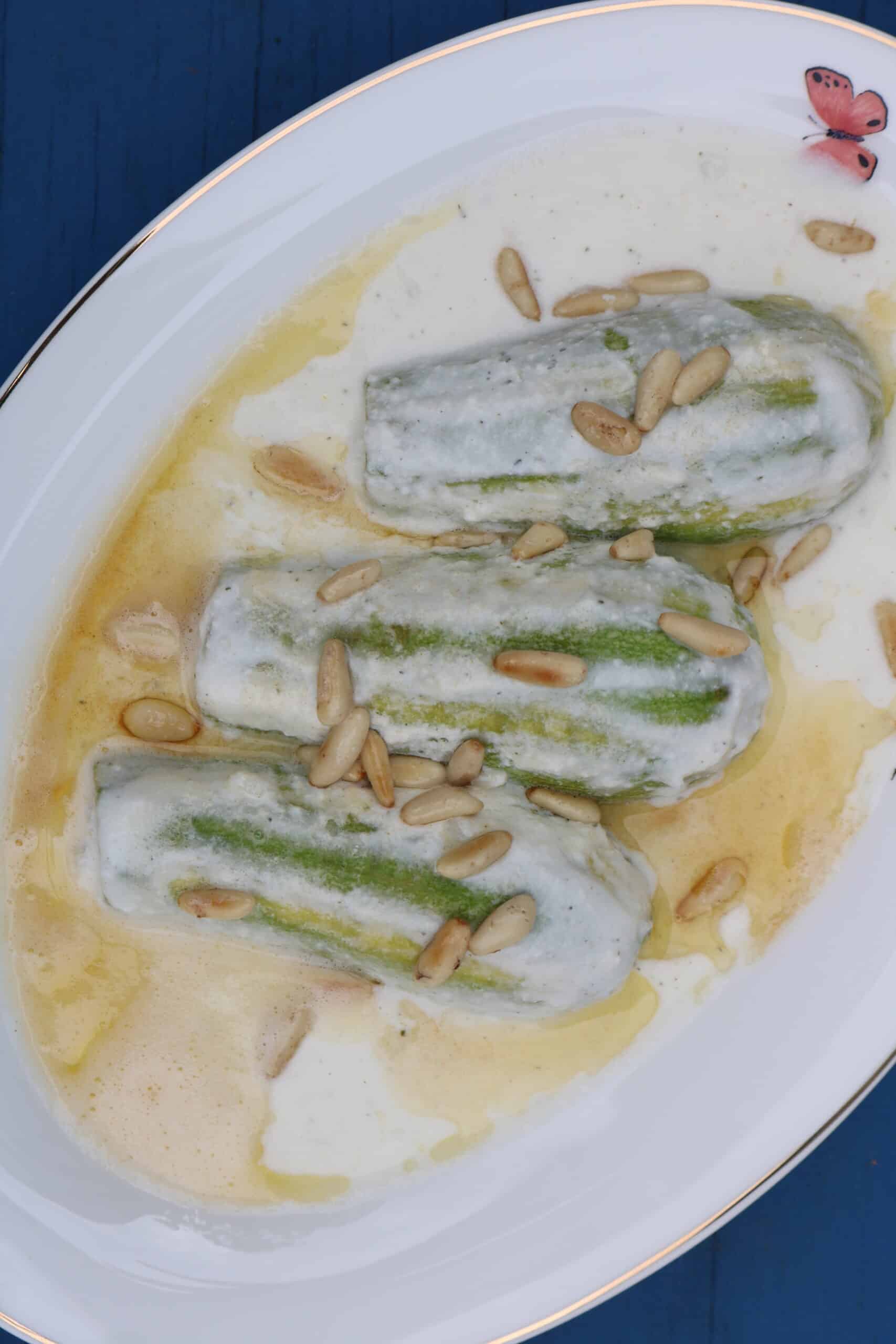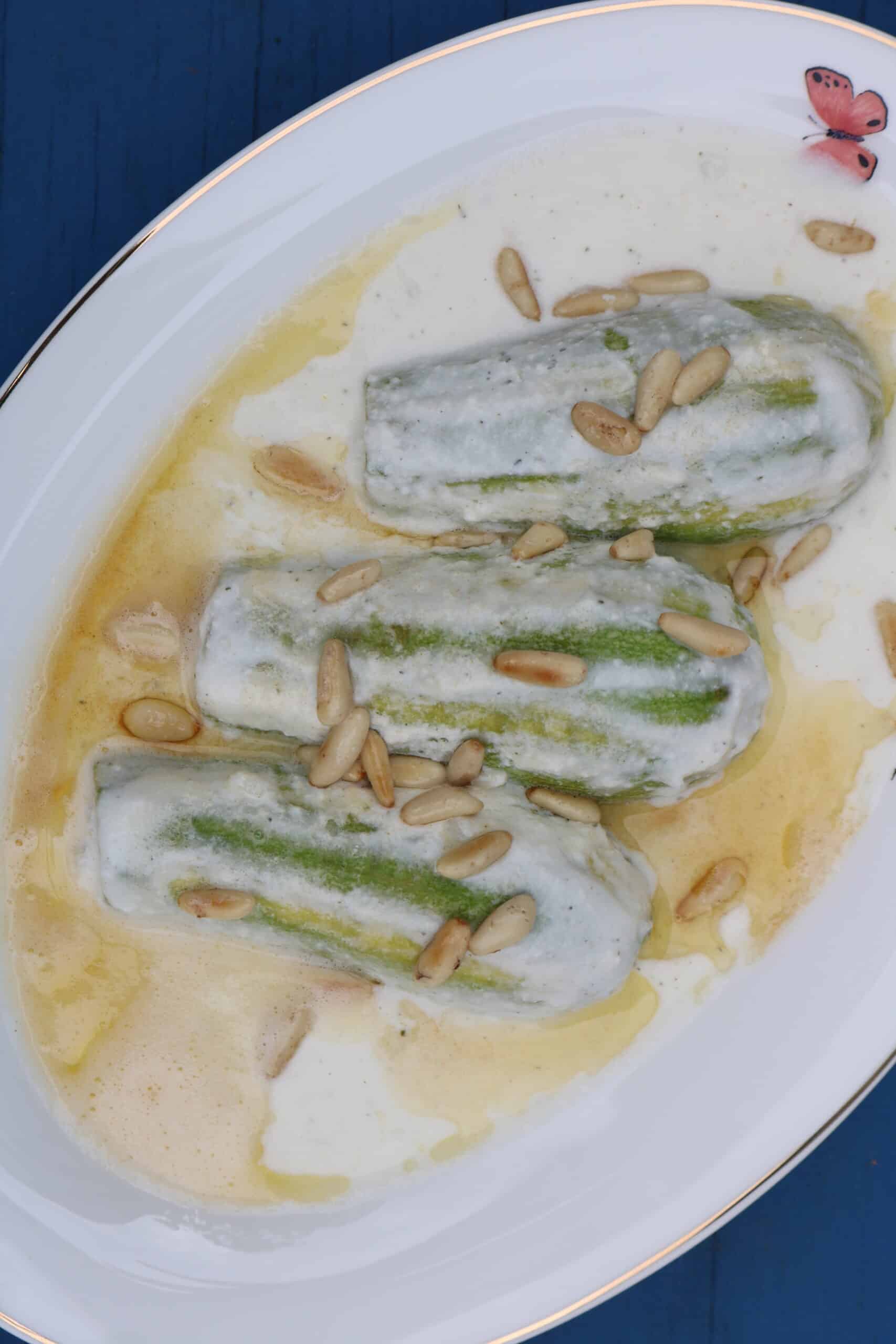 Top tips
When making the yoghurt sauce, it is better to pass it through a fine sieve to make sure there are no clumps of cornflour.
Alternatively you could use a hand blender to combine the yoghurt sauce.
If you add a little short grain rice to the yoghurt sauce to thicken, make sure you stir the bottom of the pot every so often so it doesn't stick to the surface.
Save the salt water you pre-cook the zucchini in as you can use some of it to loosen the yoghurt sauce if it gets too thick. I used around 2 cups of it.
Store in the fridge for up to 3 days. Reheat by adding a little boiling water to loosen the sauce as necessary and simmer on low for around 10 minutes or so.
This dish is served warm and can be topped with brown butter and pine nuts to make it extra luxurious.
📖 Recipe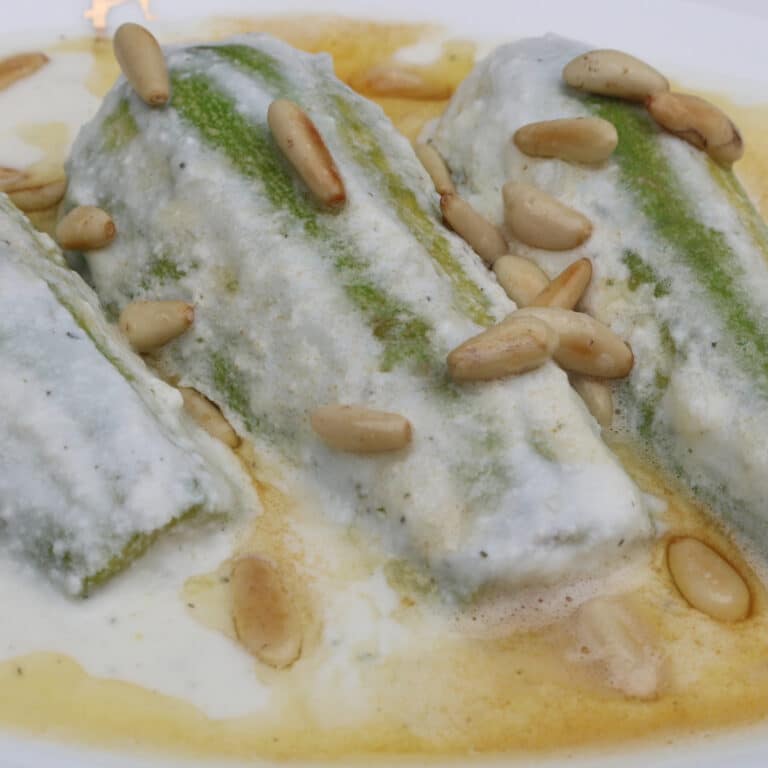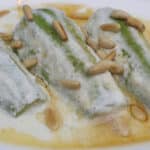 Kousa bil laban (zucchini in yoghurt sauce)
Zucchini stuffed with meat, rice and herbs cooked in a warm yoghurt sauce
Ingredients
2

kg

light green zucchini

1

large bowl of water with sliced lemon
For the stuffing
250

g

ground meat

lamb or beef

1

cup

short grain rice

¼

teaspoon

black pepper

1

teaspoon

7 spice

1

small onion

finely chopped

small handful parsley

finely chopped

few mint leaves

finely chopped

½

teaspoon

salt

small drizzle mild olive oil
For the yoghurt sauce
1500

g

plain yoghurt

1

tablespoon

cornflour

½

cup

short grain rice

optional

2

cups

zucchini water

1

teaspoon

salt

2-3

garlic cloves

chopped

small handful cilantro

fresh coriander, chopped

slightly salted butter

½

teaspoon

dried mint

small handful

lightly toasted pine nuts
Instructions
To prepare the zucchini
Wash the zucchini well, remove the tops

Using a corer, hollow out the insides of the zucchini leaving around a half centimetre margin. Set aside the cores to close the zucchini later

With a serrated knife, lightly score the outsides to make grooves on the zucchini skin

Add to a bowl of water with some sliced lemon to prevent browning
To prepare the stuffing
Wash the rice and soak in some water for around half an hour. Then drain the rice and add to a large mixing bowl

Add the ground meat, parsley, mint, onion, seven spice, black pepper, salt and mild olive oil. Mix well and set aside
To stuff the zucchini
Prepare a deep pan that will fit all the zucchini in comfortably. Take a small handful of the stuffing and gently fill the zucchini leaving around 2cm near the top for the cooked rice to expand. Do not compress the filling too tightly

Stuff the ends with the zucchini cores. Place in the deep pan and cover with water and 1 teaspoon of salt

Bring to the boil and cook for 25 minutes on medium low heat. Remove the zucchini onto a plate and save the zucchini water for later.
To make the yoghurt sauce
Soak the rice in water for about 20 minutes

Rinse the rice under the tap until the water runs clear. Then add the rice to 2 cups of boiling water and simmer in a large pot until cooked (approx 20 minutes) stirring occasionally

In a bowl, add the cornflour and salt to the yoghurt, stir well then press through a fine sieve over the rice

Raise the heat to a medium high and keep stirring so the bottom doesn't burn, bring to the boil then lower the heat and keep on a low simmer, continuously stirring for around 10 minutes

Loosen the yoghurt sauce with around 2 cups of the zucchini water from before. Mix well

In a separate small pan, sauté the chopped garlic and coriander in 1-2 tablespoons of the butter for a few minutes, then add to the yoghurt sauce along with the dried mint. Mix well, then taste and adjust the seasoning as necessary

Transfer the zucchini and simmer for around 50 minutes until the zucchini is done. Taste one before you turn off the heat.

Serve in a shallow bowl with the yoghurt sauce. You can also top with browned butter and lightly toasted pine nuts (see notes).
Recipe Notes
To make the brown butter, add 2-3 tablespoon in a small pan and swirl on low heat until it starts to foam and the butter turns amber
Lightly toast the pine nuts in a dry pan on the small hob until lightly golden. Pay attention not to burn
The extra rice in the yoghurt sauce is optional. If you do include, make sure to stir the bottom of the pan often to prevent sticking
If you make any of our recipes let us know how it went by giving us a star rating below.
Check out our Youtube page for full video tutorials, our Facebook group to discuss Lebanese cooking, as well as our tiktok page for quick tips.
You may also like these recipes from the collection: