Tomato vermicelli soup is an example of a simple soup with depth of flavour and variation in texture.
It doesn't need to be too intense with lots of spice or lemon as the tomatoes need to shine through.
Vermicelli (or baby spaghetti as my toddler calls it) is commonly used in Lebanese cooking to thicken soups and can be found in your local Middle Eastern grocery store or online.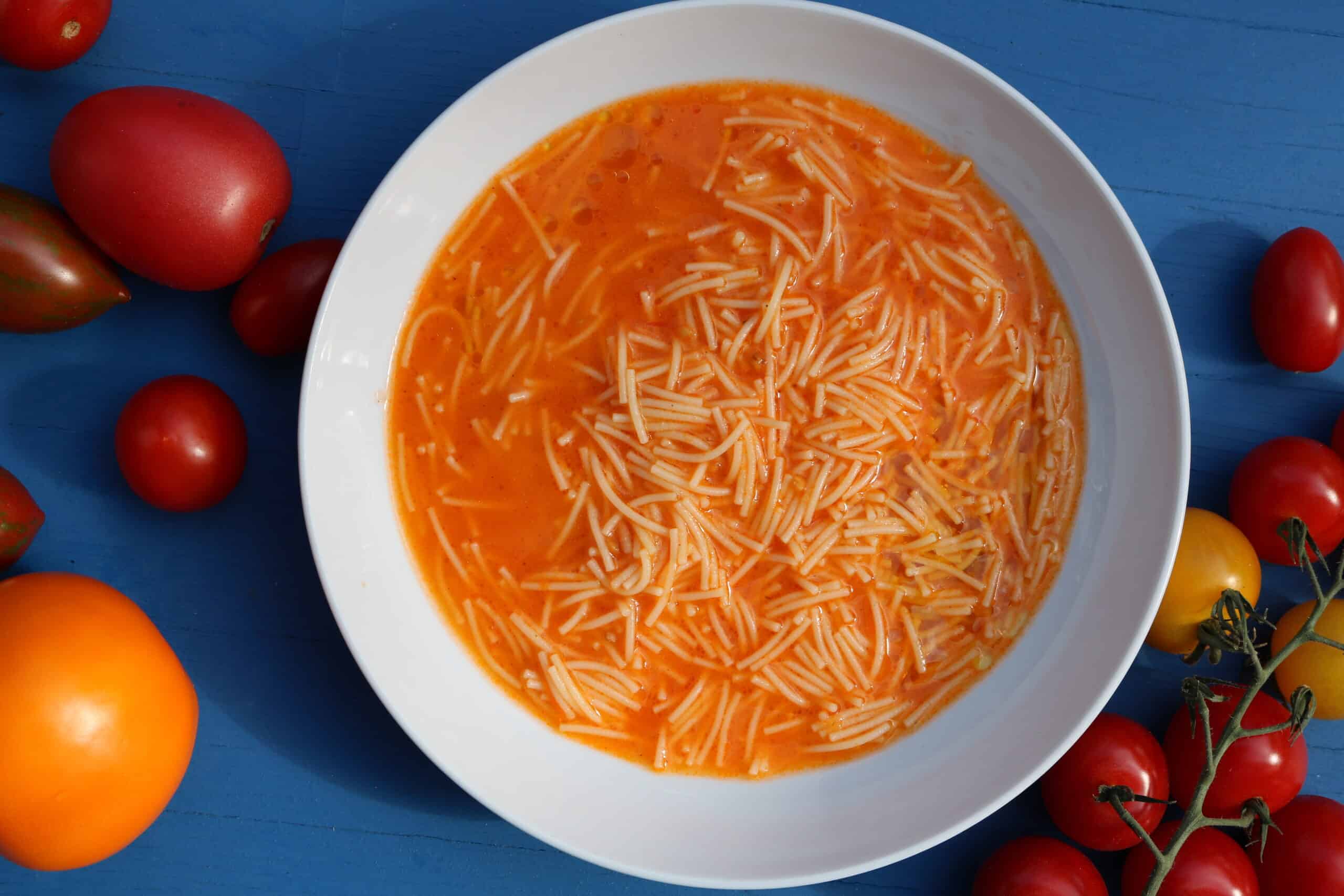 Jump to:
Ingredients
Your tomato vermicelli soup is only as good as your tomatoes. Now some people's husbands buy them flowers - but mine, he gets me an impressive selection of tomatoes 😂
You don't have to have twenty million types of tomatoes for this soup but using a combination will add different tanginess or sweetness of the varieties.
I've limited the herbs to dried oregano and fresh basil as these won't overpower the main flavour.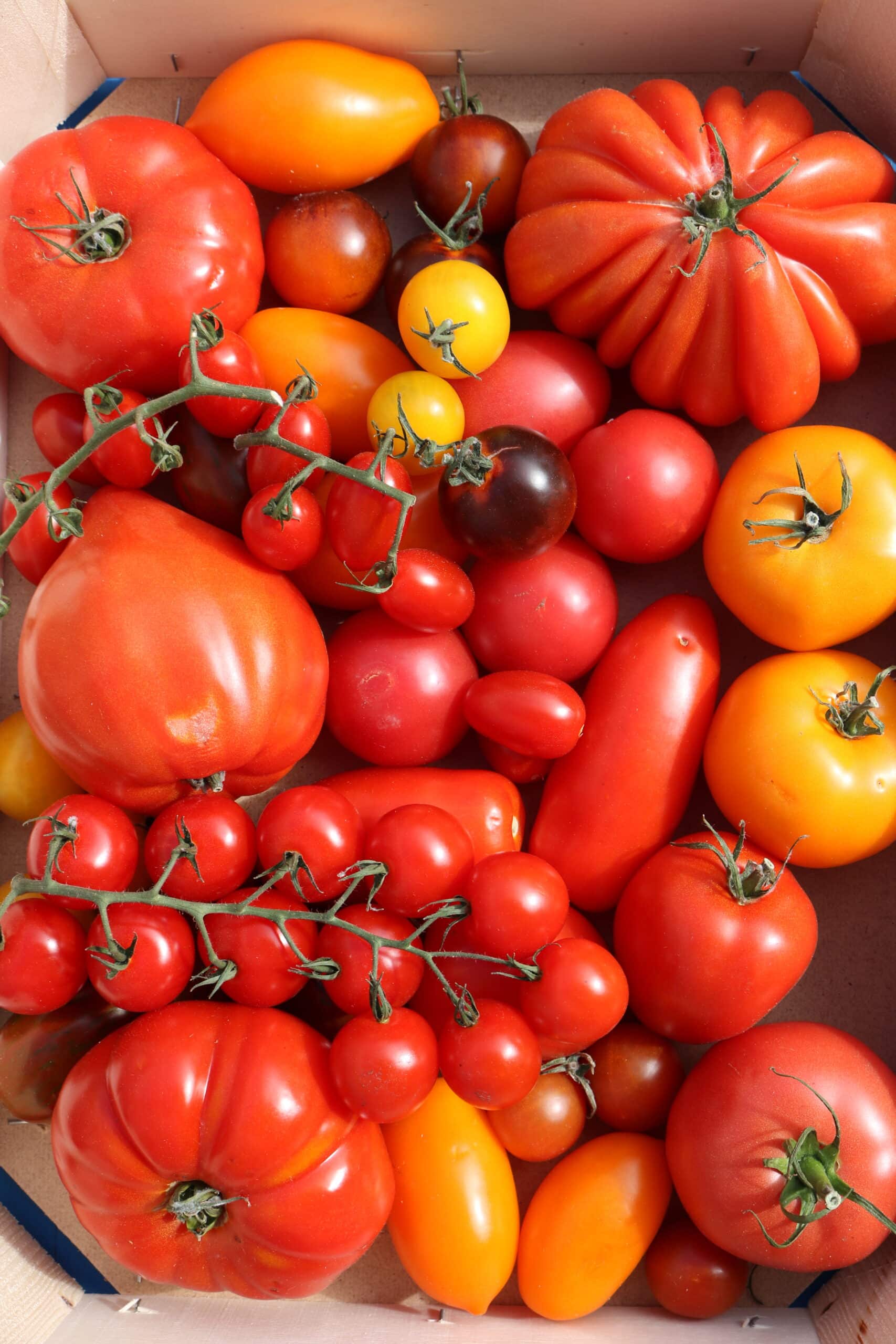 You will also need a good chicken or vegetable broth (I'm not generally a fan of meat broths). Vegetable stock powder is also a viable option.
I've decided to use chicken because it gives a nice warm tone to the soup and helps fight off those winter bugs.
I had previously frozen a batch of homemade chicken broth, and added that to my soup. I also topped up with boiling water.
If you do use a shop bought chicken broth make sure that you take note of the salt level, so taste it when it comes to the boil before adding any extra salt.
Instructions
First, I make the tomato sauce in one pot by roughly chopping the tomatoes with a drizzle of mild olive oil.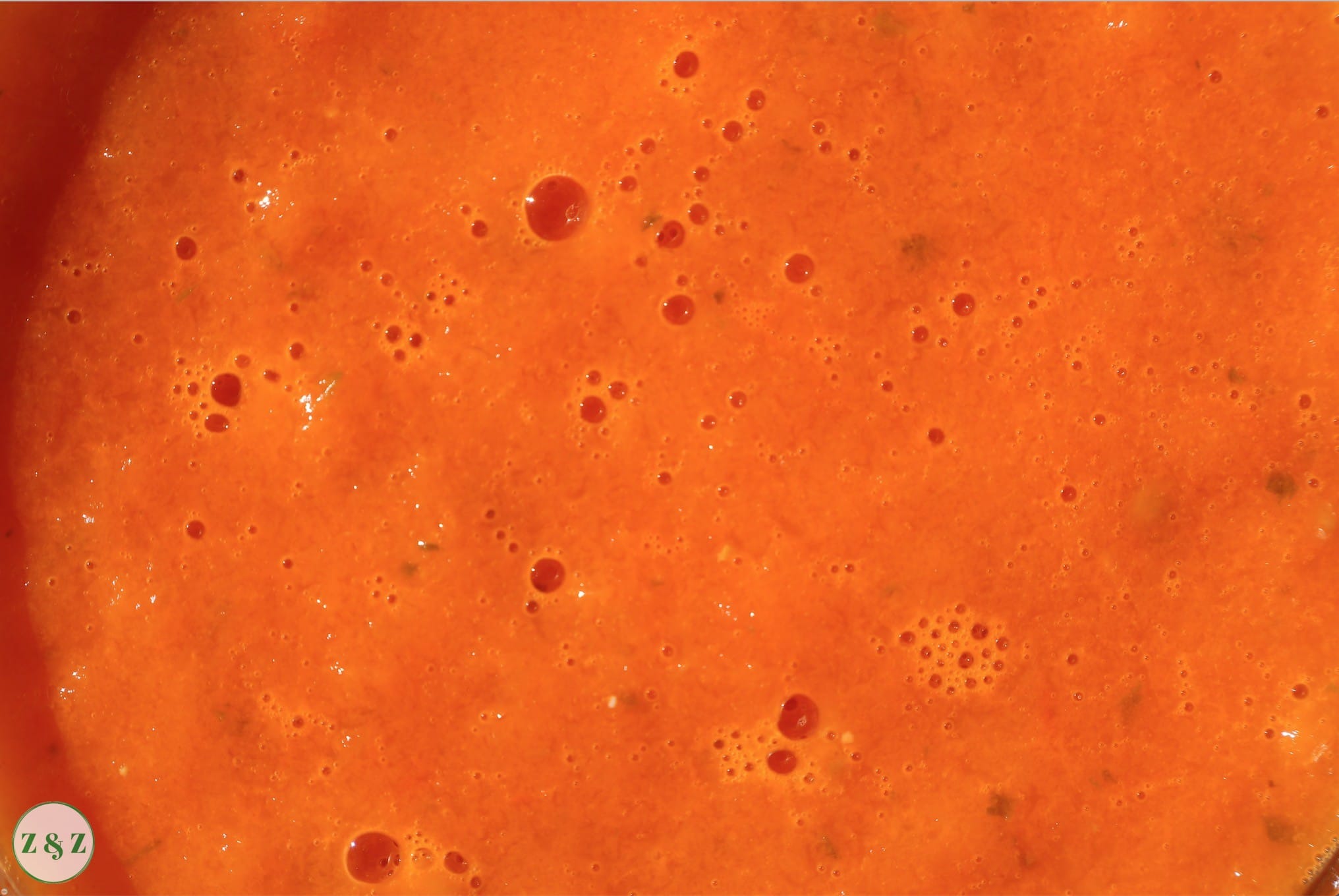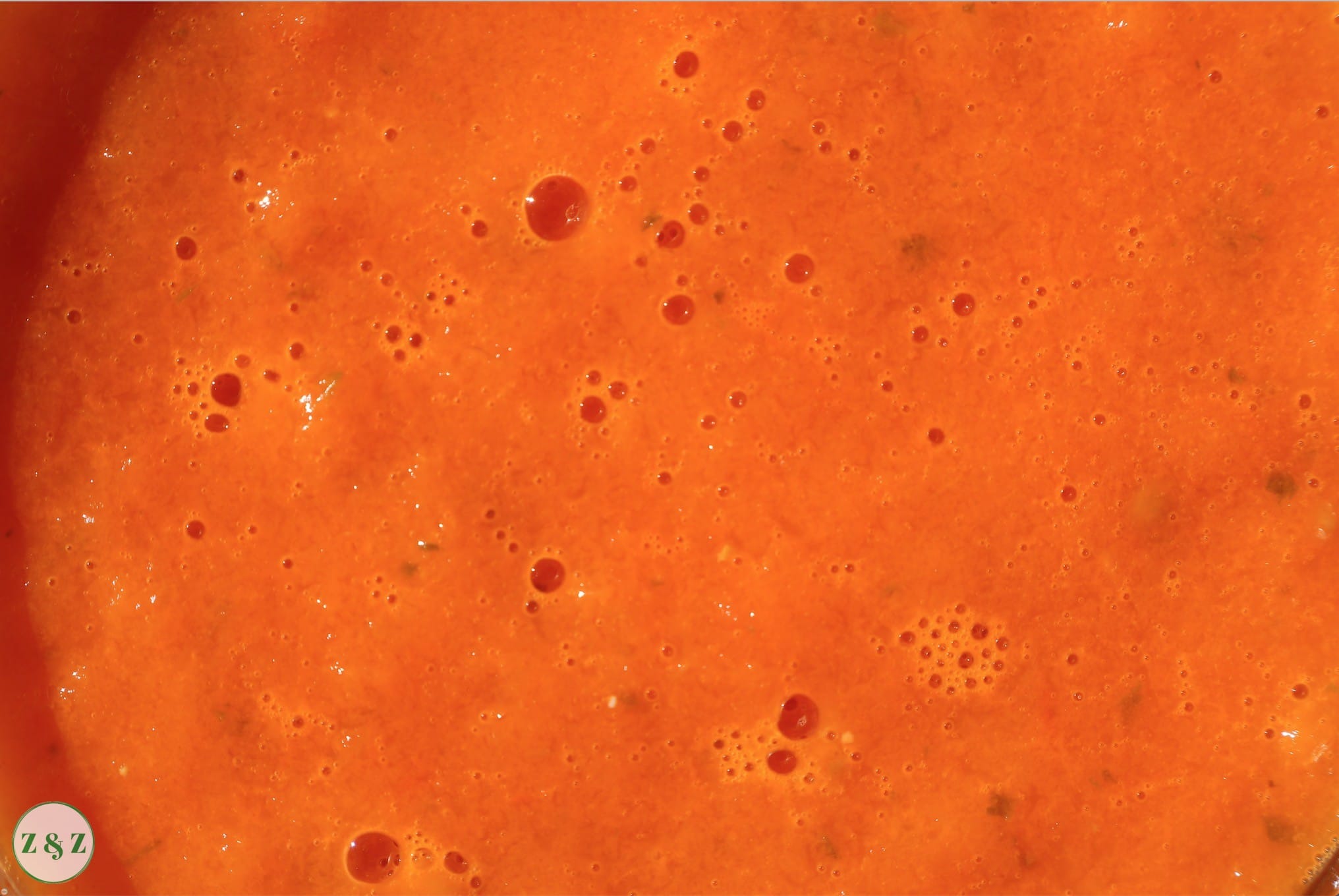 Bring to the boil then simmer for around twenty minutes or so. Then blitz with a hand blender.
Then I add the chicken or vegetable broth and top up with some boiling water to the desired consistency. I like a medium consistency that's not too thick or thin.
I bring it to the boil again and add the vermicelli which needs about 15 minutes to simmer to cook through.
Always taste and adjust the salt level before you turn off the heat and finish off with a small drizzle of extra virgin olive oil.
Variations
As with most soups you have quite a bit of flexibility to adapt it to your liking. Here are some suggestions
Spicy - add a pinch of red chilli powder or cayenne to upgrade the spice level.
Garlicky - add 2-3 cloves of garlic to the tomato sauce before you blitz
Herby - increase the amount of basil, oregano or add chives and a little thyme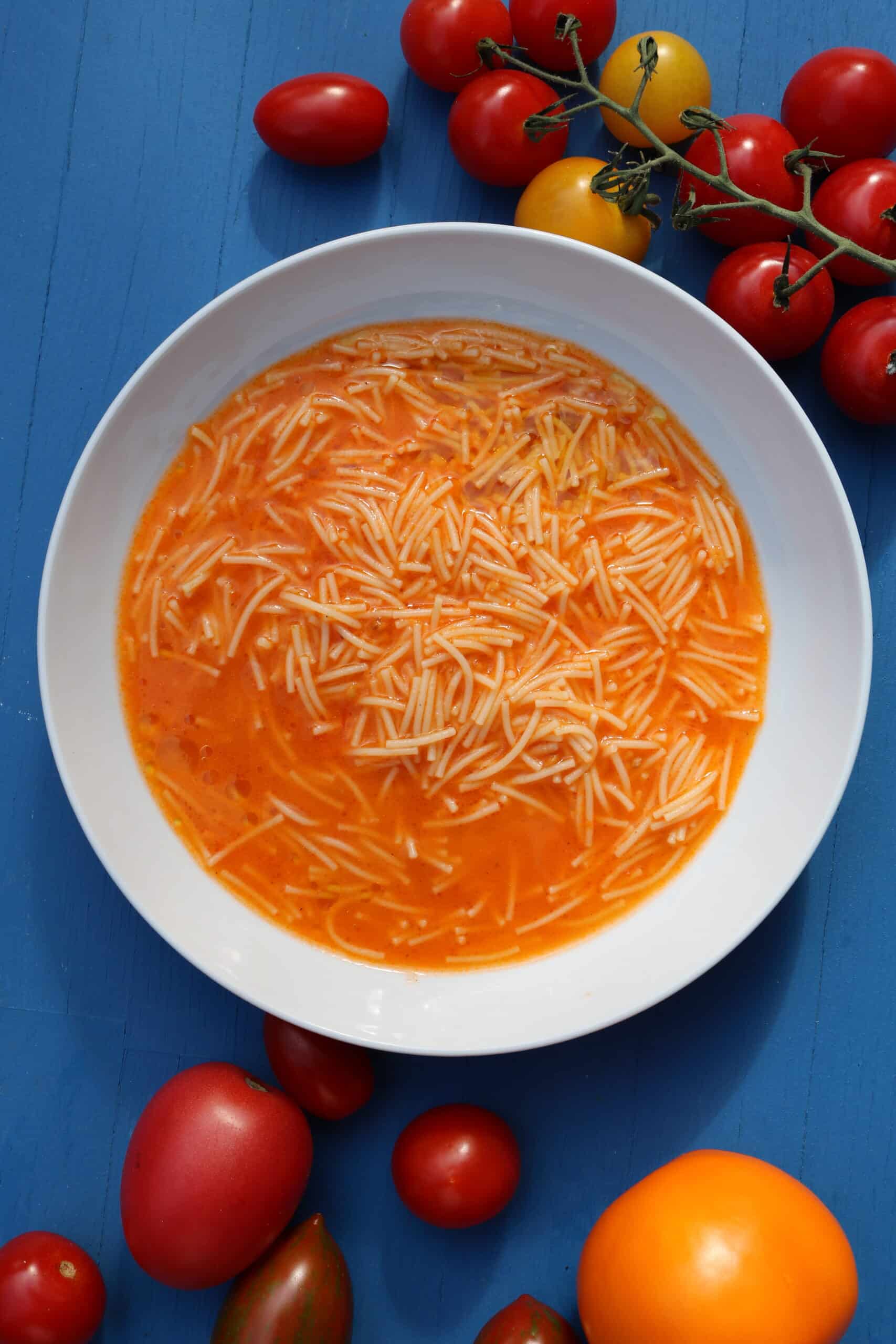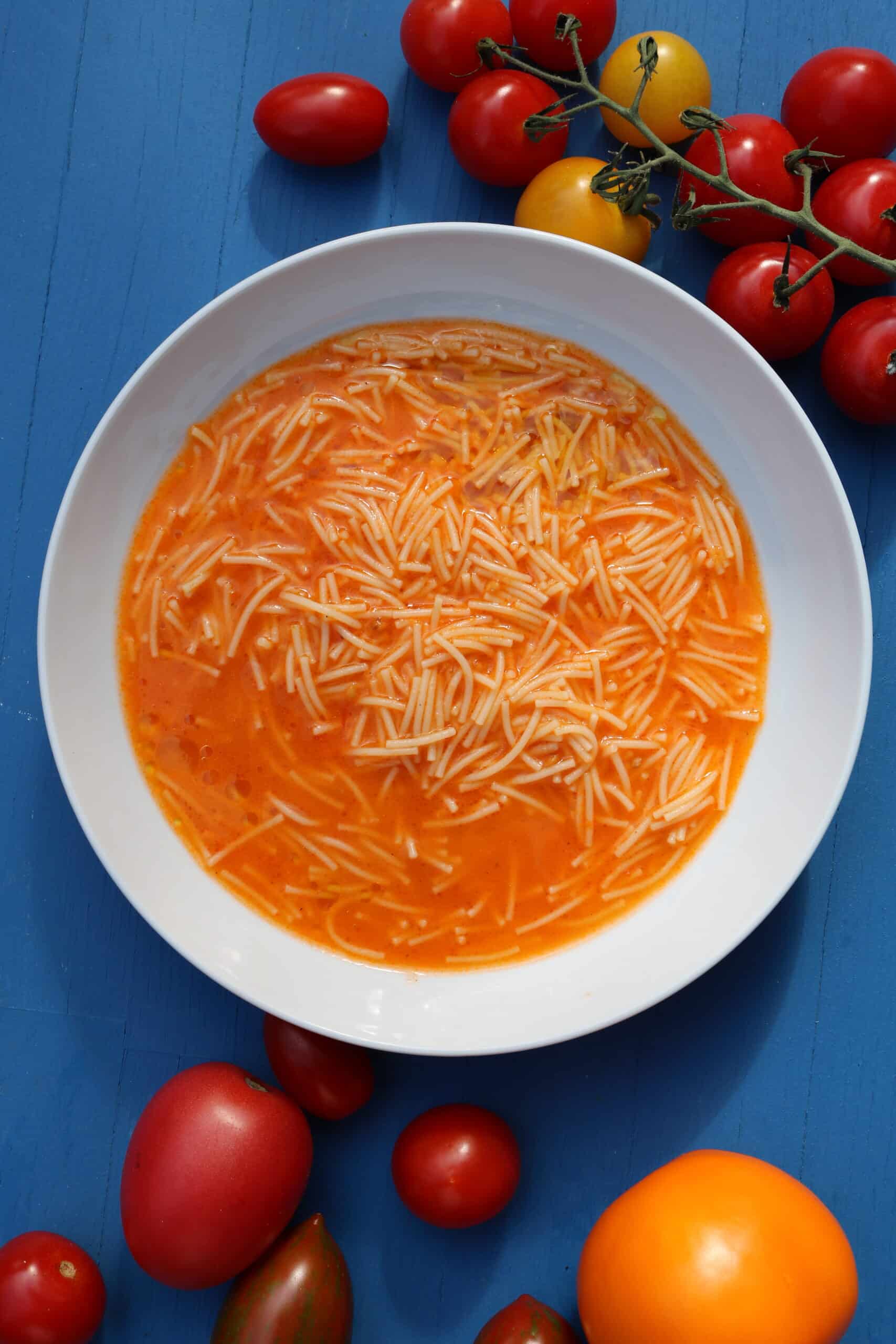 Storage
If you make a lot of tomato sauce you can actually freeze it for use later, which in my house is a life saver.
If you plan to freeze a portion, set aside the amount you want to freeze before you add the vermicelli as it is better to add it when you reheat.
This soup will keep in the fridge for up to three days.
📖 Recipe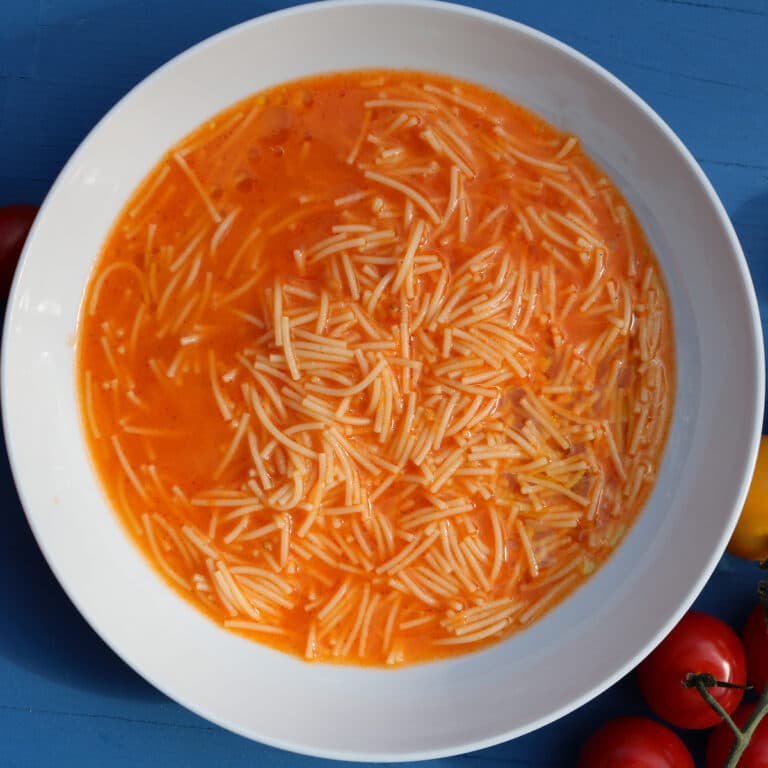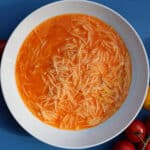 Tomato Vermicelli soup
Tangy tomato soup with fine vermicelli
Ingredients
4

cups

chopped tomatoes

approx 8 tomatoes

1

teaspoon

tomato concentrate

Drizzle mild olive oil

approx 2 tbsp

¼

teaspoon

dried oregano

1

clove

garlic

Salt to taste

½

teaspoon

black pepper

small handful fresh basil

2

cups

chicken or vegetable broth

2

cups

boiling water

1

cup

fine vermicelli

Drizzle extra virgin olive oil
Instructions
In a pot, add a drizzle of mild olive oil and the chopped tomatoes, tomato concentrate, black pepper, dried oregano and garlic

Bring to the boil then simmer for around 20 minutes. Turn off the heat and add the fresh basil leaves before blitzing with a hand blender

Add the chicken broth and boiling water, and bring to the boil again. Taste and adjust the salt as necessay

Add the vermicelli and reduce the heat to a simmer for another 15 minutes. Turn off the heat and finish off with a drizzle of extra virgin olive oil.
Recipe Notes
You can substitute the tomatoes and tomato concentrate with 1 can of chopped tomatoes.
If you make any of our recipes let us know how it went by giving us a star rating below.
We have a lively Facebook group where we post frequent recipes and discuss Lebanese cooking in general, as well as a tiktok page.
You may also like these recipes from the collection: