Zaatar is the original manakish topping. Not only is it humble and cheap making it accessible to everyone, it represents the simplicity of Lebanese cuisine.
Essentially herbs in olive oil on bread, it doesn't really need anything else to make it a complete meal.
I've made a full video tutorial for you covering most of your dough related questions below.
What is zaatar?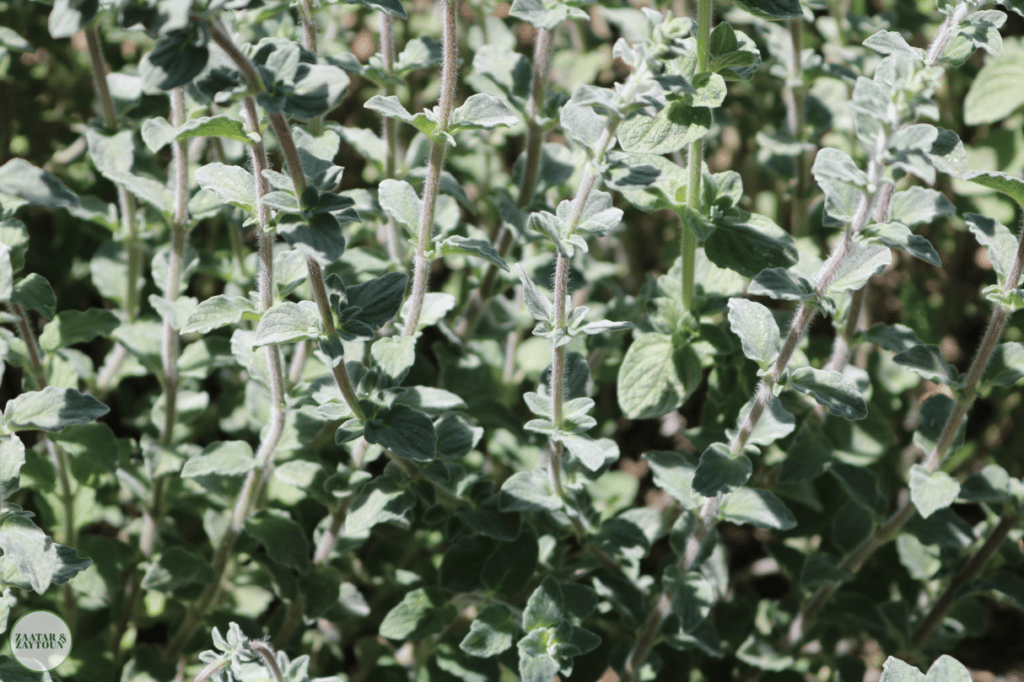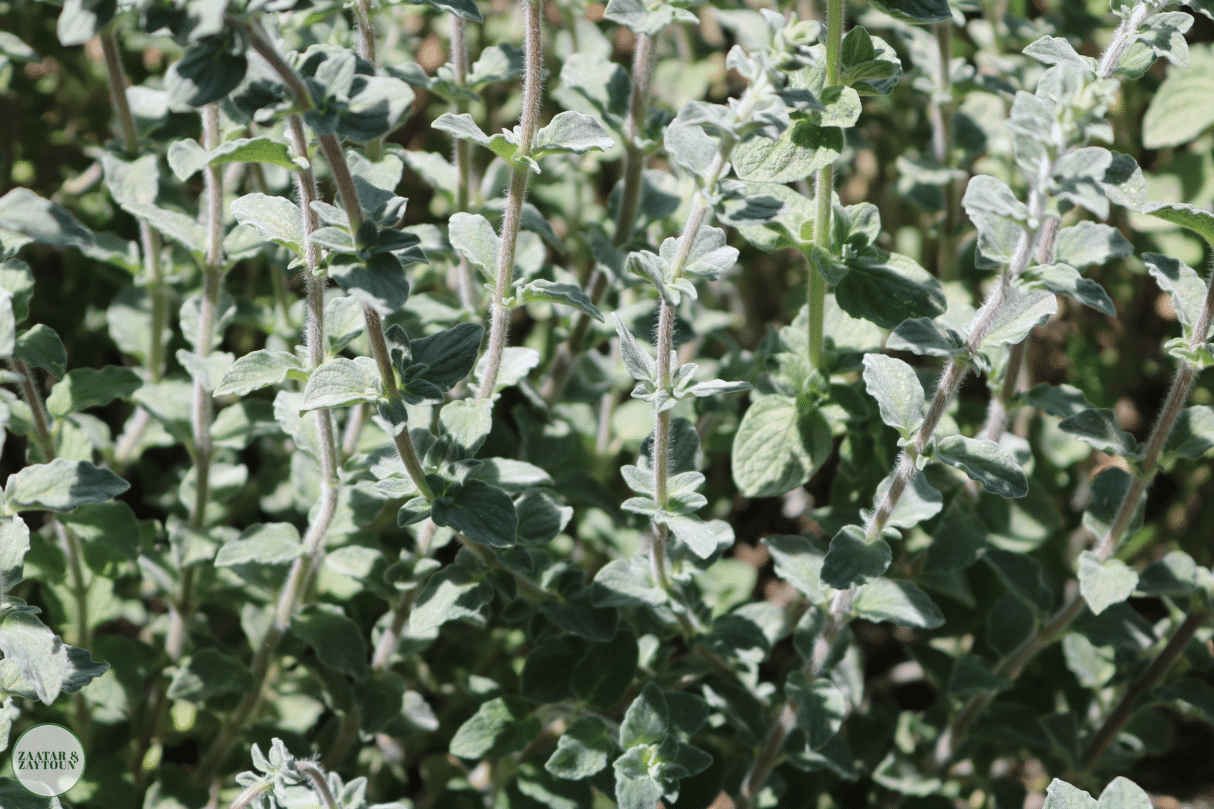 Zaatar can be roughly translated as 'wild oregano'. It is often foraged in the wild areas in Lebanon by locals who combine it with sumac and sesame seeds to make the traditional zaatar herb mix.
The zaatar leaves are picked by hand and dried in the intense Lebanese sunlight.
Then it is crushed into a herby powder ready to be combined with the other elements.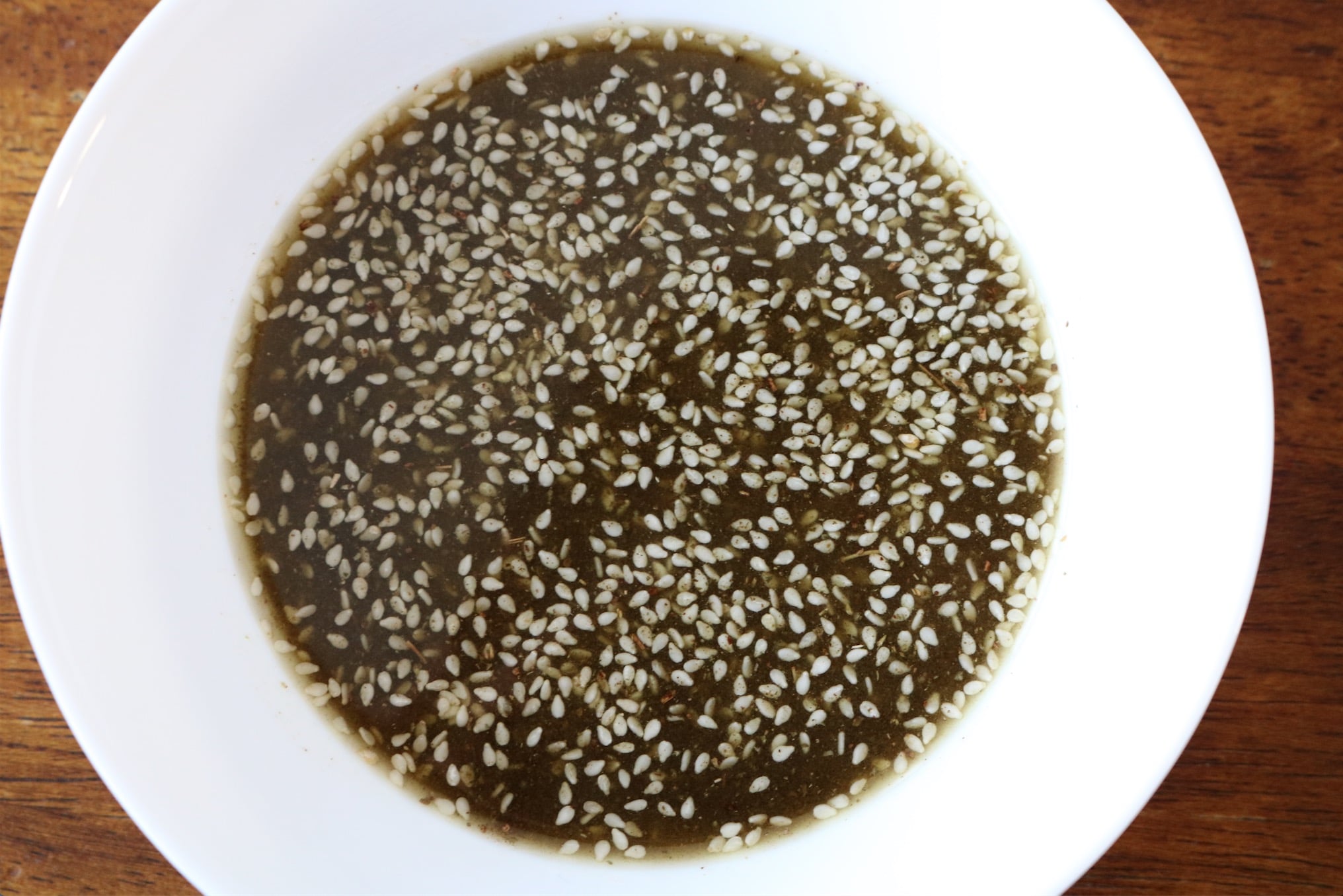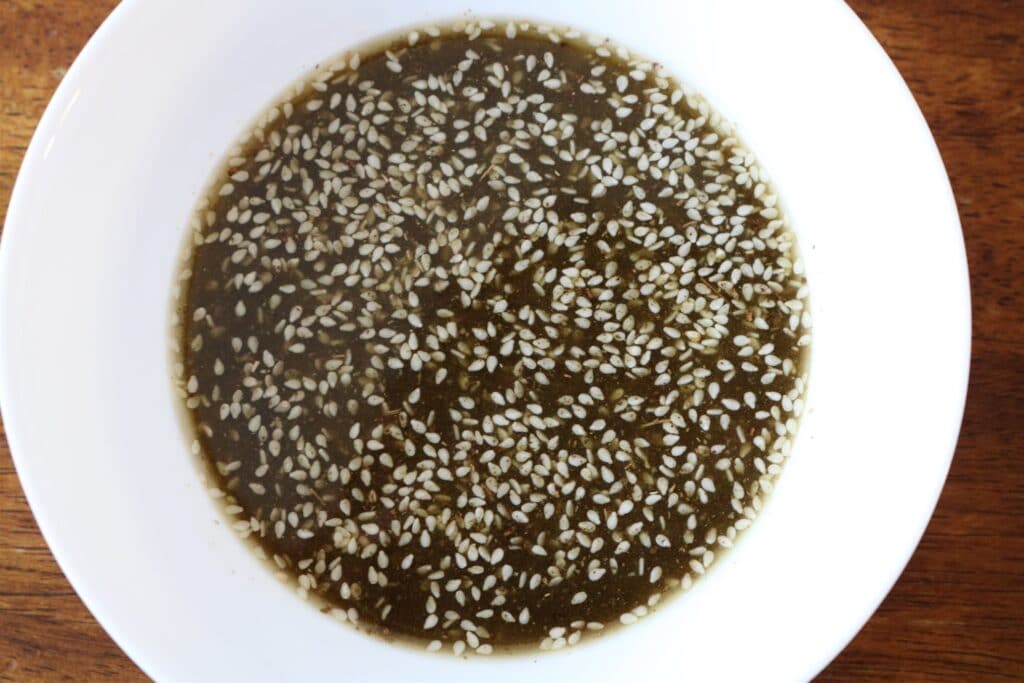 If the zaatar herb mix is to be eaten right away, it is combined with extra virgin olive oil which gives it that distinct dark colour.
If it is cooked you can either mix extra virgin olive with vegetable oil (so it won't burn) or use regular olive oil suitable for cooking.
When you are mixing zaatar with olive oil you want a dripping consistency that is not too thick making it difficult to spread on the olive oil and not too thin which will make the final manakish too oily.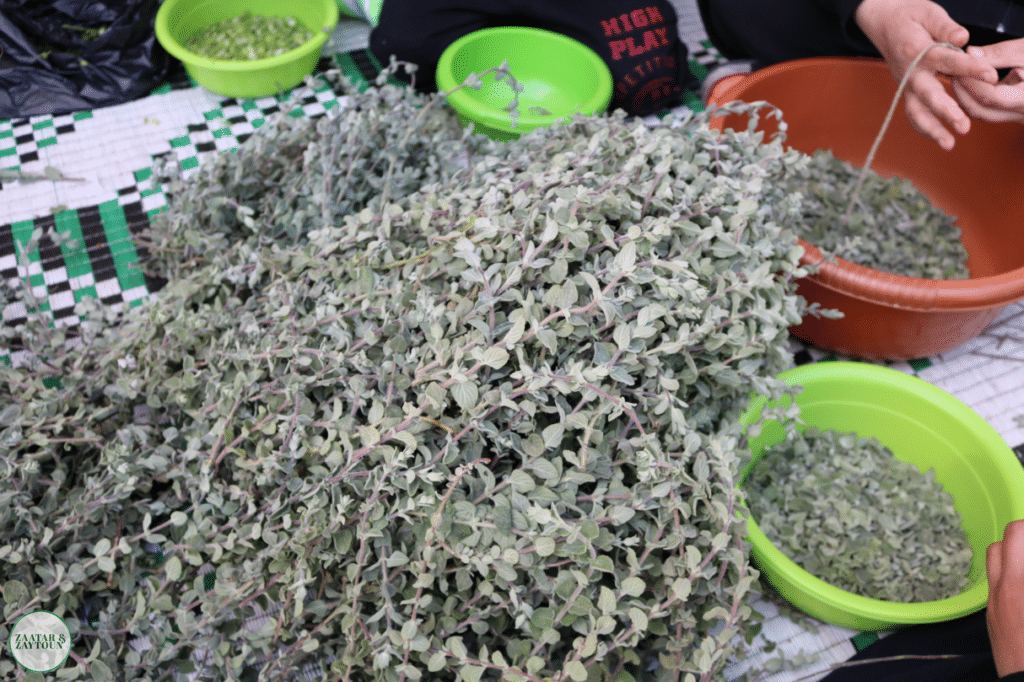 How to eat Zaatar manakish
As i've mentioned lots of people simply eat zaatar manakish on it's own for breakfast with tea.
It can also be combined with cheese to make a zaatar and cheese manoushe (singular of manakish).
Another serving suggestion is to combine the zaatar with fresh tomatoes, cucumber, pickles, radishes, olives and subtle herbs such as mint or parsley.
The zaatar has quite a strong tangy flavour so you won't want anything that will clash with it.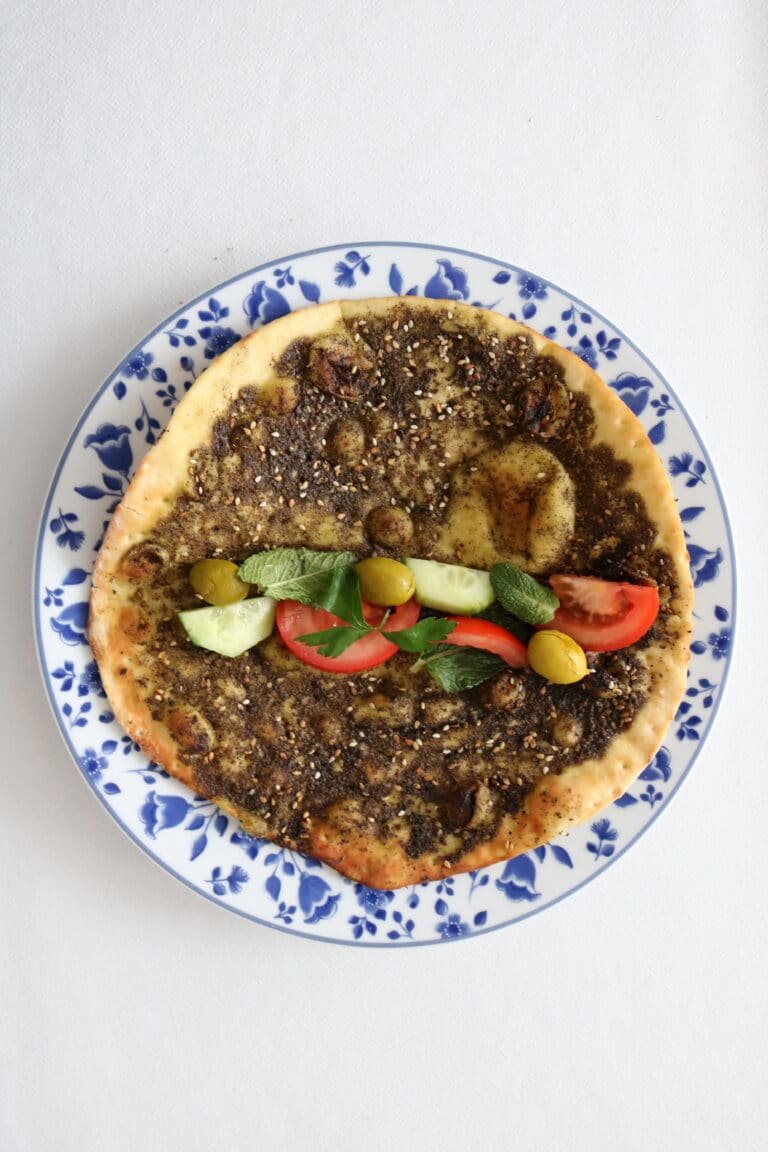 You can can fold the vegetables in the zaatar manoushe to make a wrap.
I love having zaatar manakish this way as it adds texture and makes it more interesting.
The other way is to combine it with labneh, the thickened yoghurt paste or 'soft cheese' as it is sometimes described.
Labneh gives a lovely creamy backdrop to the zaatar and you can even spoon some on top of your zaatar manakish.
How to make zaatar manakish at home
Although most Lebanese people send their own zaatar mix to the communual ovens (furuns) to make their manakish, you can still make your own at home even if you don't have a pizza oven, which is probably the next best way to get that authentic taste.
Once you make the dough (I've written a whole separate post on how to get the best manakish dough here) you should roll it out quite thin (3-5mm to be exact).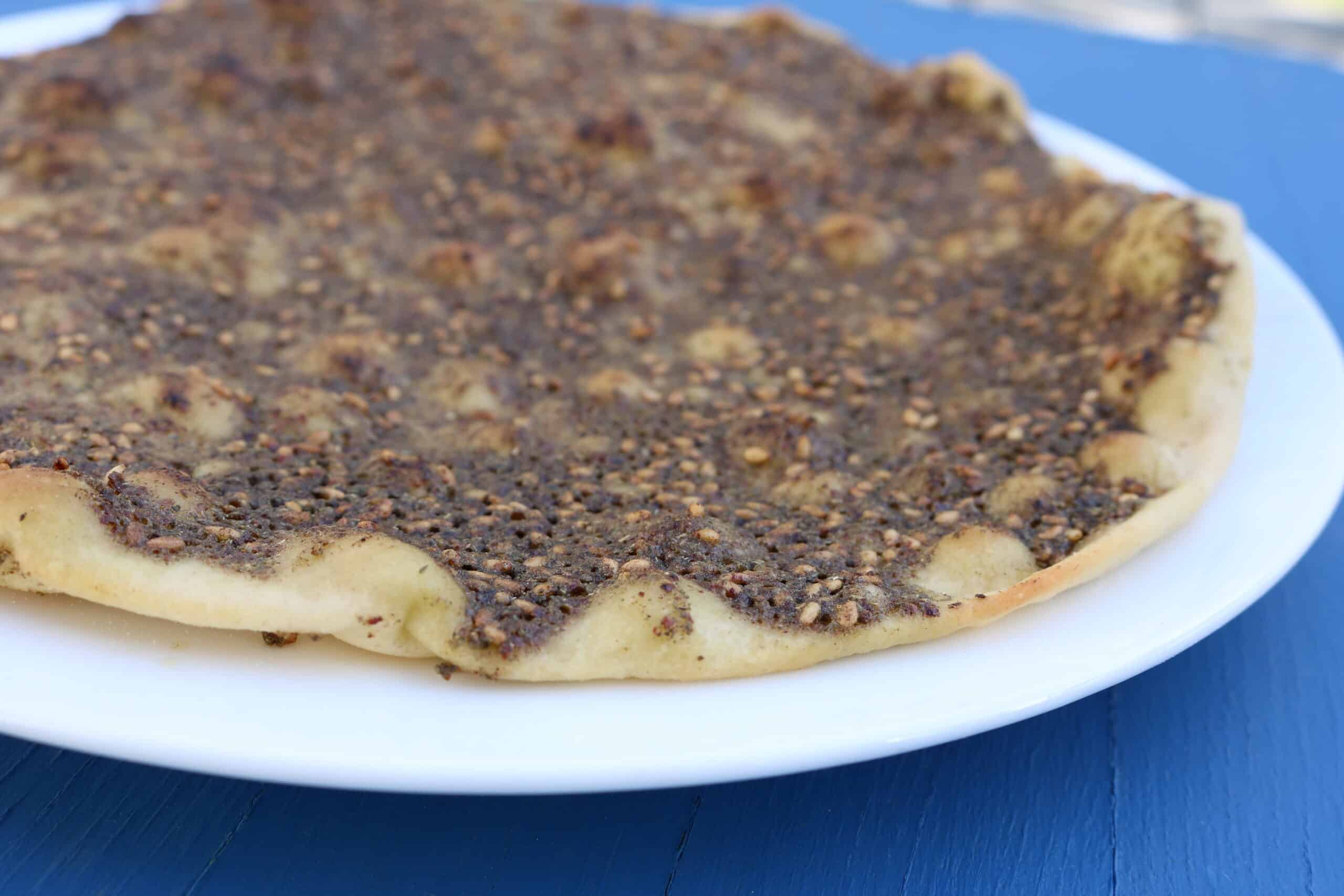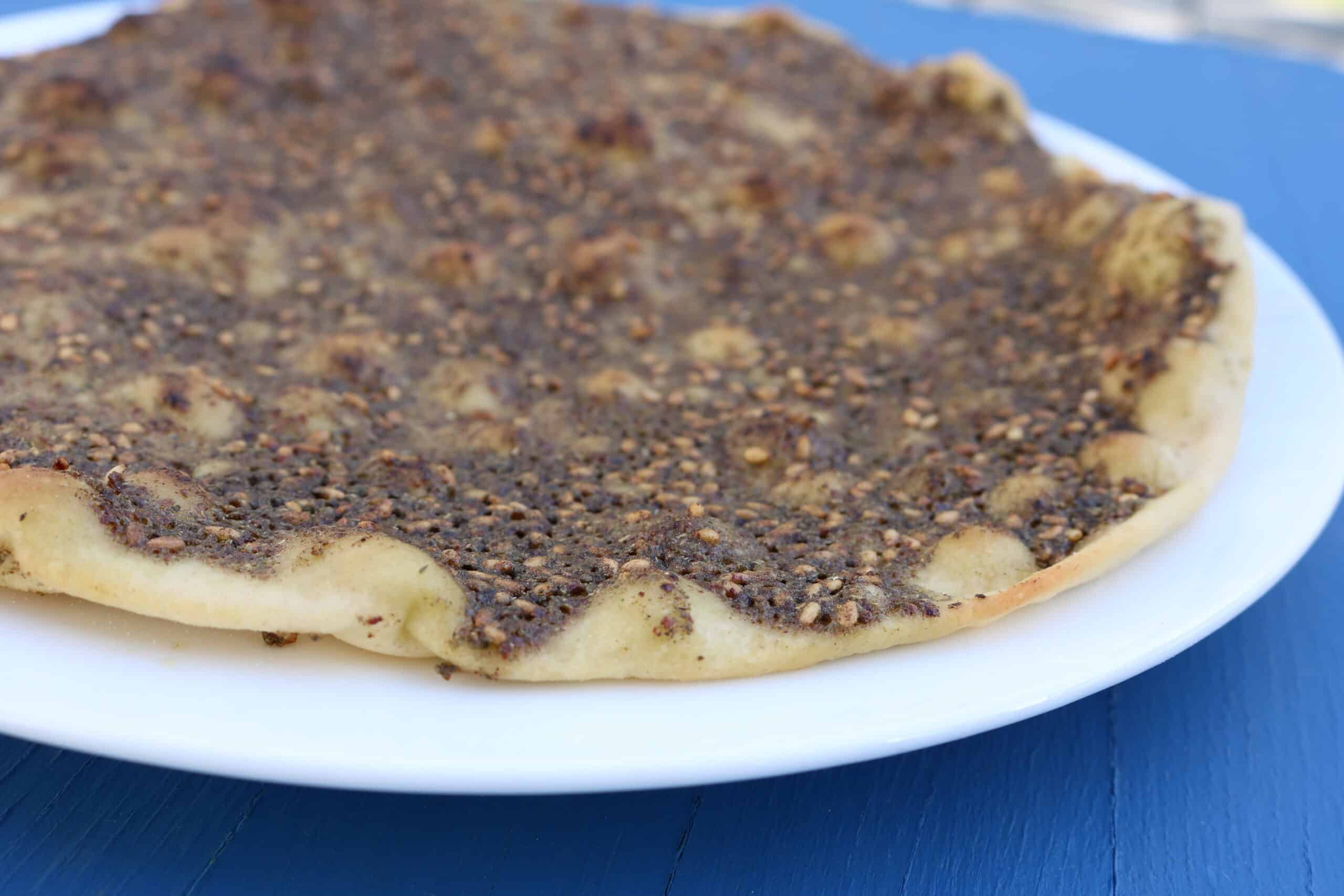 Manakish are generally much thinner than pizzas and you don't want to feel very heavy when you eat one.
Manakish should fill you up for the rest of the morning and not make you feel peckish an hour later.
How to cook manakish
Start by pre heating your oven to the highest setting. This is usually 230c or 450F. You want to get the manakish in a very hot oven so they don't take loger than ten minutes to cook.
The average time for a manakish to be done is 7-10 minutes depending on how hot your oven is.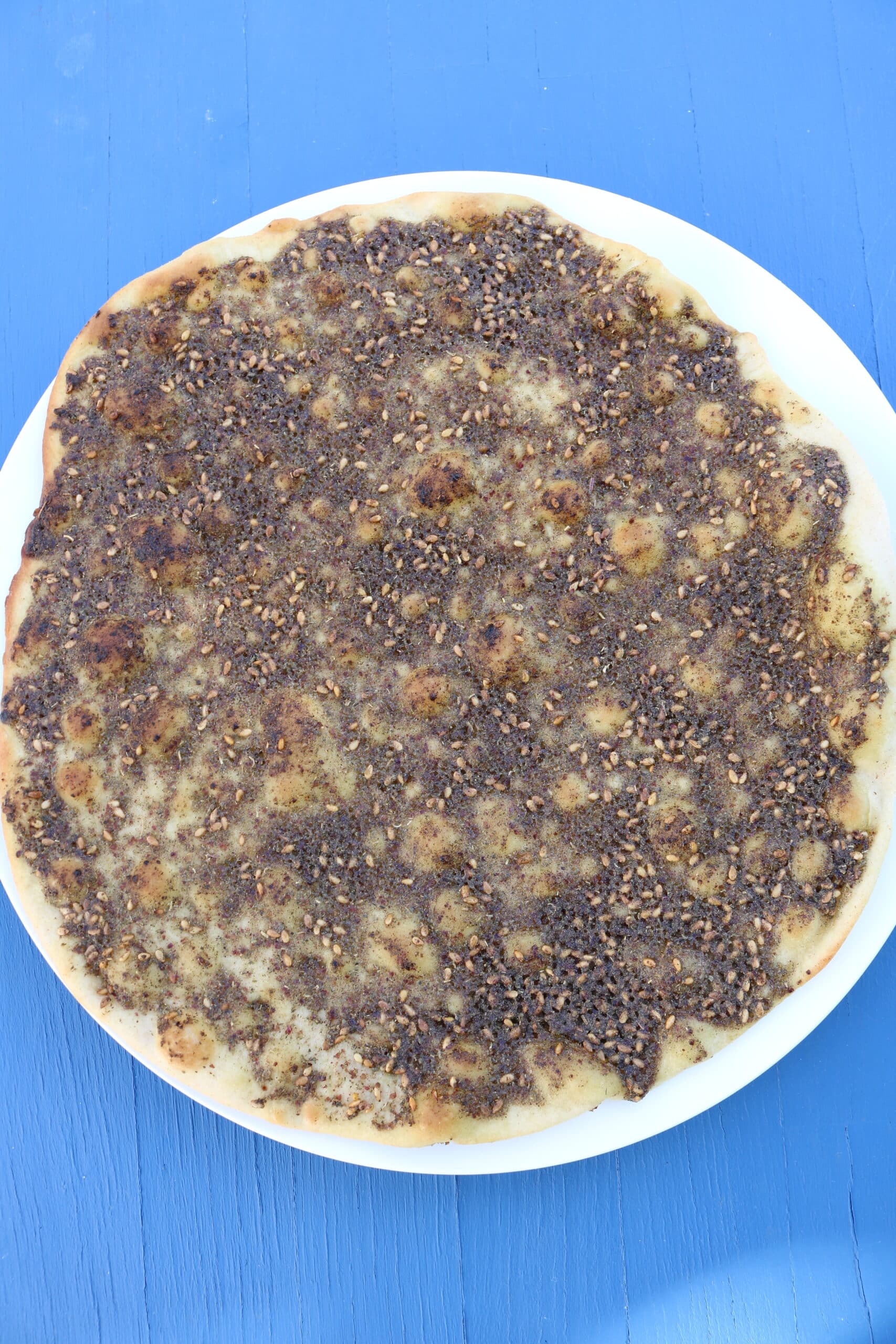 Another way to make them is on the stove and then under the grill (broiler).
The advantage of this two step process is that the manakish stays quite fluffy and doesn't dry out in the closed oven.
Simply get your non stick pan very hot and transfer the rolled out dough.
When it is cooked on the underside finish it off under the broiler so it chars a little on the top similar to how it would in a hot pizza oven.
Tips on making the best manakish
Make your zaatar mix beforehand, you don't want to be fiddling with olive oil and the zaatar herb blend when you are rolling out the dough.
Don't put too much zaatar on the dough and use your hands to spread it out rather than with a spoon so it doesn't tear the dough.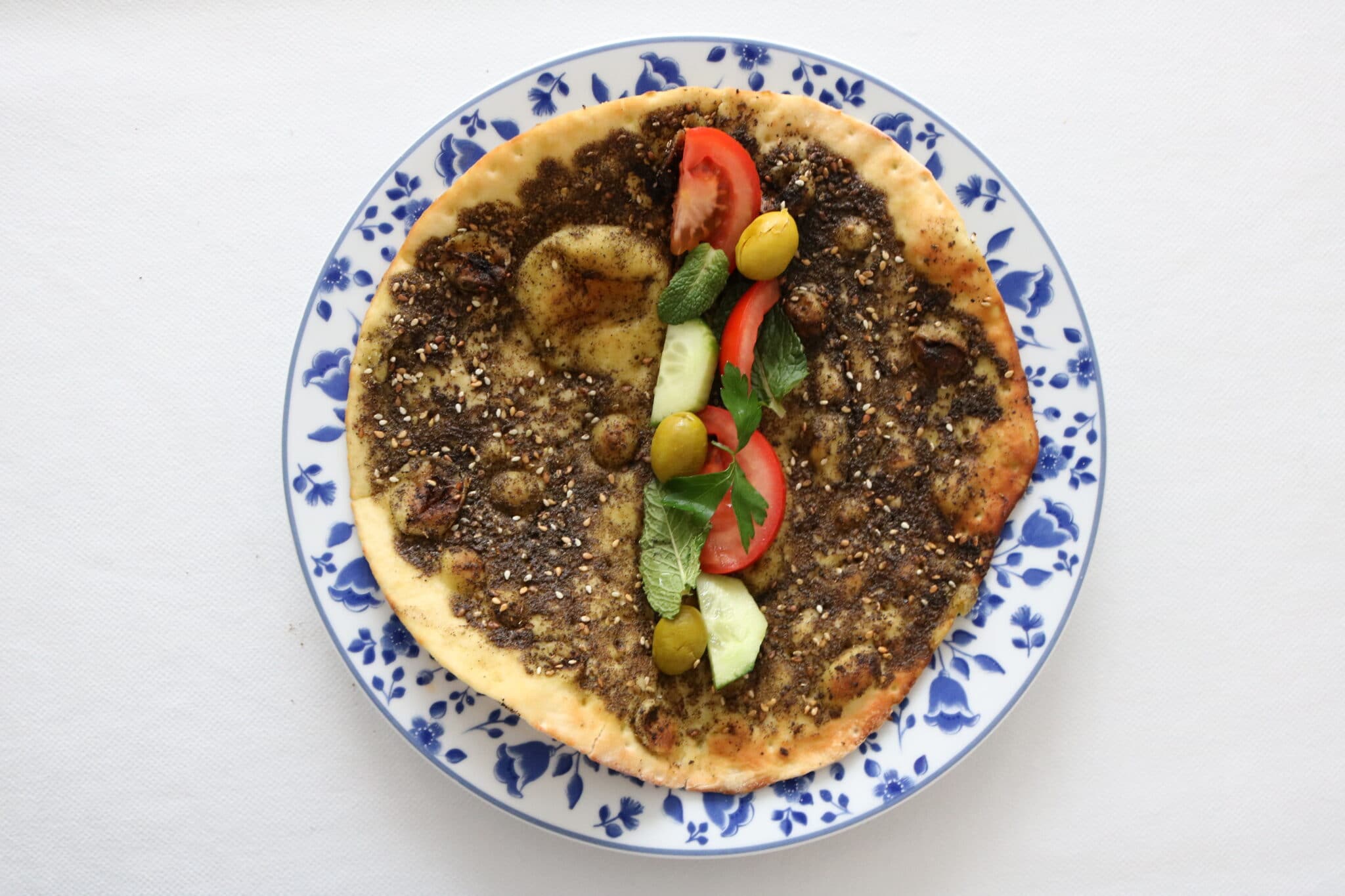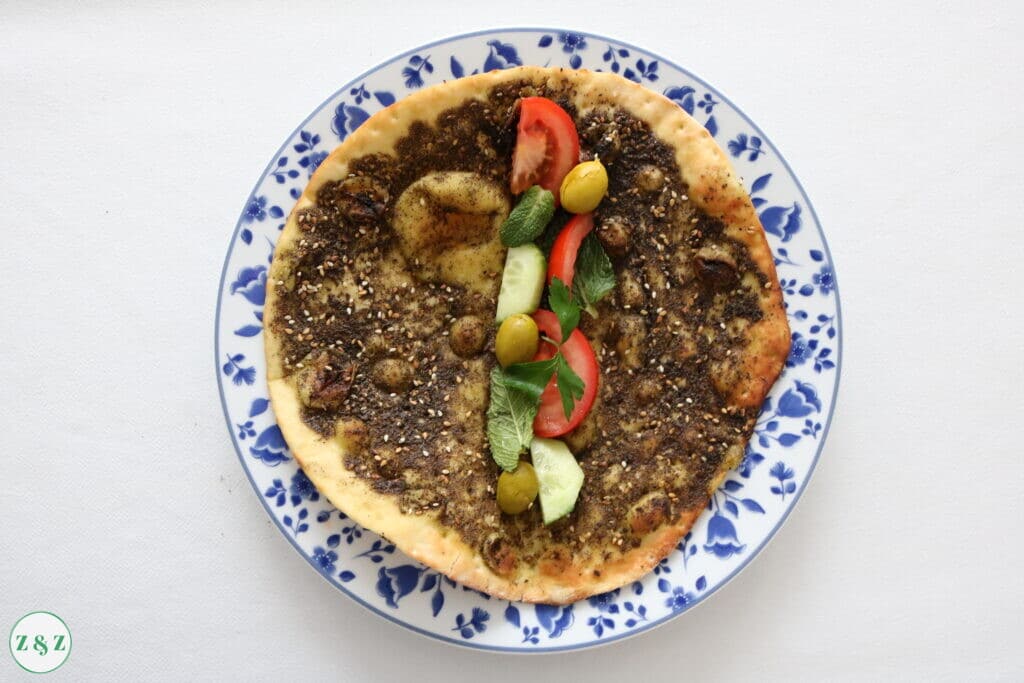 Lightly dimple the dough surface with three outstretched fingers so the dough doesn't puff up too much in the oven. Again, don't overdo it so as to pierce the dough
It is customary to serve napkins with zaatar manakish as they can be quite messy to eat.
You might find zaatar get stuck between your teeth afterwards, but that's just a sign of eating well so smile as you remember that warm smell of zaatar manakish.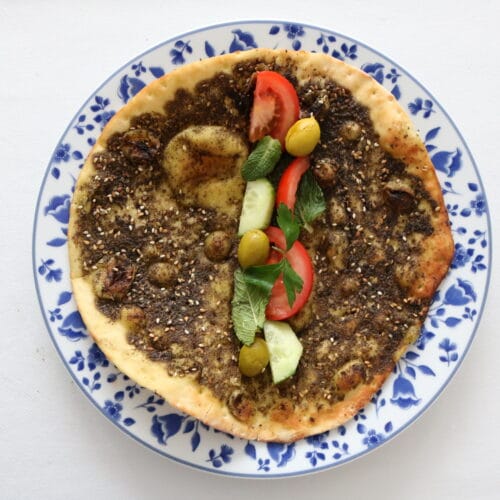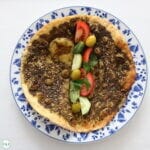 Zaatar manakish
Zaatar mixed with olive oil and baked on a thin dough base
Ingredients
To make the Zaatar topping
2

full tablespoon zaatar herb blend

½

cup

regular olive oil
To make the dough
3 ¼

cups

bread flour

1

cup

of lukewarm water

1

tablespoon

of dried active yeast

1

teaspoon

of salt

½

teaspoon

of sugar

4

tablespoon

regular olive oil or vegetable oil
Instructions
To prepare the zaatar mix
Mix the zaatar herb blend with the regular olive oil until you have a paste of dripping consistency. Set aside
To make the dough
Add the sugar to the luke warm water along with the dried active yeast and stir well until it dissolves. Leave for 15 minutes allowing the yeast to ferment and bubble

In a large bowl, add the salt and flour, oil and yeast liquid and bring together until you have a smooth ball.

If the dough is too dry add a little water 1 tablespoon at a time until it comes together. Adjust with more flour if it is too sticky

Then turn out into a floured surface and knead for 5-10 minutes so the dough springs back when you poke it

If you are using a stand mixer, knead the dough for approximately 8 minutes

Place the kneaded dough ball into a large bowl and cover with cling film or a damp tea cloth. Leave to rise for at least 2 hours or until doubled in size
To assemble the manakish
Turn on the oven on the highest setting (usually 230°C/450 F)

Roll out a small handful of dough on a floured surface so it is quite thin (approx 5mm)

Transfer to a non stick baking tray, spoon on the zaatar mixture leaving a small margin around the edges and dimple the surface lightly with your fingers

Bake for 10 minutes, turning half way if necessary to get an even bake

Serve with a plate of pickles, tomatoes, mint and radishes or labneh.
Recipe Video
Recipe Notes
You can substitute half the water in the dough with milk to get a richer, more elastic dough
The ideal temperature of the water should be around 38C/100F
If your kitchen is cold, warm your oven at the lowest setting then turn it off before placing the dough inside to prove
If you make any of our recipes let us know how it went by giving us a star rating below:
We have a lively Facebook group where we post frequent recipes and discuss Lebanese cooking in general, as well as a handy Pinterest page where you can save all of your favourite Zaatar and Zaytoun recipes!
You might also like these other recipes from the Zaatar and Zaytoun collection: