This savoury and substantial eggplant dish is an excellent meat free option that will serve a crowd in no time.
It's very similar to the classic 'maghmour' or Lebanese moussaka, but has mushrooms instead of chickpeas.
Eggplant (aubergine in the UK) is at its best from July to October making it a perfect for fall, or autumn as we say in the UK!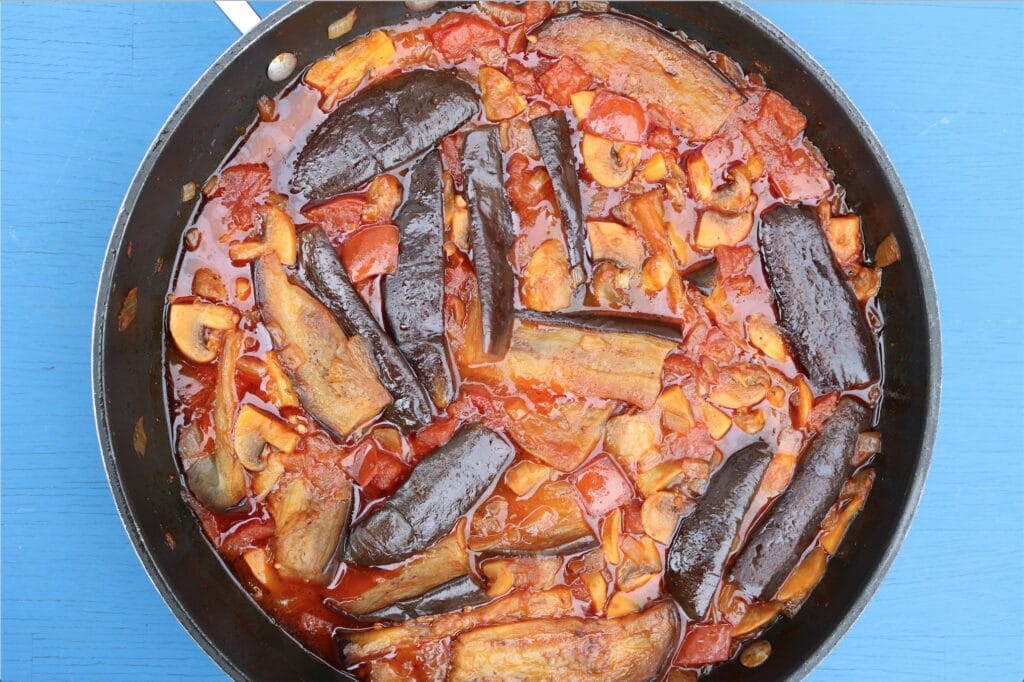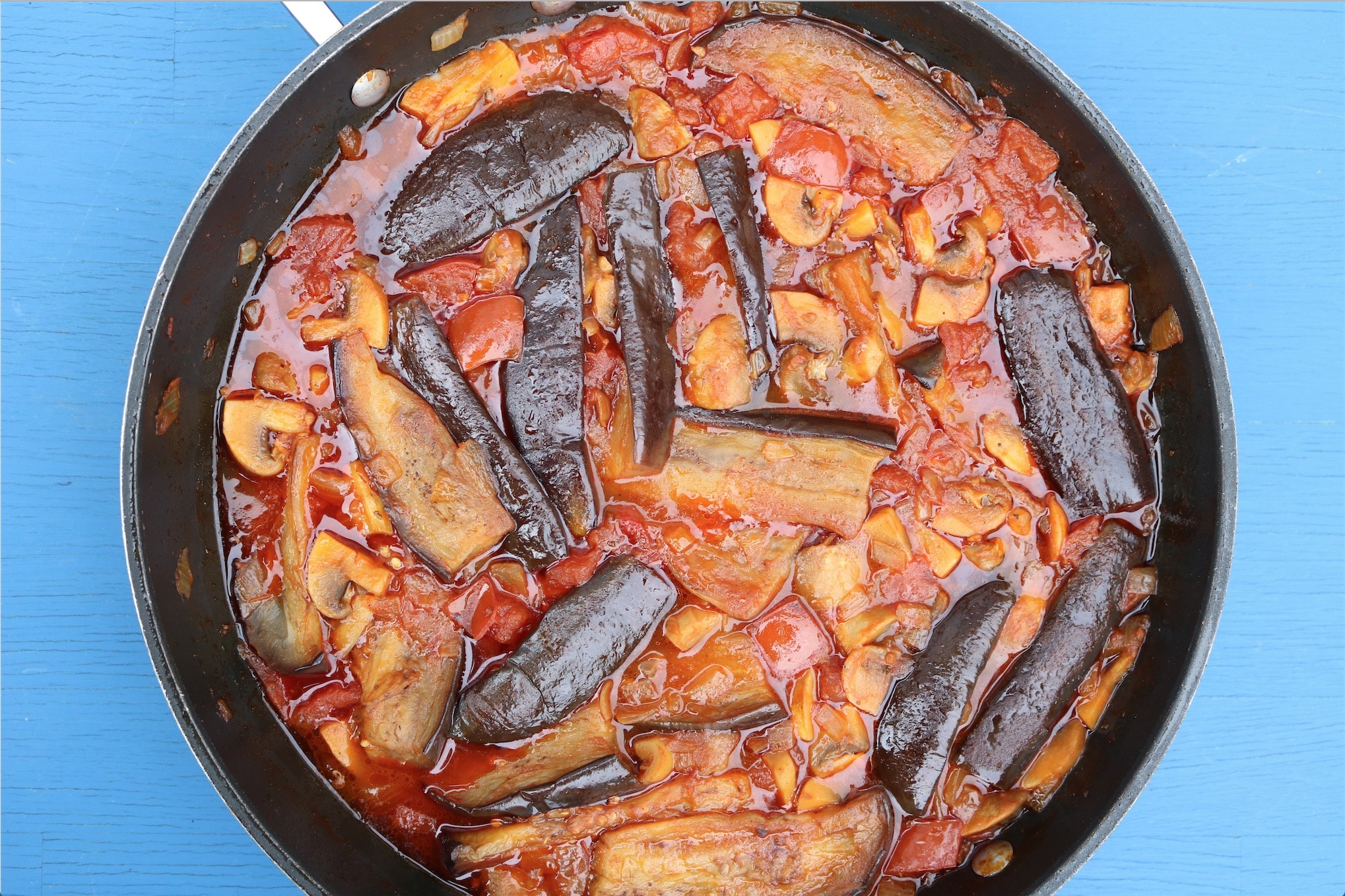 Jump to:
Ingredients
Choose an eggplant that's nice and plump and firm to the touch. No one wants a sad wilted eggplant 🙁
There are no hard and fast rules about how to cut them but here I have sliced them longways into wedges.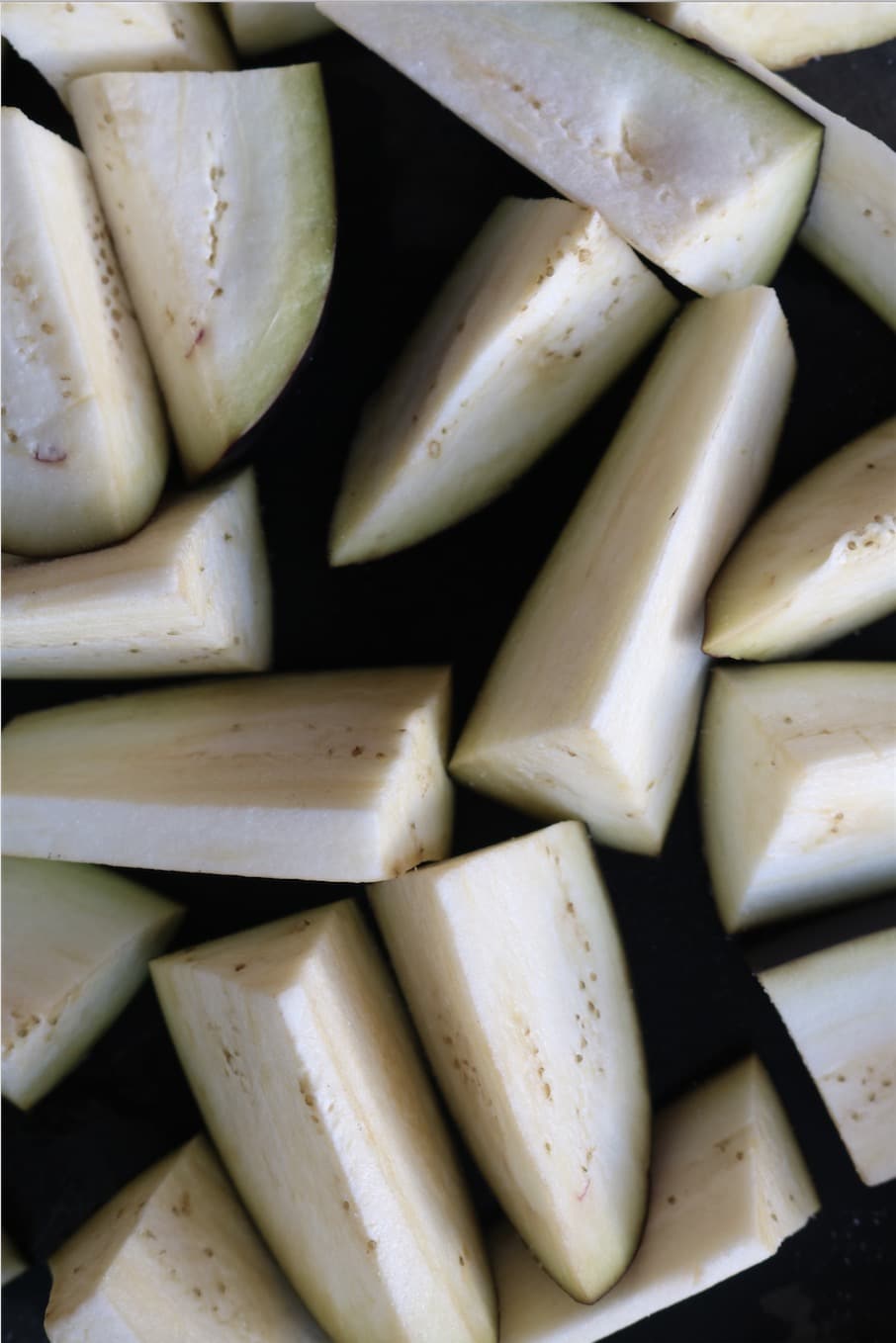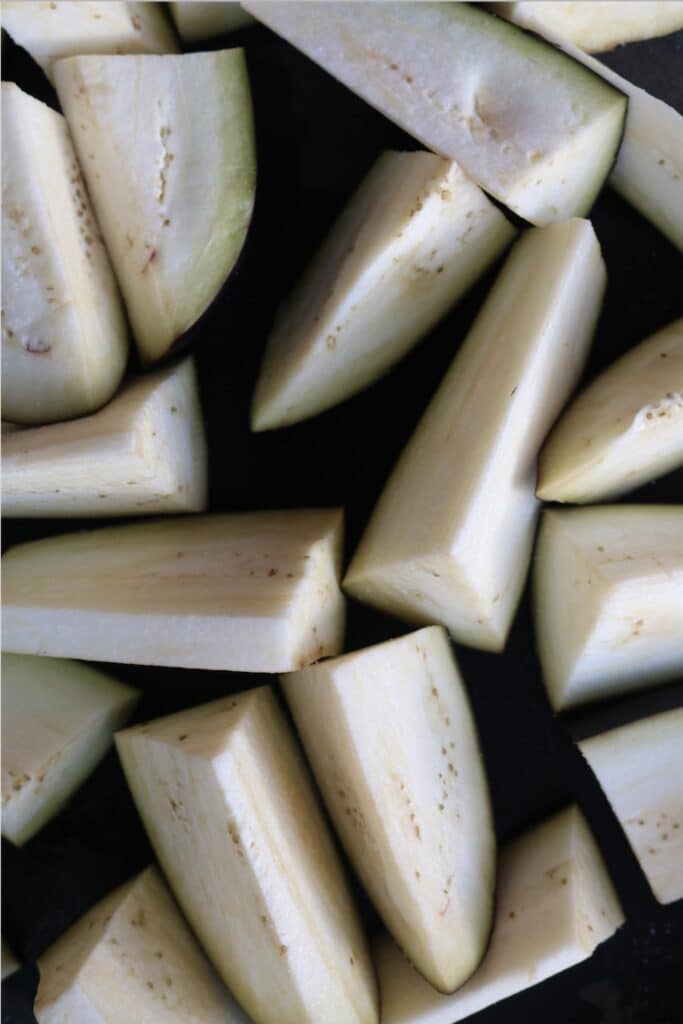 I sprinkle some salt and leave them out to dry for an hour or so (ideally in sunshine). This way they take up less oil when I griddle them.
Chop the mushrooms any way you wish to make them bitesize.
You will need both fresh tomatoes as well as tomato concentrate. Alternatively you could use a can if they are out of season.
This dish is very spice light and just some black pepper and a pinch of seven spice will be enough.
Instructions
I find preparing the eggplant first means I don't have to worry about them as the sauce is cooking.
Then I sauté the onions in some regular olive oil until golden, before adding the garlic and chopped mushrooms, along with a squeeze of tomato concentrate from a tube.
If you have some good fresh tomatoes, add those in next and a little boiling water to cover the sauce.
Finally I will add the half cooked eggplant wedges and simmer them in the tomato sauce.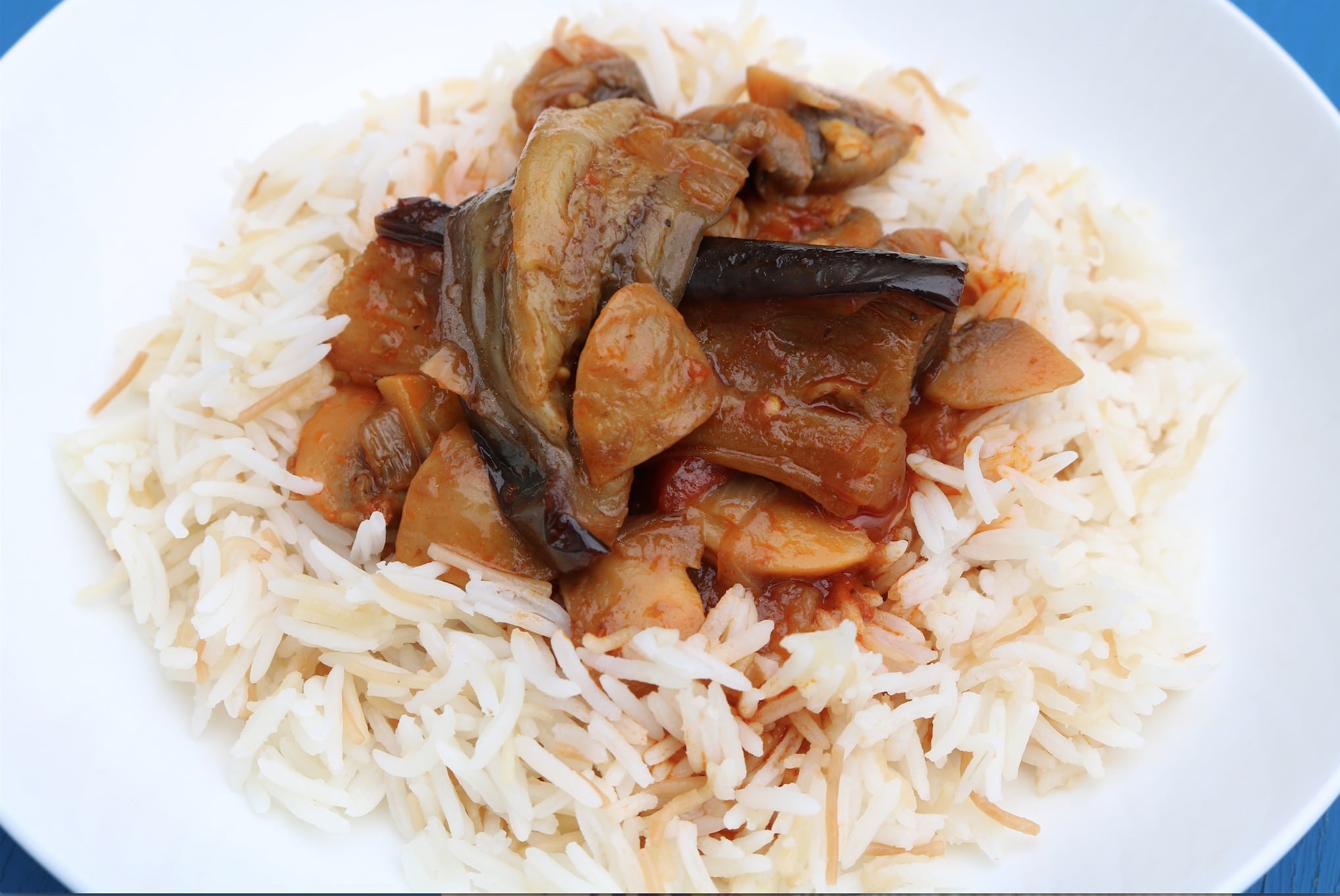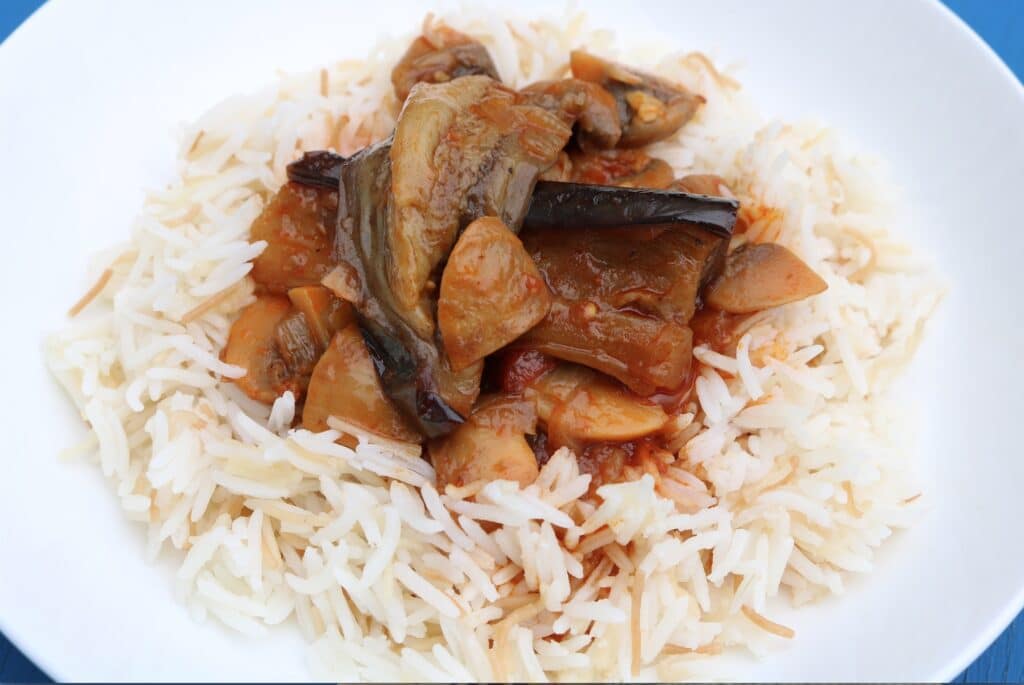 I've written a full vermicelli rice recipe here, but will summarise again below
For every 1 cup of rice/vermicelli you will need 1.5 cups of boiling water. Treat the vermicelli the same way as you do the rice and always measure out your quantities to avoid a soggy mess.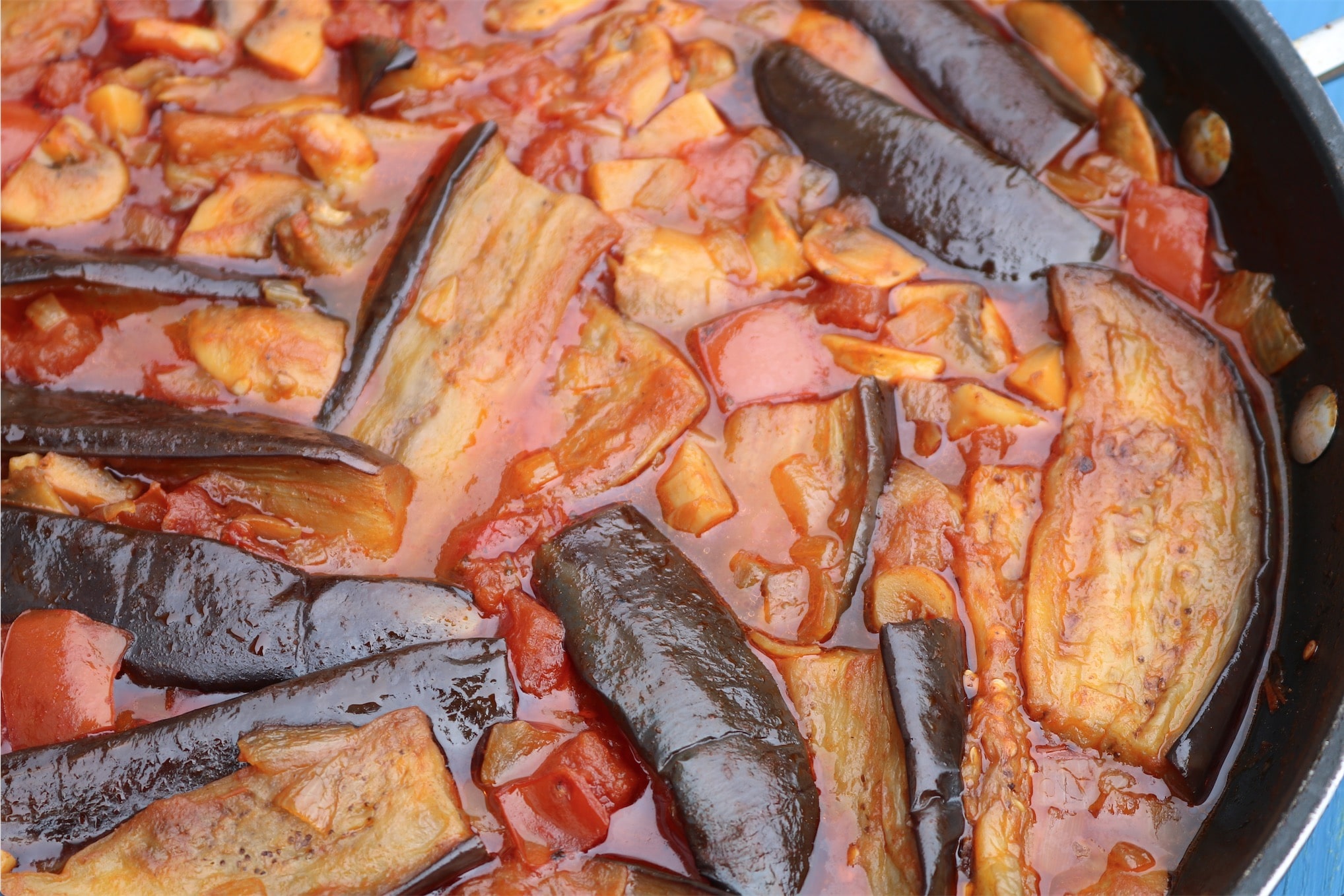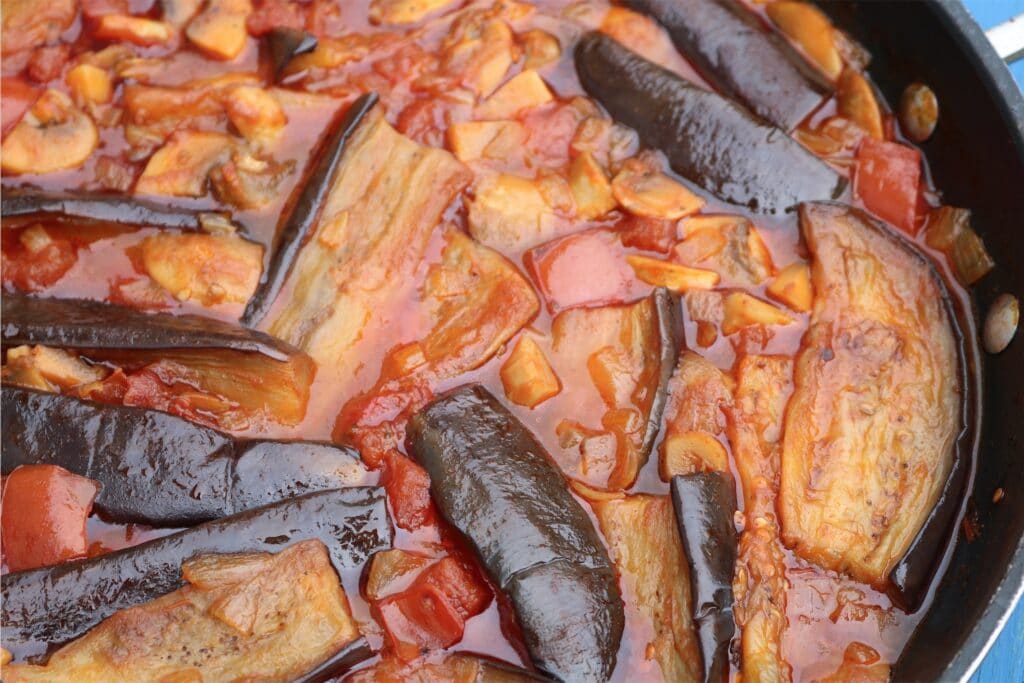 Variations
This basic eggplant dish can be adjusted to what you have on hand. You can try it with:
Chickpeas - to make maghmour just add in canned chickpeas at the end with the eggplants and warm through.
Meat - chop up some fillet of lamb or beef into little chunks and fry of with the onions.
Spicy - if you think about it this stew is just like a curry without spice, so add some chilli if you like the burn.
If you add chickpeas or meat keep those quantities low as the star of the dish is the eggplant.
Storage
This stew will taste even better the next day, and will keep in the fridge for up to four days.
📖 Recipe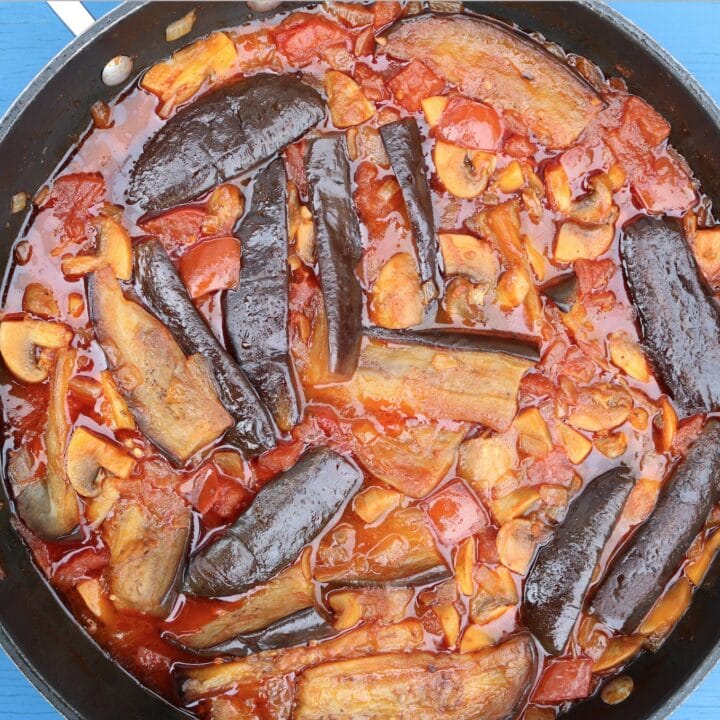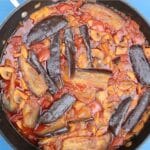 Eggplant Stew with Rice
Eggplant in a rich tomato and mushroom sauce with rice
Ingredients
2

large Eggplants

approx 750g

drizzle regular olive oil

1

large onion

chopped

2

garlic cloves

chopped

500g

mushrooms

approx 4 cups

¼

teaspoon

7 spice

¼

teaspoon

black pepper

4

good sized tomatoes

1

tablespoon

tomato concentrate

1-2

cups

boiling water

2

teaspoon

salt approx
For the rice
drizzle of sunflower oil

¼

teaspoon

of salt

½

cup

of short vermicelli strands

1

cup

of rice

1.5

cups

of boiling water
Instructions
Cut the eggplants into lengthways into wedges. Brush with regular olive oil and griddle until mostly done, set aside

Soak the rice in a bowl, set aside

Add a good drizzle of olive oil (2-3 tablespoons) and sauté the onions on medium heat until golden

Lower the heat and add the garlic and mushrooms, sauté for another 5 minutes

Add the tomatoes, tomato concentrate, black pepper, 7 spice and enough boiling water to cover.

After ten minutes, add the eggplants and salt, simmer for another 20-30 minutes until the eggplants are well done

As the stew is simmering, add the vermicelli rice to a pot with a drizzle of sunflower oil and sauté until lightly golden for around five minutes

Then add the drained rice to the pot and ½ teaspoon of salt, sauté for another minute then add the boiling water.

Bring to the boil then cover and simmer on the lowest heat for 15 minutes exactly

Taste the sauce and adjust the salt/water if necessary before turning off the heat.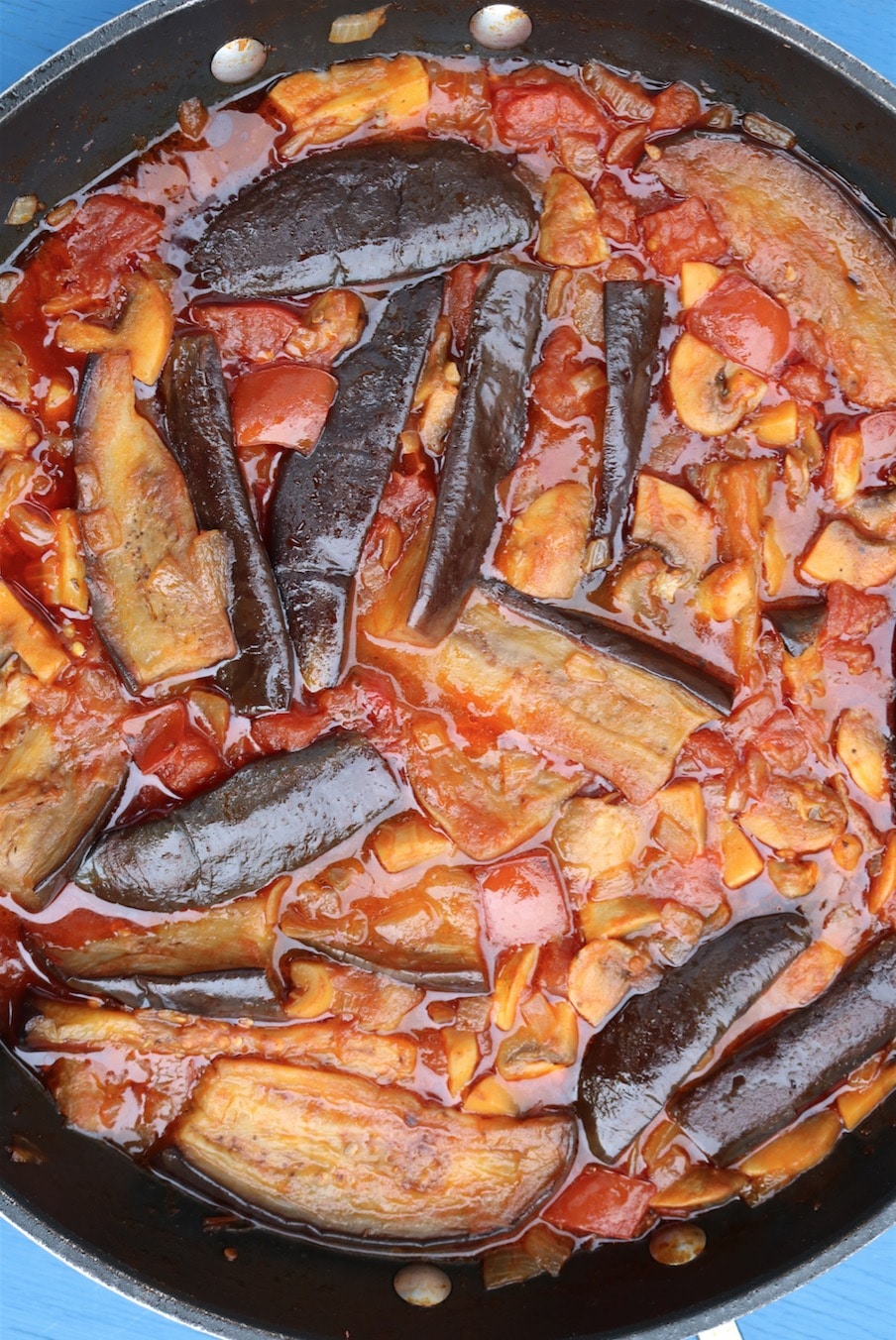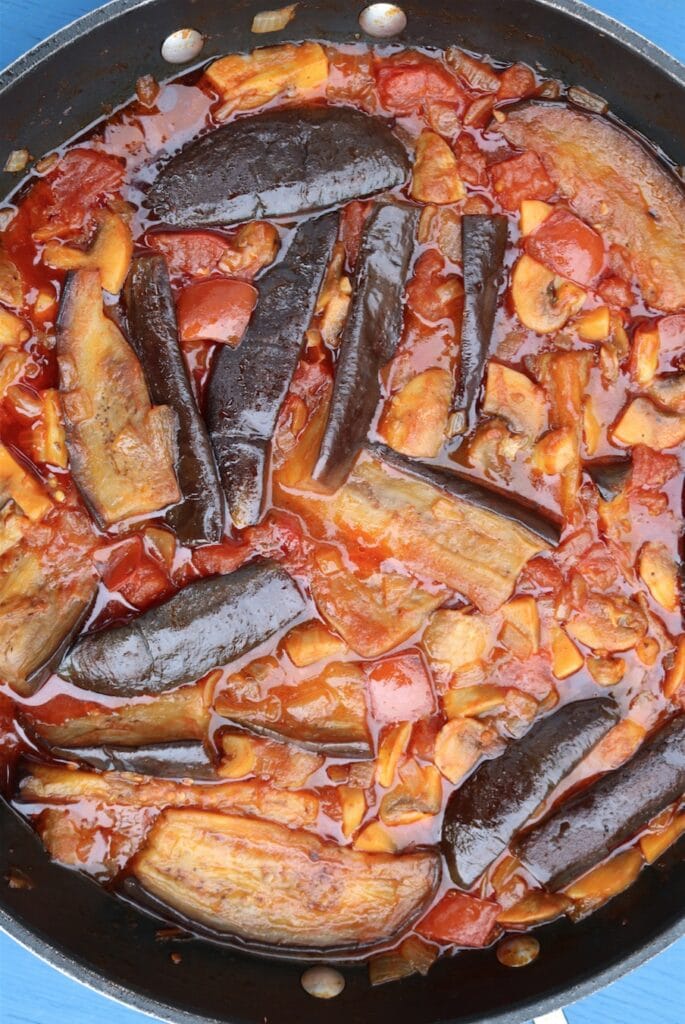 If you make any of our recipes let us know how it went by giving us a star rating below.
We have a lively Facebook group where we post frequent recipes and discuss Lebanese cooking in general, as well as a handy Pinterest page where you can save all of your favourite Zaatar and Zaytoun recipes.
You might also like these other recipes from the Zaatar and Zaytoun collection: