Do you ever get the cravings for something hot, spicy and crunchy but can't figure out what exactly you want? Well this was me for most of my second pregnancy and the only thing that did the trick were these vegetable fritters. They are unbelievably addictive and once you adjust the batter to your liking, you can fritter your heart out. The best vegetable fritters are made with the thinnest sliced vegetables and you can speed this process up by using a food processor. I'm usually not bothered to use the food processor as I have to wash the whole thing when I can just use a knife but in this case it makes sense as there are lots of different vegetables to chop through. Some veggies like the fine green beans I leave in whole as they fry nicely in the batter but others are worth chopping as thinly as possible like the onions because no one likes a chunk of uncooked onion.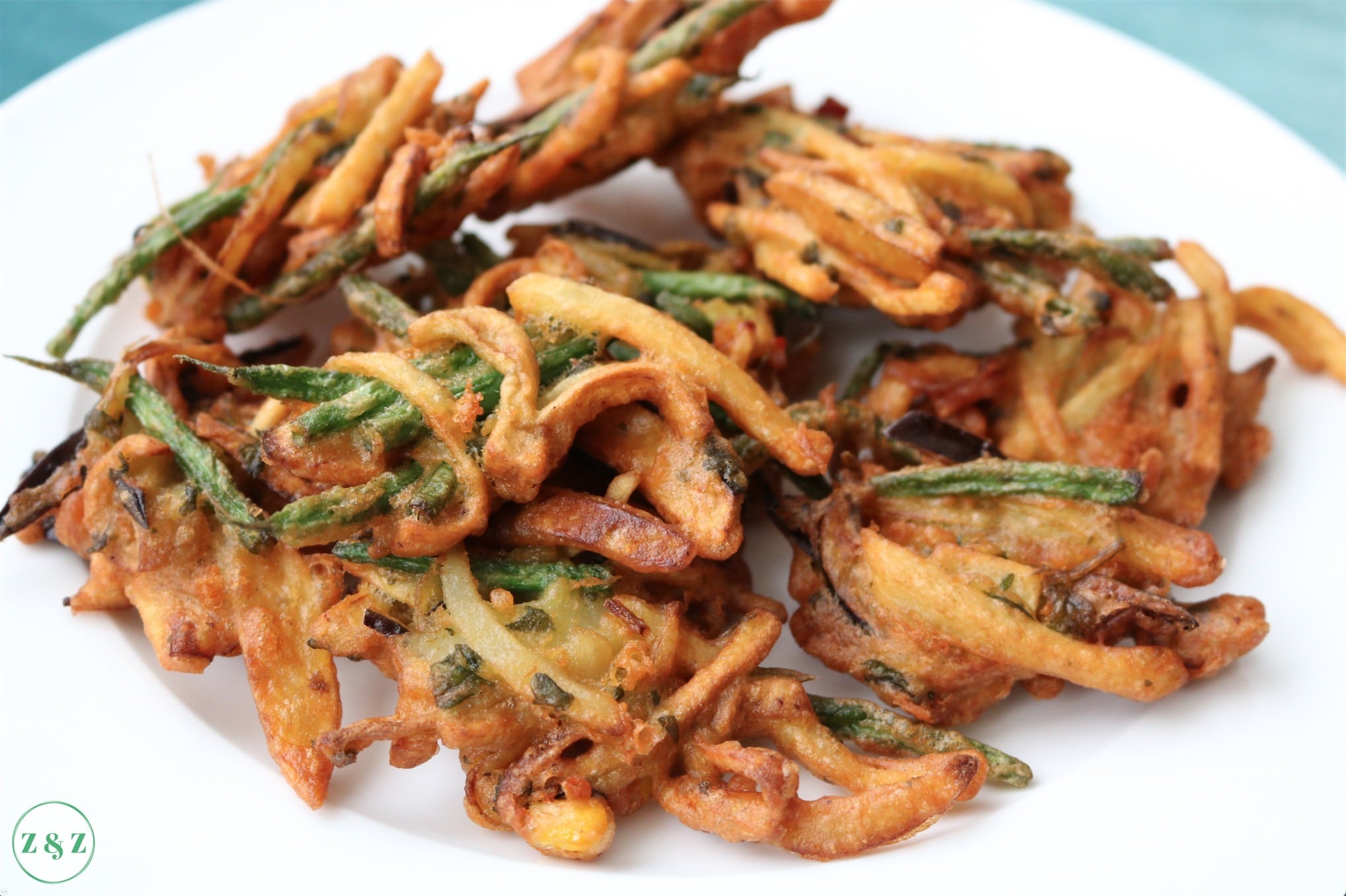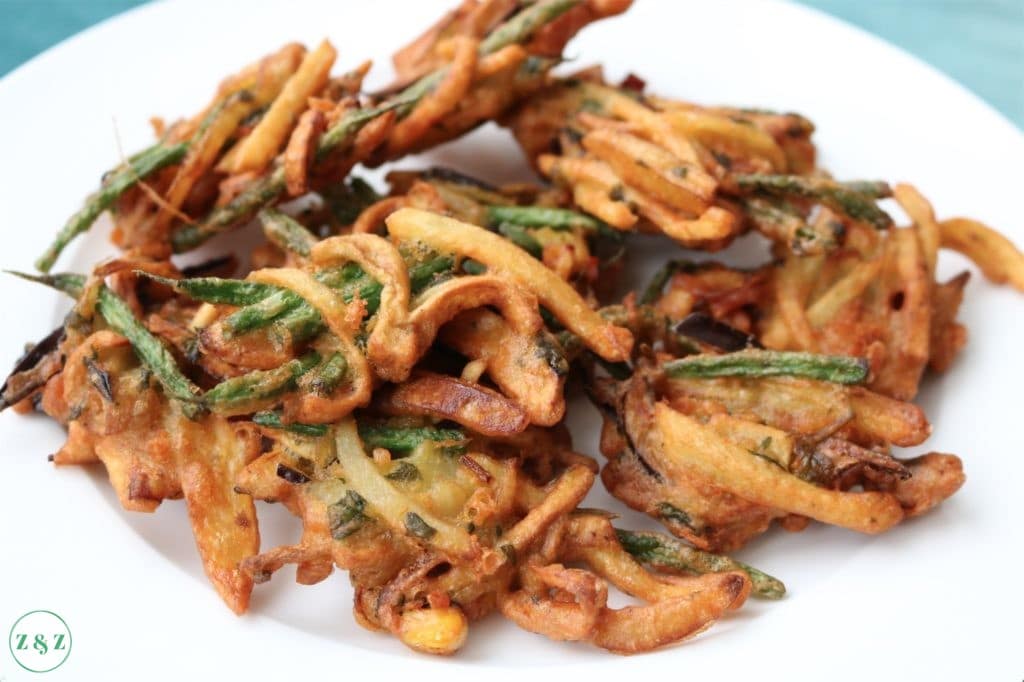 So this is one of those flexi-recipes where you can adapt according to what you have in the fridge and what spices appeal to you. Really, you could make these just with onions and potatoes but the more vegetables you have the more interesting the texture and flavour of the overall fritter. I've used gram flour which is made of chickpeas here and added some cornflour for extra crunch and baking powder for a little puffiness.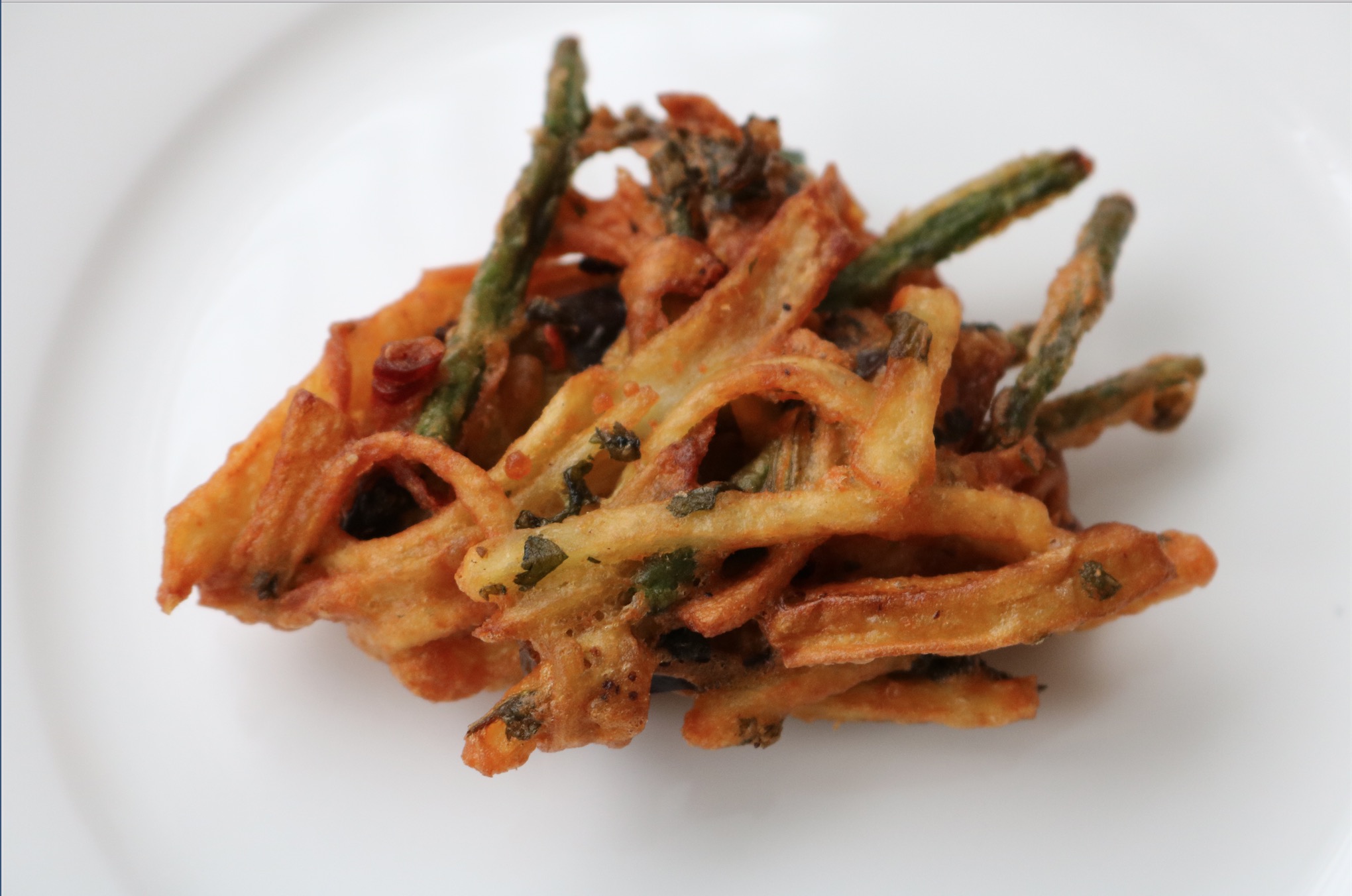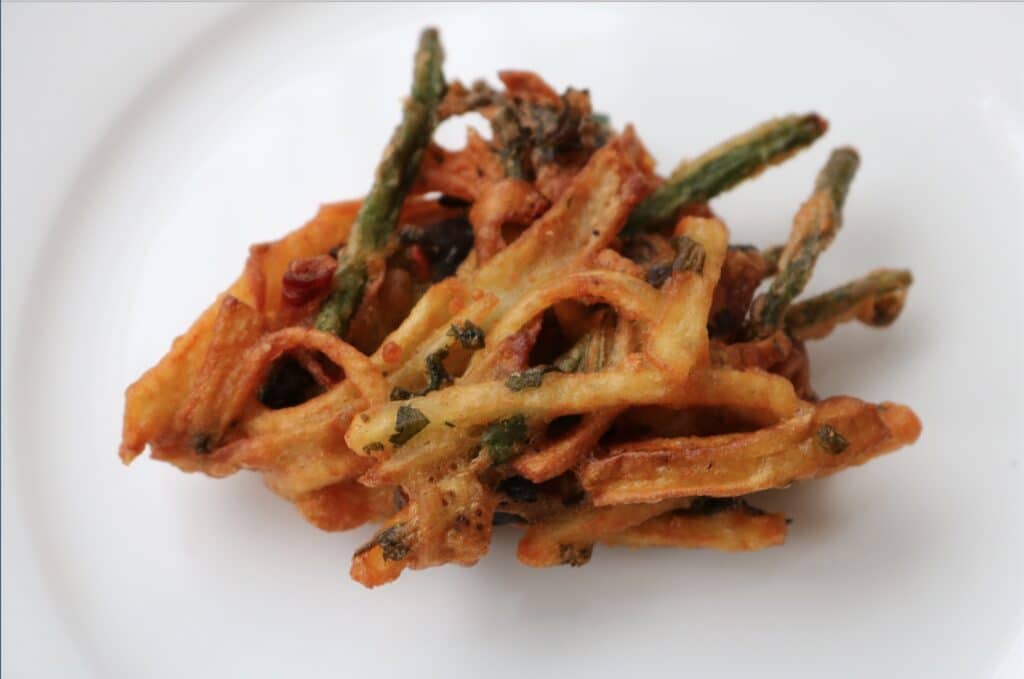 If you can, let the batter rest in the fridge for at least half an hour. I add little spoons of the vegetable batter to the hot oil rather than big lumps which don't cook in the middle. It's also important to get the oil quite hot which you can test with a tiny piece of batter to see if it sizzles and floats to the surface. You are looking for the consistency of a loose cake batter that can coat all the vegetables. As always, try one and adjust the seasoning or consistency with some extra water if necessary.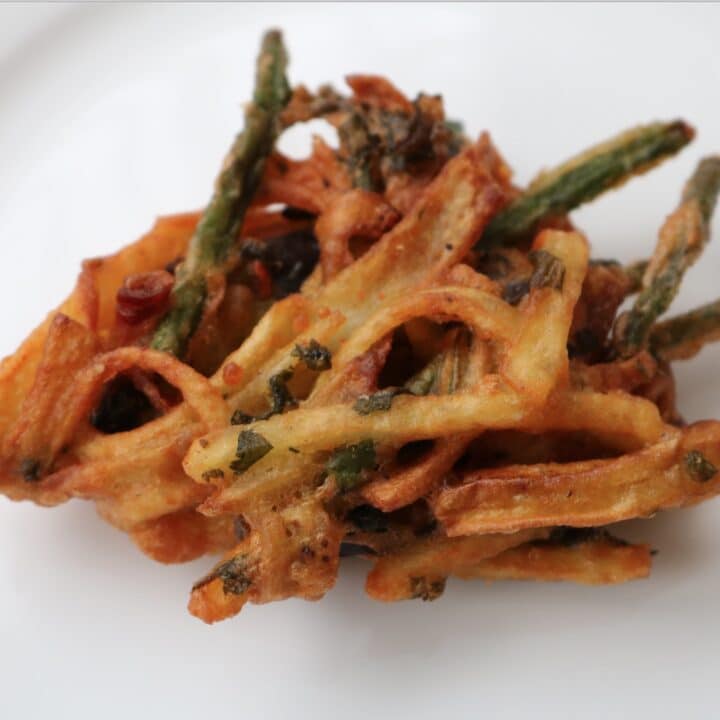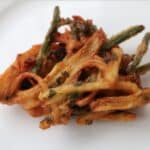 Vegan Vegetable Fritters
Easy vegan fritters with onions, potatoes, cauliflower and eggplants
Ingredients
2

cups

gram chickpea flour (Approx. 250g)

¼

teaspoon

baking powder

1

tablespoon

cornflour

400

ml

water

1

teaspoon

each of salt, cumin, 7 spice and chilli powder

¼

teaspoon

of sumac

Small Squeeze lemon juice Approx 1 tsp

Handful of coriander

(cilantro)

1

onion

very thinly sliced

3

spring onions

finely chopped

1

green birds eye chilli

finely chopped

2

potatoes

very thinly sliced into matchsticks

1

cup

cauliflower florets

thinly chopped

¼

of an eggplant

very thinly sliced into matchsticks

A handful of extra fine green beans

chopped in half

½

cup

frozen sweetcorn
Instructions
Prepare the vegetables either using a food processor or slicing very thinly as per instructions

Whisk the gram flour, baking powder, cornflour with the water. Add the salt, sumac and spices along with the lemon juice and stir well

Add the sliced vegetables and mix until everything is coated well with the batter. You are looking for the consistency of a loose cake batter so adjust with flour or water as necessary

If possible, rest for half an hour in the fridge

Heat up your vegetable oil for frying and test with a tiny piece of batter until it sizzles and floats to the surface

Spoon small amounts into the oil turning once they have browned from the sides

Taste the first fritter and adjust salt/seasoning as necessary

Serve immediately with some optional tamarind sauce