The marinade for these lamb chops takes practically no time at all and you can decide to have it as rare or well done as you like.
Some people feel intimidated cooking lamb chops, perhaps because they worry about ruining an expensive cut of meat.
When actually, it is one of the easiest cuts of meat that can produce amazing results fast.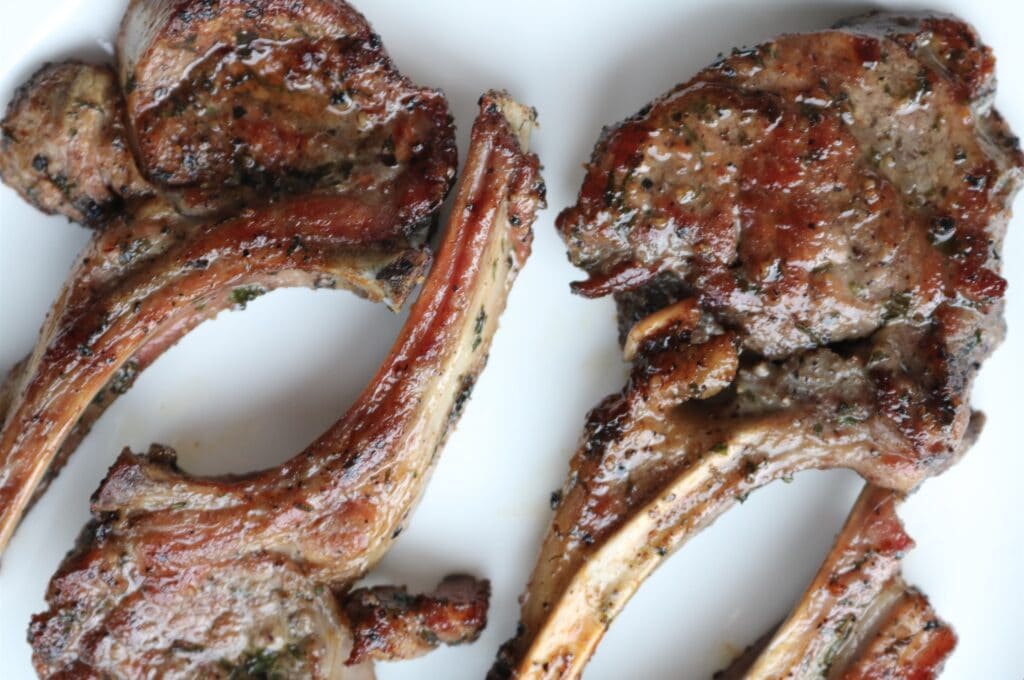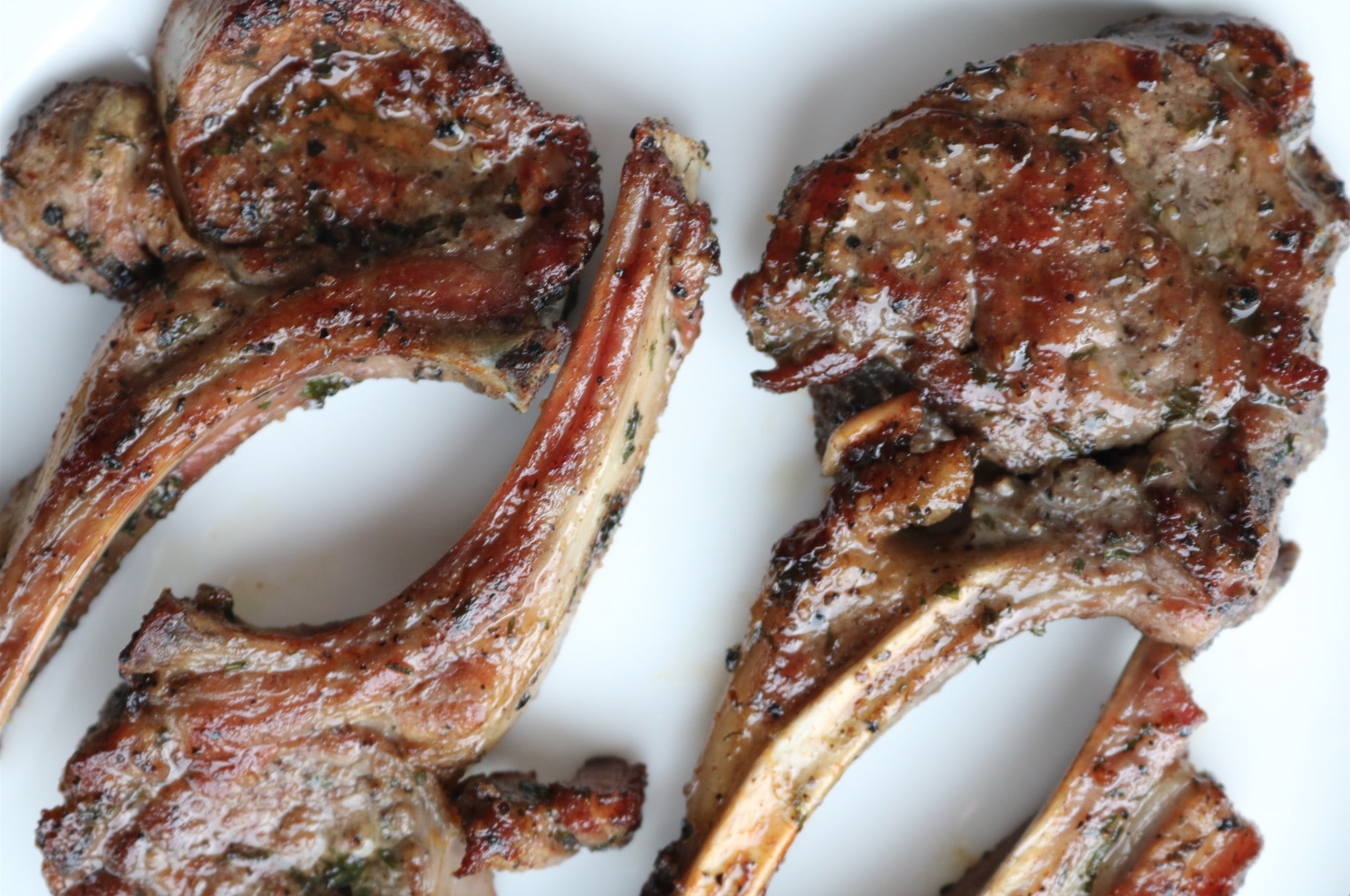 Jump to:
The meat
This is one of those dishes where your butcher does most of the work for you. Start by sourcing a high quality butcher that has lots of locals flocking to it.
A high volume of customers means that the meat gets replaced daily and the quality will be better.
Next, don't be shy asking the butcher to clean the lamb chops from any extra fat for you. This is part of their job and you should take advantage of their knife skills.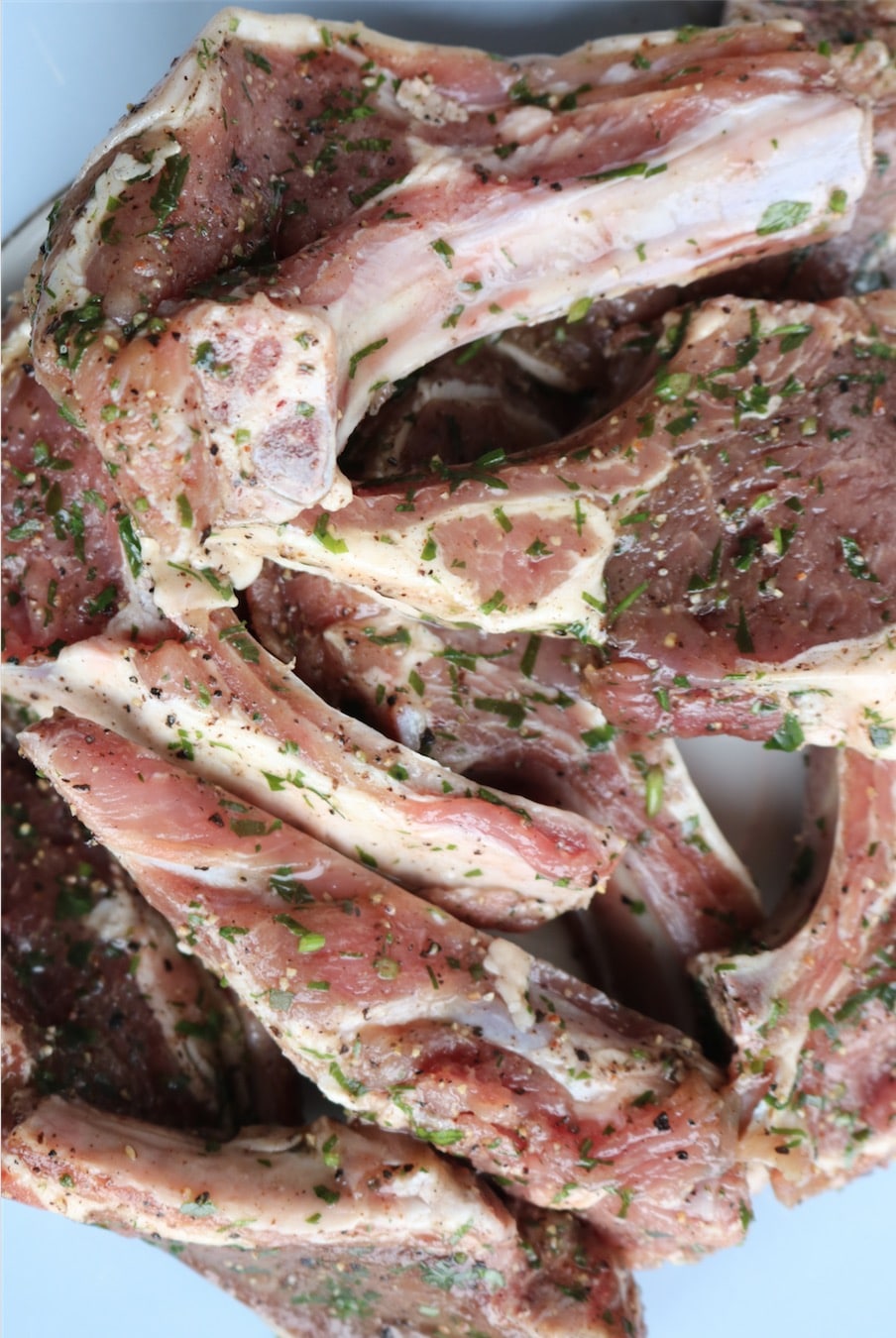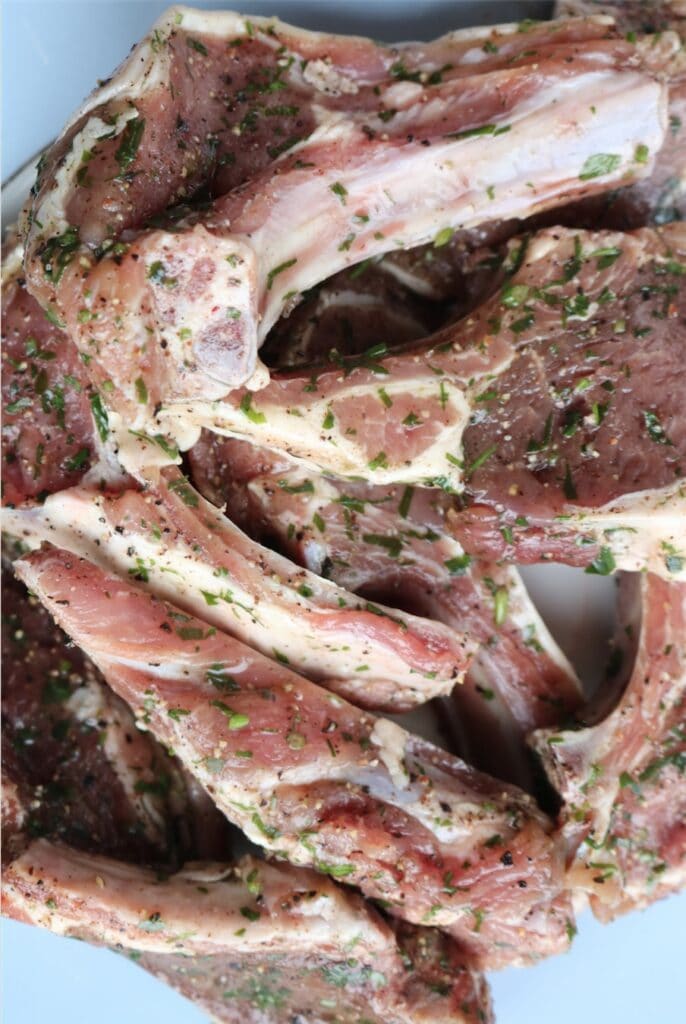 The marinade
This super simple marinade has three main components: salt, spices and herbs.
Black and white pepper are the main spices and complement eachother. Seasoning the lamb chops beforehand with salt is also very important.
There is fresh parsley and also dried oregano. Dried herbs give an earthy depth and the fresh parsley brightens up the marinade.
A sprinkle of sumac at the end will add a final zing of flavour.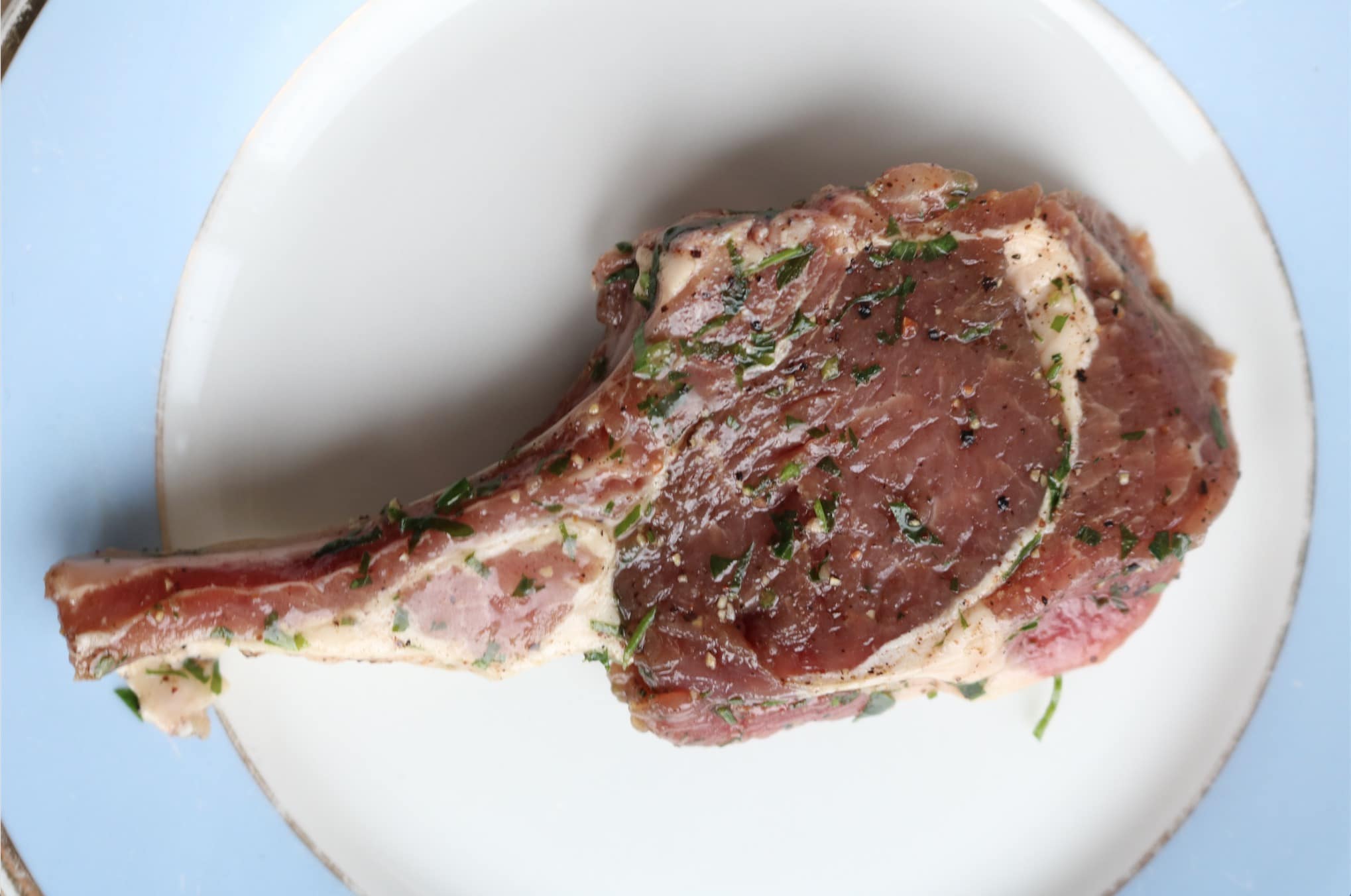 Try and marinade for at least 24 hours if you can to let the flavours sink in. If this is not possible a few hours will do and will still make a difference.
The pan
Cooking lamb chops well relies on using a heavy non stick pan or skillet. If the lamb chops stick to the pan then it ruins the final effect.
Even if you can't afford these fancy pans, try and source a good quality one from a charity shop you'd be surprised how many get donated.
Another tip when buying a great pan is making sure you can use it both on the stove top as well as the oven. This means one pan can get both jobs done without extra washing up.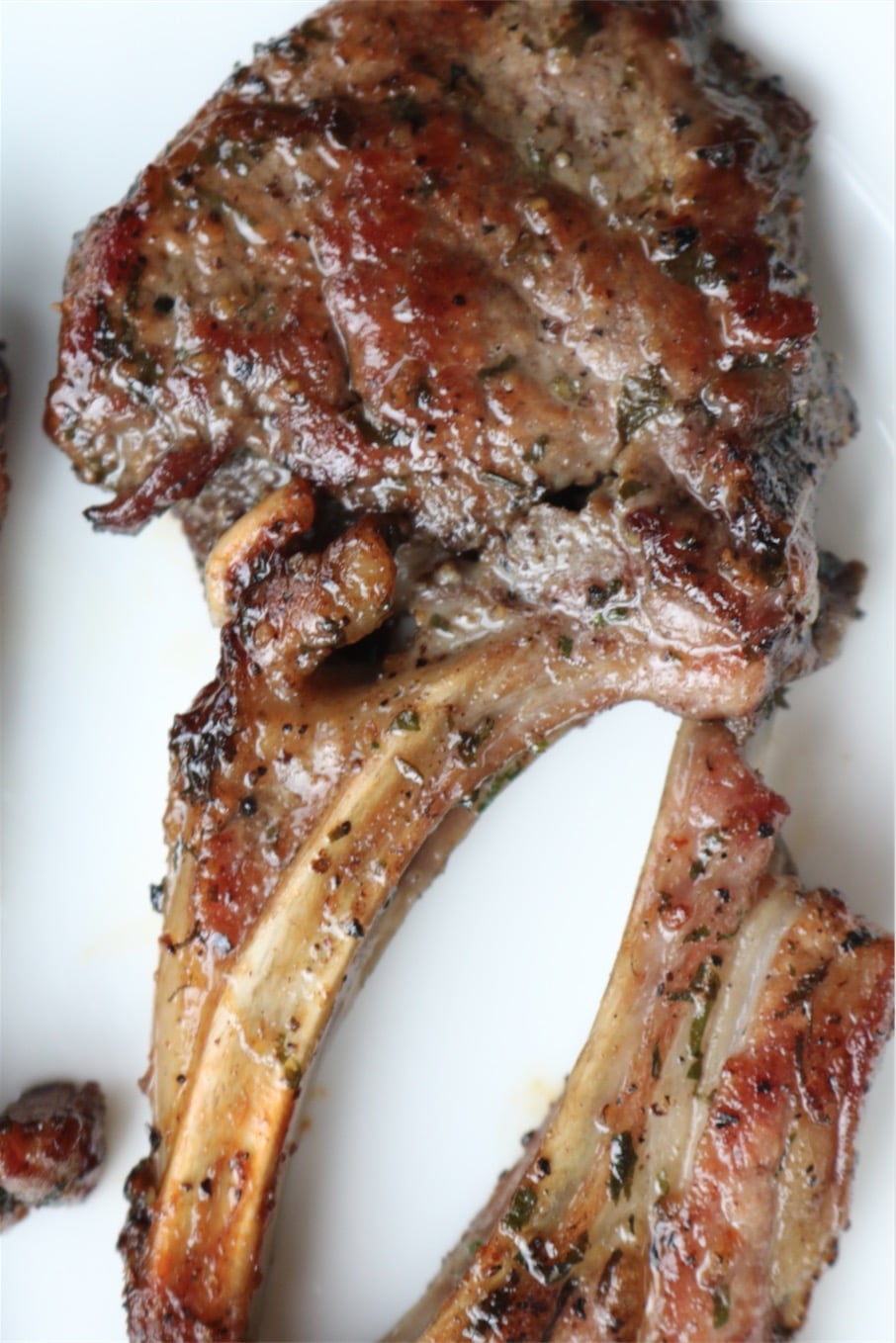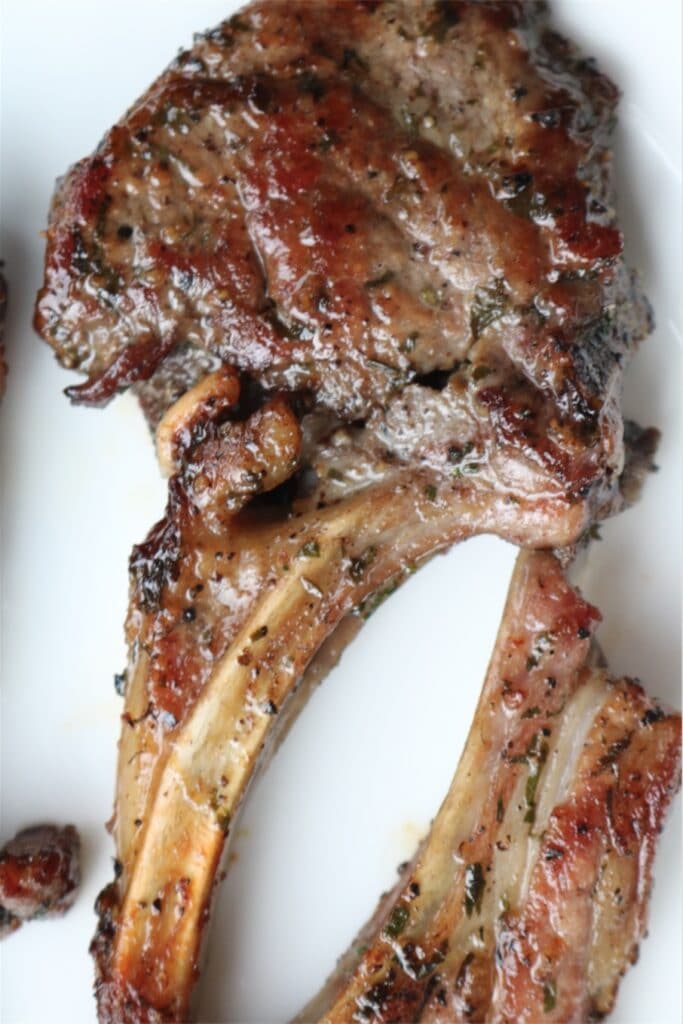 Variations
If you want to go spicy, add a few red chilli flakes to the marinade. A little paprika will also support this variation.
If you love things a little luxurious, add a little knob of butter as soon as you take them out of the oven so they melt into the meat right away.
If you love things sour, I sometimes add a little drizzle of pomegranate molasses to the marinade because why not it's yummy. Also, serve with a few lemon wedges at the table.
Top tips
Let the meat warm to room temperature before you sear them. This means that the meat won't get 'shocked' by the temperature change and tighten.
If you are having a dinner party and need to cater to many guests, don't be tempted to crowd the pan with too many lamb chops they need space to sizzle nicely.
Separate the lamb chops into two pans, and this way you can make one tray well done and the other a little rarer by taking them out ten mins earlier.
📖 Recipe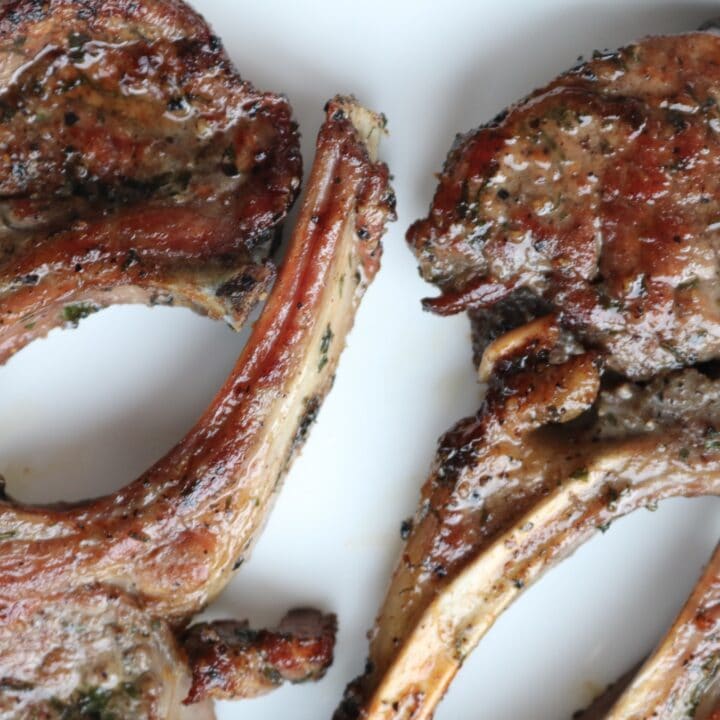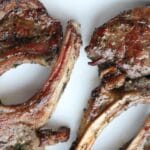 Lebanese Lamb chops
Subtly spiced lamb chops with herbs, lemon and sumac
Ingredients
1

kg

lamb chops approx 8 pieces
For the marinade
3

tablespoon

regular olive oil

¼

teaspoon

coarse black pepper

¼

teaspoon

white pepper

¼

teaspoon

dried oregano

few sprigs fresh parsley

juice of half a lemon

1

teaspoon

salt

¼

teaspoon

sumac
Instructions
To make the marinade
Finely chop the parsley and add to large bowl

Add the regular olive oil, black and white pepper, lemon juice, sumac, salt and dried oregano.

Transfer the lamb chops and rub the marinade in well, using your hands to massage.

Marinade for 24 hours or for as long as possible
To cook the lamb chops
When you are ready to cook, take the marinated lamb chops out of the fridge for at least half an hour and allow to reach room temperature

Preheat the oven to 180C/350F

Heat up a non stick or skillet for at least five minutes until you can feel the heat when you hover your hand over

Sear the lamb chops for 2 minutes on each side until browned. Then transfer to the oven and bake 15 mins for medium rare, 30 mins for well done

Sprinkle with sumac before serving
Recipe Notes
Be prepared to adjust cooking time depending on size of lamb chops.
If you make any of our recipes let us know how it went by giving us a star rating below.
Check out our Youtube page for full video tutorials, our Facebook group to discuss Lebanese cooking, as well as our tiktok page for quick tips.
You might also like these other recipes from the Zaatar and Zaytoun collection: