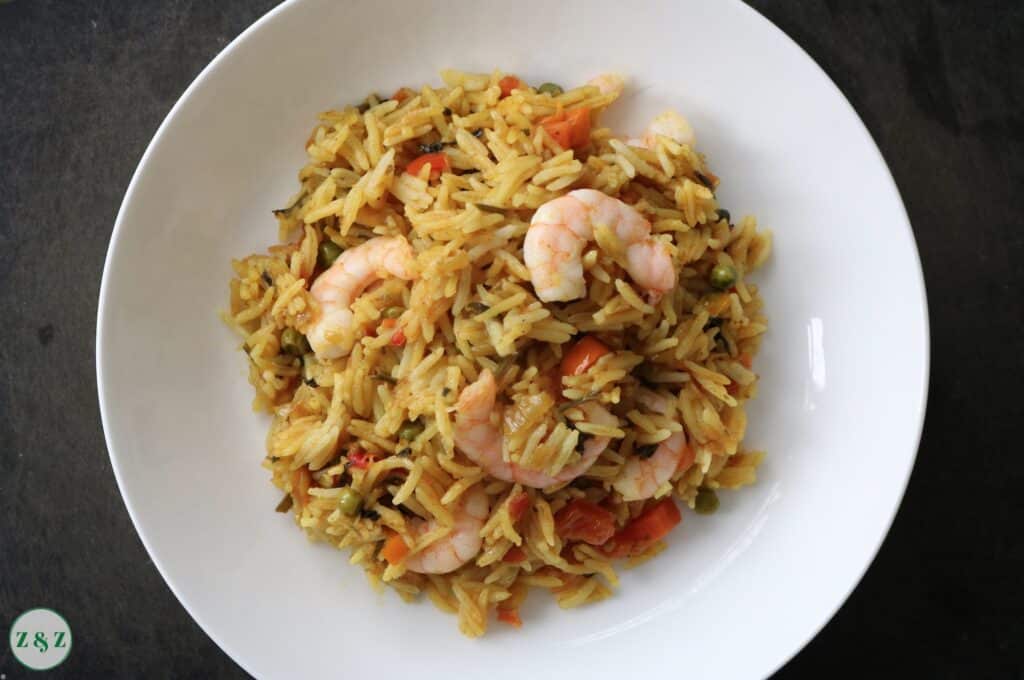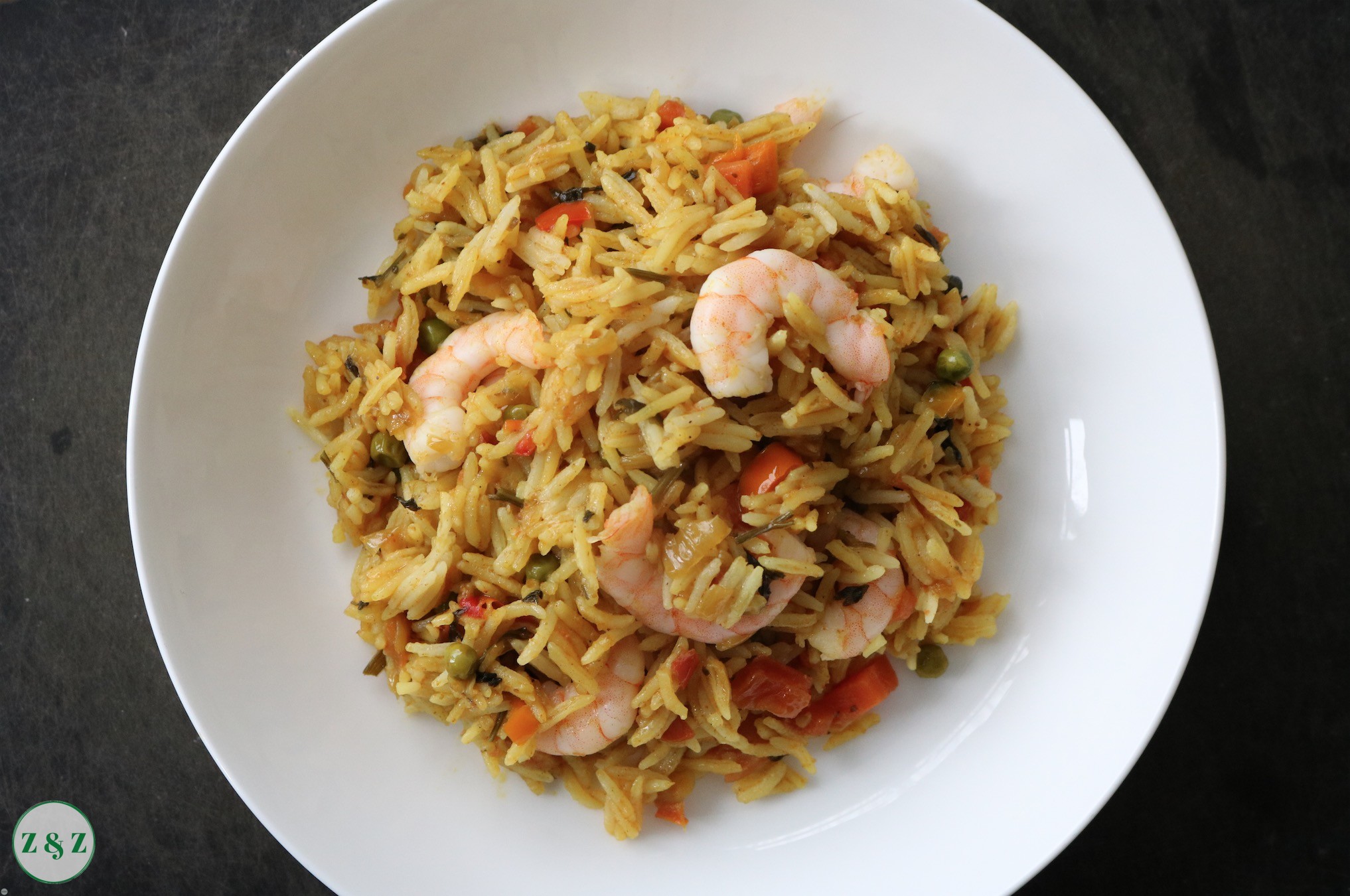 Shrimp and vegetable rice is basically my easy version of a paella. It can be as simple or as varied as you want to make it.
The essential veg really are tomatoes, peppers and peas with some nice jumbo shrimp.
Sometimes I add mussels or chunks of leftover salmon which makes it seafood rice with the same flavour.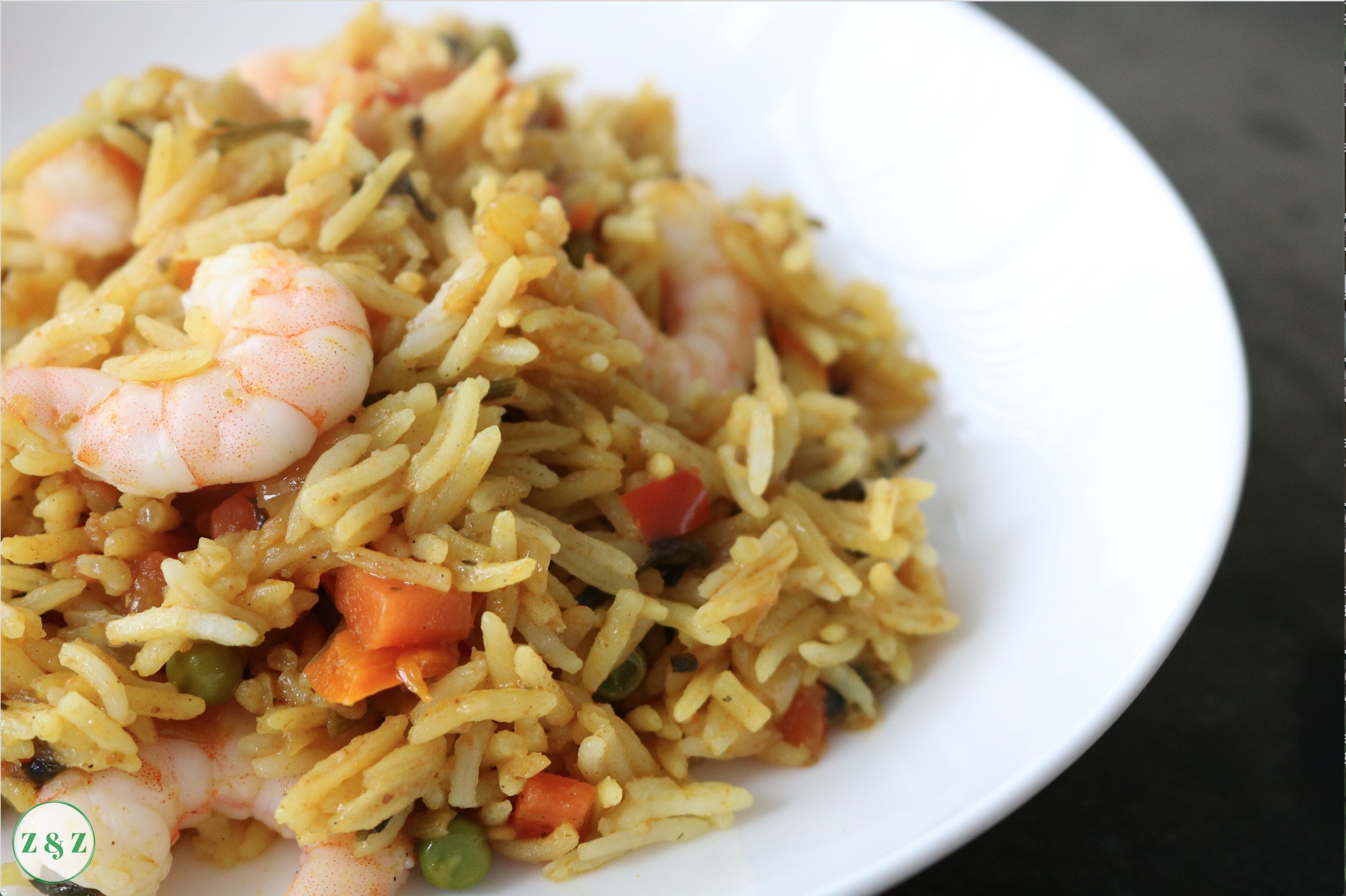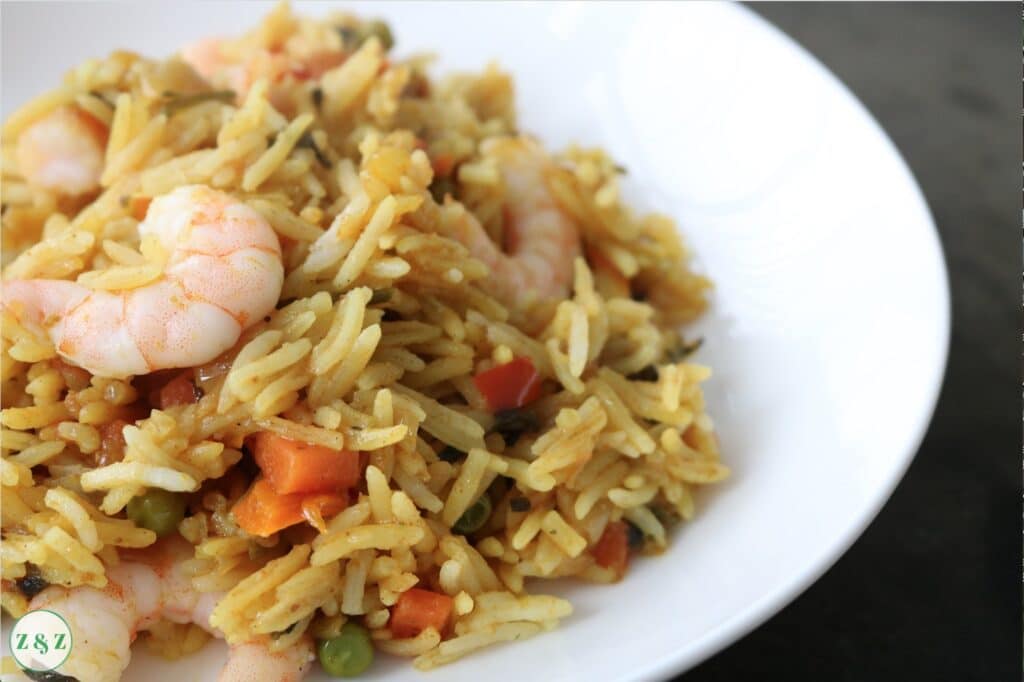 The main spice is paprika followed closely by turmeric and if I'm feeling really fancy I grind some saffron at the end but never too much as it will overpower everything.
I vary the amount of tomato I use depending on the season so this one is quite light on the tomatoes but feel free to increase the amount as they get juicier towards the summer.
Some people like to use uncooked shrimp (or prawns as we know them in the UK) but i'm too basic like that and use pre-cooked shrimp which I devein and literally add in the last few minutes just enough to warm through.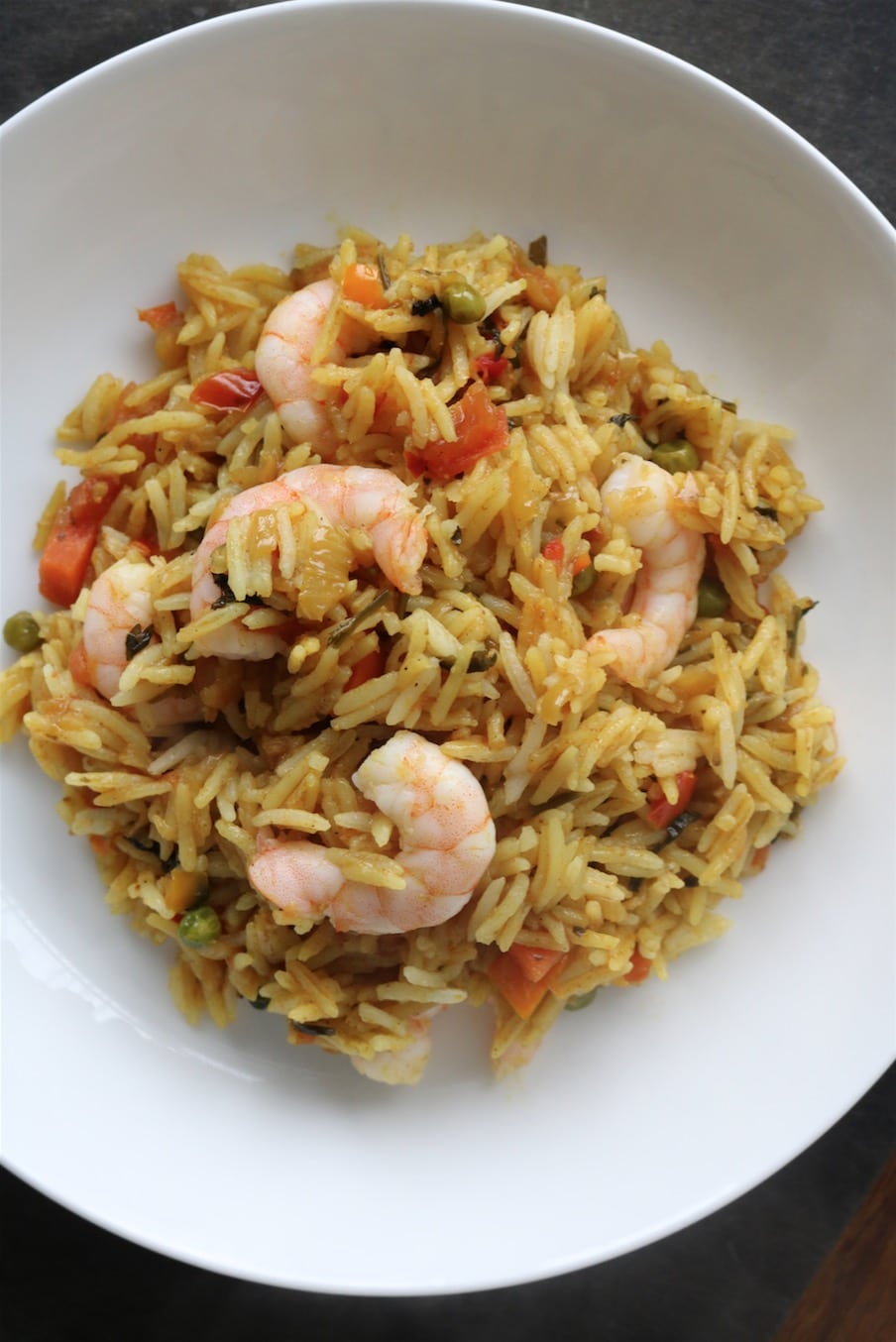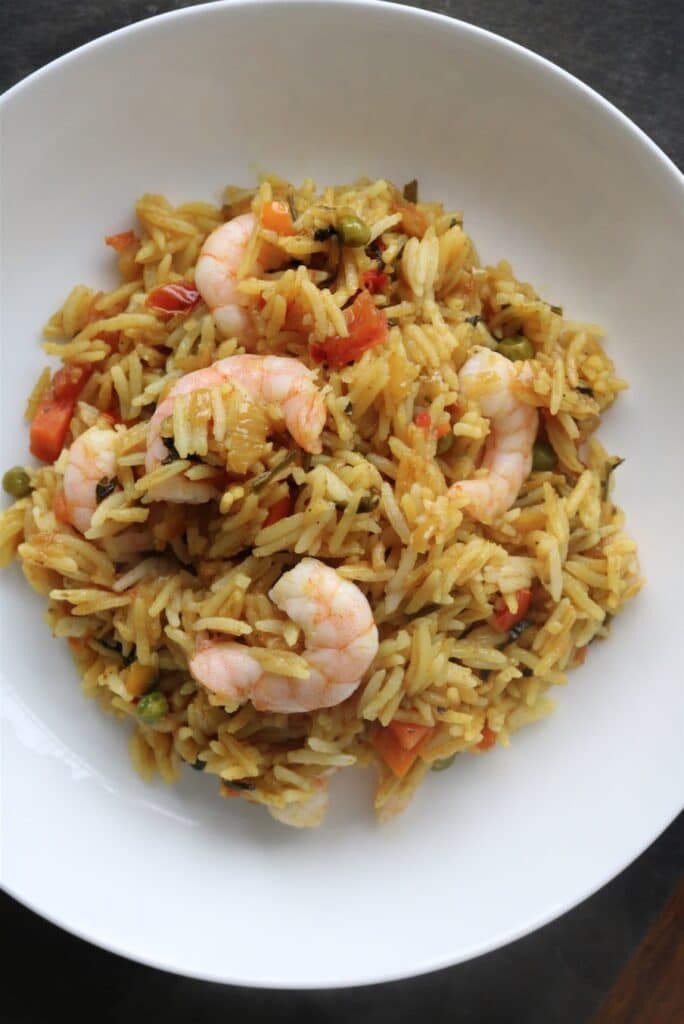 Other ways to make this more delicious is to add chicken or fish stock when you are cooking the rice or if you want to make it vegan just cut out the shrimp and add more veg like mushrooms, baby corn, spring onion and other crunchy things to contrast with the rice.
Cilantro (fresh coriander) is my herb of choice with most rice dishes, curries or stews as it still retains flavour even after cooking, though of course its always better to add herbs near the end.
I've used basmati rice here but you can also use short grain.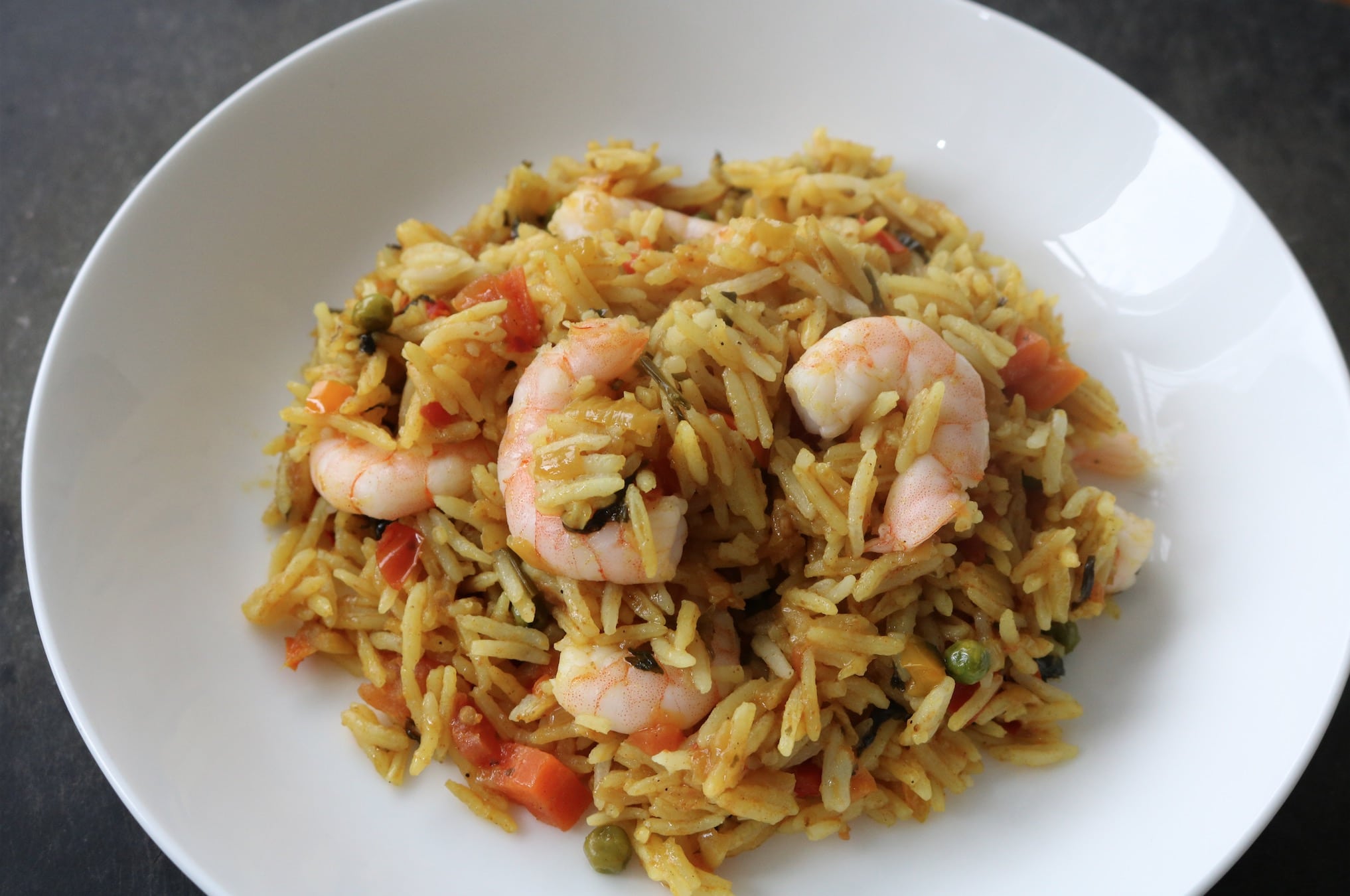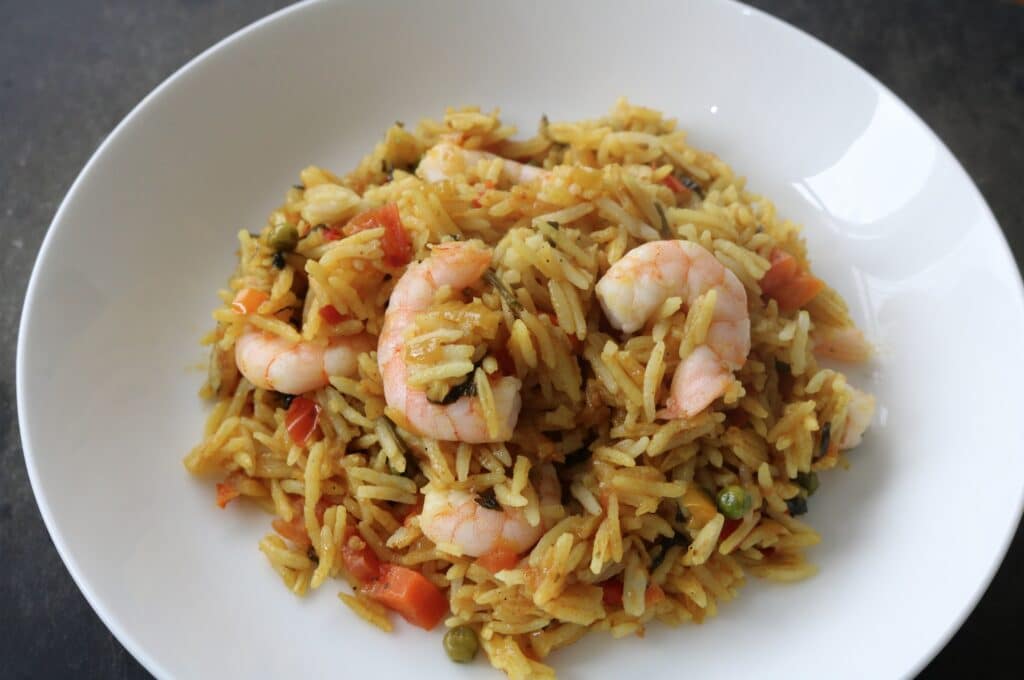 My shrimp and veg rice takes the spirit of paella where people used to use up whatever they found in the field and although it doesn't have rabbits in it I can assure you its just as good 🍤😋🐰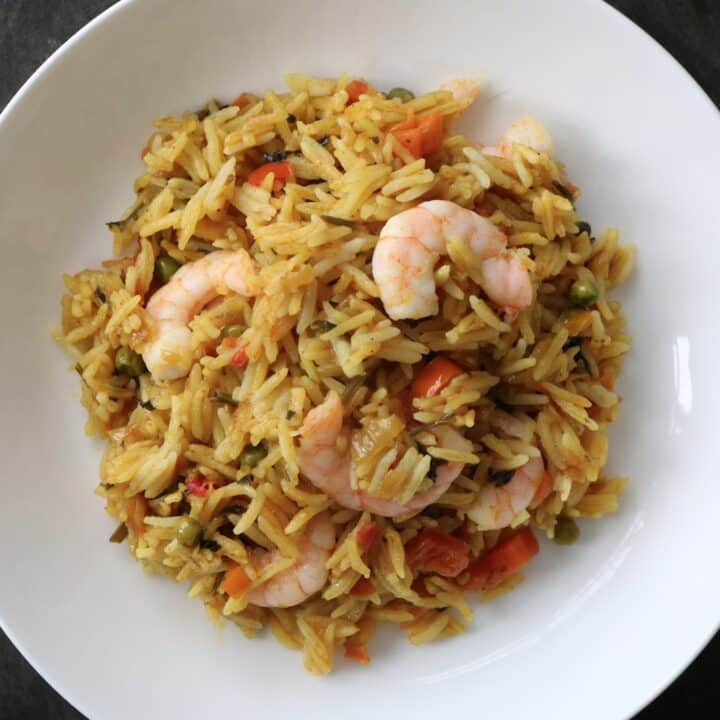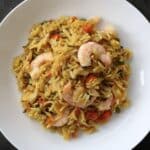 Shrimp and Vegetable Rice
Easy shrimp and vegetable rice weeknight dinner
Ingredients
300

g

cooked king shrimp

(prawns)

3

onions

1

teaspoon

paprika

1

teaspoon

turmeric

1

teaspoon

ground coriander

1

teaspoon

7 spice or fajita spice mix

⅓

red pepper

⅓

orange pepper

⅓

yellow pepper

1

carrot

2-3

tomatoes

1

cup

petit pois

Handful fresh cilantro

2

cups

of basmati rice

Salt to taste

Tiny pinch of ground saffron

optional
Instructions
Wash and devein the shrimp, set aside in the fridge

Soak the rice in some water until you are ready to cook

Chop the onions and in a non stick pan heat up 2-3 tablespoons of regular olive oil. After a few minutes when the onions begin to sizzle, add a sprinkle of salt and the dry spices, reduce the heat and caramelise until golden, stir occasionally

While the onions are caramelising, chop the carrot and peppers and add them to the onions when done. Increase the heat and cook for a further 5 minutes, then chop the tomatoes and add them to the mix along with approx 1 teaspoon of salt

As the vegetable mix comes together, reduce the heat and simmer while you make the rice. Drain the soaked rice and cover in boiling water. Add the peas and a good pinch of salt and bring to the boil, then reduce the heat and cook for ten minutes so the rice is slightly underdone. Drain in a colander

Add the rice to the vegetable mix and combine everything together. Chop the cilantro and if you are using saffron also add to the rice. Taste and adjust the salt as necessary

After 5-10 minutes when the rice is done, add the shrimp and simmer together for another 5 minutes or so until they warm through

Serve immediately, ideally to a hungry crowd
If you make any of our recipes let us know how it went via our Social Media platforms.
We have a lively Facebook group where we post frequent recipes and discuss Lebanese cooking in general, as well as a handy Pinterest page where you can save all of your favourite Zaatar and Zaytoun recipes!
You might also like these recipe from the Zaatar and Zaytoun collection: