Sambousek lahme are another type of Lebanese meat pie (we have a few if you haven't guessed by now) and make perfect picnic food, as they can be eaten either hot or warm.
This type are usually closed into a crescent shape and the filling is pre-cooked unlike with Lahm bi ajeen or Sfeeha which have raw fillings before they bake as they are open meat pies.
You also have rekakat lahme which are made from filo (phyllo) pastry and rolled up into cigar shapes.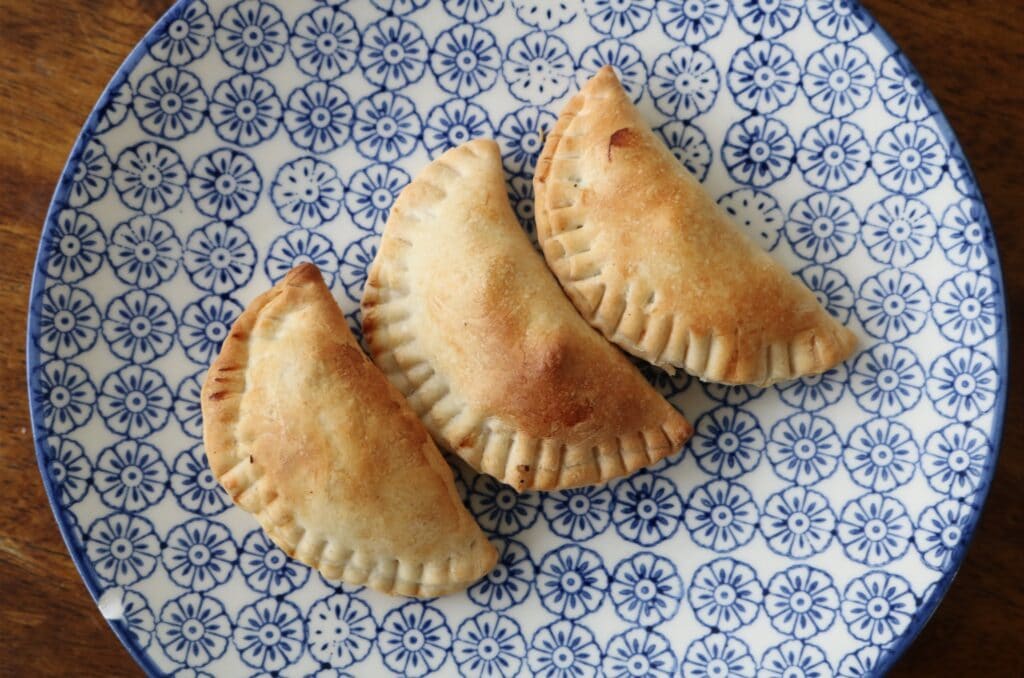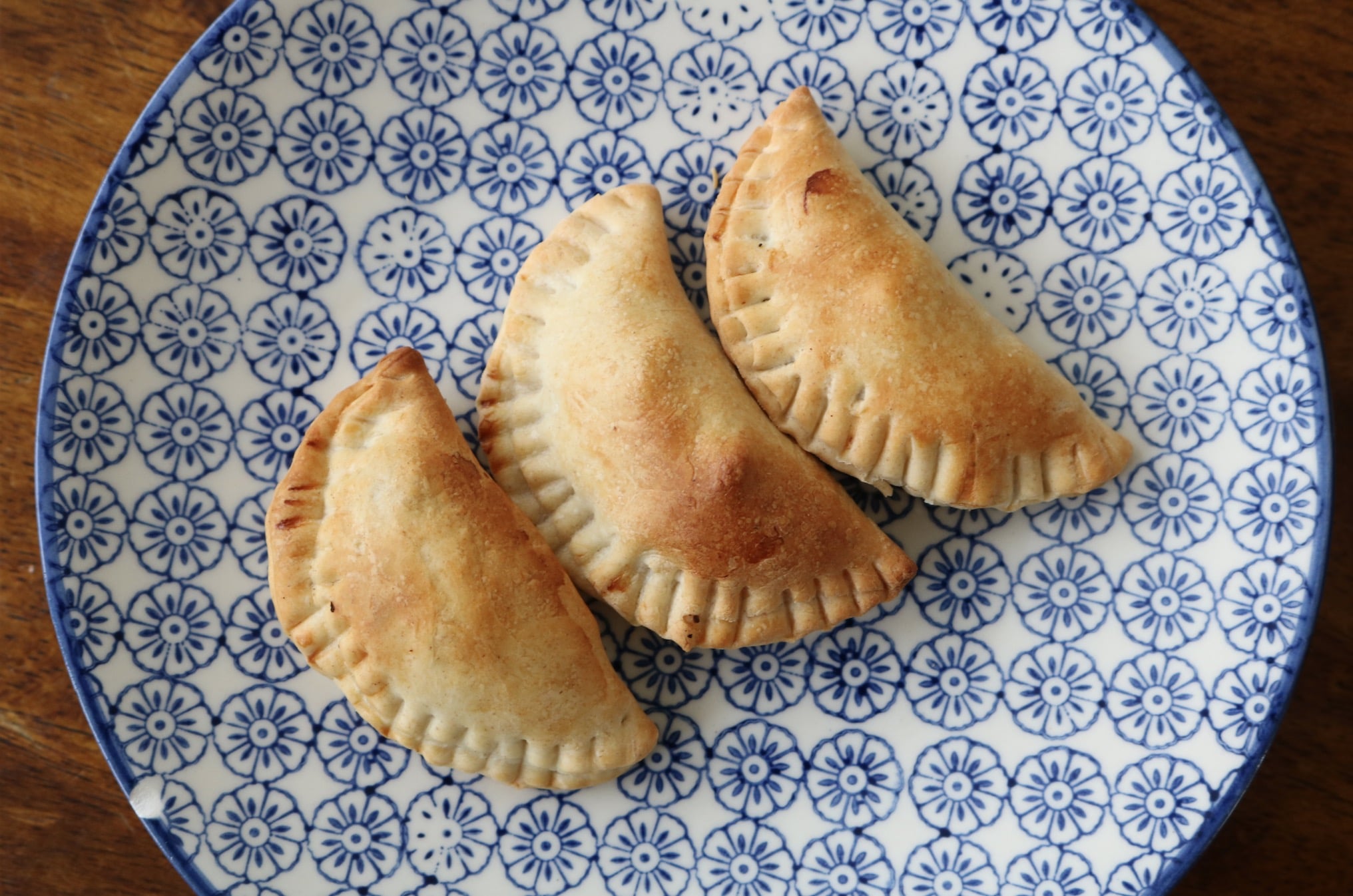 How to shape sambousek
The easiest way to shape sambousek is to put filling on half of the dough leaving a small margin and use a fork to crimp the edges firmly enough to press them together.
The other way as shown in the video is to use one finger to fold over the corner and carry on crimping until you have a nice pattern.
Try both and see which way you are better at. Sometimes it's good to crimp using different methods to indicate different fillings.
The meat filling
You can use either lamb or beef mince or even both as I like to do.
Lamb has more flavour but can be a bit fatty and beef alone can sometimes be a little one dimensional. When I combine them in a 50:50 ratio I find they make the perfect mix.
This filling also uses fresh tomatoes that I have chopped and drained from extra juices using a fine sieve.
It's a hard balance to call as you want tomato flavour but not soggy pastry.
When I add the tomato to the meat and onion filling I only cook them together for about five minutes and no longer just so they are cooked but not mushy.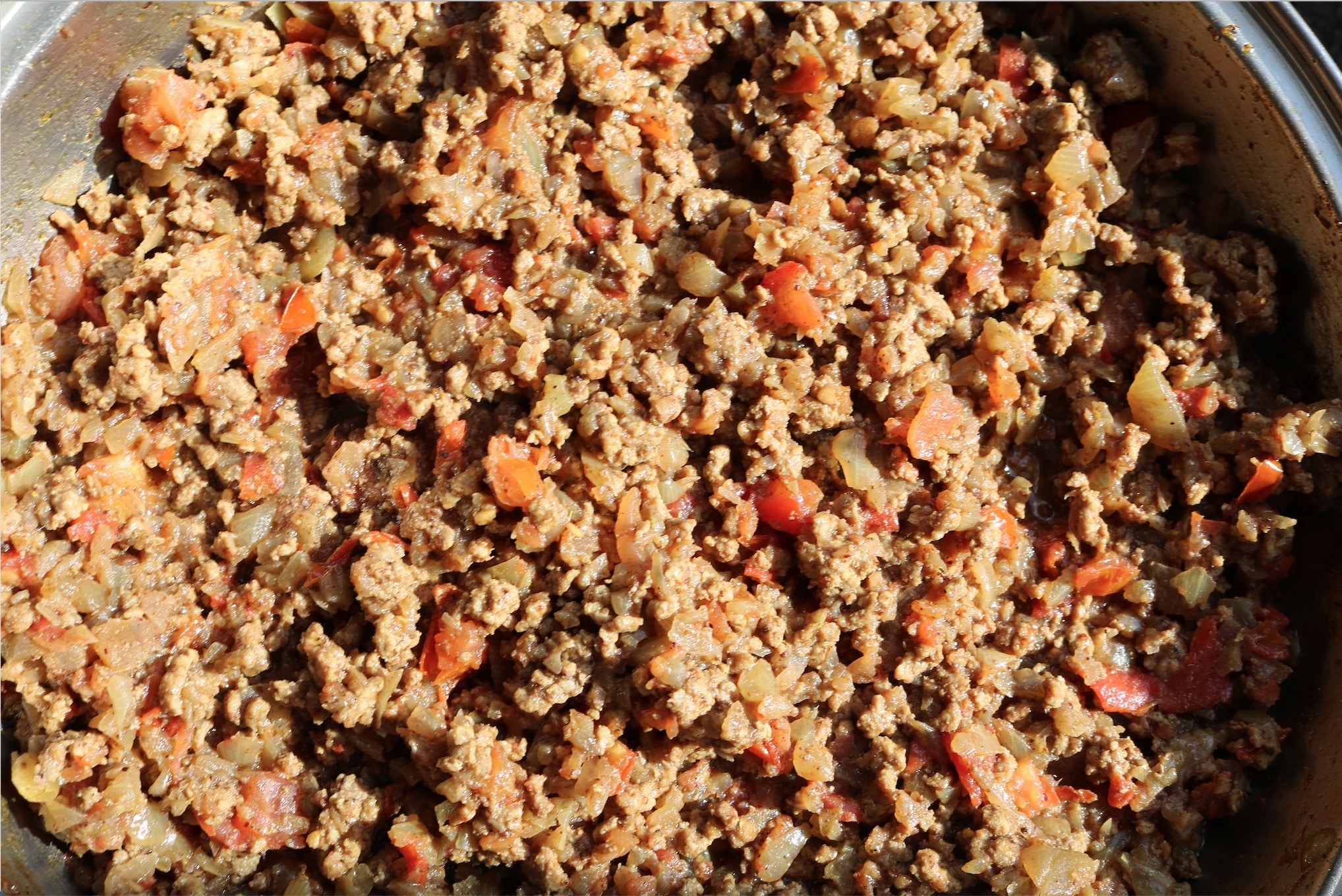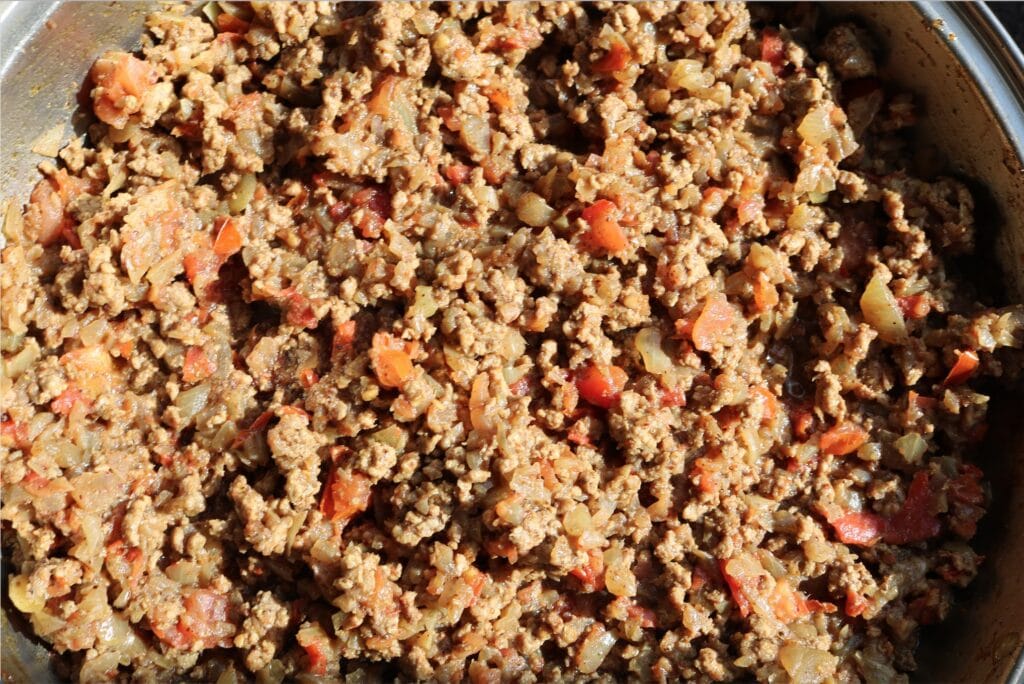 The dough
For meat pies I usually use the dough that has a little milk in it which makes for a richer dough.
You could use the standard manakish dough which works just as well, so don't worry if you have no milk in the fridge you can still make delicious sambousek.
If you are using a stand mixer, knead the dough for about 7 minutes so when you poke it, it springs back a little.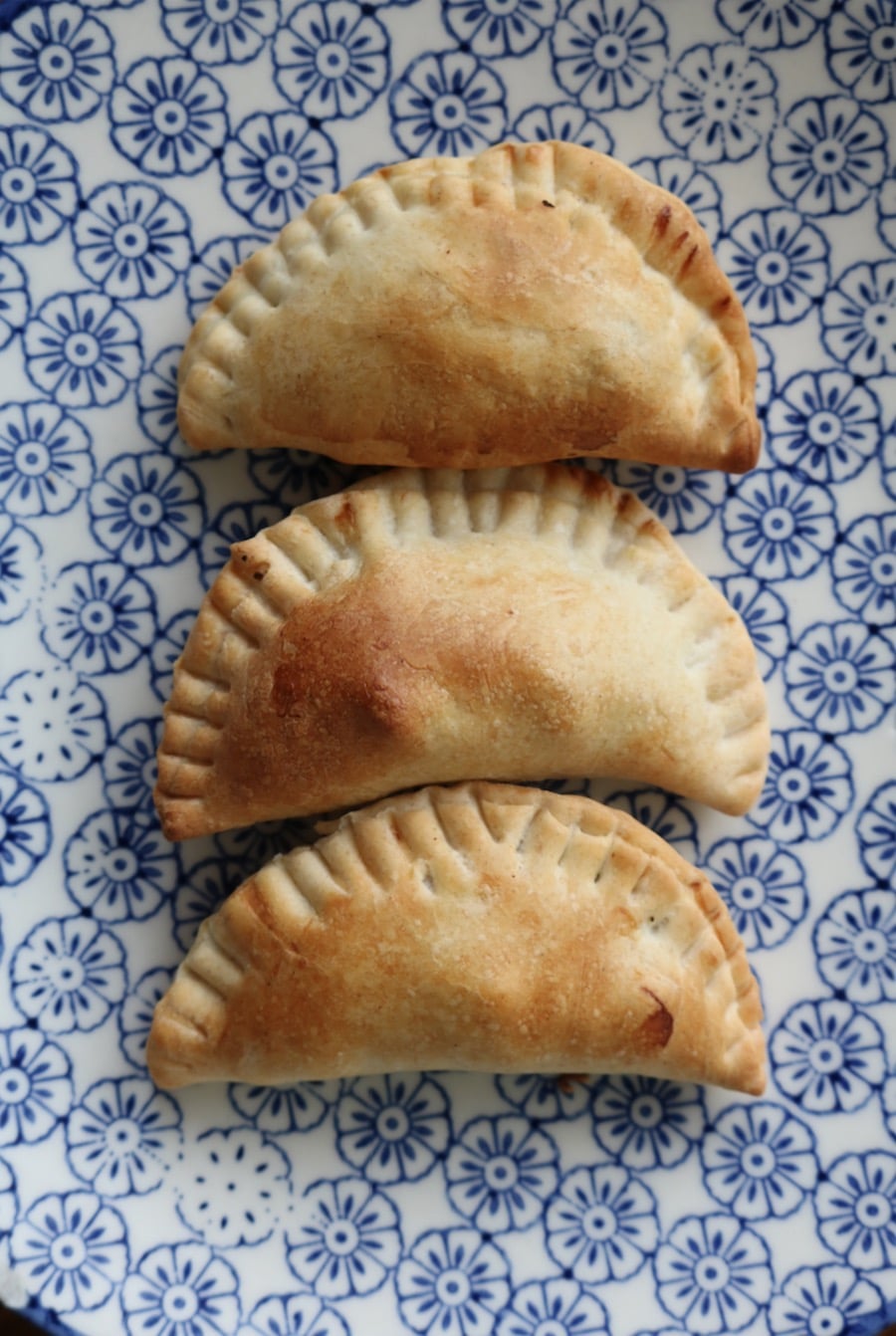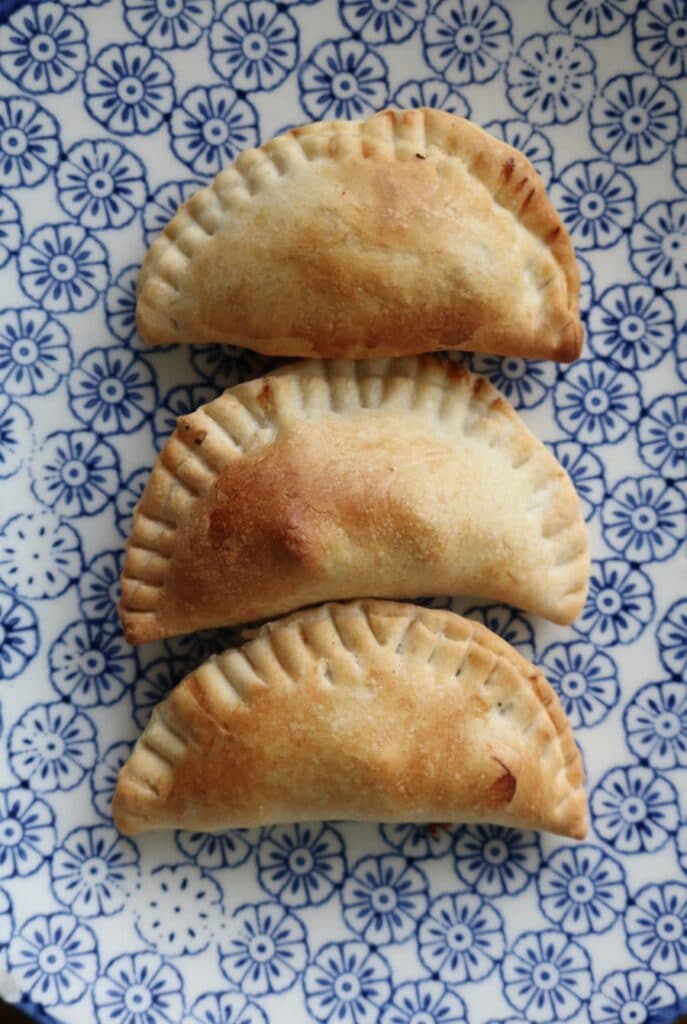 I use the dough blade on my food processor for one minute which makes for super speedy dough and it proves wonderfully.
If you notice the dough is a little crumbly when it first comes together add tiny amounts of water until it forms a nice smooth ball.
Top tips
Sambousek are so worth the effort and if you get these little tips down then you will make the best ones in the land.
I add lots of onions to my meat filling (around 4 onions for half a kilo of meat).
If you have time heat them on high heat for the first five minutes then reduce the heat to the lowest and let them caramelise slowly. This will add a sweetness to the savoury meat which equals yumminess.
Now you can add lots of spices to your sambousek if that's what you need but the trick is to spice them just enough so they don't get overwhelmed.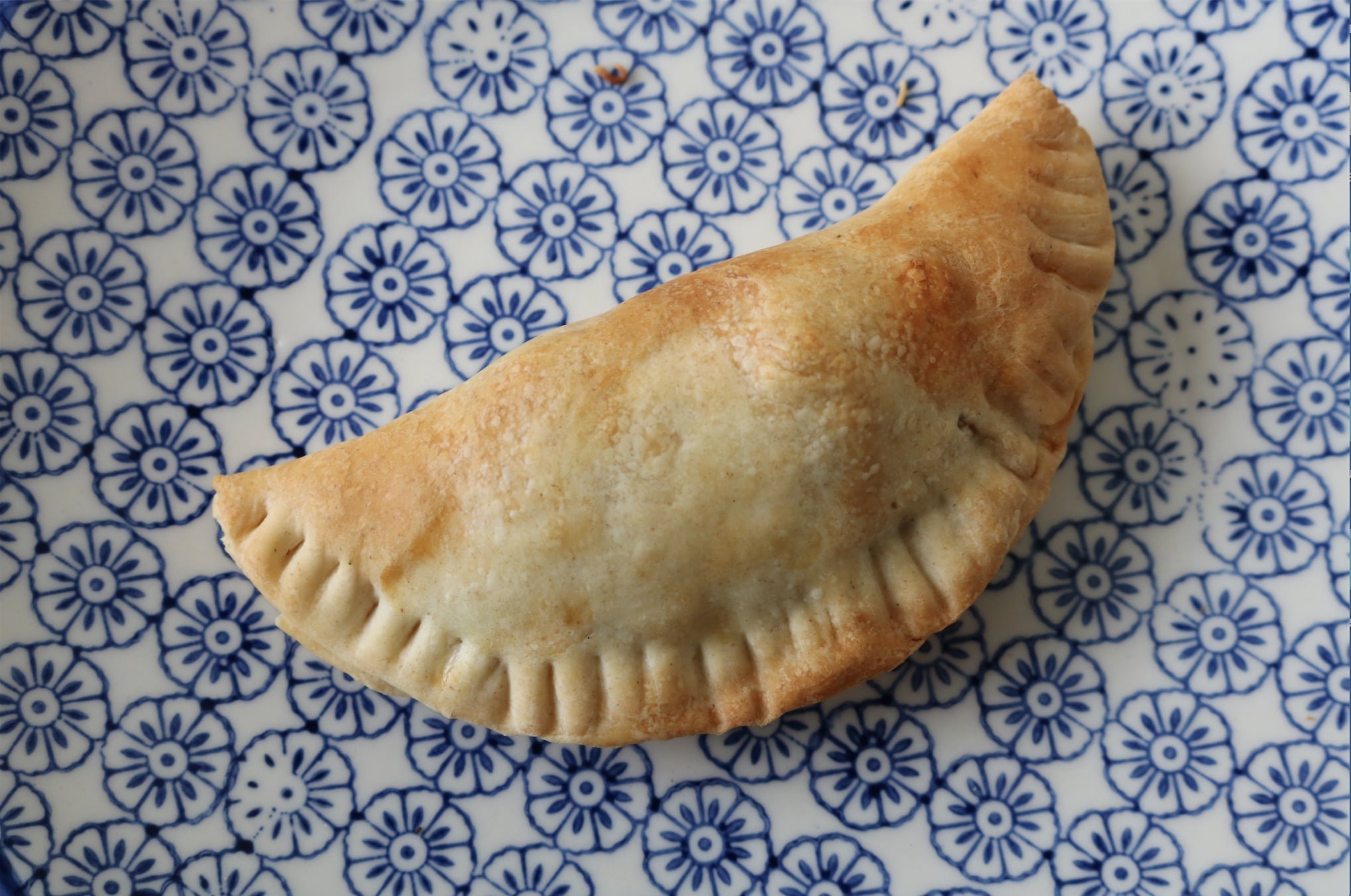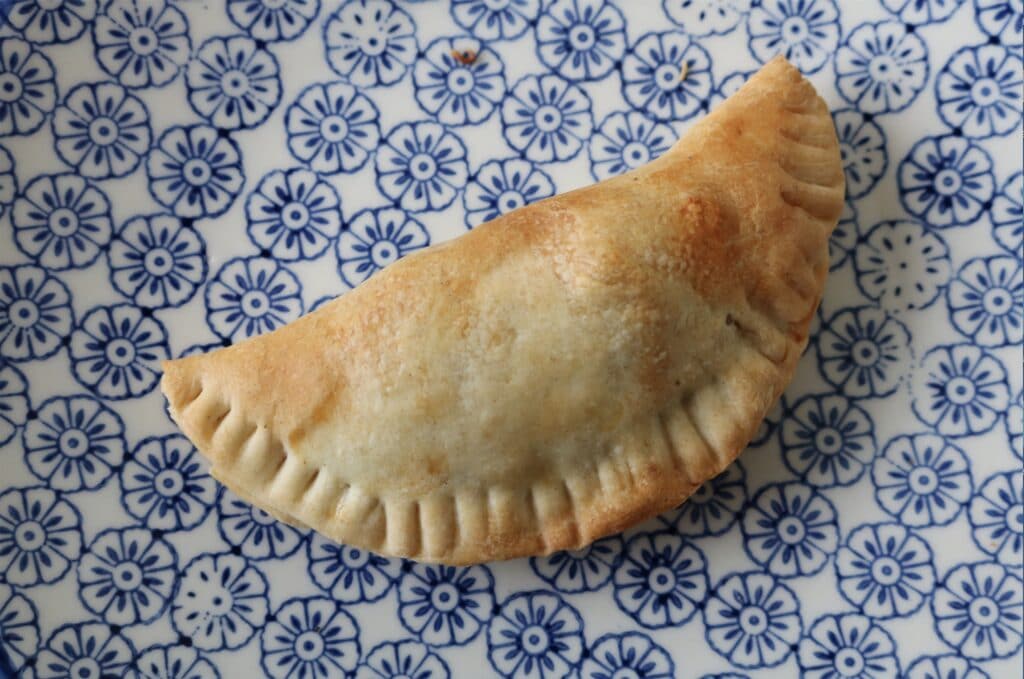 I add seven spice as well as black and white pepper and a little turmeric will give it a nice warmth.
When you are ready to fold and crimp the sambousek, I always put a little something (oven glove or coaster) underneath the pan with the meat filling on one side.
This will make it slope gently and drain the extra juice to one side. This way you can scoop up the filling without these juices and make perfect sambousek.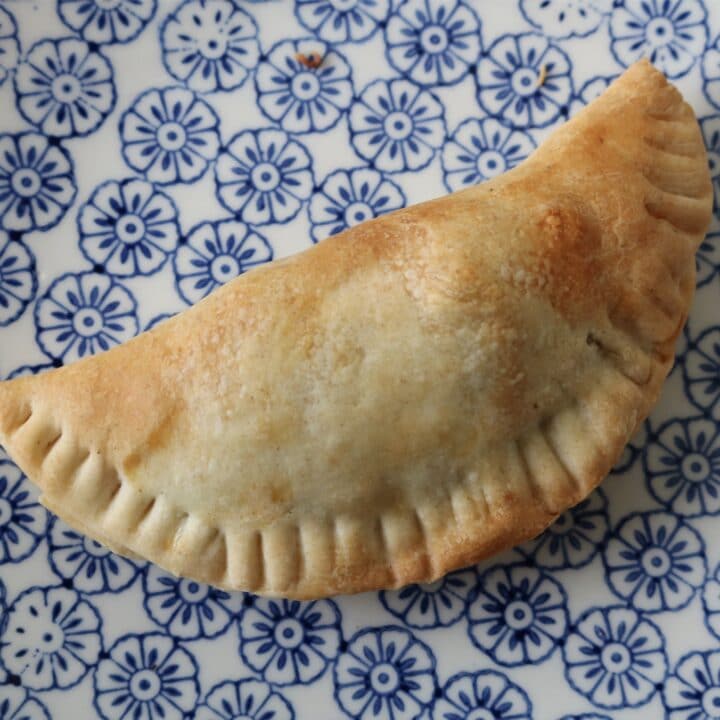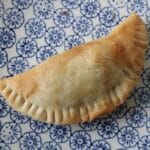 Sambousek Lahme (Lebanese Meat Pies)
Lebanese closed meat pies with filling of meat, onions, tomatoes and spices.
Ingredients
For the dough
3

cups

bread flour

½

cup

of lukewarm water

½

cup

of lukewarm milk

2

teaspoon

of dried active yeast

½

teaspoon

of salt

½

teaspoon

of sugar

3

tablespoon

regular olive oil /vegetable oil

¼

cup

of milk for brushing
For the meat filling
500

g

of lamb/beef mince

(or both)

4

medium tomatoes

chopped finely

4

medium onions

chopped

2

teaspoon

7 spice

½

teaspoon

of black pepper

½

teaspoon

of white pepper

½

teaspoon

of turmeric

½

tablespoon

of sumac

1

teaspoon

of salt

approx
Instructions
To make the dough
In a bowl, combine the milk and water together and test the temperature with your finger, it should be only slightly warm (if it is too hot it will kill the yeast)

Add the sugar and yeast to the liquid and stir well until it dissolves. Leave for 15 minutes allowing the yeast to ferment and bubble

In a large bowl, add the salt and flour, oil and yeast liquid and bring together until you have a smooth ball. Add a tablespoon of water at a time if dry until it comes together

Then turn out into a floured surface and knead for 10 minutes so the dough springs back a little when you poke it. If you are using a stand mixer knead for around 8 minutes on the first setting

Place the kneaded dough ball into a large mixing bowl and cover with cling film or damp tea cloth, leave to rise in a warm place for at least 2 hours or until doubled in size

With floured hands knock back the dough and shape into a ball. Divide into small golf sized balls. Cover with the tea cloth and leave to rest as you make the filling
To make the meat filling
Once you chop the tomatoes finely, transfer them to a fine sieve to drain out the liquid

Sauté the onions in approximately 3-4 tablespoons of regular olive oil until golden.

Add the mince meat and fry off on high heat pressing down with the back of your wooden spoon for around 10-15 minutes, draining any excess liquid that may arise.

Add the spices, salt and sumac along with the tomatoes and cook for another five minutes

Taste the filling and adjust the salt or seasoning if necessary.
To make the sambousek
Turn on the oven on the highest setting (usually 230°C/450F)

Roll the small dough balls into very thin rounds (approx 3 mm) adding a little flour to avoid sticking

Spoon on some meat filling one one side leaving a small margin, and fold over. Press down the edges with your fingers and either use a fork or your finger to crimp (see video)

Brush on a little milk to get a nice golden colour

Bake for around 10 minutes until golden, turning half way if necessary to get an even bake
Recipe Video
If you make any of our recipes let us know how it went by giving us a star rating below.
We have a lively Facebook group where we post frequent recipes and discuss Lebanese cooking in general, as well as a handy Pinterest page where you can save all of your favourite Zaatar and Zaytoun recipes!
You might also like these recipe from the Zaatar and Zaytoun collection: