Lahm bi ajeen literally translates to 'meat in dough' and should really be a food group in itself.
Bread and meat really is the basic stuff of life that has enough magic in it to get you through the most difficult of days.
In Lebanon, people traditionally either make the meat mixture at home or get it ready made at the communal oven (the Furun)
For some reason, lahm bi ajeen has such a distinct smell you can recognise it from a mile off and it usually triggers childhood memories of comfort food for many Lebanese.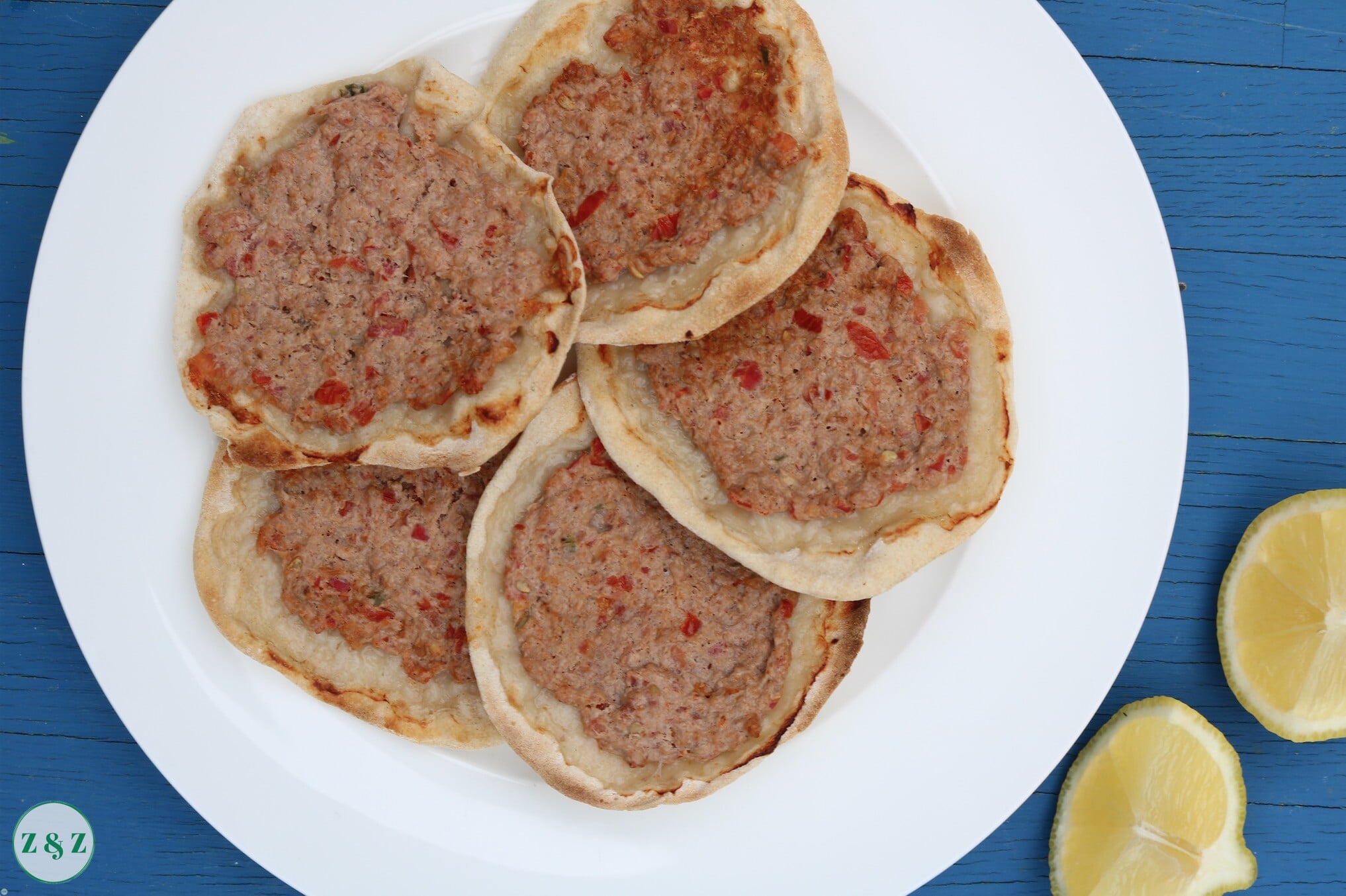 Jump to:
The filling
The meat (usually ground beef) is combined with tomatoes, onions and spices to give quite a loose texture.
You might think that this means the dough will be soggy but the open pie means all the extra moisture is evaporated in the hot oven.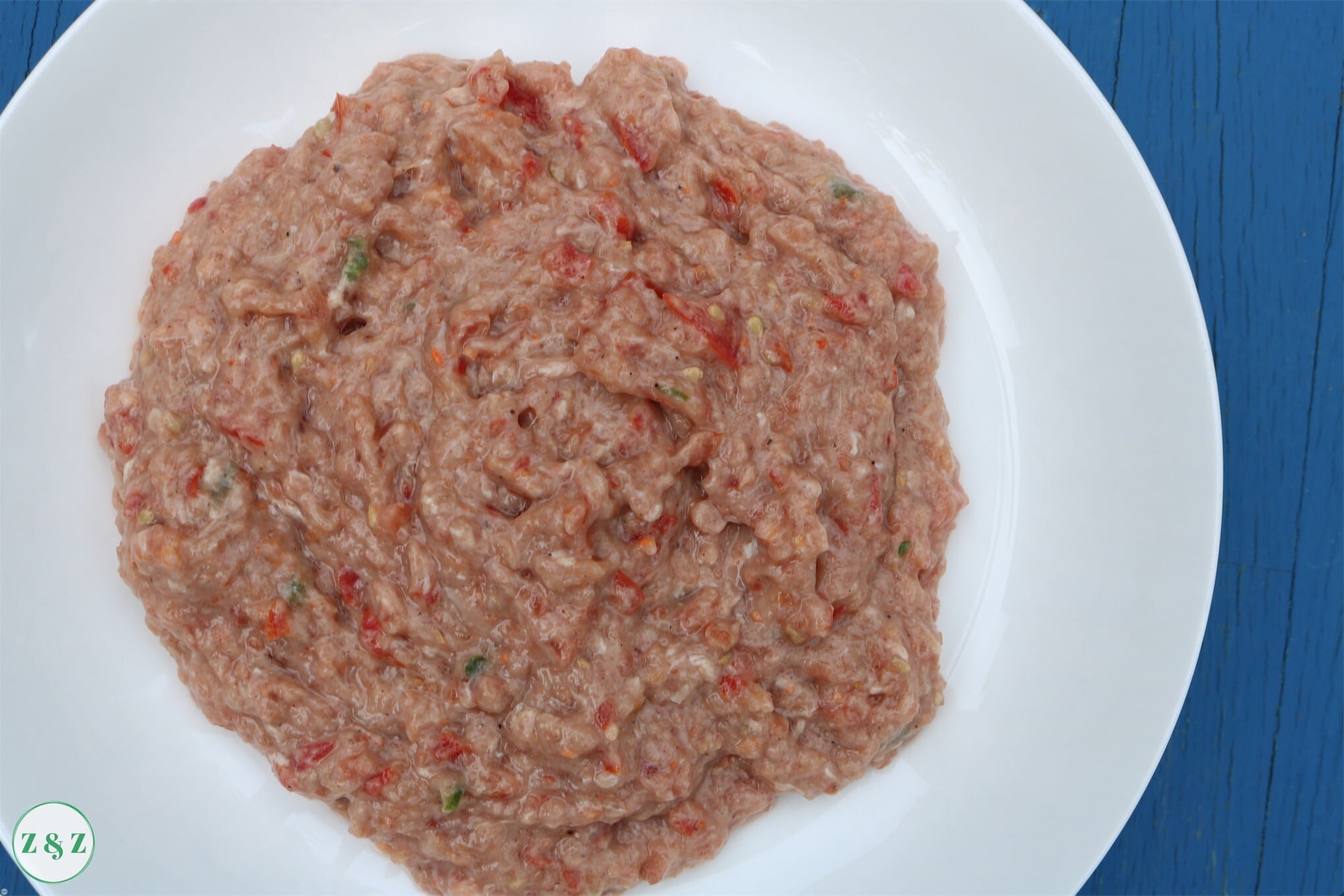 I use a food processor to really blitz it together well and plus you can prepare it in two minutes.
Lahm bi ajeen has more tomatoes than your standard sfeeha meat mixture which is traditionally made with lamb.
I also like to add a little fresh chilli to mine to give a kick at the back of the throat. I only use half a birds eye chilli so as not to overdo it.
The dough
Lahm bi ajeen dough is the same as sfeeha dough which combines a little milk with the water when fermenting the yeast.
This milk makes the dough ever so slightly softer which makes them easier to fold.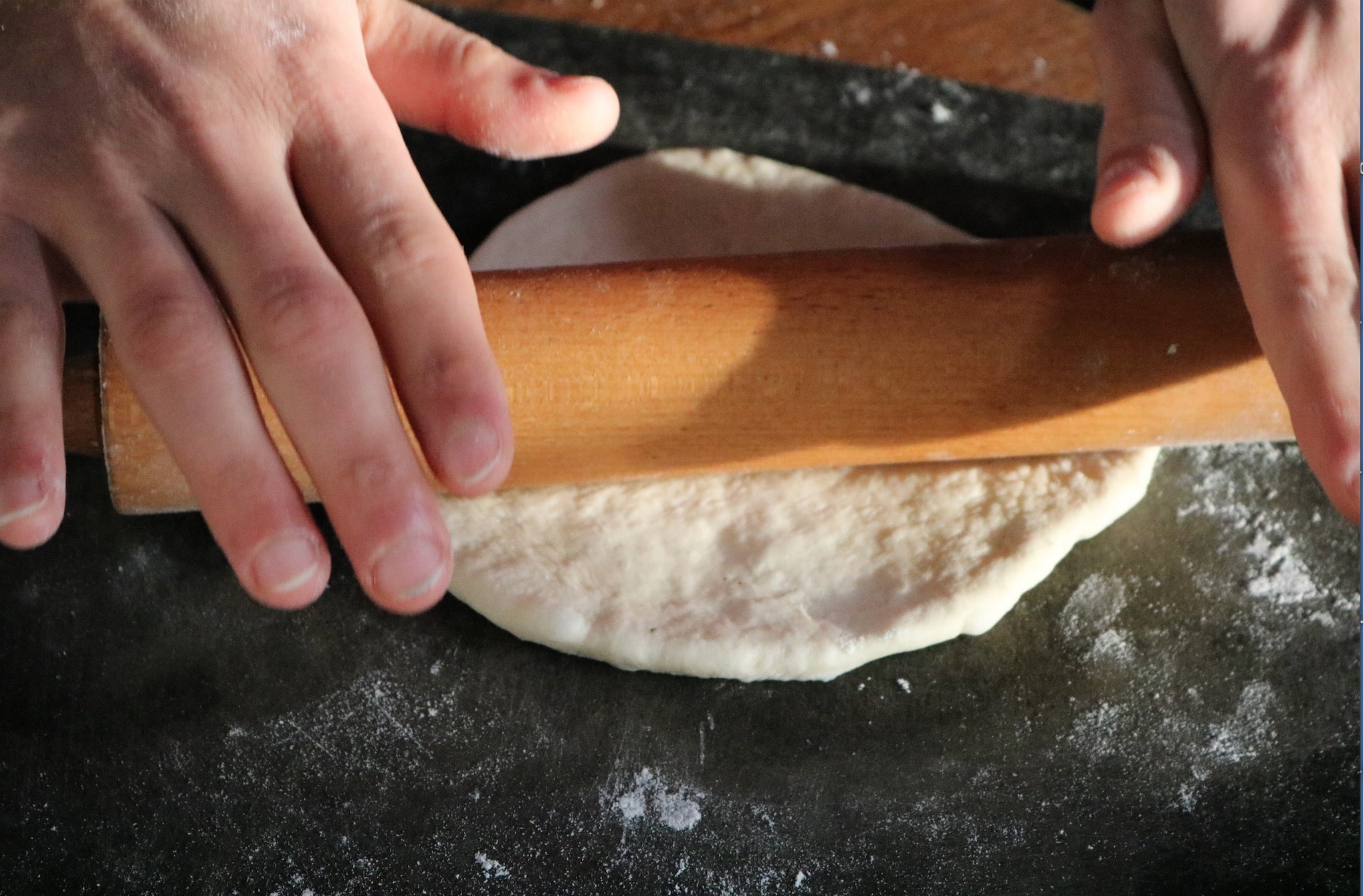 However, many people use regular manakish dough to make lahm bi ajeen and it tastes practically the same.
Especially if they are making lots of different types of Lebanese pastries (mu'ajannat) and don't have time to prepare a separate dough.
I like to make the mini meat pies as I find them more satisfying to eat (I don't know why perhaps because I'm dainty 😂)
I roll the dough quite thin and you will need some extra flour to make sure it doesn't stick.
You can crimp the edges if you like as the meat mixture usually contracts from the sides.
Though to tell you the truth, most times I can't be bothered and just simply roll out the dough into little circles.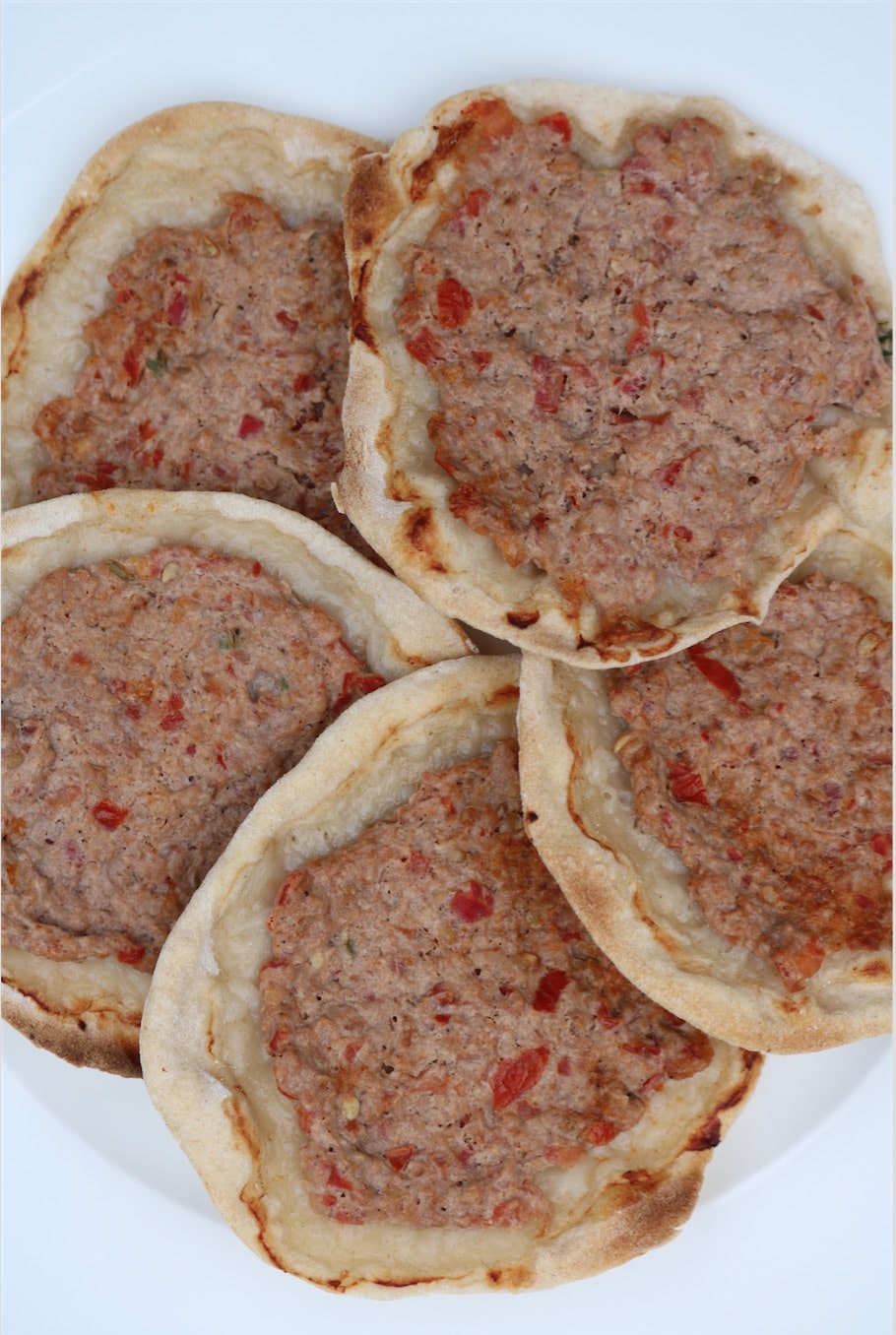 Top tips
Use the highest quality meat you can afford and buy if possible on the day you want to make them.
Take out the meat at least half an hour before so it has time to come to room temperature.
Try and source the best fresh tomatoes that are ripe and juicy. If your tomatoes need a bit of help then add a little tomato concentrate.
Most of us don't have pizza ovens, so if you are using a regular oven preheat it well and use the highest setting.
Alternatively you can use the stove + broiler (grill) method where you transfer the meat pies to a hot non stick pan so they cook for a few minutes underneath then move them to the broiler/grill to finish them of.
The advantage of this method is that they stay soft and don't dry out as they might in a fan oven.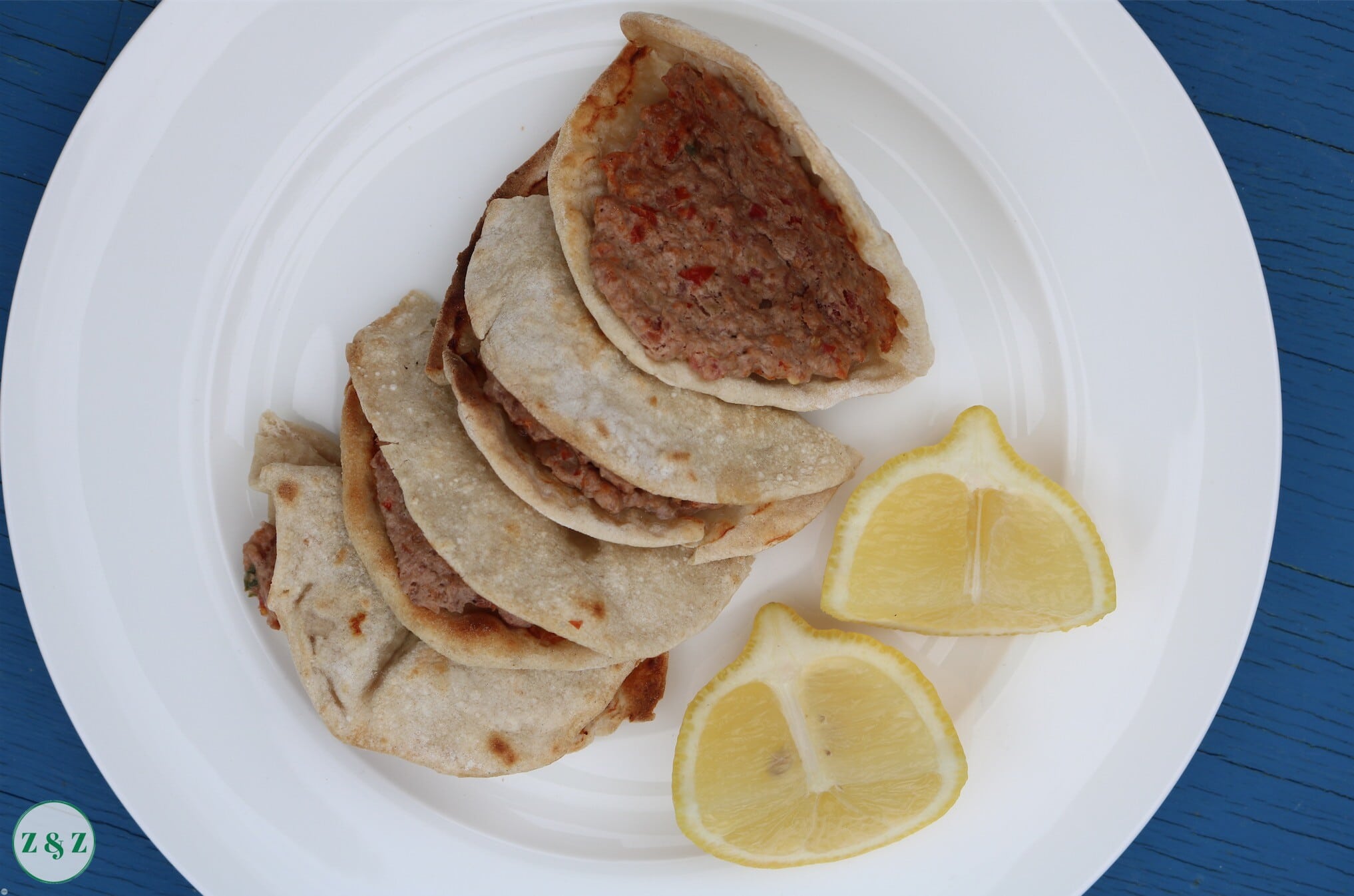 Serving
Many people like to enjoy their meat pies with a salty yoghurt drink known as Ayran.
My husband insists on a squeeze of lemon just before eating.
And it really doesn't need to be fussier than that.
📖 Recipe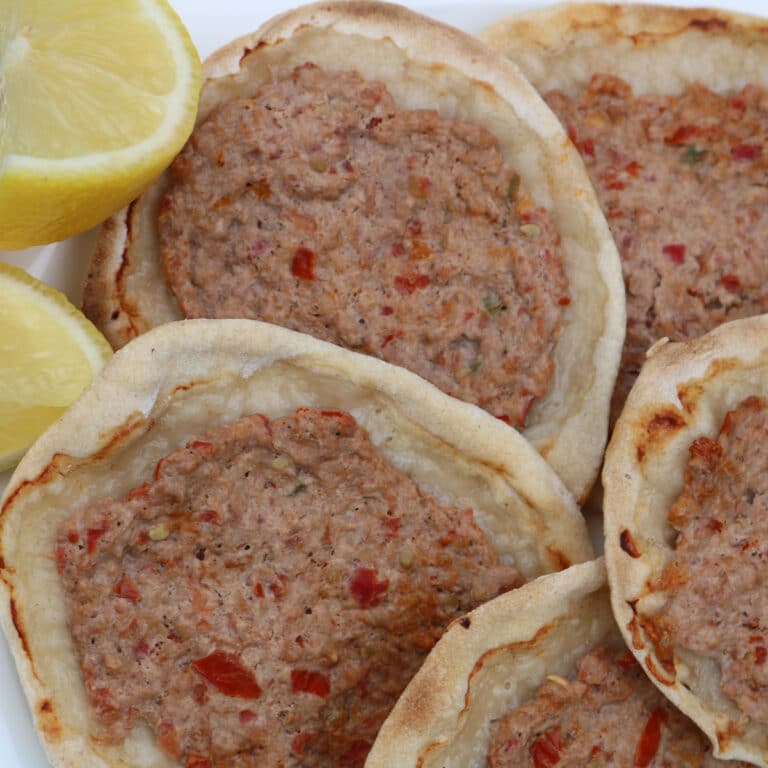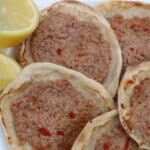 Lahm bi ajeen (Lebanese meat pies)
Mini open beef pies with tomato, onion and spices
Ingredients
For the meat mixture
250

g

of ground beef

4

medium tomatoes

1

onion

½

teaspoon

of salt

½

teaspoon

7 spice

¼

teaspoon

red chilli powder

or ½ fresh green chilli

1

tablespoon

mild olive oil
For the Dough
3

cups

bread flour

½

cup

of lukewarm water

½

cup

of lukewarm milk

2

teaspoon

of dried active yeast

½

teaspoon

of salt

½

teaspoon

of sugar

3

tablespoon

regular olive oil or vegetable oil
Instructions
To make the dough
In a bowl, combine the milk and water together and test the temperature with your finger, it should be only slightly warm and if it is too hot it will kill the yeast

Add the sugar to the water milk mixture along with the yeast and stir well until it dissolves Leave for 15 minutes allowing the yeast to ferment and bubble

In a large bowl, add the salt and flour, oil and yeast liquid and bring together until you have a smooth ball. Add a tablespoon of water at a time if dry until it comes together

Then turn out into a floured surface and knead for 5-10 minutes so the dough springs back when you poke it

Place the kneaded dough ball into a large mixing bowl and cover with cling film or damp cloth, leave to rise in a warm place for at least 2 hours or until doubled in size

With floured hands knock back the dough and shape into a ball. Divide into small golf sized balls. Cover and leave to rest as you prepare the meat mixture
To prepare the meat
Add the ground beef, onion, tomatoes, salt, mild olive oil, seven spice and red chilli powder to a food processor and blend to a fine mixture
To assemble the pies
Turn on the oven on the highest setting (usually 230°C/450F)

Roll the small dough balls into very thin rounds (approx 3 mm) adding a little flour to avoid sticking

Spoon on some mixture leaving a very small margin as it will later contract. You can crimp the edges by pinching with your fingers though not essential. Transfer to a non stick tray.

Bake for around 10 minutes until golden, turning half way if necessary to get an even bake

Serve immediately with a slice of lemon
Recipe Notes
If using a stand mixer, turn the dough for approximately 8 minutes
If your kitchen is cold, you can prove the dough in a turned off oven that has been heated at the lowest setting
Alternatively you can cook the meat pies on a stove for a few minutes before finishing them off in a broiler (grill) to make them less dry
If you make any of our recipes let us know how it went by giving us a star rating below.
We have a lively Facebook group where we post frequent recipes and discuss Lebanese cooking in general, as well as a handy Pinterest page where you can save all of your favourite Zaatar and Zaytoun recipes!
You might also like these other recipes from the Zaatar and Zaytoun collection: