Zaatar rolls, like cinnamon rolls, but better. I was really surprised when this recipe turned out perfectly first time I tried it considering I have never been much of a baker.
I really really love bread and can't resist a the smell of a freshly baked loaf. I'm confident making manakish dough, and have made a few nice baguettes in my life but other than that I don't stray much.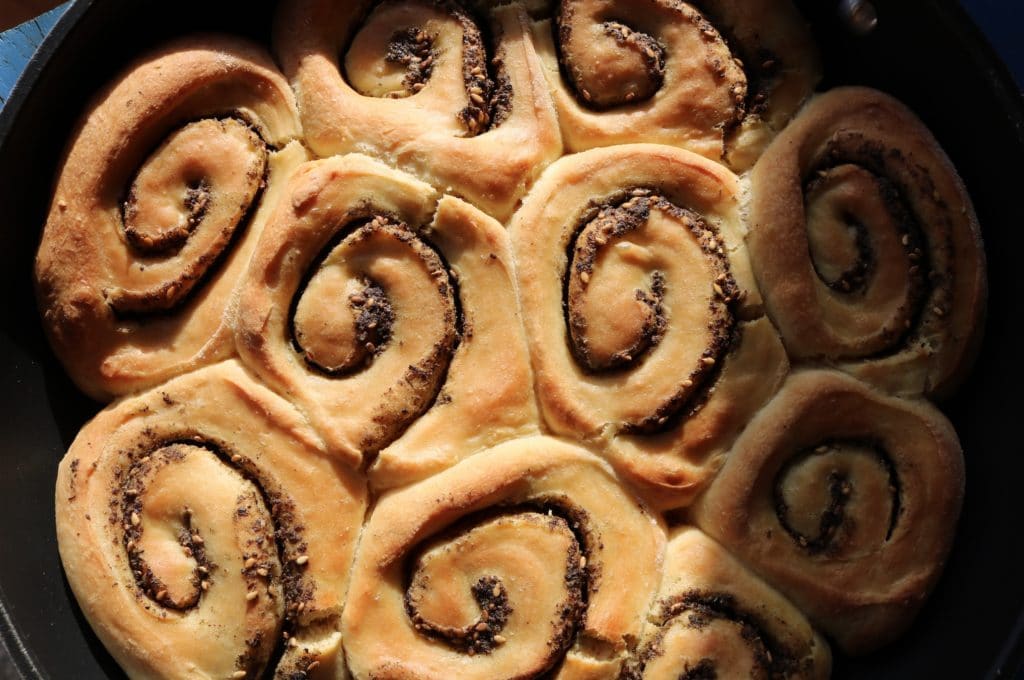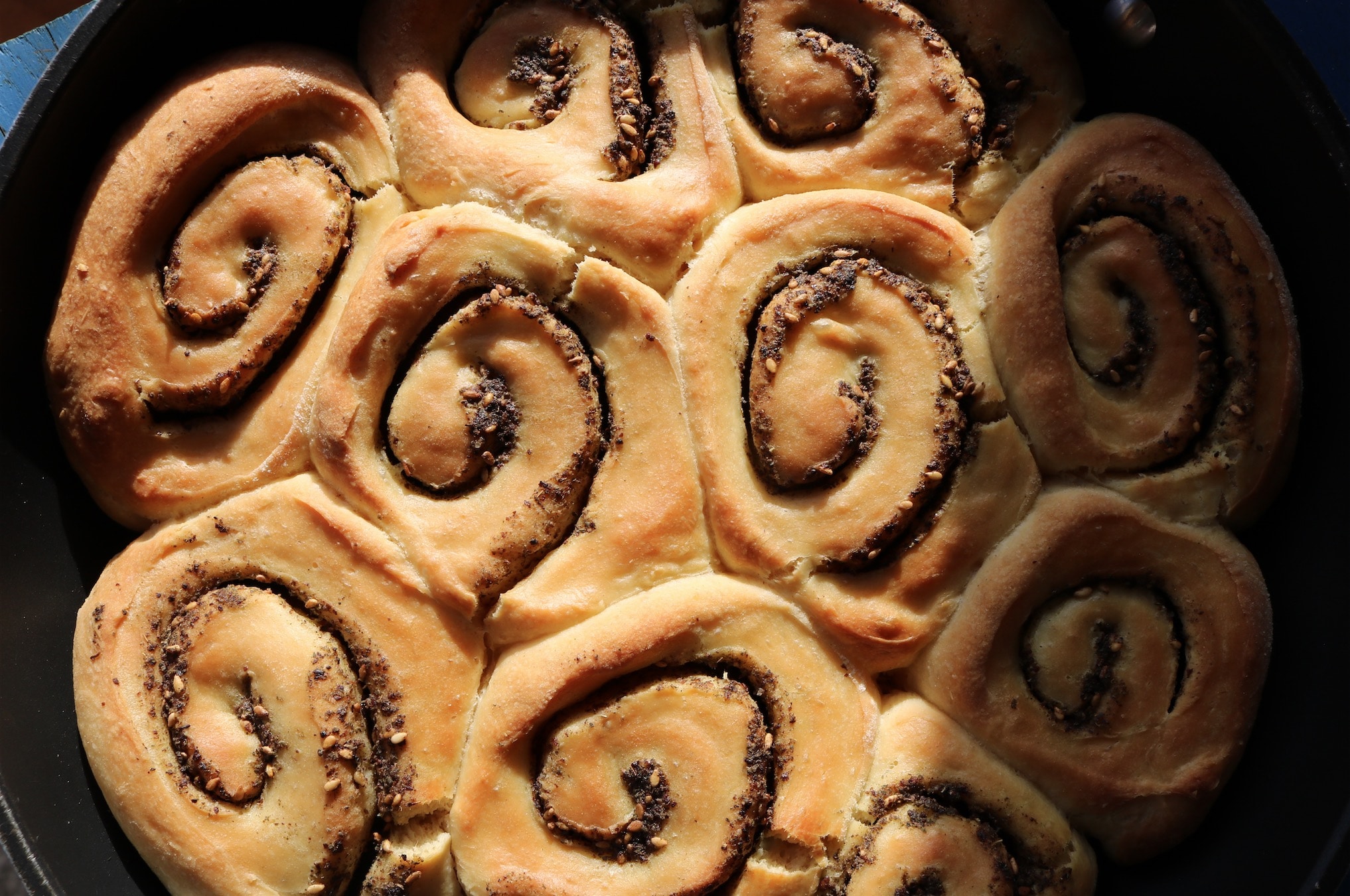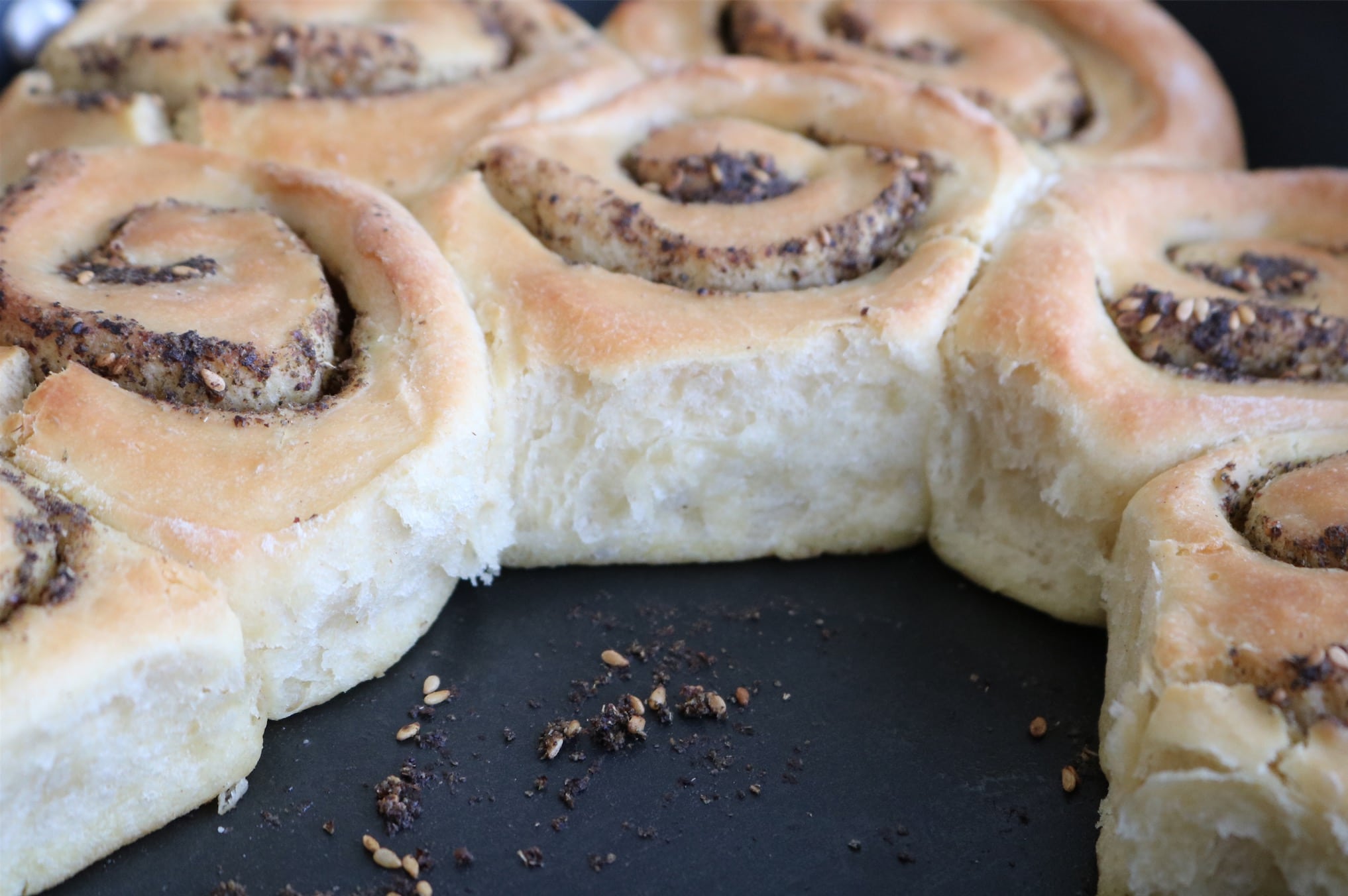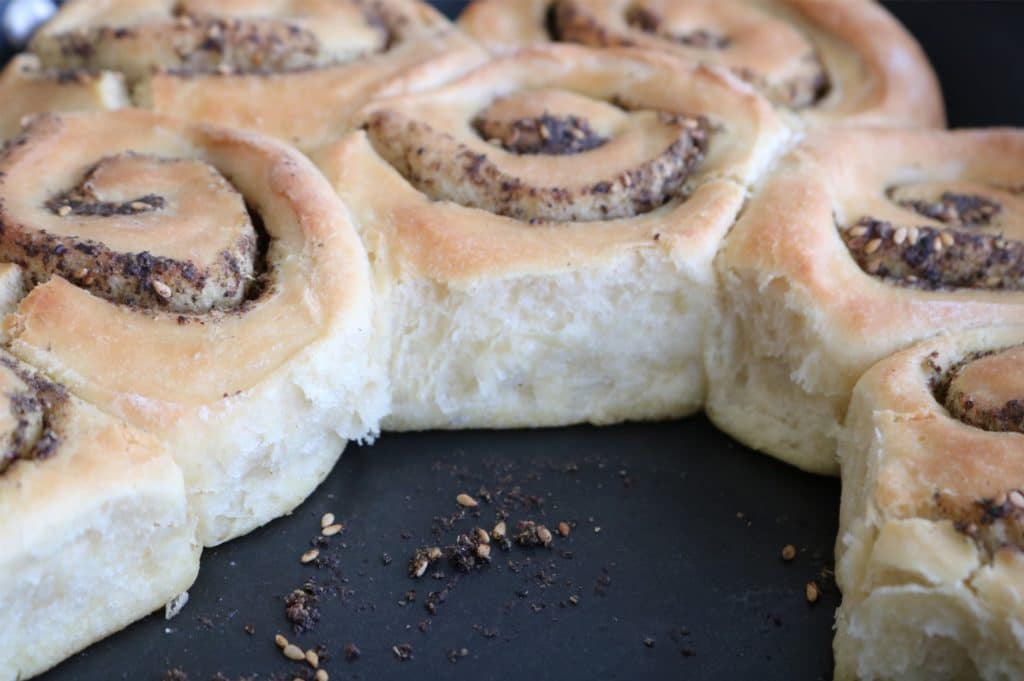 However one day I saw some nice cinnamon rolls and thought how would these taste with zaatar inside. So I adapted the famous cinnamon rolls recipe from the Vanilla and Bean blog to make this savoury version, and it worked better than I expected.
Though the dough is quite sticky and you have to use a spatula to scrape it out of the mixing bowl, it becomes a little easier to handle when you prove it overnight.
Yes you have to wait overnight but that's ok because you can do all the hard bits the night before and have lovely soft rolls for breakfast with your lebneh in the morning.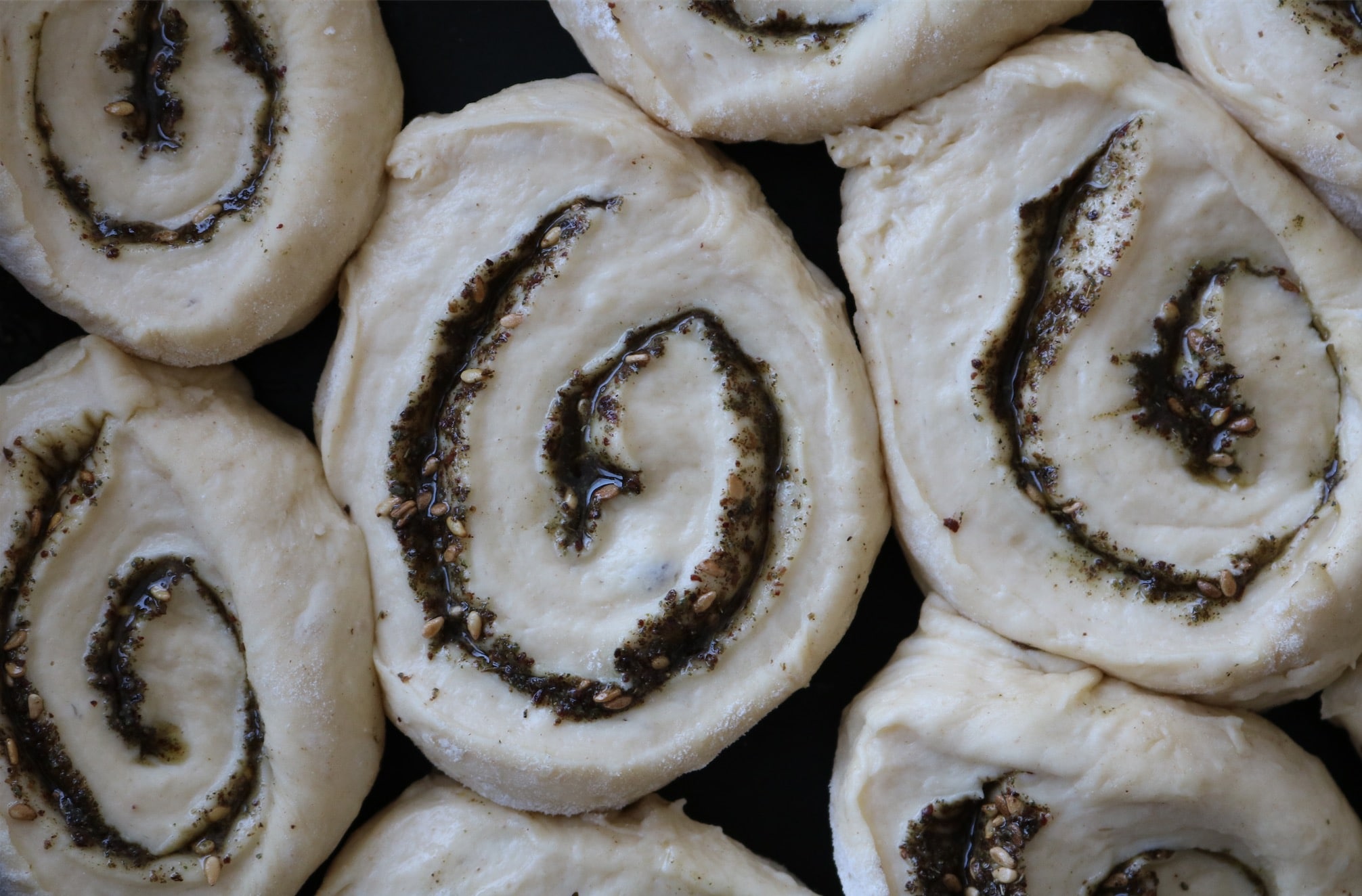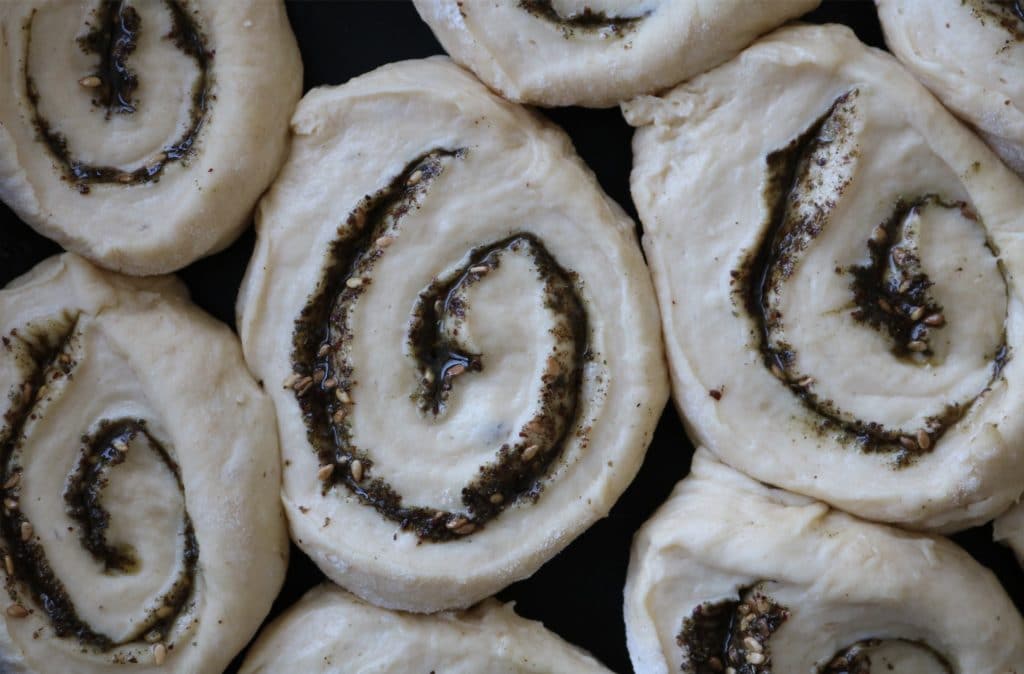 Other tips for getting that perfect fluffy texture include letting the dough come to room temperature before you cook it by proving it a second time. Make sure your milk is only just slightly warm as if it is too hot it will kill the yeast.
You can be quite bold when you are rolling the dough out and make sure you have quite a thick zaatar consistency to spread on with your hands.
I baked mine in a wide non stick deep pan so I don't have to worry about them sticking and they pulled apart beautifully.
These zaatar rolls are perfect if you are having a 'sub7iya' (Lebanese brunch) to catch up with friends with some nice tea.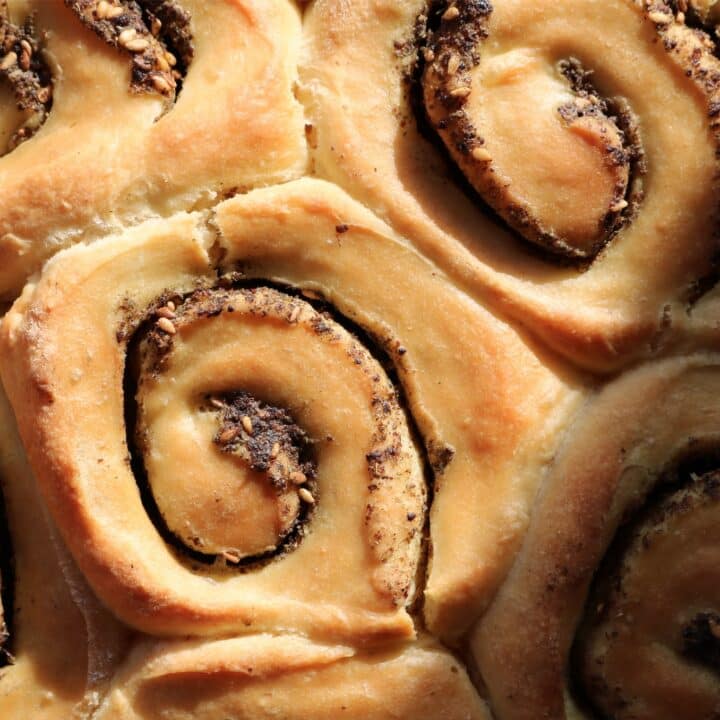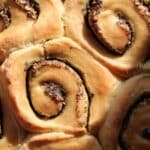 Zaatar Rolls
Soft Zaatar rolls perfect for brunch
Ingredients
¾

cup

of lukewarm milk

1 ⅔

teaspoon

dried active yeast approx 5g

1

teaspoon

sugar

3

cups

all purpose four

3

large eggs

room temperature

1

teaspoon

salt

6

tablespoon

slightly salted butter

approx 100g room temperature

3

tablespoon

of zaatar

2

tablespoon

regular olive oil
Instructions
Add the yeast and sugar to the very lukewarm milk and stir until dissolved. Leave to froth and bubble for ten minutes

If using a stand mixer, add the flour, salt and yeast milk along with the eggs and beat on low to combine. Then add each tablespoon of butter one at a time on medium

Scrape the sticky mixture out with a spatula into a large mixing bowl and cover with cling film. Leave to rise for approx 2 hours until doubled in size turning it every half an hour

Transfer to the fridge and leave overnight

The next day, take out the dough and bring to room temperature for approx 1 hour. Prepare a clean worktop and large tray to roll out the dough

With floured hands take out the dough and using a floured rolling pin, roll out a rectangle shape

Mix the zaatar with the olive oil until you have a thickish paste. Drizzle on the flat dough and spread evenly with your hands

Roll as tightly as possible into a cylinder shape and pinch the seam at the end to seal well

Cut into 10 pieces with a sharp knife and lay in a non stick deep pan

Cover with a warm tea towel and leave to rise in a warm place for another hour

Bake in a preheated oven at 180C (350F) for around 25 minutes until golden, turning ¾ of the way to get an even bake

Serve immediately
Recipe Notes
If using a food processor with a dough blade, mix for 1 minute until well combined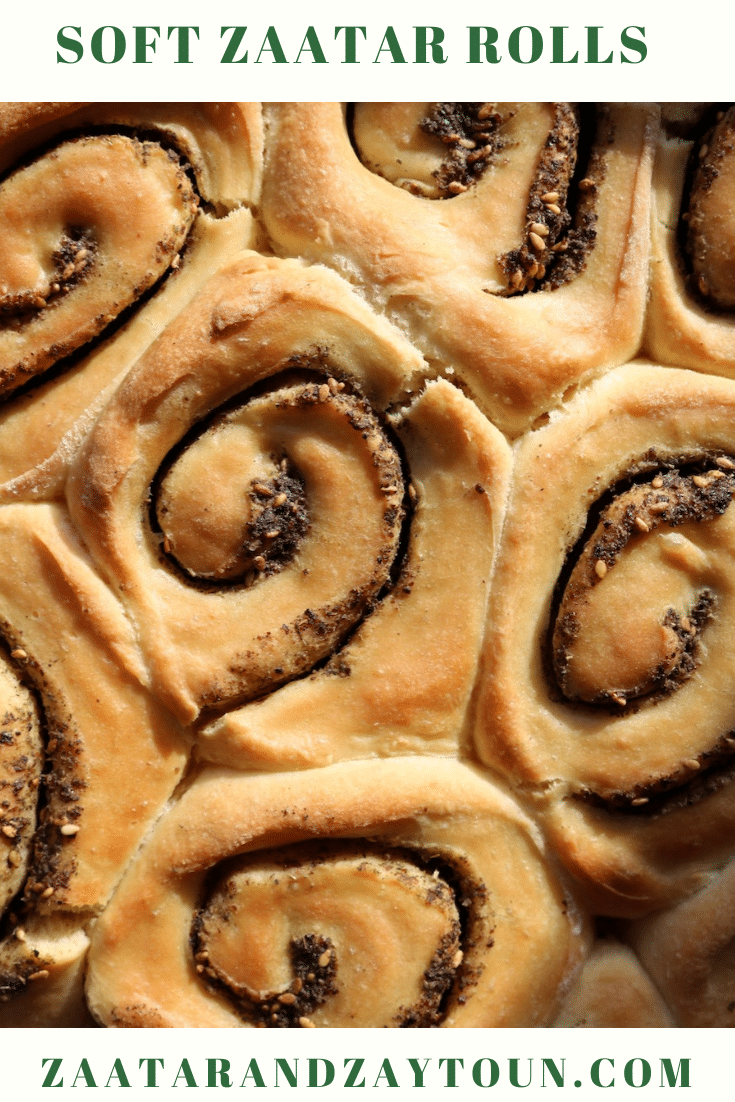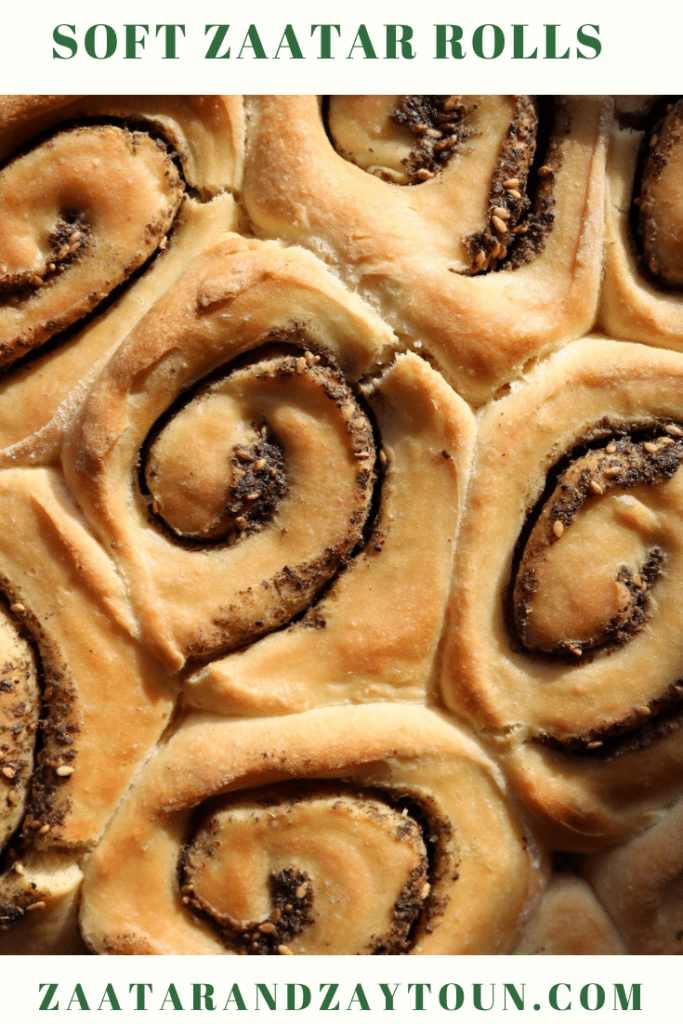 You may also like these recipes from the Zaatar and Zaytoun collection