Mujadara safra is not as well known as it's brown mujadara cousins but is just as delicious. It is made with red split lentils which turn yellow when cooked hence it's name yellow 'mujadara'.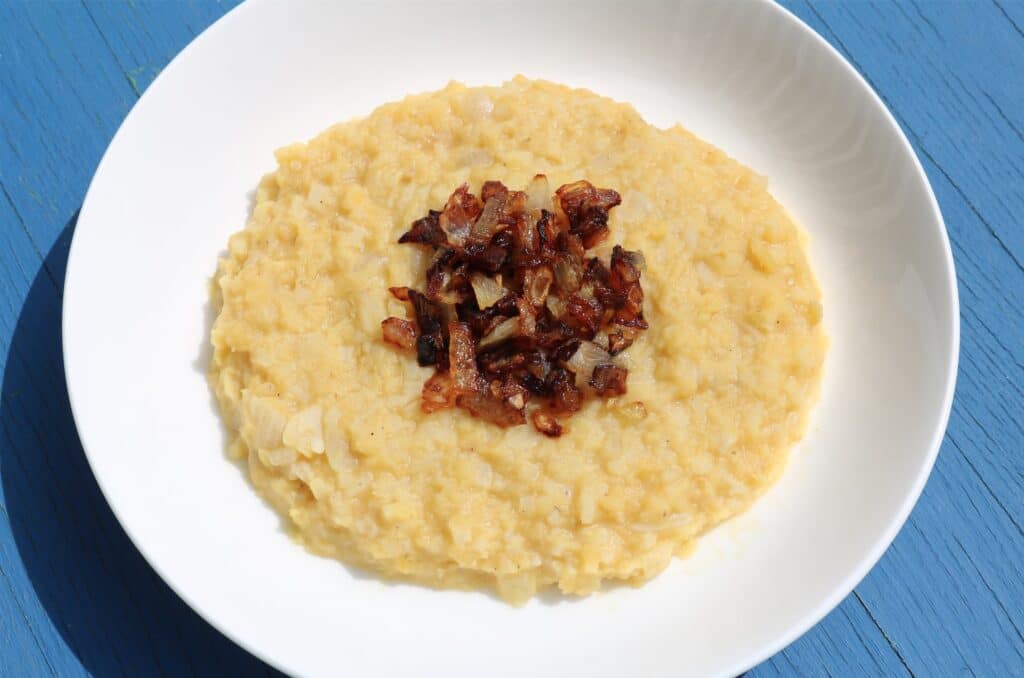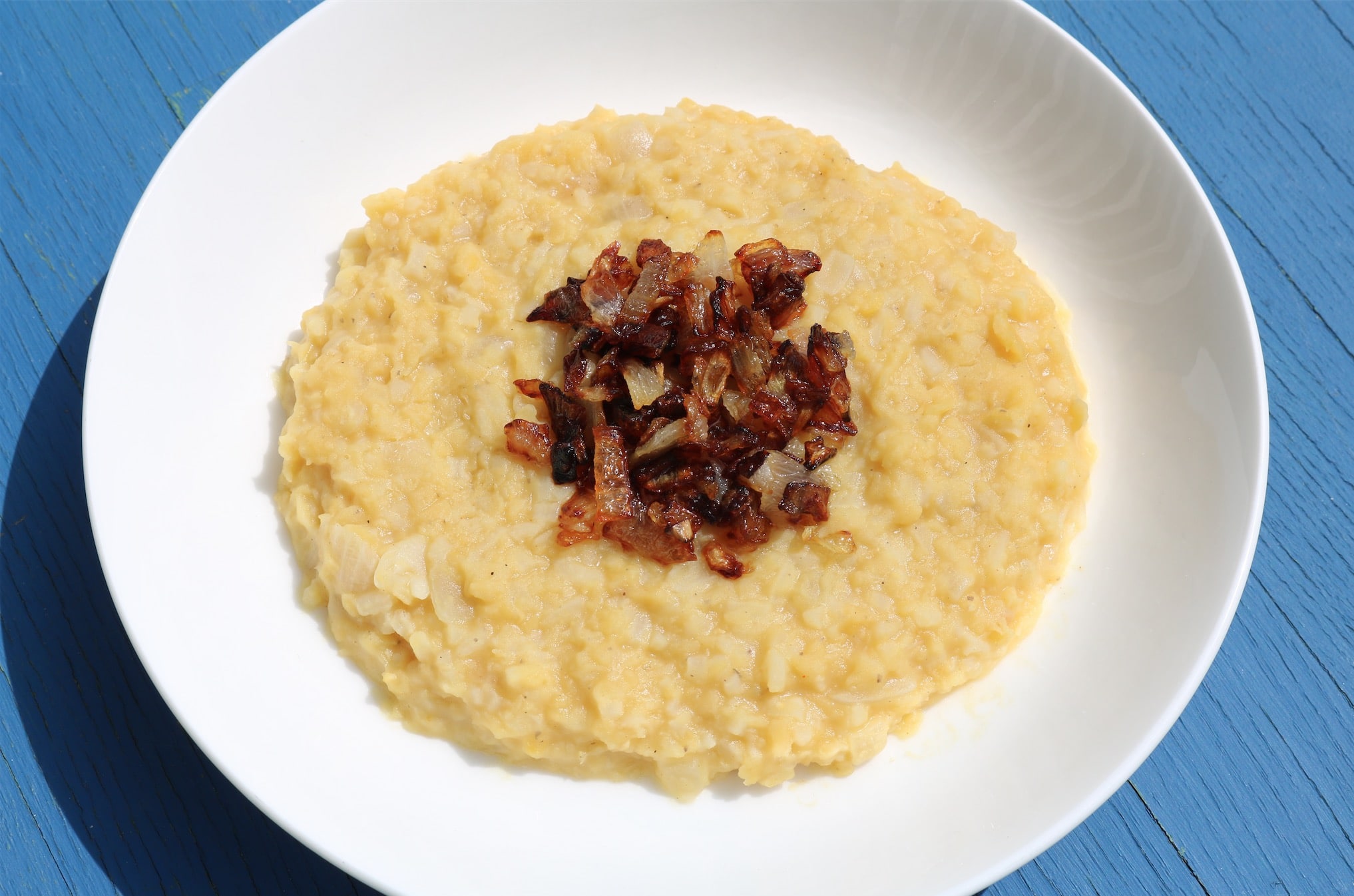 Mujadara safra is most similar to mujadara makhbousa that has a loose risotto like texture.
The other types of mujadara as i've written about here are the classic mujadaret riz with caramelised onions or mujadara hamra (reddened lentils) and is probably the most difficult to perfect.
Mujadara safra is one of the easiest types of mujadara to learn and now is a good place to start if you want to be mujadara expert.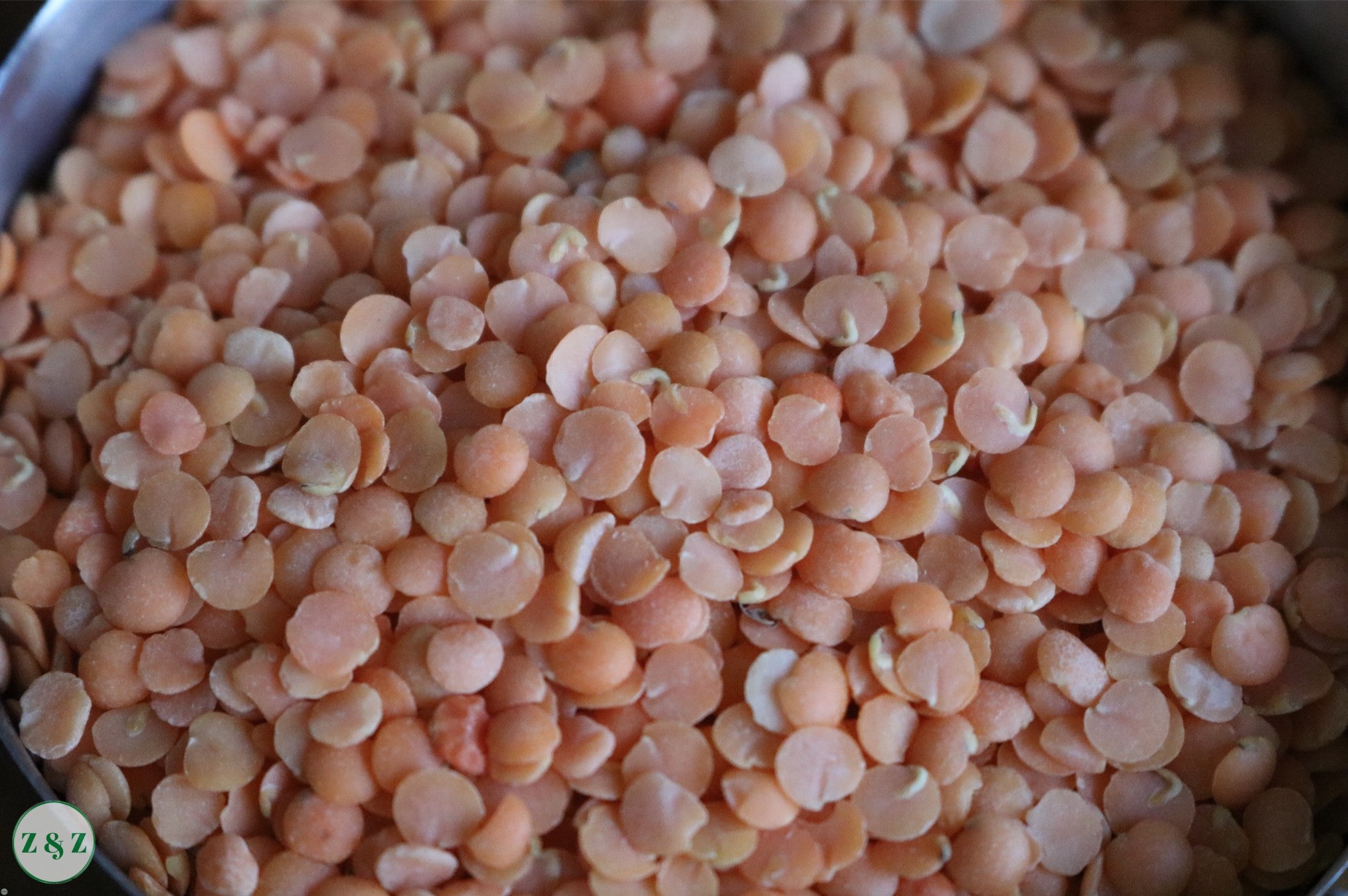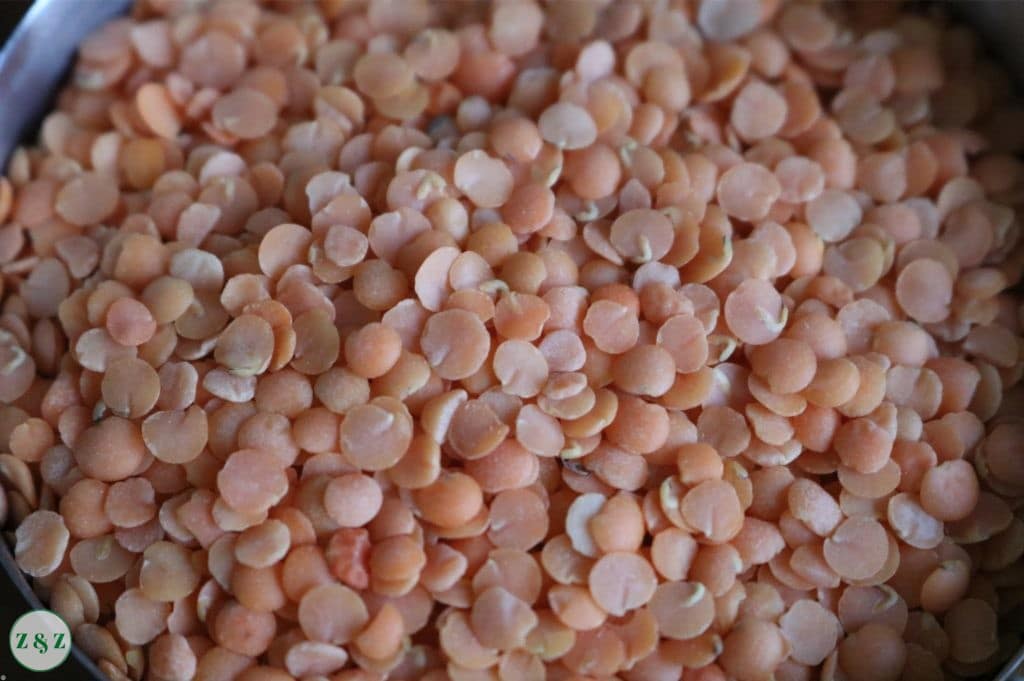 The yellow mujadara lentils
Wash the red split lentils several times and measure out 4 cups of water to one cup of lentils.
Whereas with brown lentils the ratio of water to lentils is always 5:1, red split lentils need less water as they cook quicker.
Bring the cold water to the boil and remove any of the white foam that collects at the surface.
This will occur as the lentils start to boil and you can skim most of it in the first ten minutes of boiling.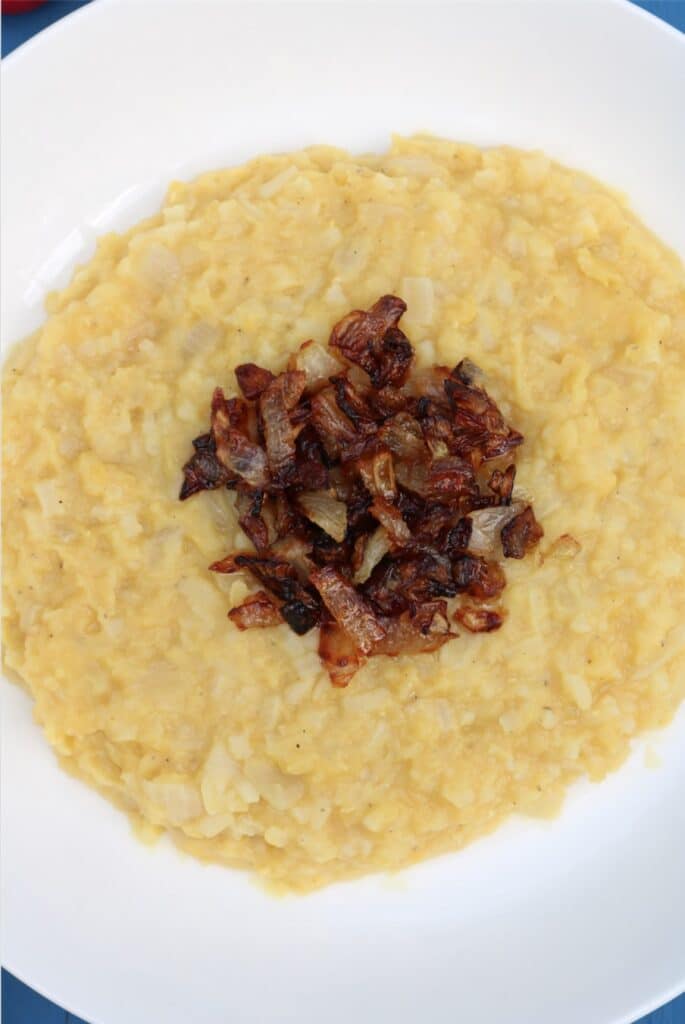 The rice
The rice is added to the lentils at the start of the dish rather than later as you would with mujadara makhbousa.
For one cup of red split lentils I use a quarter of a cup of rice. I know some people use more but the main ingredient is the lentils and the rice is just complementing the lentils and adding texture.
Mujadara safra is made with short grain rice as this will give it the right texture as it cooks with the lentils.
If you use a long grain rice such as Basmati, it will hold its shape too much and won't blend in with the lentils enough.
You don't have to use expensive risotto short grain just any short fat rice varieties. In Lebanon we refer to it as 'Egyptian rice' or 'Riz Masri'.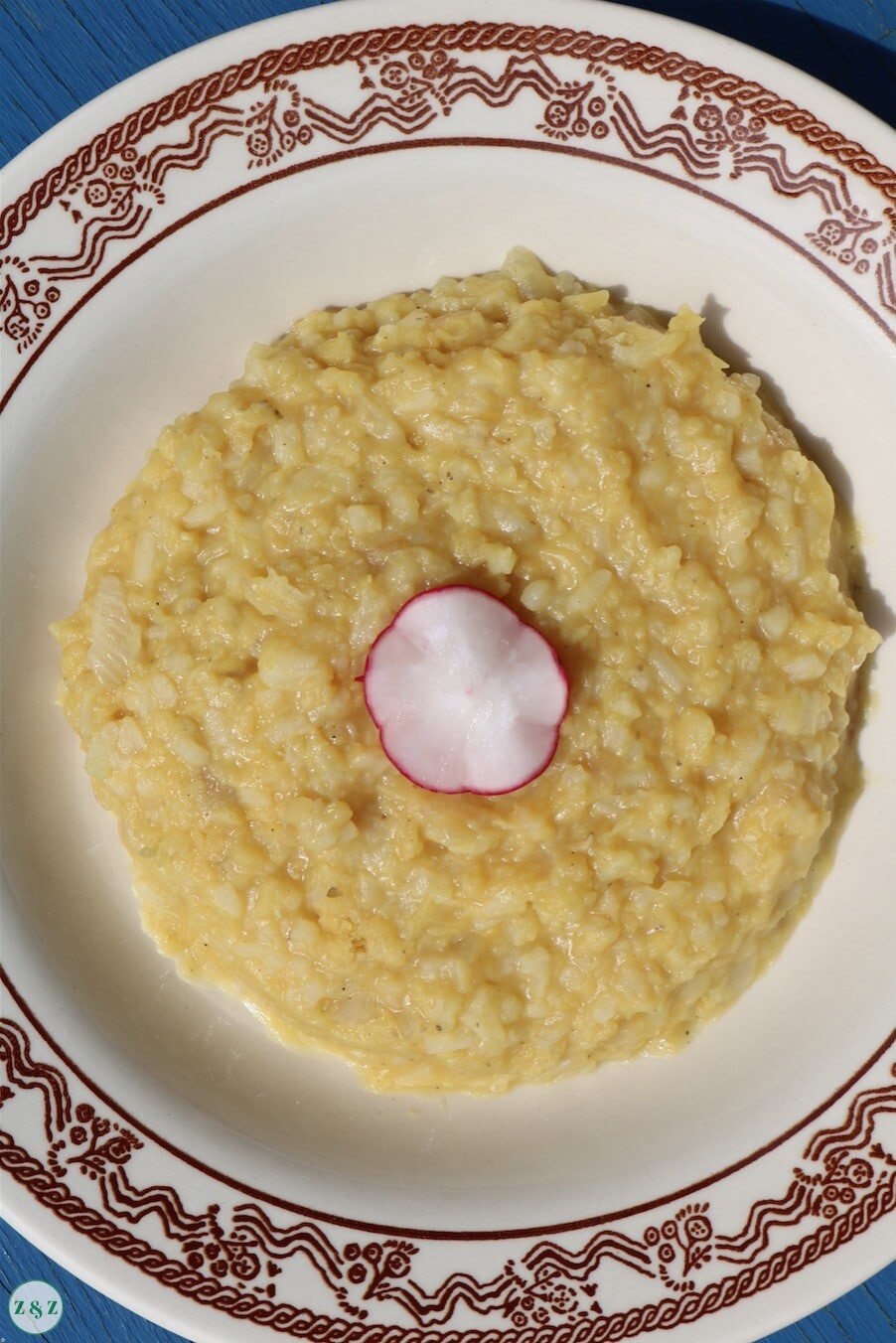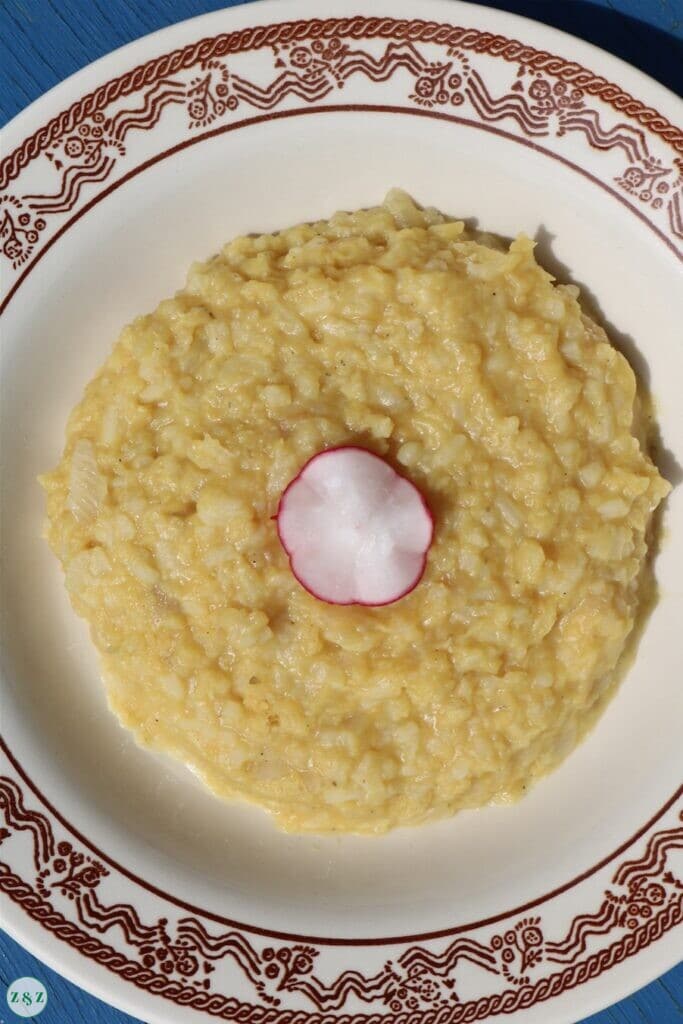 The onions
You can choose to caramelise onions on top or incorporate golden oniond into the dish.
As the lentis are cooking, I get a big onion and sauté it in a good drizzle of regular olive oil until golden.
I then remove half of the golden onions and continue to cook the other half on low heat until they caramelise, stirring every often.
Then when I plate up the mujadara, I add the caramelised onions on top for extra texure.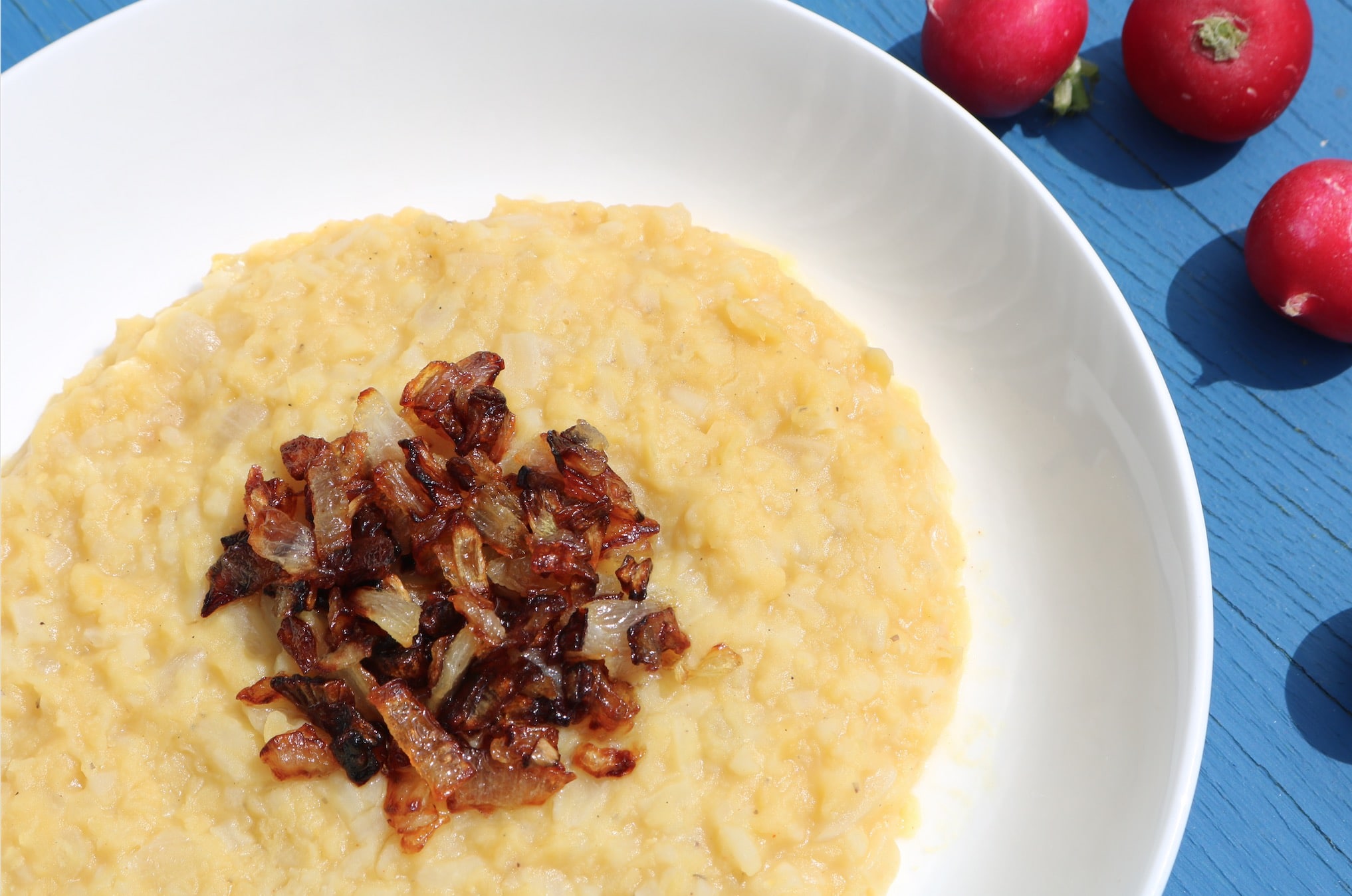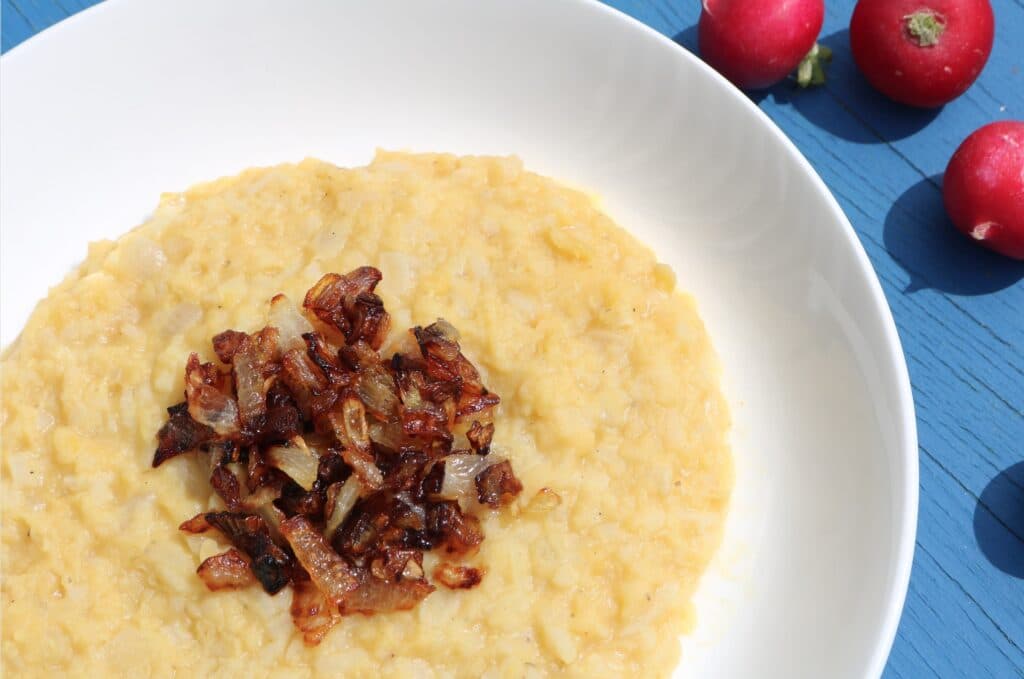 Tips on making the best mujadara safra
Don't add too much spices as this is not a Dhal. I add a tiny pinch f turmeric, paprika and black or white pepper.
After I bring the lentils and rice to the boil and add the spices, I turn the heat down to the lowest setting and simmer for about 40 minutes.
The texture you want when you switch the heat off is one level looser than the final result as the mujadara will thicken once it cools and sets.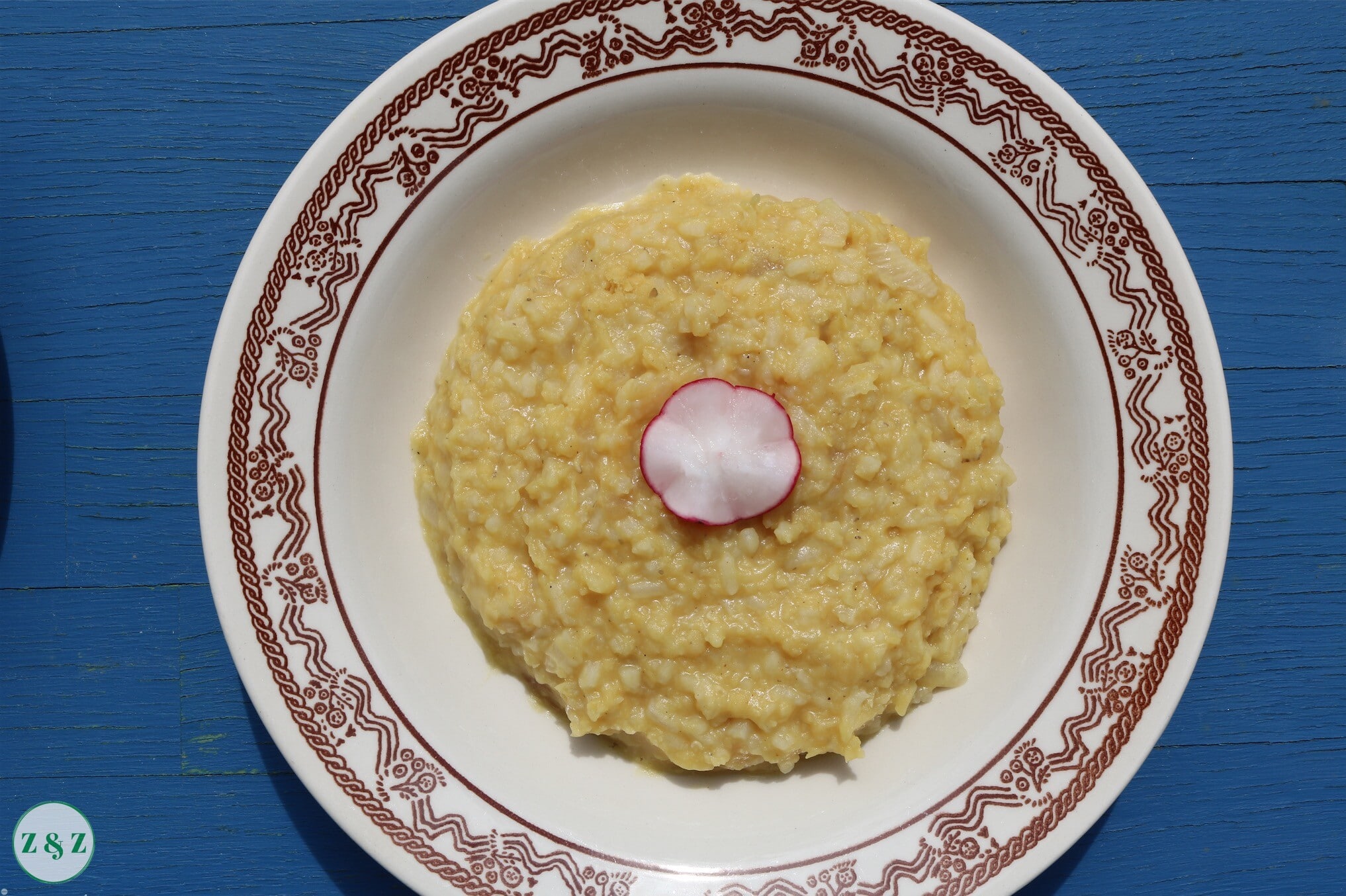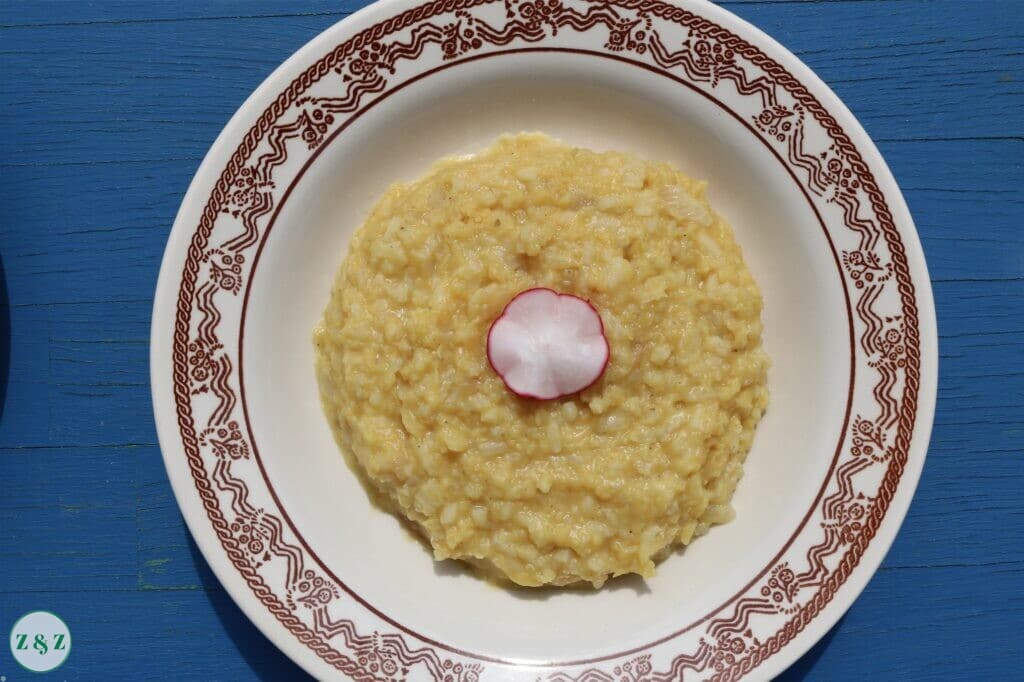 How to eat mujadara safra
Mujadara safra can be eaten with a side of green salad such as fattoush or cabbage salad
It can also be served with a side plate of radishes, pickles, cucumbers and fresh herbs.
Some people (ahem my husband) likes to eat it with Lebanese flatbreads but then again he even eats rice dishes with flat breads so no surprise.
This is a great family friendly meal that can be eaten either hot or cold the next day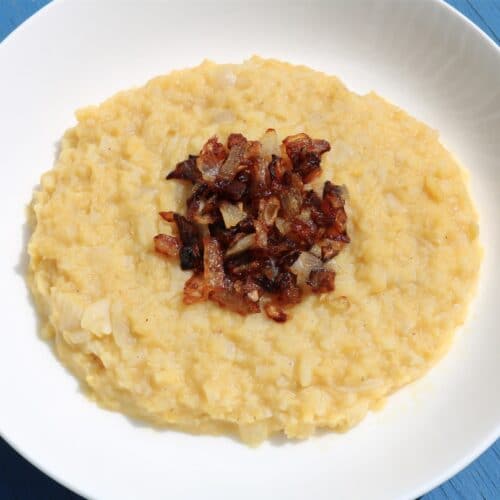 Mujadara Safra (Vegan Yellow lentils)
Rice and lentils with caramelised onions
Ingredients
1

cup

red split lentils

¼

cup

short grain rice

1

large onion

1

teaspoon

Salt

approx

¼

teaspoon

turmeric

¼

teaspoon

paprika

⅛

teaspoon

of black or white pepper

4

cups

of water
Instructions
Combine the lentils in a pot with the rice and wash several times

Add 4 cups of cold water and bring to the boil (approx 10 minutes), removing any foam that comes to the surface

Add the salt, turmeric, paprika and black or white pepper and reduce the heat to a low simmer, stirring every so often for about 40 minutes

As the mujadara cooks, sauté the onion in a separate pan in 4 tablespoon of regular olive oil

When the onions become golden, remove half and add to the mujadara

Keep sautéing the other half of the onions until caramelised. Set aside

When the mujadara forms a loose risotto texture, taste and adjust the salt as necessary before you turn off the heat

Let the mujadara safra rest for around half an hour to set before eating

Garnish your plate with the remaining caramelised onions
If you make any of our recipes let us know how it went by giving us a star rating below or via our Social Media platforms.
We have a lively Facebook group where we post frequent recipes and discuss Lebanese cooking in general, as well as a handy Pinterest page where you can save all of your favourite Zaatar and Zaytoun recipes!
You might also like these recipe from the Zaatar and Zaytoun collection: