Lentils and onions are best friends as demonstrated perfectly with this recipe; cumin toned lentil rice is lavished with heaps of sweet caramalised onion.
This store cupboard dish is one of those I usually make when I have few fresh ingredients in the house and then when I make it I remember how wonderful it is and make a note to myself that I should definitely make it more often.
Mujadara is a lentil based dish cooked with either rice or bulgur wheat. It has several variations such as 'mujadara hamra' (reddened lentils with bulgur wheat) or 'mujadara makhbousa' which can be described as 'messy lentils' and has a texture similar to a risotto.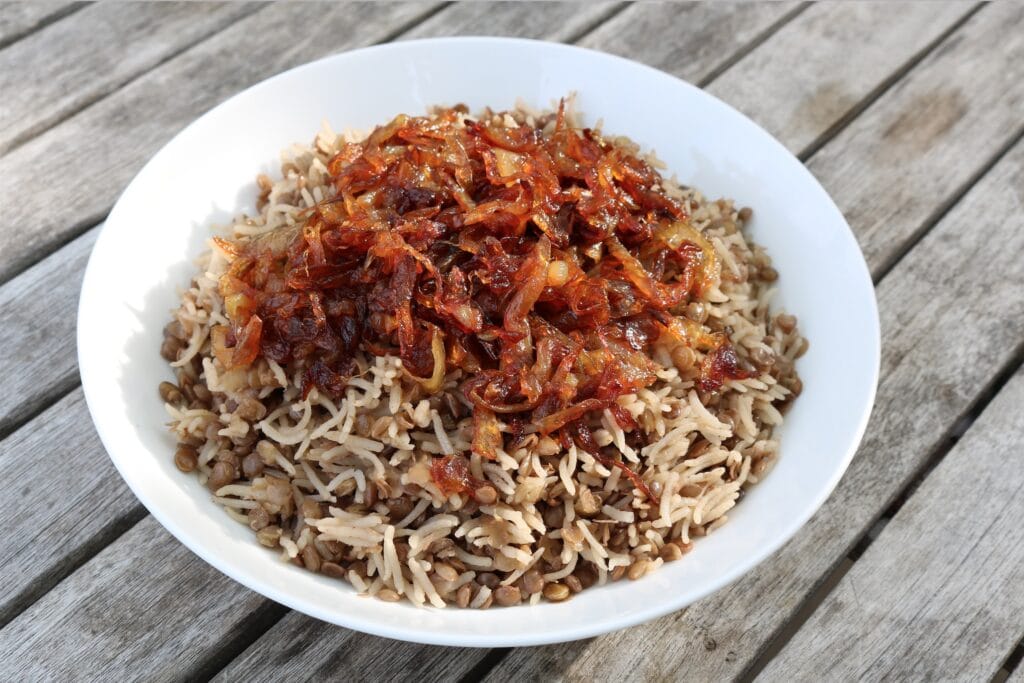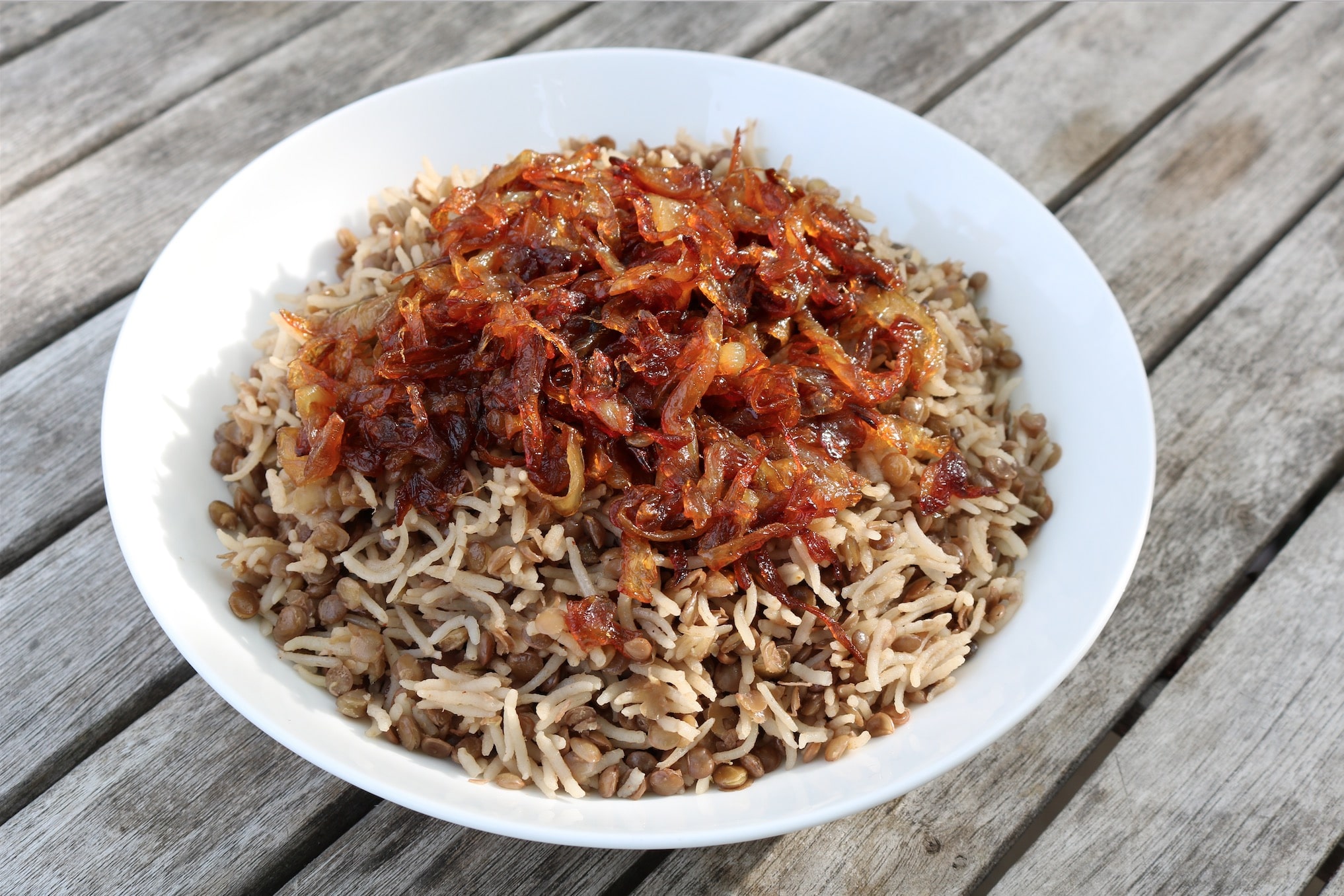 This classic Lebanese mujadara (mujadaret riz) relies on lentils being cooked with rice, and is topped with onions which are an important part of the dish and if you don't include them it isn't the same.
You can read more about all our mujadara recipes here if you want to become a mujadara expert.
Jump to:
The rice
Traditionally this dish was made with short grain rice in Lebanon as that was the most common type of rice available (see pic below made with short grain rice)
I often use basmati rice as the grains separate better and it has a fluffier texture. Shorter rice varieties produce an overall stickier texture which is just as delcious.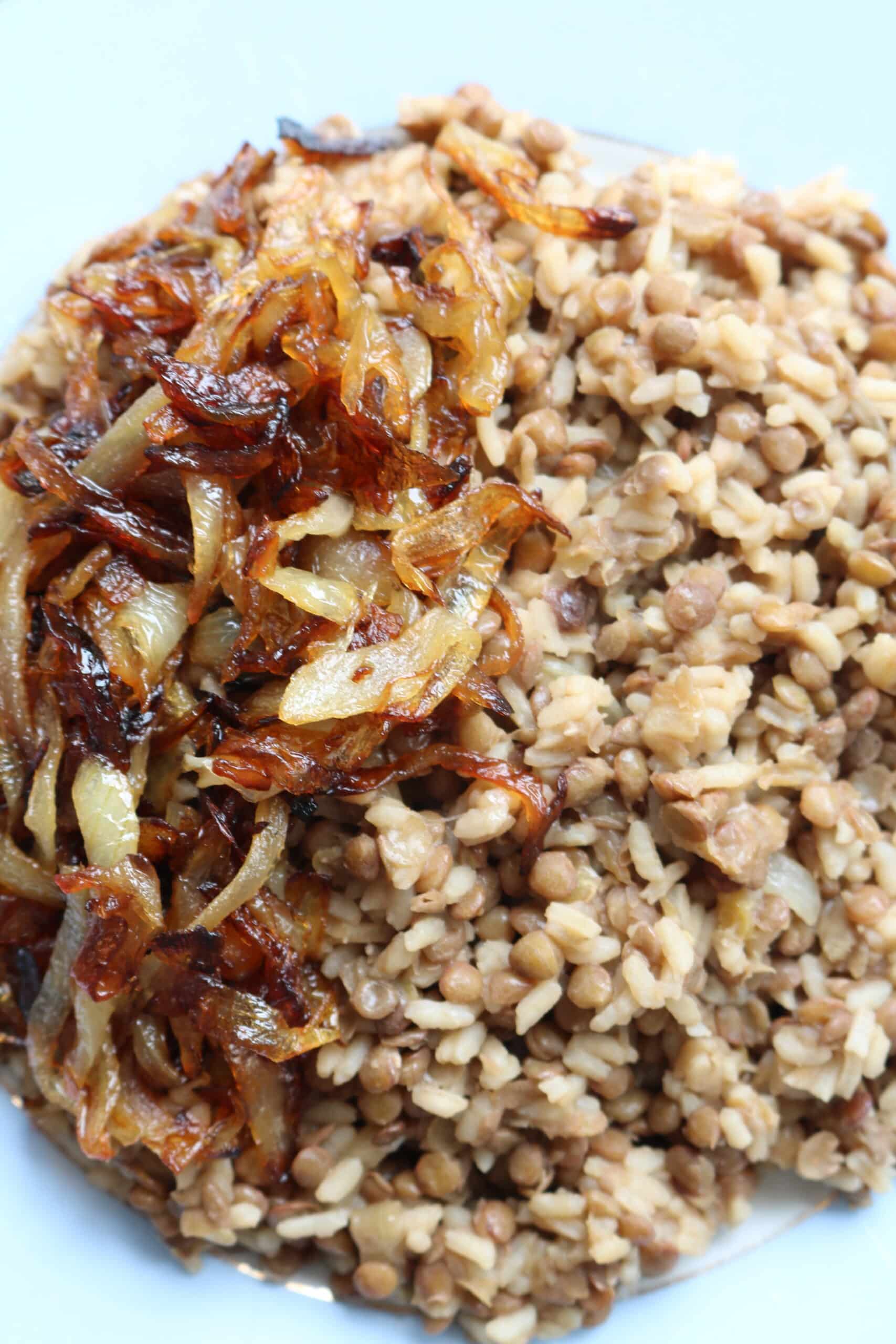 The lentils
I have used standard brown lentils as they don't mush too much with the rice and retain their texture. However I have also made this dish using green lentils and it is also good.
I wouldn't use red split lentils as they would give a soggier texture to the overall dish and that's not what we are looking for
The brown lentils should always be cooked starting with cold water so the lentil cooks through properly and the ratio of water to lentils is usually 1:5.
Cook the lentils per packet instructions but most lentils need around 20 minutes to become mostly done. In this recipe we add the rice to the lentils when they are 'mostly done' as we take into account the time the rice needs to cook.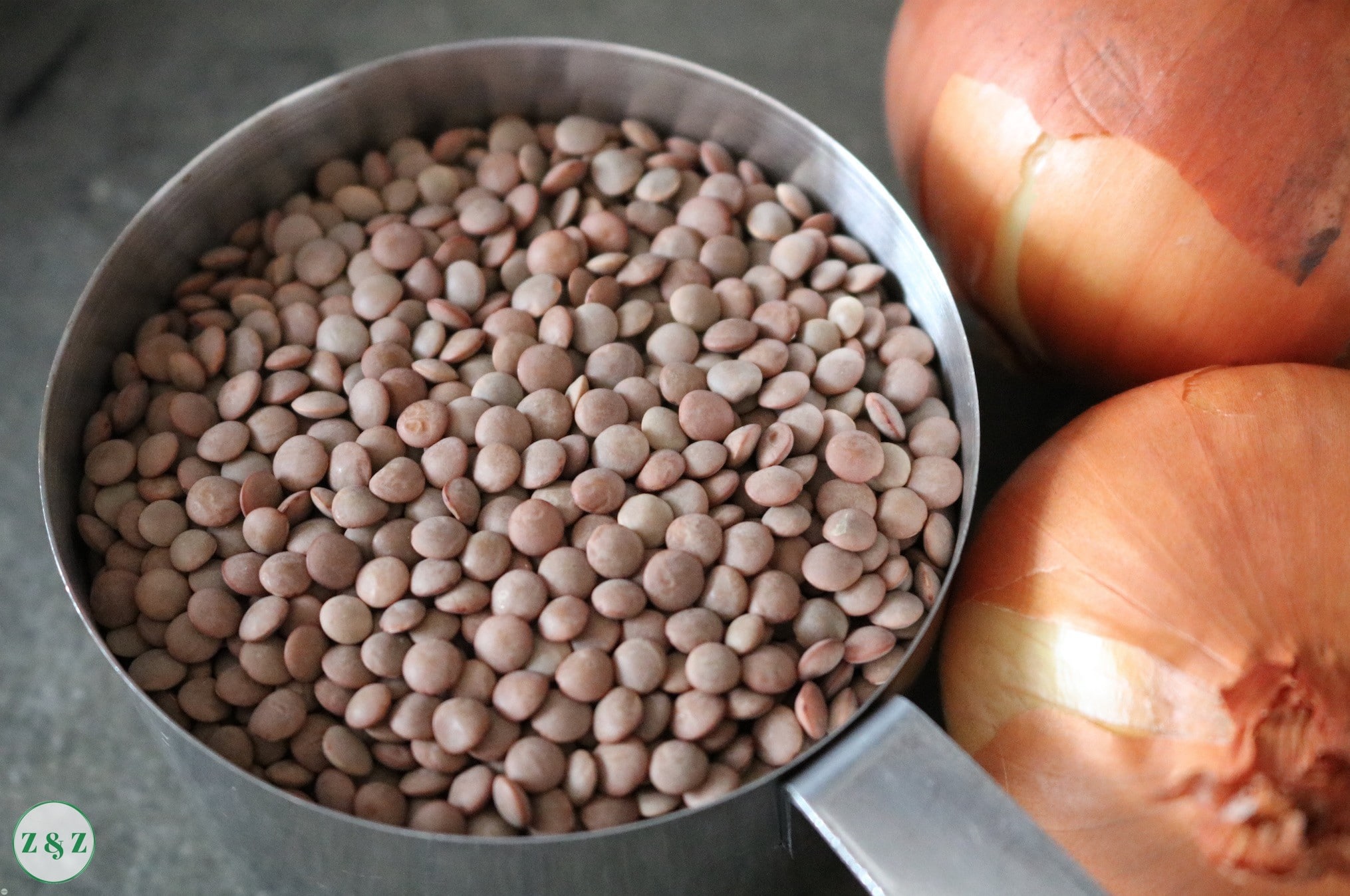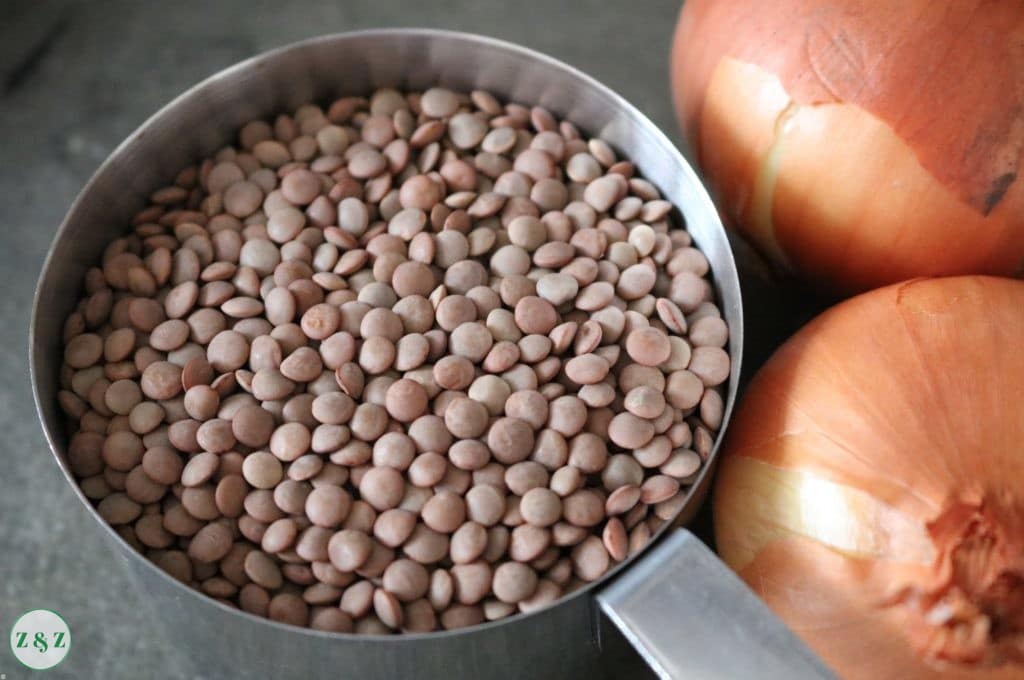 The onions
I always start with caramelising the onions first and this takes at least a good half an hour, you should aim for a dark golden colour so they are sticky and sweet, a few shades lighter than you would for Mujadara Hamra.
I literally spend half my life sweating onions down but this is the secret to good cooking. In fact I can write a whole book on how to manipulate onions for different dishes like you won't believe.
Slice the onions into thinnish strips (half a centimetre) and turn the heat to high medium for the first few minutes, then turn it to the lowest setting for the remainder and mix around every few minutes.
The spices
This dish doesn't have too much spices and in Lebanese food generally, we only uses hints of spices in pinches and tiny teaspoons. We rarely add whole tablespoons of spice.
Most Lebanese cooking uses seven spice which I have written the full recipe for on the site. It contains turmeric, black pepper, paprika, cinnamon, dried coriander, cumin and cayenne.
It is worth making your own mix if you are into Lebanese cuisine but you can also now buy it in spice sections of the supermarket though it might be labelled 'baharat'.
This mujadara recipe also adds extra cumin but only a pinch and if you add too much it will overpower the dish.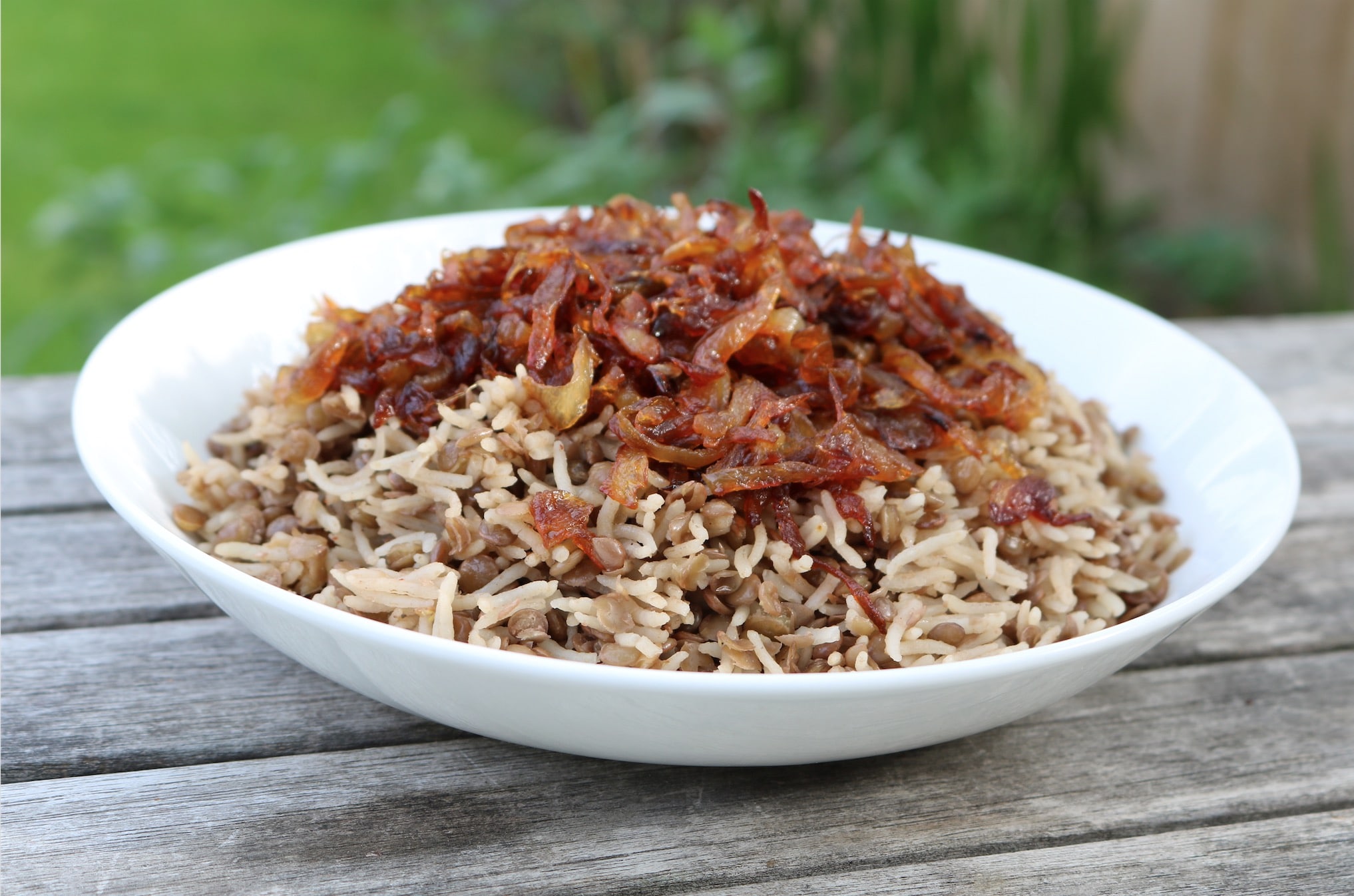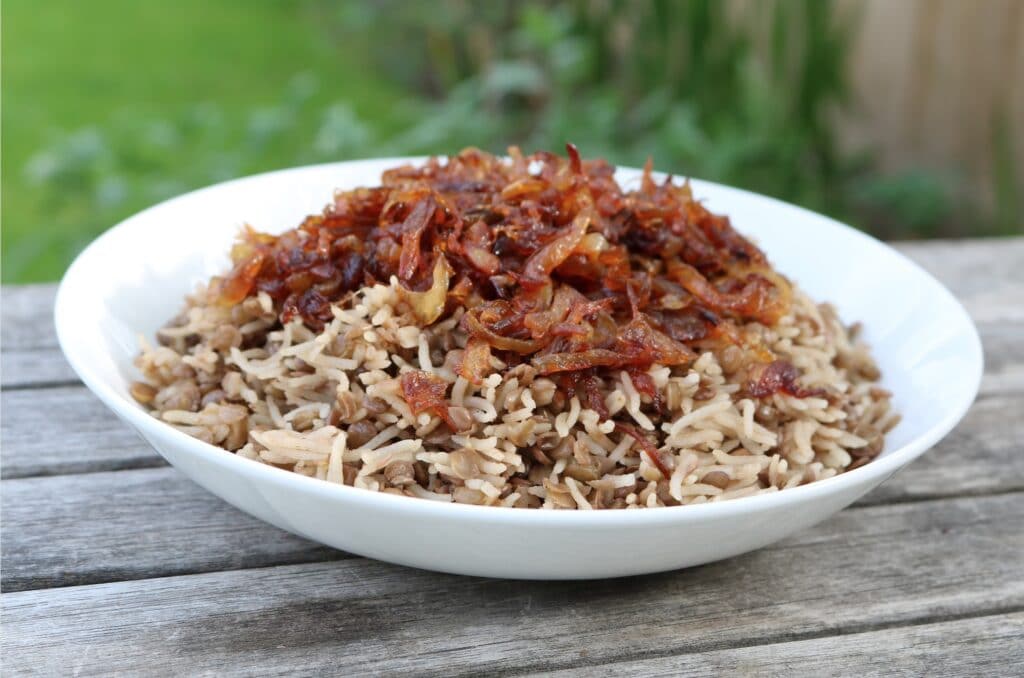 Serving
You can mix some of the caramalised onions into the rice dish but I love to load most of them on top. Sometimes my Mama used to also sauté some sultanas to add at the end but I think there is enough sweetness in the onions.
It is best finished off with a cabbage and tomato salad or a side of yoghurt and diced cucumber.
📖 Recipe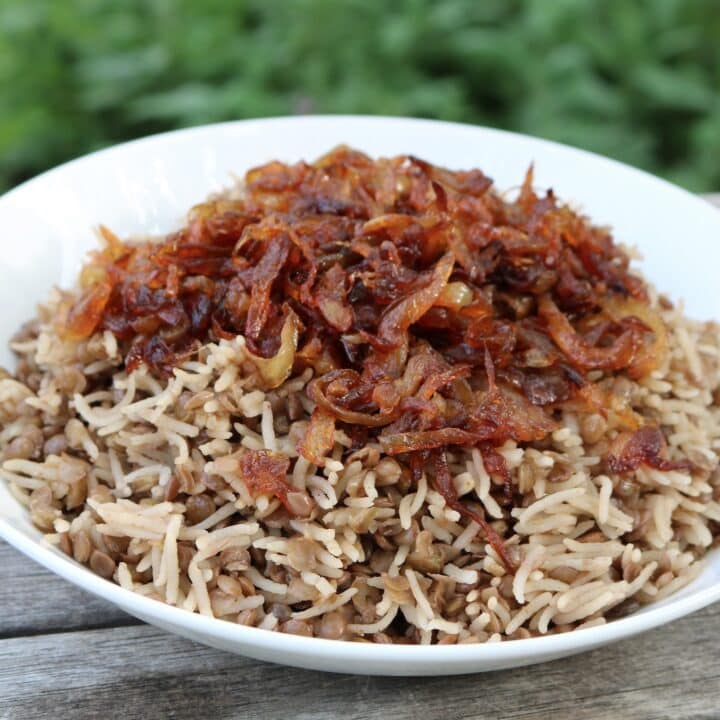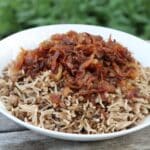 Lebanese Mujadara
Lentil rice with caramelised onions
Ingredients
3

large onions

sliced into strips

½

cup

regular olive oil

1

cup

lentils

1

cup

rice

5

cups

water

¼

teaspoon

cumin

¼

teaspoon

7 spice

Approx 1 teaspoon salt
Instructions
In a wide non stick pan, add the sliced onions and the olive oil. Turn the heat high for the first 2-3 minutes then reduce to the lowest setting and caramalise for 35-40 minutes, sautéing every few minutes so as not to burn on one side.

Wash the lentils and add to a pot along with the 5 cups of water

Bring the lentils to the boil then reduce to medium heat while they cook

After 20 minutes of the lentils cooking, check one and if it is nearly done, add the washed cup of rice

Add the salt and spices, a quarter of the onions as well as any excess oil from the onions which should be nearly done by now.

Cover the rice with a lid and cook for another 20 minutes on low. Taste and adjust the salt as necessary.

Serve with salad or yoghurt.
If you enjoyed making this recipe let us know how it went by giving us a star rating below.
You might also like these other recipes from the Zaatar and Zaytoun collection: