This easy spinach stew can be made in around half an hour, including the rice if you cook it while the spinach is simmering.
A 'Yekhneh' is the Lebanese word for stew and we have lots of them here in Zaatar and Zaytoun including yekhnet fasolia (white bean stew) and loubia (green bean) and finally bazala (pea stew).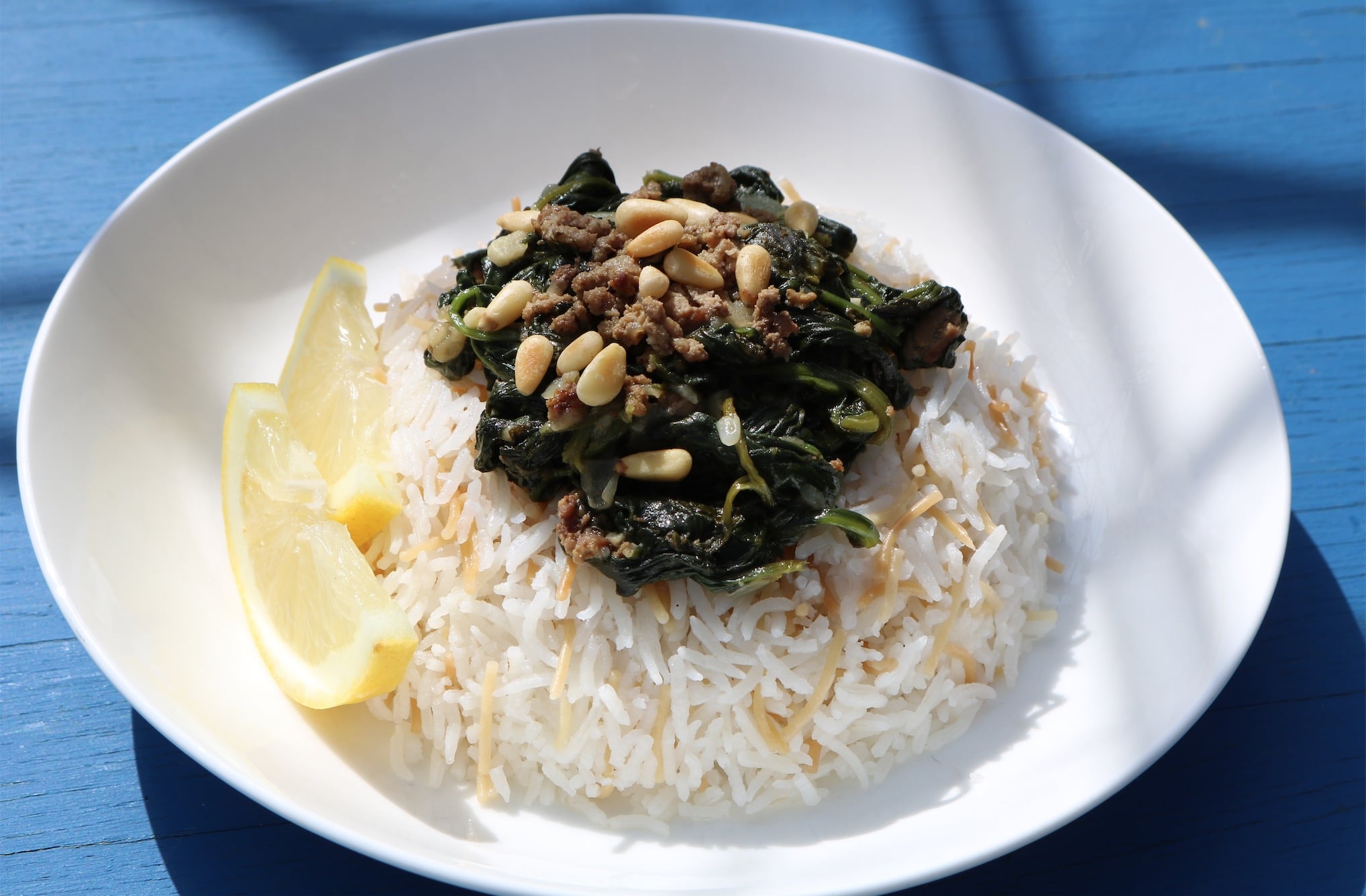 They all involve a similar process with one star ingredient such as the white beans or spinach in this case, and they all start with a similar onion, garlic and cilantro (fresh coriander) base to accommodate the flavours.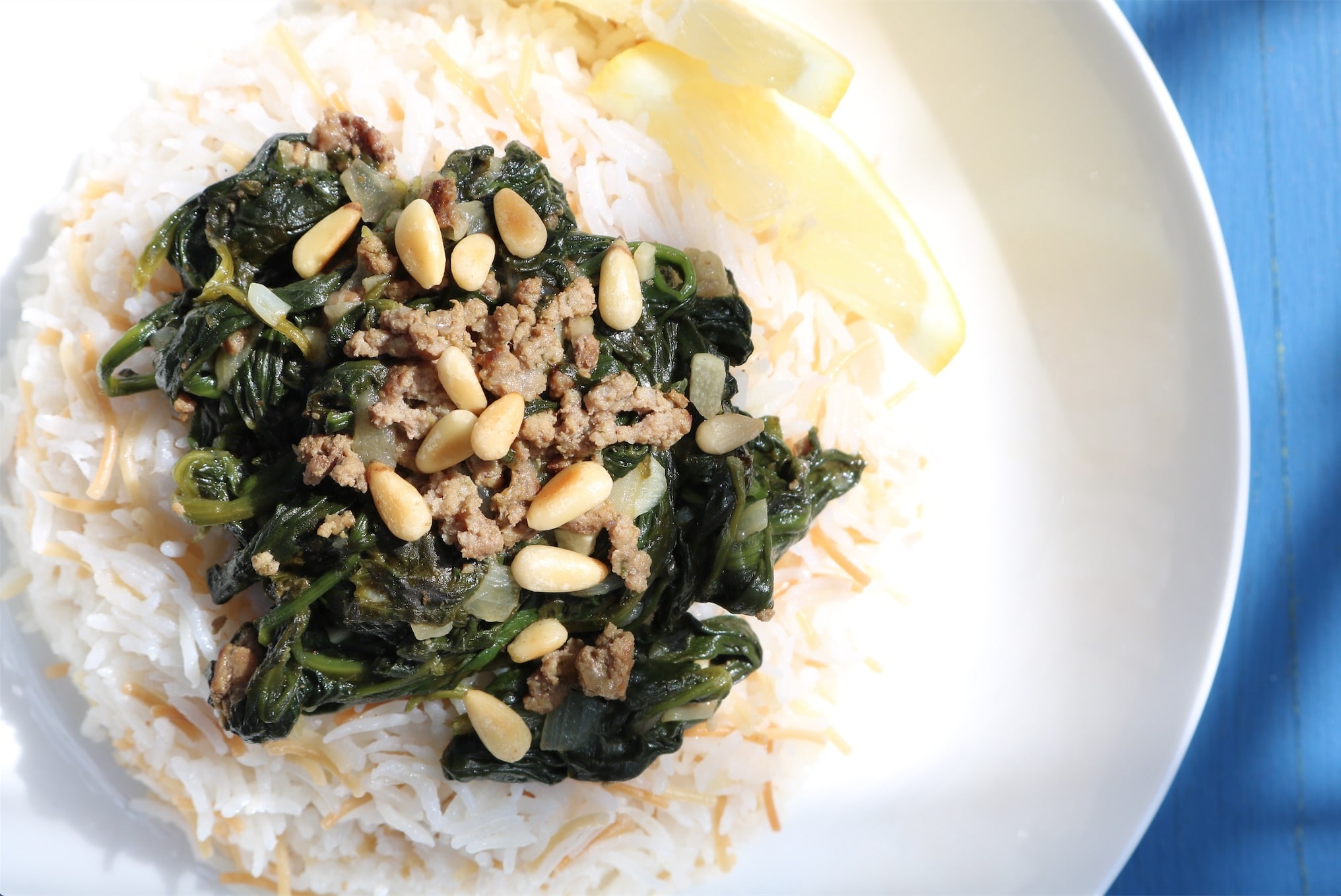 Lebanese stews, unlike your fiery indian curries, don't have a lot of spice in them. Sometimes you can add a pinch of seven spice or black pepper but not more than that.
We also usually add lots of lemon towards the end to bring out the flavours. Beef is traditionally used in most yekhnehs but if you replace the meat with lamb I would pan fry it in a separate pan to avoid 'zenkha' or that fatty taste you can get with lamb if it boils.
The wonderful thing about spinach unlike mloukhiya or hindbeh is that it takes practically no time to cook, you basically need to wilt the leaves and just let it simmer for ten minutes or so with the other flavours.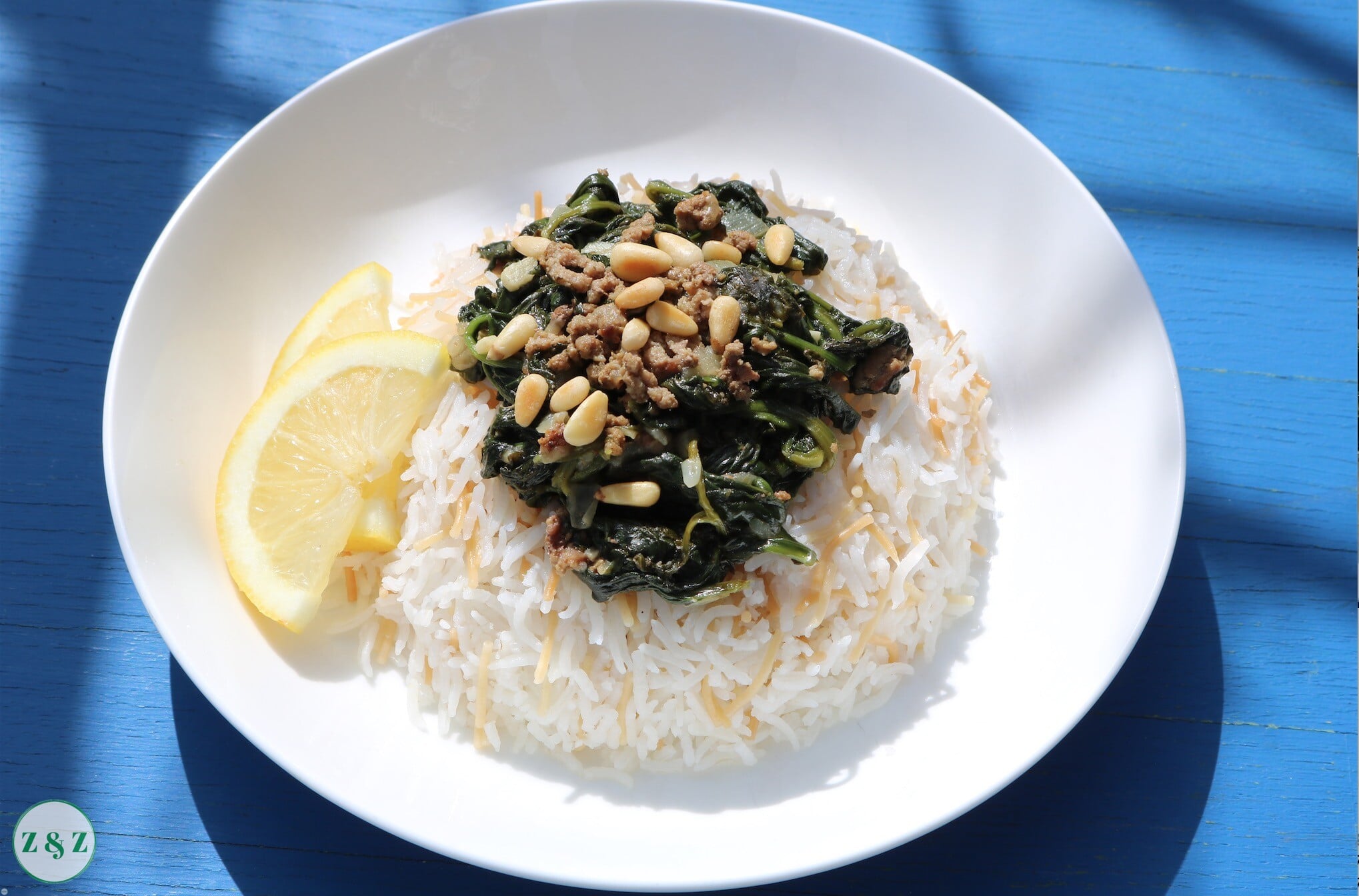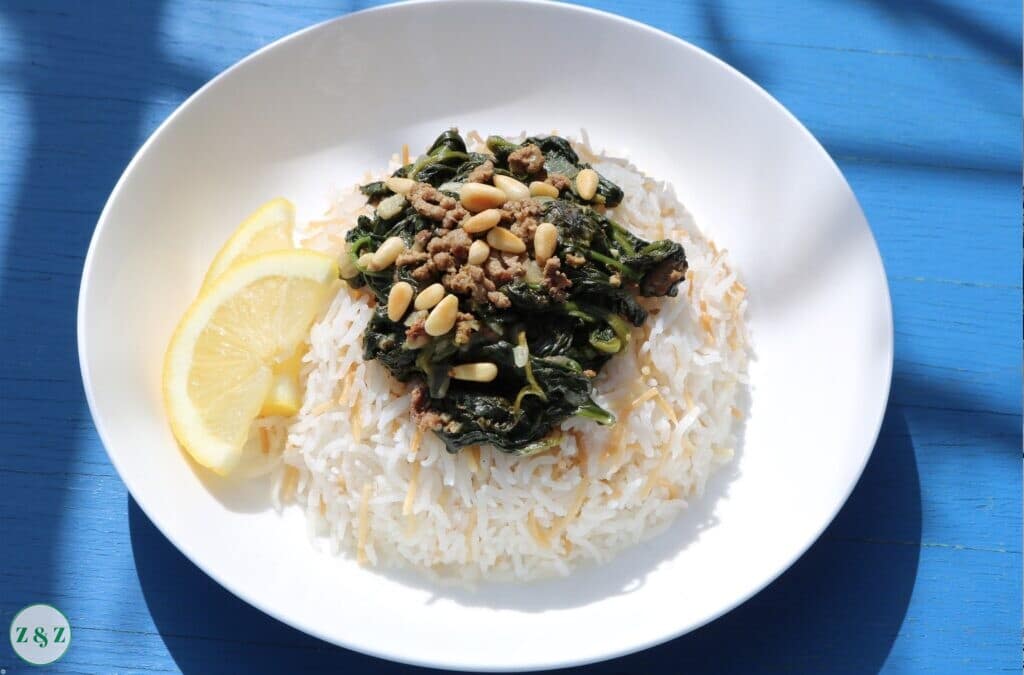 I quite like this stew to be slightly on the watery side so the vermicelli rice can soak it all up.
You can speed up this recipe even more by using frozen spinach, cilantro and garlic and if you really like to prep, you can even freeze your cooked mince meat and onion to sprinkle on your many stews in literally no time.
The final touch of toasted pine nuts on top make it all the more moreish. Oh and of course, you can never have enough lemon on the side to squeeze on just before devouring it all down.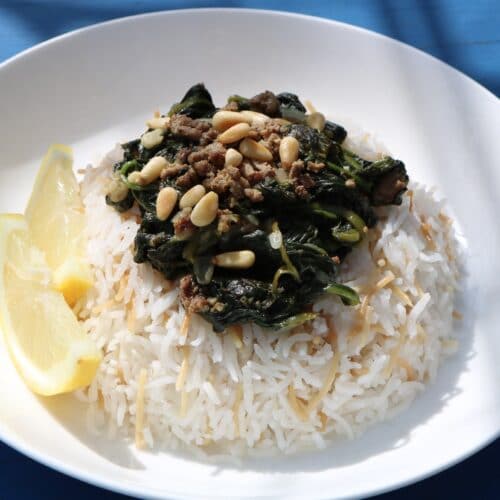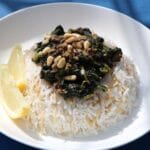 Lebanese Spinach Stew
Easy Spinach stew with beef mince and pine nuts
Ingredients
700

g

of spinach

1 big bag

250

g

of mince beef

1

large onion

chopped

2-3

tablespoon

regular olive oil

2-3

garlic cloves

chopped

1

handful of cilantro

(fresh coriander) roughly chopped

¼

teaspoon

black pepper

Salt to taste

approx 1 full tsp

½

teaspoon

sumac

1

lemon

juiced (approx 45 ml)

Approx 1 cup of boiling water

½

cup

toasted pine nuts
Instructions
Toast the pine nuts in a dry non stick pan for around five minutes until golden

In a good sized pot, sauté the onion in a drizzle of regular cooking olive oil until golden. Add the garlic and cilantro and sauté for another few minutes.

Add the beef mince, sumac and black pepper. Fry off the mince over medium high heat for about 5-10 minutes until cooked

Add the spinach, salt and boiling water to the pot and cover so the spinach wilts down. Simmer for about 10 minutes

Add the lemon juice just before turning off the heat and taste to check the seasoning

Serve with rice, extra lemon slices and top with toasted pine nuts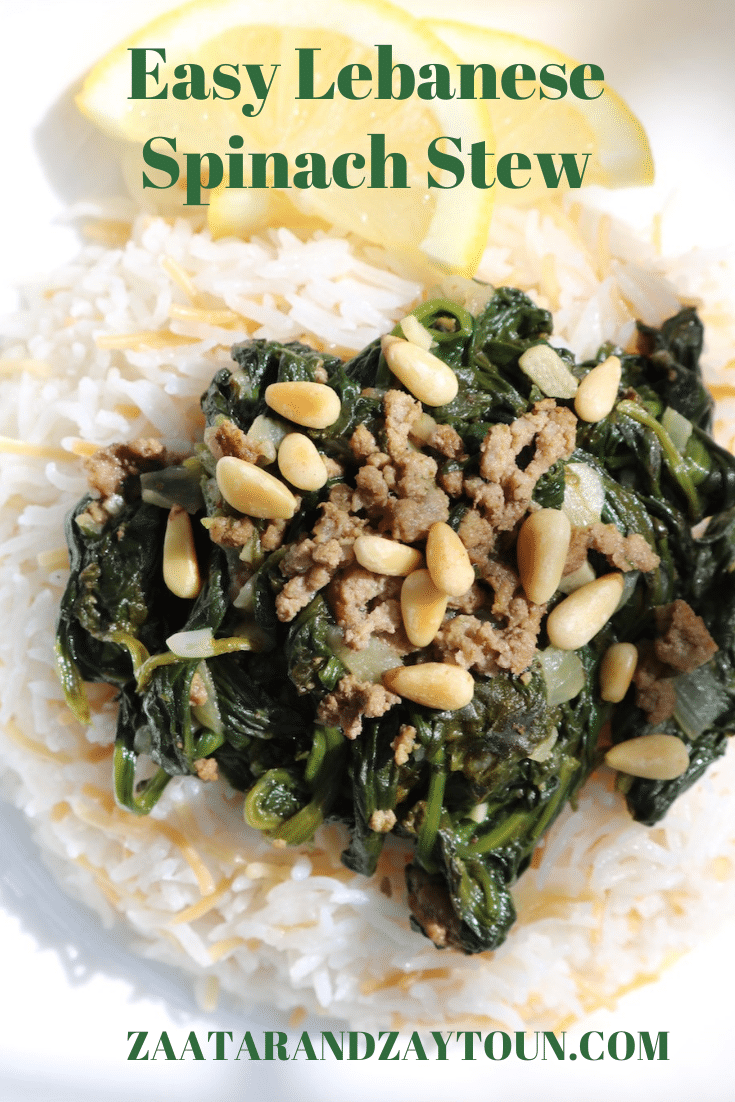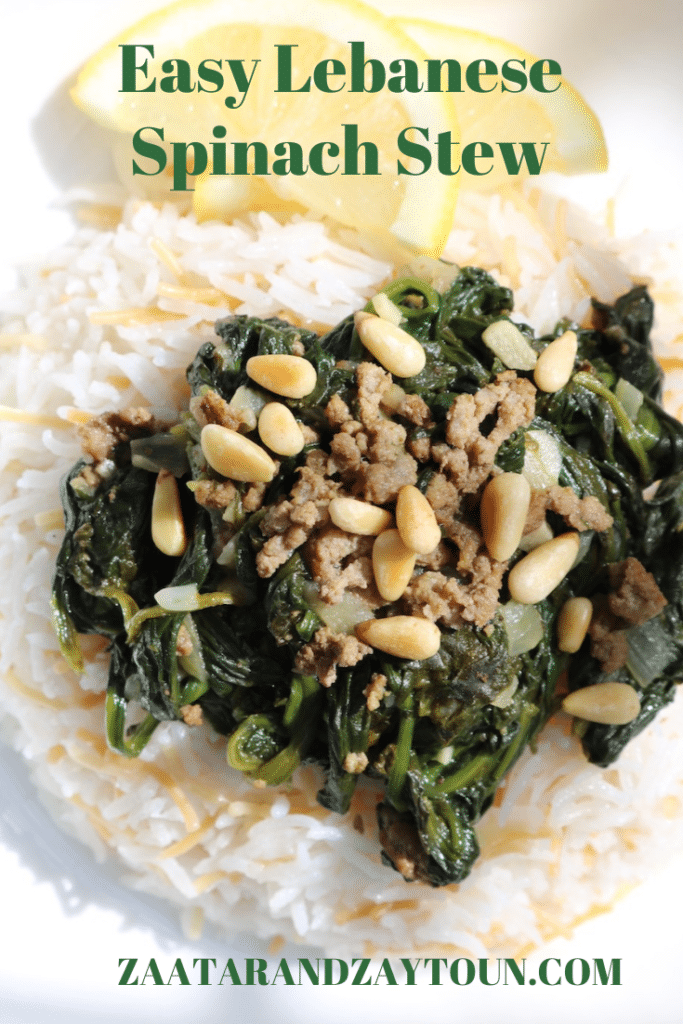 If you enjoyed making this recipe, leave us a star rating below.
We have a lively Facebook group where we post frequent recipes and discuss Lebanese cooking in general, as well as a handy Pinterest page where you can save all of your favourite Zaatar and Zaytoun recipes!
You might also like these recipe from the Zaatar and Zaytoun collection: