Yekhnet batata is one of the classic Lebanese stews, and so comforting especially on a rainy day.
Lebanese stews (aka yekhnehs) are built on the same basis and you will find a similar cooking structure with fasolia, bazella, kafta and cauliflower stews.
Onions, garlic, cilantro (fresh coriander) sautéed with little bits of meat, then simmered in a tomato sauce made from tomato concentrate and boiling water.
The the star ingredient will give it the unique flavour or character, be that white beans, meat or peas.
A squeeze of lemon will will enhance all the flavours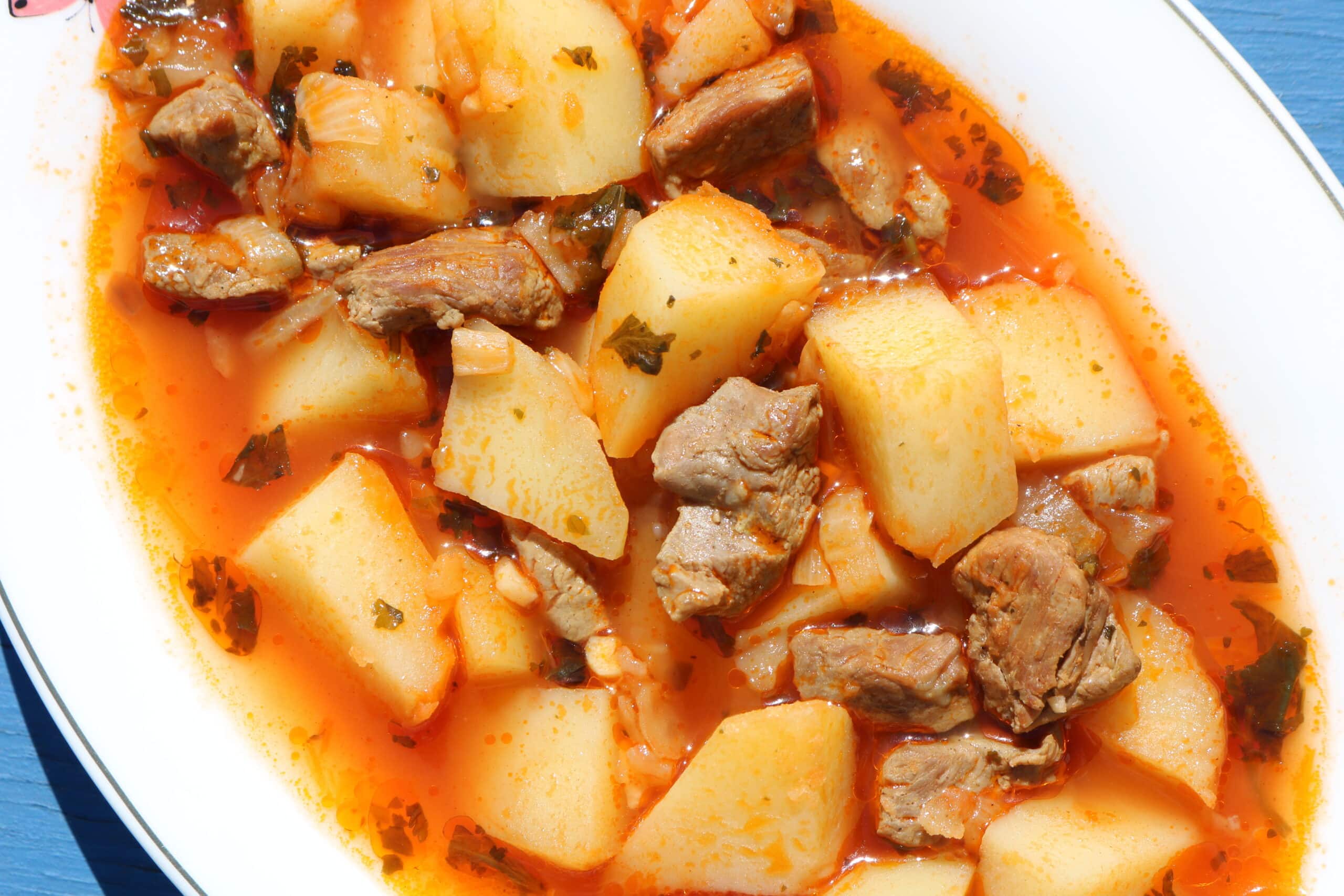 Jump to:
Ingredients
Yekhnet batata is hard to get wrong if you get the right potato. I use Maris Piper, as it's known here in the UK.
I believe in the US that will be the Irish potato (correct me if i'm wrong), which is an all rounder and good for both frying and boiling. It will also hold it's shape well in the sauce.
The key is not to overcook the potato so they become mushy but just enough so they are soft to the bite.
At the same time, no one likes a hard potato in a potato stew. 15 minutes in the sauce should be enough.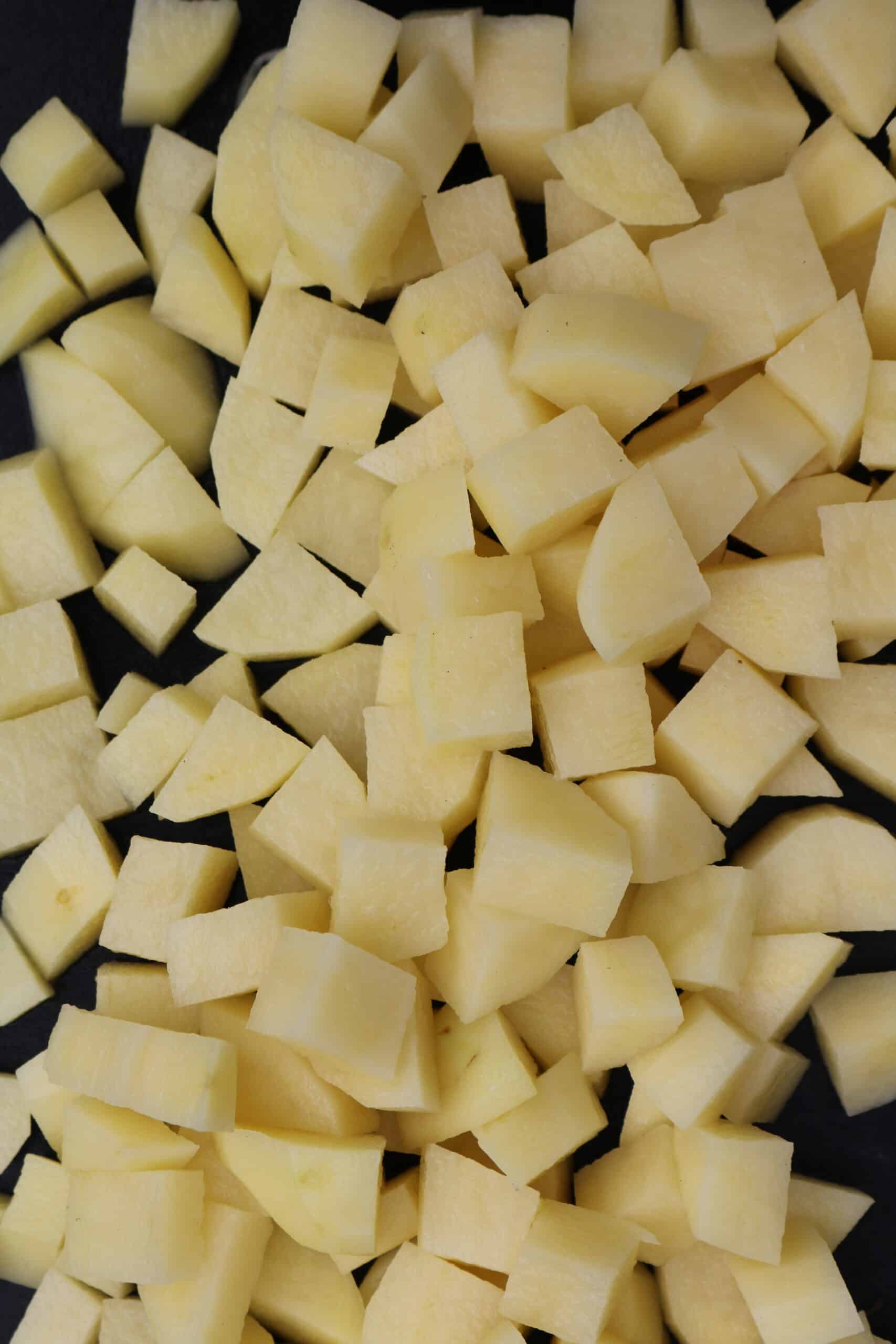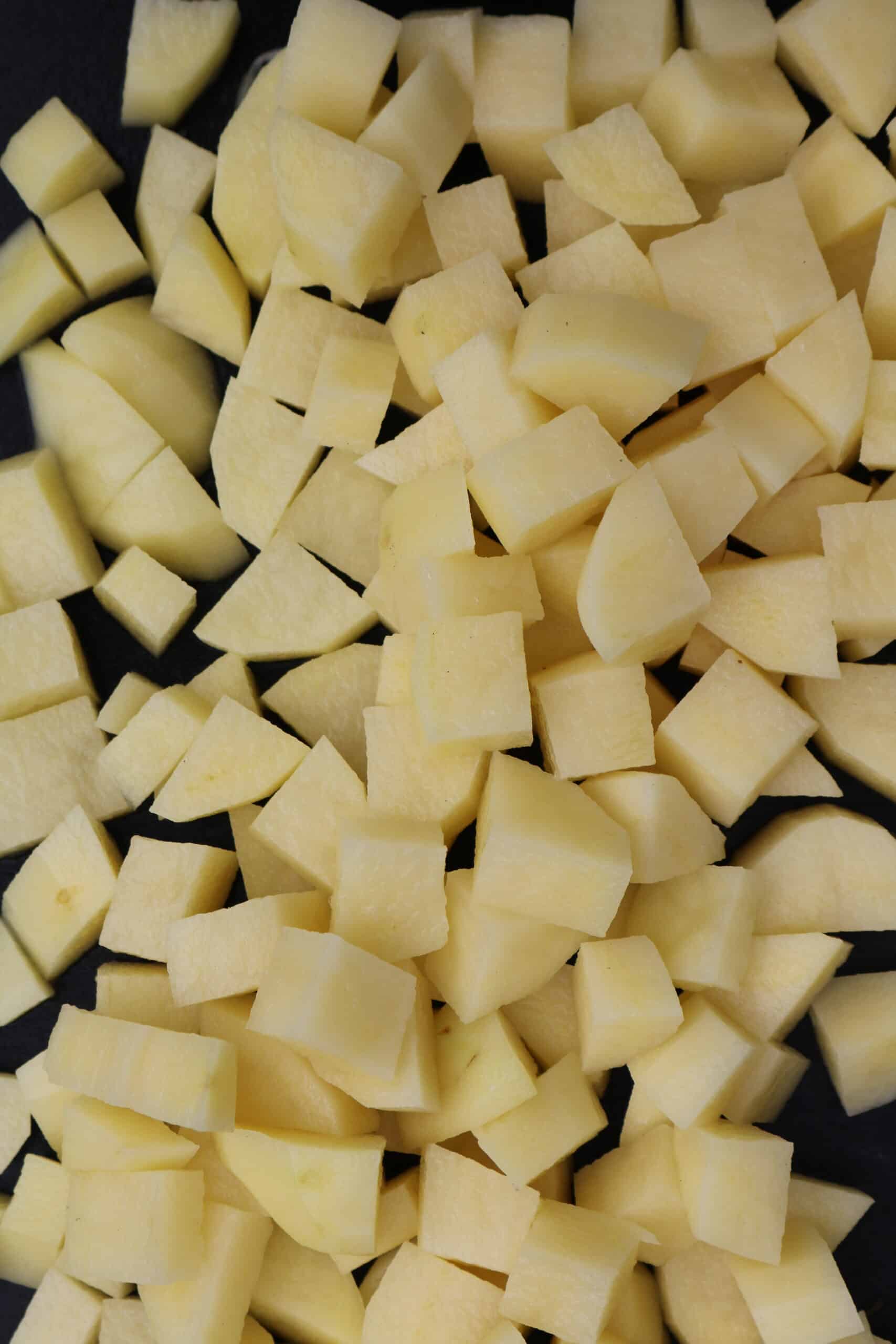 You can use either lamb or beef for the meat. I mostly use lamb, although I sauté it on high heat in a separate pan then add it to the onions as it can be a little fatty
If i'm using beef I add it right away without the extra step.
Instructions
Here are the rough steps to make the potato stew: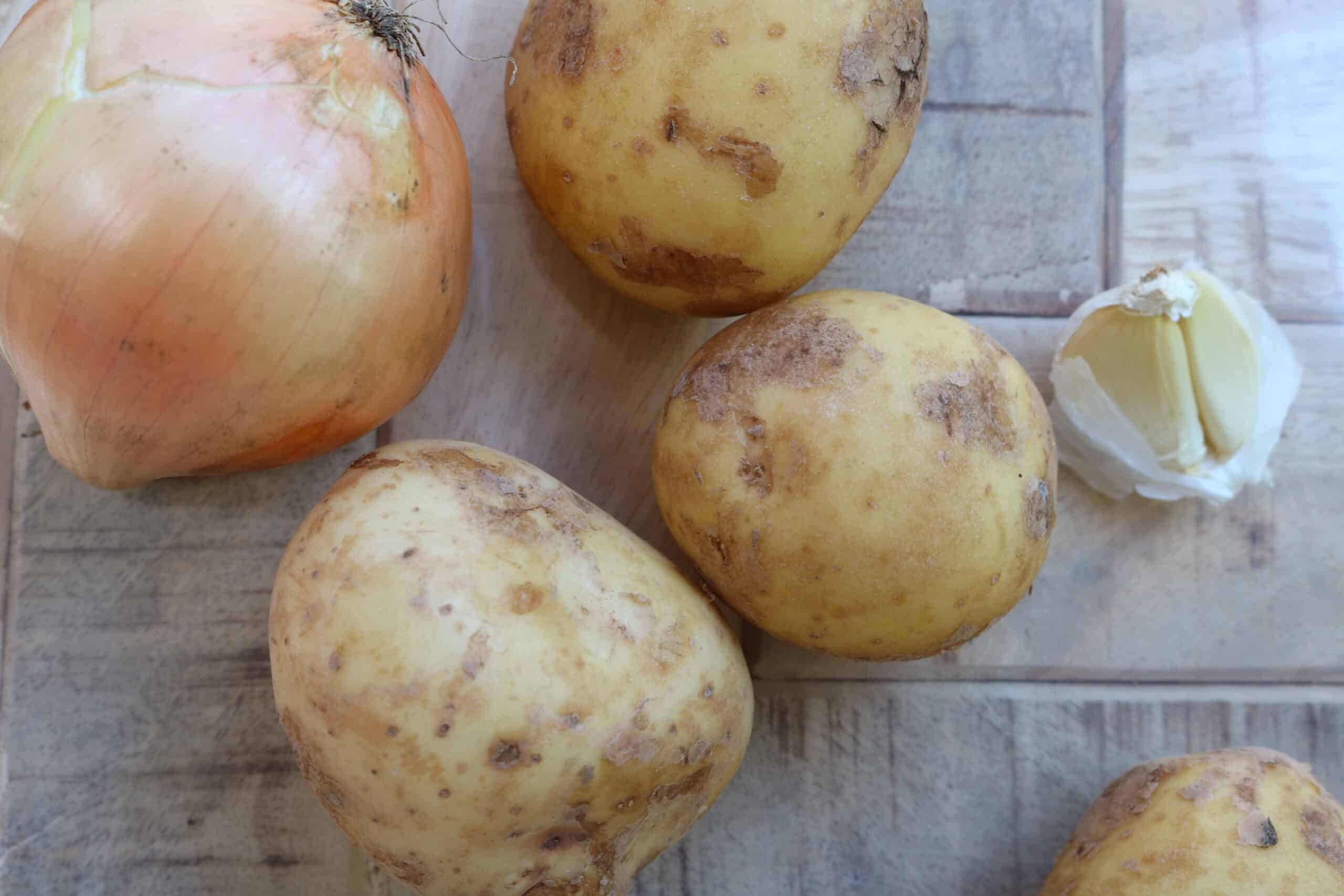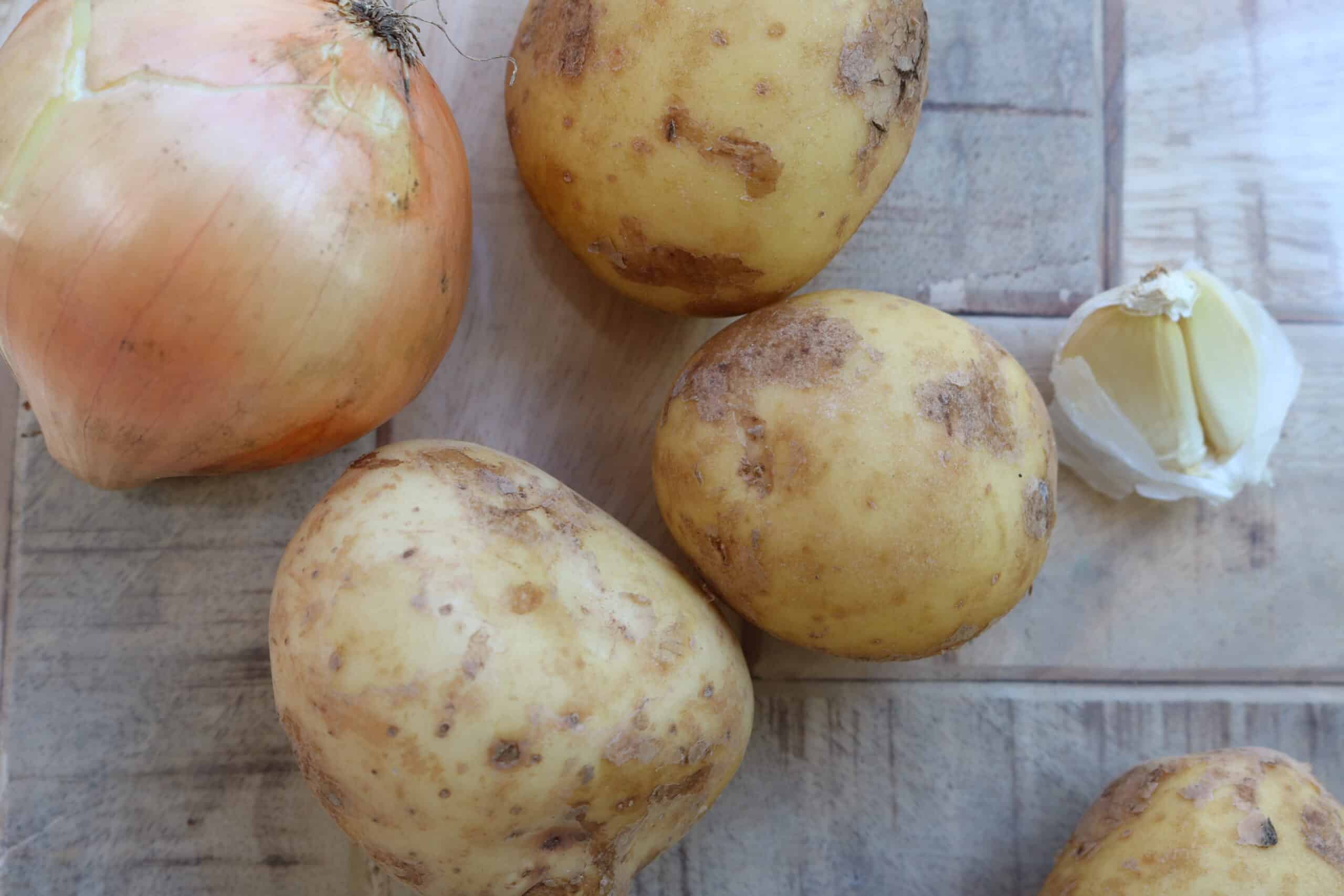 Sauté the onions until golden, add the cilantro, garlic to form the base.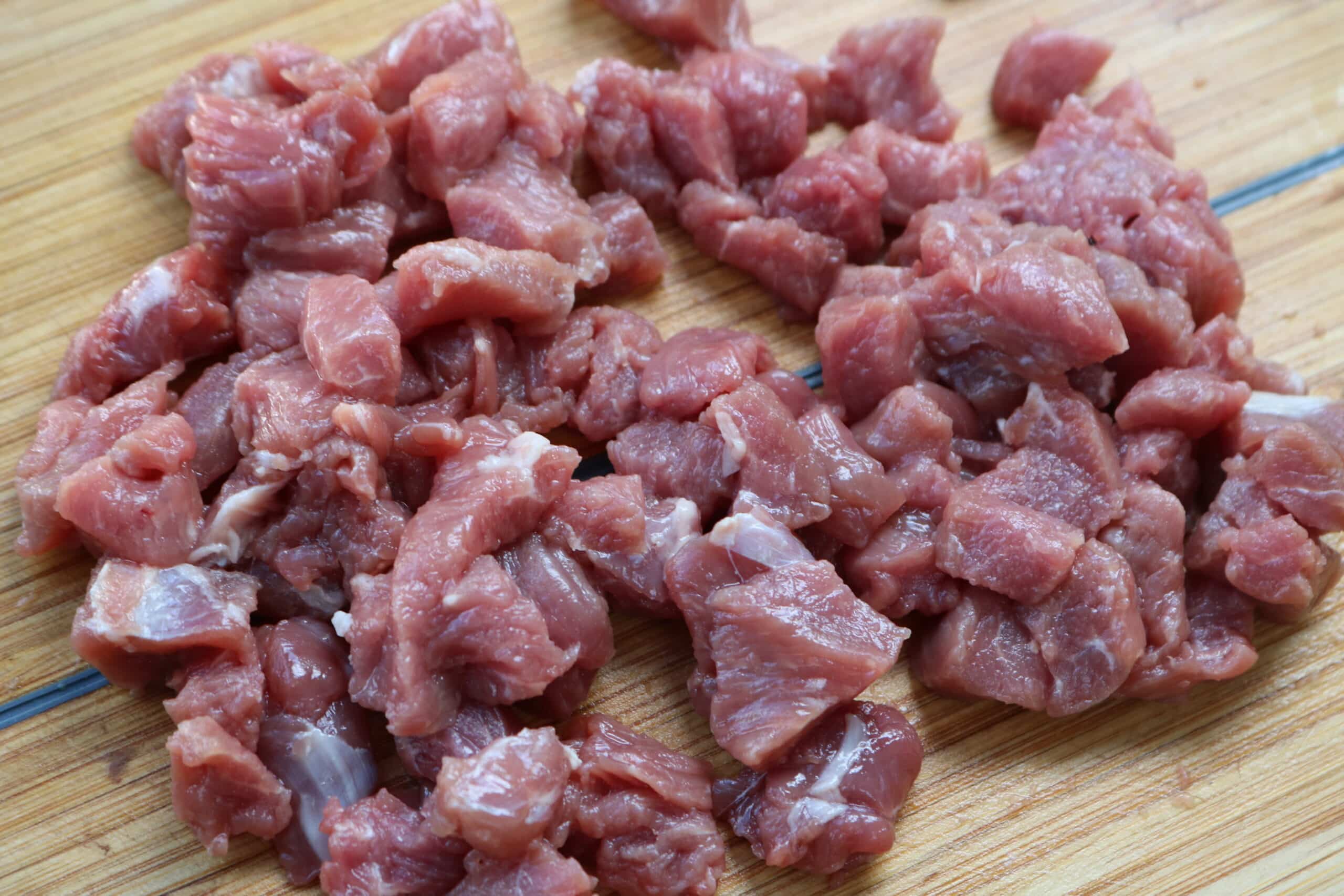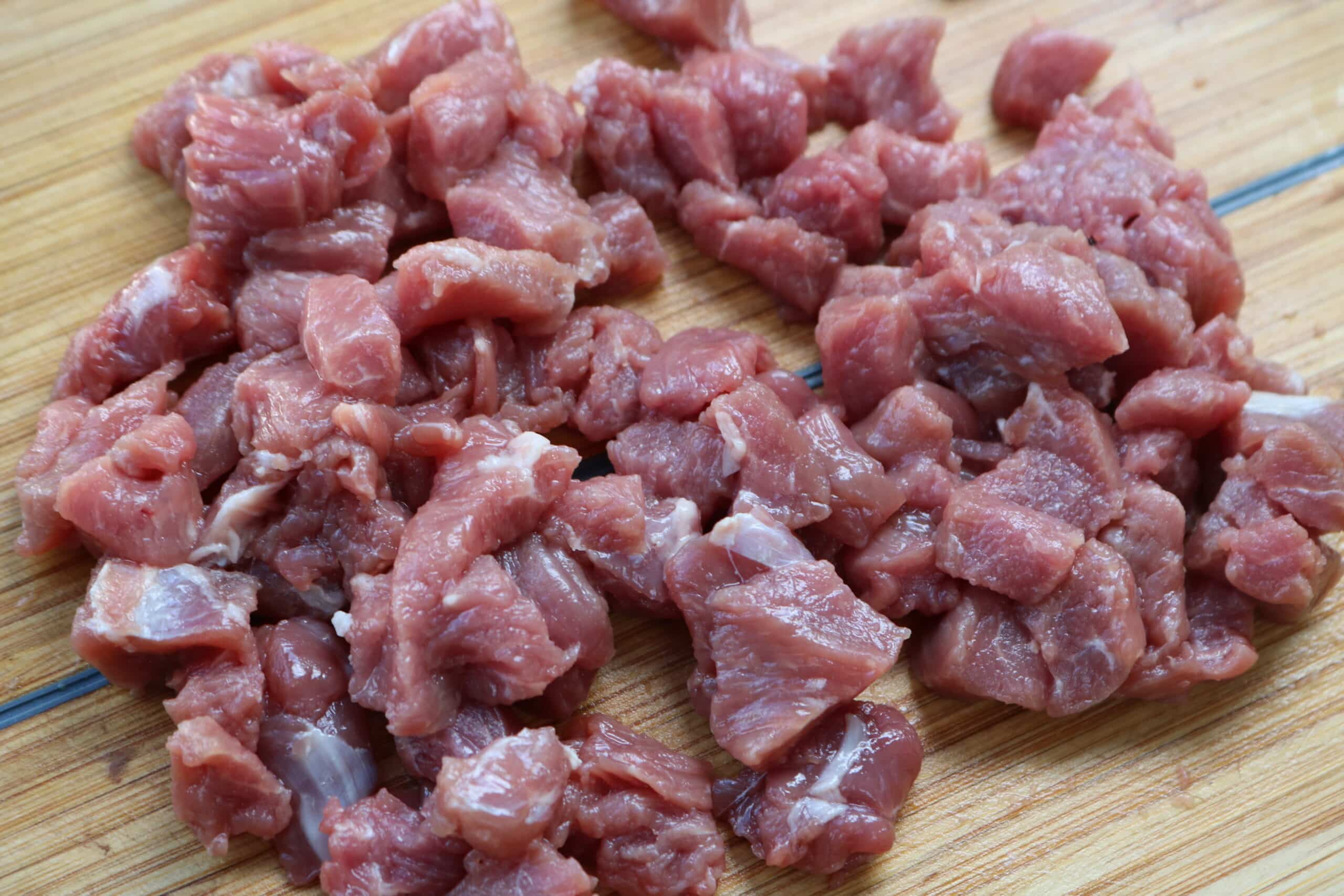 Dice the meat fillets into little chunks, fry a little with the onions.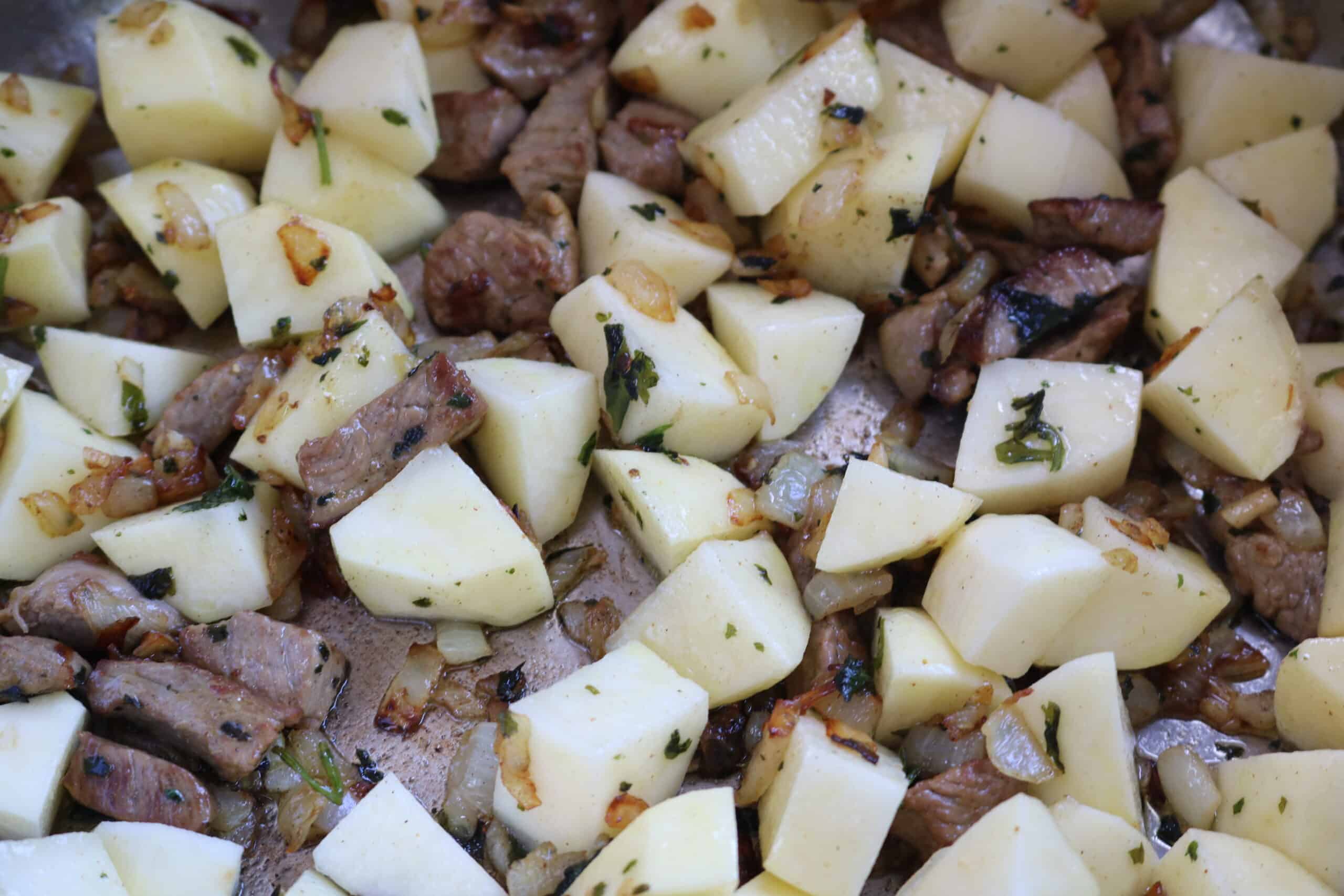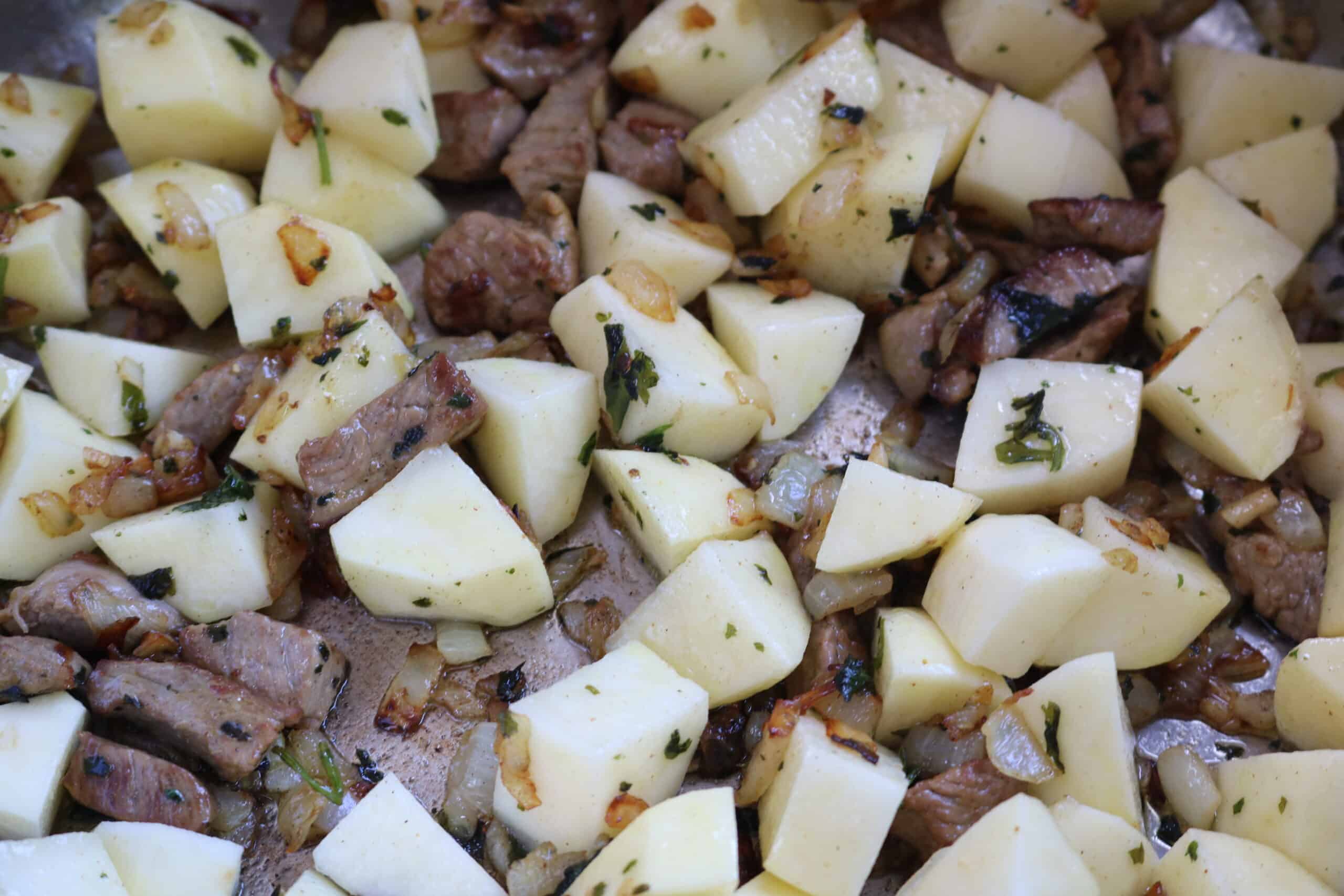 Dice the potatoes and sauté with the meat. Add the spices and salt.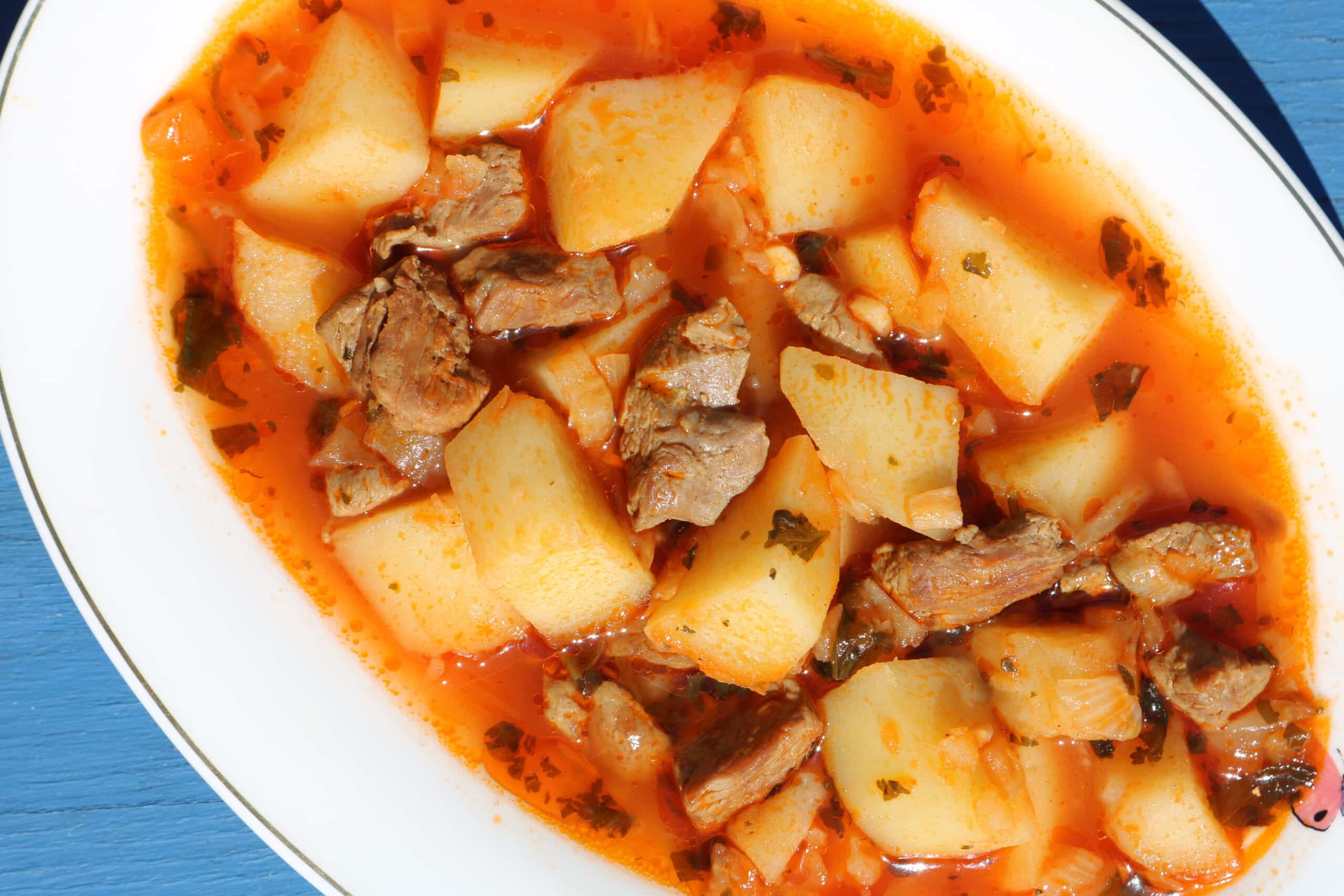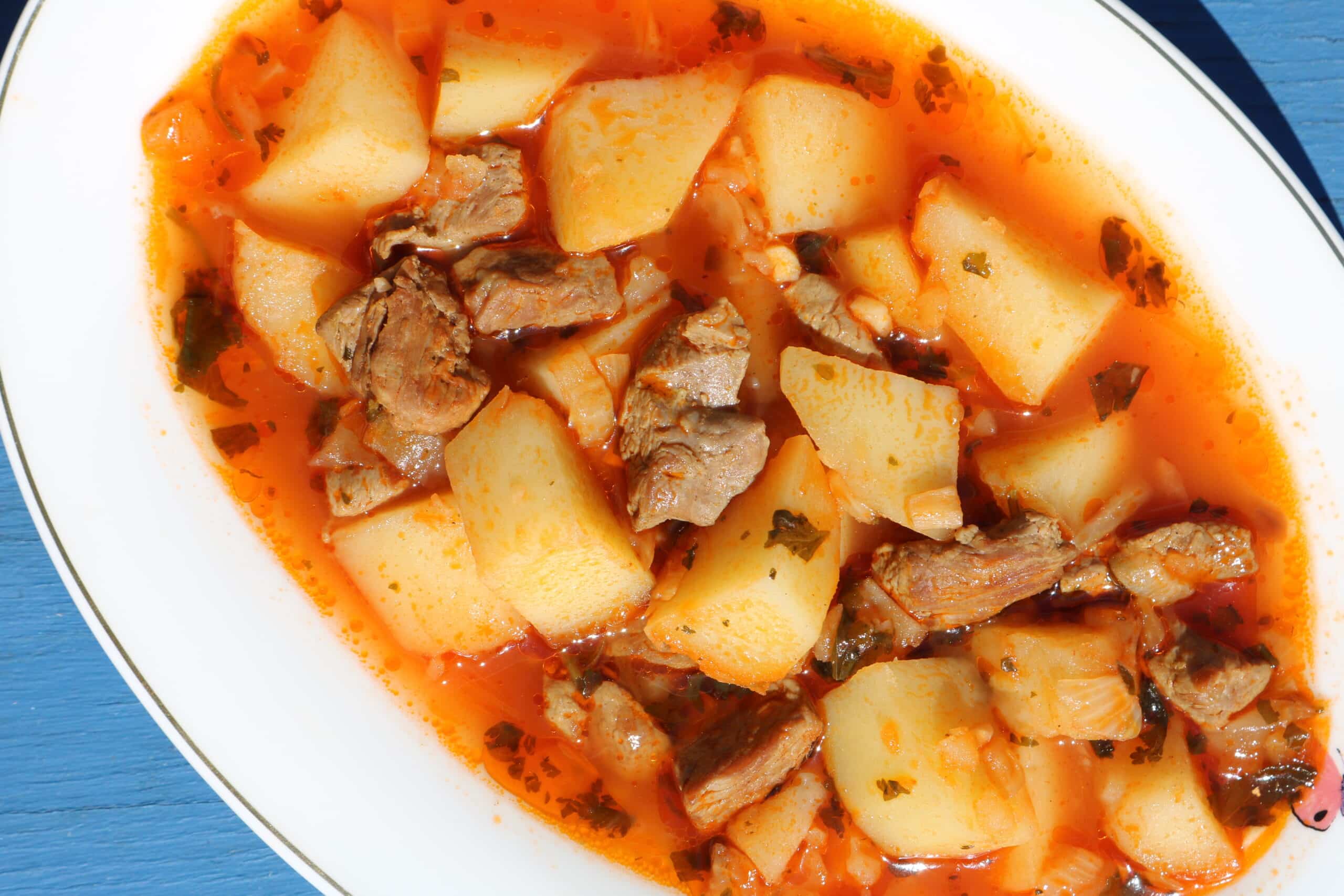 Add the tomato puree and boiling water. Simmer until the potatoes are done.
Top tips
I chop the potatoes into cubes roughly 2cm thick, meaning they cook quickly but are still chunky enough to be picked up easily in the stew.
When you stir the stew, be gentle with the potatoes as they can break easily.
You can use frozen or fresh cilantro, it really doesn't make a difference as it's a stew.
You can also add a small drizzle of pomegranate molasses at the end to make it a little more interesting.
If you are making a vegetarian/vegan version I would also add carrot and celery to the base as well as ½ teaspoon of vegetable bouillon powder.
This potato stew is traditionally served with vermicelli rice, and tastes just as good the next day.
The stew will keep well in the fridge for around 3 days. Heat up the next day on low heat for around 10 minutes.
📖 Recipe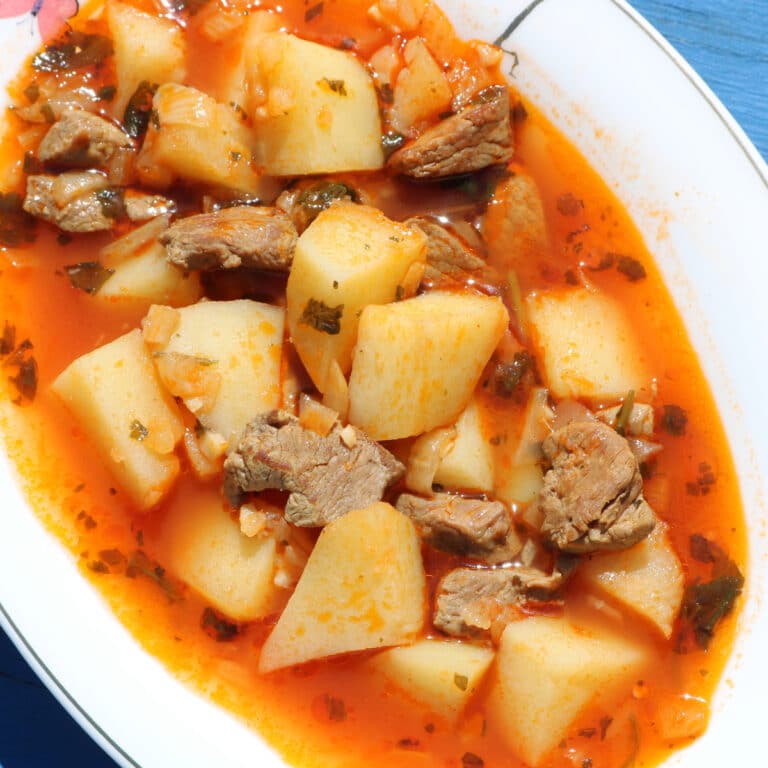 Lebanese potato stew (yekhnet batata)
Potato and meat stew in a light tomato sauce
Ingredients
1

large onion

chopped

2

garlic cloves

chopped

small handful cilantro

chopped

4

medium potatoes

diced

200

g

meat lamb or beef fillet

diced into small cubes approx 1 cm thick

3

tablespoon

tomato concentrate

boiling water to cover

approx 3 cups

¼

teaspoon

7 spice

¼

teaspoon

black pepper

½

teaspoon

salt approx

½

lemon

juiced
Instructions
In a casserole dish, add a good drizzle of mild olive oil (approx 2-3 tablespoons) and sauté the chopped onion until golden. Then add the cilantro (fresh coriander) and garlic and sauté for a few more minutes to form the stew base

Add the diced cubed of lamb or beef fillet and sauté for a few more minutes on medium heat. You can fry the lamb off in a separate pan to avoid a fatty taste

Chop the potatoes into bitesized chunks approx 2cm wide. Add to the onions and meat and gently sauté for a few minutes, drizzling a little more mild olive oil if required

Add the tomato pureé, 7 spice, black pepper, salt and enough boiling water to cover. Bring to a boil then lower the heat to a simmer for around 20 minutes until the potatoes are well cooked. You can also add an optional drizzle of pomegranate molasses

Taste and adjust the seasoning before you turn off the heat. Squeeze on a little lemon when serving according to taste.
Recipe Video
Recipe Notes
You can also add an optional drizzle (1 tsp) of pomegranate molasses at the end
If you make any of our recipes let us know how it went by giving us a star rating below.
Check out our Youtube page for full video tutorials, our Facebook group to discuss Lebanese cooking, as well as our tiktok page for quick tips.
You may also like these recipes from the collection: