One of the best things about having an international family is you get to access their stash of secret recipes, handed down over generations, just so one day they would reach your greedy and appreciative tummy.
My uncle married a lovely Moroccan lady who made the most fantastic Harira soup. She shared it with my mum, who naturally made her own adjustments, and now it is a firm family favourite.
This soup is really hearty and I often eat it as a stand alone meal, even without bread, as it contains so many veggies and pulses.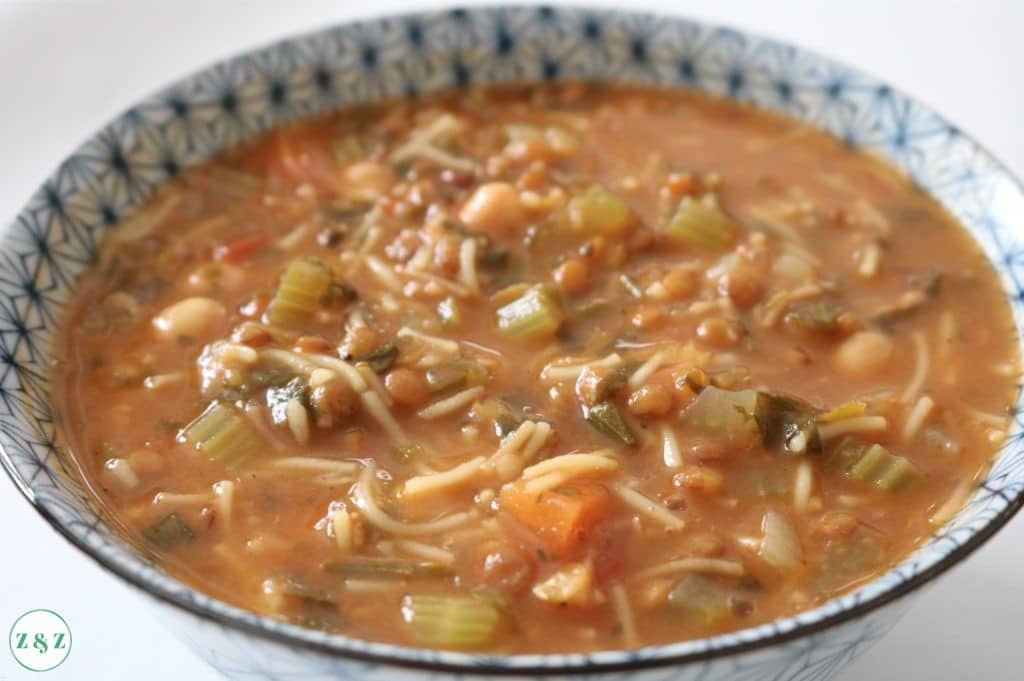 I use canned chickpeas which is perfectly acceptable when making soups, but prefer to use dry lentils as they don't take long to cook.
These days I make it a little less spicy so the little people in our family can eat it too, but if you don't have to worry about spice levels, add some heat to give it a kick.
I decided to use veggie stock to make it meat free but my mum prefers to use home made meat stock as she says it gives a deeper earthier flavour.
Try it with different stocks and see which one you like best, you can find the recipe for homemade chicken stock here.
As with all soups you can add more of what you love and less of what you don't fancy. Adapting is essential to home cooking and this usually depends on what you have in your store cupboard.
Apparently, different regions in Morocco have different versions of Harira soup and each family makes their own adjustments.
Keep experimenting and tweaking until you have your perfect version, which you can hand down to your children in the future.
In the unlikely situation of there being any left over, you can freeze some to make your own healthy ready meal, perfect for those cold nights when you need an instant warm-me-up.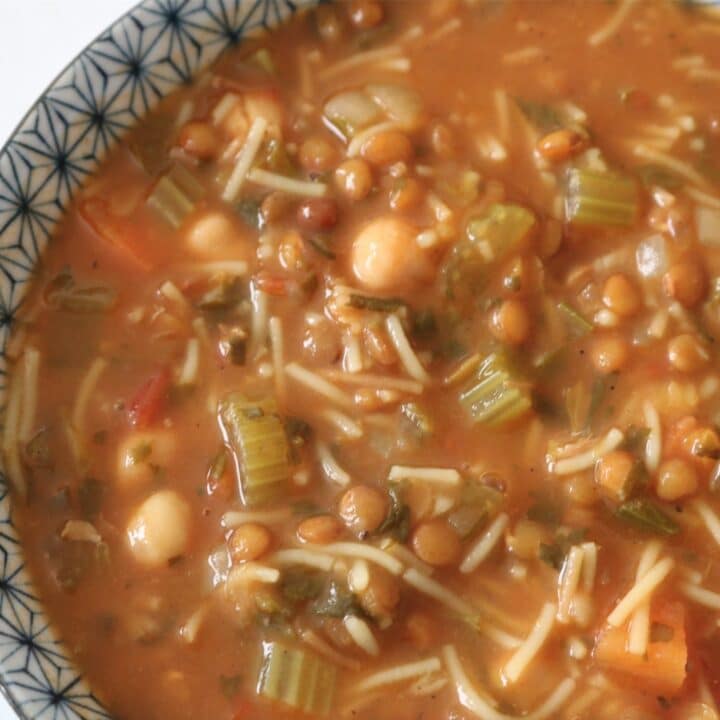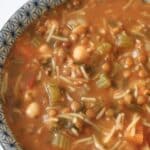 Harira Soup
Vegan Harira Soup - My Moroccan Aunty's Recipe
Ingredients
2

onions

chopped

1

cup

parsley

chopped

½

cup

coriander

chopped

1

cup

celery

chopped

1

vegetable stock cube

1

teaspoon

fresh ginger

chopped

½

teaspoon

black pepper

½

teaspoon

turmeric

¼

teaspoon

red chilli powder or cayenne

1

cup

brown lentils

2

tablespoon

tomato concentrate

1

cup

vermicelli

2

tablespoon

flour

1

can chickpeas

Juice of 1 small lemon
Instructions
Sauté the onions in some regular cooking olive oil until golden, on medium heat

Add the ginger and spices (black pepper, turmeric, chilli powder) and stir for another few minutes.

Add the parsley, coriander, celery, stock cube and lentils. Pour on enough cold water to cover and bring to the boil.

As the lentils are cooking, sauté the vermicelli in a small pan with some vegetable oil on medium low heat.

Keep stirring the vermicelli so they don't catch on one side. When they start to turn golden add the flour and 1 cup of warm water to make a thickish roux stirring away the lumps

When the lentils are cooked after about 15 minutes add the vermicelli and flour, along with the tomato concentrate. Stir well making sure there are no clumps of flour

Drain the can of chickpeas and add to the soup. Adjust the water with some boiling water to achieve the required consistency

Add salt to taste (approx 1 tbsp)

Simmer everything for another 10 minutes or so and check the lentils and chickpeas are well done

Add the lemon juice, give a final stir and turn off the heat
If you make any of our recipes let us know how it went by giving us a star rating below.
We have a lively Facebook group where we post frequent recipes and discuss Lebanese cooking in general, as well as a tiktok page.
You may also like these recipes from the collection: