If you want to up your dinner party game, then this showstopper is a great one to try.
Subtly spiced lamb shanks so tender they will make you emotional, garnished with nuts and berries over a bed of fluffy white rice.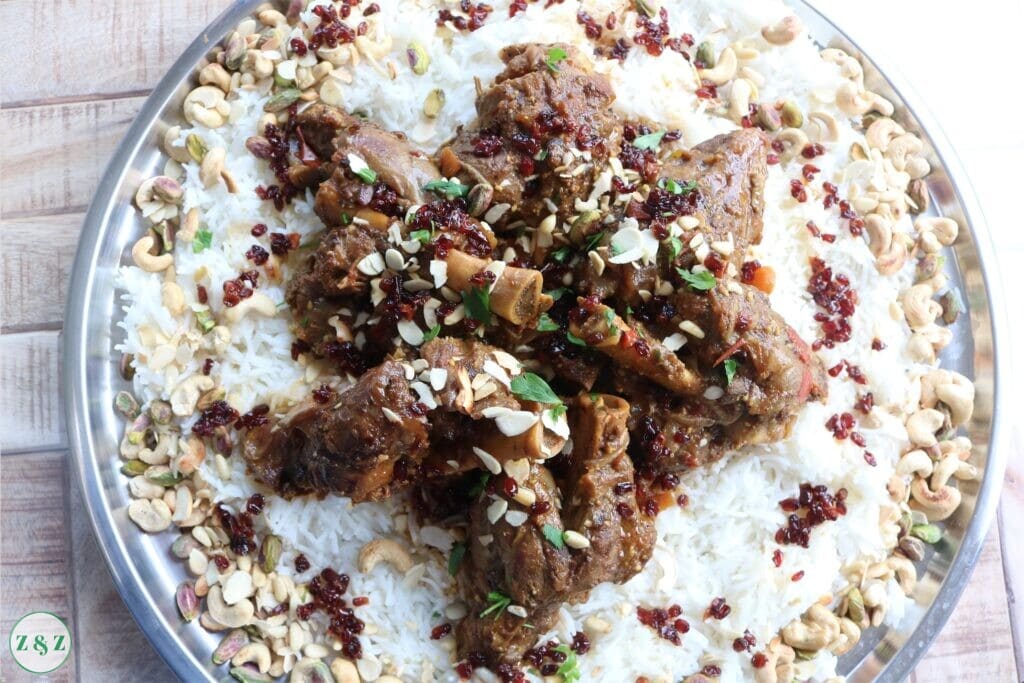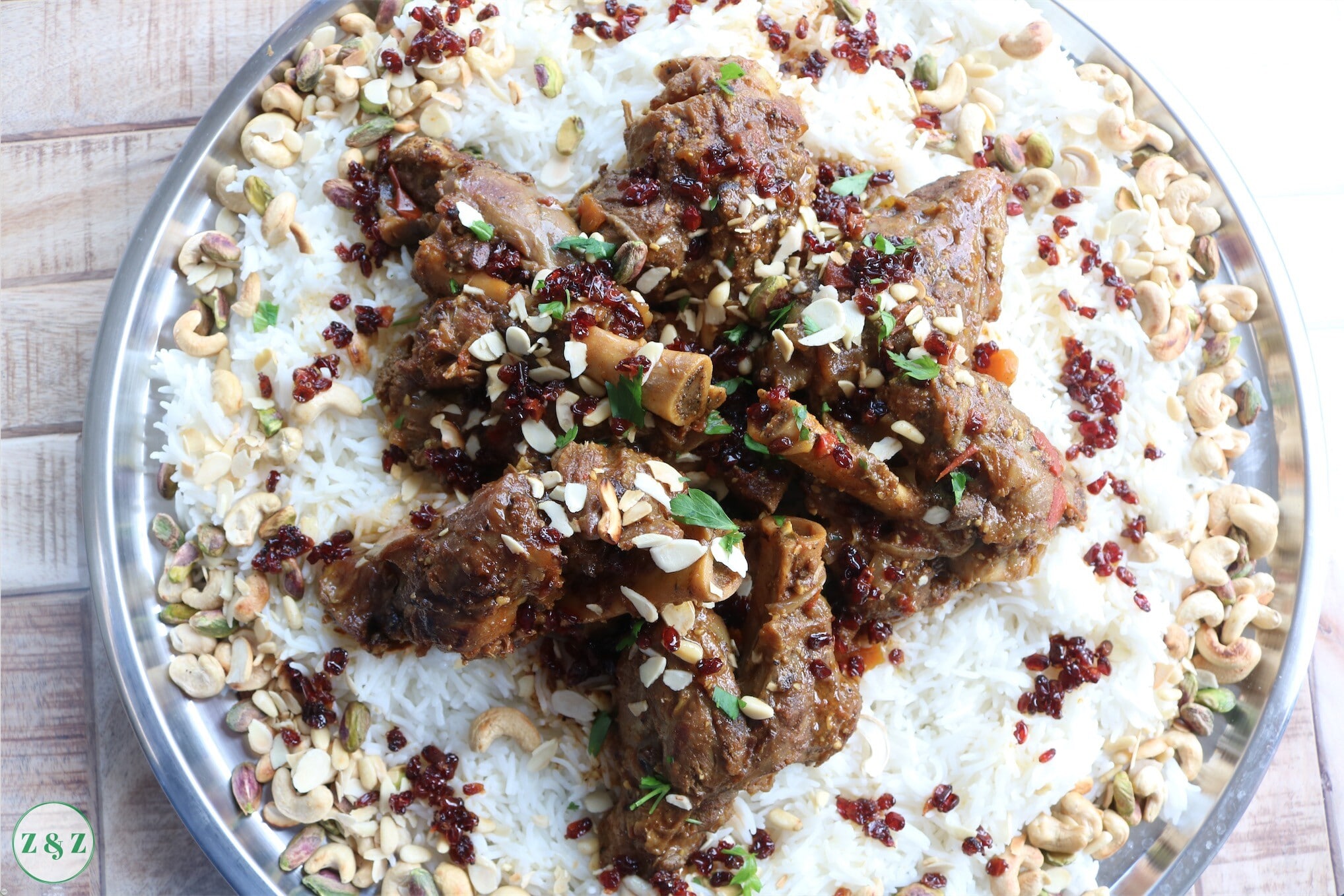 Don't be scared by the ingredient list, I am actually not exaggerating when I say this is an easy one to master.
However just because it is easy, doesn't mean you can rush it. You will need to be patient, carefully checking on them for around three hours. But oh my are they worth it.
Jump to:
The Lamb shanks
When the meat is the star of the show as with this dish, it's worth making sure you source it form a good butcher who will have fresh shanks every day.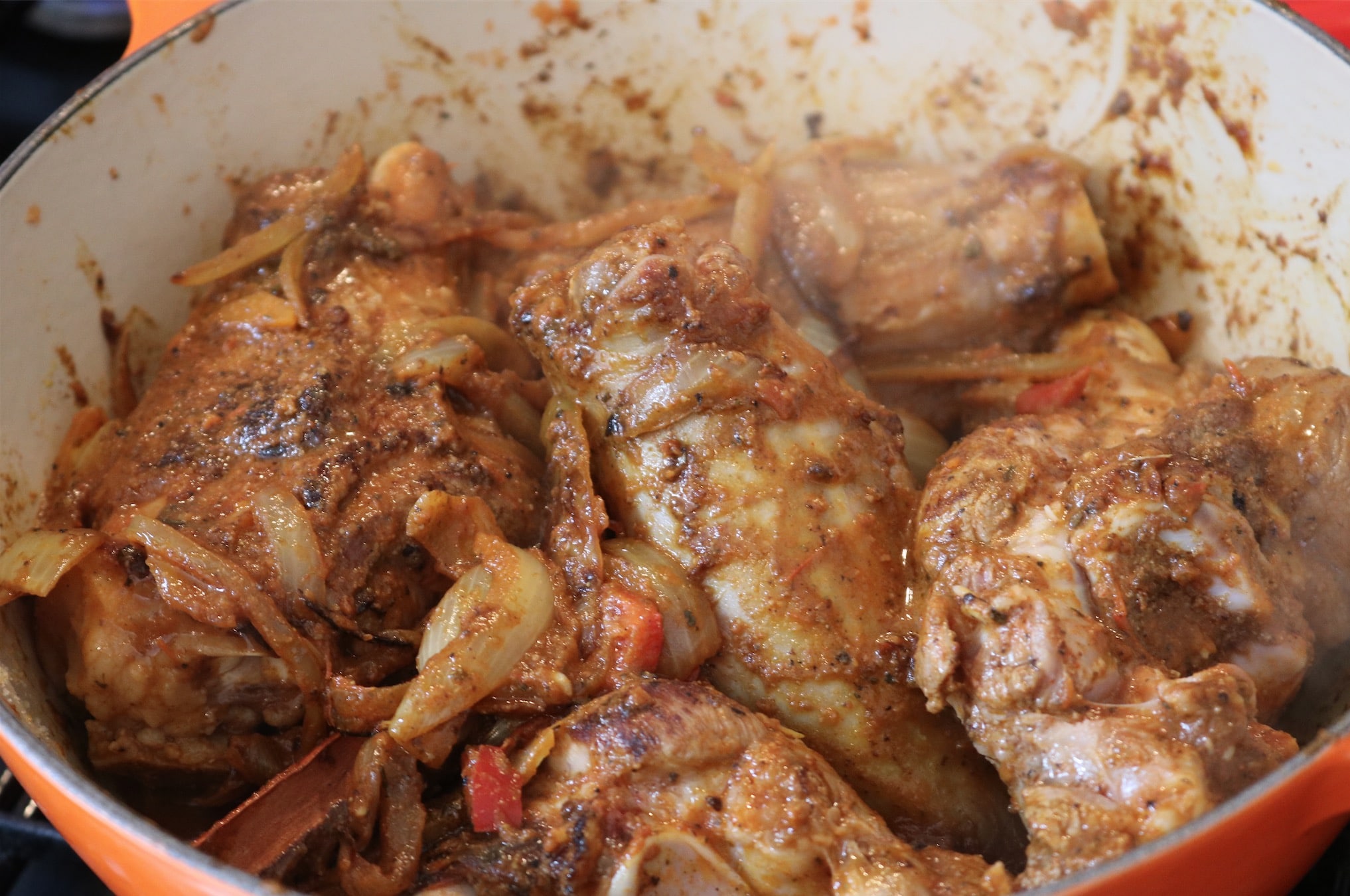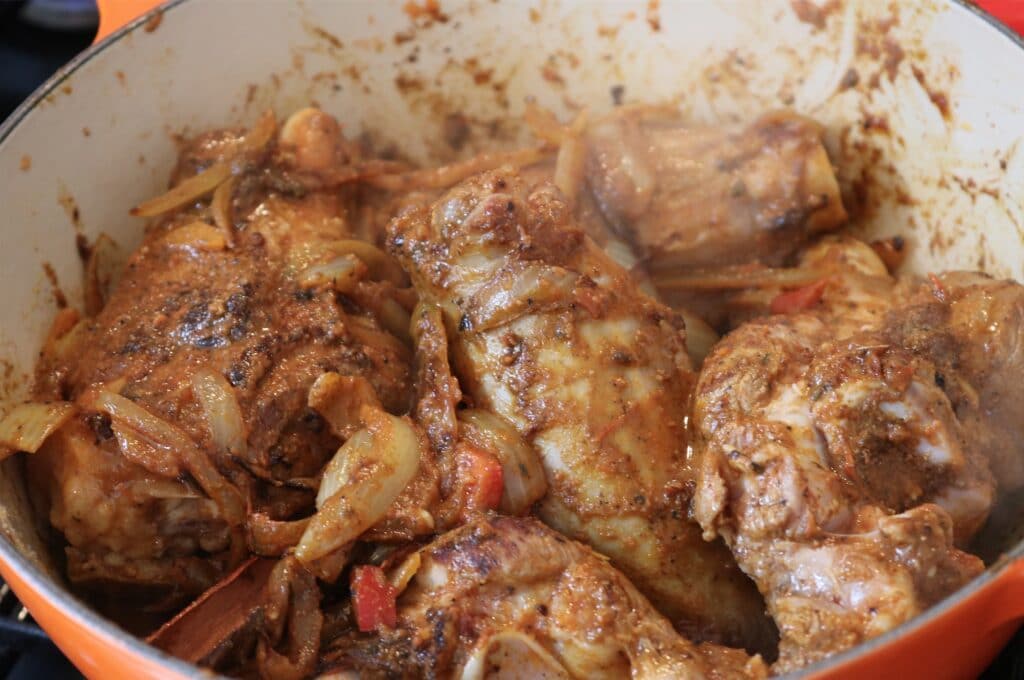 You can know a butcher is of high quality if they have lots of local customers, is very clean, and is knowledgeable about the different cuts of meat.
A good butcher won't hesitate to cut the meat your way so ask them to clean the lamb shanks from the extra fat as much as possible.
The Marinade
The marinade is key to packing in extra flavour. The yoghurt will make the meat more tender and the spices will do most of the work for you.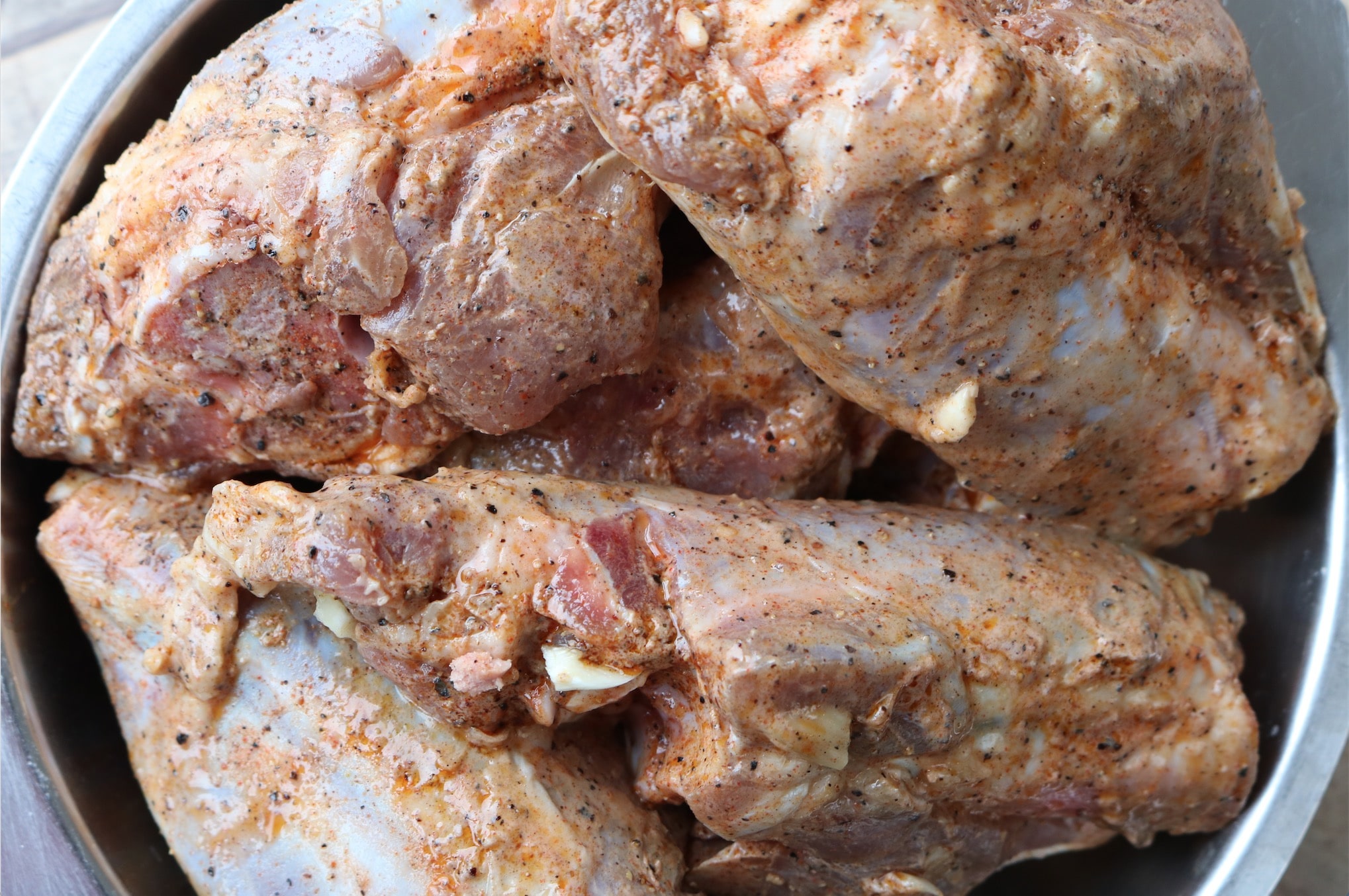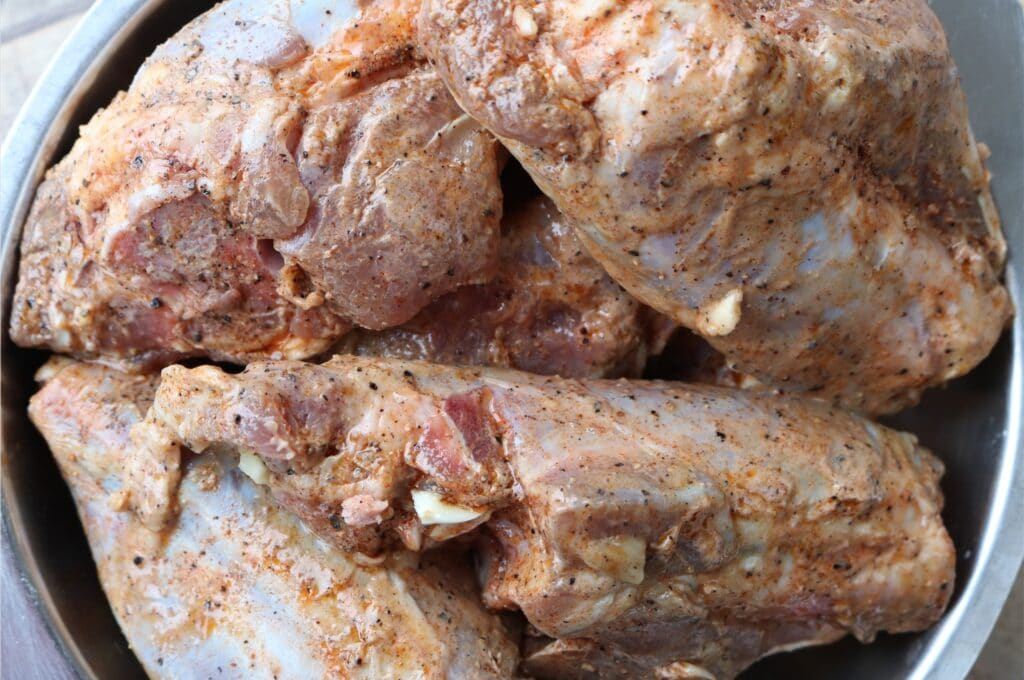 The spices in the marinade are very similar to the spices you put into the dish. I've used 7 spice and kamouneh spices but you can also use any Middle Eastern spice bend such as Ras el Hanout.
Ideally you want to marinade the lamb shanks for a full 24 hours. When you are going all out to impress, these little steps are worth doing.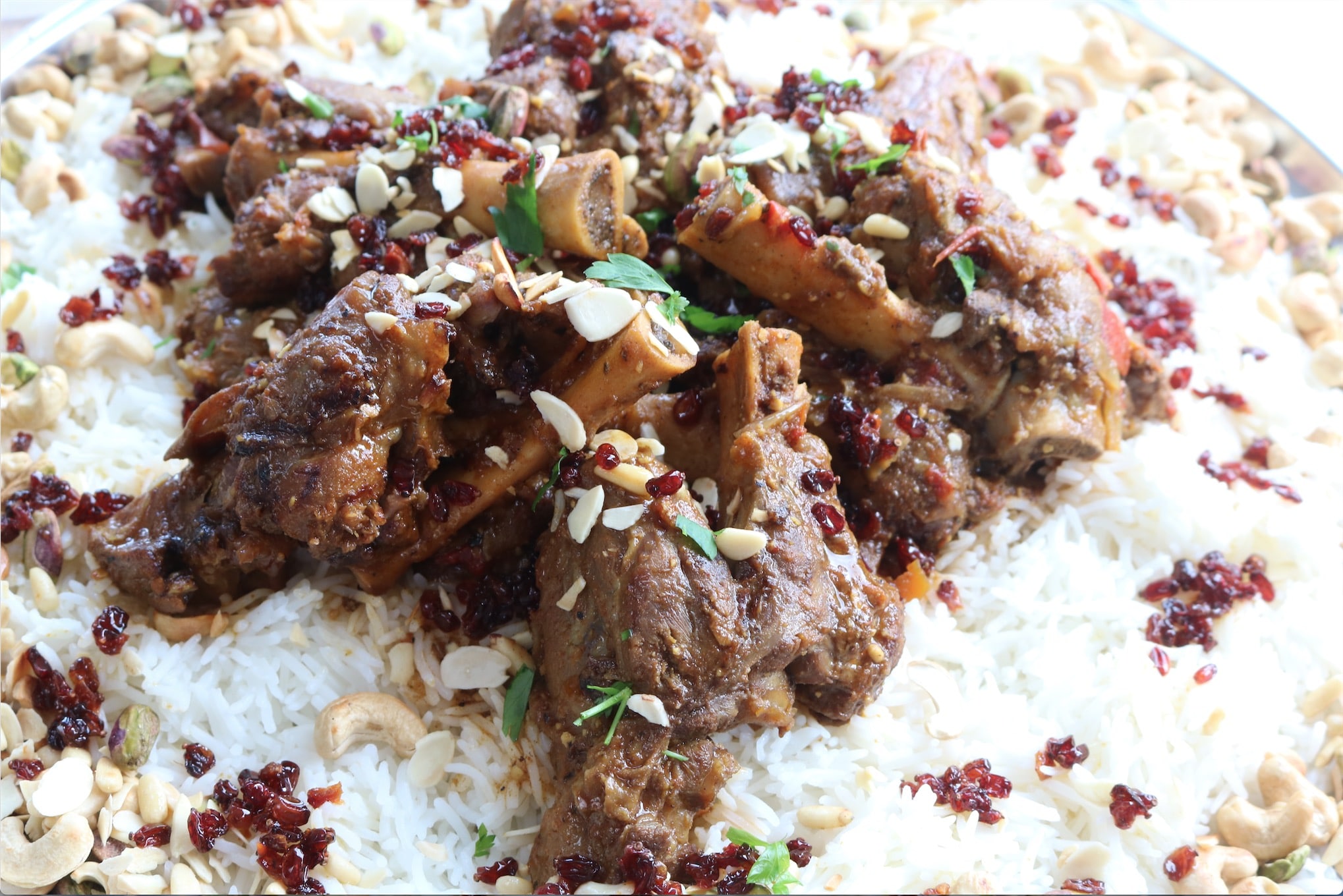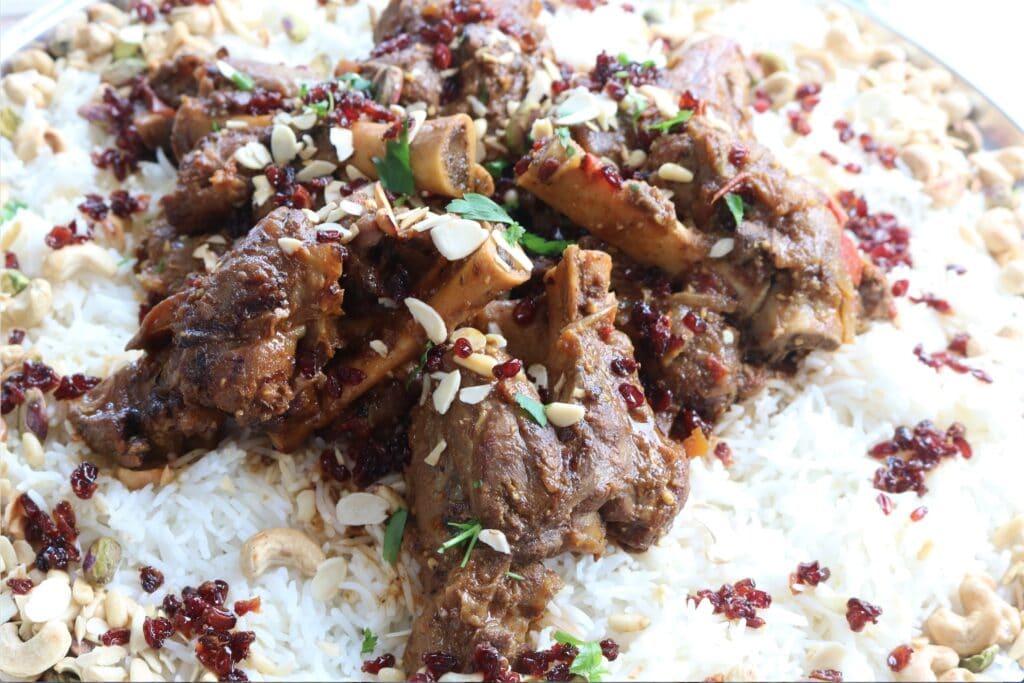 The Rice
I've already written a whole post on how to achieve the perfect fluffy rice. Basically you have to get your ratios right.
For every cup of white basmati rice use 1.5 cup of water. Sauté the rice in a bit of oil and salt before you add boiling water.
Soaking the rice beforehand will also make it cook better. An hour or so should be enough.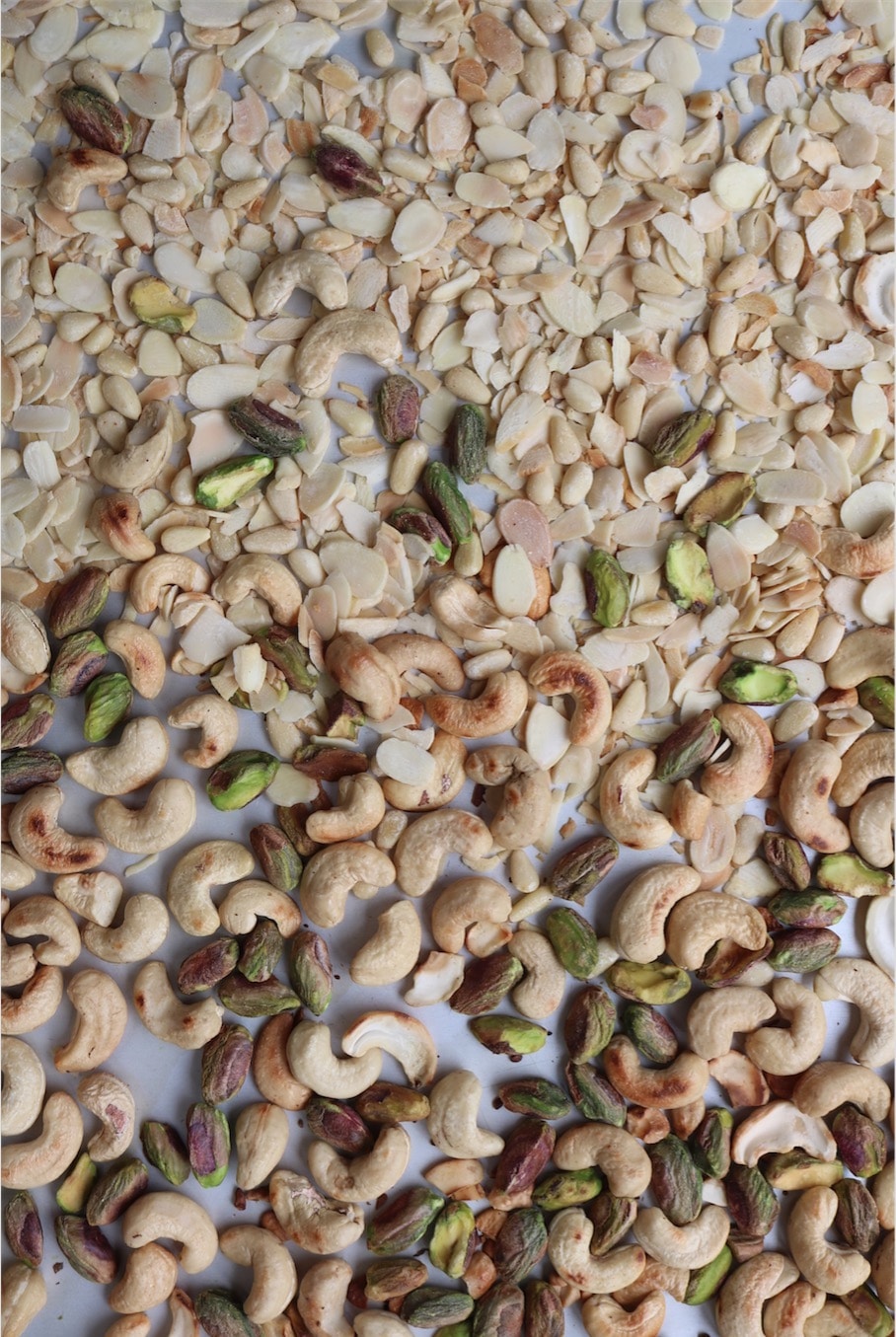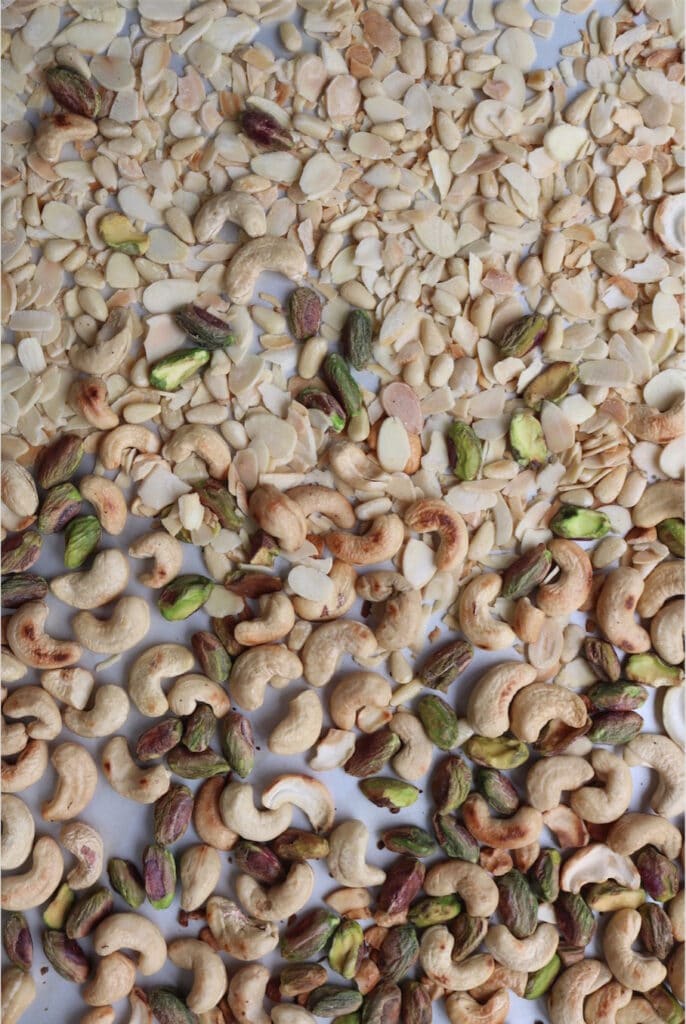 The Garnish
An impressive garnish is one way to make a great dish exceptional. The different toasted nuts add savoury texture and complement the meat perfectly.
Make sure you soak the barberries in water beforehand as they are sometimes a bit dusty. Then sauté the washed barberries in saffron butter for the ultimate finishing touch.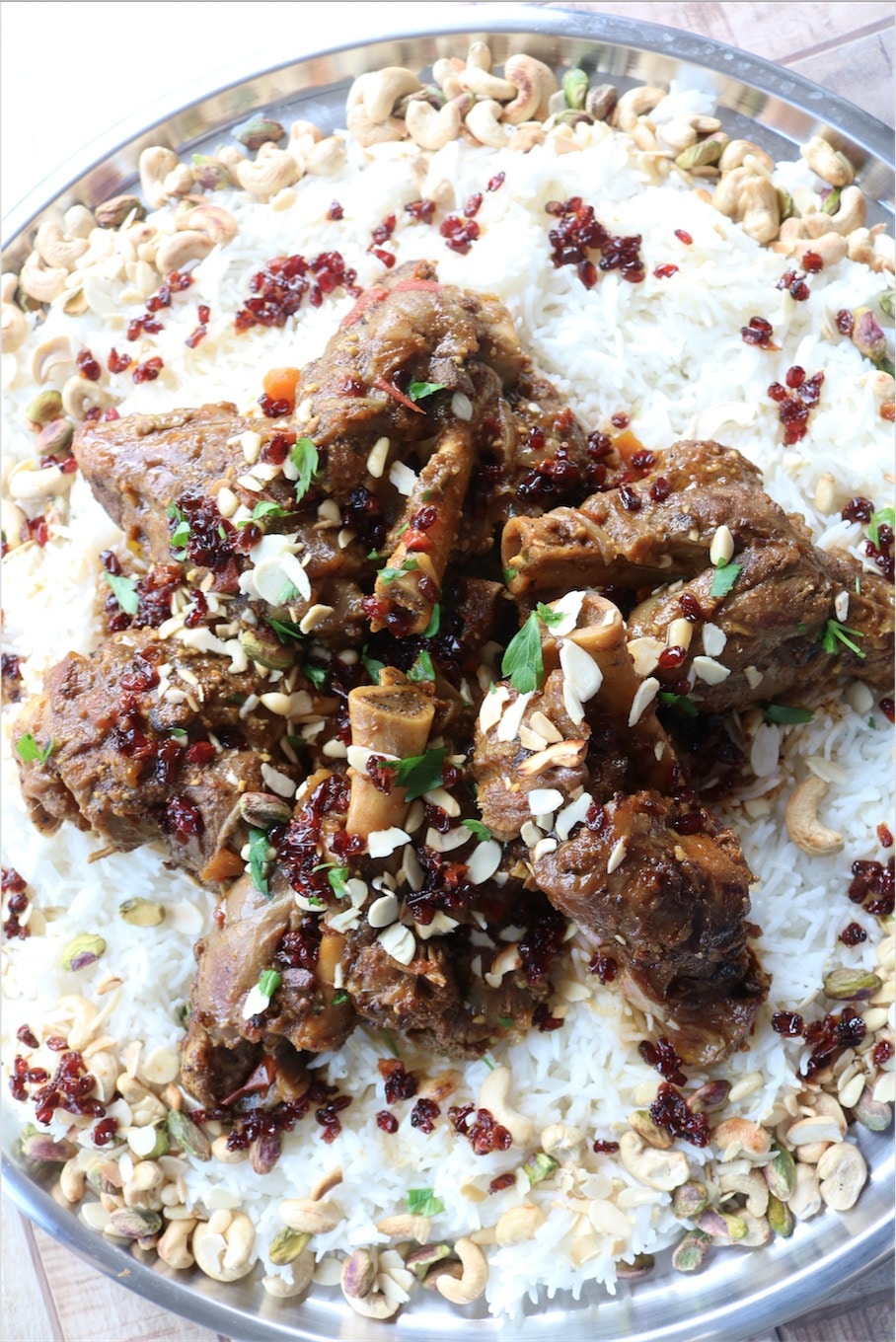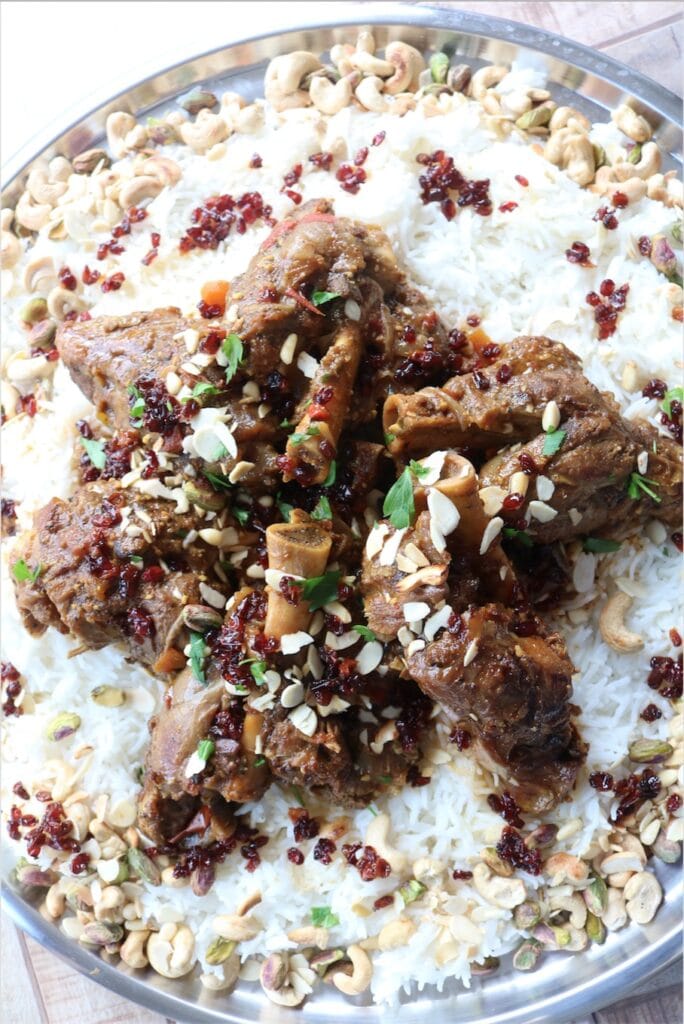 Top Tips
I slow cook this dish in a heavy casserole dish which distributes the heat evenly.
When you go to sear the lamb shanks in a non stick pan, remove any chunky garlic pieces as they might burn and add bitterness.
Once you bring the dish to the boil, reduce the heat to the lowest setting on the small hob and simmer for around 3 hours.
You should check on it every 15 minutes and turn them a little to make sure the sauce doesn't stick to the bottom.
Serve the extra sauce in a bowl so people can spoon it over the rice.
Finally prepare the garnish beforehand so it doesn't stress you out at the end when you want to serve. It is very easy to burn the nuts when you have a million things to do.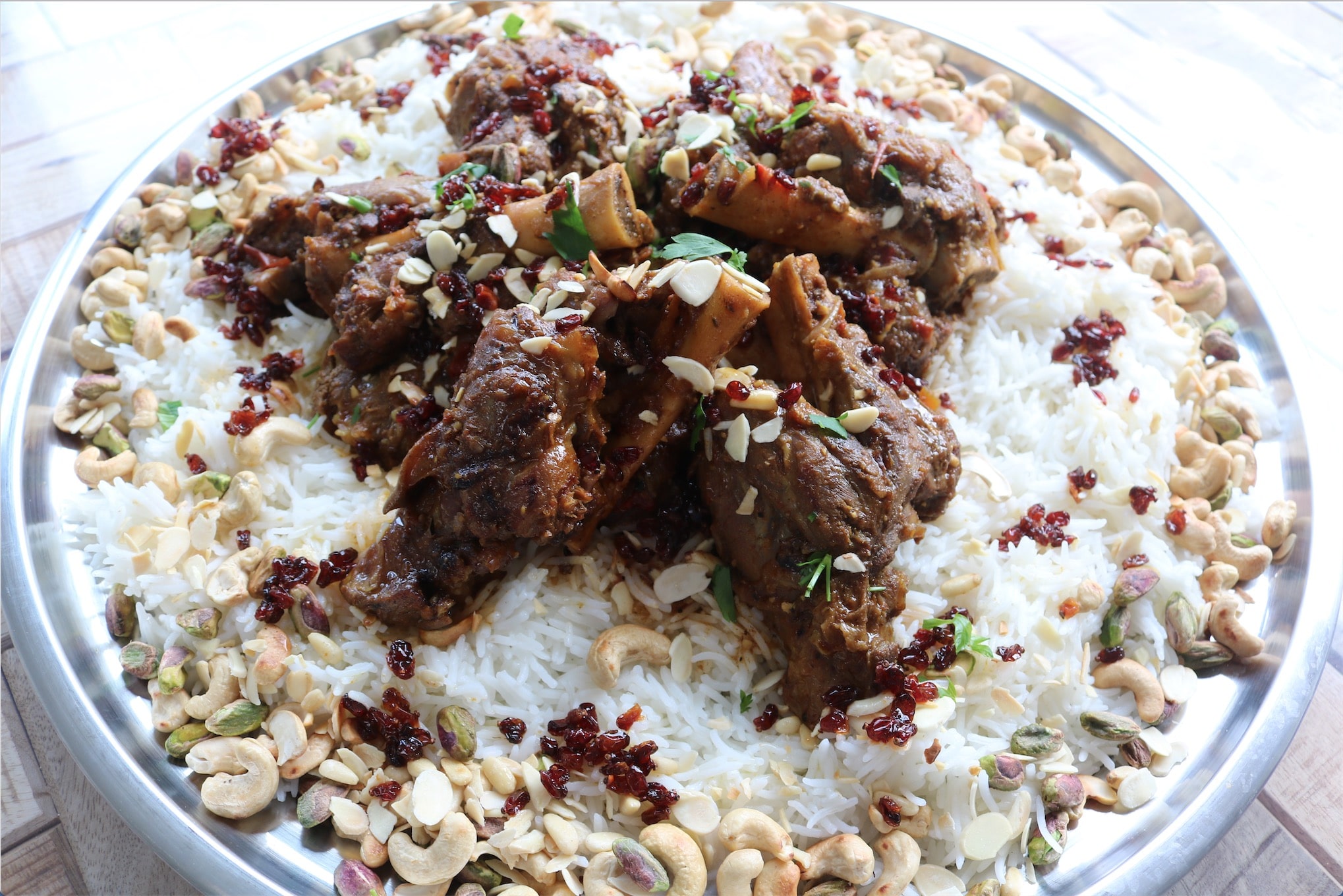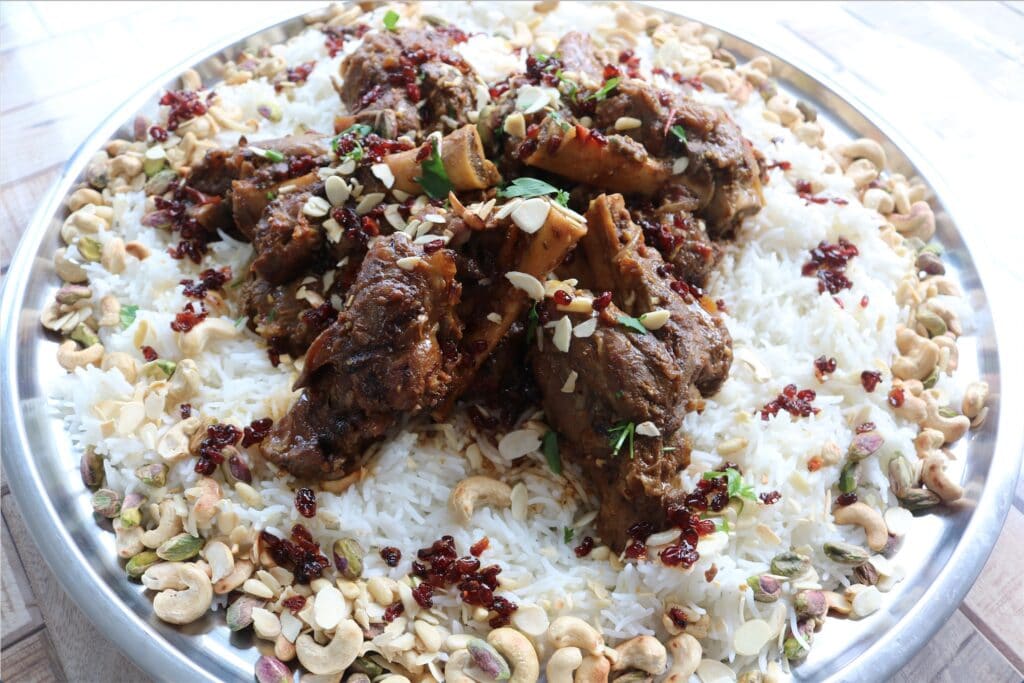 📖 Recipe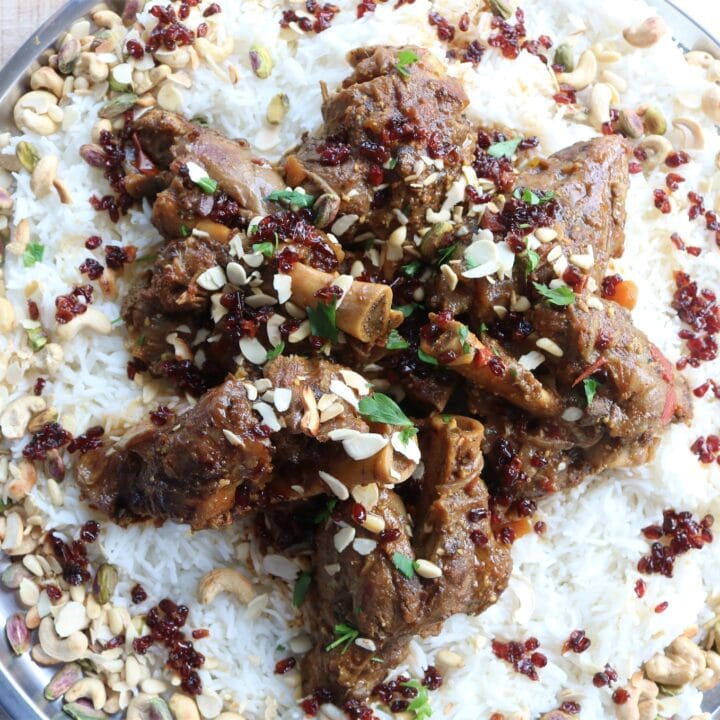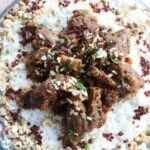 Lebanese Lamb Shanks
Slow cooked lamb shanks on a bed of rice and nuts
Ingredients
For the marinade
2.5

kg

Lamb Shanks approx 7 pieces

3

cloves

of garlic

roughly sliced

3

tablespoon

of plain yoghurt

¼

teaspoon

paprika

¼

teaspoon

turmeric

¼

teaspoon

ground coriander

¼

teaspoon

seven spice

¼

teaspoon

kamouneh spices

or any Middle Eastern Spice blend

¼

teaspoon

black pepper

Drizzle of vegetable oil approx 2 tbsp
For the main dish
2

onions

sliced into ribbons

2

carrots

diced

½

red bell pepper

diced

½

teaspoon

fresh ginger

finely chopped

2

garlic cloves

finely chopped

1

tablespoon

tomato concentrate

1

cup

boiling water

½

teaspoon

paprika

¼

teaspoon

turmeric

½

teaspoon

ground coriander

½

teaspoon

seven spice

½

teaspoon

kamouneh spices

or any Middle Eastern Spice blend

¼

teaspoon

black pepper

3

large tomatoes

chopped

2

tablespoon

round almonds

2

tablespoon

ground cashews

Salt

approx 1 tbsp
For the garnish
½

cup

cashews

toasted

¼

cup

pistachios

toasted

¼

cup

flaked almonds

lightly toastes

¼

cup

pine nuts

toasted

¼

cup

barberries

Tiny pinch of saffron

approx 10 stems

3

tablespoon

butter

Few sprigs parsley, chopped

optional
For the rice
3

cups

basmati rice

1

teaspoon

salt

Drizzle vegetable oil

4.5

cups

boiling water
Instructions
To prepare the marinade
In a bowl, add the yoghurt, roughly sliced garlic, marinade spices (turmeric, paprika, ground coriander, seven spice, kamouneh spices and black pepper) along with the vegetable oil

Rub the marinade into the lamb shanks well, cover and allow to marinade for around 24 hours in the fridge
To cook the lamb shanks
Remove the lamb chops from the fridge at least half an hour before you want to start cooking. Scrape off any extra garlic pieces you might notice and heat up a non-stick pan to medium high

Sear the lamb chops in batches until browned for a few minutes at a time, making sure not to overcrowd the pan. Transfer to a large casserole dish and turn the heat to the lowest setting.

In a new pan, sauté the sliced onions in a good drizzle of regular olive oil on medium heat until golden brown. Add the chopped carrots and red bell pepper and sauté for another five minutes. Transfer to the casserole dish

Add the very finely chopped garlic and ginger, tomato concentrate along with the spices (turmeric, paprika, ground coriander, seven spice, kamouneh spices and black pepper) to the casserole dish and turn the lamb shanks gently.

After half an hour minutes add the salt, ground almonds and cashews as well as the chopped tomatoes with around a cup of boiling water.

Raise the heat to a boil, then return back to the lowest heat. Cover and simmer for another 2.5 hours. Keep gently turning the lamb shanks every 15 minutes, scraping the bottom of the casserole dish with a wooden spoon

Taste the sauce that develops and and checking if you need to adjust the spice or seasoning, or even adding a little water.
To make the garnish and rice
As the lamb shanks are simmering, lightly toast the nuts either in the oven (watching them carefully) or on the hob with a non stick pan (tossing them frequently). Set aside

Wash the barberries several times, then soak them in water for around half an hour, wash again and drain with a fine sieve. Set aside

Wash then soak the rice in water for half an hour. Drain in a fine sieve and transfer to a pot. Then twenty minutes or so before serving, add a drizzle of vegetable oil and half a teaspoon of salt.

Sauté the rice in the oil for around five minutes, then add 4.5 cups of boiling water. bring to the boil then cover and reduce to a simmer for 15 minutes exactly

As the rice is cooking, pound the saffron sprigs into a fine powder (or use a saffron grinder) and add to pan with the barberries and butter. Sauté on a low heat until the butter starts to froth a little and browns. Turn off the heat and set aside.

On a very large platter, transfer the rice and fluff slightly with a fork. Add the lamb shanks in the middle and spoon over a few spoons of the sauce

Sprinkle the nuts over the rice and spoon over the barberry butter and a few sprigs of chopped parsley

Serve the extra sauce in a separate bowl
If you make any of our recipes let us know how it went by giving us a star rating below.
We have a lively Facebook group where we post frequent recipes and discuss Lebanese cooking in general, as well as a handy Pinterest page where you can save all of your favourite Zaatar and Zaytoun recipes.
You might also like these other recipes from the Zaatar and Zaytoun collection: