Chicken hareesa is possibly one of the most comforting dishes to exist in the history of humankind. Wheat is slow cooked in homemade chicken broth for hours, then beaten down with the chicken until it becomes creamy and delicious.
Then it is topped with some cinnamon and brown butter. So seriously good, it is worth the many hours that goes into making it. You can make a short cut version but it won't be the same.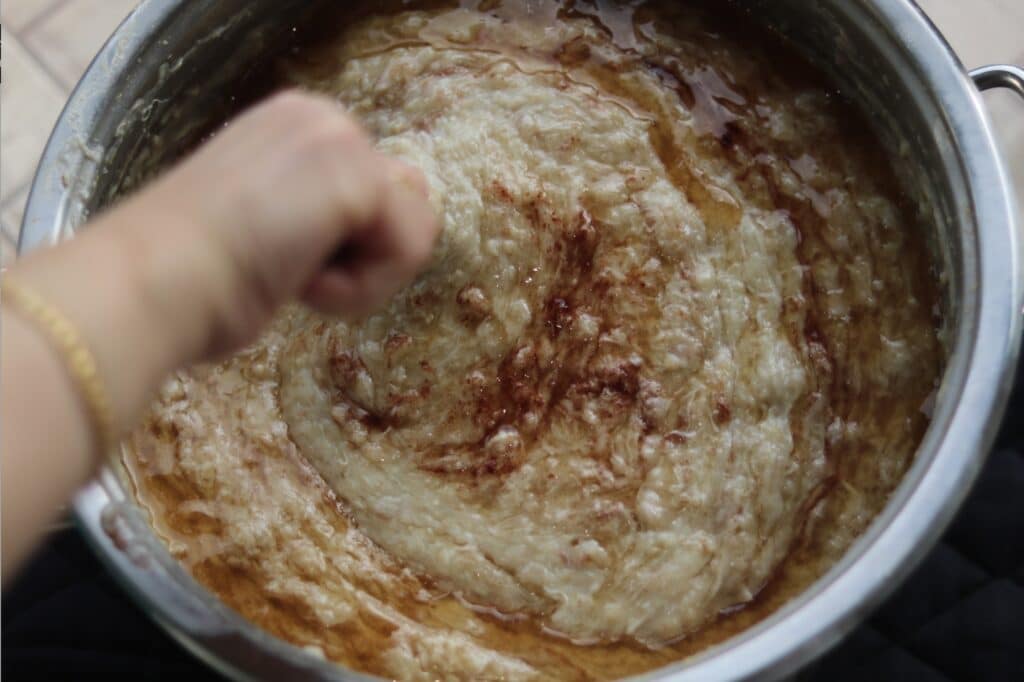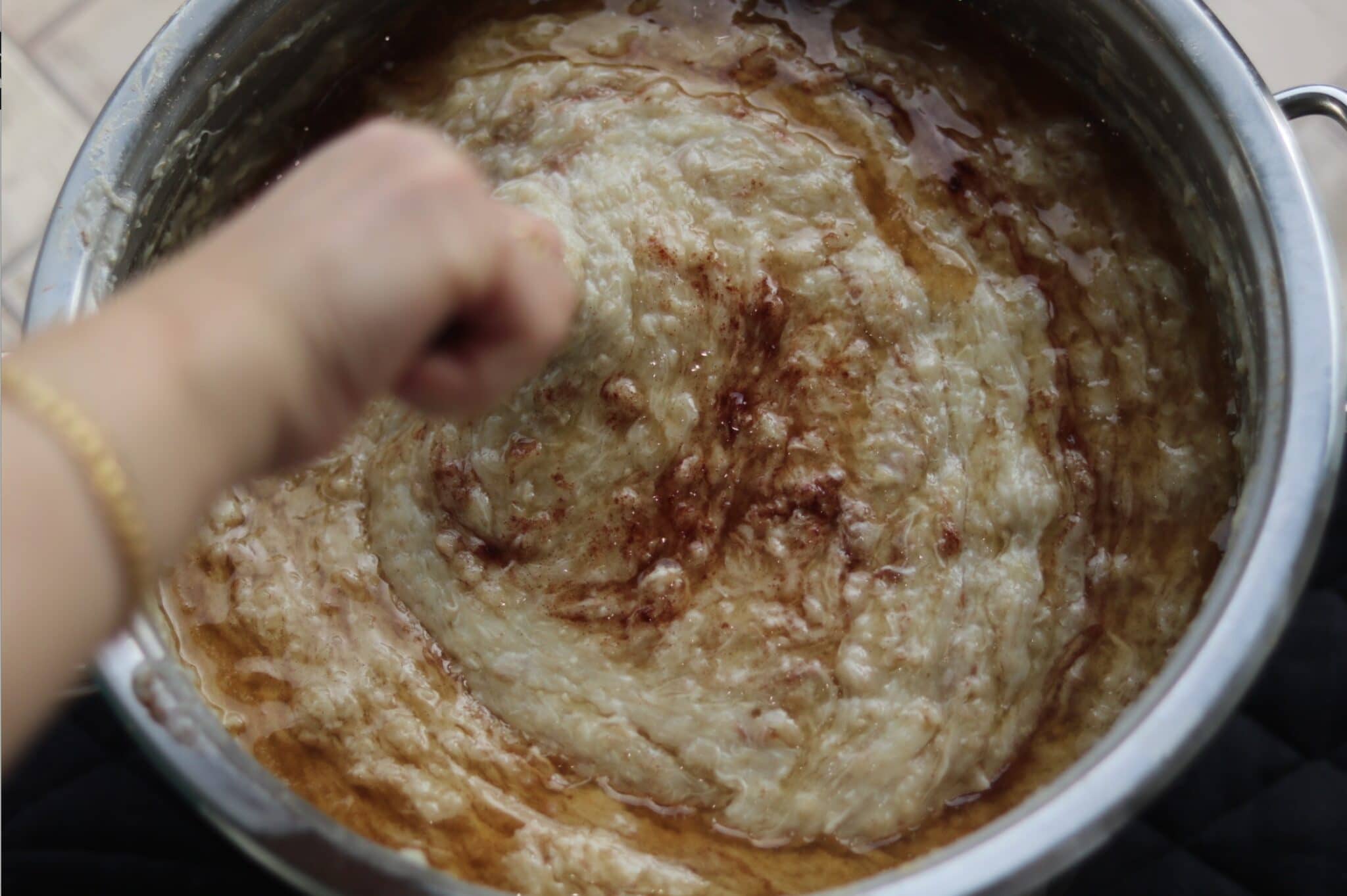 Hareesa is popular around certain times of the year such as the Shia festival of Muharram. People will make it in large pots, often over wood-fire, and offer portions to neighbours or passers by.
Jump to:
Ingredients
You will need to find peeled wheat kernels, you can't make it with regular wheat kernels. Here's how they look like.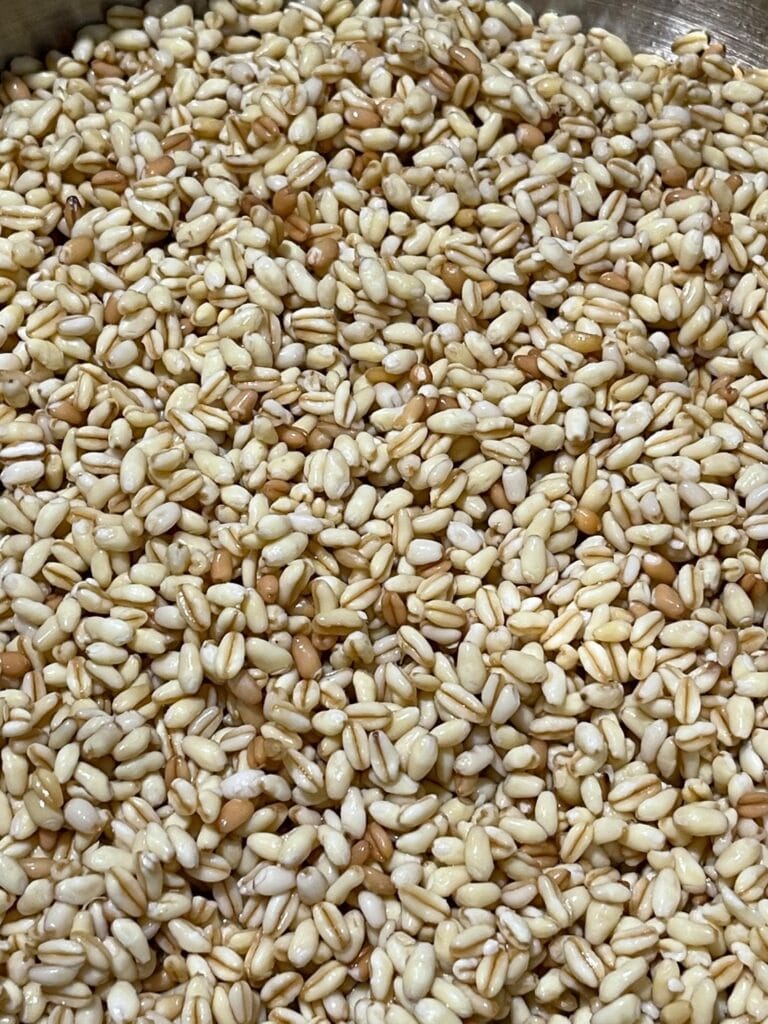 These three main ingredients for this hareesa are:
Peeled wheat kernels

Chicken

Chicken stock
Instructions
You will need to start the night before by soaking the peeled wheat in water and bicarbonate of soda (baking soda).
Some people soak the wheat in hot water to speed up the process.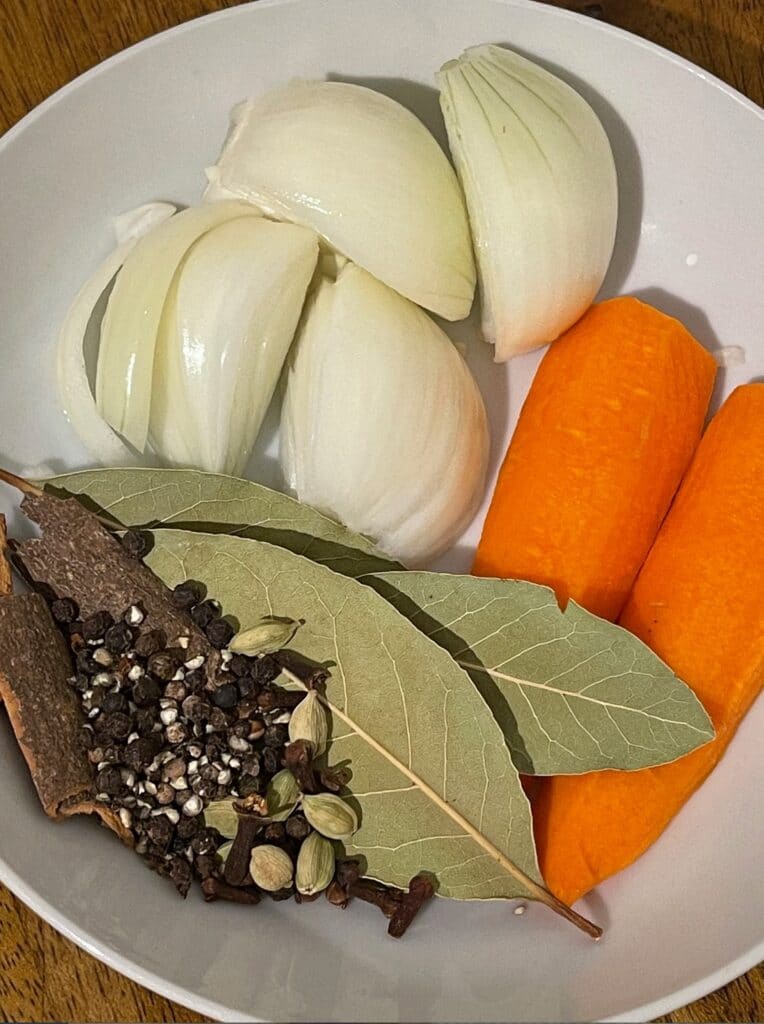 The broth for hareesa is very basic and doesn't need too many herbs. Some black peppercorns, cinnamon, cardamom and cloves are all the aromatics you need, along with a carrot and an onion.
For one kilogram of wheat, you will need two good sized chicken or three baby ones.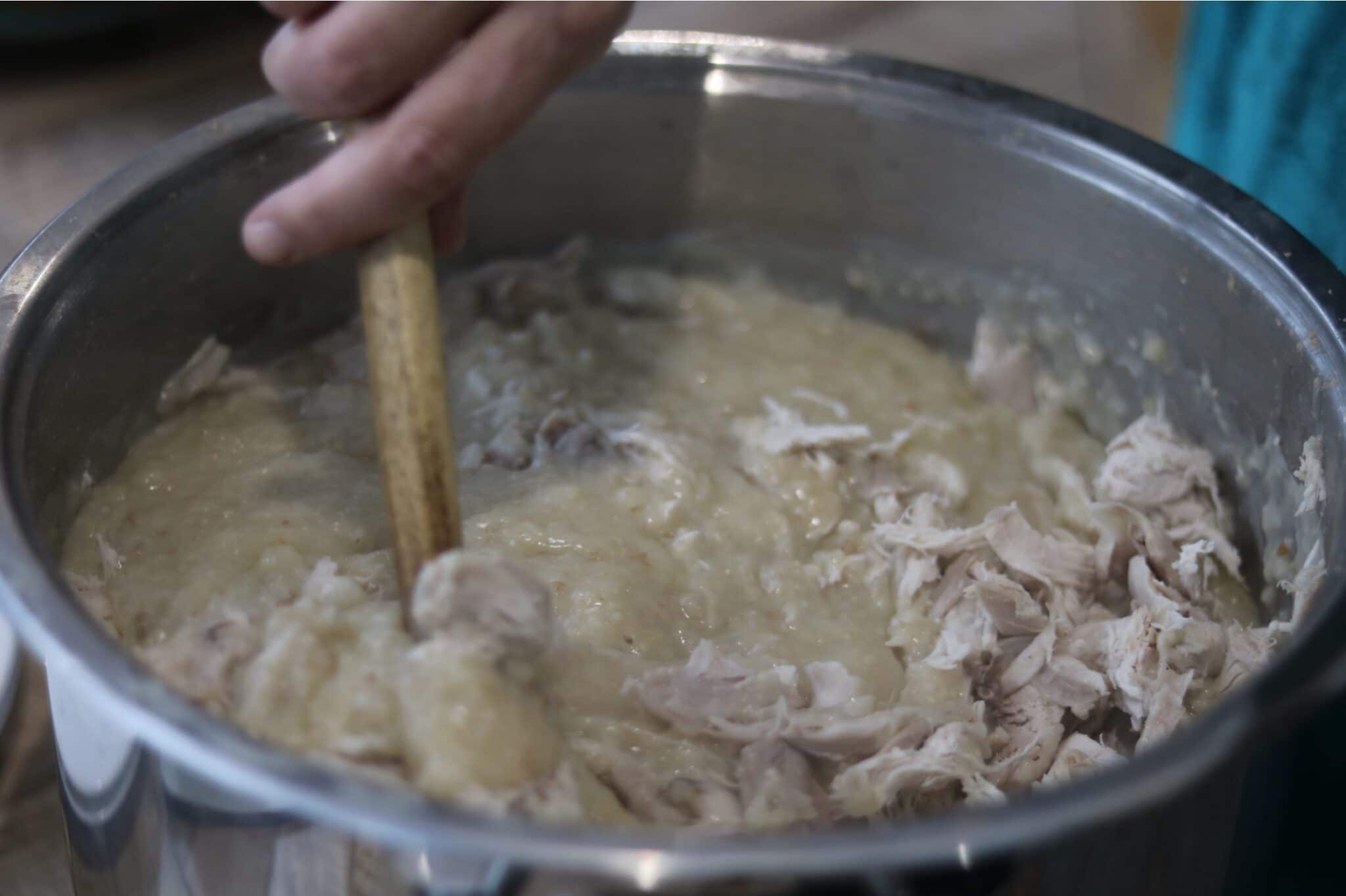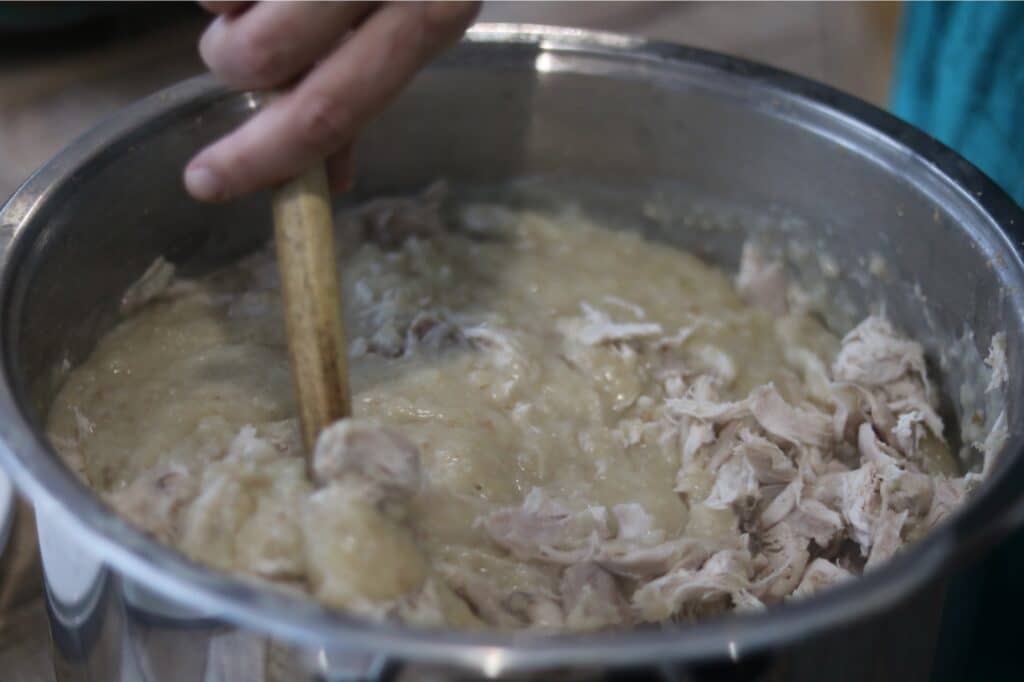 When the broth is done, shred the chicken and add to the wheat half an hour before the end. You want to cook the chicken just enough to blend into the hareesa without overdoing it.
Variations
This dish can also be made with meat. Cooking the meat in a pressure cooker is a good idea to make it tender.
You could use either chicken or meat broth to add to the wheat. I've never seen a vegetarian version but let me know if you've tried one.
Equipment
You will need at least two very large pots to make this. One for the broth and one for the wheat to cook in.
You will also need a large wooden spoon to keep beating the wheat.
Storage
Hareesa will store in the fridge for up to three days, and can be frozen in portions for up to six months
To reheat simply, defrost and add a little hot water to loosen it.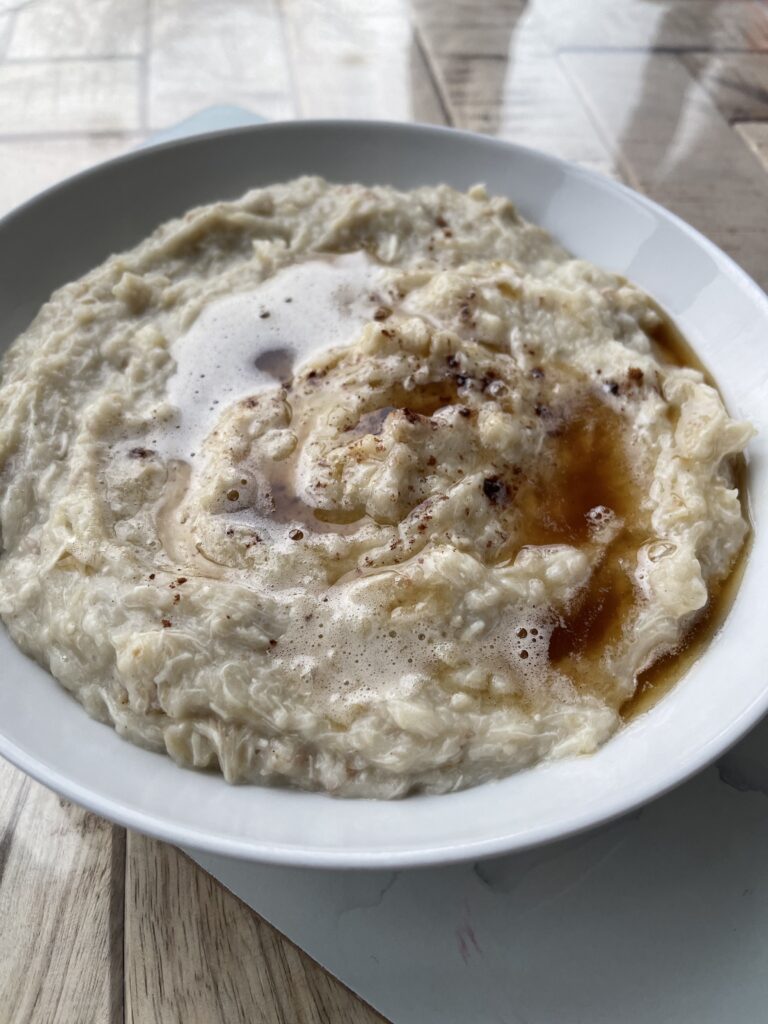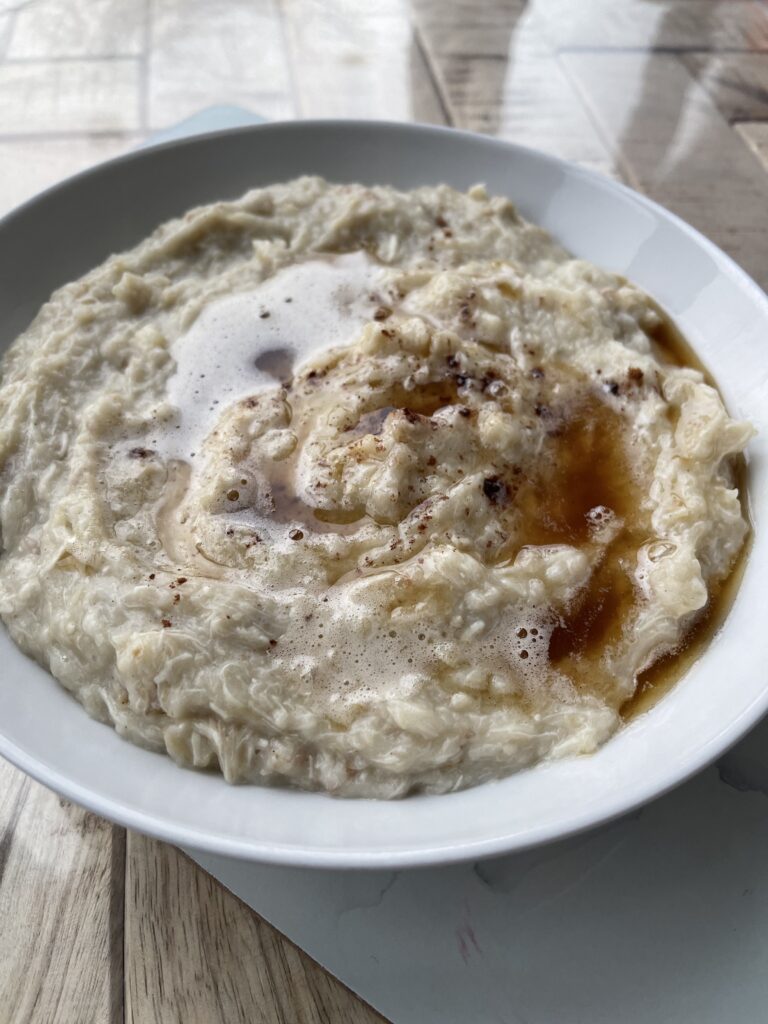 Top tip
It is a good idea to make this dish with family and friends. This way someone can shred the chicken, whilst another can tend to the wheat. It also makes the time go by quicker.
It is very important to keep beating the wheat with the chicken especially during the last hour. Take it in turns to make sure the wheat doesn't stick to the bottom of the pot.
To finish the dish off, add a tiny sprinkle of cinnamon and some browned butter.
The best way to make browned butter is to heat up the butter on the lowest setting and swirl it around occasionally.
When the butter starts to foam watch it very carefully and you will start to notice it brown. Take it off the heat as soon as it turns a golden brown and be careful not to burn it!
Some people like the texture closer to a soup and other's more like a porridge. You can loosen the texture by adding a little more stock although bear in mind it will thicken when it cools.
📖 Recipe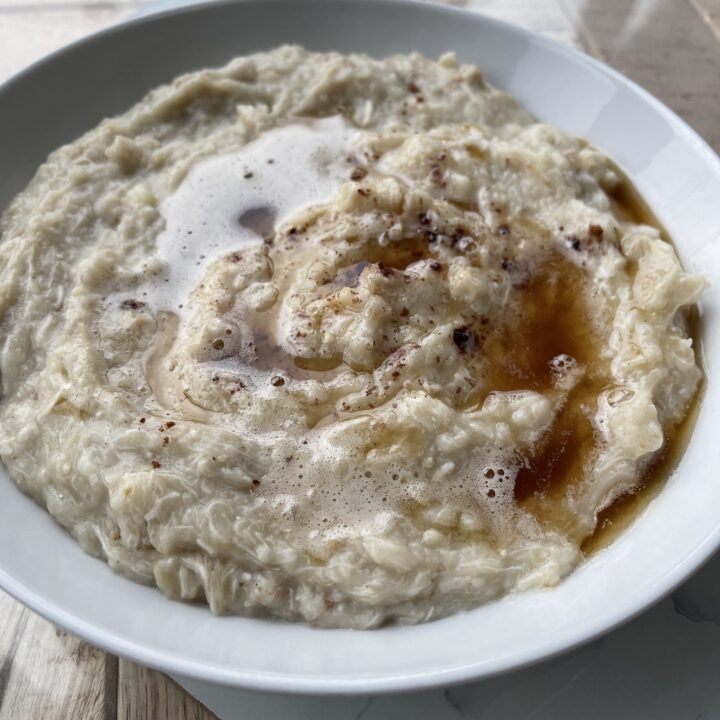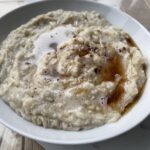 Hareesa (Chicken wheat porridge)
Slow cooked wheat with chicken and topped with cinnamon and brown butter.
Ingredients
1

kg

peeled wheat kernels

1

tablespoon

bicarbonate of soda

(baking soda)

2

kg

quartered chickens

approx 2 medium chickens

2

onions

2

carrots

2

bay leaves

1

cinnamon stick

10-20

peppercorns

5

cardamom pods

5-10

cloves

boiling water as needed

1

tablespoon

salt

approx

1

teaspoon

ground cinnamon

¼

teaspoon

ground nutmeg

½

cup

butter
Instructions
To prepare the wheat
The day before, sift through the wheat kernels for any random pieces and wash several times, before adding the bicarbonate of soda (baking soda)

On the day of cooking, wash several times, drain and set aside
To make the chicken stock
In a large pot add the chicken, aromatics (bay leaves, cinnamon, peppercorns, cloves, cardamom) with the onion and carrot, along with boiling water to cover approx 4 litres

Bring to the boil, skim off any surface foam and then simmer for one hour on low heat

After an hour, drain the liquid through a fine sieve and set aside. Shred the chicken off the bone and also set aside
To make the hareesa
In another very large pot, add the chicken stock to the wheat kernels to cover and bring to the boil, simmer for another three and a half hours on low heat, stirring every so often to prevent the wheat sticking to the bottom

Add approximately 1.5 tablespoons of salt, and add more stock or boiling water to the wheat if it becomes too thick

After three hours and a half of cooking the wheat, add the chicken and beat well with the wheat for another 30 minutes using a large wooden spoon to cream the hareesa together

In a small pan, melt the butter on low heat until it begins to brown and foam

Taste to see if the wheat is well cooked, and adjust salt if necessary

Just before you turn off the heat, sprinkle on the ground cinnamon and nutmeg along with the melted browned butter

Serve immediately, and top with more browned butter if desired.
Recipe Video
If you make any of our recipes let us know how it went by giving us a star rating below.
We have a lively Facebook group where we post frequent recipes and discuss Lebanese cooking in general, as well as a handy Pinterest page where you can save all of your favourite Zaatar and Zaytoun recipes.
You might also like these other recipes from the Zaatar and Zaytoun collection: