These cute little 'katayef asafeiri' are an easy Lebanese dessert for beginners to start with, as essentially they are yeasted pancakes filled with clotted cream, finished off with a simple orange blossom syrup and a sprinkling of pistachios.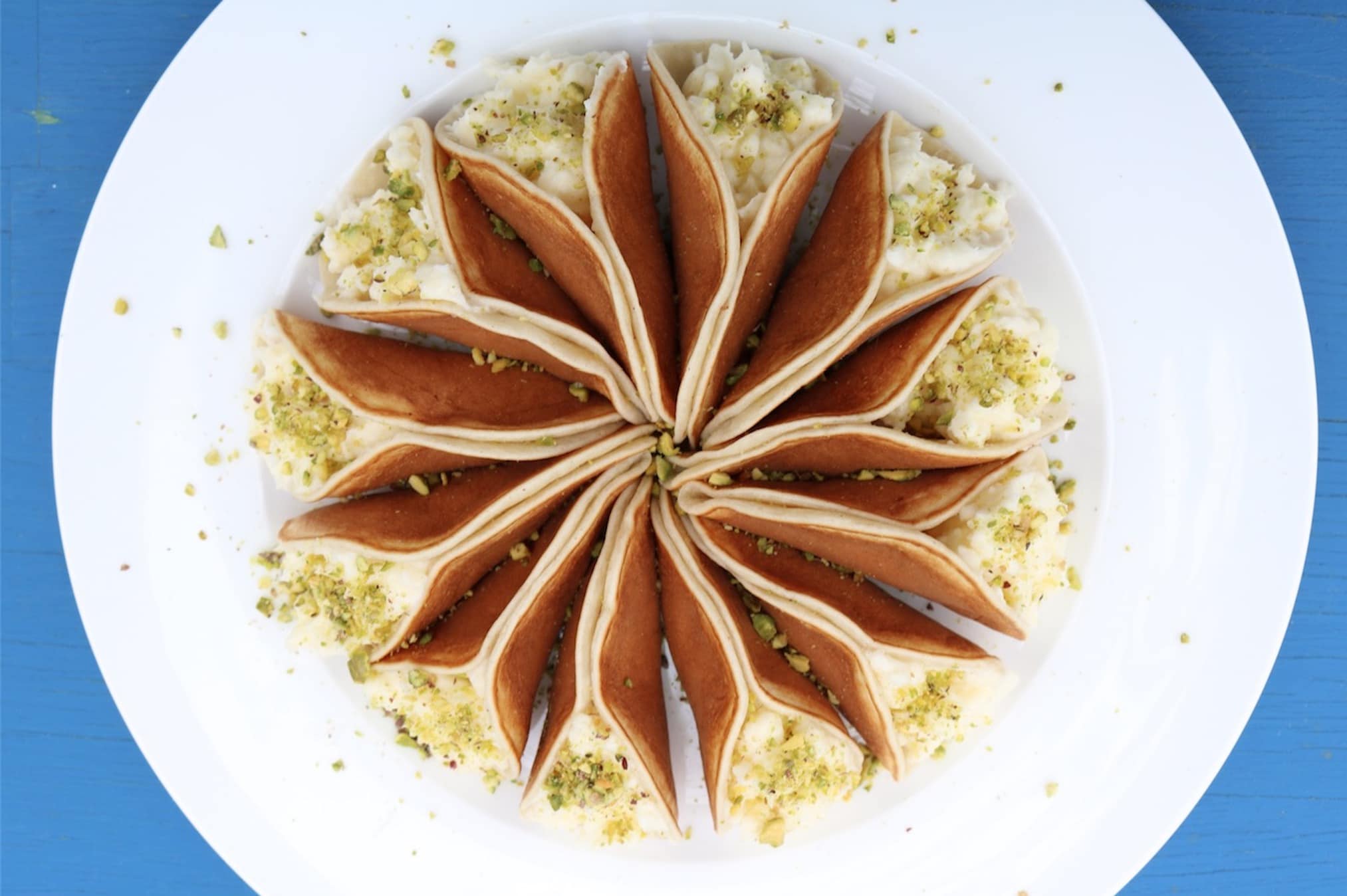 The pancakes
The pancakes are similar to your regular pancake mix, except that they don't contain egg but have a little yeast instead to help make those signature bubbles.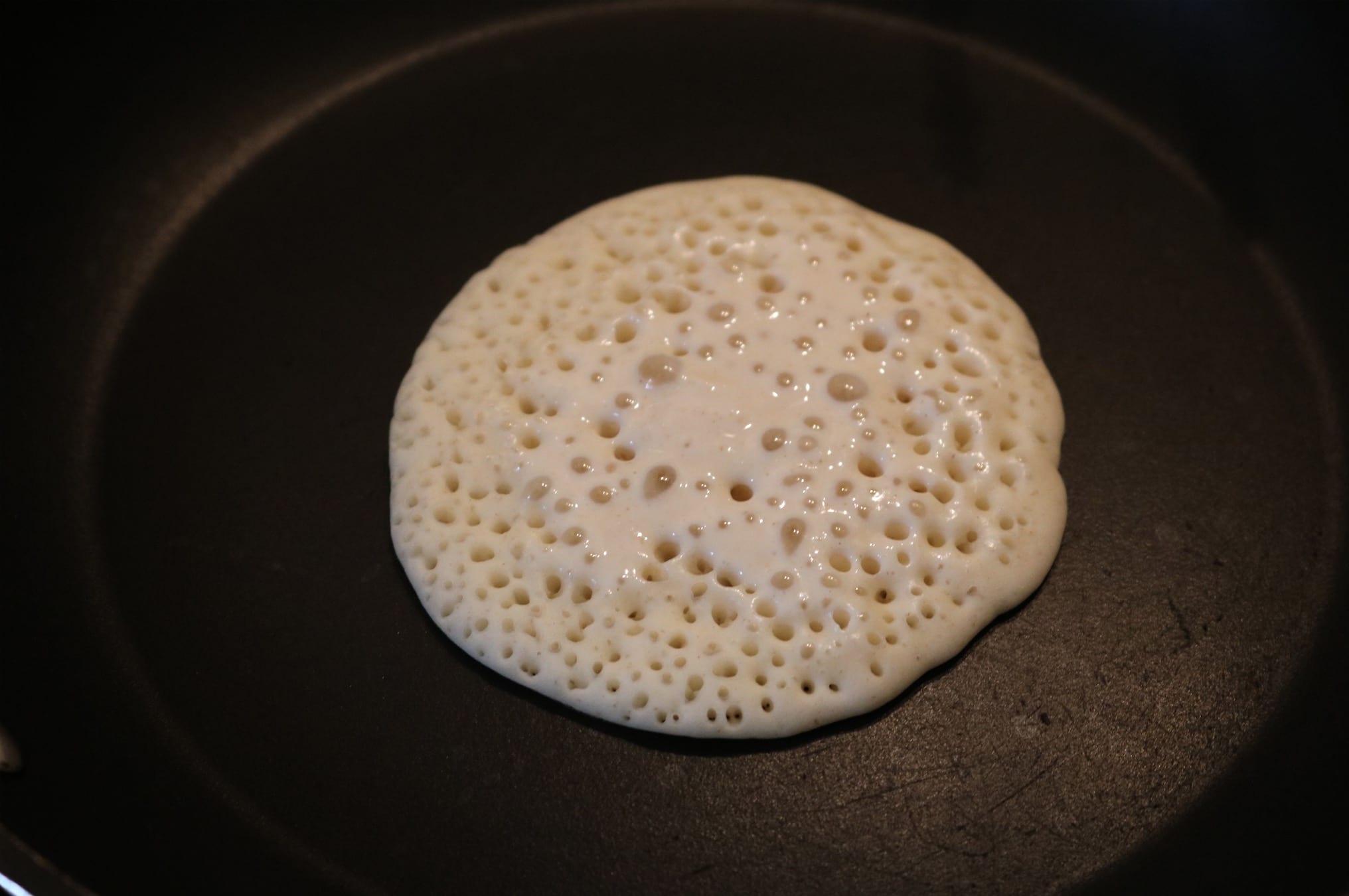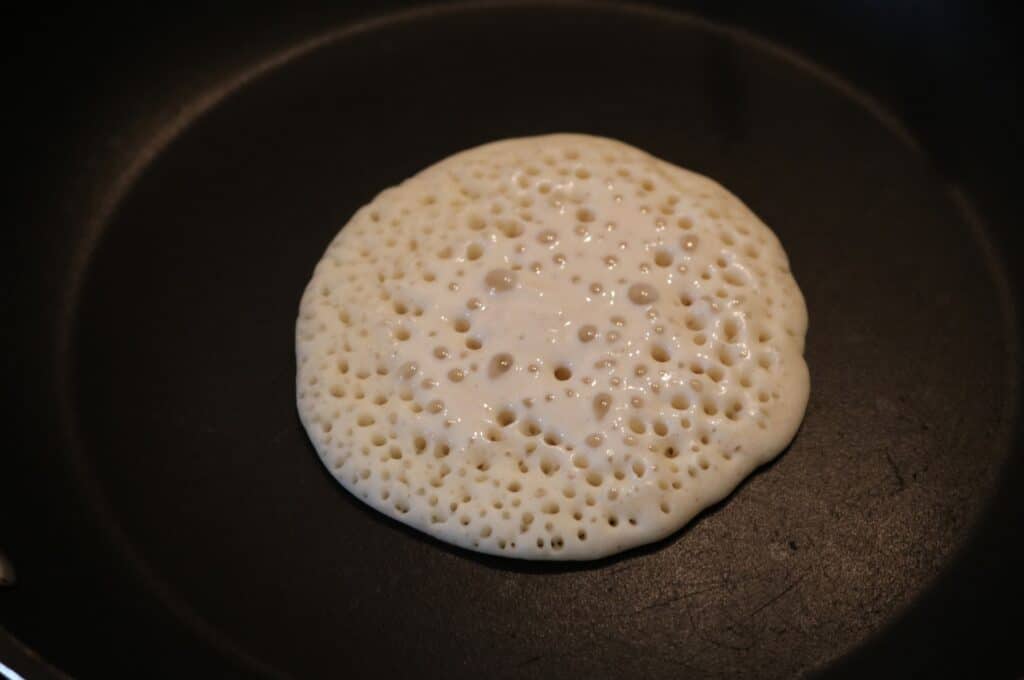 Katayef pancakes are not flipped both sides but cook on just one side so you can press them together and fill them.
It is a good idea to have two muslin cloths ready to lay the pancakes inside so they don't dry up and finish cooking off in the vapour.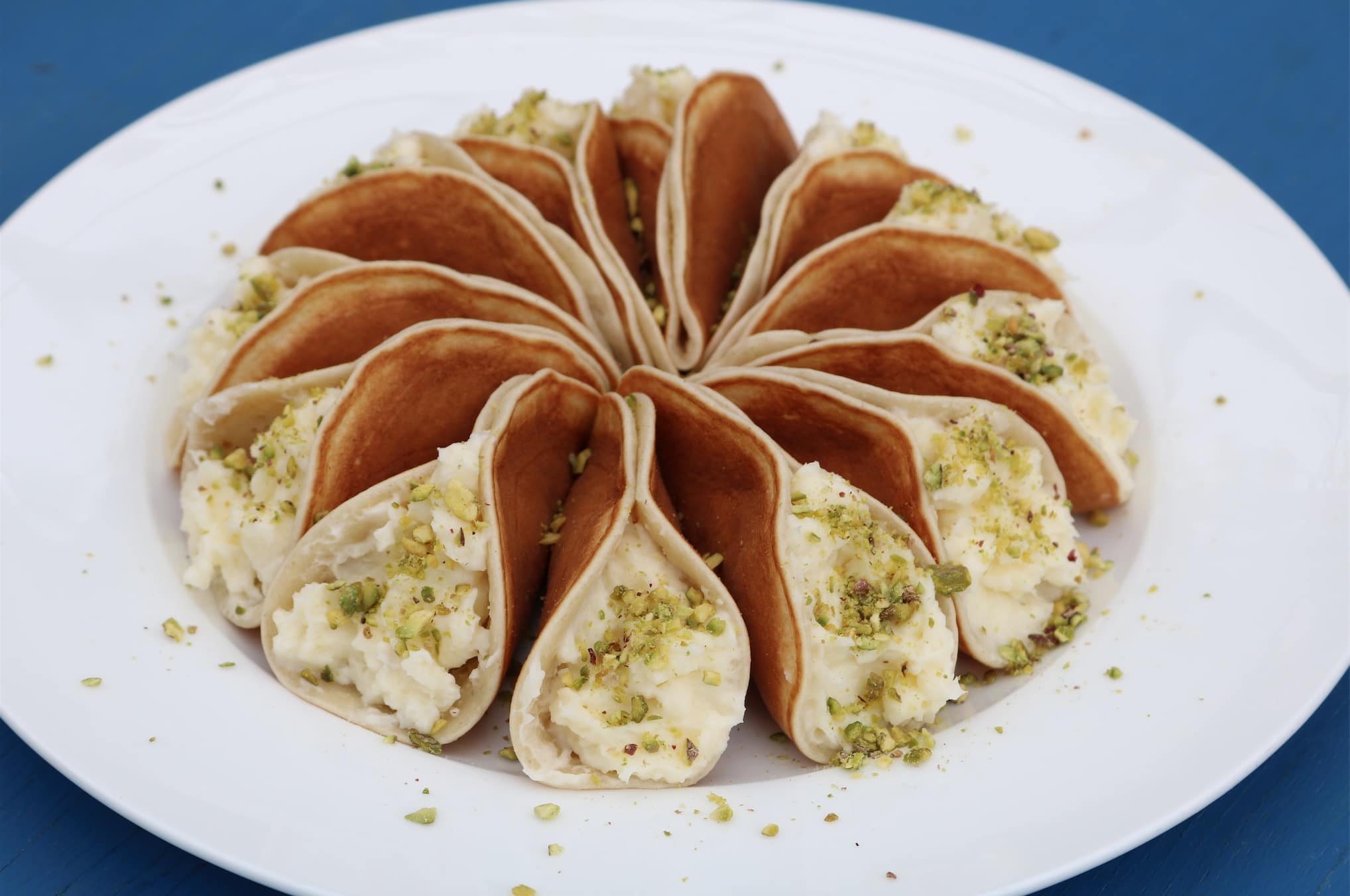 The clotted cream (ashta)
There are lots of clotted cream recipes around that don't actually use cream but some combination of dried milk and corn flour but I love to use real cream where possible as it gives it that luxurious touch.
When making the clotted cream keep stirring with a whisk or it will stick to the bottom and burn.
Make sure you whisk the cornflour well with the cream and milk before you turn on the heat. Keep stirring for about a minute after it starts to thicken but keep in mind it will become even thicker when it cools.
Remember to whisk the cream again once cooled just before filling to get that clotted texture.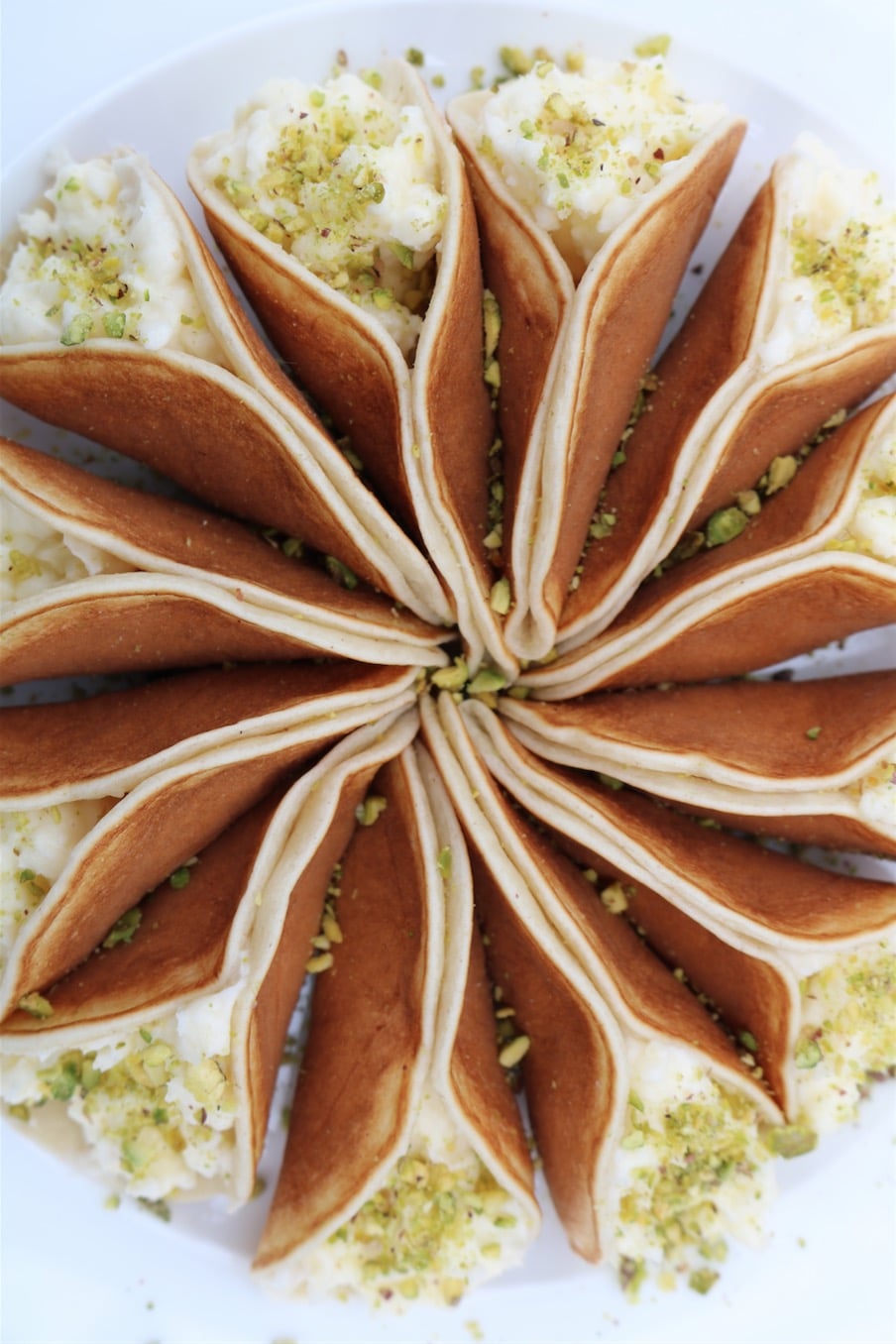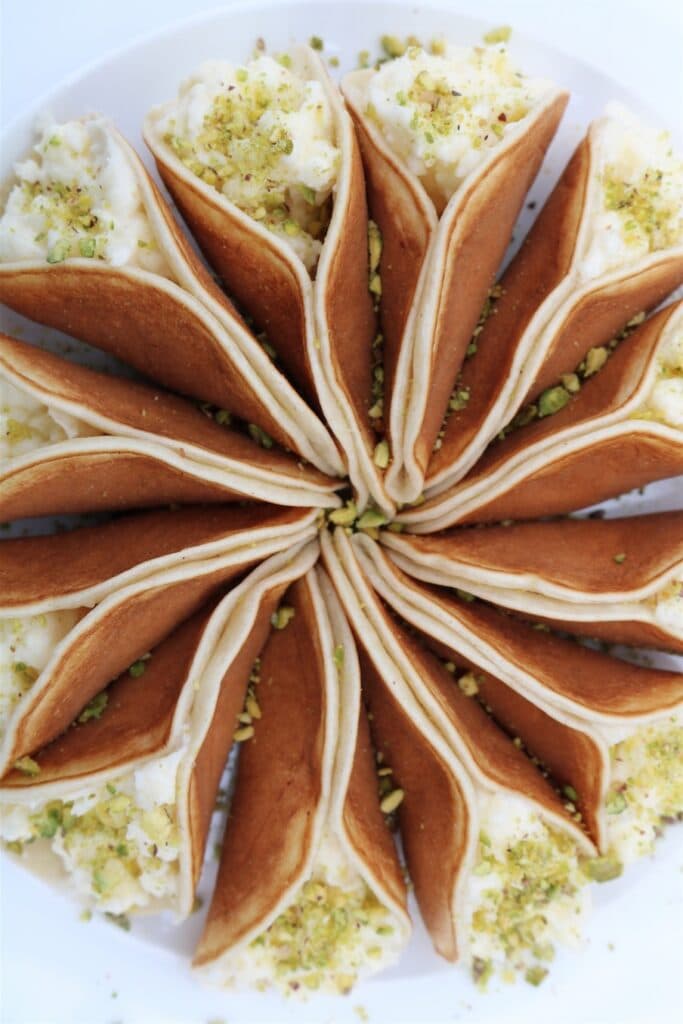 The syrup
The simple orange blossom syrup is just some sugar and water heated for simmered for five minutes with a small drop of orange blossom. Always add the orange blossom sparingly as it can overwhelm.
You can even skip the syrup part if you like by adding a little extra sugar to the cream to balance the sweetness.
Tips to make the best katayef b kashta
To make the asafeiri (bird's) shape, which I think is reference to a bird's beak, simply press half the pancake together and keep half open to fill with a spoon of clotted cream.
These little treats are dangerously addictive and taste even better the next day for breakfast. Yes you are allowed to have them for breakfast as they are just fancy pancakes with toppings so there!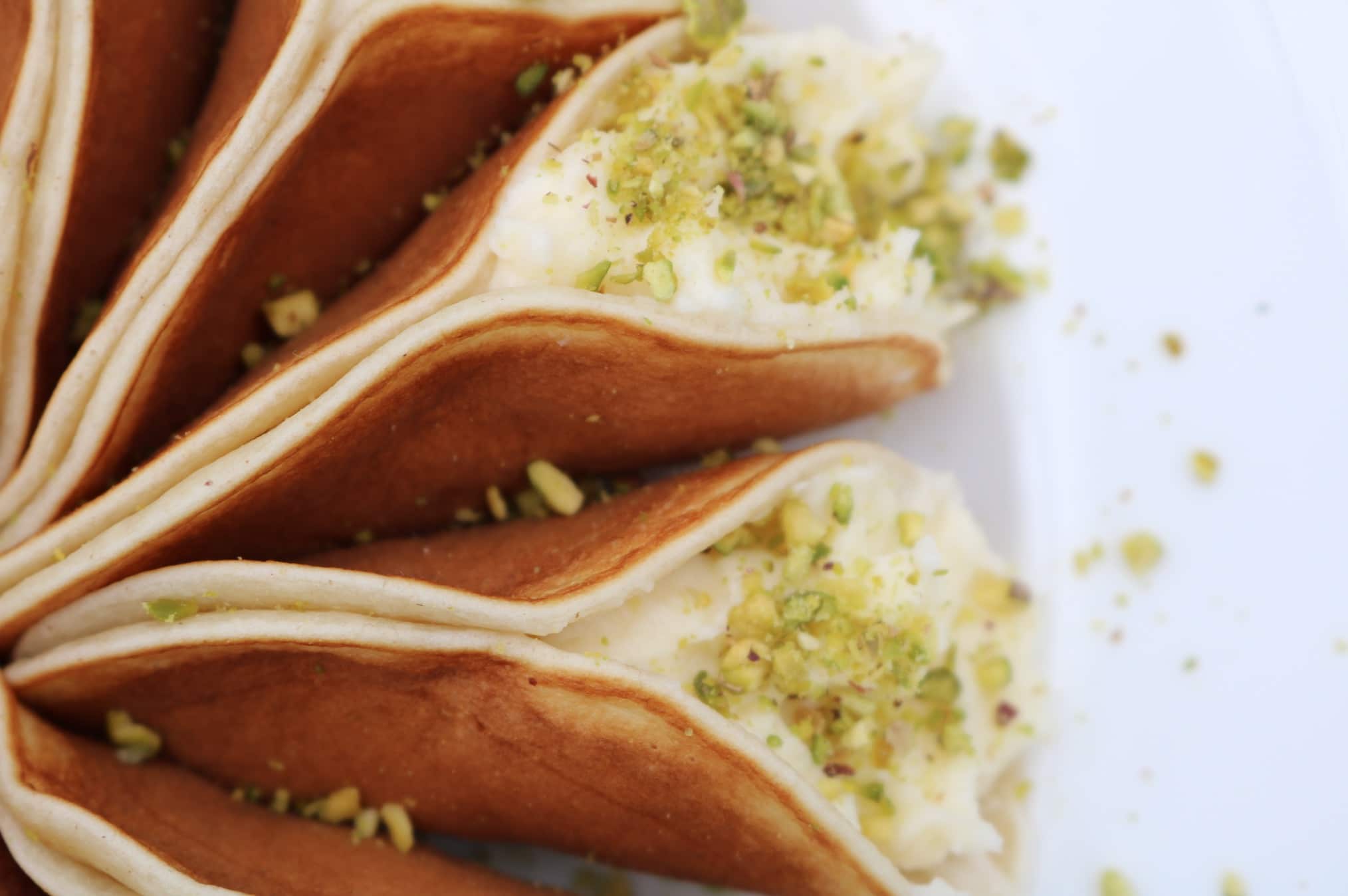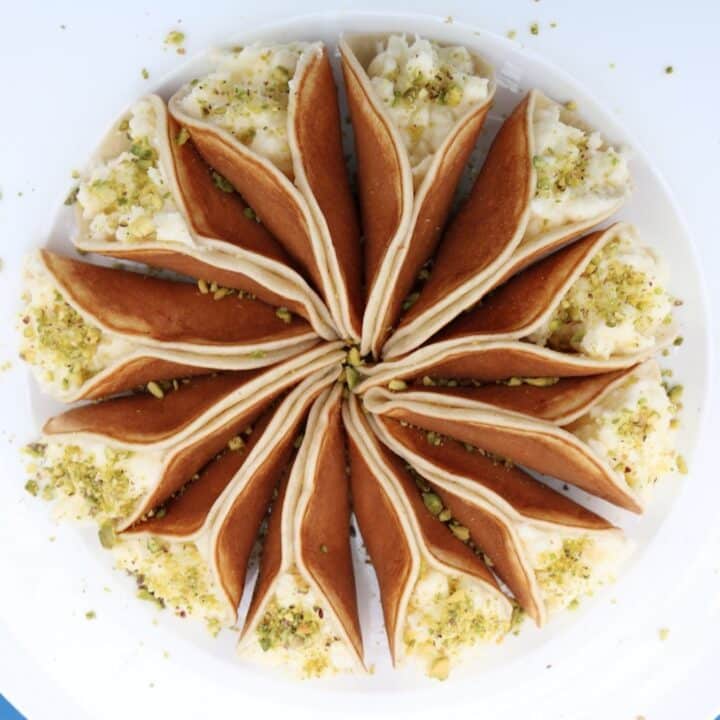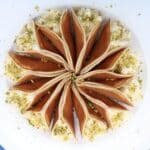 Katayef b Kashta (Lebanese cream Dessert)
Clotted cream filled pancakes with an orange blossom syrup
Ingredients
To make the Pancakes
1

cup

flour

½

cup

fine semolina

1

teaspoon

baking powder

Pinch

of

salt

1

cup

water

½

cup

milk

½

teaspoon

dried active yeast

2

tablespoon

sugar
To make the Clotted Cream
150

ml

heavy cream

150

ml

full fat milk

2 ½

tablespoon

cornstarch

1

tablespoon

sugar

¼

teaspoon

orange blossom water
To make the Orange Blossom Syrup
½

cup

water

1

cup

sugar

1

tablespoon

lemon juice

Small

Sprinkling

salt

1

teaspoon

orange blossom water
Instructions
To make the Pancakes:
In a mixing bowl, sieve the flour and baking powder together. Add the semolina and salt. Stir everything well

Add the yeast and sugar to the cup of tepid water and stir well until dissolved. Then add the yeasted water along with the milk to the dry ingredients and combine. Leave to rest for half an hour

Heat a wide non stick pan on medium low heat, add a small ladel of pancake mix around the size of your palm. When bubbles form all over the top and the bottom is golden transfer between two muslin cloths to cool.

Repeat the process until you finish the pancake mix.
To make the Clotted Cream
In a saucepan, add the cream, milk, cornflour and sugar. Whisk well before you turn on the heat. Once combined keep stirring on a medium low heat until the mixture begins to thicken. Add the orange blossom and continue to stir on low heat for another 15 seconds or so. Set side to cool
To make the Orange Blossom Syrup
Add the water, sugar, salt and lemon juice to a saucepan, stir until the sugar is dissolved and bring to the boil on a medium high heat. Then add the orange blossom and reduce to a simmer for about five minutes. Set aside to cool
To assemble the Pancakes
Whisk the clotted cream by hand for a few seconds just before assembly

Pinch together the edges of half a pancake, leaving the other half open to spoon in some clotted cream

Assemble the pancakes in a serving platter

Drizzle a little orange blossom syrup on top

Scatter some crushed pistachios

Serve either warm or cold
Recipe Notes
Cornstarch is known as cornflour in the UK and is used to thicken sauces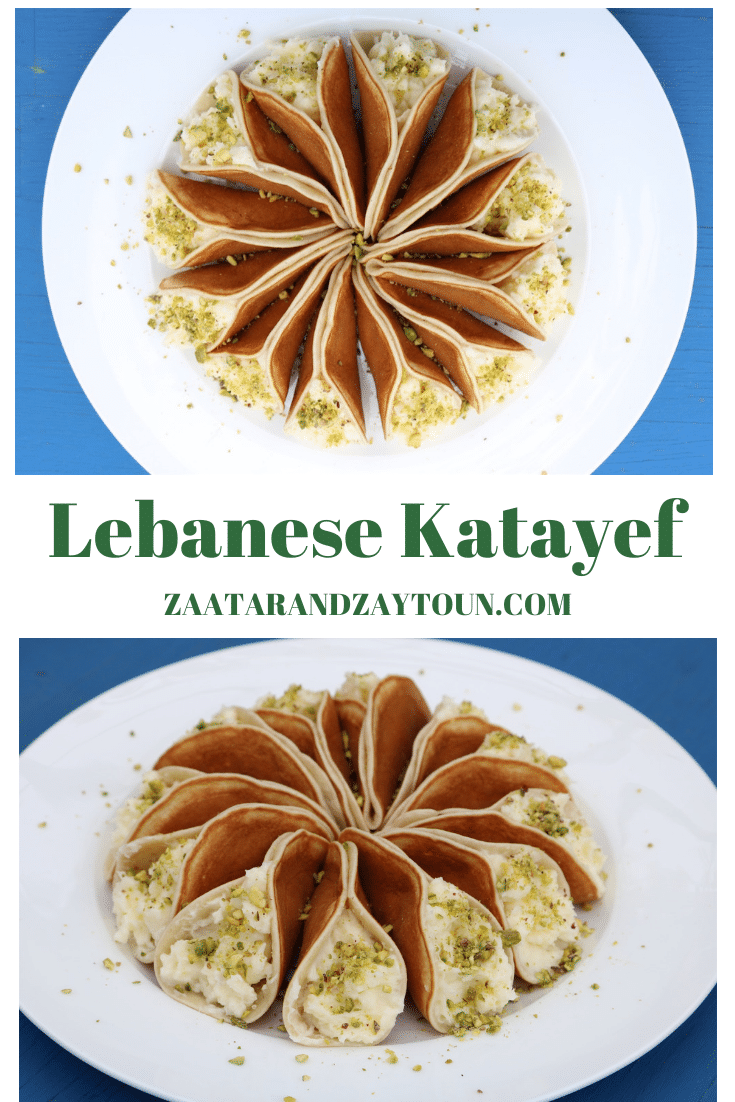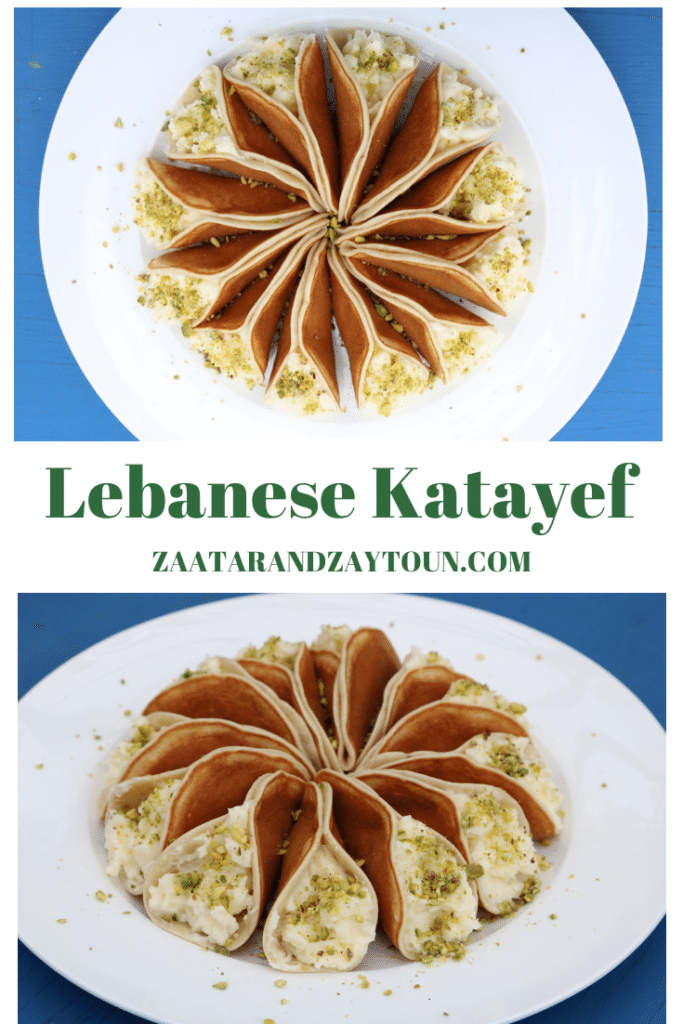 You may also like these recipes from the Zaatar and Zaytoun collection