Yekhnehs are Lebanese mildly spiced slow cooked stews that usually combine a main vegetable with a rich tomato sauce.
If they are made using meat we usually add 'bi lahme' (with meat) to the description and if they are made vegetarian/vegan we describe them as being cooked 'in oil' or 'bi zeit'.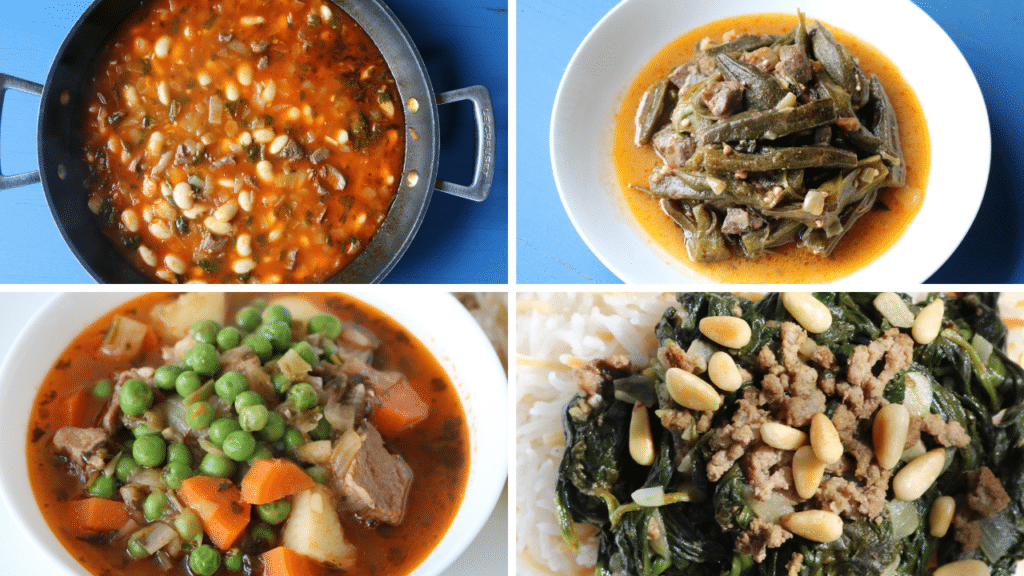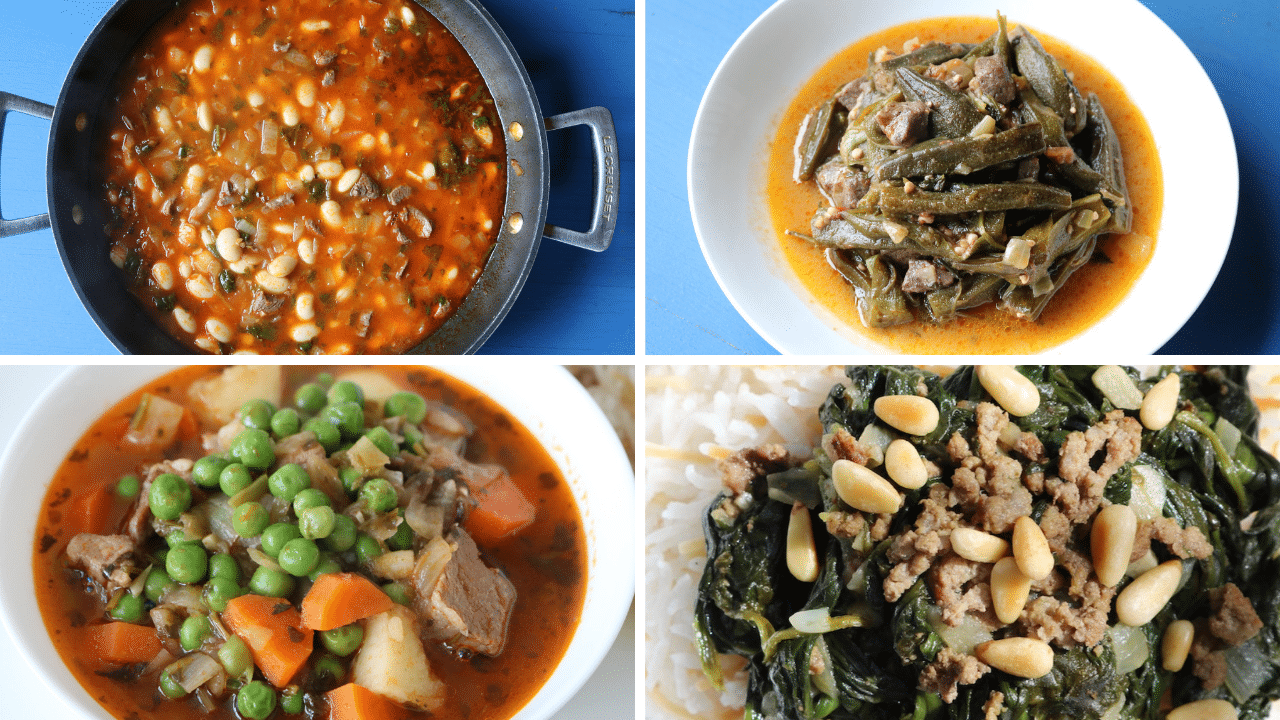 So for example you have bamia (okra) as two versions 'bamia bi lahme' or 'bamia b'zeit'.
They are cooked in very similar ways except that the meat version usually has fresh cilantro (coriander) added to it and sometimes finished with a drizzle of pomegranate molasses or lemon.
Yekhnehs are usually eaten with vermicelli rice or scooped up with flat breads. They can even be frozen for a quick gourmet ready meal.
Here are some of the top yekhnehs we have on our website which are also very easy to make.
White Bean Stew (Fasolia)
Fasolia can be made with any type of white bean and here we used cannellini beans. We prefer the ones that come in a jar as they give the best flavour and texture.
You can use either ground beef fillet, diced into tiny bitesize sections, or even ground beef.
What can be better than a hearty white bean stew in the middle of winter. We love to add a squeeze of lemon and a sprinkle of salt to our plate of fasolia and rice.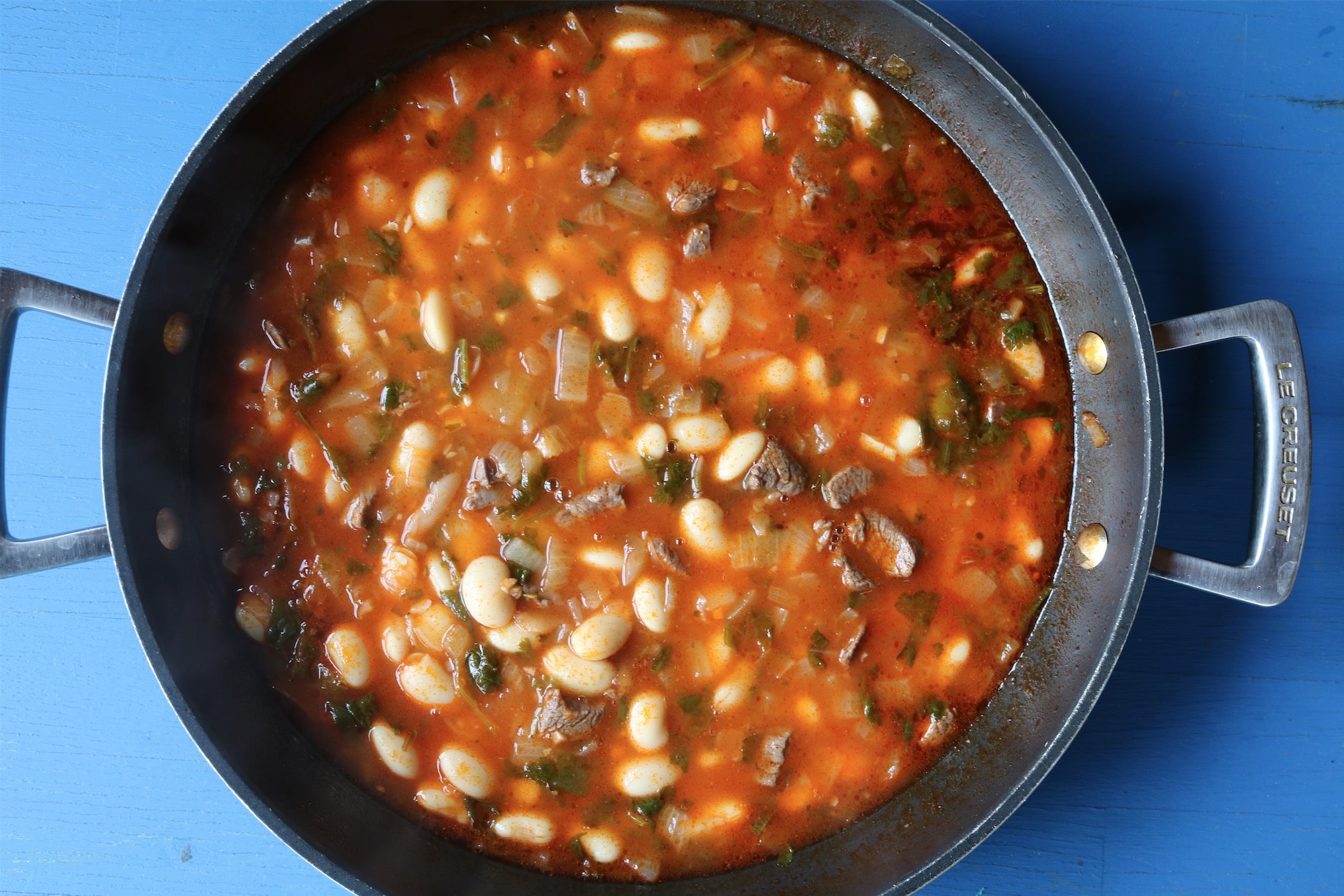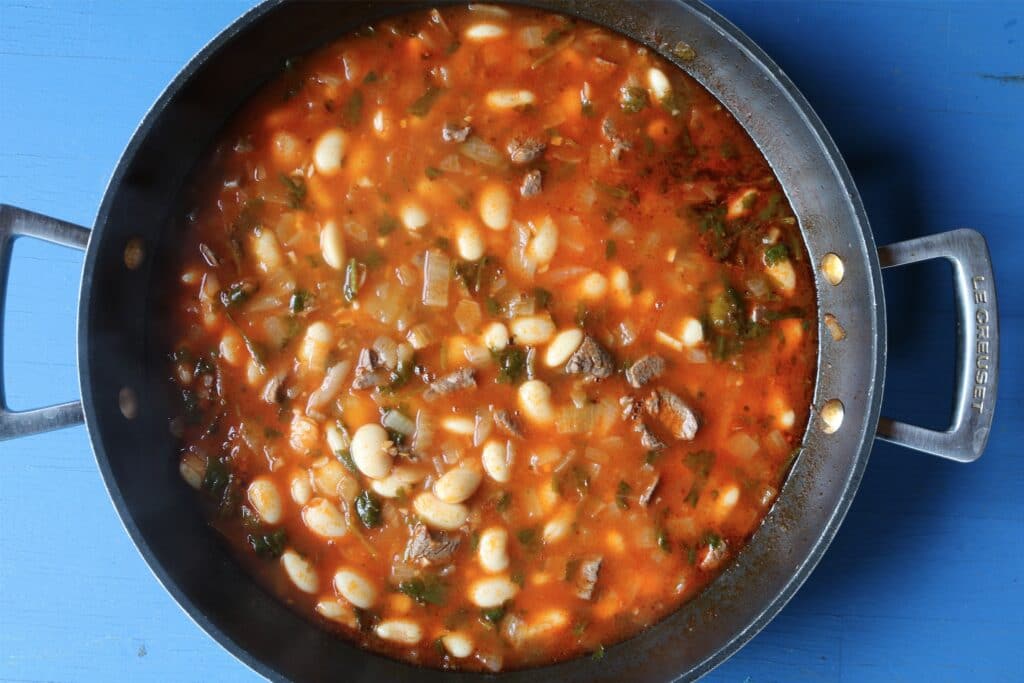 For the full fasolia recipe go here:
Okra Stew (Bamia)
Bamia means 'okra' in Arabic and we have made both versions here for you, which both start with sautéing onions and garlic in some regular olive oil.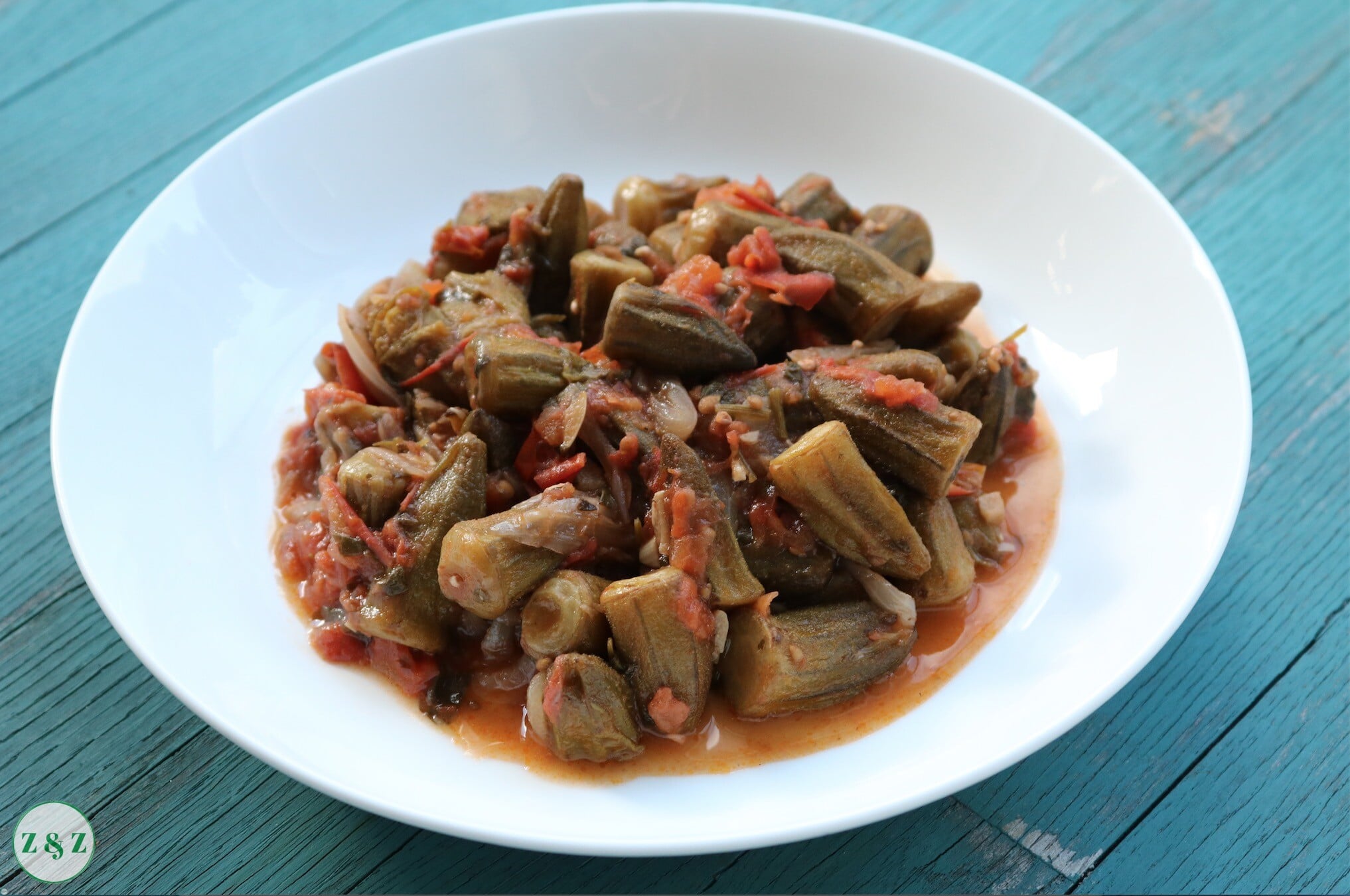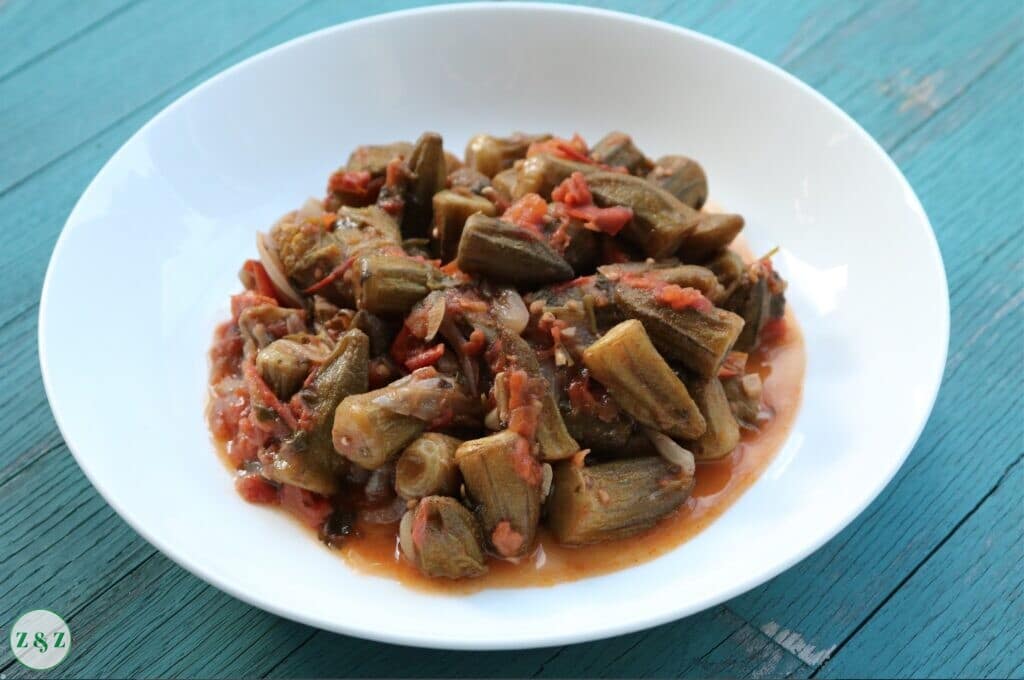 The great thing is that you can use frozen okra, canned tomatoes and even frozen cilantro (coriander) and as it's slow cooked you hardly notice the difference.
Get all those ingredients stored and then when you want something delicious and healthy to feed a crowd, ba-bam, the bamia is done!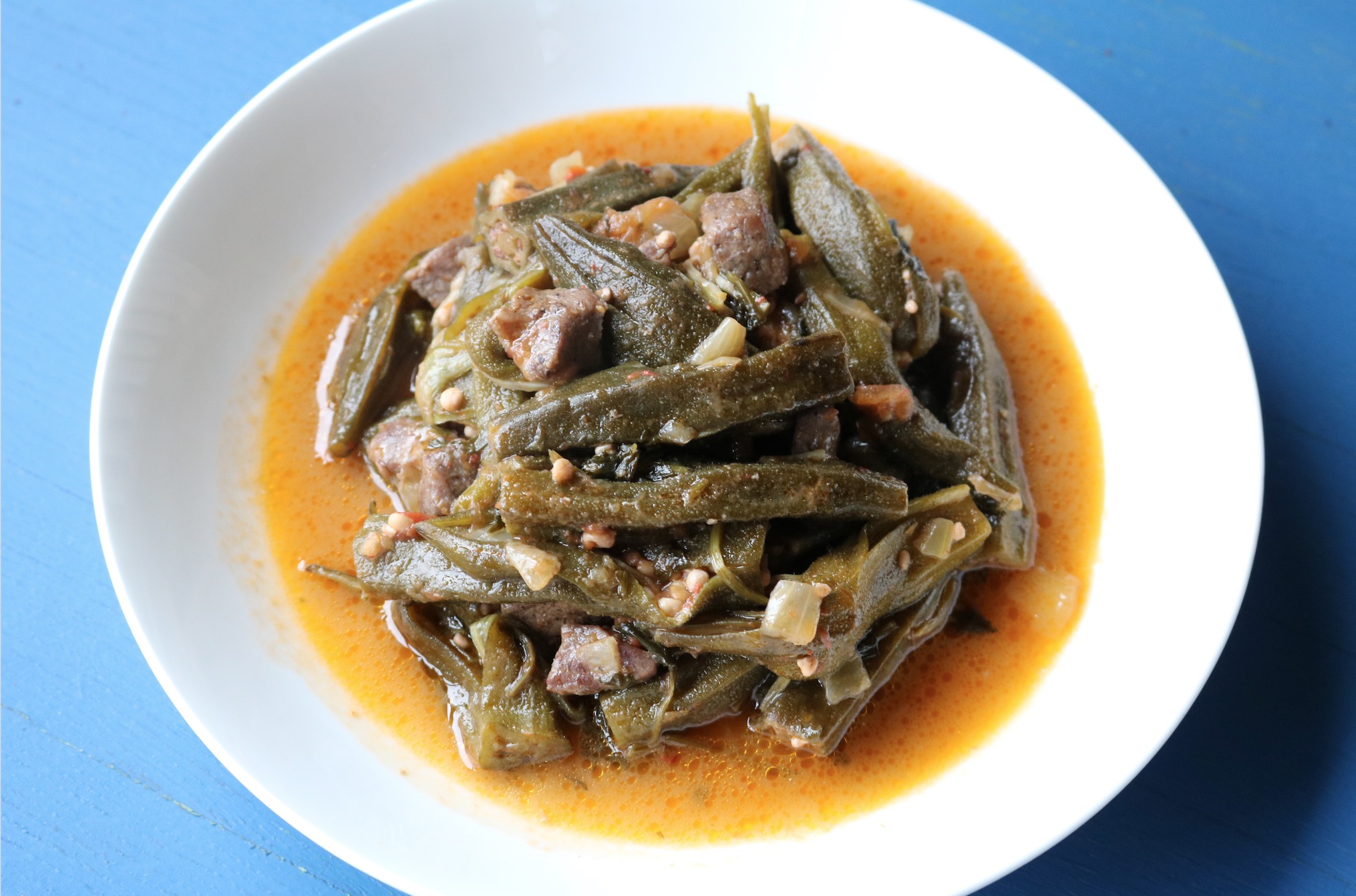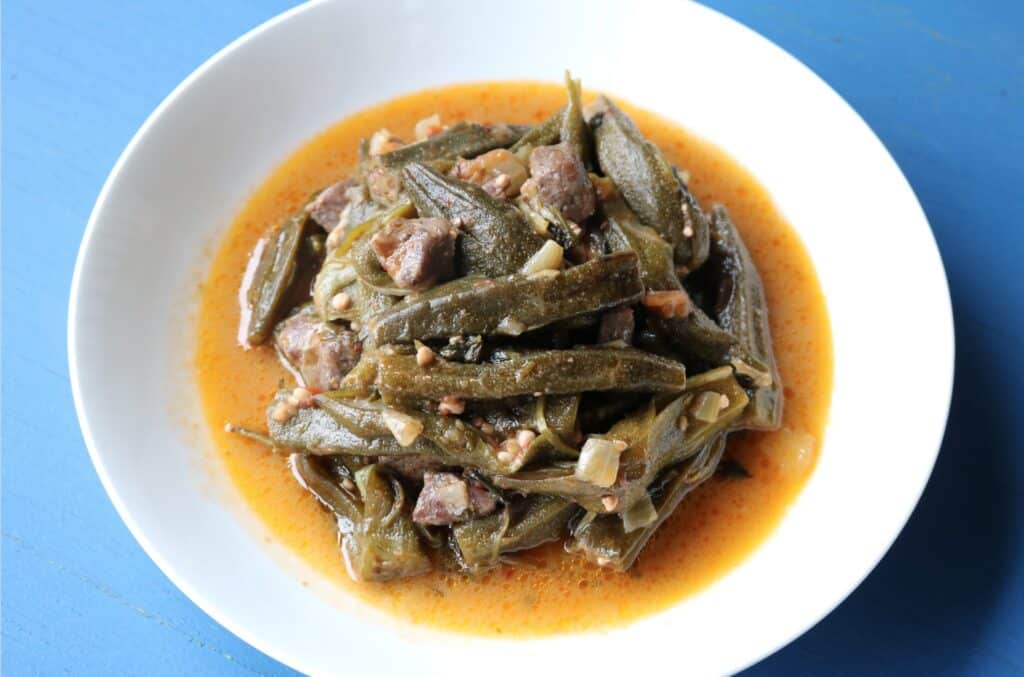 You can find the full bamia bi lahme recipe here and the vegan bamia b'zeit here.
Green Bean Stew (Loubia)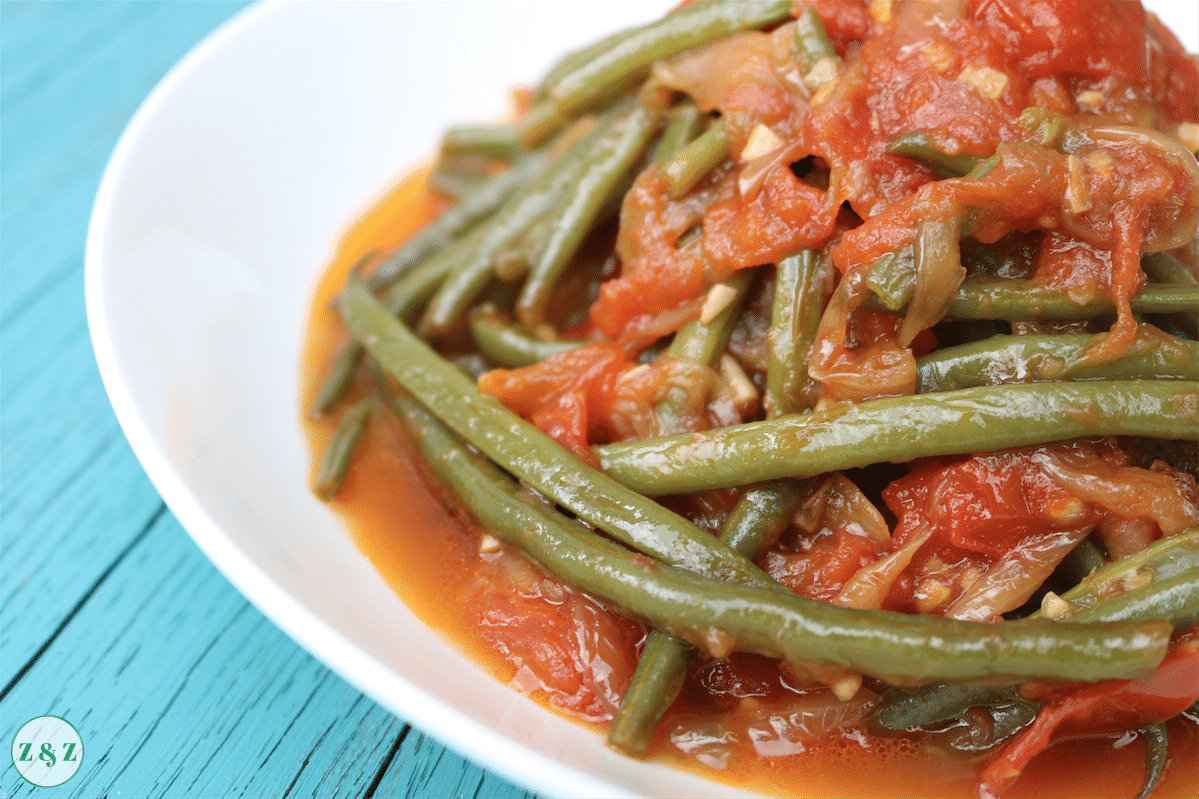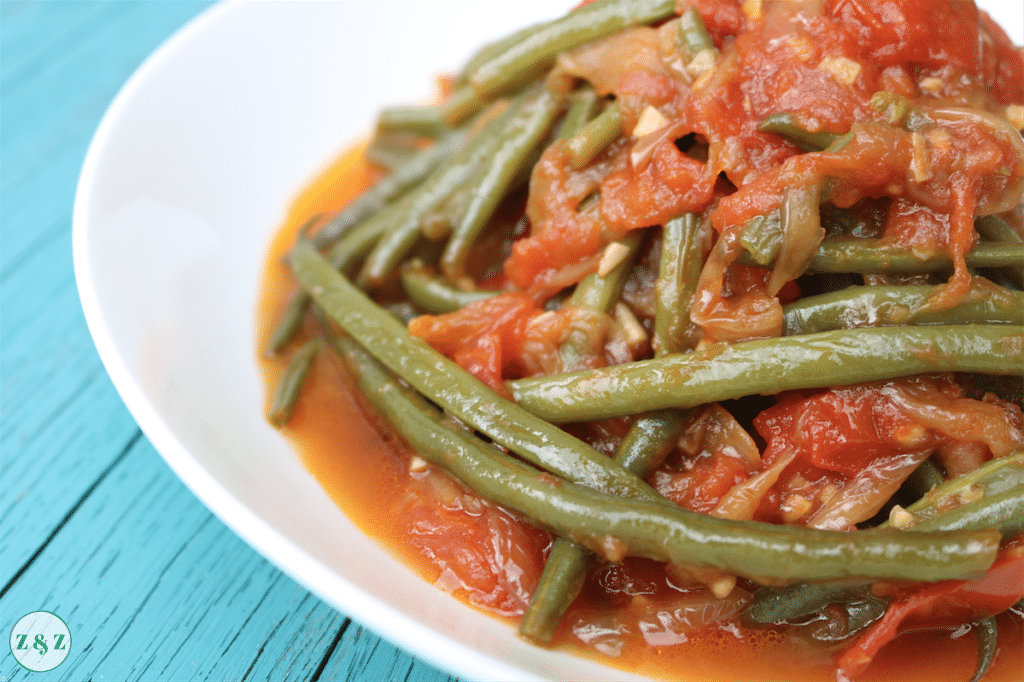 Loubia or green bean stew is another one that is yummy in either the meat or vegan version.
I always like to add half a chilli to loubia b'zeit to give it a nice kick.
I prefer to eat the vegetarian/vegan version with fresh flatbreads and the meat version with vermicelli rice.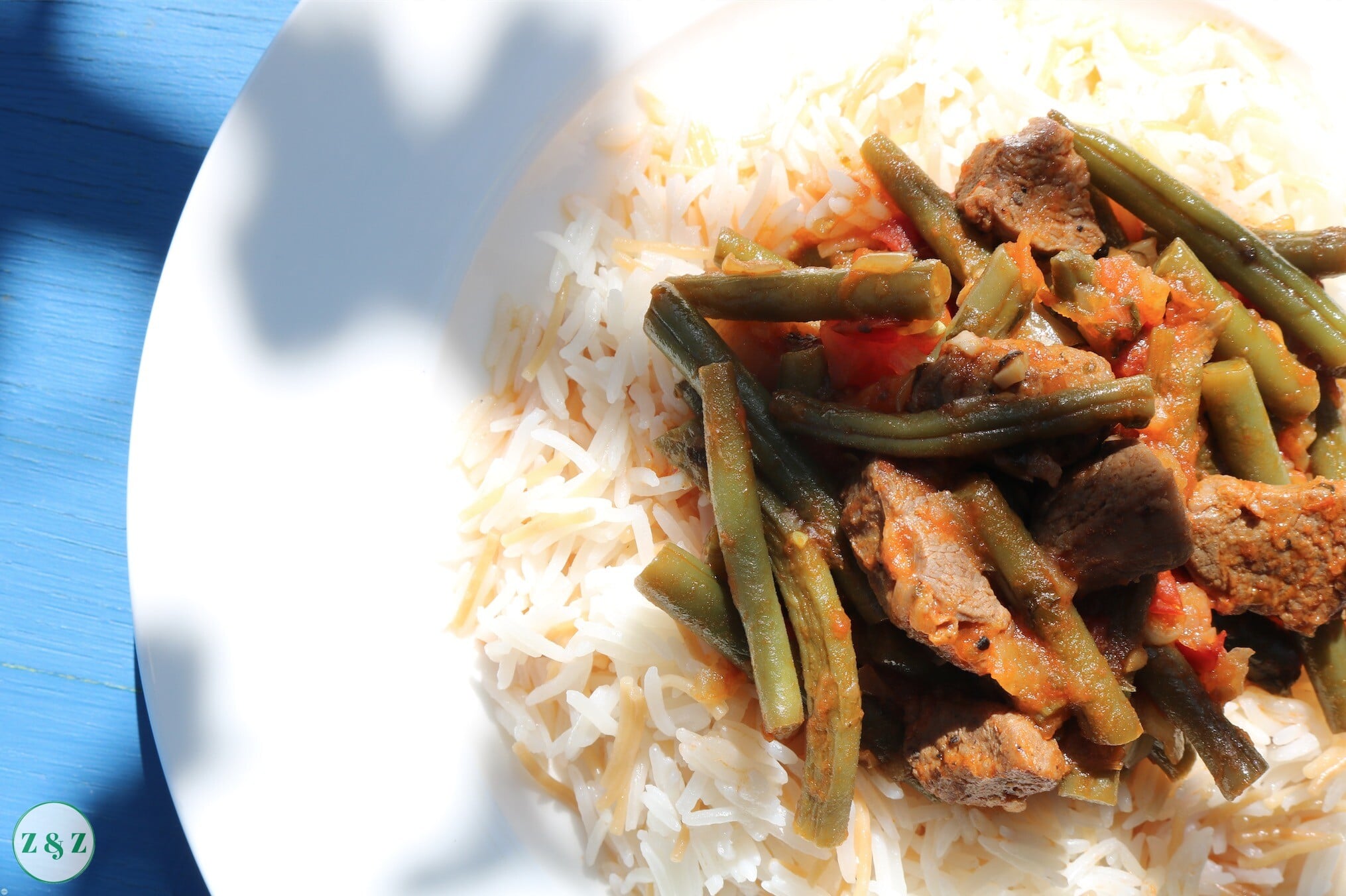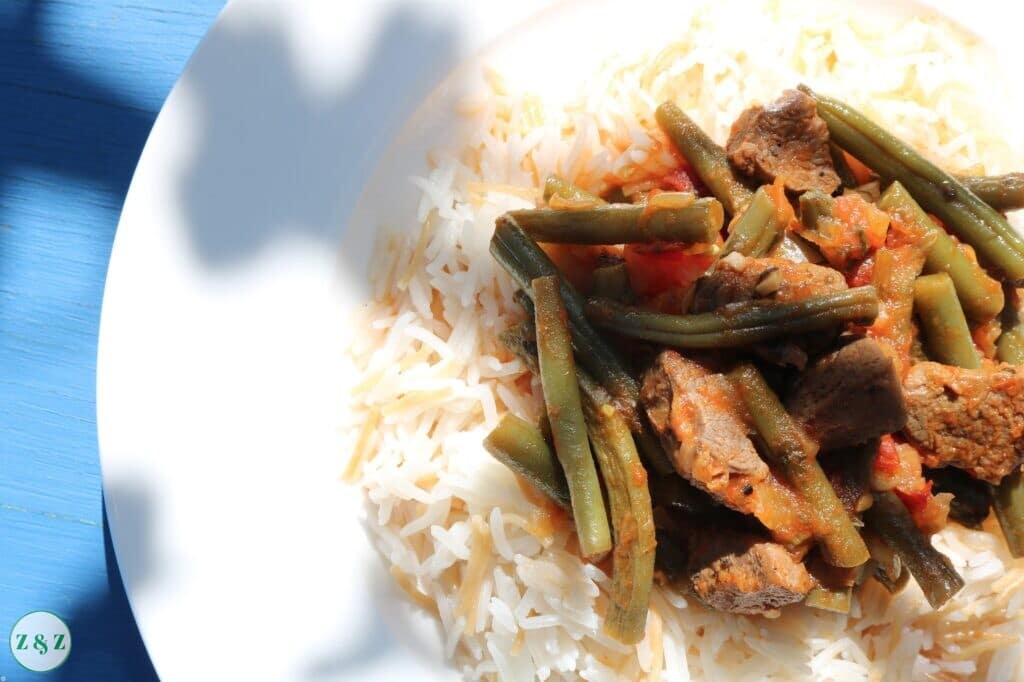 Again you can use either fresh or frozen green beans, canned tomatoes if out season.
If you have any leftover meat you can dice them up to tiny pieces, you don't even need that much just to scatter through the stew.
For loubia b'zeit go here and the meat version loubia bi lahme go here.
Spinach Stew
Spinach stew has got to be one of the fastest to make as once you've done the base of onions and garlic with the mince meat, you just add the spinach and ten minutes later you have lunch.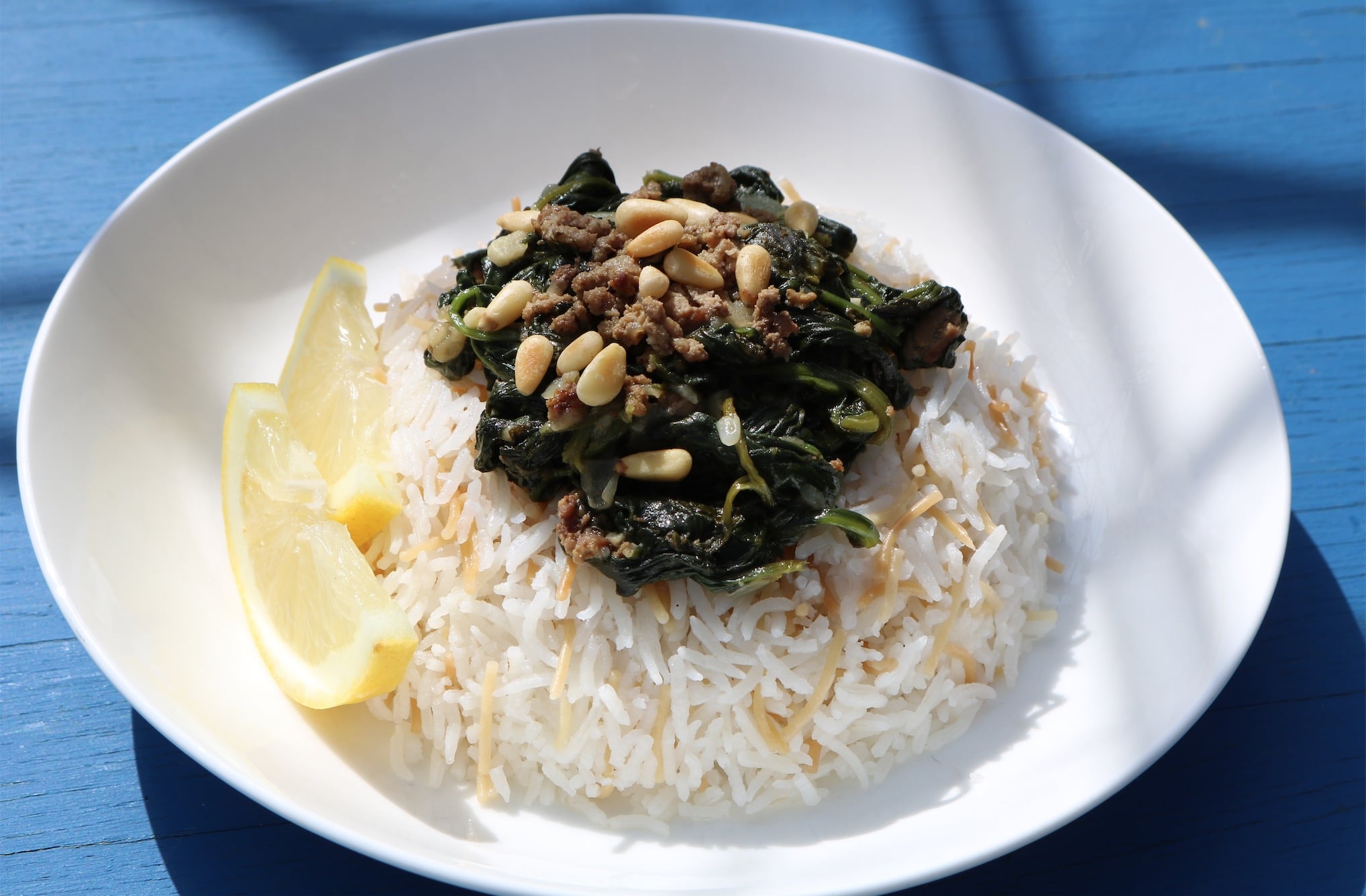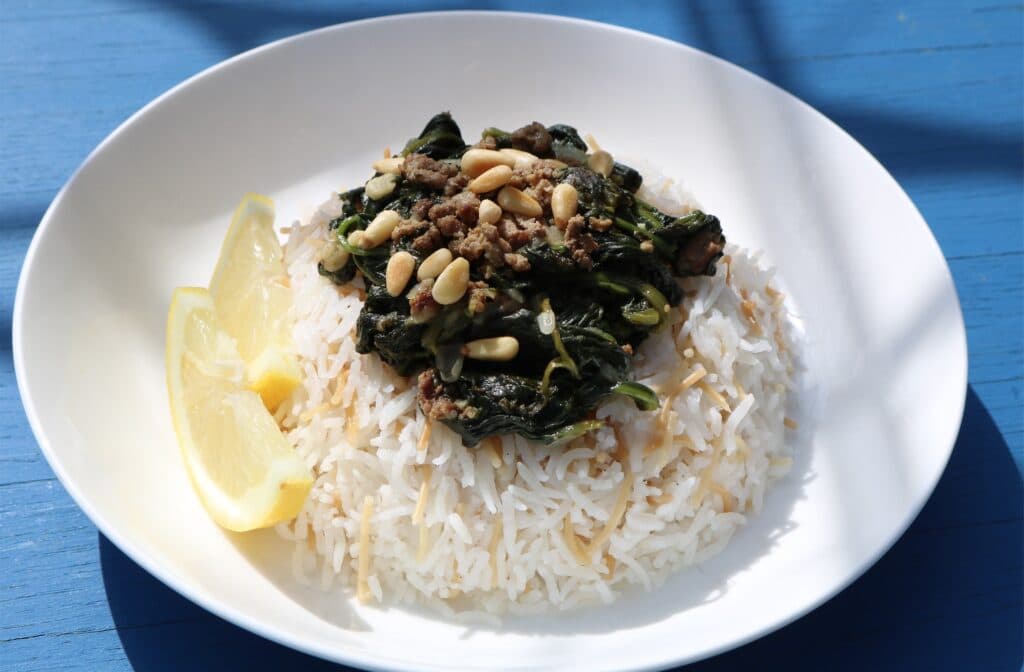 When making spinach stew make sure you have lots of lemon on standby as you squeeze some into the stew and can also drizzle some once you have plated up.
I have no limit on lemoniness and must always have extra lemons on the table
Of course you can make a vegan version by omitting the meat. Easy peasy.
For the full spinach stew recipe go here.
Peas (Bazala)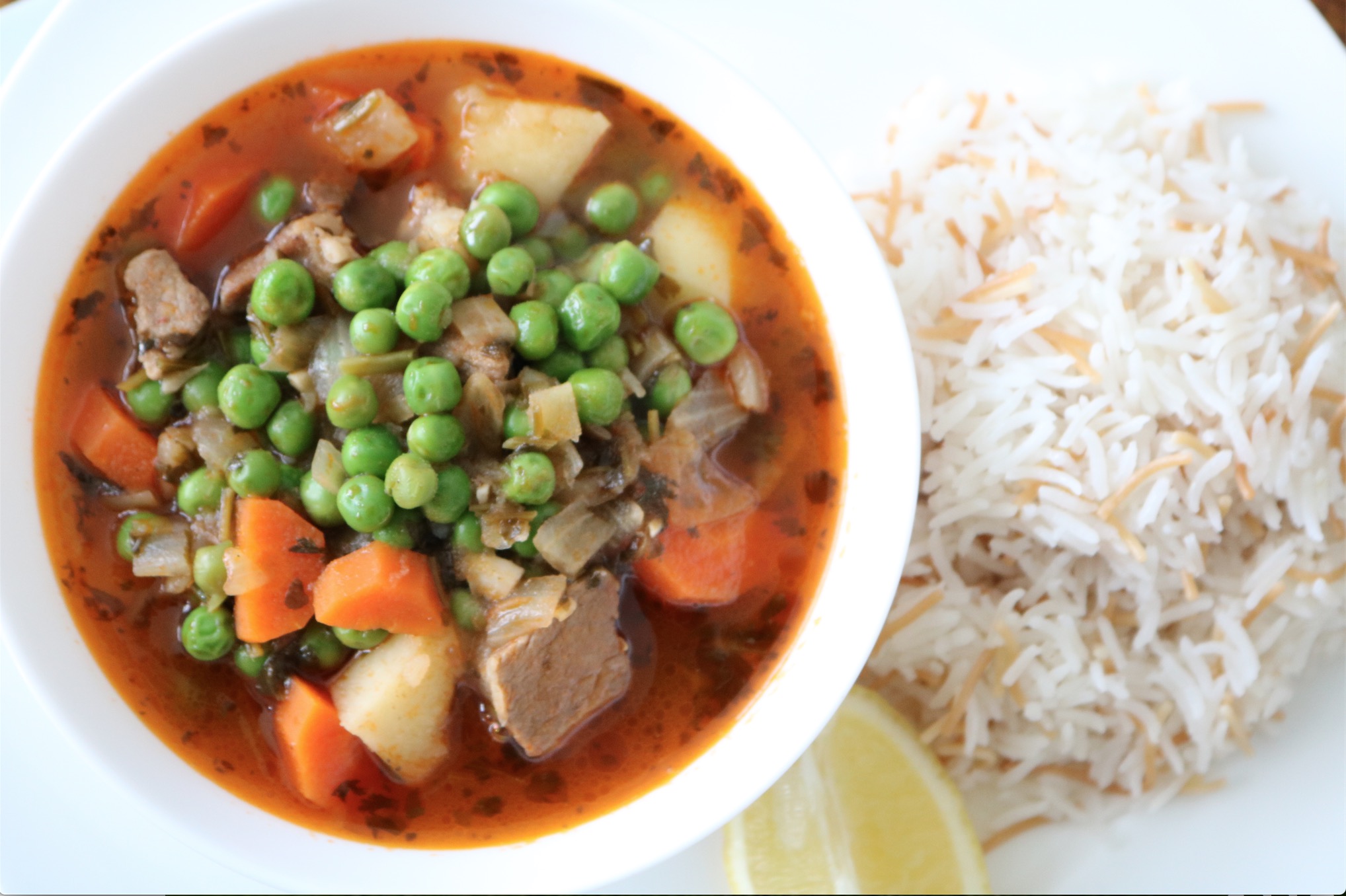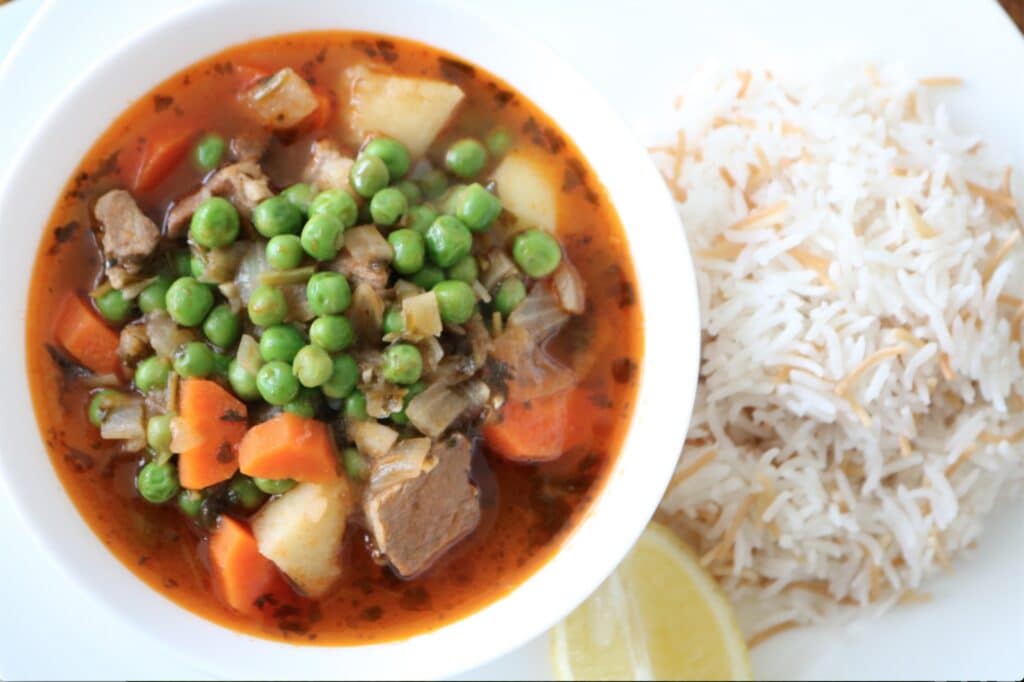 The final one I have here for you is Bazala (my husband's fav) and so convenient because frozen peas are the best.
Adding potatoes and carrots gives it extra depth and the cilantro (fresh coriander) finishes it off nicely.
For the full bazala recipe go here.
So there you have it, lots and lots of Lebanese stew recipes for you to try.
Stews trick people into thinking you've done loads of work when really after ten minutes of doing the onions and garlic you just combine the rest of the ingredients and simmer for half an hour or so.
They taste even better the next day so make a big batch to feed a crowd and have enough for leftovers.
You might also like these recipes from the Zaatar and Zaytoun collection: