What about a main eggplant dish that is not moussaka? This earthy take on our favourite Middle Eastern vegetable will leave an impression and is perfect for dinner parties.
It is made with a warm tahini sauce which is just like your regular tahini sauce but a bit thinner. I like to top it with some subtly spiced mince and toasted pine nuts.
The secret to making this dish is using lots of lemon juice to cut through all those strong savoury flavours. Tasting the sauce and adjusting the seasoning is the best way to make sure you hit the right note.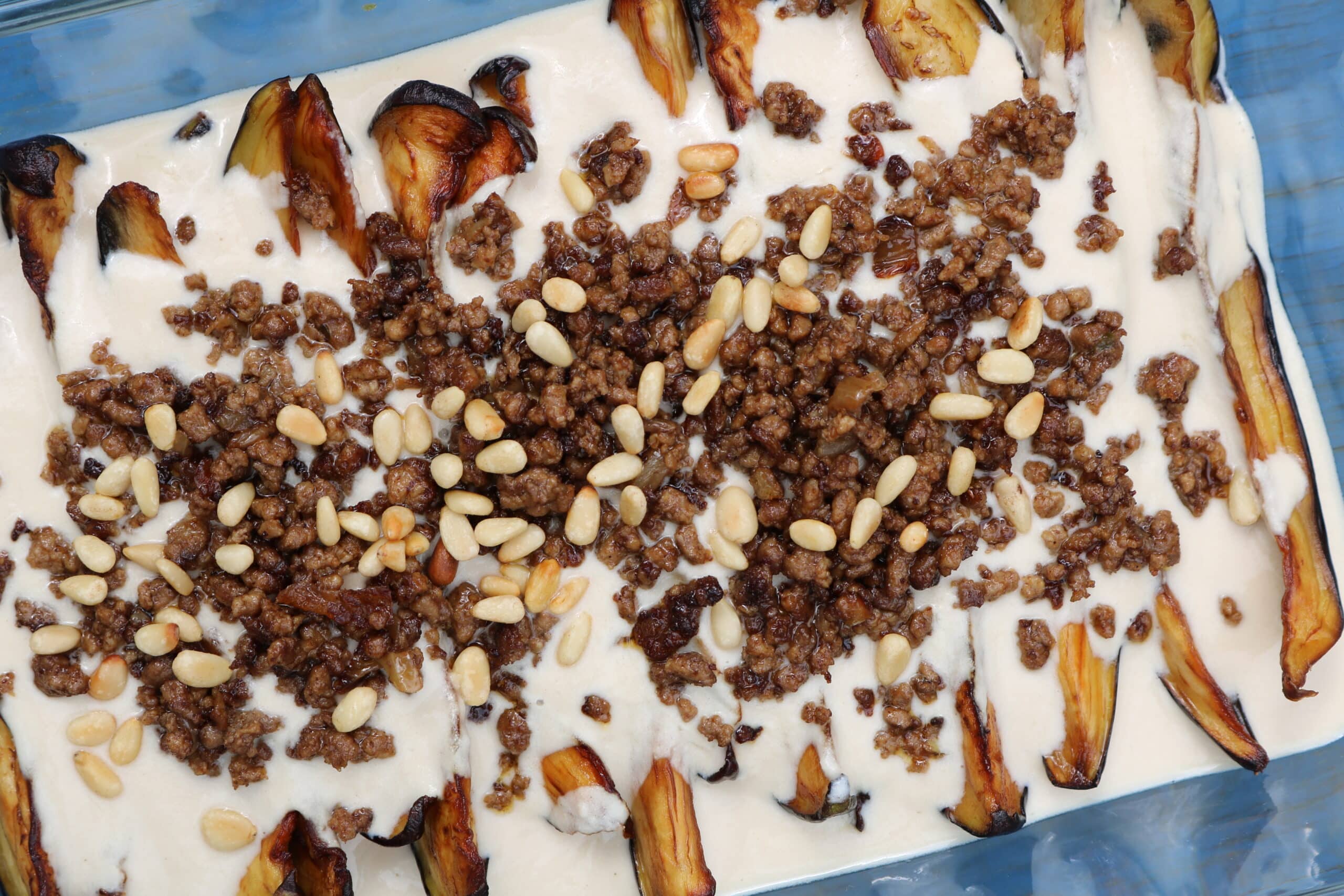 Jump to:
Ingredients
Eggplants are best between May and October, and the freshest ones will be firm and the colour vibrant.
I always pick my vegetables first hand and can never order them online as it makes me nervous. The only time I ever did that was after surgery and I was sorely disappointed.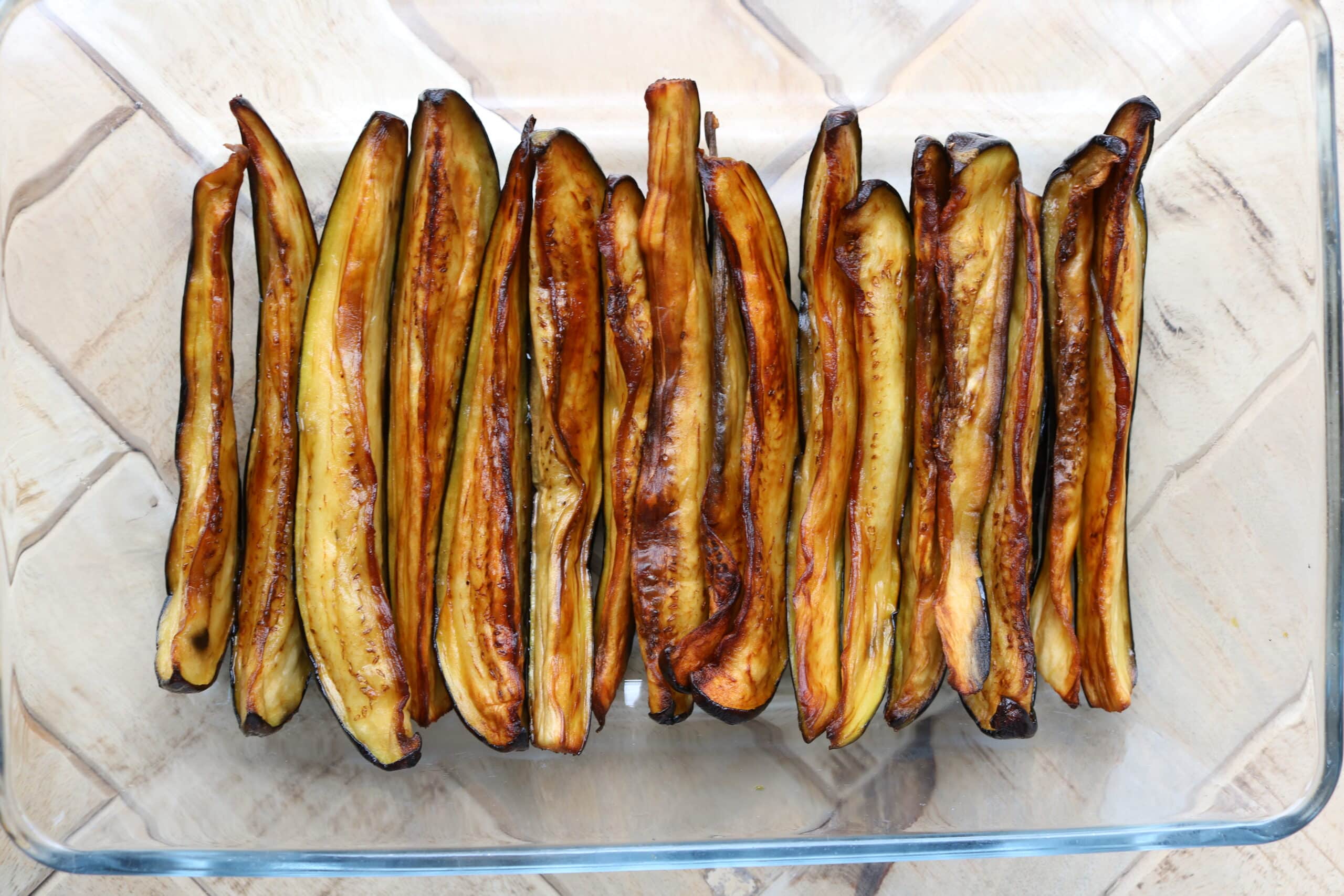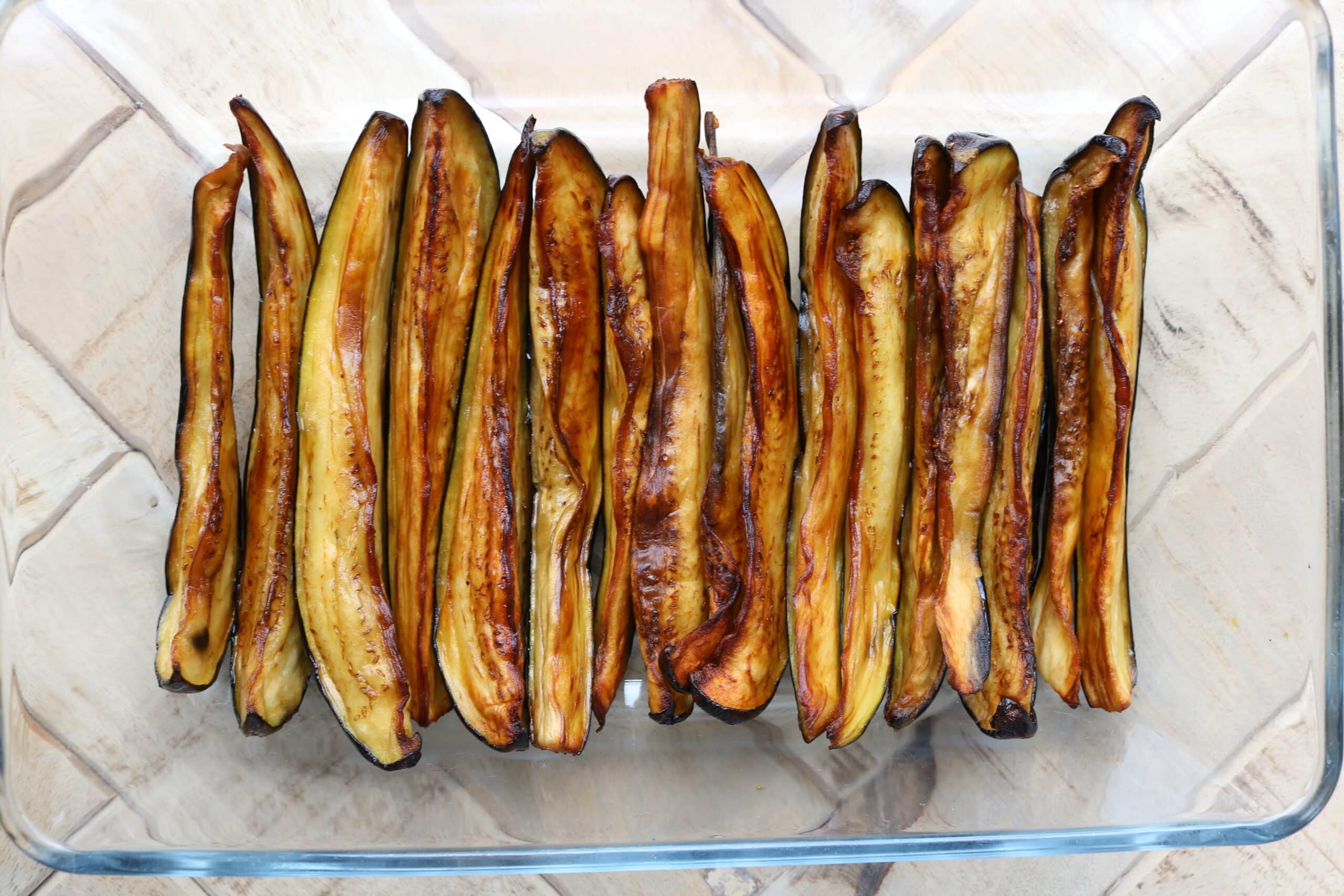 To make the mince, you can use either lamb or beef, or even mix the two to get the best of both.
Adding an onion to the mince will add another layer of flavour. Onions also carry the spices well and add sweetness if caremalised on a low heat.
Try and source tahini from a Middle Eastern grocery store rather than in mainstream supermarkets. They usually come in big tahini coloured tubs and last for ages.
Always shake the tub of tahini before use.
Instructions
Some people don't like eggplants as they find them too oily when cooked. This can be remedied if you dry out the sliced eggplants (ideally in the sun) beforehand with a sprinkle of salt.
This way the eggplants won't absorb too much oil. I have fried them here today as they were well dehydrated which made them delicious and crispy.
Alternatively, you could griddle them on the panini hot press by brushing them with mild olive oil and sizzling them till well cooked.
Another good way to cook them is to brush them with mild olive oil and roast them in the oven for 30-40 minutes.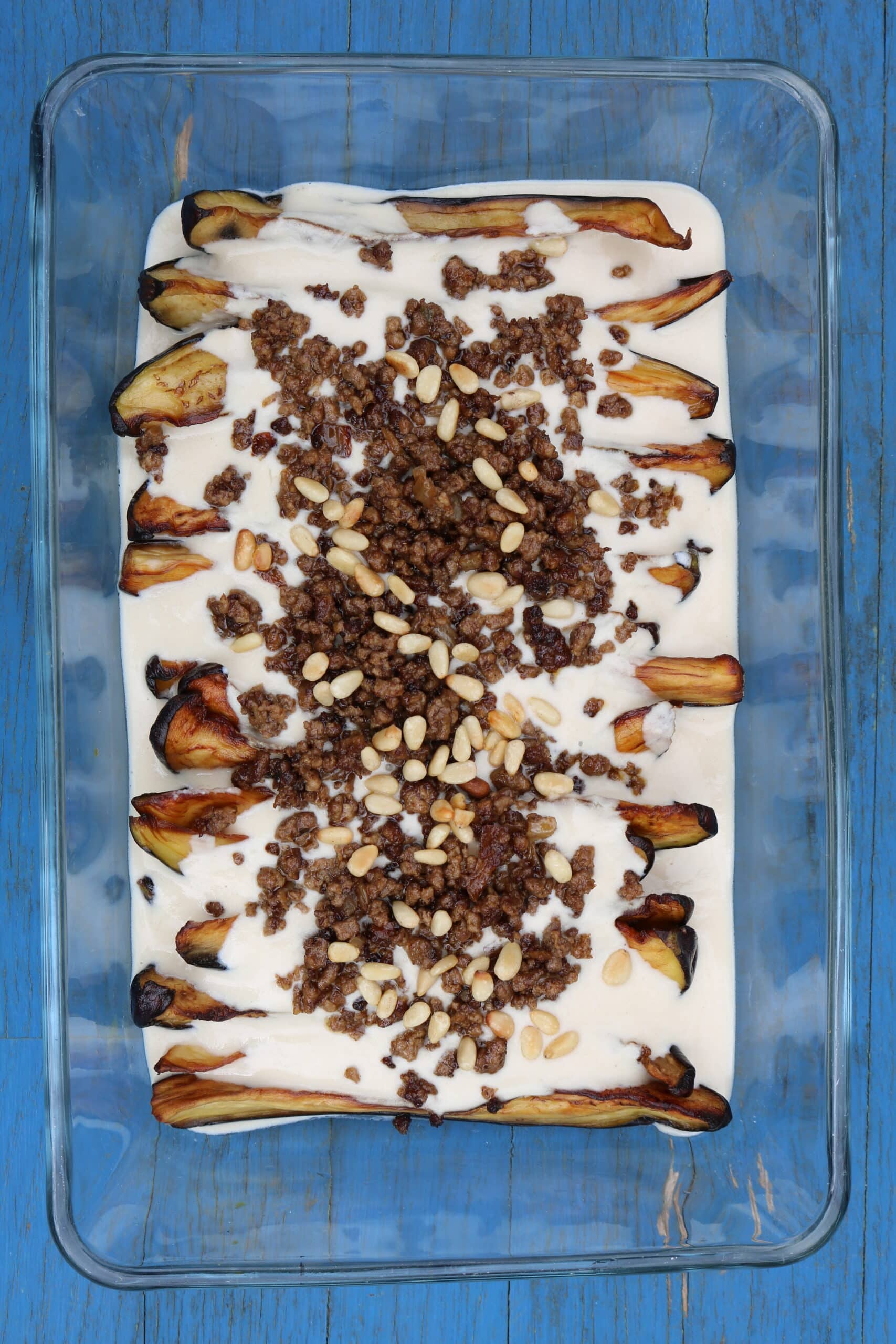 Top tips
For a vegan version of this dish simply omit the meat. The dish works just as well with the eggplant and pine nuts.
Finally, toast the pine nuts in a non stick pan or in an oven but keep a close eye on them as they might burn suddenly. Doing this the day before means you don't have to juggle all the elements at once.
You can reheat the dish with the tahini in the oven the next day, just add a dash of water and cook in the oven for around 10 minutes.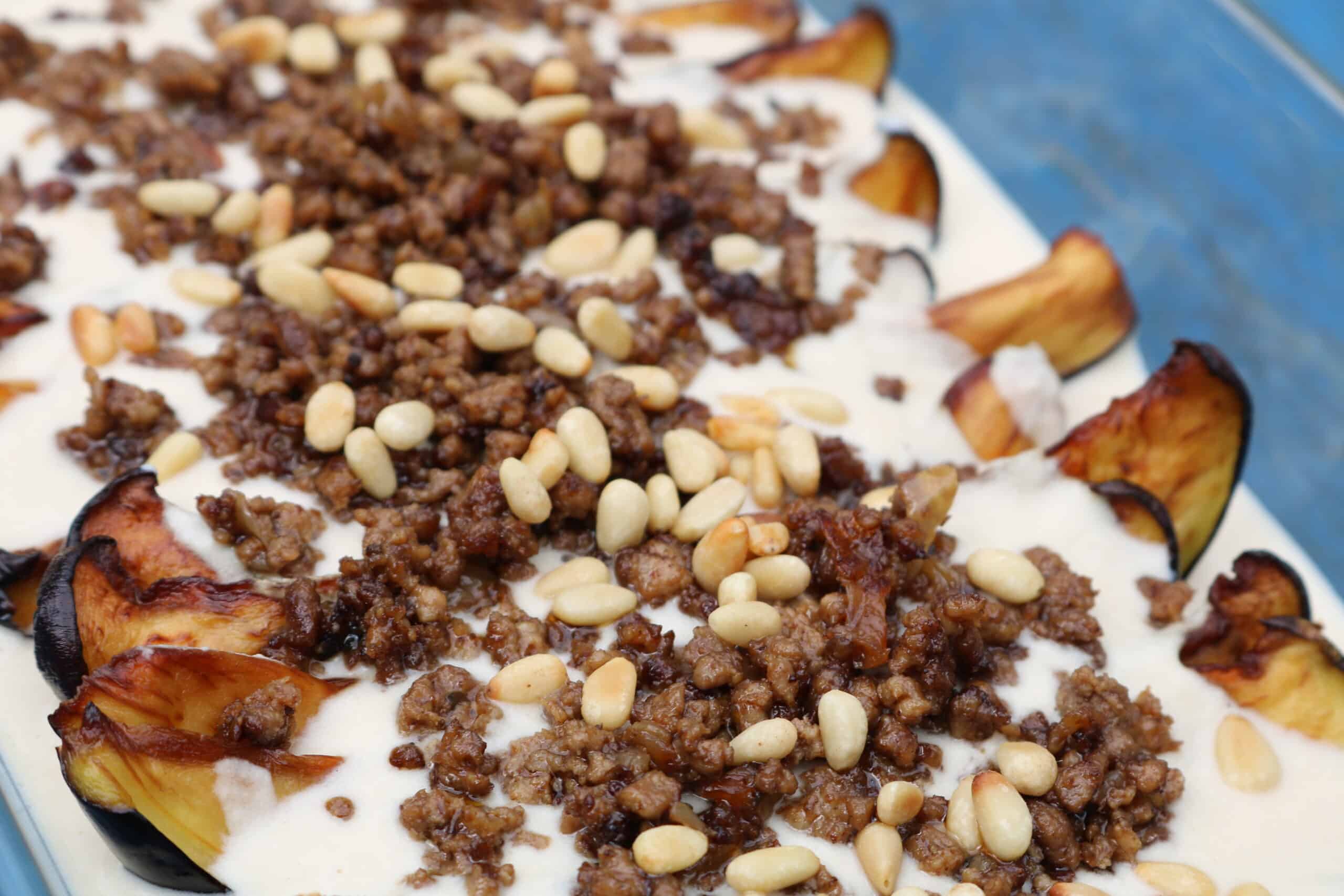 📖 Recipe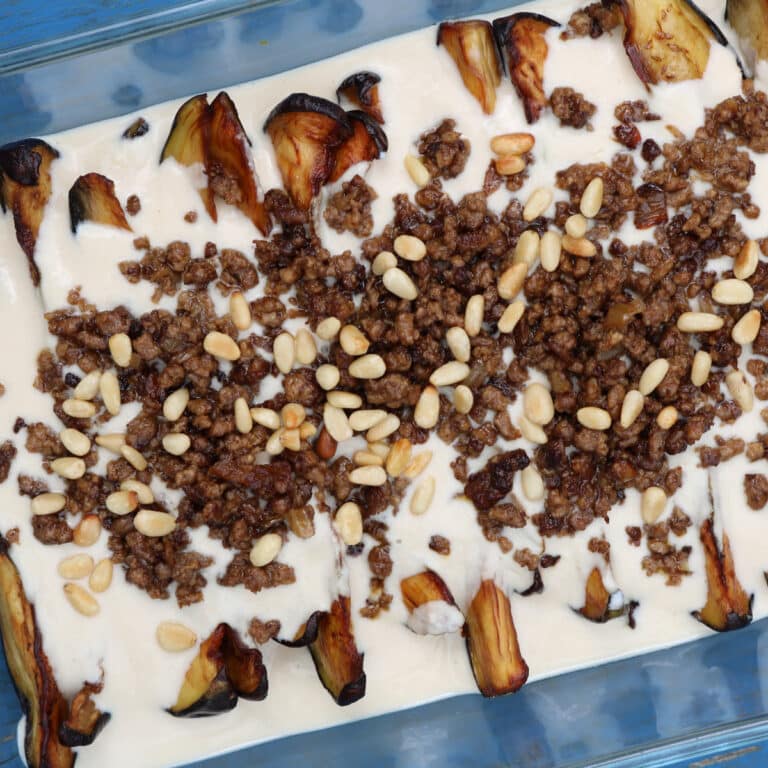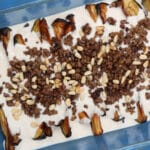 Eggplant in tahini
Eggplants with a tahini sauce, topped with mince meat and pine nuts
Ingredients
½

cup

pine nuts

1

large eggplant or 2 small
For the warm tahini sauce
1

cup

water

½

cup

tahini sauce

½

cup

lemon juice

½

teaspoon

salt
For the mince meat
1

onion

chopped finely

1

cup

ground mince lamb or beef

(around 200g)

¼

teaspoon

seven spice

¼

teaspoon

black pepper

Pinch

salt

1

tablespoon

mild olive oil
Instructions
Lightly toast the pine nuts in a non stick pan until slightly golden being careful not to burn them. Set aside
To prepare the eggplant
Slice the eggplants into wedges 1-2 cm thick, sprinkle soe salt and leave out to dry (ideally in sunshine) for a few hours

Brush them with mild olive oil and either deep fry in vegetable oil until golden. Alternatively you can griddle them using a griddle pan or panini press. Set aside.
To make the mince
Sauté the chopped onion in a non stick pan with a drizzle of mild olive oil until golden

Add the mince meat , seven spice, black pepper and pinch of salt. Press down with the back of a wooden spoon, sautéing for another ten minutes. Set aside
To make the warm tahini sauce
In a pot add the water, tahini, lemon juice and salt and stir vigorously until well combined. This may take a few minutes.

Then heat the tahini sauce on the hob by bringing to the boil. Simmer on low heat for a few minutes

Taste the tahini sauce if it needs any extra lemon, salt or water. The consistency should be not be too thick or too runny
To assemble the dish
In a casserole dish, line the eggplants up in a line and pour over the tahini sauce

Add the mince meat on top and sprinkle on a handful of pine nuts

Serve with flatbreads
If you make any of our recipes let us know how it went by giving us a star rating below.
We have a lively Facebook group where we post frequent recipes and discuss Lebanese cooking in general, as well as a handy Pinterest page where you can save all of your favourite Zaatar and Zaytoun recipes.
You might also like these other recipes from the Zaatar and Zaytoun collection: