Pasta with gorgeous silver sardines and succulent black olives in a light tomato sauce. This is my perfect summer pasta dish, which I'm sure you will be making time and time again.
When I went to the South of France there was this amazing shop dedicated to tinned fish, and they had the most amazing sardines burger, it was sensational.
This shop also made me reconsider tinned fish as I used to look down on it, but actually you can find very good high quality tinned fish, and sardines are my favourite.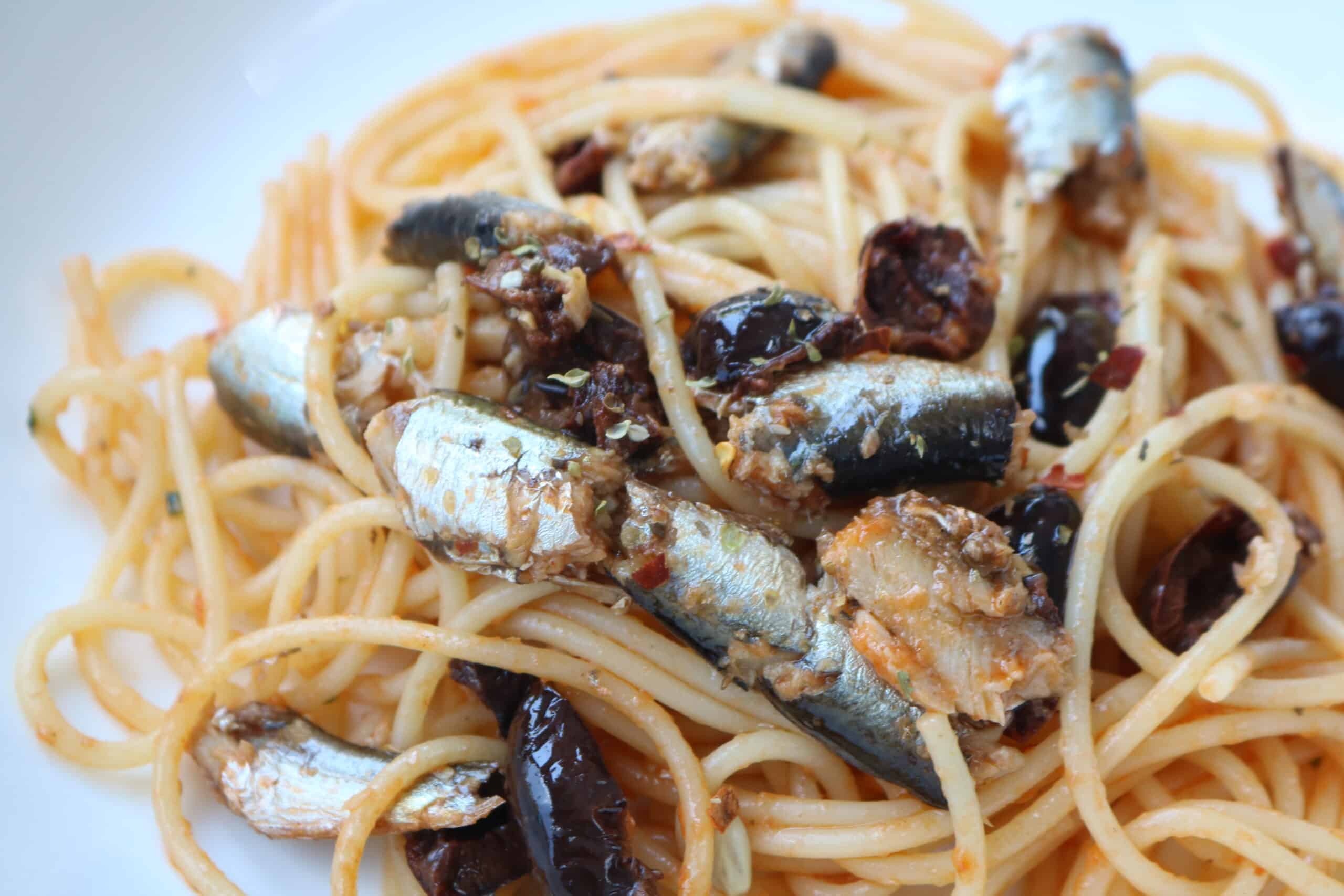 Jump to:
Ingredients
I have already declared my love for spaghetti (penne is my worst pasta shape >:) and I adore spaghettini, the thinner version of spaghetti as it's so light and doesn't weigh you down.
Also, I'm going to make a bold statement and I don't care. Dry pasta beats fresh pasta any day of the week.
I've had the best fresh pasta in Bologna, Italy and it was very good but it's not even about fresh vs dry; it's about the texture, and dry pasta wins for me.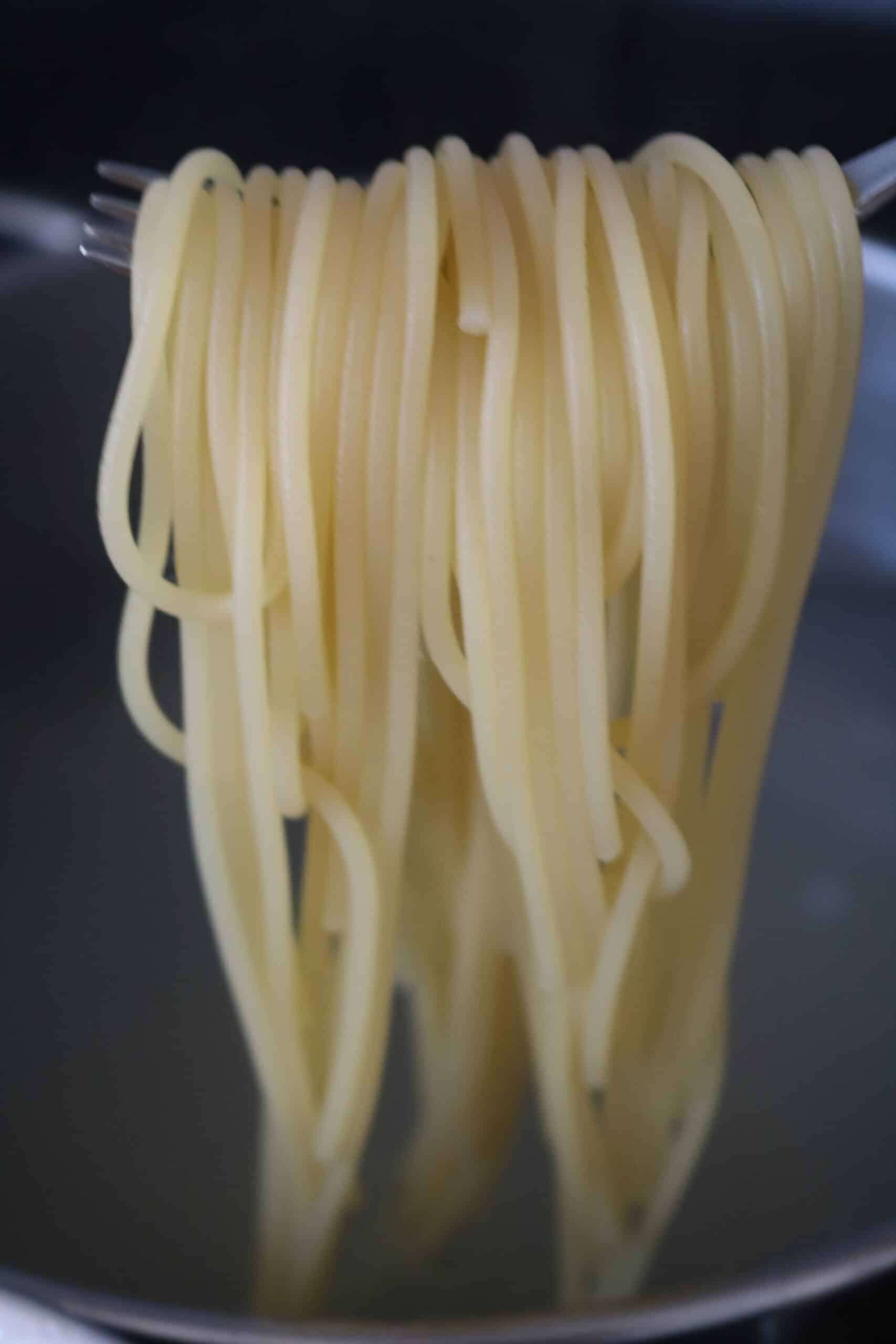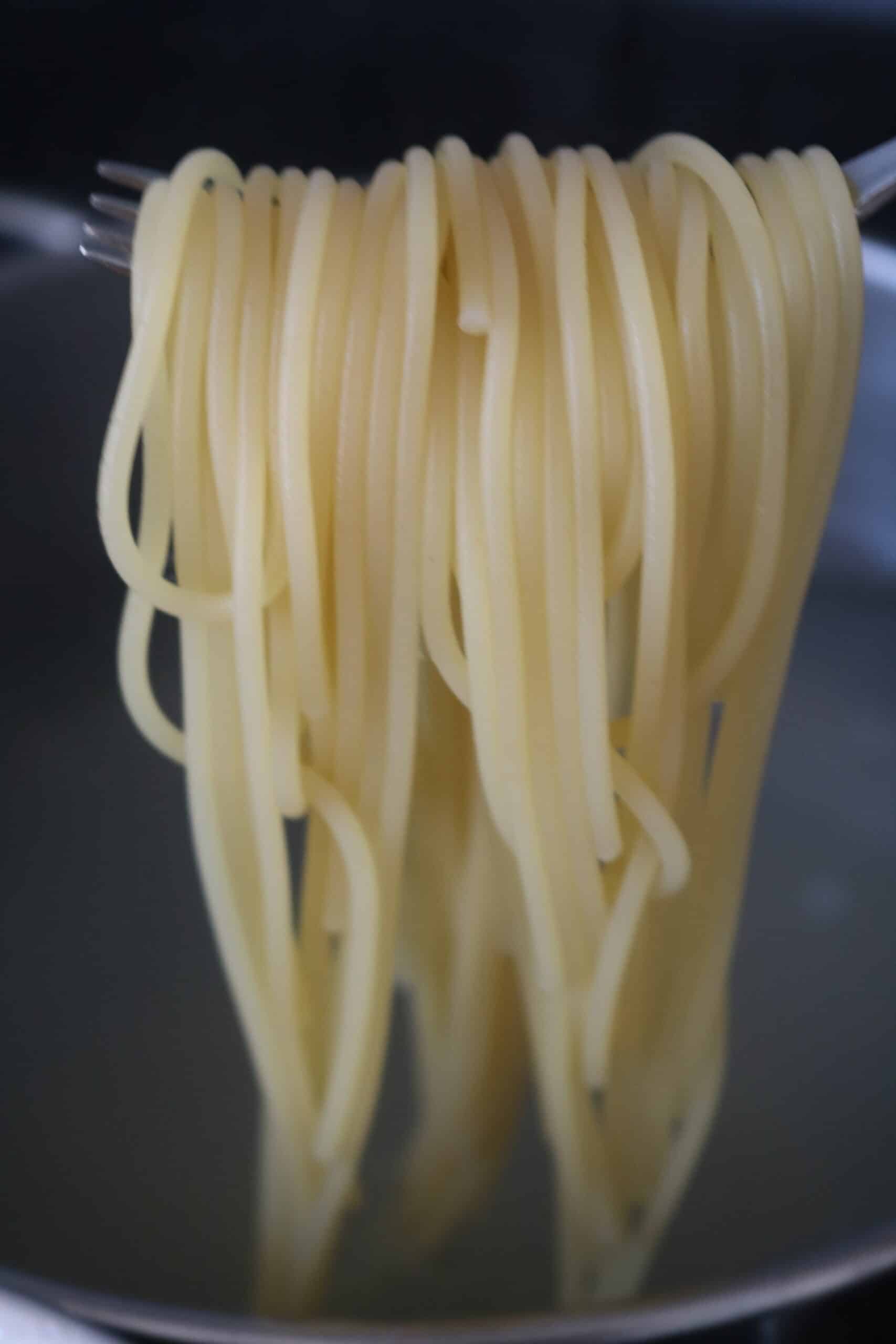 The other thing I feel strongly about is olives. Haha this is becoming an intense post. But seriously the olives you find in supermarkets are not really olives they are clones.
Real olives have their stones in and should be slightly bitter. You should really find someone from the Mediterranean region and get them to bring you real olives.
Otherwise you have to pay loads in fancy shops. I prefer black olives to green as the latter are a bit more bitter.
Instructions
If you have some leftover fresh tomato sauce, this recipe comes together even quicker. If you don't it's ok. Here are the rough steps: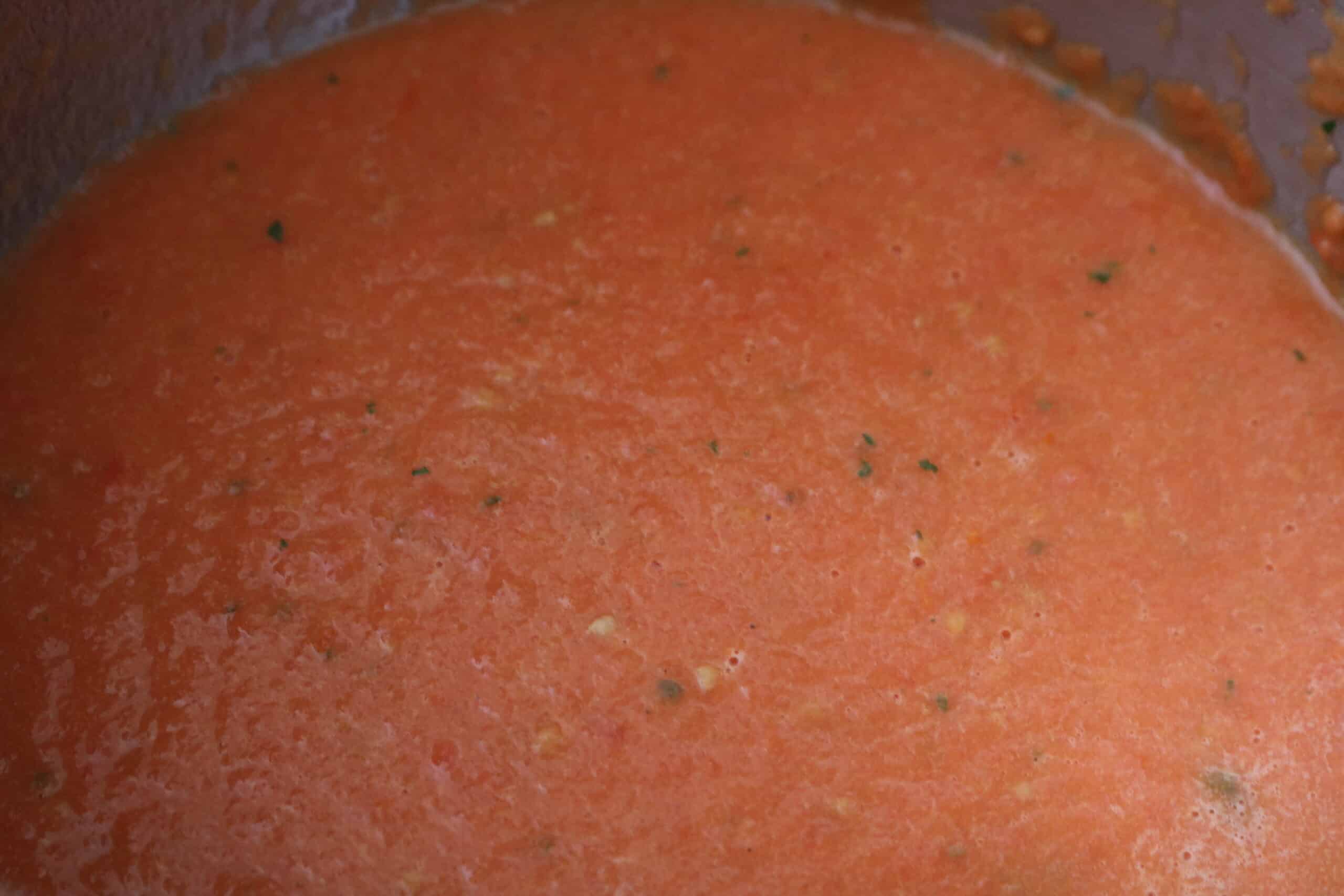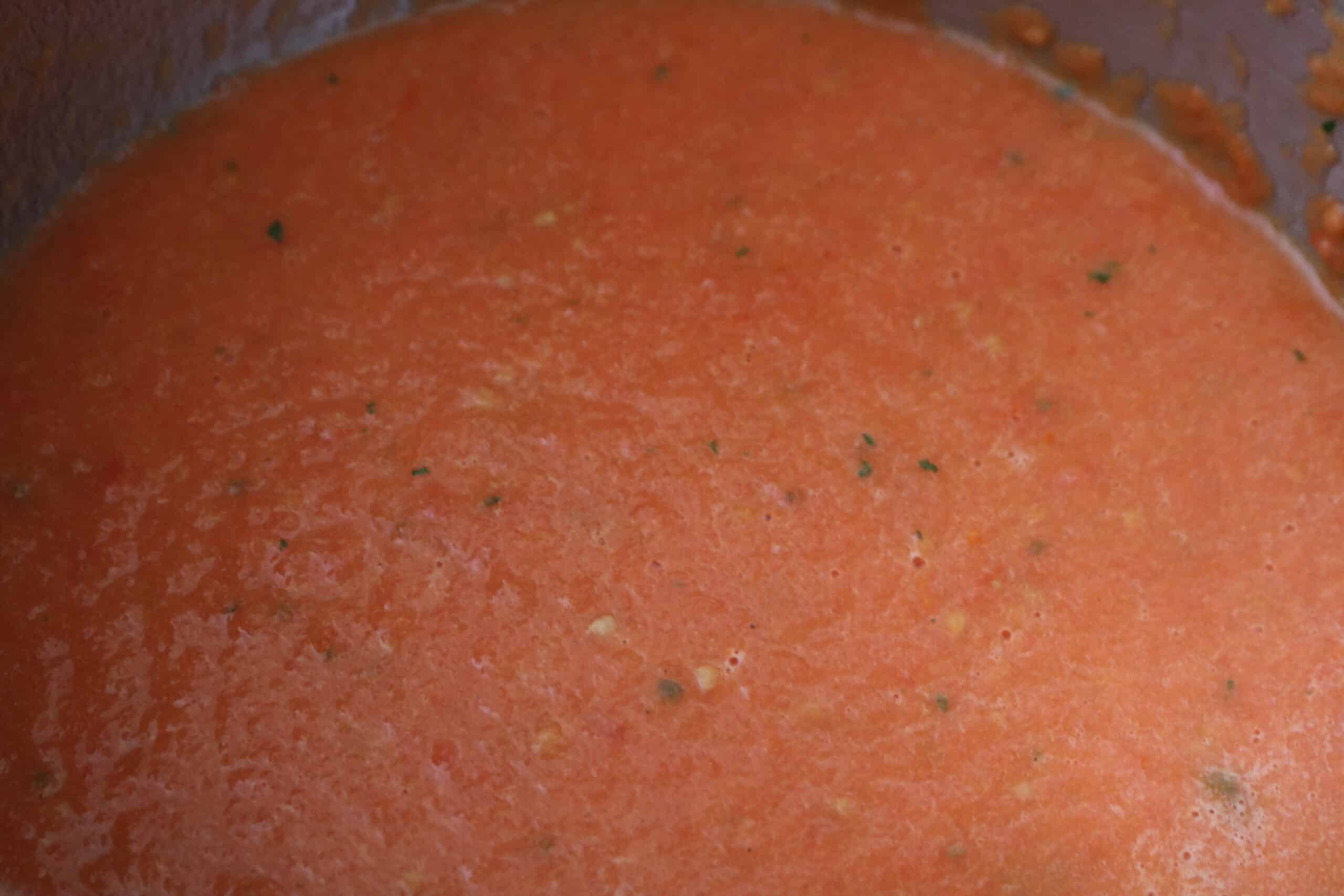 Make a quick fresh tomato sauce on medium high heat for 20 minutes, blitz using the hand blender.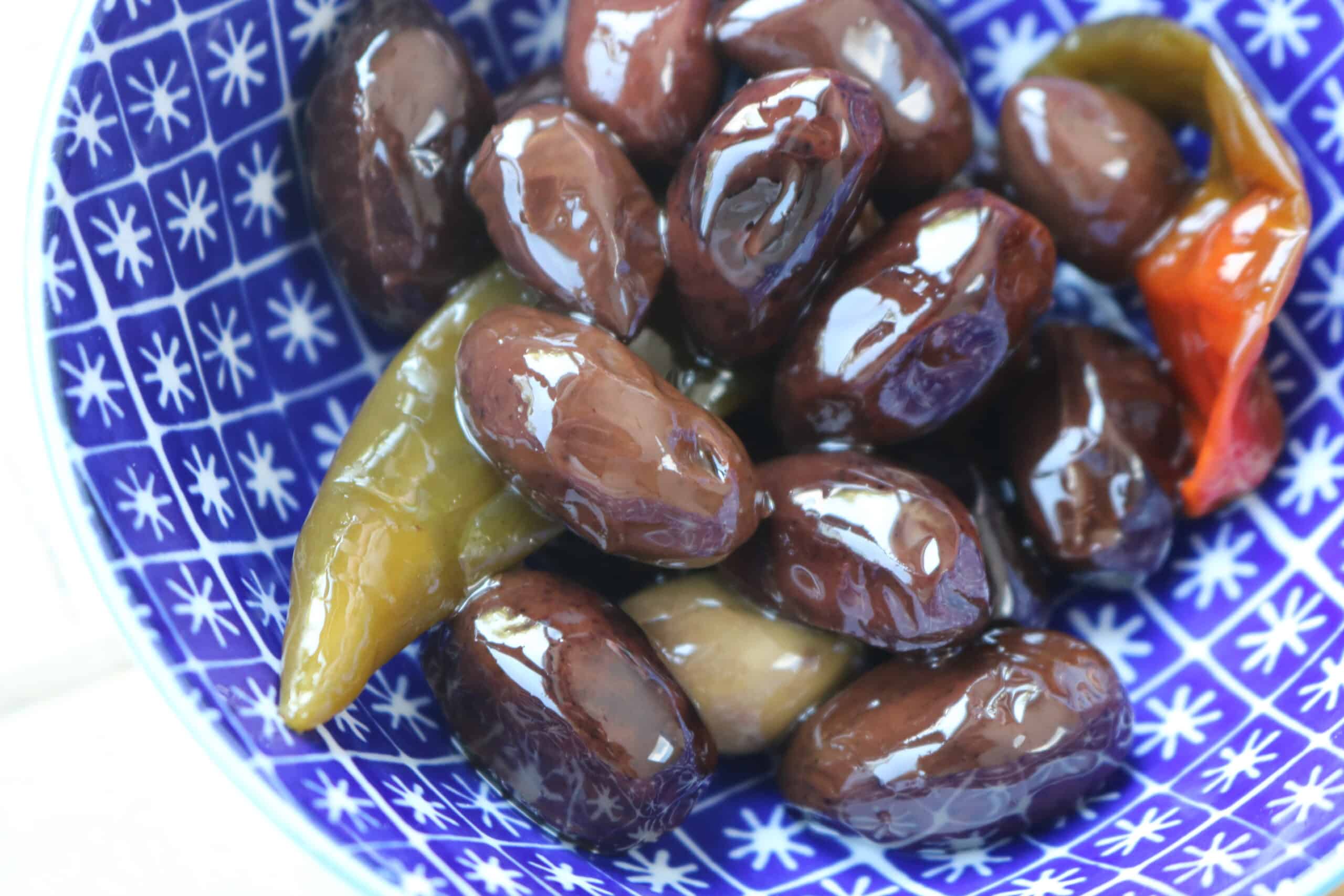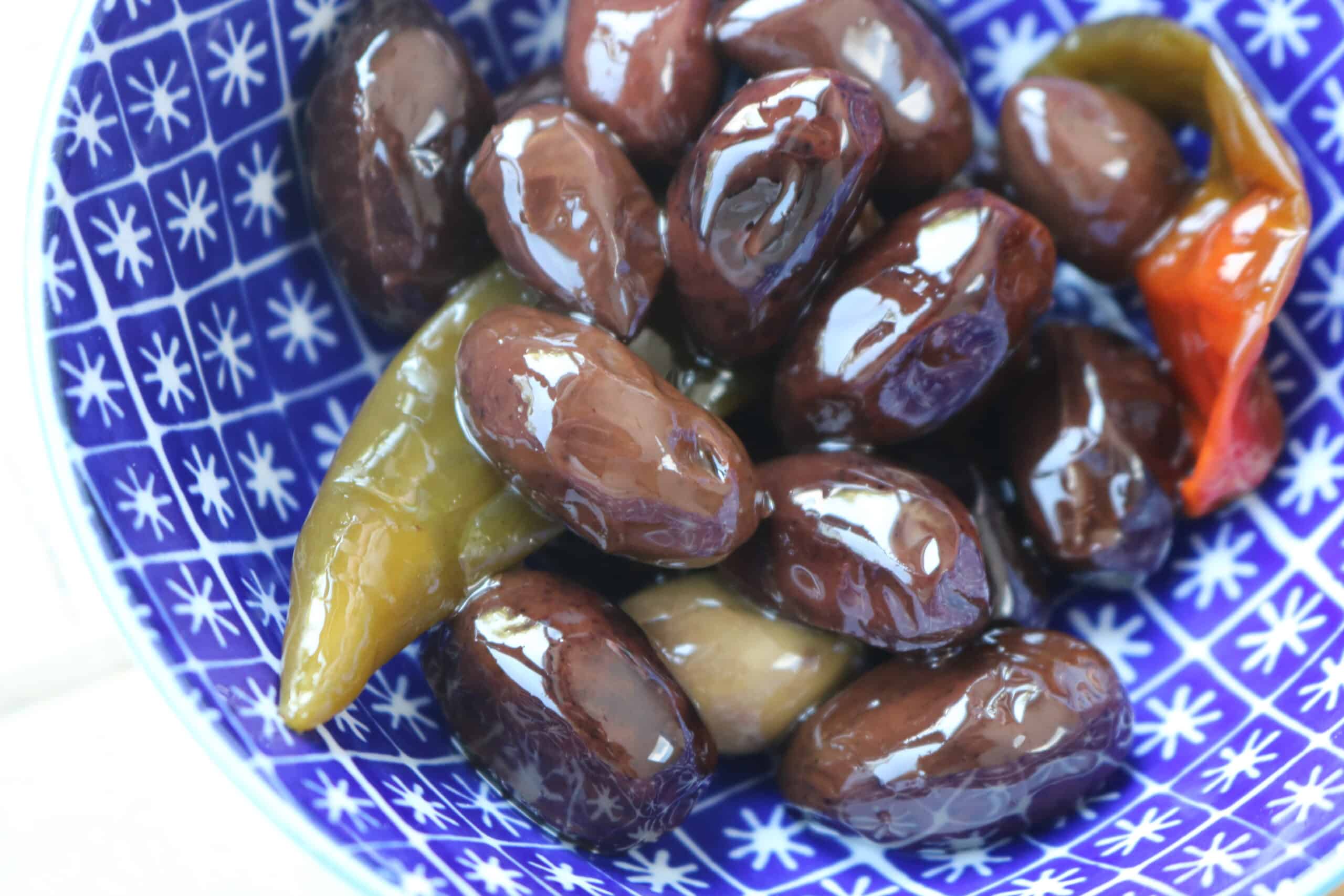 Pit the olives and roughly chop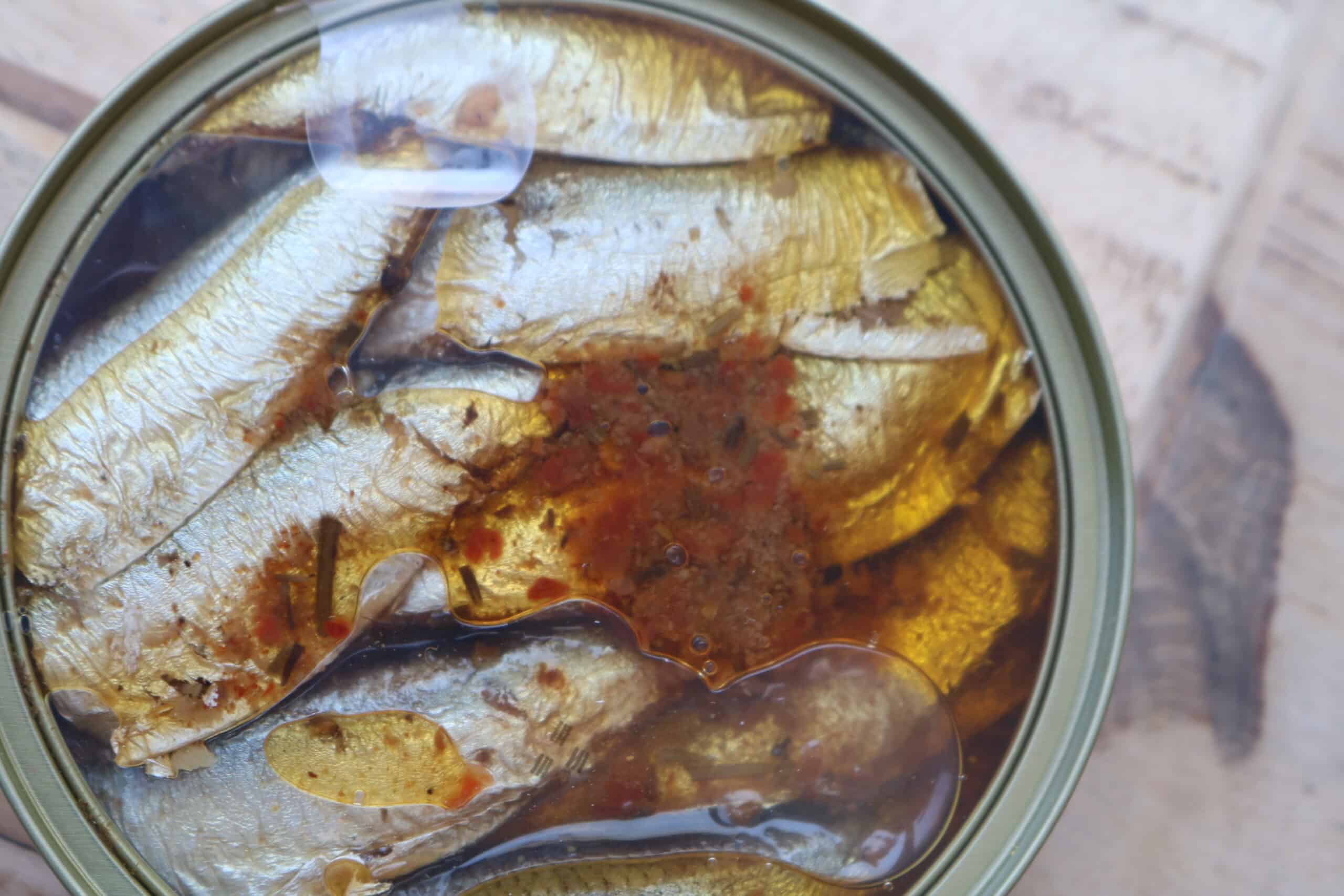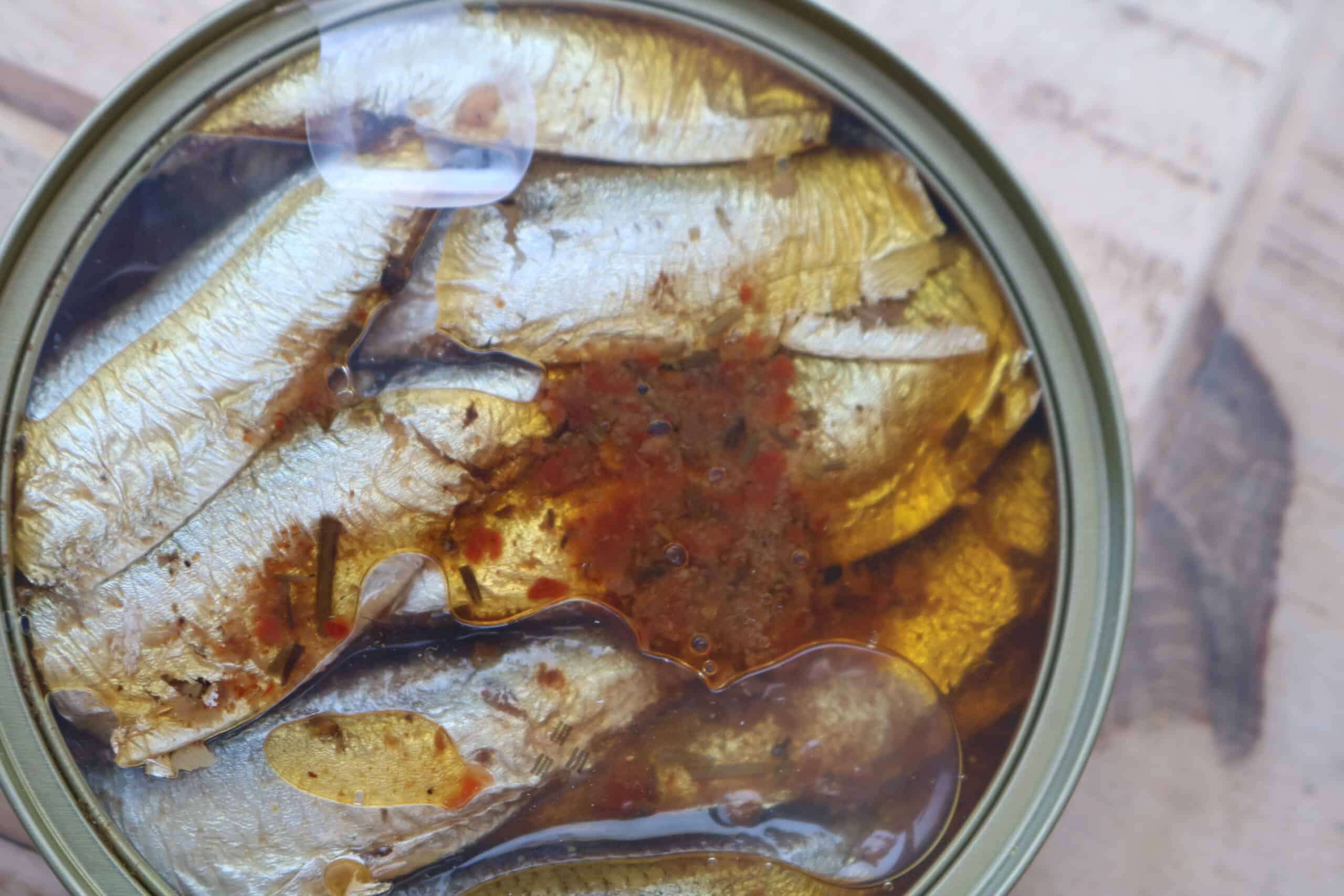 Drain the tinned sardines, remove the tails and spine if you are fussy about bones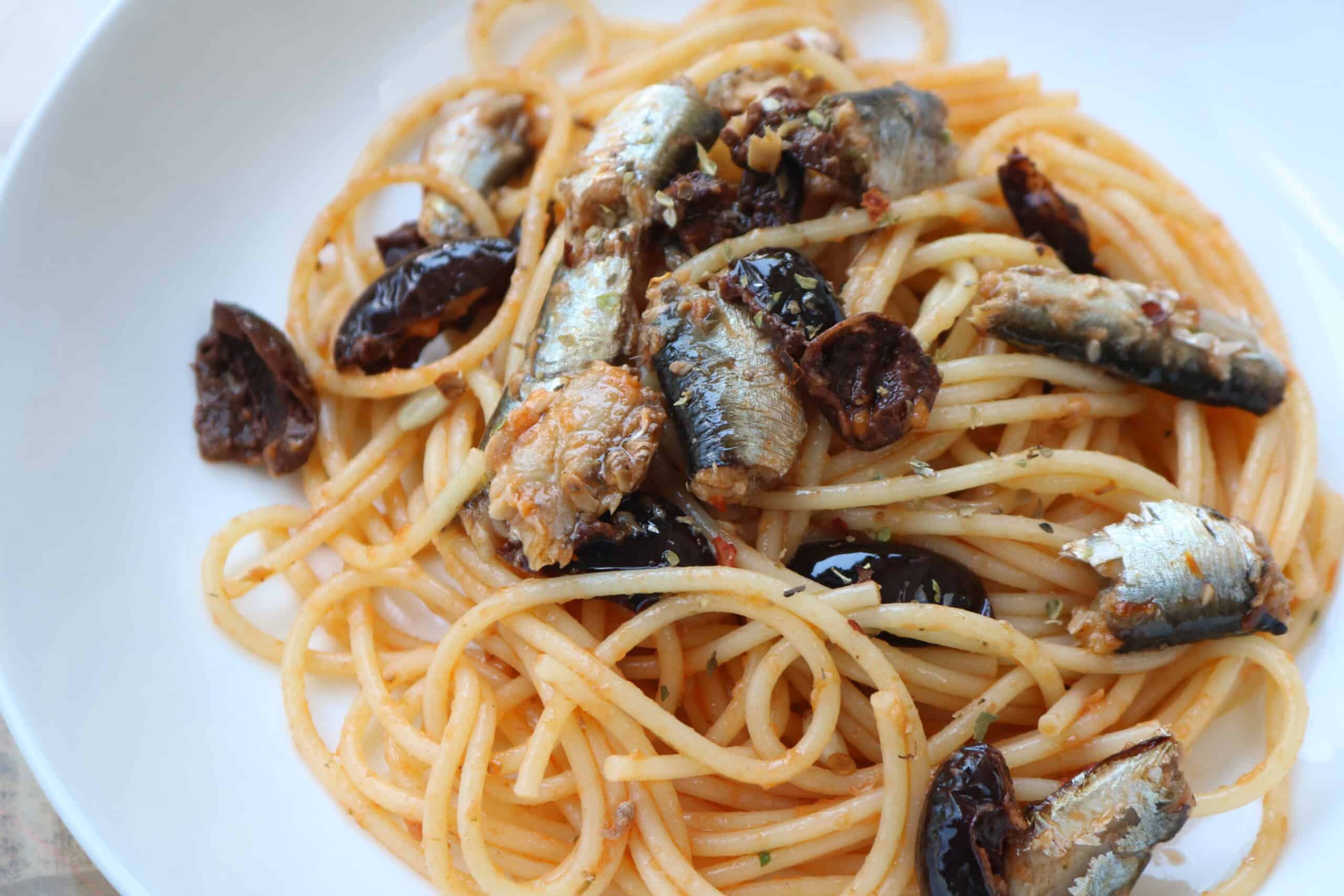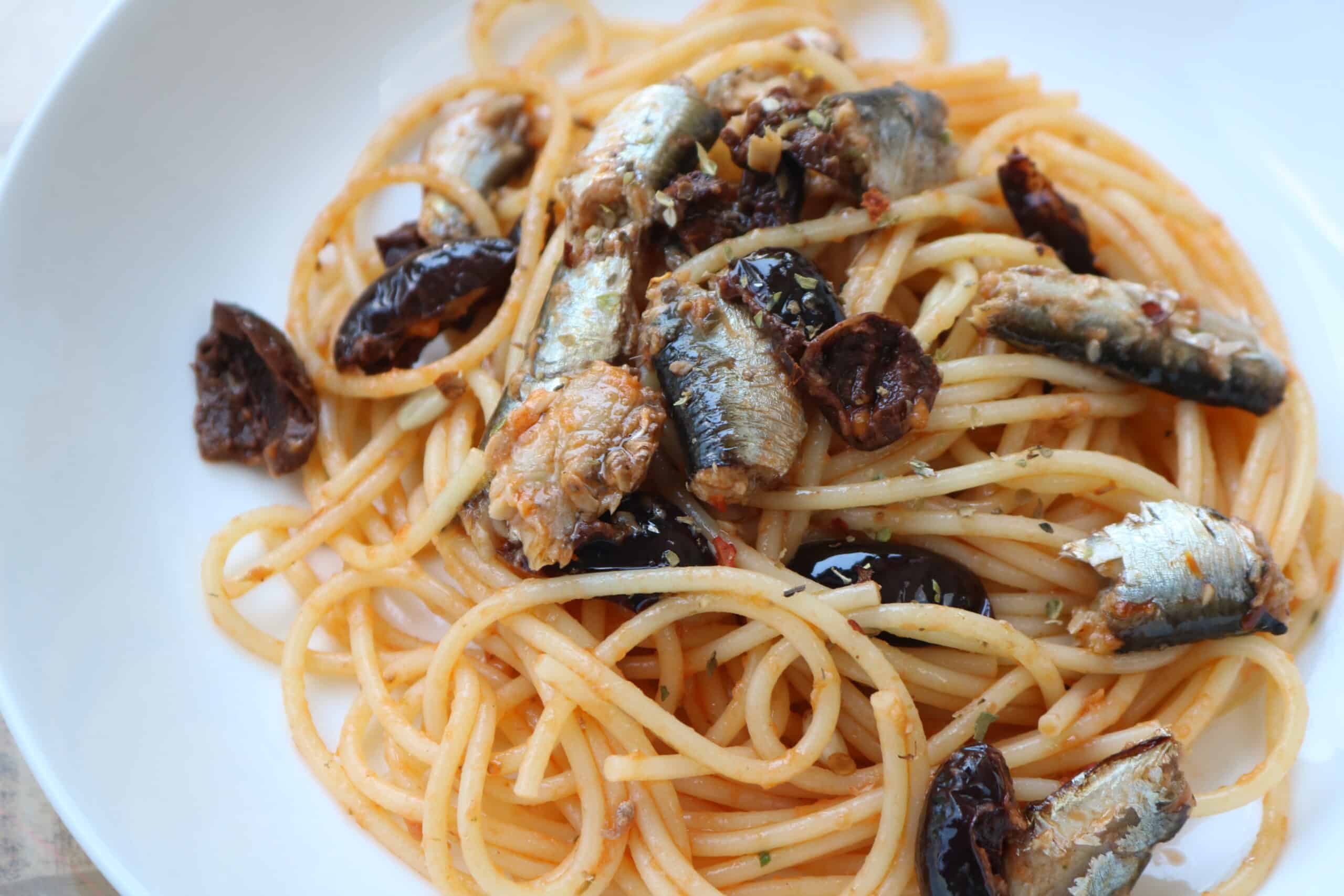 Cook the pasta, sauté in the tomato sauce and add the sardines and olives for the last few minutes.
Substitutions
You can literally make the same dish with:
Tuna - this works just as well with tinned tuna.
Capers

- you can use these instead of olives but I have never really loved them.

No tomato - you can also just use lemon and olive oil to replace the tomato sauce.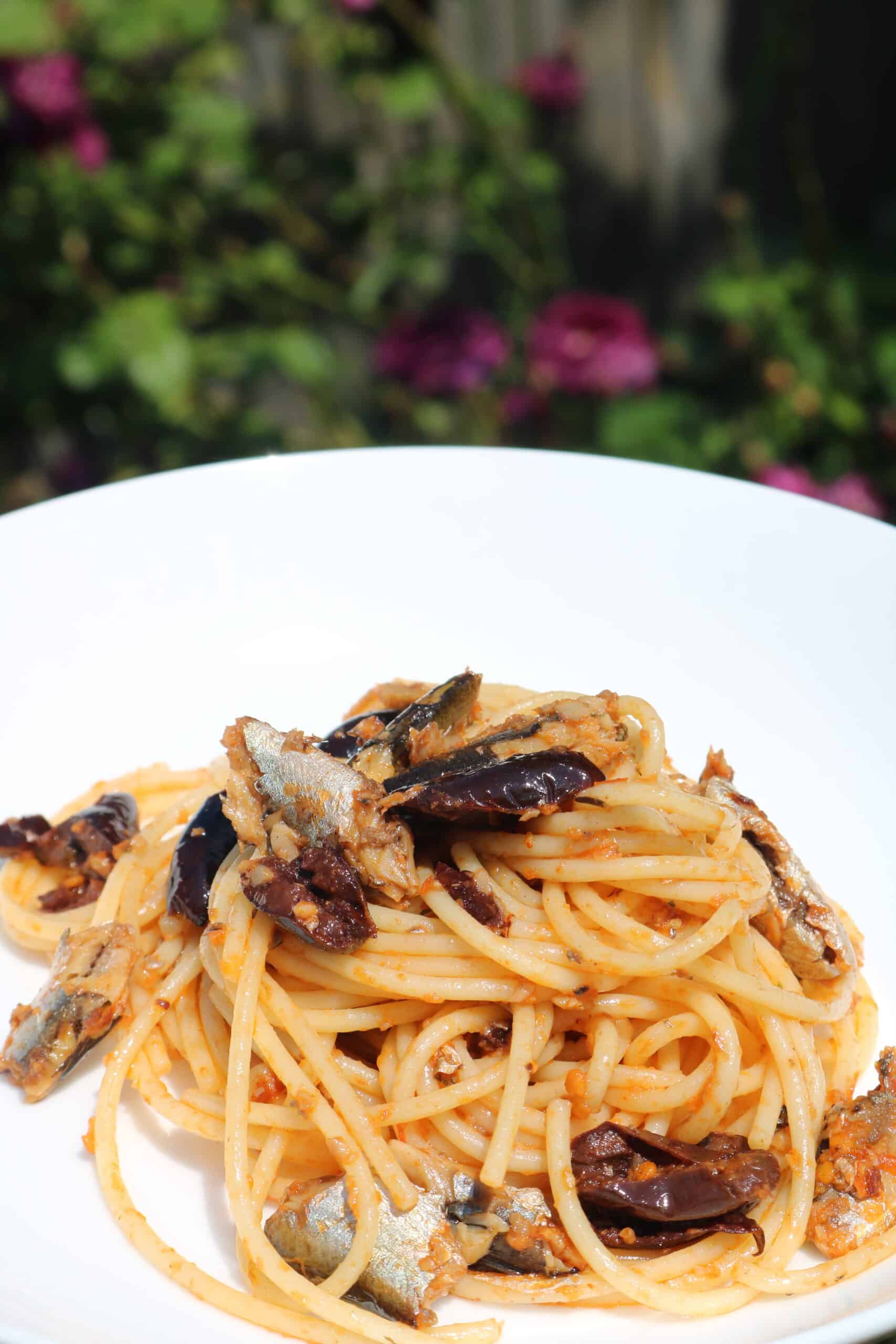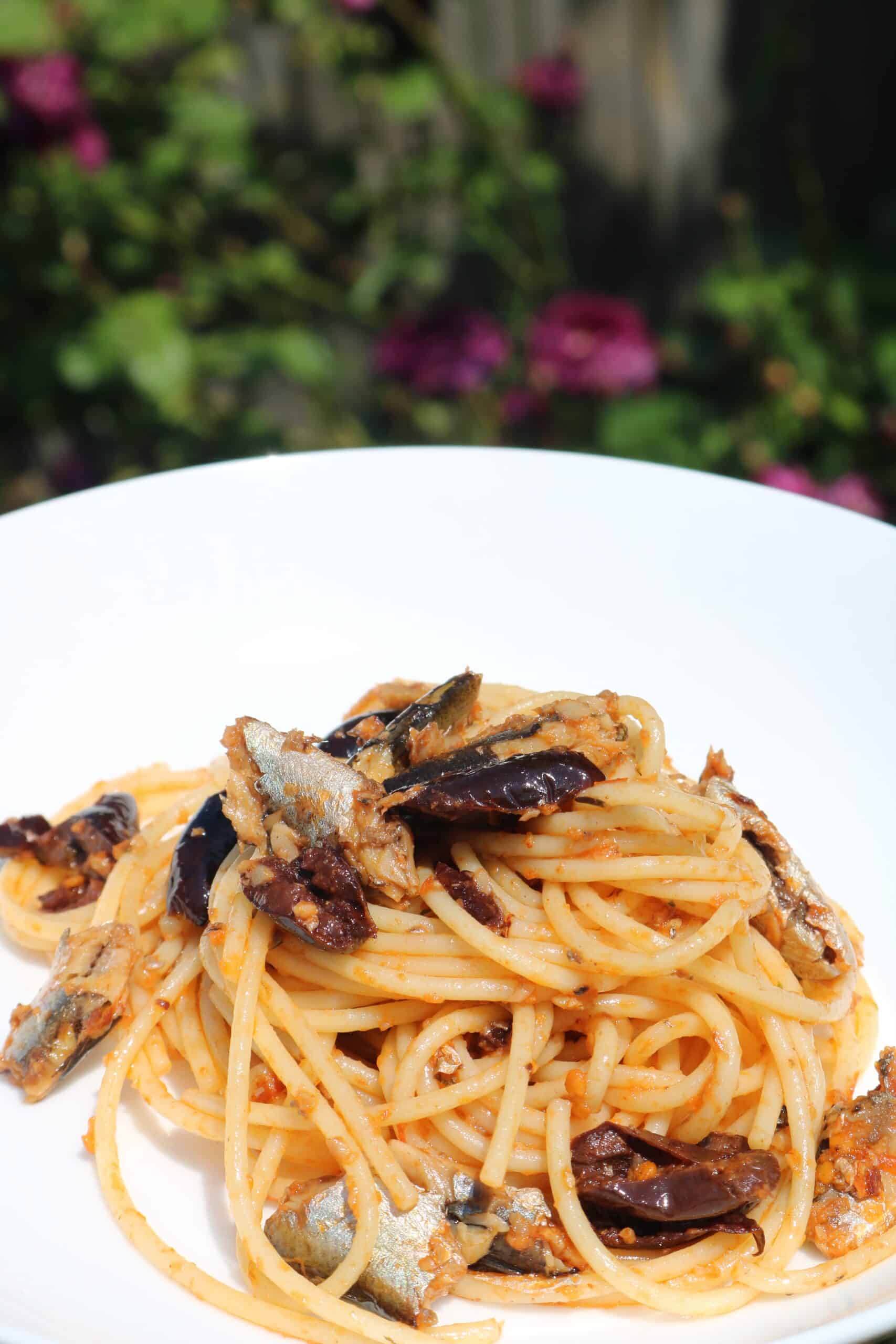 Top tips
As the tinned sardines are already cooked you don't need to scorch them, you only need to warm them through at the end. Mix them gently so they don't turn into a paté.
Break up the sardines into bitesize chunks, they should be big enough to easily pick up with a fork.
Drizzle a tiny bit of extra virgin olive oil and a squeeze of lemon at the end to lift up the flavours.
If you like things spicy add a tiny sprinkle of cayenne pepper. I love this finishing touch.
Cook the pasta to instructions and lift out from the pan and into the tomato sauce, not the other way round.
There will probably be too much tomato sauce, you can refrigerate for a few days or even freeze.
When adjusting the seasoning be careful not to add too much salt as the sardines and olives are already salty, but don't under-salt it as you need to balance out the flavours.
Just do it incrementally and trust your instincts.
📖 Recipe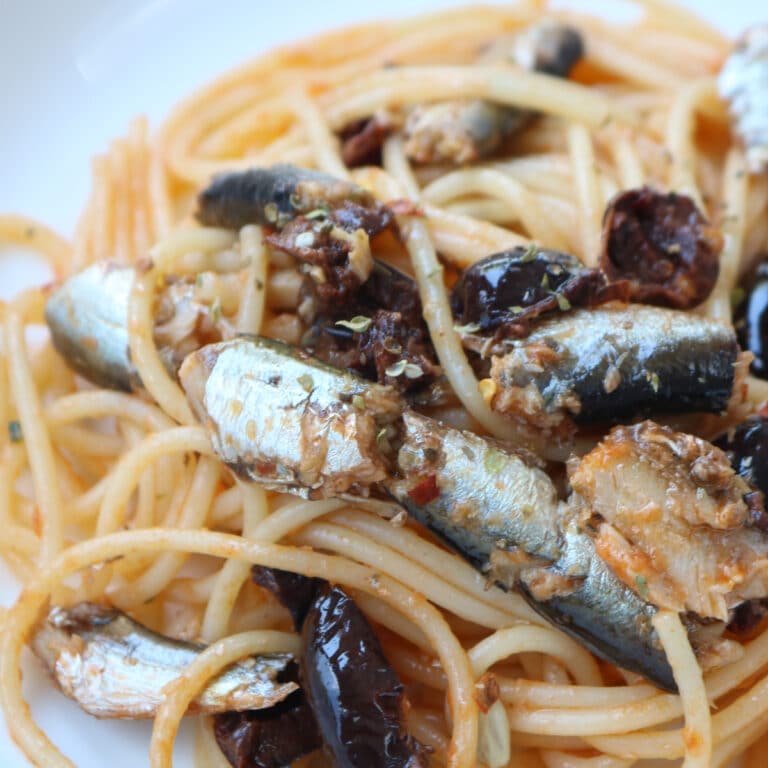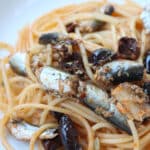 Pasta with Sardines and Olives
Spaghetti with sardines and black olives in a light tomato sauce
Ingredients
To make the tomato sauce
4-6

tomatoes

½

teaspoon

tomato concentrate

1

clove

garlic

whole

pinch

dried oregano

salt to taste

drizzle mild olive oil
Other
Spaghetti for 2 people approx 100g

1

tin sardines

approx 75g

handful black olives

squeeze of lemon

salt to taste
Instructions
In a medium pot, add the roughly chopped tomatoes, a drizzle of mild olive oil, tomato concentrate and a sprinkle of salt along with the clove of garlic. Bring to the boil on medium high heat for around 20 minutes

Take out the garlic clove and blitz using a hand blender. Set aside

Cook the spaghetti as per packet instructions using well salted boiling water

As the spaghetti is cooking, pit the olives and drain the sardines. Transfer ½ cup of tomato sauce to a deep pan and heat on low. 2 minutes before the pasta is done, transfer to the tomato sauce

Add the sardines, olives, squeeze of lemon and tiny sprinkle of salt. Warm through for a few minutes, turning gently so as not to break up the sardines too much.

Taste to adjust any seasoning as necessary and transfer to a pasta bowl. Drizzle on optional extra virgin olive oil or a sprinkle of cayenne pepper
If you make any of our recipes let us know how it went by giving us a star rating below.
Check out our Youtube page for full video tutorials, our Facebook group to discuss Lebanese cooking, as well as our tiktok page for quick tips.
You may also like these recipes from the collection: