Lebanese Manakish can be best described as flatbreads cooked with a range of traditional fillings. It's not the same as pizza as it has to be very thin and is usually eaten for breakfast.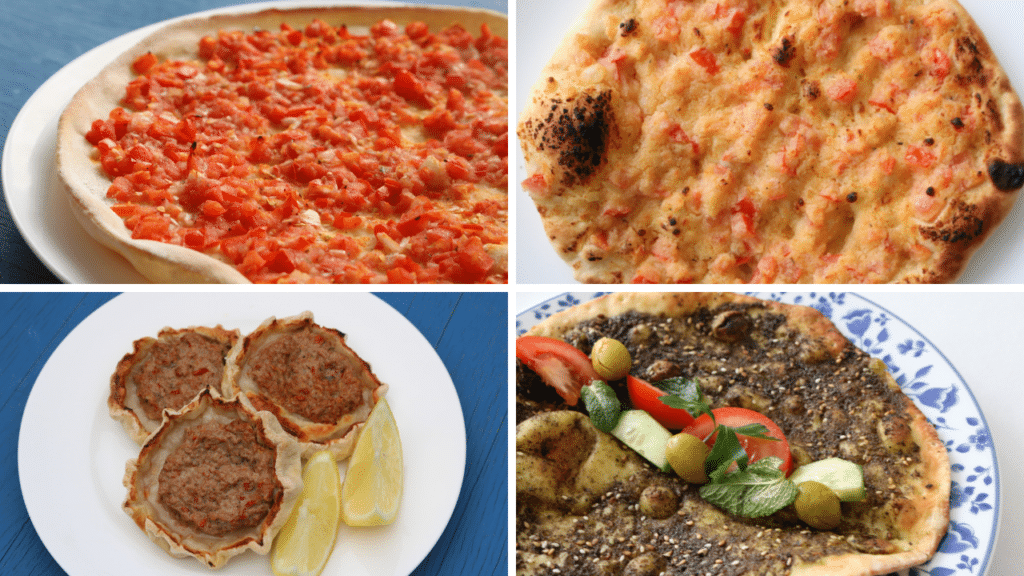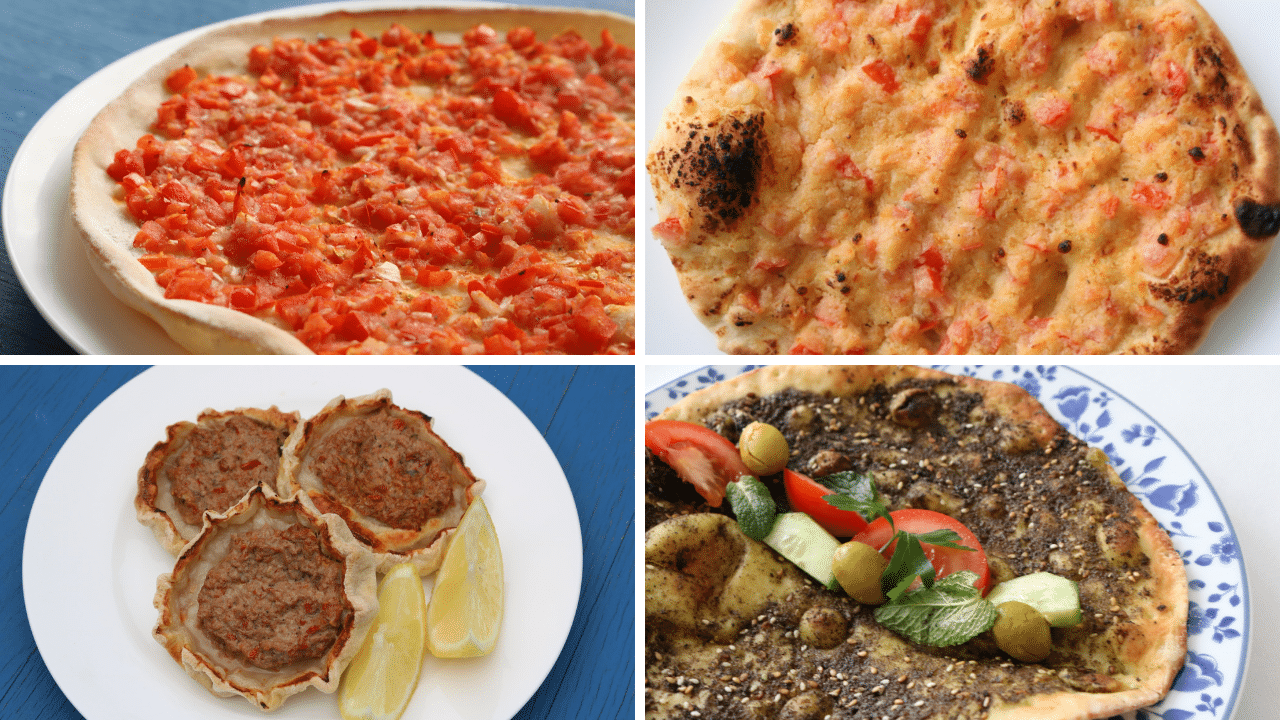 The standard manakish dough recipe is comprised of flour, salt, sugar, water and oil.
It really doesn't need to be more complicated than that. Having said that you can substitute some of the water for milk to create a richer more elastic dough.
The dough version with milk is often used for sfeeha (mini meat pies) or lahm bi ajeen. It also used to depend on the area if milk was easily available.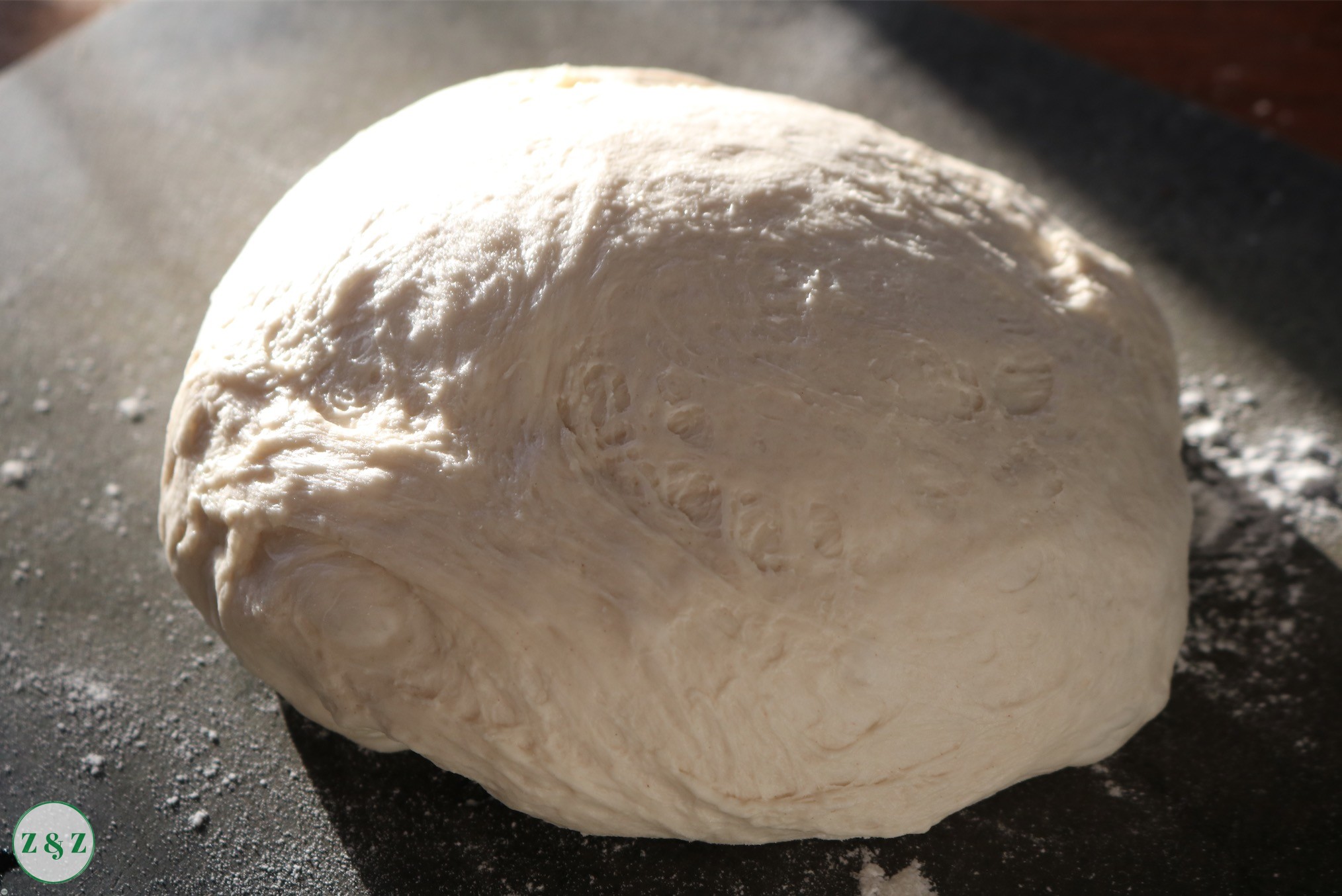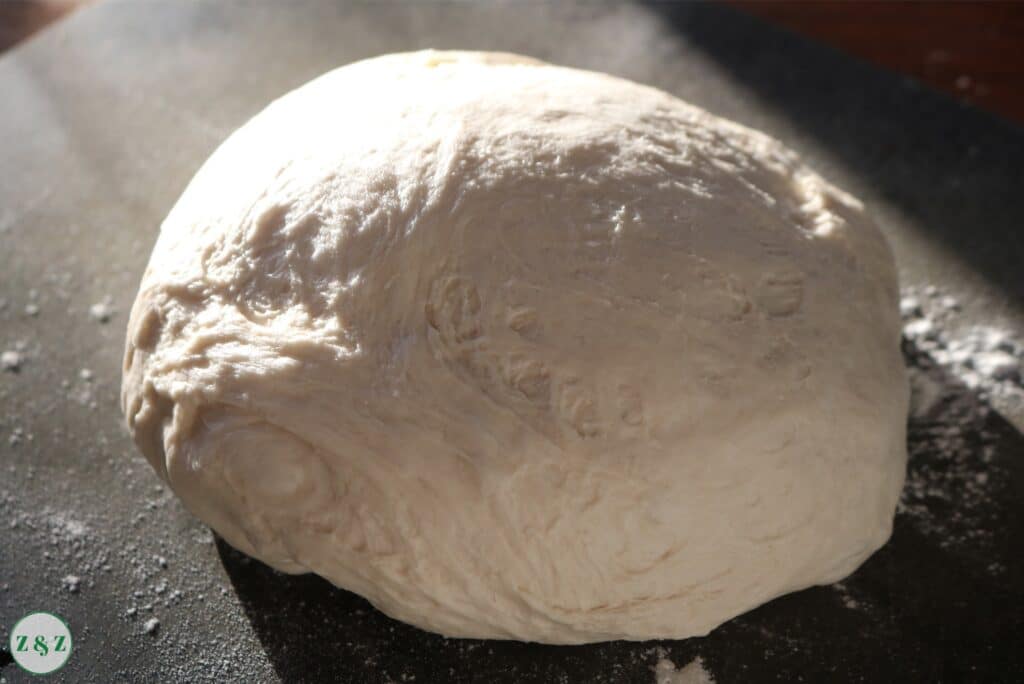 These days I also substitute half the plain (all purpose) flour with strong bread flour. The one that usually says type 00 on it.
I find that 2 hours gives the dough enough time to rise double in size. If the kitchen is particularly cold you will need more time.
Sometimes to speed up the process you can warm your oven at the lowest setting then turn it off so it acts like a proving draw, but this is only necessary if it's reaaallly cold.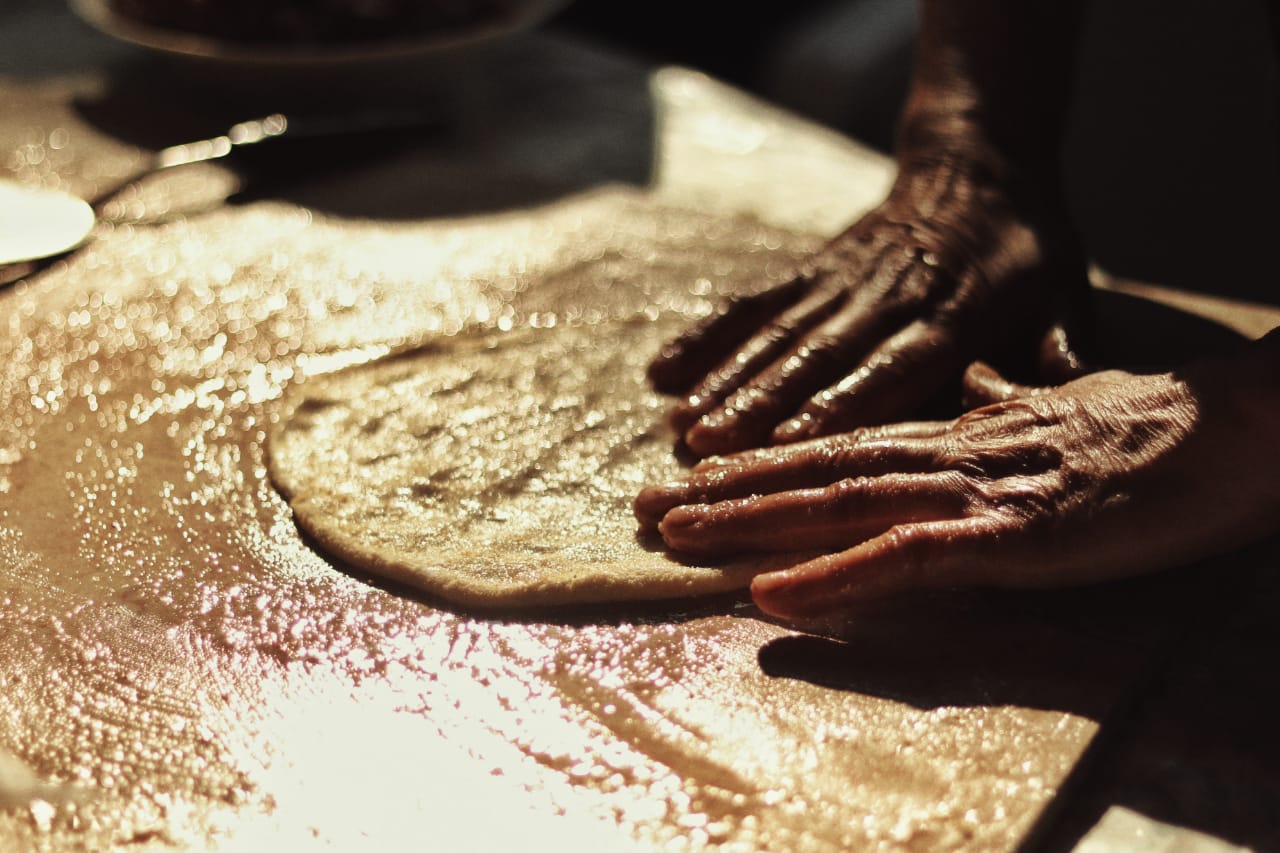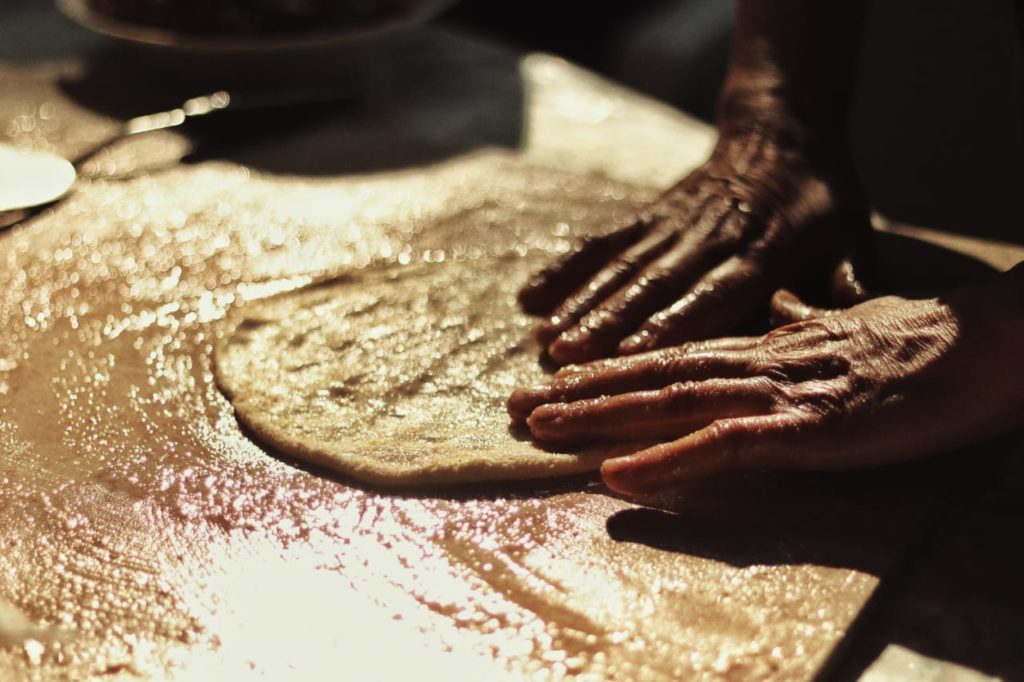 If you are making the dough the night before, put it in the fridge for a cold rise and then take out a few hours before to get the dough to rise again in the warmth.
Making manakish dough requires you to trust your instinct. If the dough is very wet and is sticking to your hand add a little flour at a time, don't add huge amounts or you will find you then have to add more water in an ongoing cycle.
For the basic Lebanese manakish dough recipe click here.
These are the basic manakish topping recipes that you ill find all over Lebanon:
Zaatar
Zaatar, a herb that can be described as wild oregano, is traditionally handpicked and combined with sumac, salt and sesame seeds. This herb blend is then mixed with olive oil to make a zaatar paste.
Roughly combine 2 full tablespoons of zaatar with 4 tablespoons of regular olive oil, always remember to dimple the dough with your hands and ideally serve with a plate of fresh vegetables.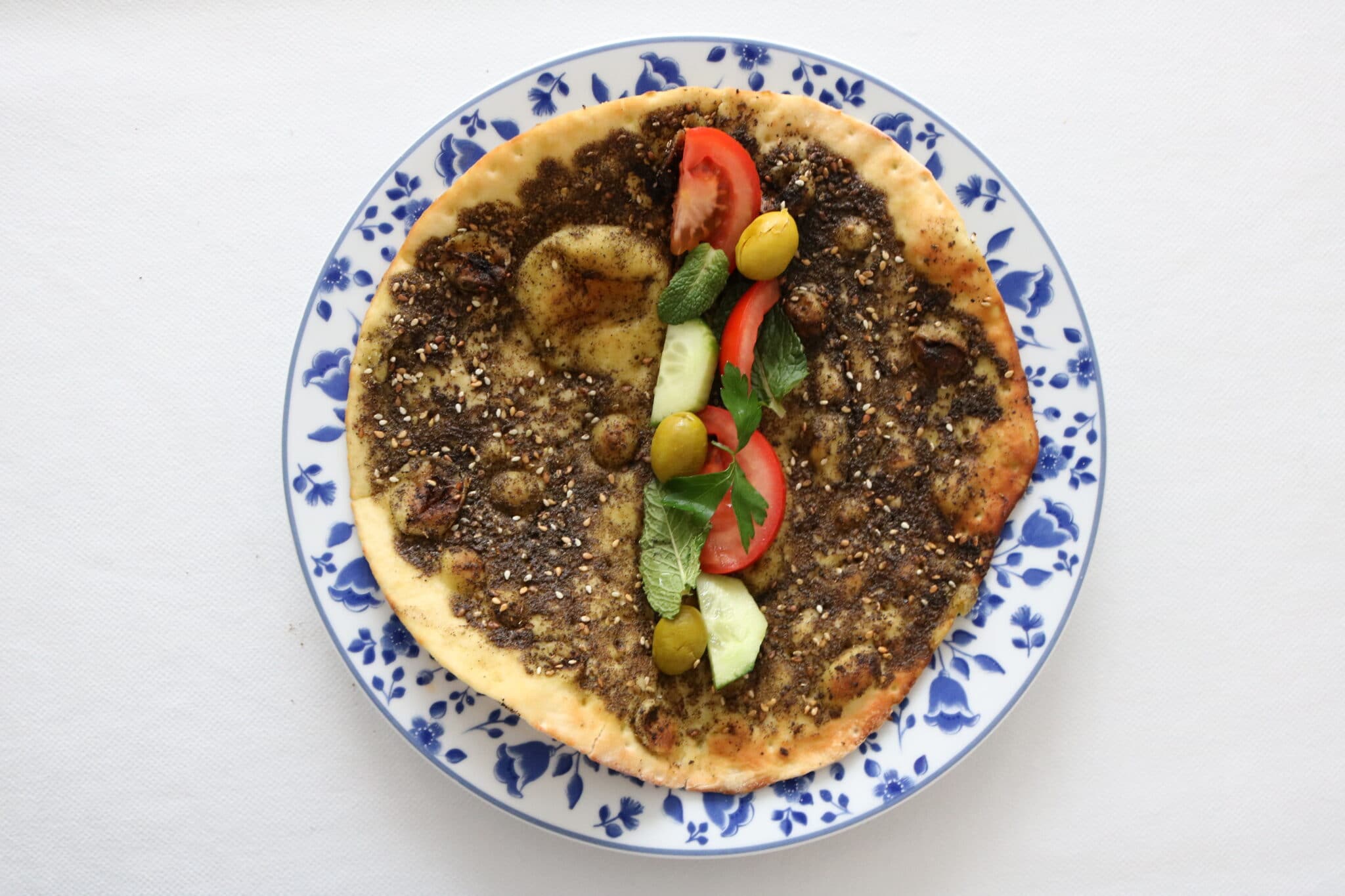 For the full zaatar manakish recipe click here
Cheese
Akkawi cheese is traditionally used in making manakish and can often be found in Middle Eastern Grocery stores. It give the most wonderful oozy texture.
If your brand of akkawi cheese is particularly salty you might need to grate and soak it for a few hours beforehand.
Sometimes people mix white akkawi cheese with other cheeses such as cheddar, halloumi, mozzerella or gouda, and sprinkle on a few sesame seeds for texture.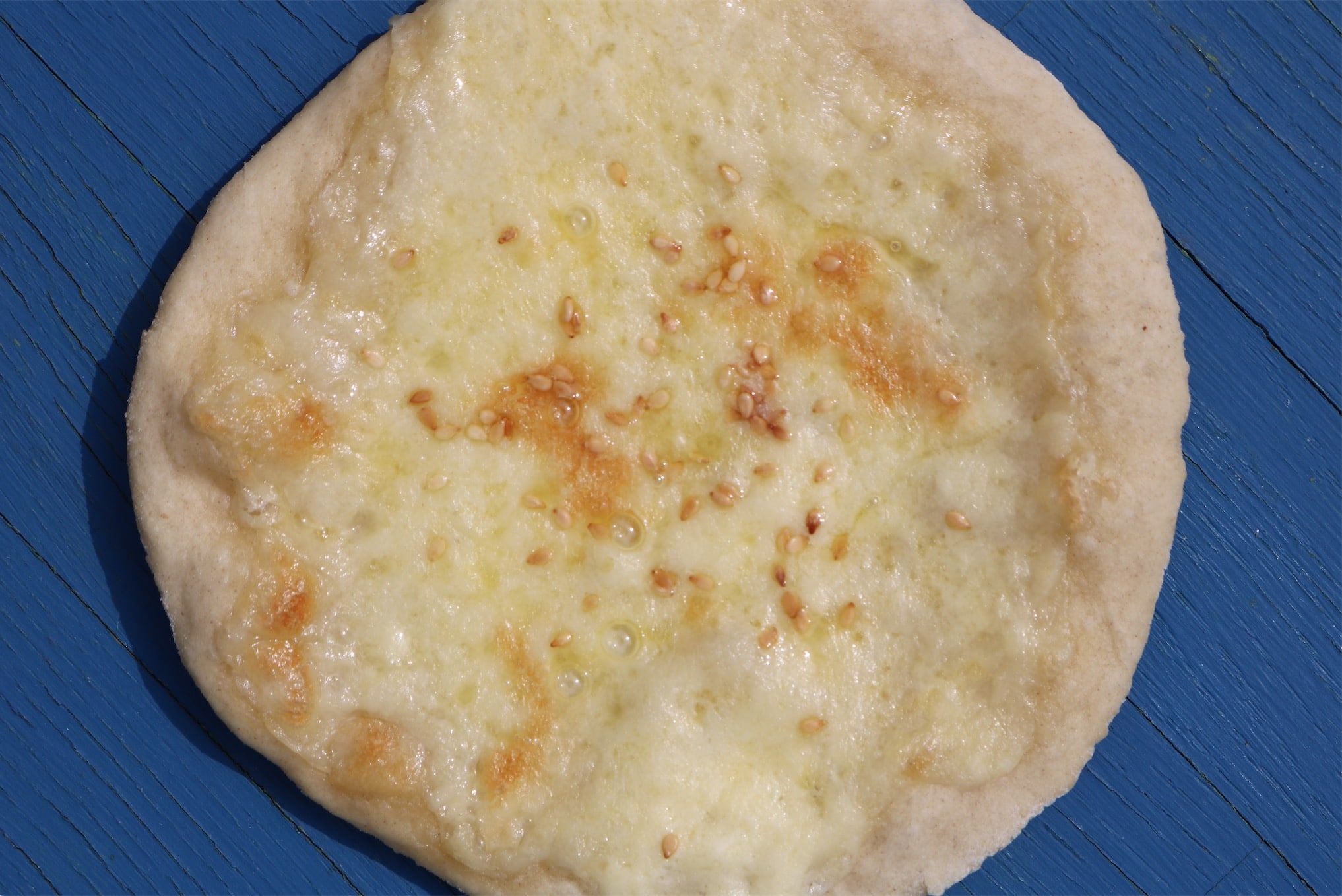 For the full cheese manakish recipe click here
Kishik
Kishik is Lebanese speciality made from fermented bulgur wheat and dried yoghurt. Kishik, which comes in powder form, will taste different from batch to batch depending on who made it and what ratio of ingredients they used.
It is hard to source good quality Kishik from outside of Lebanon. In fact, even within Lebanon you can find bad varieties and the best will come from Baalbeck in the Bekaa valley.
Kishik is usually combined with tomatoes and onions to make the most delicious tangy manakish.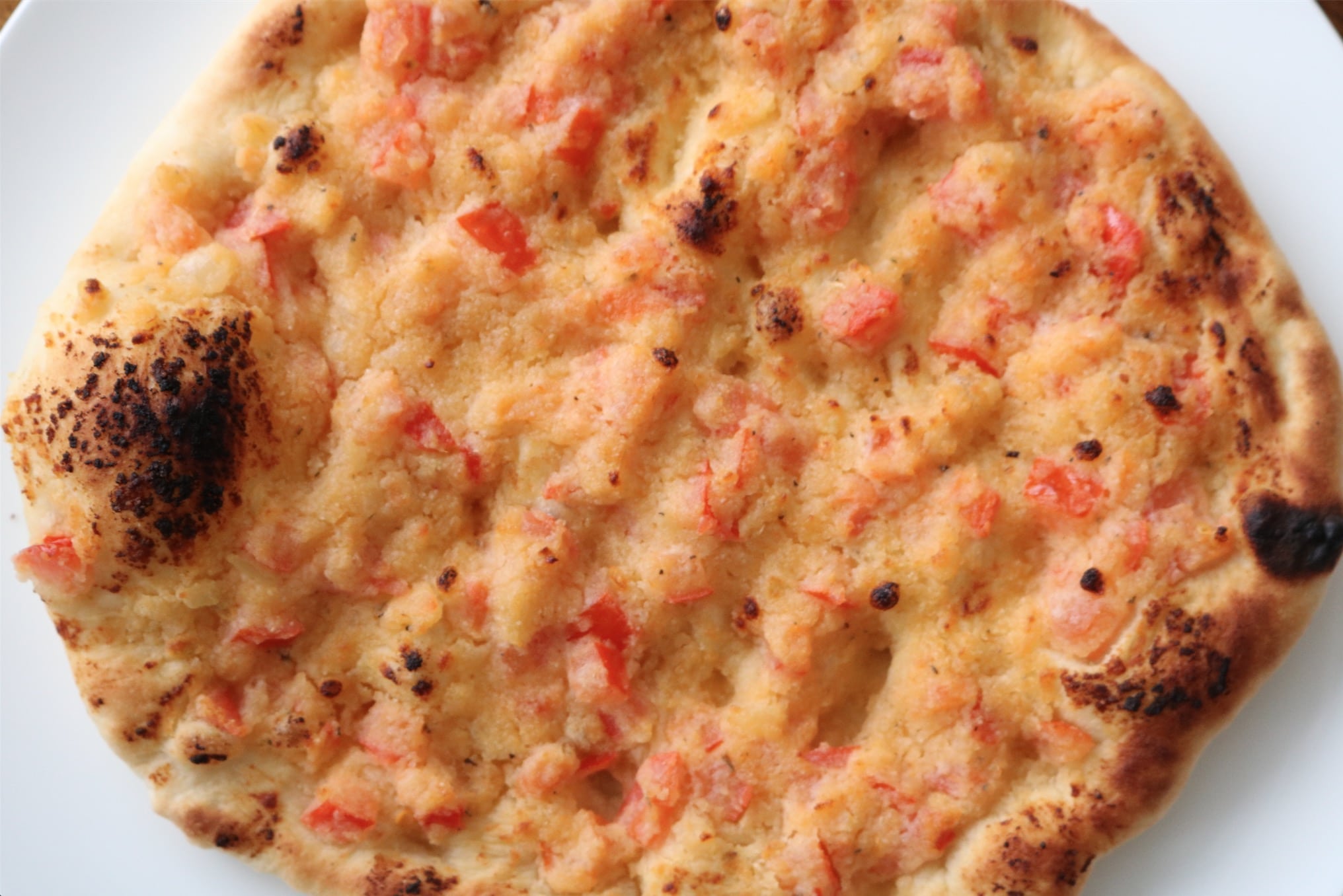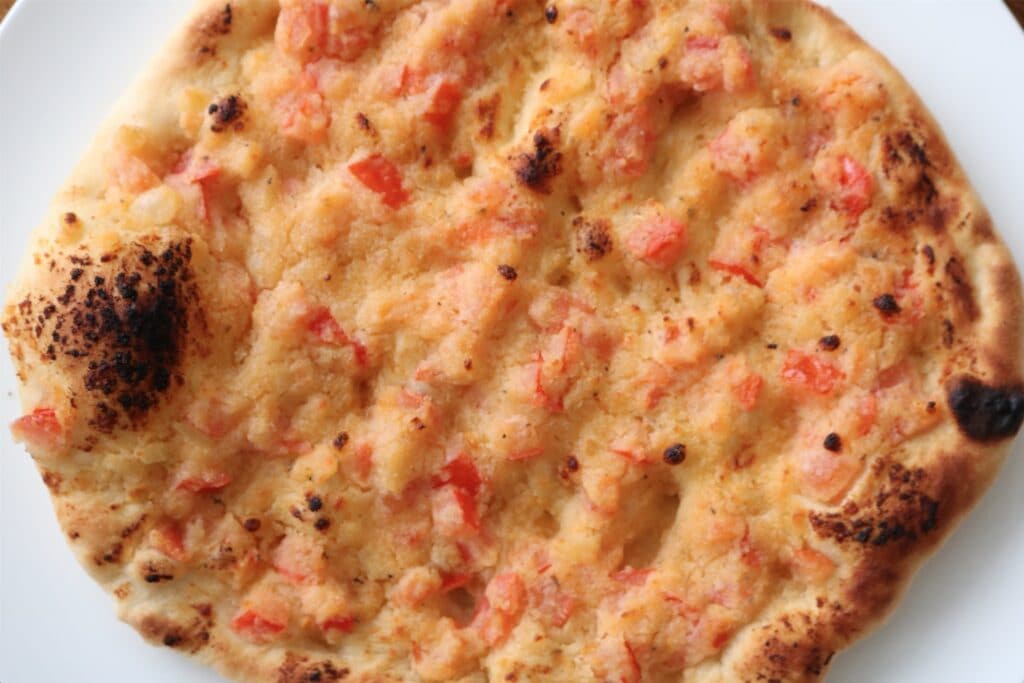 For the full kishik manakish recipe click here
Onion and tomato (Basal banadoura)
Finely chopped onions and tomatoes make the most basic and sometimes most satisfying manakish.
Very good quality tomatoes and onions, with a tiny pinch of herbs and spices are all you need.
This same mix can be added to kishik or zaatar to make different versions.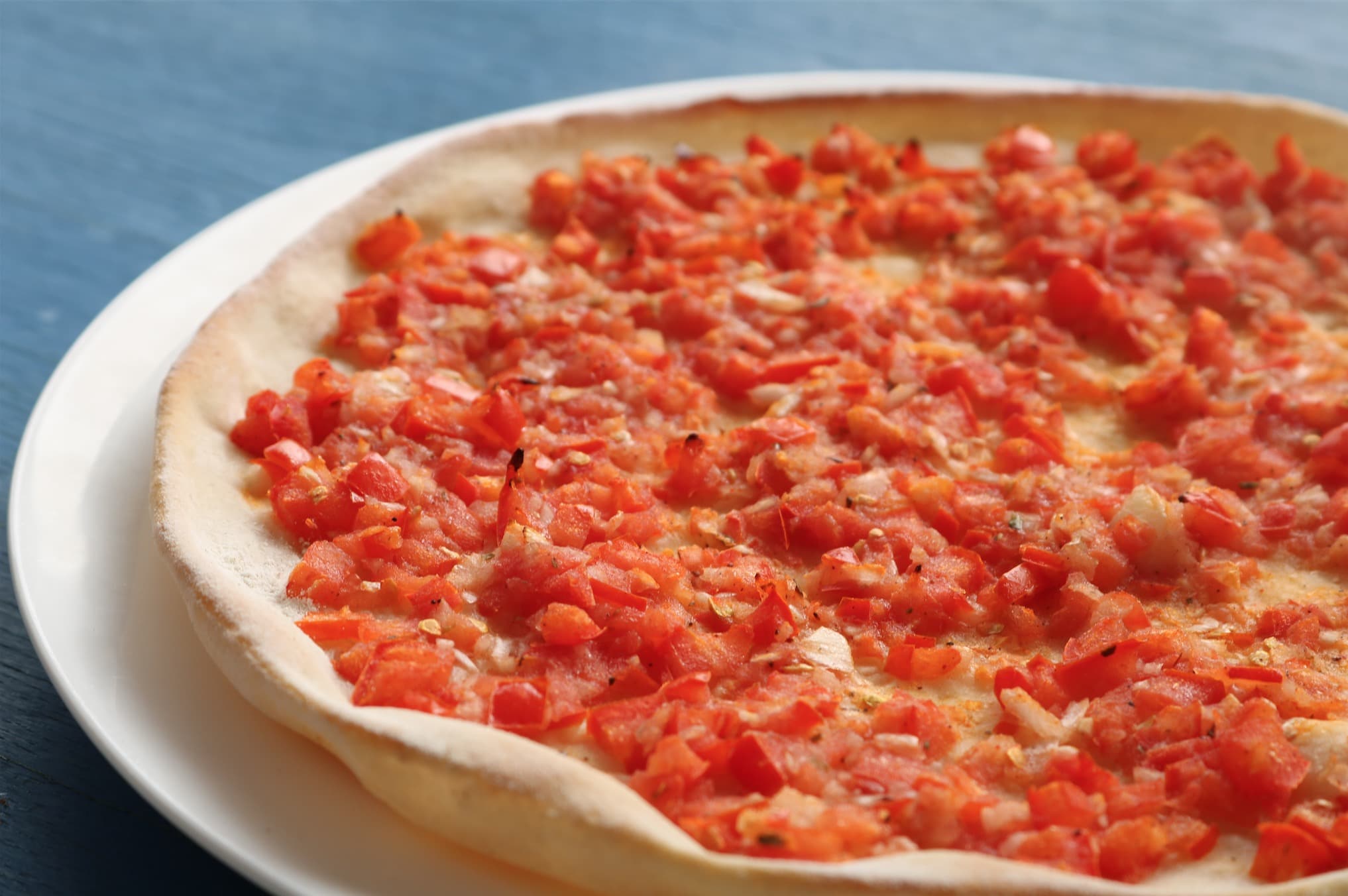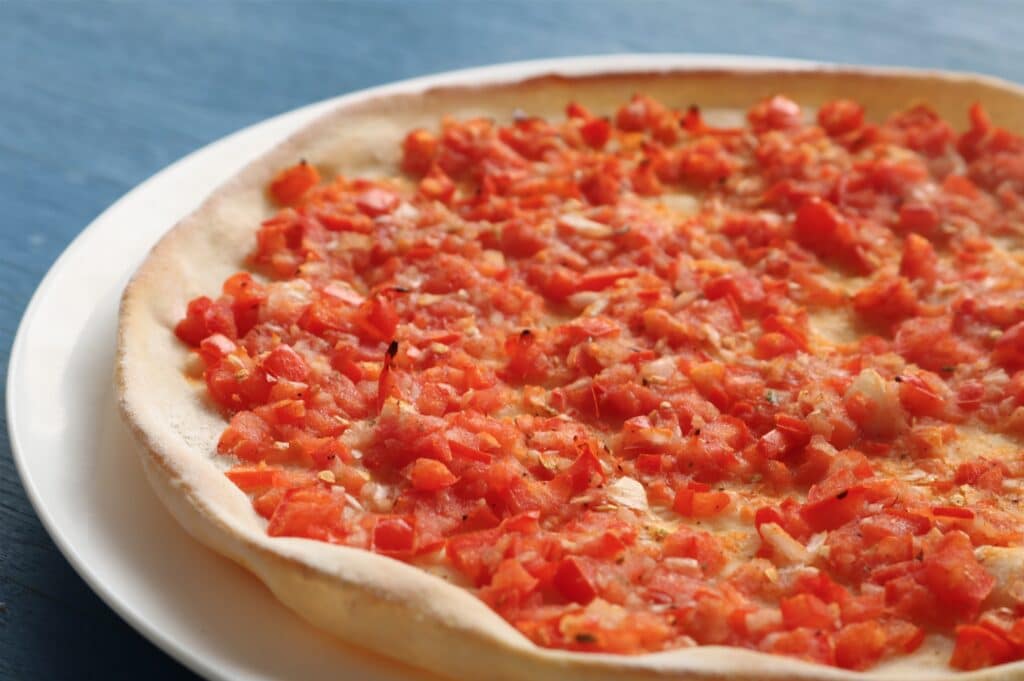 For the full basal banadoura manakish recipe click here
Meat (Lahm bi ajeen)
Lahm bi ajeen (meat in dough) is made from ground beef combined with onions, tomatoes and a pinch of seven spice.
These can be made small as in the picture or larger ones, and are usually eaten with a squeeze of lemon alongside a drink of salty yoghurt (ayran).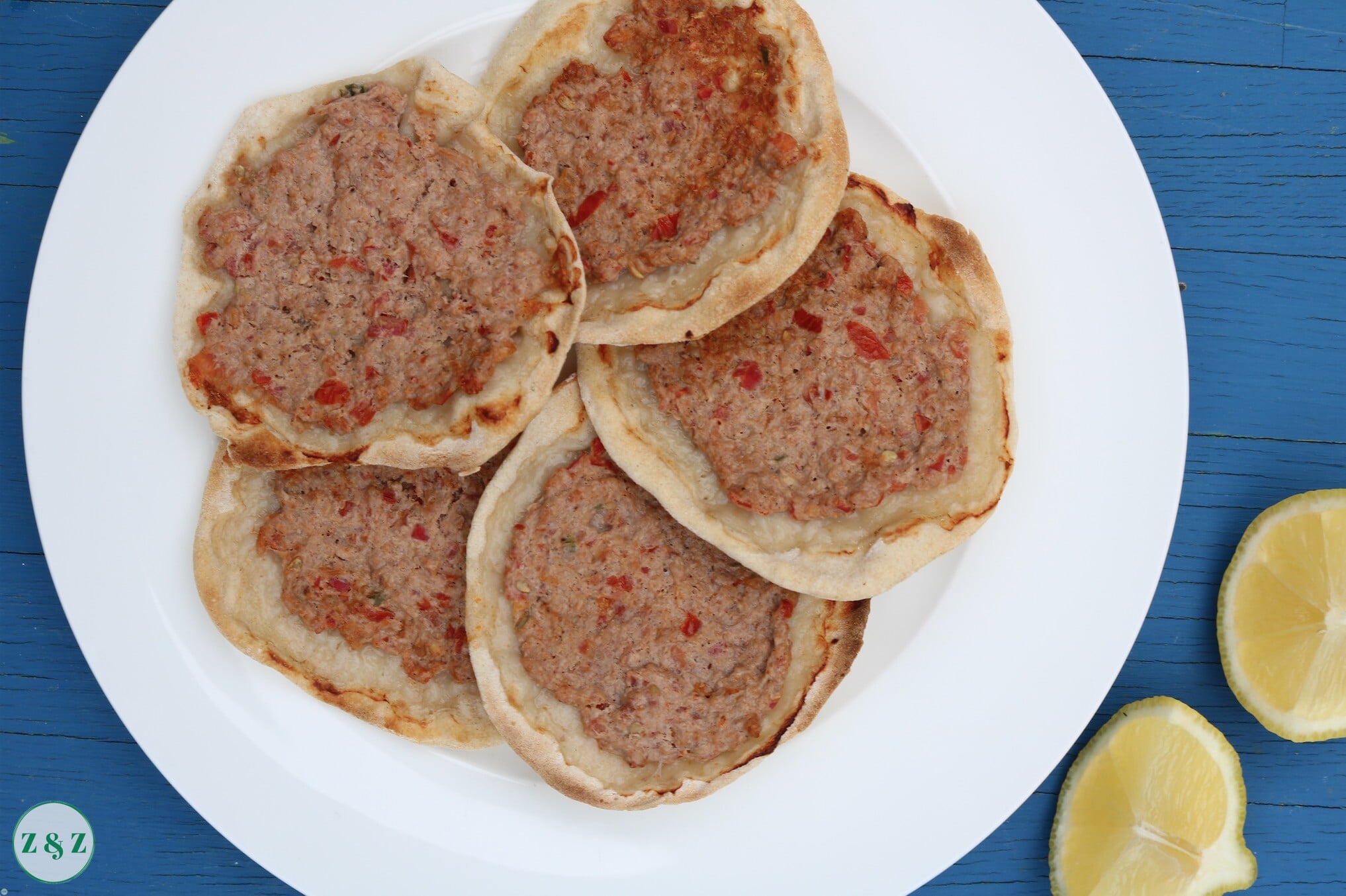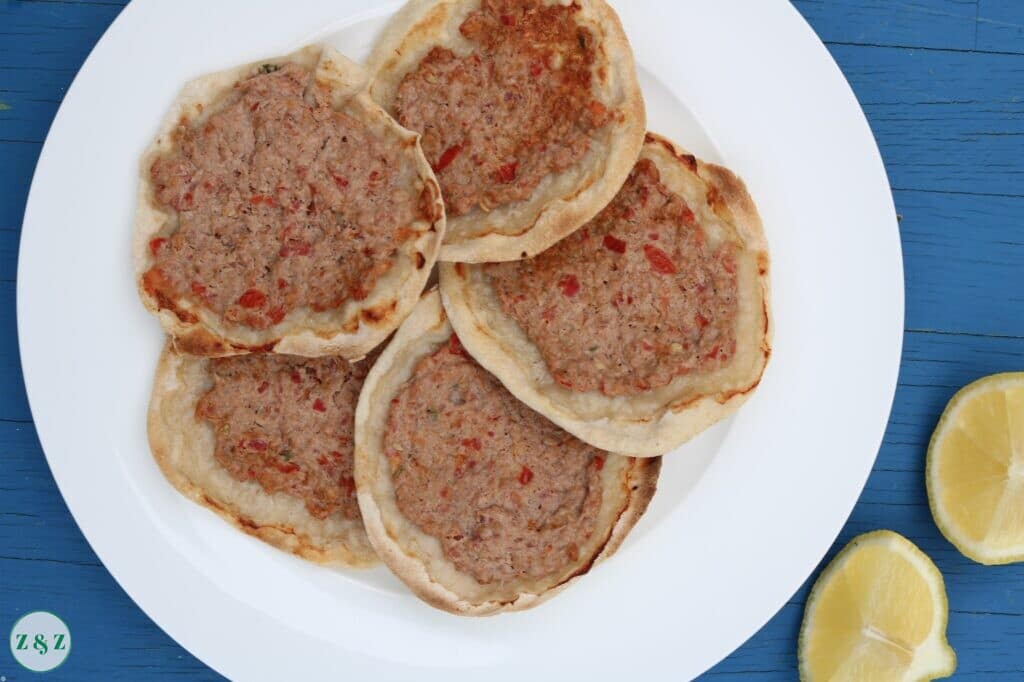 For the full lahm bi ajeen recipe click here
If you make any of our recipes let us know how it went by giving us a star rating at the bottom of the recipe page.
We have a lively Facebook group where we post frequent recipes and discuss Lebanese cooking in general, as well as a handy Pinterest page where you can save all of your favourite Zaatar and Zaytoun recipes!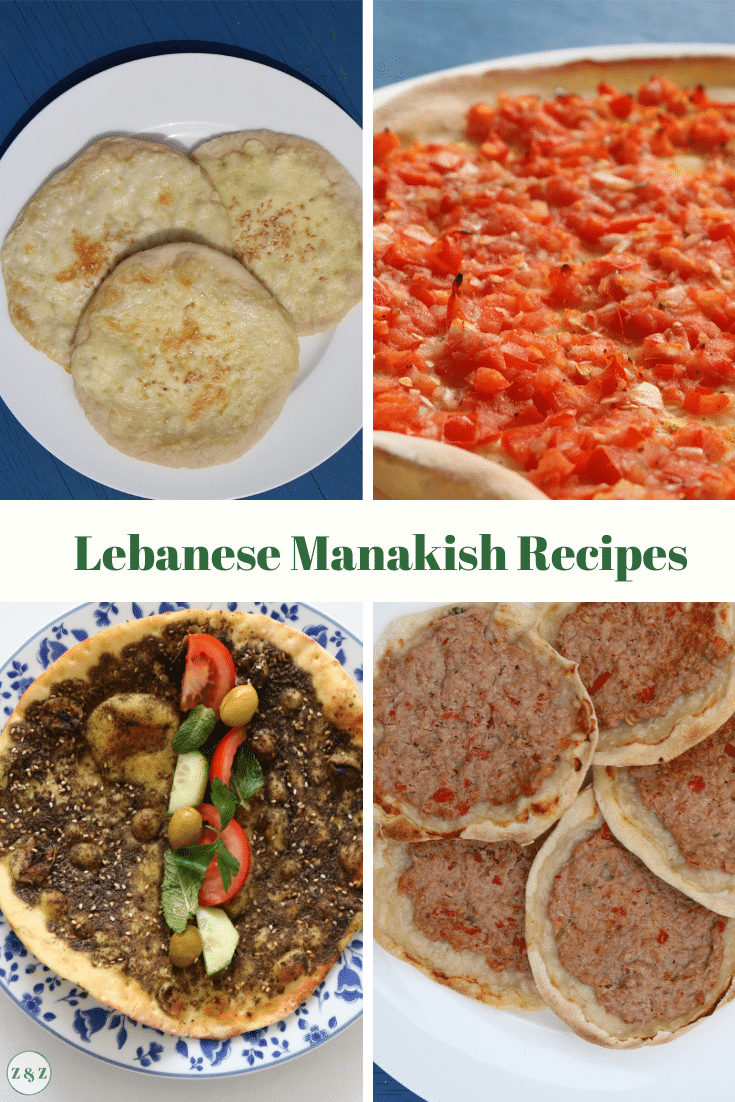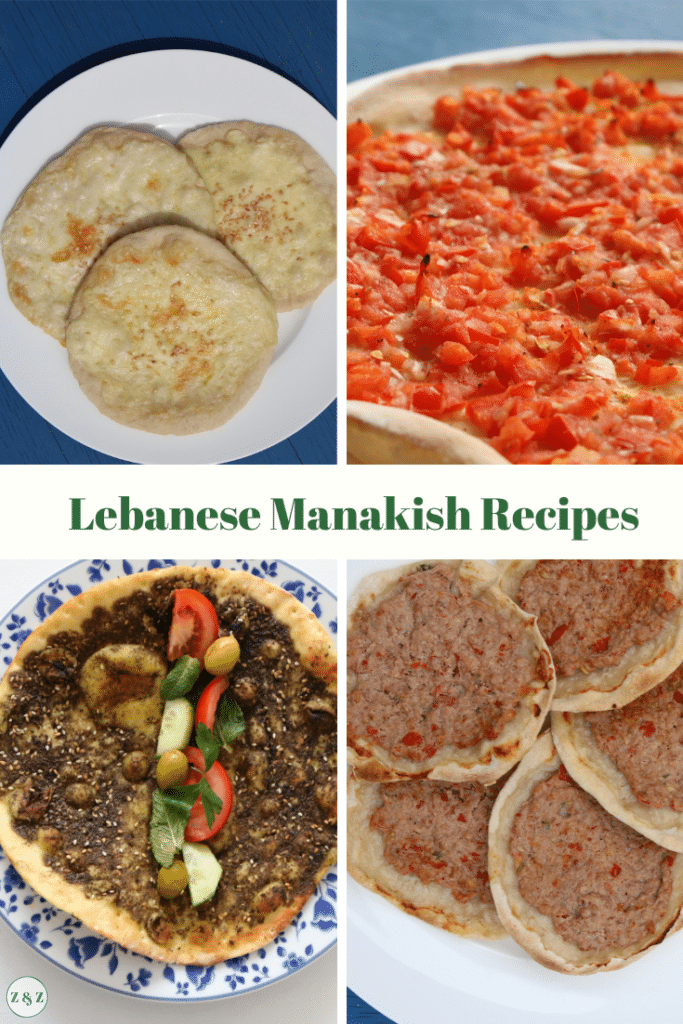 You might also like these recipe from the Zaatar and Zaytoun collection: