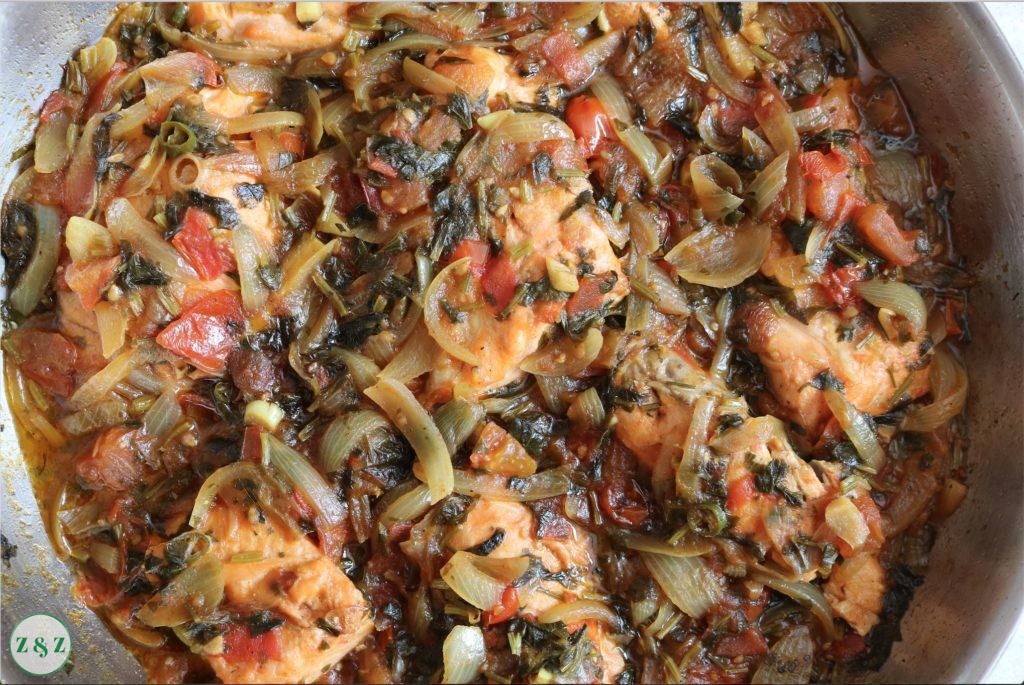 This healthy baked salmon dish is fancy enough to serve at dinner parties but is deceptively simple. I like fish dishes that have a nice sauce to spoon onto a side of rice or potatoes and this sauce is both tangy and rich at the same time.
You can use pomegranate molasses which you can find in most Middle Eastern stores but if you find it hard to source you can also use tamarind which gives the same sour tone.
I like to use chunky salmon fillets but you could also present a whole side of salmon fillet if you felt like it.
The main herbs are coriander and parsley and when I specify a good handful I mean almost a little bunch.
Of course, the best summer tomatoes will make all the difference but if you make it out of season you could use a can in substitute.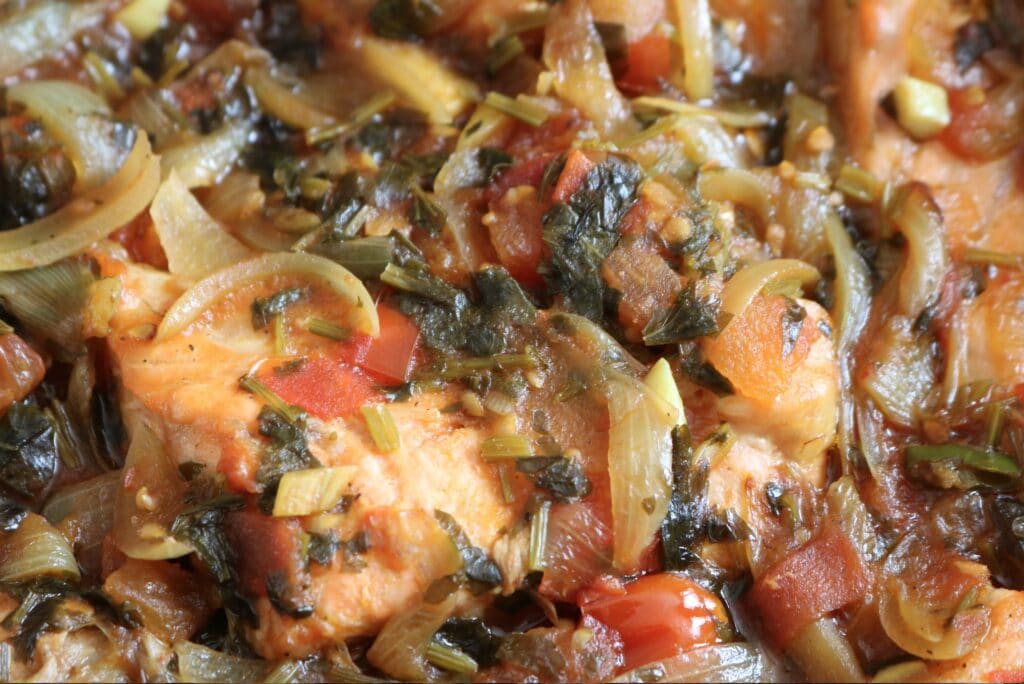 As always with fish, use spices sparingly and make sure you don't overpower the flavour of the fish.
I use half a birds eye chilli so it just tickles the back of your throat but you could adjust accordingly to your spice threshold.
Everyone needs at least one fancy fish dish up their sleeve and this one never fails to get people coming for seconds.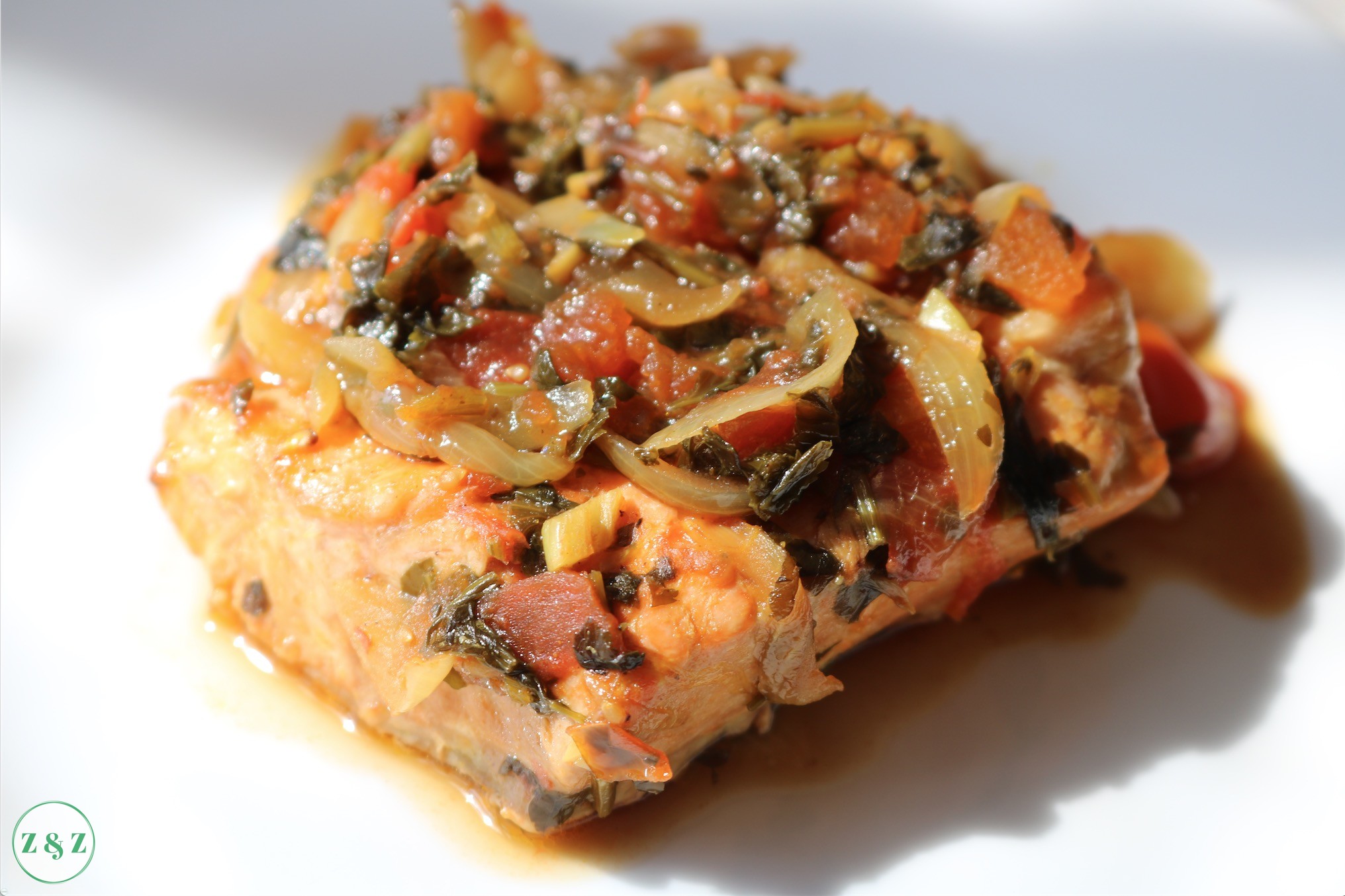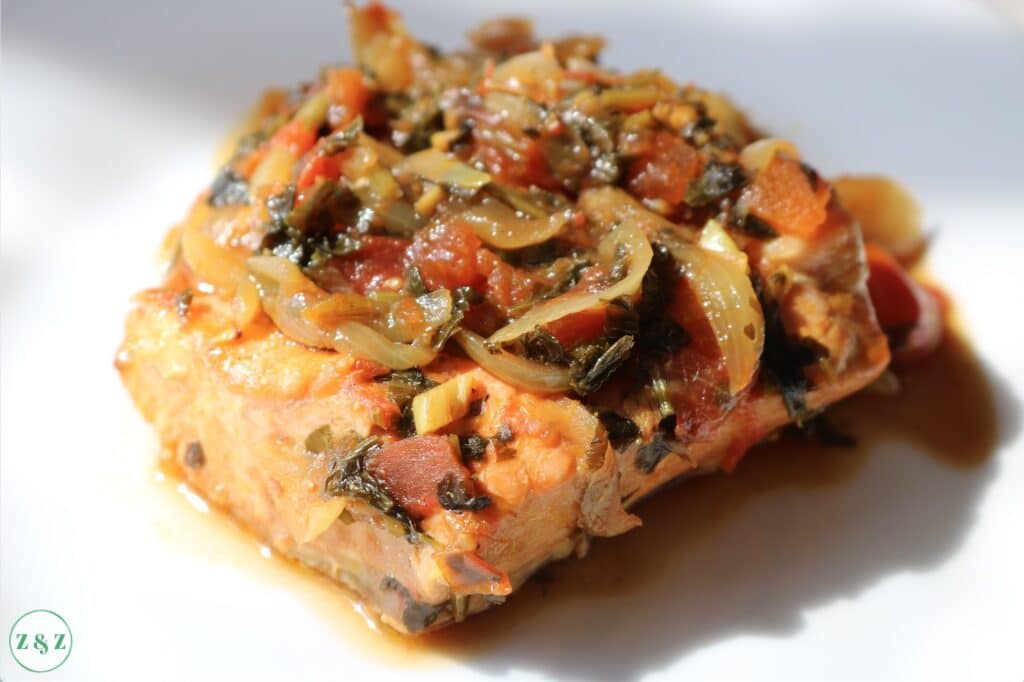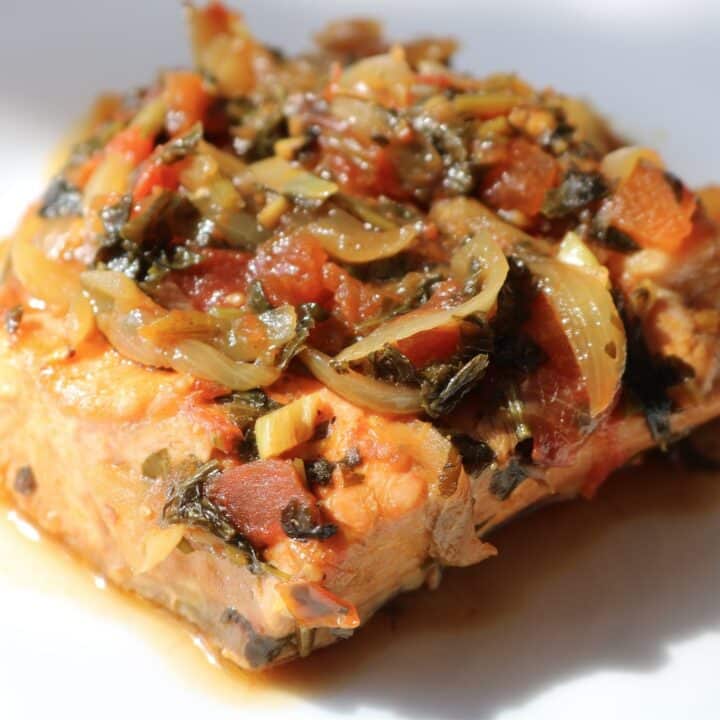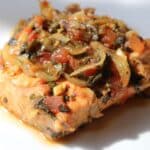 Salmon with Tomato Herb Relish
Ingredients
750

g

of thickly cut salmon fillets

3

onions

sliced into ribbons

3

tomatoes

chopped

3

garlic cloves

chopped

½

birds eye chilli

chopped

Good handful each of coriander and parsley

chopped

Salt and black pepper to taste

¼

teaspoon

turmeric

¼

teaspoon

paprika

¼

teaspoon

7 spice

Juice of 1 small lemon

2

tablespoon

pomegranate molasses or tamarind
Instructions
Heat the oven to 180°C fan

Season the salmon fillets with a sprinkle of black pepper and salt and place in an oven proof dish

Bake the salmon fillets for about 10-15 minutes so they are slightly cooked but still underdone, take them out of the oven and set aside

Sauté the onions in some regular olive oil until golden on medium heat, then add the garlic, chilli, coriander and lemon and sauté for another 5-10 minutes

Add the chopped tomato and spices along with a good pinch of salt and cook for another 5-10 minutes so you have a saucy relish

Add the lemon juice and pomegranate molasses and turn the heat off

Taste the relish and adjust the seasoning if necessary. Spoon onto the half done salmon and return the whole dish into the oven for another 15 minutes at 180°C or so until the salmon is done

Serve with rice making sure you spoon on some of that sauce
If you make any of our recipes let us know how it went via our Social Media platforms.
We have a lively Facebook group where we post frequent recipes and discuss Lebanese cooking in general, as well as a handy Pinterest page where you can save all of your favourite Zaatar and Zaytoun recipes!
You might also like these recipe from the Zaatar and Zaytoun collection: