Potato fans rejoice, my spicy sumac potatoes are so delicious you might find that you have eaten them all before they reach the table.
I adore potatoes in all its forms but fried potatoes are my downfall and if you don't like carbohydrates we can't be friends.
Sumac is a berry that often grows wild in Lebanon and the surrounding region. It is dried and ground to a powder and used in cooking to add sourness.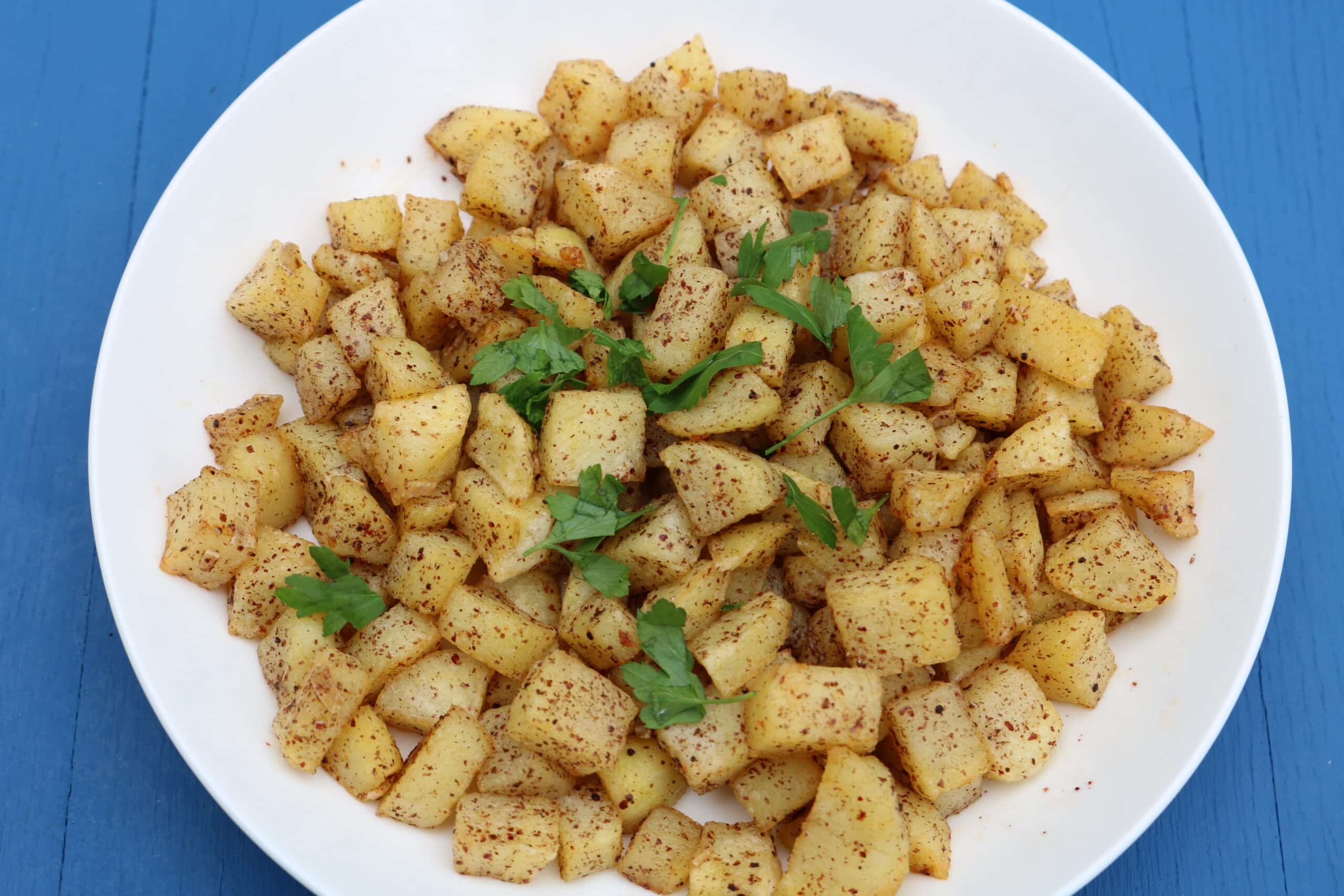 You can know if your sumac is good quality as it should be a dark red and not a dull brown. Brown sumac means it's old and sad and should probably be disposed of.
You might be familiar with the more famous batata harra (potatoes with cilantro) but it's nice to change up the side dishes now and again.
Jump to:
Ingredients
Cyprus potatoes are the closest you will find in Europe to Lebanese potatoes of the Bekaa valley. They are elongated in shape and when you deep fry them, they become crispy and firm.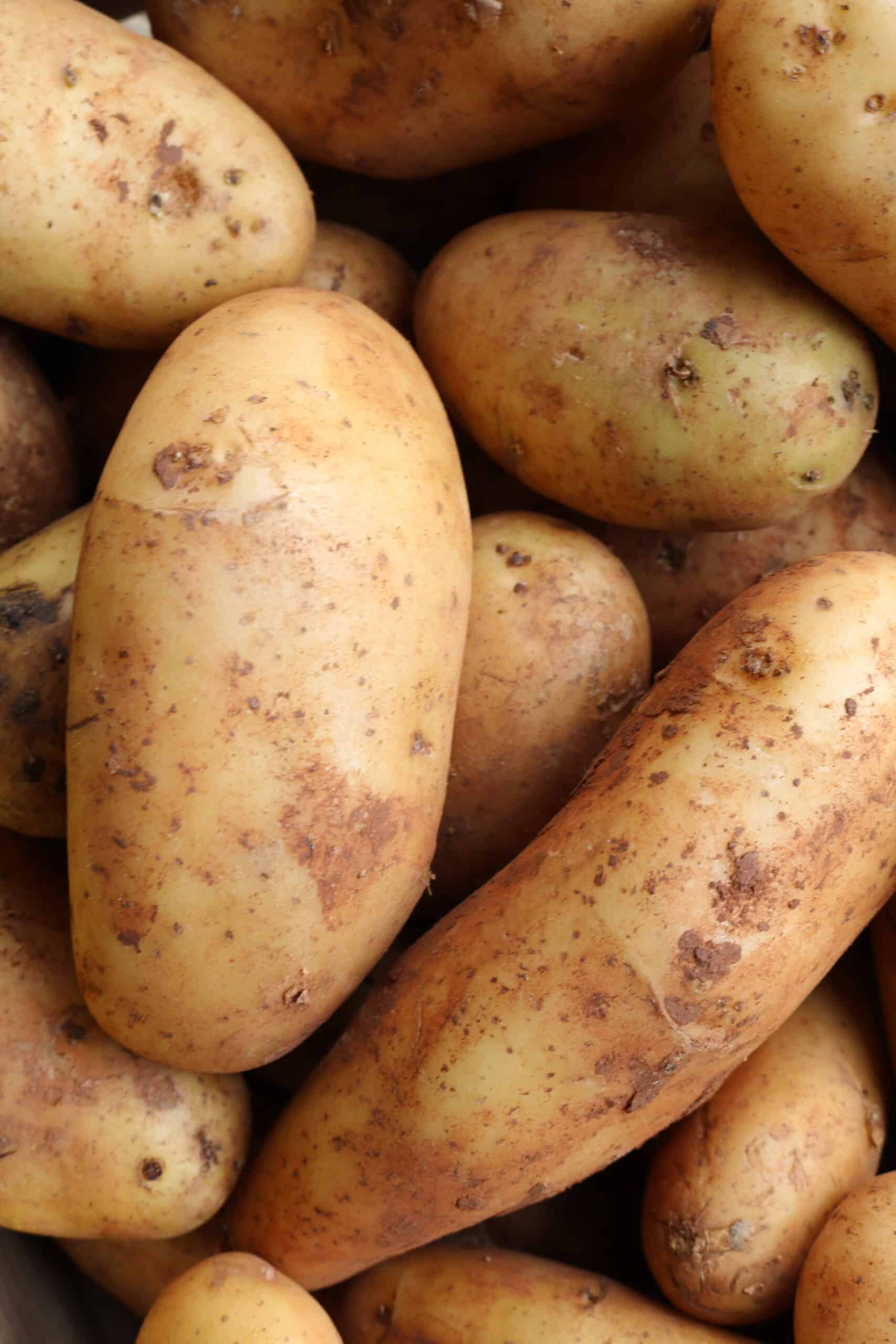 Other key ingredients are garlic and the spice blend. Always sauté with mild olive oil and not extra virgin as it burns quicker. You will need vegetable oil to deep fry the potatoes.
Instructions
This is a pretty straightforward recipe that can be summarised in the steps below: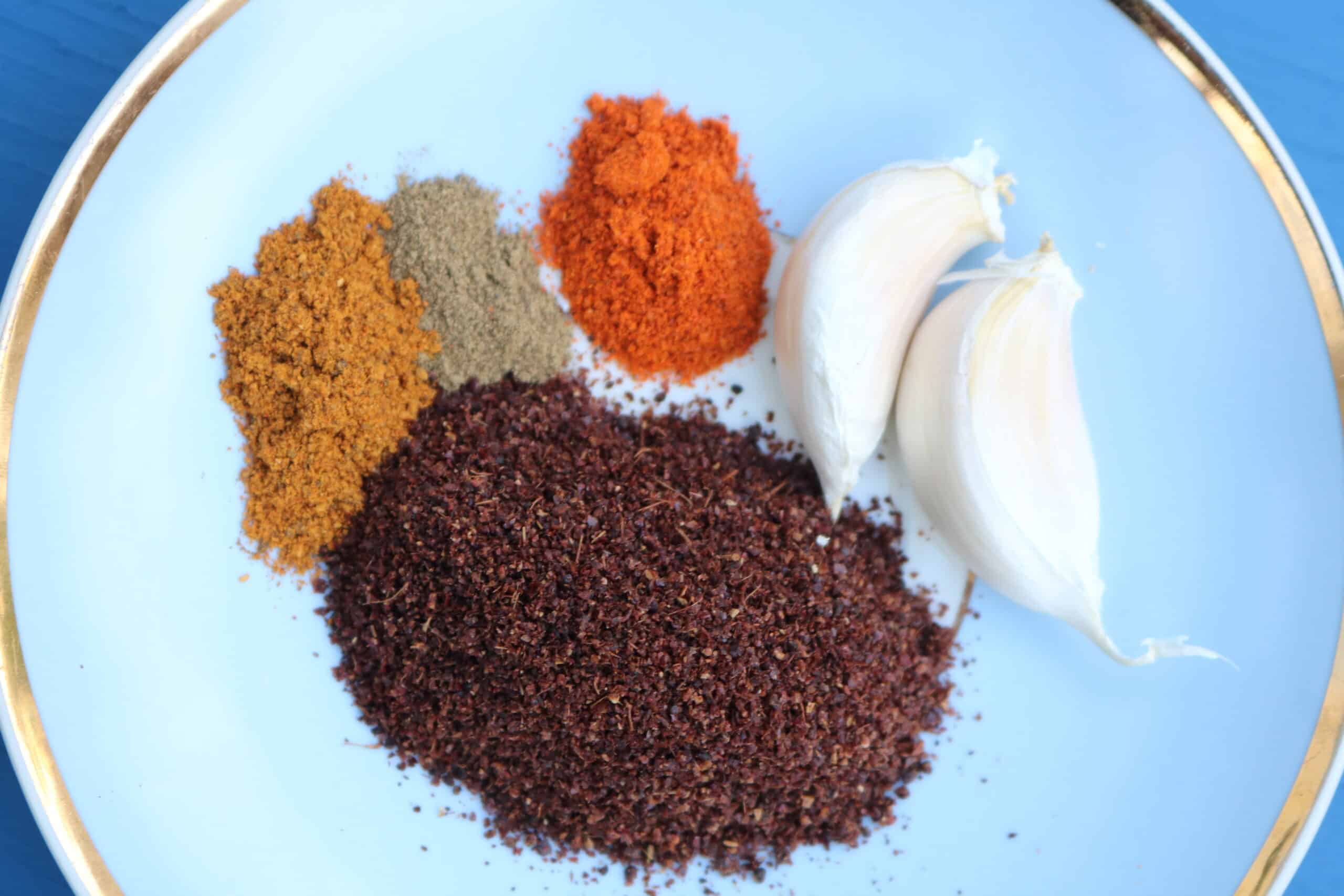 Combine all spices, peel and sauté the garlic in a pan along with the spices in mild olive oil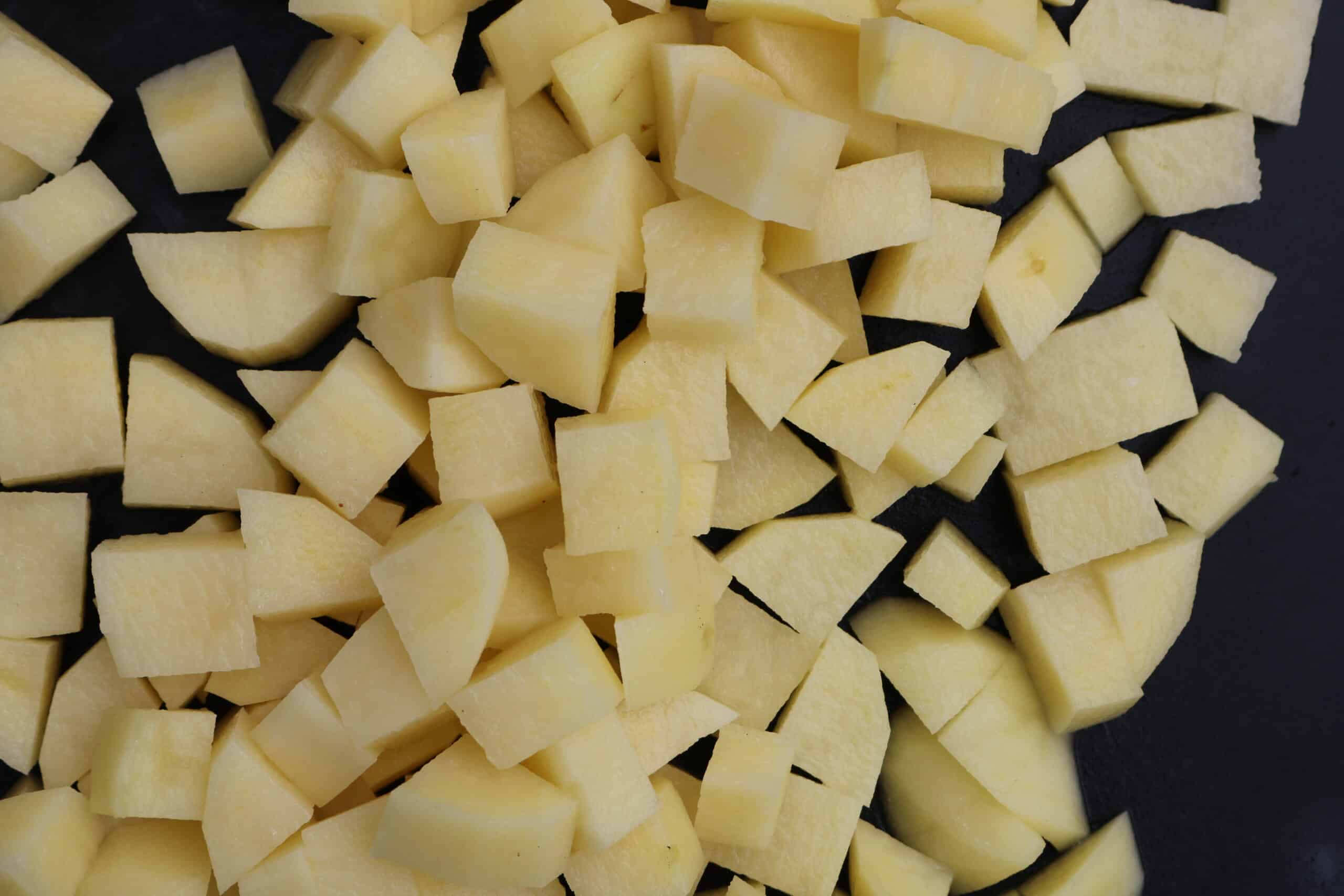 Peel and chop the potatoes into cubes 1cm thick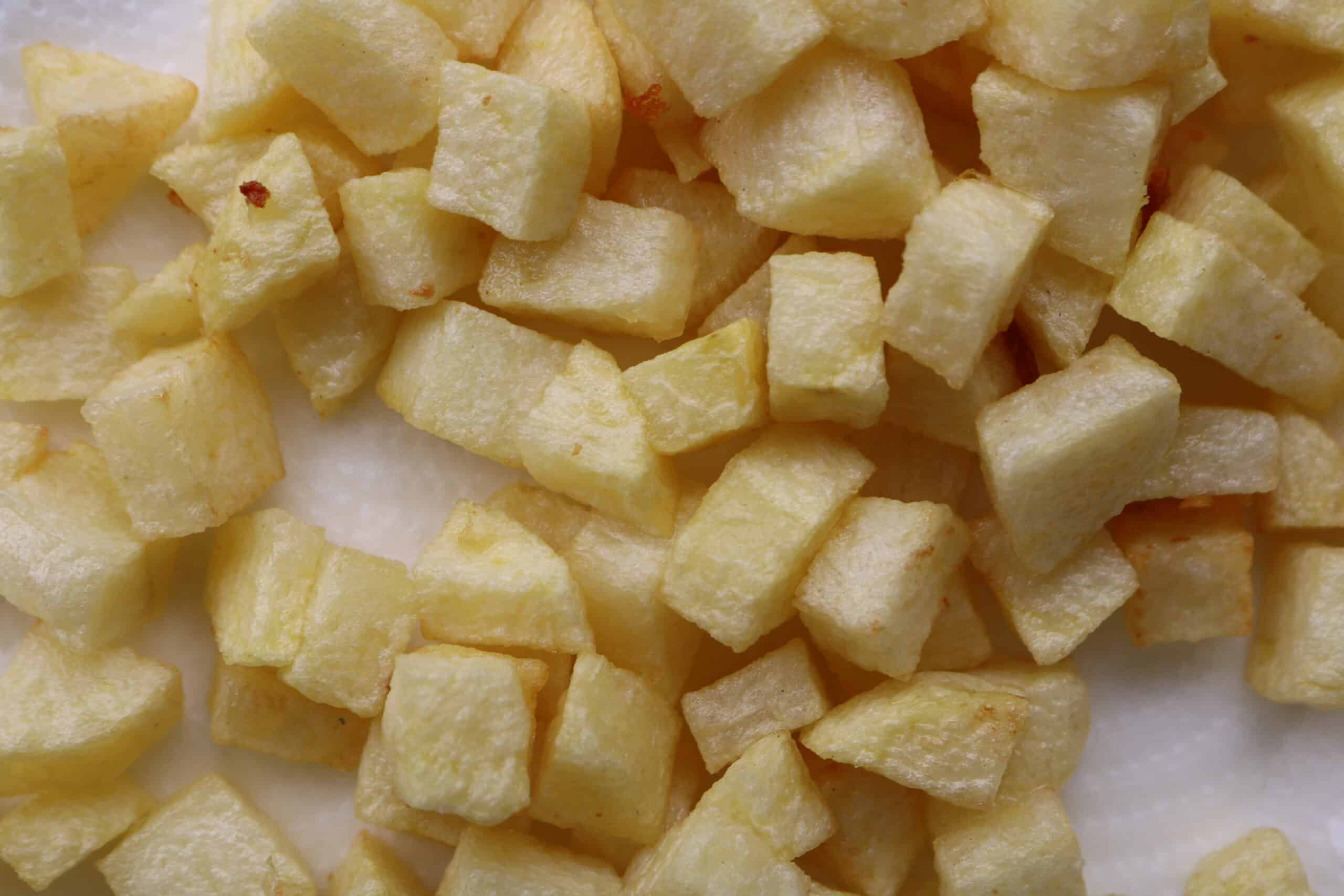 Deep fry the potatoes until golden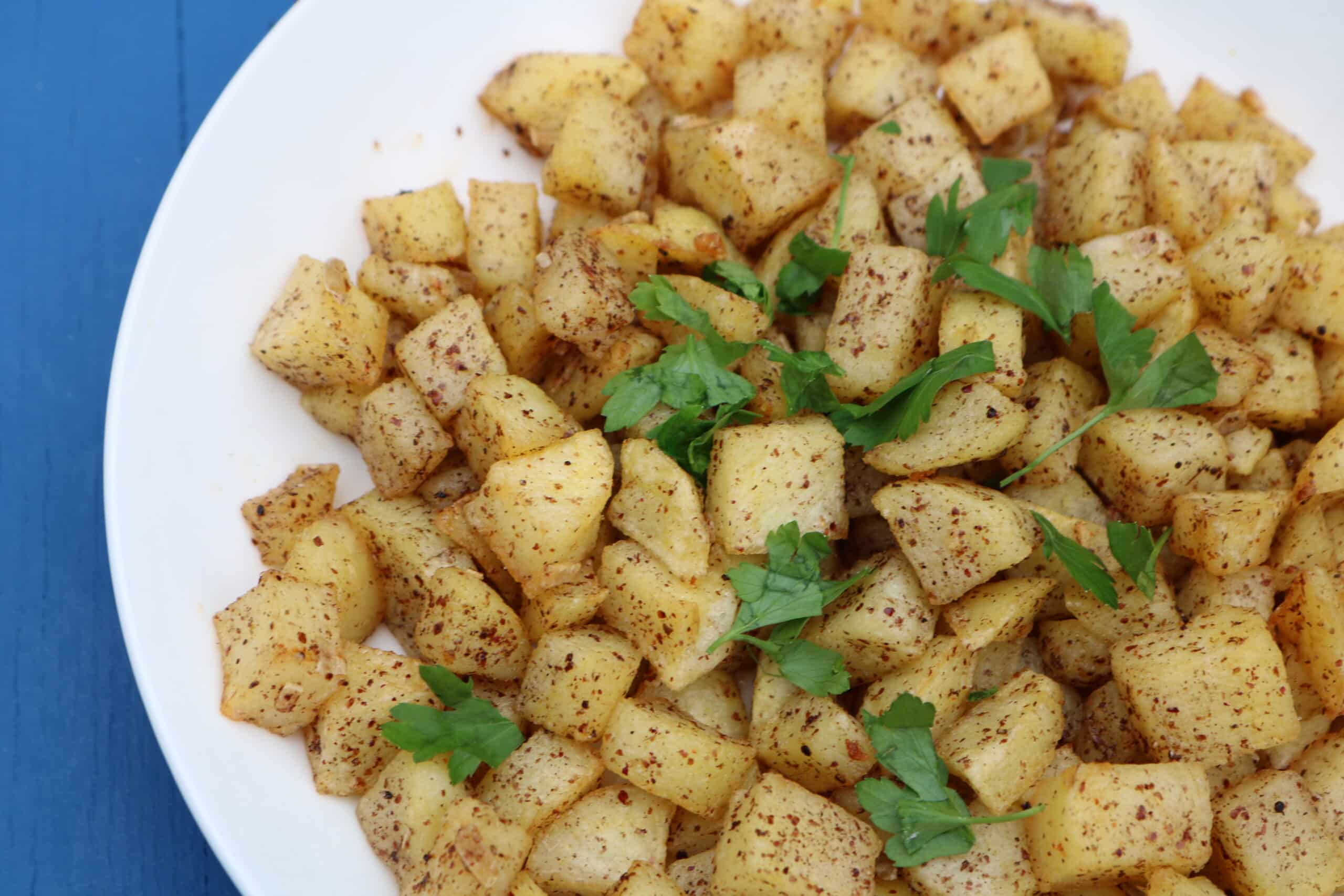 Add the potatoes to the garlic and sauté on low heat for a few minutes
Variations
Cooking is all about adapting recipes with what you have, and not being afraid to add or substitute similar elements. Try these different versions:
Onions - caramelise an onion on low heat to add sweetness.
Crispy Onions - garnish with crispy onions for extra crunch.
Chilli - add fresh chopped chillis if you like things really spicy.
7 spice - if you don't have 7 spice you can use any popular spice blend like garam masala, 5 spice or jerk spice blend.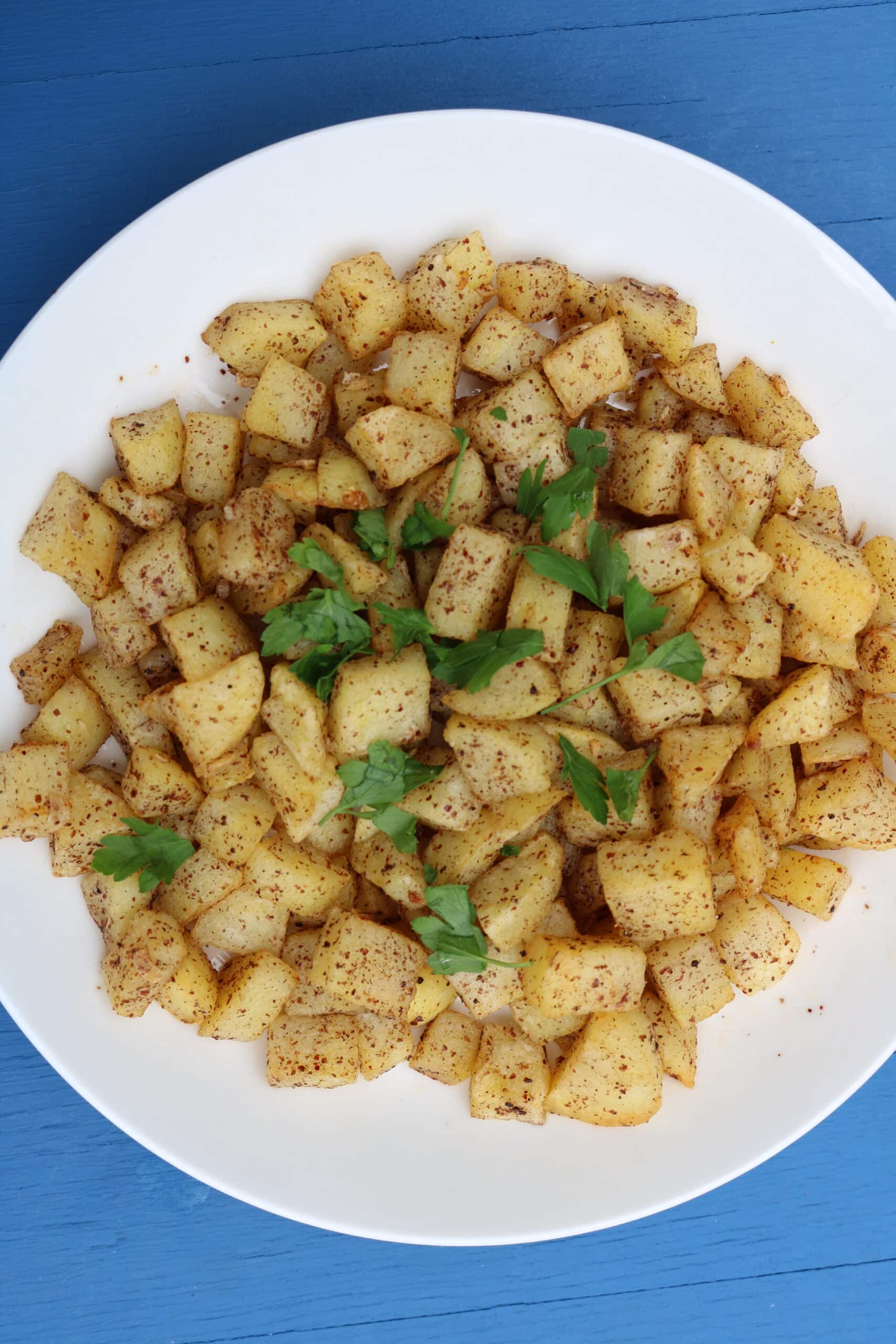 Equipment
You need a deep pan for frying the potatoes (I don't bother with electric deep friers as they take up too much space in m kitchen) and a sauté pan for preparing the garlic with the spices.
Top tips
The most important tip is to sauté the garlic on low heat and watch it making sure it doesn't burn. No one likes burnt garlic and you will have to redo it if you take your eye off it.
You can garnish with a little bit of fresh parsley for some pizzazz though if you add cilantro it will just turn into batata harra.
Serve this side dish with shish tawouk, kafta or fattoush...and even with hummus or moutabal. Basically it goes with everything.
📖 Recipe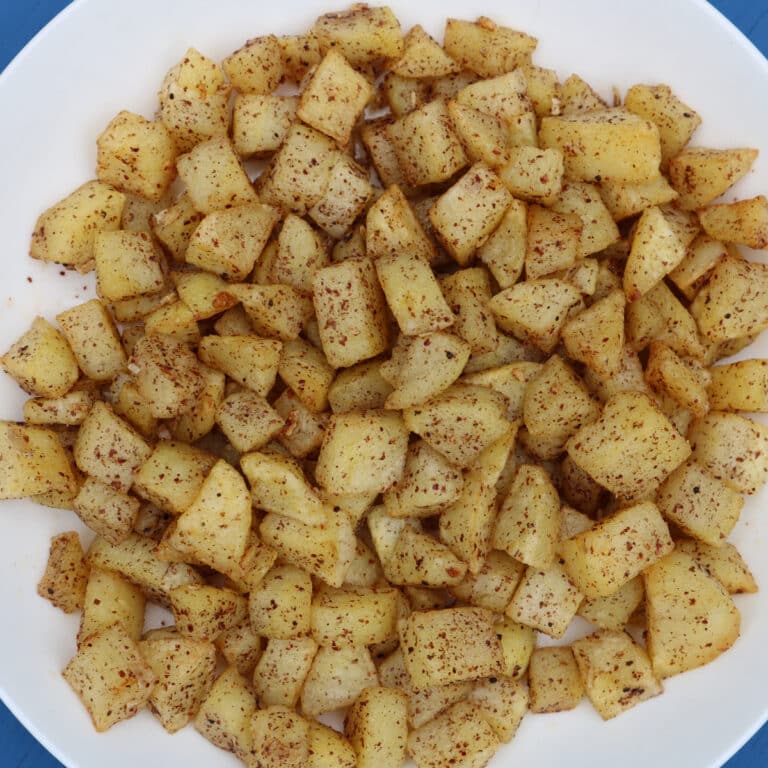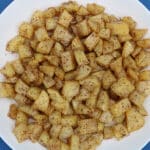 Spicy sumac potatoes
Fried potatoes with garlic and a sumac spice blend
Ingredients
3-4

potatoes

2-3

garlic cloves

chopped

¼

teaspoon

black pepper

¼

teaspoon

red chilli powder

¼

teaspoon

7 spice

salt to taste

1

teaspoon

sumac

½

chilli

optional, chopped
Instructions
Chop the potatoes into roughy 1 cm cubes and deep fry in vegetable oil until golden. Drain on paper towel and set aside

In a sauté pan, add the black pepper, red chilli powder and 7 spice to a good drizzle of mild olive oil and cook on low heat for a few minutes making sure the garlic doesn't burn

Add the fried potatoes and sauté for another five minutes. Add salt to taste and optional fresh chilli for extra heat
If you tried our recipe give us a star rating below, we really appreciate it.